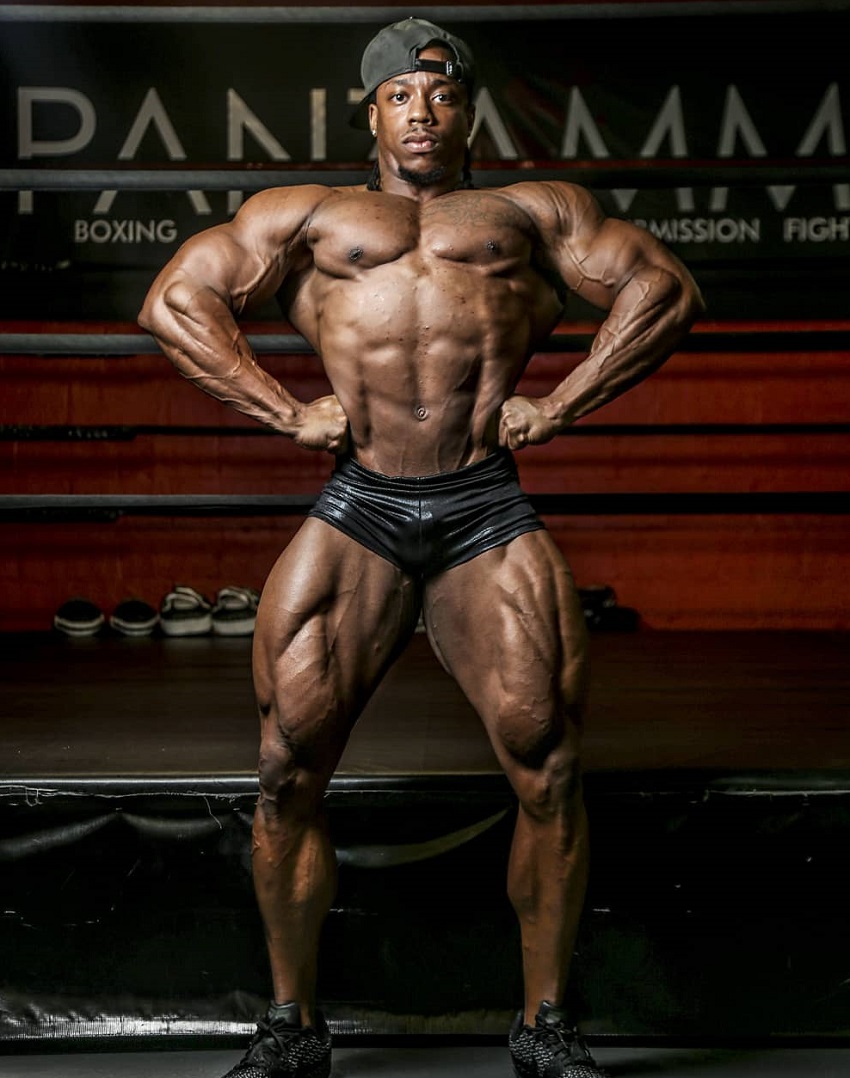 Rickey Moten
Classic Physique Athlete, Former Men's Physique Competitor
Rickey Moten is a rising Classic Physique competitor from the USA. His work ethic in the gym has led him to build not only an outstanding physique but also a career as an IFBB Pro. However, Rickey didn't always compete in Classic Physique.
Back in 2015, Rickey was just getting into the competitive lifestyle. During this time, he decided to compete as a Men's Physique athlete. His decision led him to win the 2016 USA Nationals which meant he turned Pro.
But as he continued to improve his body with training, Rickey became too big for the Men's Physique class. So in 2017, he decided to switch over to the Classic Physique division where he's been making waves ever since.
See more of him below.
---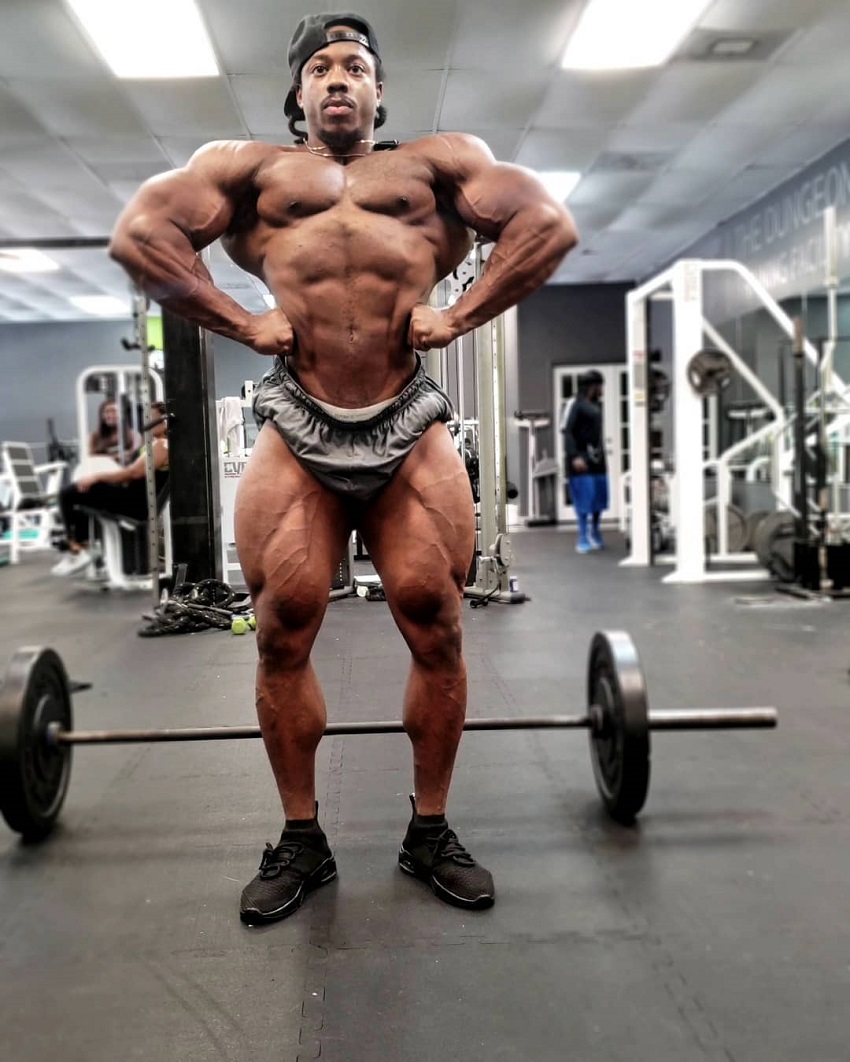 Athlete Statistics
Full Name: Rickey Moten
Weight
Height
Nationality
Profession
205 - 215lbs (88.5 - 93.0kg)
5'9" (175cm)
American
Classic Physique Athlete, Former Men's Physique Competitor
Era
2010
| | |
| --- | --- |
| Weight | 205 - 215lbs (88.5 - 93.0kg) |
| Height | 5'9" (175cm) |
| Nationality | American |
| Profession | Classic Physique Athlete, Former Men's Physique Competitor |
| Era | 2010 |
---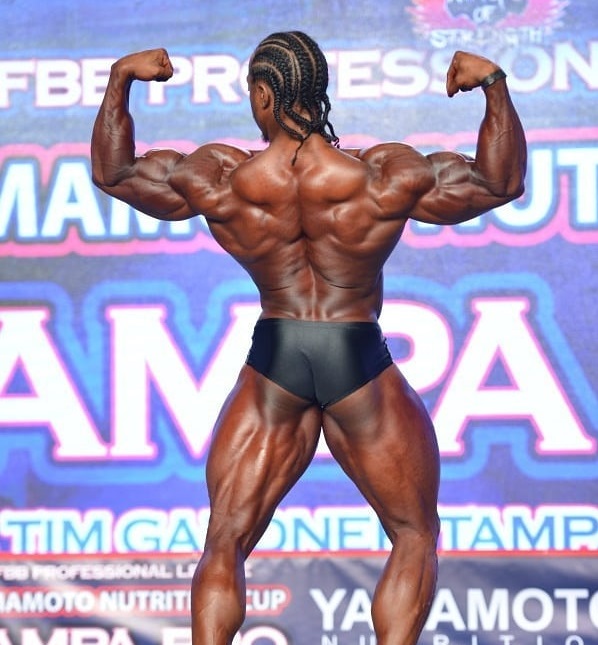 Accomplishments
Professional Comp History
| Event | Place |
| --- | --- |
| 2019 San Antonio Pro Classic Men's Physique | 1 |
| 2019 Tampa Pro Classic Physique | 2 |
| 2019 Arnold Men's Classic Physique | 6 |
| 2018 New York Pro Classic Men's Physique | 4 |
Amateur Contests
2015 Europa Dallas, NPC Men's Physique Class B, 3rd place
2016 NPC USA Championships, Men's Physique Class B, 1st place – Won the Pro Card
2017 IFBB Los Angeles Grand Prix, Men's Physique, N/A
---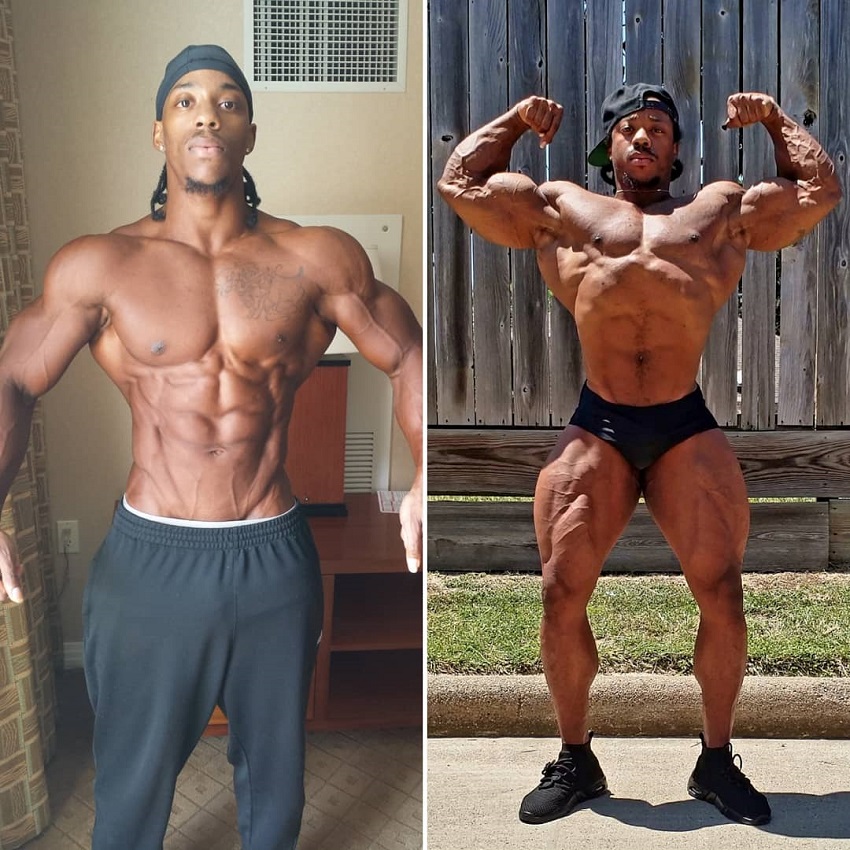 Training
Strength & Cardio
When he switched to Classic Physique, Rickey had to up the intensity of his workouts. This meant heavier weights, more volume, and less rest between sets. Hard, but not impossible, according to Rickey. If he were to choose between compound movements and isolation exercises, he'd always go with the compounds. Squats, deadlifts, and the bench press – these are the staple moves for Rickey.
Naturally, he'll also incorporate some isolation exercises to fine-tune the details of his physique. As a competitor, he knows this is critical. When he steps on the stage, judges assess everything from his muscle size, definition, vascularity, to posing routine.
As for cardio, Rickey does it mostly in the in-season when he competes. He doesn't do it very often in the off-season. Simply because his goal during this phase is to increase the calories and pack on muscle mass.
---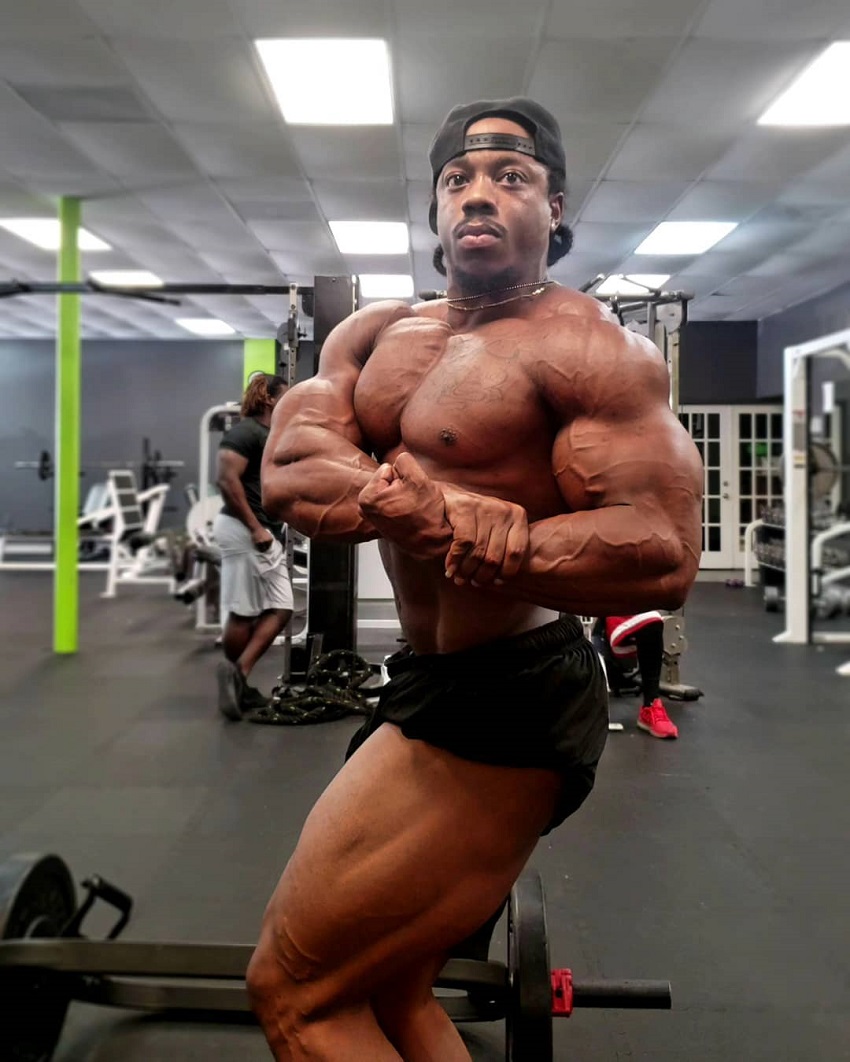 ---
Consistency is Key
While some athletes prefer to 'switch things up' in their training, Rickey opts for a different approach. He'll find a routine that works for him and stick to it. He'll progressively increase the weights over the weeks and months which gives him consistent results. In his experience, changing things up can, in fact, be detrimental to one's progress, especially when you're a beginner. That's why he believes that staying consistent is much more important than confusing his body by constantly changing his workouts.
Recovery Training
Rickey puts a lot of emphasis on his recovery in the gym. While he's aware that hard training is what tears down his muscle fibers, it's the recovery part where his muscles grow the most. During sleep, his growth hormone levels dramatically increase which leads to numerous benefits in terms of building muscle and losing fat. That's why he always prioritizes getting 7-9 hours of sleep a night, along with doing recovery techniques such as stretching and light cardio training.
---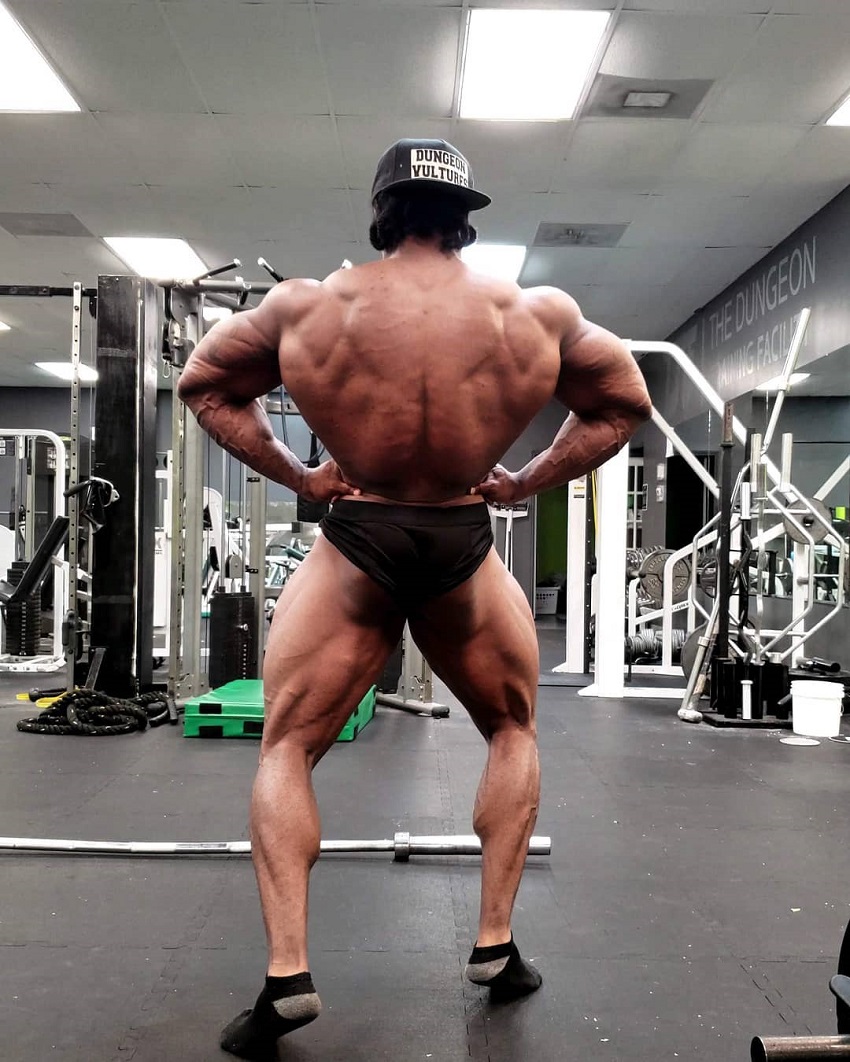 Nutrition
In terms of nutrition, Rickey believes in the good-old meal prep. As a busy athlete, he loves to have his meals ready for him in the fridge for the week ahead. If he travels, he'll simply order a meal prep service or eat out in a healthy restaurant. Some of his staple foods include:
Eggs
Lean meat
Omega-3 rich fish (salmon, sardines, trout…)
Leafy greens
Bananas
Avocados
Yams
Brown rice
---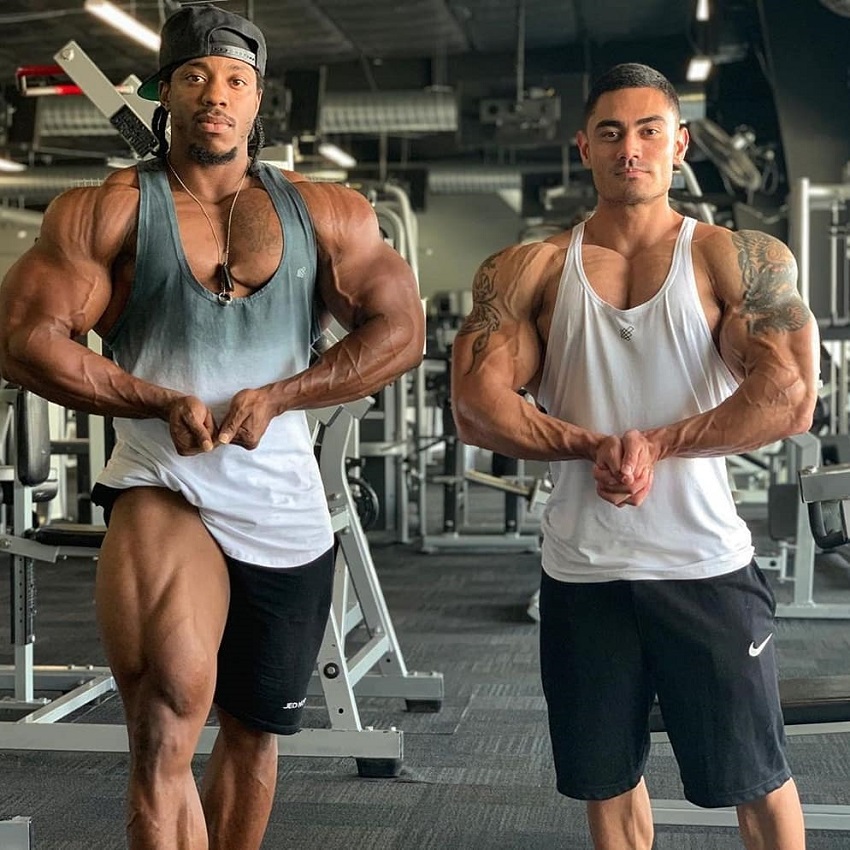 Rickey Moten hitting a pose with Jeremy Potvin.
---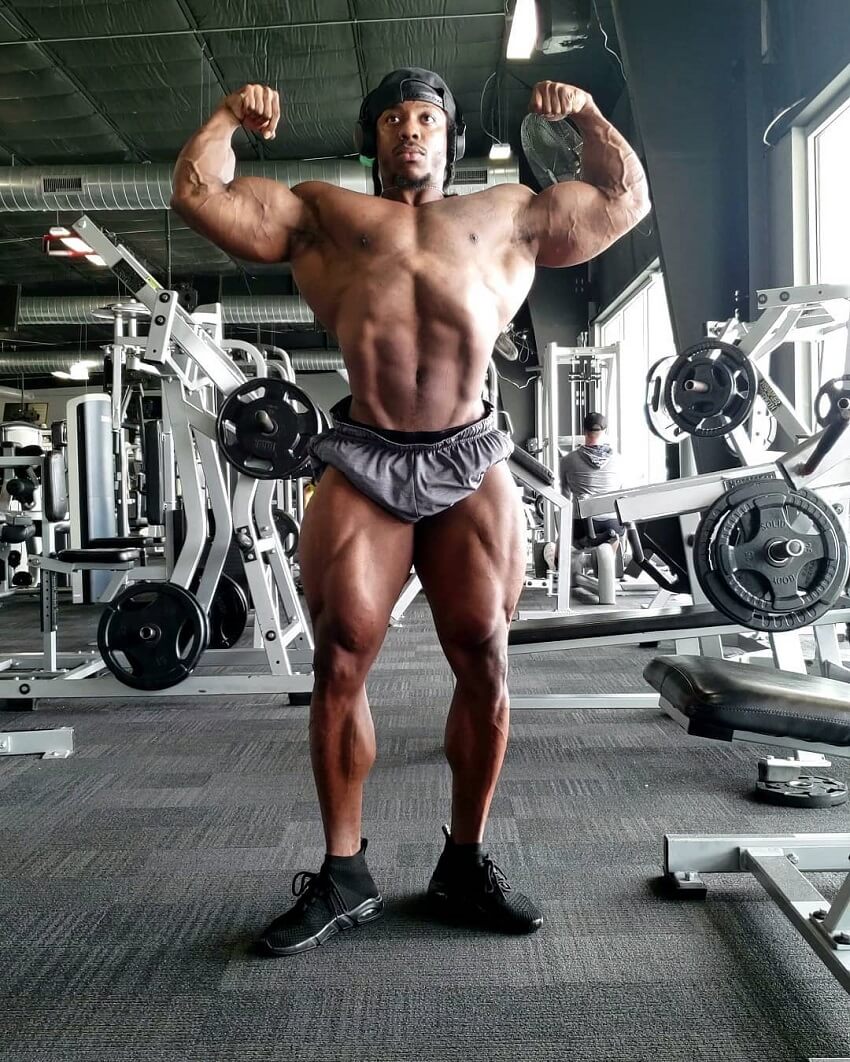 What we can learn from Rickey Moten
What we can learn from Rickey Moten, is to never stop progressing in life. Rickey's philosophy on progress is simple, it's to stay consistent and you'll see results. Ultimately, it's about finding what works for you and sticking to it – day in and day out. By staying consistent and working hard, you'll see the results you want.