What are meal replacement shakes?
Before diving into the best meal replacement shakes let's first define what we're talking about. Meal replacement shakes can be used to replace a meal, snack, or many meals throughout the day. They are available as powders or ready-made drinks and are often utilised for fat loss and muscle gain.
Having more vitamins and minerals in your diet is essential to prevent nutritional deficiencies which can cause a range of health problems; meal replacements are ideal for super busy and ambitious people that want to stay healthy without spending countless hours cooking and prepping meals.
Before stocking up and filling up your cupboards we strongly recommend that you do your research to find out what meal replacement shake suits your nutritional needs.
Top 5 diet shakes for weight loss, muscle gain and health
1. Instant knockout complete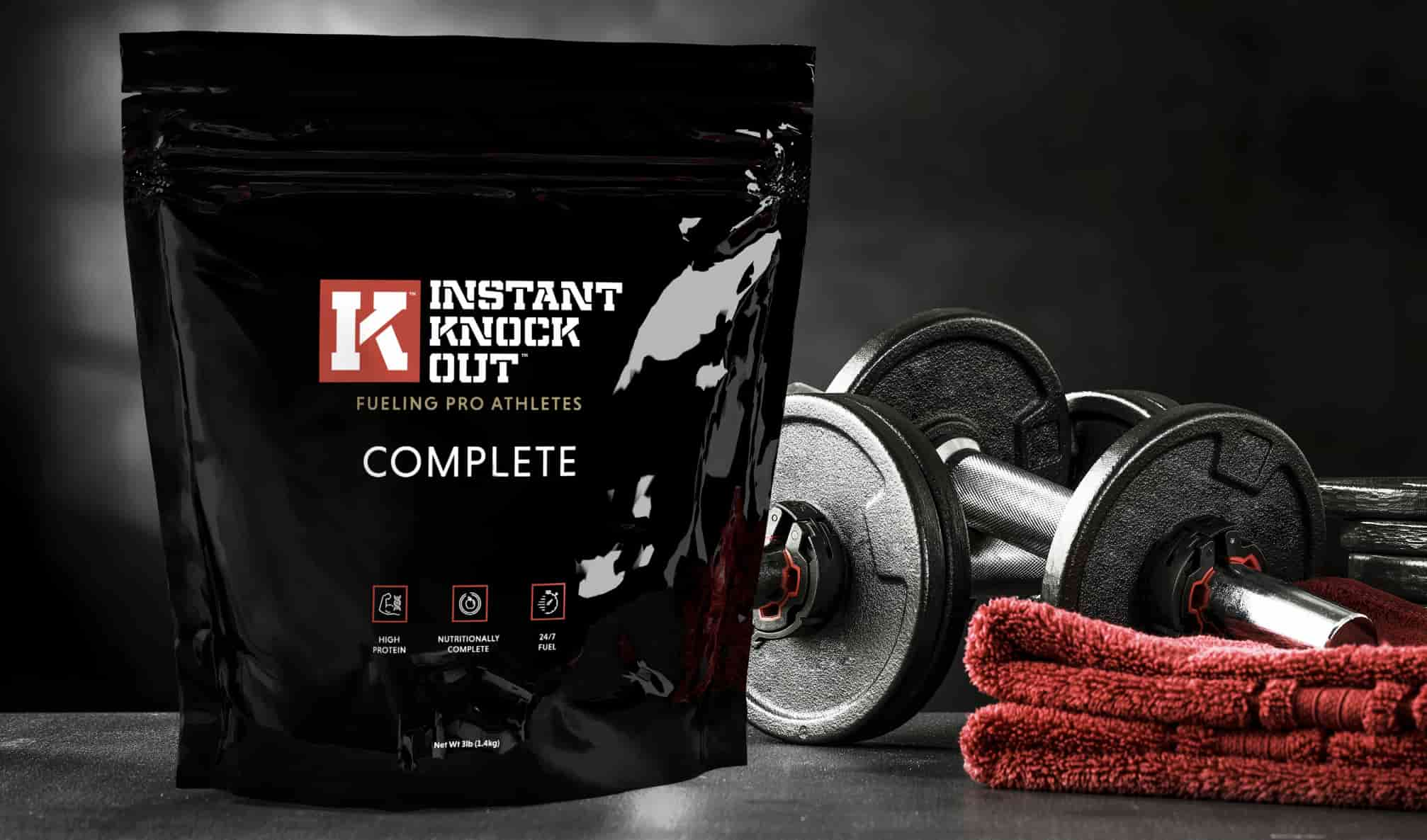 If you're looking for a vegan meal replacement that contains the full spectrum of essential vitamins and minerals then we recommend Instant knockout complete. It contains super healthy and natural ingredients including Golden flax seeds, chia seeds, oat flower and organic brown rice.
Pros:
• Nutritionally-complete formulation
• Useful for building muscle and burning fat
• Contains all the vitamins and minerals that you need
• No longer need a whole cupboard of various vitamins and minerals
• Best tasting meal replacement
Cons:
• Premium price
• Lack of options for flavours
Each scoop is 50 grams; for every two scoops you will get:
400 calories, 35 grams of protein, 35 grams of carbs, 13 grams of fat.
After using this for 3 weeks, I have found that I feel more full and I'm eating less junk food during the day. Their science-backed formula contains ingredients such as Vitamin B12 and Vitamin D and Zinc which have been shown to play a role in aiding weight loss and helping to reduce fatigue and improve energy levels.
The high fibre is also useful to increase digestion and absorption times, which can can make you feel more full and reduce your appetite.
This meal replacement was designed for MMA fighters to help them burn fat and gain muscle at the same time.
Taste rating: 9.6/10
My partner and I found that this was the tastiest shake; the powder mixes really well with water and the flavour and texture is ideal.
Our verdict on Instant Knockout
Originally designed for physique obsessed MMA fighters, Instant Knockout Complete is ideal for busy people wanting to stay healthy and be in the best shape of their life without having to spend time shopping for and cooking different foods.
Whether you find it hard or easy to put on weight we're confident that Instant Knockout Complete will be able to help you improve your diet by providing all the minerals and vitamins you'll ever need to prevent nutritional deficiencies whilst helping you to burn fat without losing muscle.
We conclude that Instant knockout Complete is the best overall meal replacement shake.
2. Soylent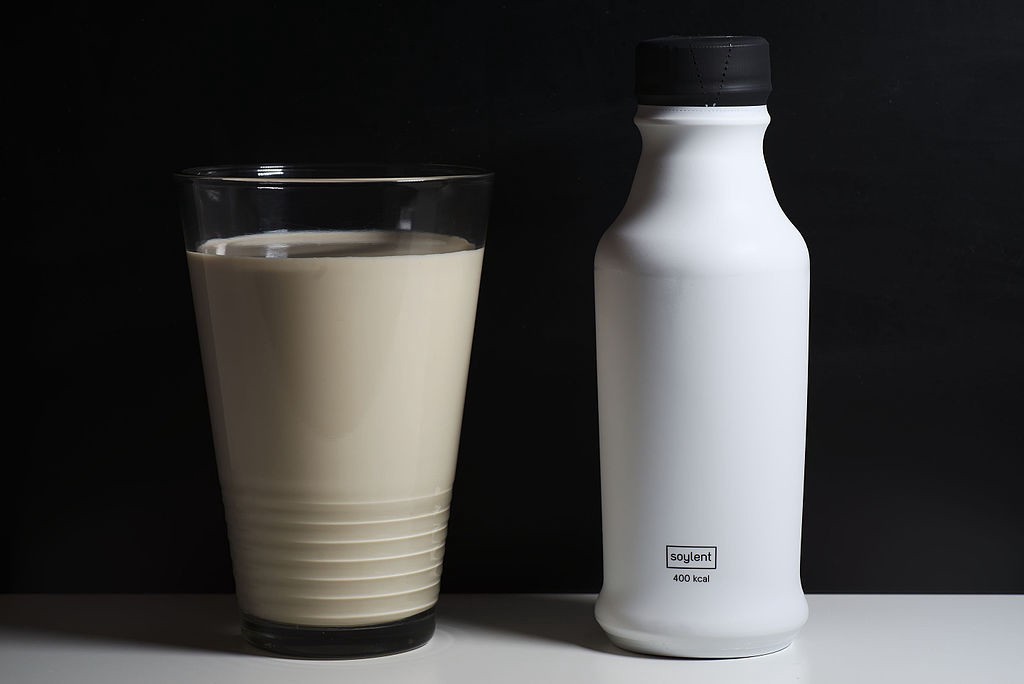 This brand has successfully created a ready-made meal replacement in one small bottle which makes it ideal for busy people that don't have time to create the shake from the powder.
Pros:
• Ready-made and portable – comes in a small bottle
• Lots of vitamins and minerals per serving
Cons:
• Requires more purchases which can add up
• Taste is not mind-blowing but better than most other meal replacements
Each bottle is 414mL and contains 400 calories, 20 grams of protein, 36 grams of carbs and 24 grams of fat.
The high protein and carb content makes it ideal for lifters wanting to put on size although this will make it harder for the user to burn fat whilst gaining muscle.
Taste rating: 7.4-8.6/10
We found that the chocolate silk tasted better than the vanilla. The liquid viscosity is ideal, and the flavour is great.
Our verdict on Soylent
Soylent is a great drink for individuals that don't have time to prepare their meal replacement shake. Its cons are that it requires more purchases and contains a lot of fat and carbs, so it's less effective for weight loss.
3. Huel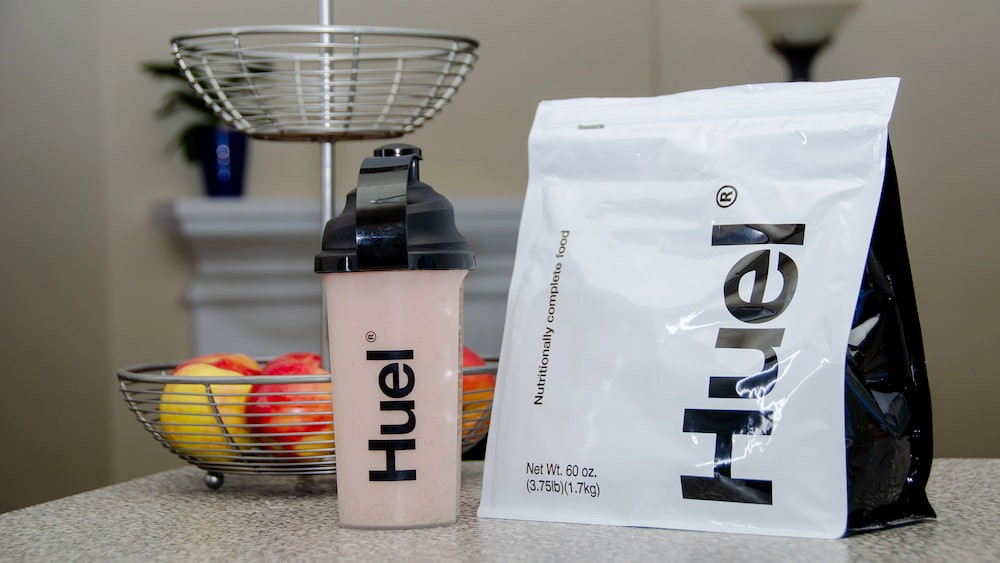 The brand was one of the first meal replacement brands although the product has not been updated for a while. This product aims to provide a complete diet solution for busy people.
Pros:
• Simplifies calorie counting
Cons:
• May cause bloating in some individuals
• Taste is bearable but not amazing
Each scoop is 100 grams scoop contains:
29 grams of protein, 38 grams of carbs and 13 grams of fat
We recommend this product for people that want to stay healthy. Unfortunately, my partner and I both experienced bloating problems which is why this product is not at the top of our list.
Taste rating: 6.4/10
Whilst the powder mixes well with water I personally found the flavour to be sickly although my partner enjoyed the taste.
Our verdict on Huel
We personally didn't have a good experience with Huel (I took it for two weeks), it created a lot of bloating problems for us and we found the taste to be mediocre. On the other hand, I have also recently tried their bars which haven't created these problems for me, although I found I had to eat them whilst drinking water because of the poor taste and dryness.
4. Raw organic all-in-one shake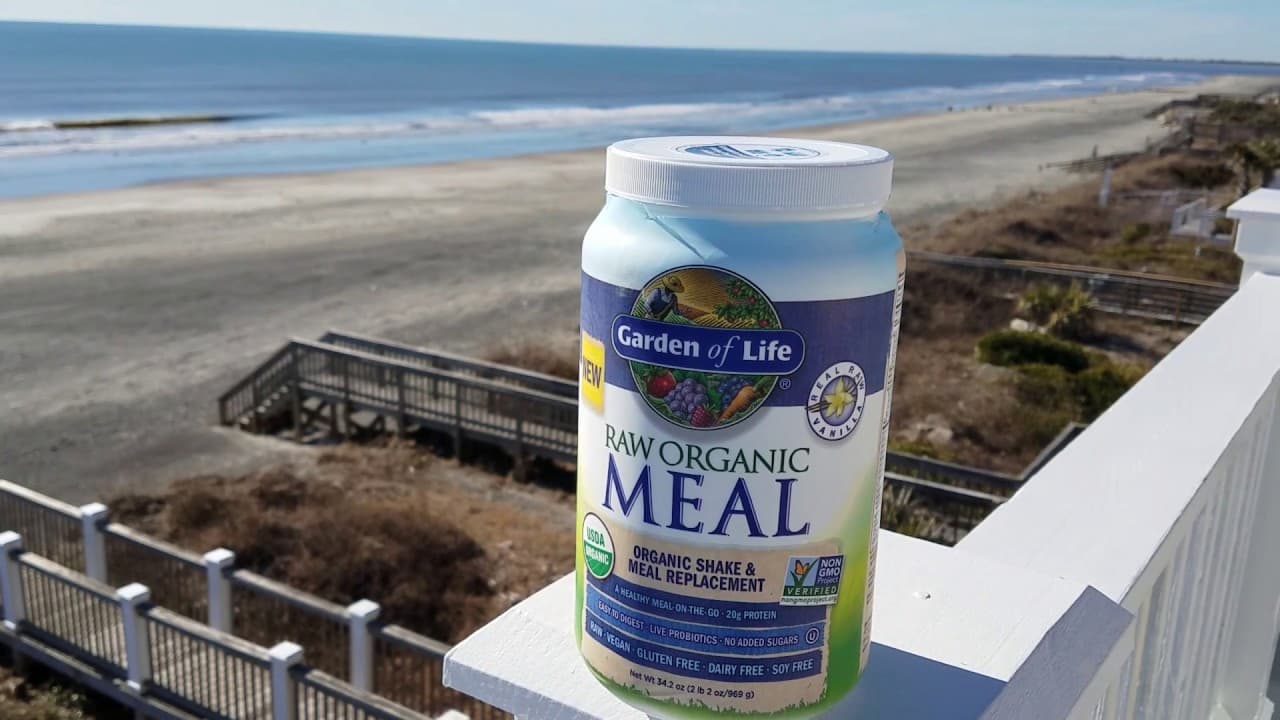 This meal replacement is not for hard gainers; although this supplement has a lot of protein per serving, its calories are too low for someone looking to gain muscle by bulking.
Pros:
• Taste is good but not mind-blowing
Cons:
• May cause bloating in some individuals
• Not for hard gainers
Each scoop is 34.5 grams; for every two scoops you will get:
260 calories, 40 grams of protein, 24 grams of carbs, 4 grams of fat.
If you're a naturally skinny individual like me that has a fast metabolism and finds it hard to put on weight then we don't recommend this product over others because being in a calorie deficit will result in the body burning more muscle.
On the flip side if your someone that is extremely overweight then we recommend this product (after Instant Knockout Complete).
Taste rating 7.4
The taste was good although we preferred the taste of Instant Knockout Complete and Soylent.
Our verdict of Raw organic all-in-one shake
This product is ideal for an overweight person that has the time to eat healthily and supplement their diet with Raw Organic all-in-one shake.
5. Lean Meal Illumin8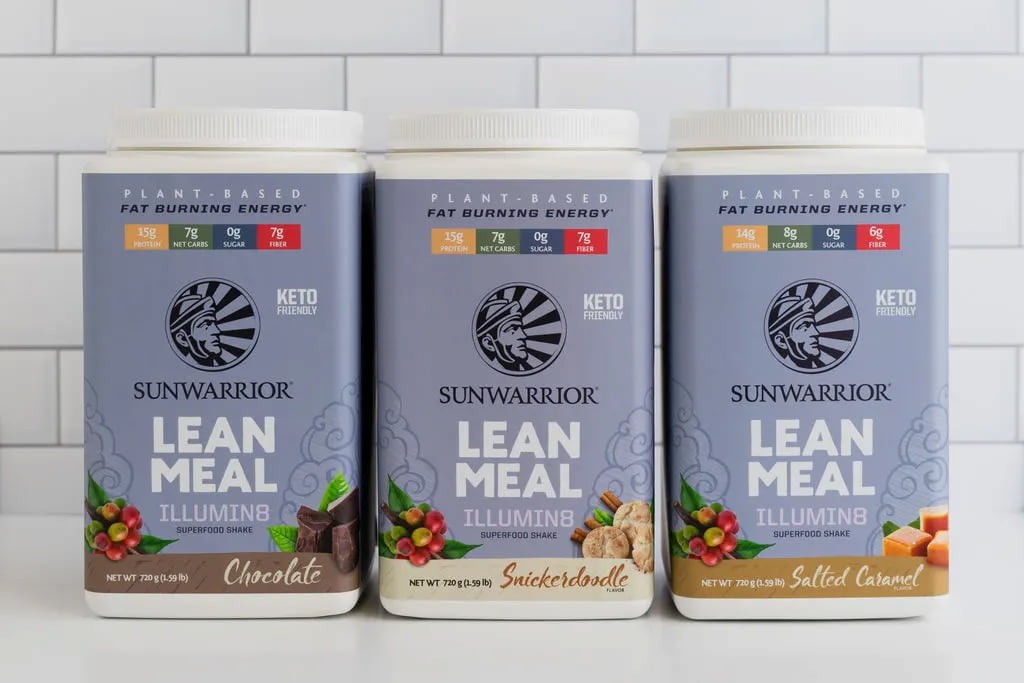 Again due to the low amount of calories, this meal replacement is better suited for people that find it easy to put on pounds, although the amount of protein is not ideal for burning fat (protein increases satiety and indirectly aids in weight loss).
Pros:
• Good for easy gainers that eat a healthy diet
Cons:
• Low protein
• Definitely not for hard gainers
• Disappointing taste
Each scoop is 36 grams; for every two scoops you will get:
140 calories, 15 grams of protein, 14 grams of carbs, 3 grams of fat.
Taste rating 5.4
Unfortunately, although the chocolate flavour tastes bearable the powder mixes poorly with the water, which makes the shake clunky and unpleasant to drink.
Our verdict of Raw organic all-in-one shake
We would personally not recommend Lean Meal Illumin8 because of the poor taste and disappointing nutrient formula composition.
FAQ
Are there meal replacement shakes for vegans?
Yes some of the products that we have listed are 100% vegan
How much do meal replacement shakes cost?
When purchasing a tub of meal replacement powder like Rootana, make sure to check the serving size as well as the total amount of powder: what appears to be a low-cost product may wind up costing more than intended if you go through tubs quickly due to a high serving size.
Most tubs or sacks of powder will cost between $40 and $70 on average, though there are some fantastic cheaper options.
Are meal replacement shakes good for fat loss and muscle gain?
We found that some meal replacements contain the ideal amount of macros for people wanting to gain muscle whilst burning fat.
Can I just drink meal replacement shakes?
No one recommends replacing all meals with shakes, but using them for one or two meals every day can help you lose a few pounds. Long term, they can be useful as a quick and healthful dinner option.
Final words
Based on hundreds of reviews and testimonials (including our own) and based on their revolutionary new science-backed formula, we conclude that Instant Knockout Complete is the best all-round meal replacement.
For busy people who want to feel at their best and have plenty of energy throughout the day, we propose Instant Knockout; its recipe combines nutrients that have been demonstrated to prevent nutritional deficiencies that can lead to tiredness and fatigue.
This miracle worker is endorsed by professional MMA fighters as the most efficient meal replacement that will help you maintain your energy levels throughout the day whilst losing fat and staying strong and healthy.