There are an ever-increasing number of meal-replacement shakes available, and the quality of each product has improved significantly since the early 00s. But with so many products to choose from, finding the right supplement for you can feel overwhelming. In this article, we will be taking a look at five of the best meal replacement shakes on the market.
What are Meal Replacement Shakes?
Before we compare and contrast the five best meal replacements around, it is a good idea to first discuss what meal replacement shakes are, and why they are becoming so popular in the fitness world.
A (Brief) History of Meal Replacement Shakes
While the history of meal replacement shakes can be traced back to the Science Fiction stories of the early 20th century, it was not until the 1980s that a large company emerged to dominate the market. In 1982 Herbalife launched its Formula 1, a soy-based meal replacement shake that was designed to replace regular meals with a nutritionally-dense protein drink.
Sadly, the product itself was not particularly healthy and came attached to a pyramid scheme that would blight the meal replacement shake industry throughout the 80s, 90s, and early 00s.
Companies such as Soylent and Huel entered the conversation in the 2010s, and they were followed by bigger supplement companies such as The Protein Works and MyProtein, as well as companies such as Rootana and Instant Knockout who have recently taken large steps in the meal replacement shake world.
What is a Meal Replacement Shake?
The term meal replacement shake is a little confusing, the Cambridge dictionary defines a meal as "an occasion when food is eaten" [1]. The common definition of food is something substantial that you have to chew. But a large bowl of soup or stew also counts as food while clearly being mostly liquid.
Huel is clear that it does not consider itself to be a meal replacement, but rather, it sees itself as a meal that is consumed in liquid form. Like a soup.
This is just semantics though. It would be fair for most people to consider Huel a meal replacement shake, which is a powdered food comprising protein, carbs, and fats, that requires water (milk or a dairy-free alternative is also acceptable) to be consumed.
The meal replacement shake requires a combination of all three macros, this helps to separate it from regular protein shakes, or something like powdered sugar which is just carbohydrates and nothing else.
Benefits of Meal Replacement Shakes
Meal replacement shakes are cherished for their convenience, their low cost per serving, and their ability to reduce nutritional deficiencies in people who lead busy lives and struggle to eat as healthily as they would like.
Meal replacement shake diets have been found to be incredibly effective at improving weight management, reducing body fat, and creating sustainable eating practices [2]. MRS diets can also reduce inflammation, oxidative stress, and reduce your risk of many health diseases [3]. Unlike most diets, a diet that involves meal replacement shakes makes your life easier, rather than overwhelming you with a whole host of complicated rules and confusing recipes.
It can also be argued that meal replacement shakes are better for the environment, most of them are plant-based and many of the plants used require less water than the constituents of an animal-based diet. Meal replacement shakes last longer, take up less space in your kitchen, and can be made very easily.
Top Five Meal Replacement Shakes for Weight Loss, Muscle Building, and Health
Now that we know what meal replacement shakes are, and why they can be so beneficial for health, we can take an in-depth look at five of the best products. We have split them into the best meal replacements for health, the best meal replacement shakes for weight loss, the best budget meal replacement shake, and the best meal replacement shakes for building muscle. We also have the best overall meal replacement shake, chosen by our editor.
Best Overall Meal Replacement Shake: Rootana (editor's choice)
We start our list with our favourite meal replacement shake, Rootana. A relatively new product, Rootana has exploded onto the market offering a high-quality shake that is completely free from artificial sweeteners such as sucralose and aspartame. Rootana also avoids artificial colours and uses a fully plant-based ingredients list.
Rootana offers three flavours: original, cacao, and vanilla. It contains 20-21 grams of protein per serving, 13-16 grams of fat (depending on the flavours), and 43-47 grams of carbohydrates. It avoids the use of GMOs, is soy-free, contains zero artificial preservatives, is lactose-free, and contains zero artificial colourings.
Rootana uses all-natural real-food ingredients in its formula. There is oat flour, pea protein isolate, golden milled flaxseed, sunflower seed oil, sunflower lecithin, and coconut sugars that provide a natural sweetness. Rootana contains just 400 calories per serving, alongside 24 vitamins and minerals. Thanks to its protein sources, it has a very high number of Branched-chain amino acids and is high in omega-3 fats thanks to the flaxseed it contains.
Pros:
Excellent source of protein
All-natural ingredients
Zero artificial sweeteners or colourings
High in healthy fats
Excellent source of fibre
Three excellent flavours
Cons
Only available from the Rootana website
Only 3 flavours are available so far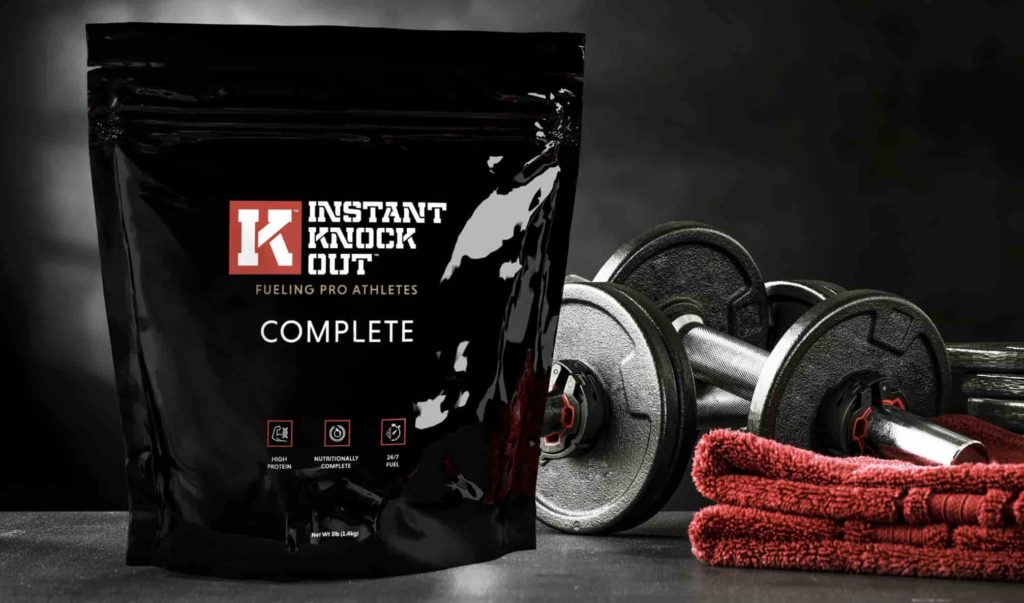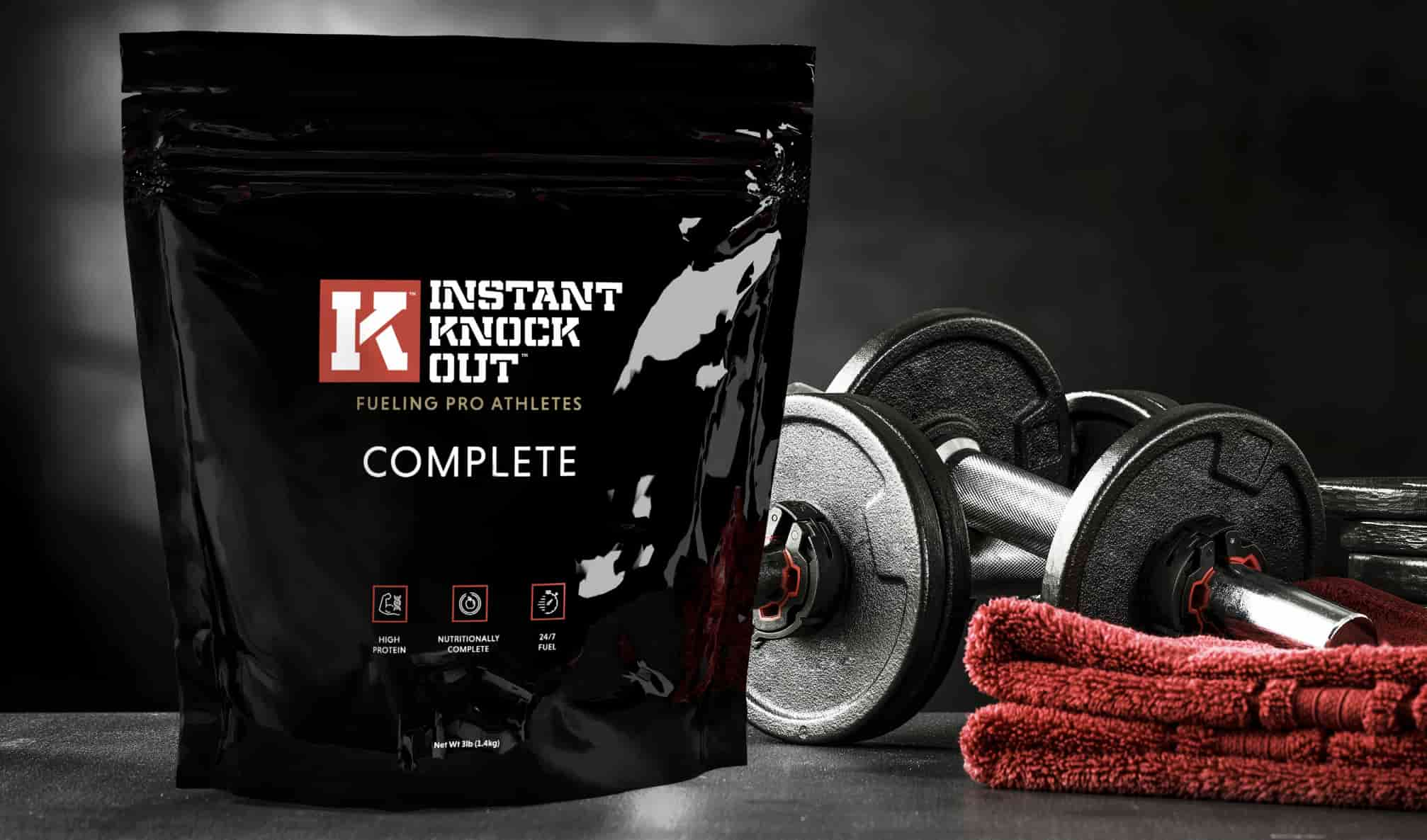 Best Meal Replacement Shake for Weight Loss: Instant Knockout Complete
While Rootana is the best overall meal replacement shake, our top pick for weight loss has to be Instant Knockout Complete. A meal replacement shake that was designed to work perfectly in partnership with Instant Knockout's fat burning supplement "Cut".
Instant Knockout Complete is a high-protein, high-fibre, meal replacement shake that uses the best ingredients available to produce superb results.
So what makes Complete so effective for weight loss? Well, if we forget the fact that all meal replacement shakes are ideal for weight loss, we can look at what it is that helps Complete stand out from the crowd.
The protein content is 35 grams per serving, this is ridiculously high for a meal replacement shake. The fibre content is also very high and does not have any rivals. High protein and high fibre will increase satiety after a meal. This means that you will feel fuller for longer and will be less tempted to snack or overeat later on in the day.
Increasing satiety is crucial for weight loss success, and Instant Knockout Complete delivers satiety like no other. You can also look at the carbohydrates used. Oats have been chosen for their low GI score, meaning that you can keep your blood sugar levels in check, and again stave off hunger while staying in a calorie deficit.
Pros:
Very high in protein
Very high in fibre
Top-quality ingredients
Combines well with Cut to burn fat
Great tasting product
Cons:
Only available from Instant Knockout website
Only 1 flavour is available
Premium price

Best Budget Meal Replacement Shake: Huel
Apart from perhaps Soylent in the US and Canada, no meal replacement company is more recognisable than Huel. They have more customers (Hueligans), more flavours, and more products available than any of their competition.
There are cheaper meal replacements out there (Soylent and Jimmy Joy) but Huel manages to stay low-priced while still containing real food ingredients and providing a good product.
Huel has such a huge variety of products available. There is the regular Huel powder, which is well priced per serving (particularly if you subscribe), high in protein, low in calories, and filled with high-quality ingredients. Then there is Huel Black, a higher-protein, low carb version, Huel savoury (dehydrated food products that just need boiling water), a ready-to-drink version of Huel, and Huel bars.
Thanks to their large size and the huge number of customers, Huel can charge a lower price for their product without having to sacrifice the quality. Sure, Huel may not be quite as good as Rootana or Instant Knockout, but it is the best budget meal replacement on this list.
There are some downsides though, if you've read our article on Huel side effects and our Huel flavours ranked article, then you will know that the taste and digestibility of Huel can be a bit of a nightmare at times.
Pros:
Low price per serving
High in protein
High in fibre
Lots of variety of flavours/products
Cons:
Some flavours are terrible
Side effects such as bloating are common
Best Meal Replacement Shake for Building Muscle: Abnormal
Meal replacement shakes are usually designed for weight loss or weight maintenance, they are rarely used for gaining weight and/or building muscle.
Though this is a perfectly legitimate use for them. You could easily use Rootana, Huel, or particularly Instant Knockout Complete to build muscle, you would just need to ensure that you were in a calorie surplus rather than a calorie deficit.
The reason why we have placed Abnormal as our top recommendation for building muscle is that you can specifically mention this when they create your customised meal replacement shake. Abnormal also allows you to choose whey protein, which is the best protein source for building muscle.
A common complaint about Abnormal is that no matter what options you pick, you are given a shake that is only 350 calories per serving. This can be quite irritating when dieting, as 350 calories aren't enough for most people.
However, if you are looking for a meal replacement to take alongside a regular meal (to increase calories and build muscle) 350 calories are perfect. The ability to add more protein is another positive, however, you are unlikely to get as much protein per serving as you do with Instant Knockout Complete (35 grams) or Huel Black.
Still, this is a decent meal replacement shake option for anyone looking to build muscle without increasing their body fat levels too high. It is a really innovative idea, and there is a lot of room for future improvements.
Pros:
Customisable ingredients
Can increase protein to suit needs
High-quality real food ingredients used
Great taste
Cons:
Low calories per serving
Not as customisable as you are led to believe
Not allergen-free due to factory handling allergens
Only available from the website, and you need to fill in a questionnaire first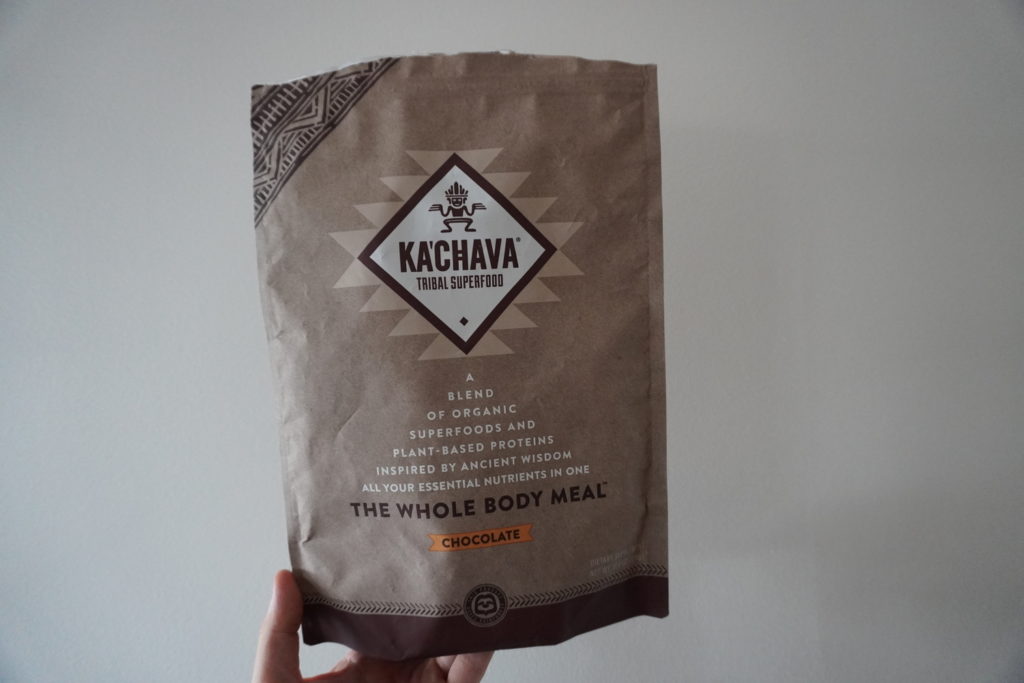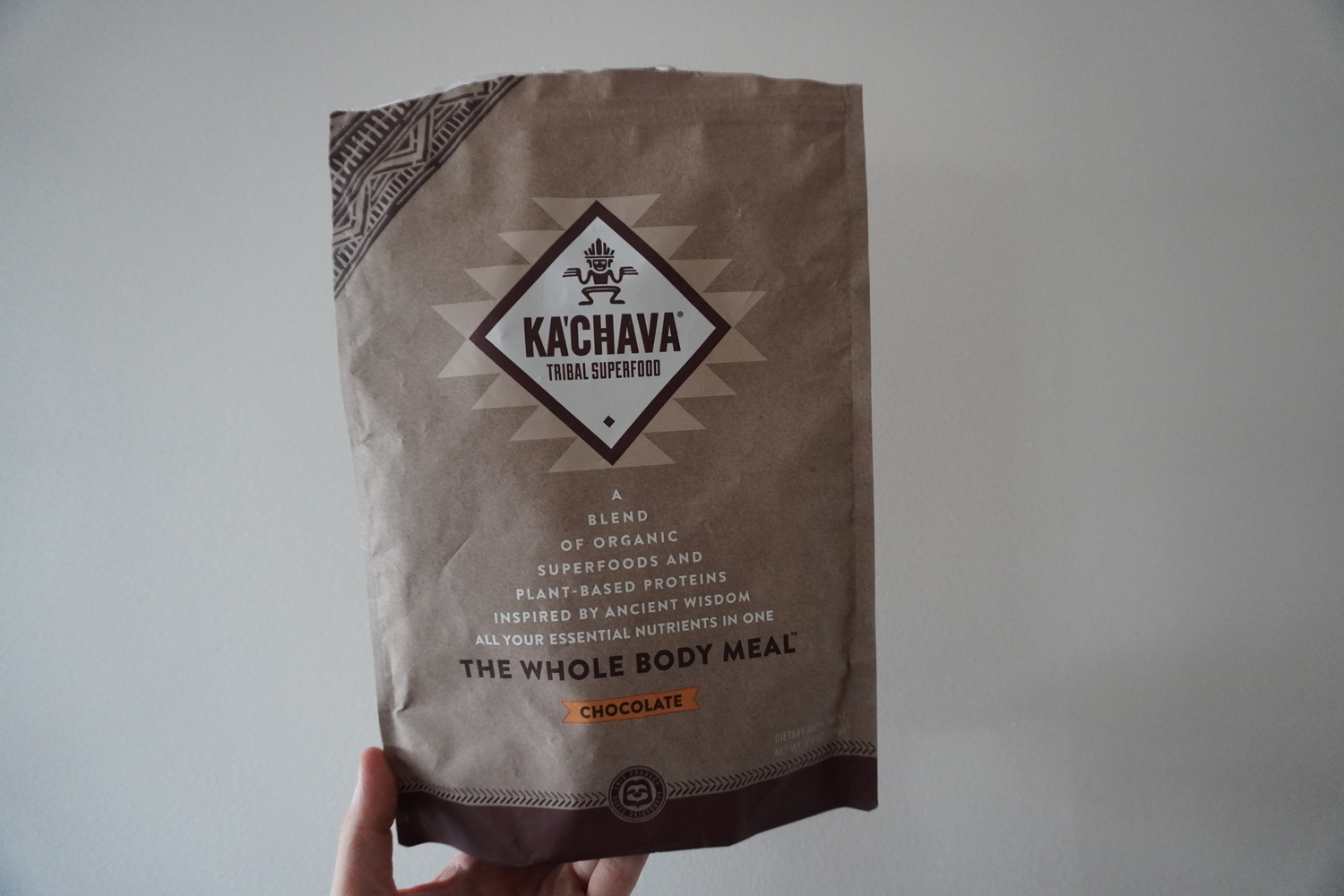 Best Meal Replacement Shake for Health: Ka'Chava
The truth is, that Ka'Chava is not a particularly good meal replacement, but it is an incredibly healthy one. How can this be the case? Well, on the one hand, Ka'Chava contains 25 grams of protein per serving, has 85+ all-natural ingredients, is filled with superfoods, has five different sources of natural fibre, and avoids artificial sweeteners, flavourings, preservatives, gluten, dairy, and soy.
On the other hand, it is incredibly expensive and only contains 240 calories per serving. This means that although it is very healthy, it doesn't function as an effective meal replacement, as 240 calories do not constitute a meal.
To get half of your daily calories (average around 2,000 cals per day) you would need about 5 servings of Ka'Chava! As the average cost per serving is around $6, that would work out at $30. With the cost rising to $60 for a daily intake of 2,400 calories.
Compare that to Huel, which provides 400 calories for less than $2 per serving, and you can see what we mean.
If you are looking to improve your nutrition, then adding a Ka'Chava meal replacement to your diet (as an addition to your regular meals) can really help. This is why we have labelled it as the best meal replacement for health. But if you want to use your meal replacement shake as, well, a meal replacement then Ka'Chava is not a great product.
Pros:
High in protein
Packed full of nutrients
85+ all-natural ingredients
5 different fibre sources
Free from sweeteners, preservatives etc
Cons:
Way too low calorie to function as an effective meal replacement
Very high cost per serving
Unrealistic to fit Ka'Chava into your diet unless you are wealthy
Final Thoughts on the Best Meal Replacement Shake
If this review had been written ten years ago, the quality on offer would be drastically lowered. The meal replacement shake industry has massively upped its game in recent times.
Rootana with its game-changing formula, Instant Knockout with its superb weight loss abilities, Huel with its variety and cost-effectiveness, Abnormal customising its ingredients for each customer, and Ka'Chava provides 85+ natural ingredients for its shakes.
The five meal replacements on this list all have specific advantages that will suit differing requirements. If you are looking to build muscle, burn fat, improve your health, or save some money, then there is a meal replacement for you.
Our top pick is Rootana because it is an excellent all-rounder. It's great for weight loss, can be used for building muscle (when used as a supplement), is great value for money, and is free from artificial sweeteners.
Frequently Asked Questions
Are there meal replacement shakes for vegans?
Interestingly, the vast majority of meal replacement shakes cater to vegans, with only a very small number containing animal products. On our list, only Abnormal has a non-vegan option.
How much do meal replacements cost?
While different meal replacements will have different costs, the average price is less than $3 per meal, with some products being significantly cheaper than that.
Are meal replacements good for fat loss?
Yes, when combined with a healthy diet and regular exercise, a meal replacement shake focused diet has been shown to be highly effective. Both in the short term and in the longer term.
Are meal replacements good for building muscle?
To build muscle mass, you need to stay in a calorie surplus, this is often seen as counter to the goals of most meal replacement shakes. However, if you use meal replacement shakes as a supplement to your regular diet, then you should be able to build significant muscle while using them.
Can I just drink meal replacement shakes?
You can, although for best results it is recommended that you use them for 1-2 meals, while the remaining meals come from healthy food choices. But there should be no side effects if you choose to use meal replacements for all your meals.
References
[1] https://dictionary.cambridge.org/dictionary/english/meal
[2] https://www.ncbi.nlm.nih.gov/pmc/articles/PMC6327254/