Jimmy Joy is a popular meal replacement shake with an interesting reputation. If you'd like to see where it ranks in our top five list (if it ranks at all) then check out our article on the top five best meal replacement shakes. 
In 2014 Joey van Koningsbruggen had a problem, he really wanted to use Soylent meal replacement shakes but as a Dutch citizen, he couldn't get his hands on them.
Instead of writing an angrily worded email and forgetting about it (as most of us would do), he decided instead to purchase the ingredients and make his own tribute to Soylent.
Originally called "Joylent", the new product became a hit in Europe and after a polite request from Soylent, Jimmy Joy was born.
Today, Jimmy Joy is a very popular meal replacement shake, and while it may have originally been a tribute to Soylent, it now has its own approach and a (in our opinion) superior ingredients list.
But what is Jimmy Joy like as a supplement? What does it taste like? How good are the ingredients? And are there any better alternatives out there? This review will answer all of these questions.
What is Jimmy Joy?
Jimmy Joy is a meal replacement shake that uses soy as its primary protein source. It is a small company compared to the bigger names in the industry but sells very well in Germany and in the UK. Starting out in 2014 with just a meal replacement powder, it has since expanded its range to include bars and instant drinks.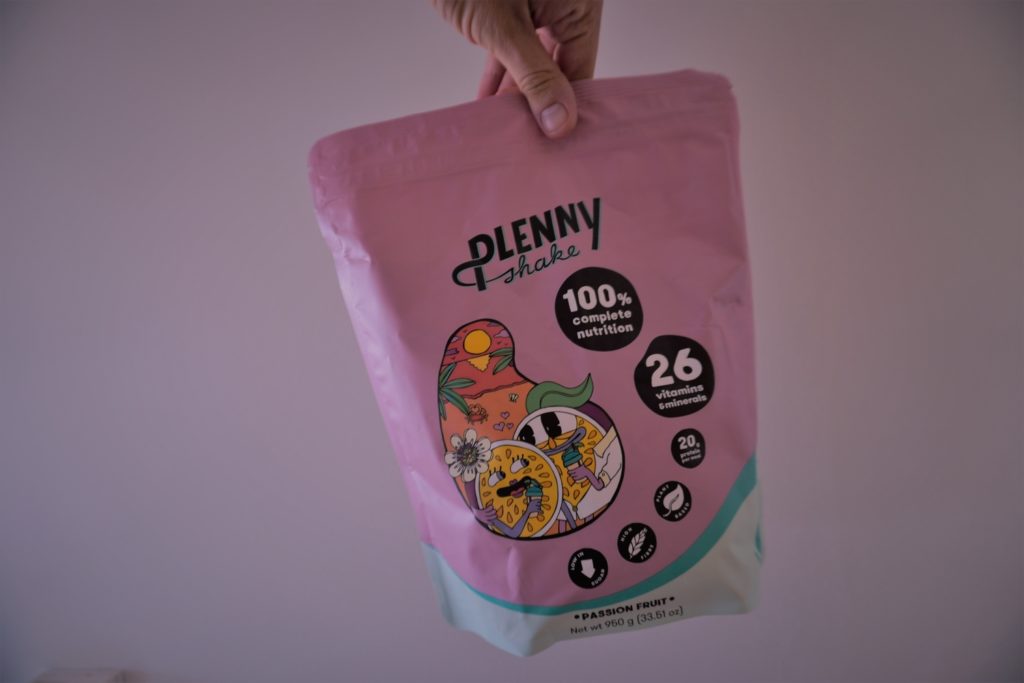 Jimmy Joy at a Glance
The first impression of Jimmy Joy comes from the beautifully designed packaging and clever website copy. But what about the product itself?
While there is nothing wrong with soy protein, we usually prefer a bit more variety from plant-based protein shakes. The protein content per serving is decent at 20 grams, and the carbohydrates and fats are well balanced. Fibre could be a little higher.
Jimmy Joy uses sucralose as its form of sweetener, which is pretty standard for meal replacement shakes. If you're looking for a meal replacement that is free from artificial sweeteners then you've got Rootana, which is similar to Jimmy Joy but uses coconut sugars instead of sucralose.
Jimmy Joy's meal replacement shake contains 400 calories per serving, 20 grams of protein (80 cals), 15 grams of fats (135 cals), and 43 grams of carbohydrates (172 cals). There are also 8.2 grams of fibre (16 cals).
There are ten flavours available, which are comparable to Huel, rather than Soylent which only has a couple.
Jimmy Joy Ingredients
There are seven main ingredients in Jimmy Joy plus a vitamin and mineral mix, sucralose sweetener, and Bacillus Coagulans (bacteria that may help with digestion). They also use natural flavourings depending on which flavour you choose. In this section, we will take a brief look at the main ingredients of Jimmy Joy.
Oat Flour
The biggest difference between Soylent and Jimmy Joy is that Jimmy Joy uses real foods such as oat flour as its main carbohydrate source while Soylent uses maltodextrin and modified food starch (tasty).
Oat flour is very popular with meal replacement shakes, this is because it is so versatile. Providing healthy omega-3 fats, lots of fibre, some protein, and low GI carbohydrates that offer a constant stream of energy throughout the day.
Oat flour also contributes to the taste of meal replacement shakes and provides a decent consistency. It really is a great choice of carbohydrate source.
Soy Flour
Like oat flour, soy flour is a great carbohydrate source that also provides some protein and healthy fats. There are two forms of soy flour, one that contains natural fats, and one where the fats have been removed. It is not clear which form Jimmy Joy uses, but it doesn't really matter too much.
Soy flour is gluten-free and is often used for this exact purpose. The oats are also gluten-free, but they are processed in a factory where gluten products are also processed, so for people who are highly sensitive Jimmy Joy may not be the best option.
Sunflower Oil
Sunflower seed oil is used as a fat source in Jimmy Joy. Rich in oleic acid (omega-9 fatty acids) and filled with antioxidants, sunflower oil is a commonly used ingredient in meal replacements. But it is not the sole source of fats in Jimmy Joy, there is also oat flour, soy flour, and flaxseeds (see below).
Rice Flour
According to the Jimmy Joy website, rice flour is added alongside oat flour as a form of immediate energy that is free from sugar. The idea is that the rice flour will give you an immediate boost, but the oat flour will help you to sustain your energy levels thereafter.
Soy Protein Isolate
This is where Jimmy Joy gets the majority of its protein from. Soy is a great choice as a protein source because it contains all 9 essential amino acids. Other meal replacement shakes use pea protein and brown rice protein to get similar results, and there is no argument that this is a better option, but soy protein is not as bad as some would have you believe.
Inulin
There are three sources of fibre in Jimmy Joy. Oat flour is a great source, then you have flaxseeds, but the majority of fibre comes from inulin. This comes from chicory and provides a number of health benefits. Fibre is used to aid digestion, improve cardiovascular health, and increase satiety (how full you feel after finishing your meal replacement shake) [1].
Ground Golden Flaxseeds
Flaxseeds are an amazing source of healthy fats, but they also provide protein and fibre. They are kind of an all-rounder. Not the primary ingredient for any of these macros, but a great addition, nonetheless.
Jimmy Joy Ingredients Review
Considering this was supposed to be a tribute to Soylent, we have to say that Jimmy Joy has easily surpassed it. Not that Soylent is a particularly good company. Jimmy Joy does a lot of things well. It uses well thought out ingredients and has a decent macronutrient ratio.
The only criticism is that it doesn't do anything to make it stand out from the crowd. It doesn't provide as much protein or fibre as Instant Knockout Complete, so can't compete from a weight loss point of view. It has a similar ingredients list to Rootana but can't compete with Rootana's commitment to avoiding all artificial sweeteners. It has a number of flavours but won't beat Huel when it comes to variety.
It's fine, but to us, it feels like it is missing out on that wow factor that other companies have managed for their own products.
How to Take Jimmy Joy?
To make your Jimmy Joy meal replacement shake you need to grab a shaker. Place two scoops of powder into the shaker and then add some water. Place the cap tightly on the shaker and then shake thoroughly for 10-30 seconds. You can experiment with different amounts of water, the less water you use, the thicker the shake.
Is Jimmy Joy Safe?
Yes, there is absolutely nothing to worry about, unless you have specific allergies to any of the ingredients. If you have never used a meal replacement before then you might experience some digestive discomfort for the first few days, but this is true of any meal replacement.
Jimmy Joy is mostly gluten-free, but sadly the oat flour is prepared in a factory that also processes gluten products, so someone with an extreme allergy may still experience symptoms.
Is Jimmy Joy Expensive?
One of the biggest benefits of Jimmy Joy is that it is inexpensive. A pack of 20 meals works out to only £1.36/$1.73 per meal. That's much lower than most meal replacement shakes.
However, this is largely down to the fact that Jimmy Joy uses soy protein and soy flour, which are much cheaper than pea protein, rice protein, and most carbohydrate sources.
What Other Jimmy Joy Products are There?
Alongside the powders, which are Jimmy Joy's primary focus, there are three other products that they sell: Plenny pots, Plenny bars, and a Plenny drink.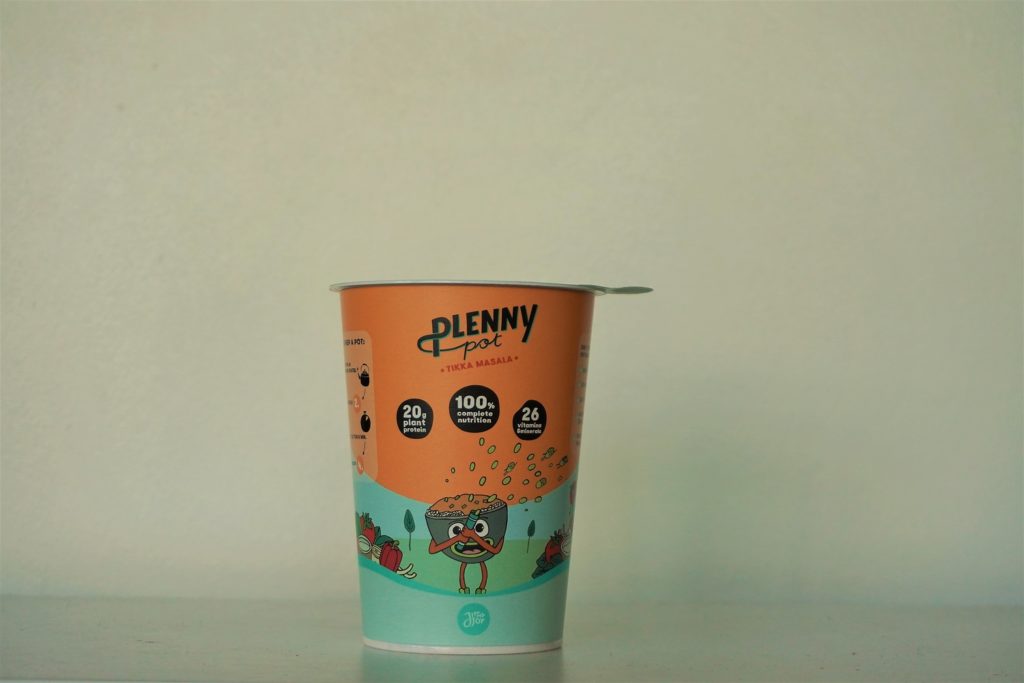 Plenny Pots
These are savoury instant meals, where you just add boiling water. They are the same calories as the powder (400) containing 20 grams of protein and are 100% plant-based. There are three options: Cajun pasta, tikka masala lentils, and vegetable korma rice. The products have received decent reviews from the majority, but some reviewers found that they were too spicy and that a non-spicy flavour would be better.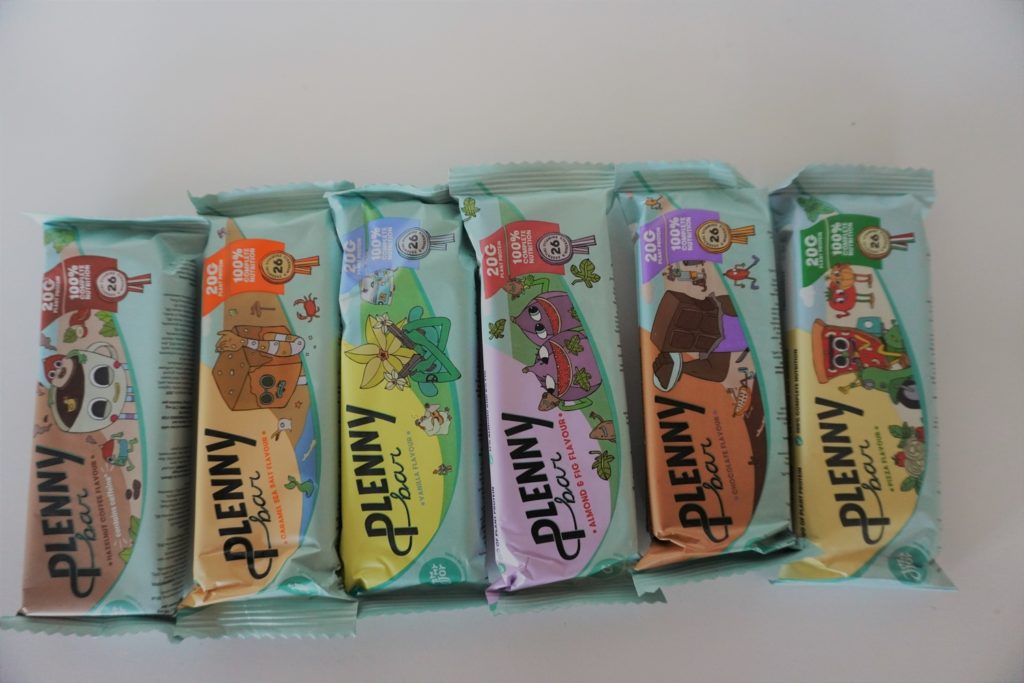 Plenny Bars
The bars are again 400 calories, plant-based, and have 20 grams of protein in them. What we like about these bars is that they offer both sweet and savoury options. The savoury option is a pizza flavoured bar. Sadly, the pizza bar does seem to be disliked by a lot of reviewers. While the sweeter flavours (chocolate, caramel, hazelnut coffee) are generally quite high-scoring.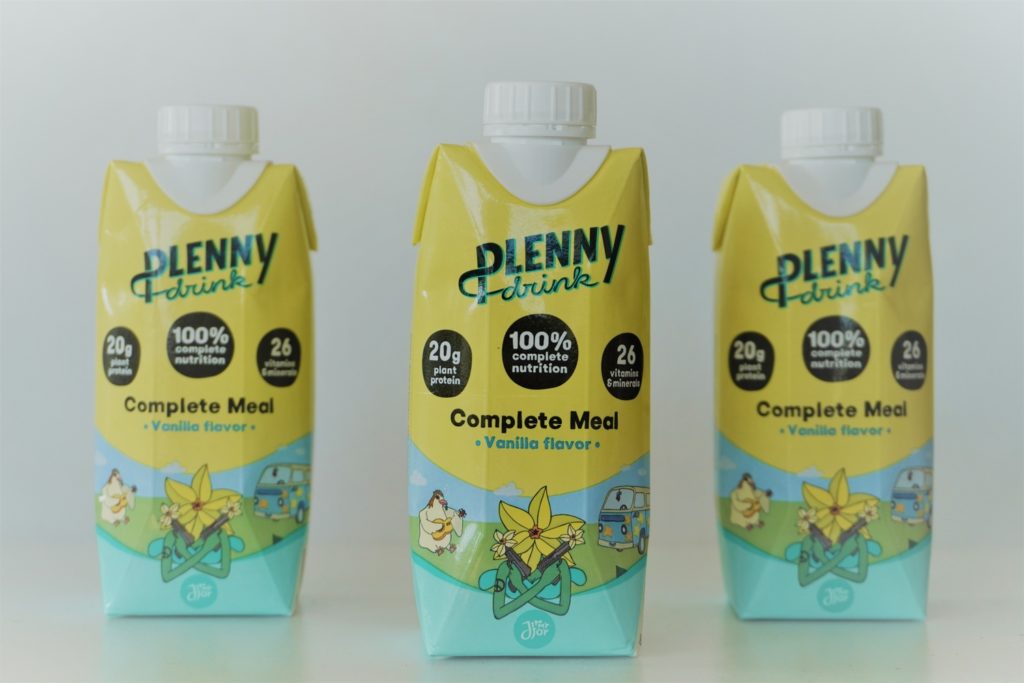 Plenny Drink
As far as we can tell, this is just a pre-mixed version of the powder. There are only two options available (chocolate and vanilla), but from a convenience point of view, they score quite highly with users. If you like the powder, then you will probably also like the drink. Though obviously, the cost per serving is much higher with the Plenny drink.
Best Jimmy Joy Alternatives
Which meal replacement you choose should depend on what your goals are. If you are looking for a meal replacement shake that can help you to lose weight, then the best alternative to Jimmy Joy is Instant Knockout Complete.
This meal replacement offers 35 grams of protein per serving, 35 grams of carbohydrates, and 13 grams of fibre. With such high protein and fibre contents in each serving, you will feel fuller for longer, helping you to maintain a calorie deficit. Instant Knockout also uses better plant-based protein sources, better fat sources (MCT oil from coconuts), and is a more natural product.
If your goal is to improve your nutrition then Rootana is a better alternative to Jimmy Joy. While it has a number of similar ingredients, it uses better protein, better fats, and better carbohydrates to create its formula. Rootana also avoids the use of artificial sweeteners, instead of using natural coconut sugars to create a sweet taste.
You also have Huel, which has good quality ingredients and an amazing amount of choice. Finally, there is Abnormal which is a meal replacement company whose gimmick is that they create your own personalised meal replacement shake. This is quite a fun idea, even if most of the options are quite limited.
Jimmy Joy Meal Replacement Shake Review
Jimmy Joy is not a flashy product, it does nothing to stand out from the crowd. However, it provides a decent product at a reasonable price. Are there better alternatives? Yes, but there are also a number of worse options out there. Ultimately, this is a good meal replacement shake that could do with a couple of improvements in the future. Jimmy Joy is a solid B minus scoring supplement.
If you would like to learn more about our favourite meal replacement shakes, then why not check out our top 5 meal replacement shakes review? Here you can check out the products we absolutely love, and find the perfect shake for you.
Frequently Asked Questions
Is Jimmy Joy any Good?
As a meal replacement, it is decent, but not spectacular. As one of the lowest-priced options out there it may appeal to people on a tight budget.
Where is Jimmy Joy Based?
In the creator's home city of Amsterdam.
How Many Calories are in Jimmy Joy?
There are 400 calories in each serving of Jimmy Joy, which is the industry standard.
References
[1] https://www.ncbi.nlm.nih.gov/pmc/articles/PMC4757923/