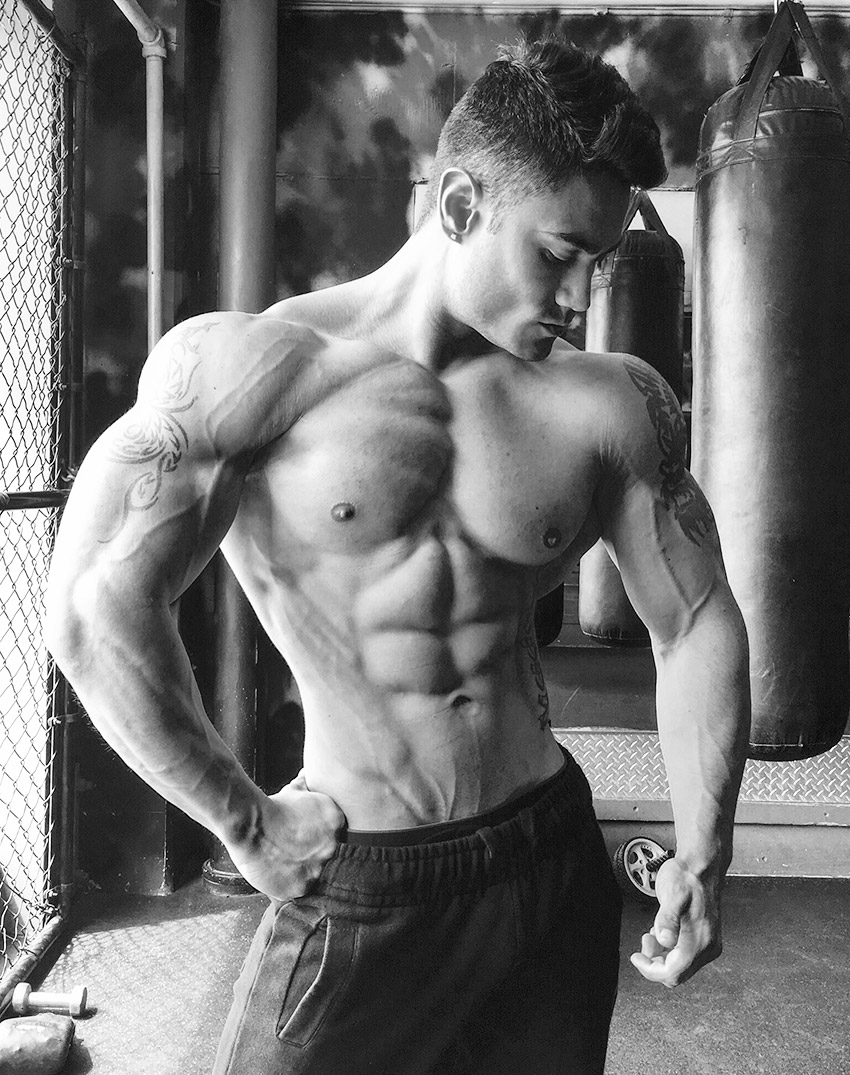 Jeremy Potvin
Bodybuilder, Fitness Model
Lifting heavy weights wasn't something Jeremy did from his early age, like a lot of famous competitors. In fact, he was involved in everything but training and nutrition until his early 20s when he enlisted in the US Army and served in Iraq.
During his service in Iraq, he developed a passion for lifting weights. It was a way for him to cut out all the negativity and stress that living in Iraq brought with it. After he came back to The United States, he realized that his new passion became part of him, and decided to take it a step further by competing.
Jeremy is known for his aesthetic body, having an incredible waist to shoulder ratio. As a former veteran of the U.S. Army and an IFBB Men's Physique Pro, he surely is one of the best in the sport but also an inspiration for people everywhere, and this is his story:
---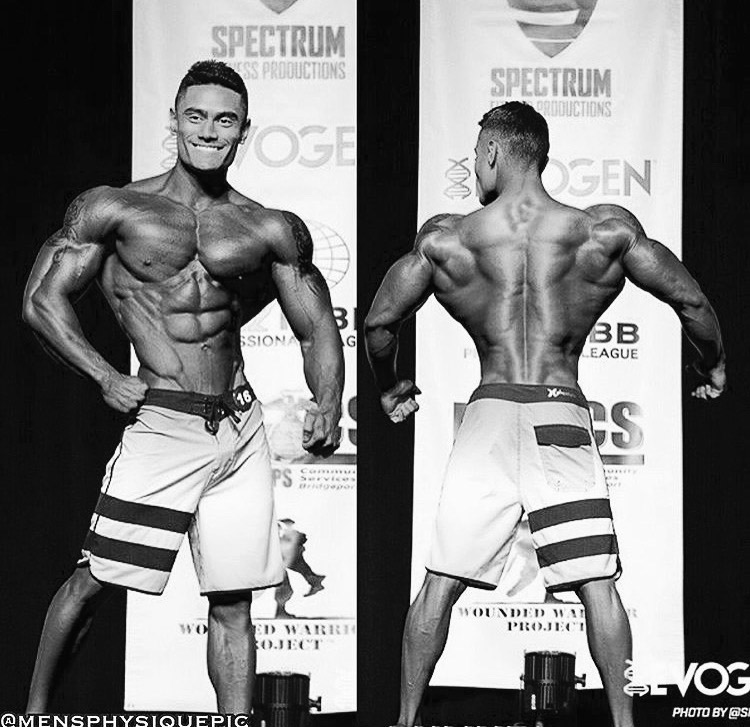 Athlete Statistics
Full Name: Jeremy Potvin
Weight
Height
Nationality
Profession
185 - 195lbs (83.9 - 88.5kg)
5'6" (167.5cm)
American
Bodybuilder, Fitness Model
Era
2010, 2000
| | |
| --- | --- |
| Weight | 185 - 195lbs (83.9 - 88.5kg) |
| Height | 5'6" (167.5cm) |
| Nationality | American |
| Profession | Bodybuilder, Fitness Model |
| Era | 2010, 2000 |
---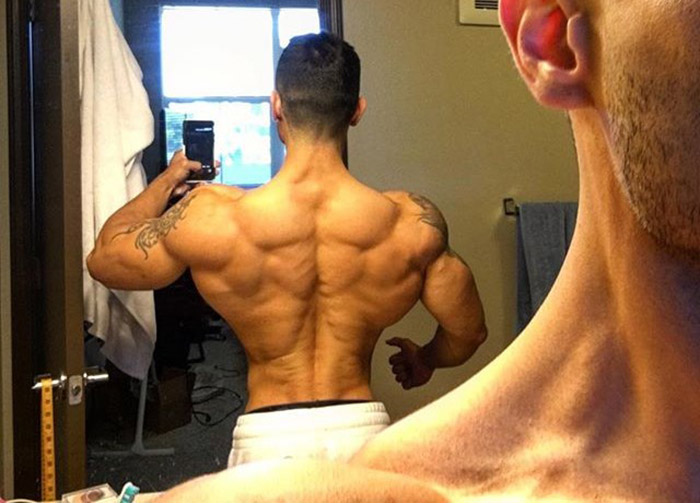 "The time I served in the army was a defining moment for me, and it set the basis of discipline and fitness, which has allowed me to continue doing what I do".
Accomplishments
Jeremy has been competing in many bodybuilding shows around the world, which eventually got him a status of IFBB Pro. In 2016, he stepped on stage in Men's Physique Mr. Olympia for the first time and placed 3rd. He also has a status of The U.S. Army veteran, which he got after serving the country in Iraq.
---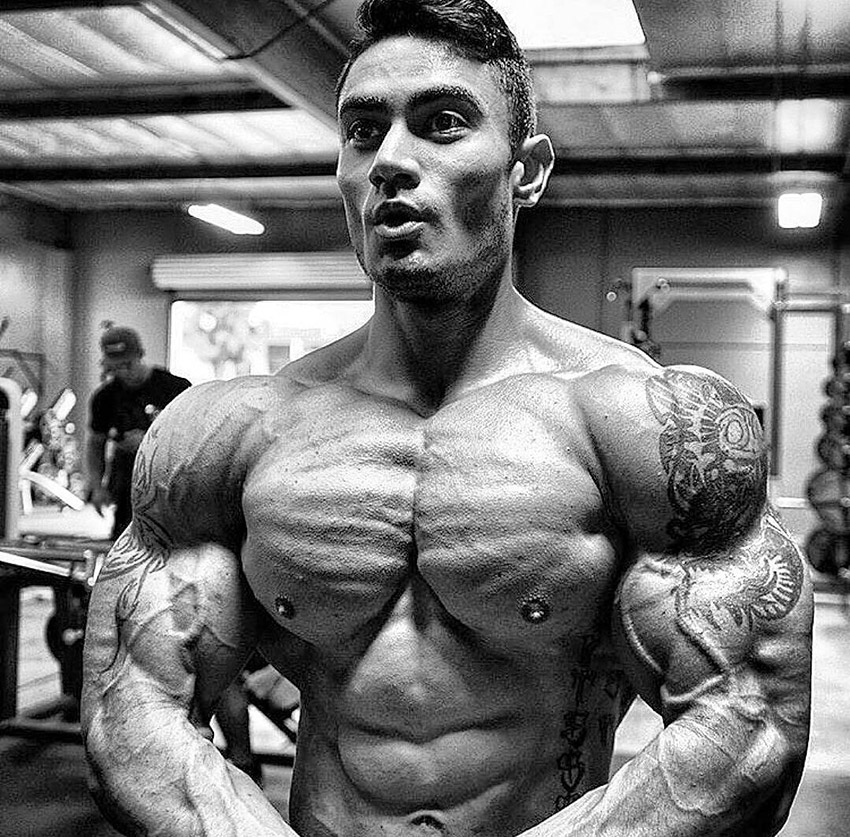 Biography
Early Years And Military
Born in Fort Lewis, Washington in 1989, but resides in San Diego, California. Jeremy is an IFBB Men's physique competitor with a Pro Card in bodybuilding. 
From an early age, Jeremy was a patriot like his father and grandfather. Because of his love for America, he decided to join The U.S. Army and serve as a soldier in Iraq.
He was not interested in bodybuilding until he served in Iraq and discovered that working out became his passion.  
Day by day, he would train there, exhaust himself to relieve the stress of a being in a worn torn country and serving in hostile situations. He later discovered that exercise was something he couldn't live without.
Discovery Of Bodybuilding
After returning home from Iraq, Jeremy started to focus more on training and dieting for bodybuilding. His body started to change dramatically through years of dedication and hard work.
This is when he decided to compete in local shows, and then in 2016 he competed in the 2016 Men's Physique Mr. Olympia where he took home 3rd place.
He admitted that it was very hard to continue during the time of his competition, mostly because of the mental struggle and fatigue that comes with constant competing and dieting, but the discipline and courage he cultivated over the years in Iraq really helped him stay on track and get that bronze spot in his first ever Mr. Olympia.
---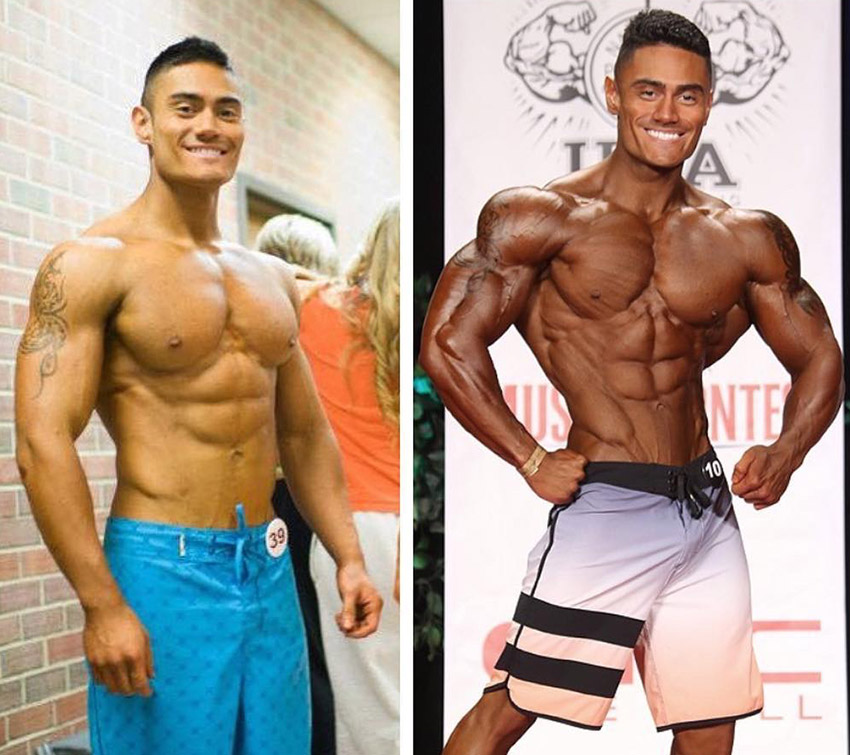 Jeremy before and after.
---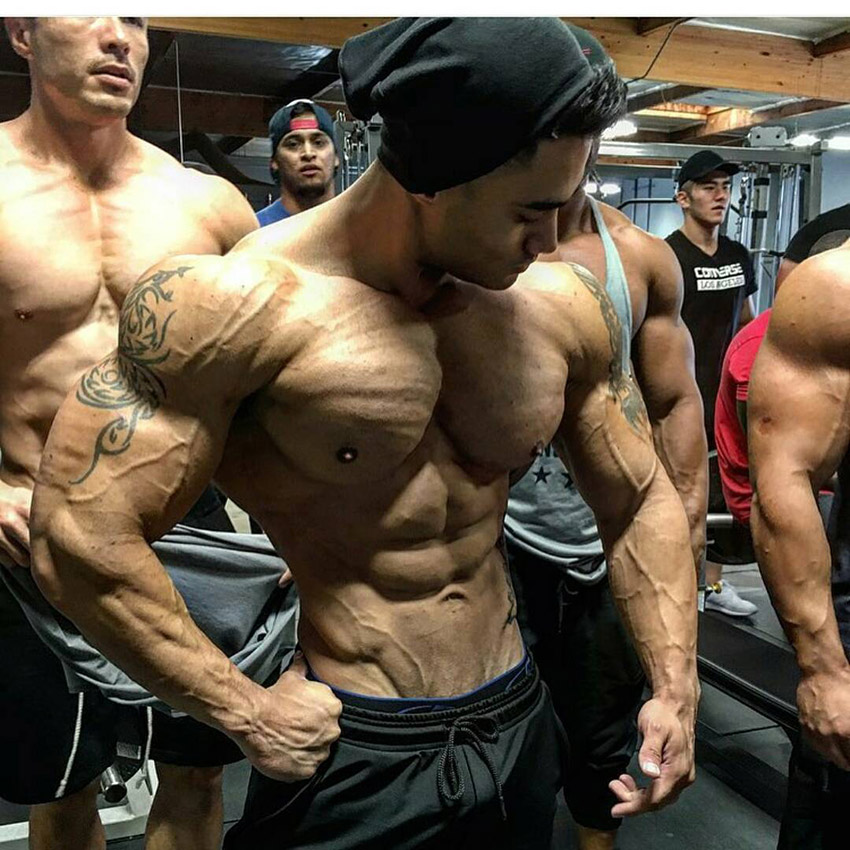 "My motivation comes from a continuous desire to better myself. There's no settling for me because I believe there's always something that can be improved upon. I also find motivation from those around me, my family, friends, and all of my supporters".
Training
Jeremy likes to alter his training regimen often. However, one thing almost always stays the same; his calves routine. He makes sure that his calves are trained at least 3 times a week, as he feels that they are the body part of his that have the most room for improvement.
Even though he likes to train this particular body part often, Jeremy also likes to stress the importance of recovery. He says by giving the body enough time to rest and heal is the key in bodybuilding. According to Jeremy, this may be more important than training itself.
Abdominal Development
One of Jeremy's main assets is his small waist. He's managed to build an incredibly strong core, and according to Jeremy, his secret for strong abdominals is trying to lift as much weight as possible with his favorite exercise – the EZ-Bar pulldown.
By using a strict movement all the way, he says his abs, "are burning afterward". This is Jeremy's secret to building a strong core.
Training Regimen
"Going by the feel" is the motto for his workouts. Jeremy is a fan of switching things up constantly so he can shock the body and keep it guessing. He likes to train his back and biceps, as well as chest and triceps in supersets, as he feels that it's the best way to tear his muscle fibers and develop a huge upper body.
This is what his usual weekly routine looks like:
Monday: Chest/Triceps
Flat Barbell Press 5 x 8-10

Incline Smith Machine Press 5 x 8-10

Hammer Strength Press Incline  4 x 8-10

Dumbbell Fly's Incline 5 x 12-15

Rope Extensions 10 x 10

Dumbbell Kickbacks 4 x 8-10
Tuesday: Back
Pull Ups 4 x 8

Seated Lat Pulldowns 5 x 8-10

Seated Neutral Grip Pulldowns 4 x 8-10

Bent-Over Barbell Rows 4 x 8-10

Seated Cable Rows 4 x 8-10

V Bar Pulldowns 4 x 10

Pull Ups 3 x 10
Wednesday: Rest
Thursday: Shoulders
Smith Machine Press 5 x 8-10

Dumbbell Lateral Raises 10 x 10-12

Machine Rear Delt Fly's 4 x 8-10

Rope Face Pulls 4 x 8-10

Incline Hammer Strength Cross Body Presses 4 x 8-10

Around the Worlds 4 x 15
Friday: Arms
Rope Extensions 10 x 10

Seated Dumbbell Extensions 4 x 12

EZ-Bar Cable Pushdowns 4 x 8-10

Hammer Strength Dips 4 x 8-10

Cable Curls 7 x 10

Dumbbell Curls 4 x 8-10

Preacher Curls 4 x 8-10

Cable Hammer Curls 4 x 8-10
Saturday: Legs
Leg Extensions 6 x 15

Leg Curls 6 x 15

Squats 4 x 8-10

Single Legged Leg Press 4 x 8-10

Leg Press (Feet Together/High) 4 x 20-25

Walking Lunges 3 x 12
Sunday: Rest
---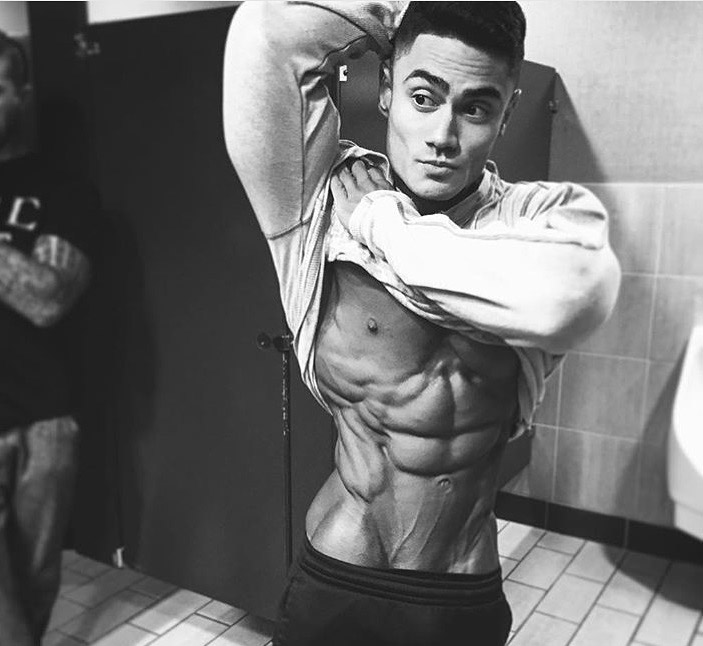 "Posing is meant to hide your flaws and highlight your best features. No need to overdo it just because you feel like you don't have enough of a routine"
Nutrition
Jeremy likes to eat healthily, six times a day, but occasionally allows himself a cheat meal, as he feels it's necessary for both the body and the mind to "reset" once in a while. His favorite cheat meal is pizza.
Jeremy's daily diet looks something like this:
1st Meal: 3 Whole Eggs, 1 cup Egg Whites and 5 ounces Chicken

2nd Meal: (Pre-Workout): 1 cup White Rice, 6 ounces Chicken and 1 cup Broccoli

3rd Meal: (Post-Workout): 1 scoop Protein

4th Meal: (1 Hour Post-Workout): 1 cup White Rice and 6 ounces Chicken

5th Meal: 1 cup White Rice, 6 ounces Chicken and 1 cup Broccoli

6th Meal: 1 scoop Casein Protein and 1 ounce Almonds
Supplementation
Jeremy isn't a fan of using many different supplements, as he believes that it takes a toll on the body over time, so he sticks to the basics; protein and pre workout being the foundation of his supplementation.
However, he does use some supplements such as; 
Protein

 

Pre Workout

CLA

Casein
---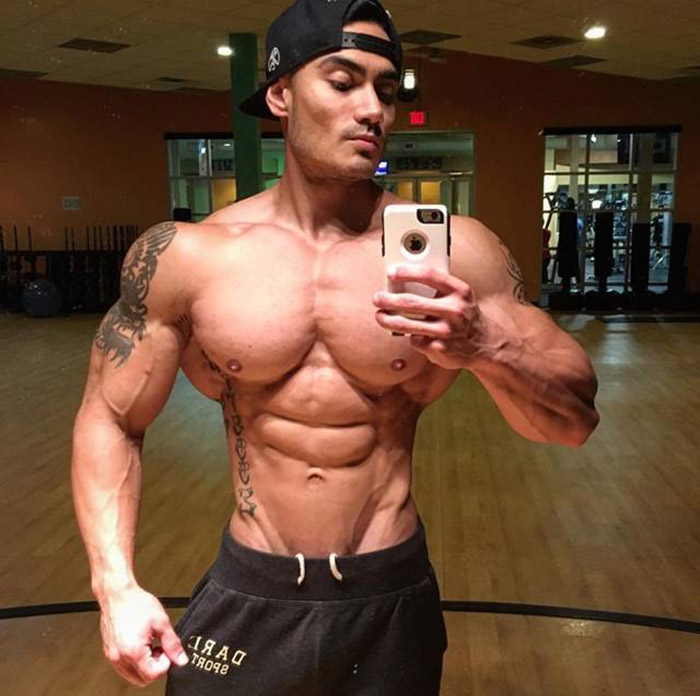 Idols and Influences
Jeremy's main idol is Arnold Schwarzenegger. He feels that he can relate to Arnold the most because both of them had to go through many similar struggles, such as the military and other challenges that made them tougher and more disciplined afterward.
---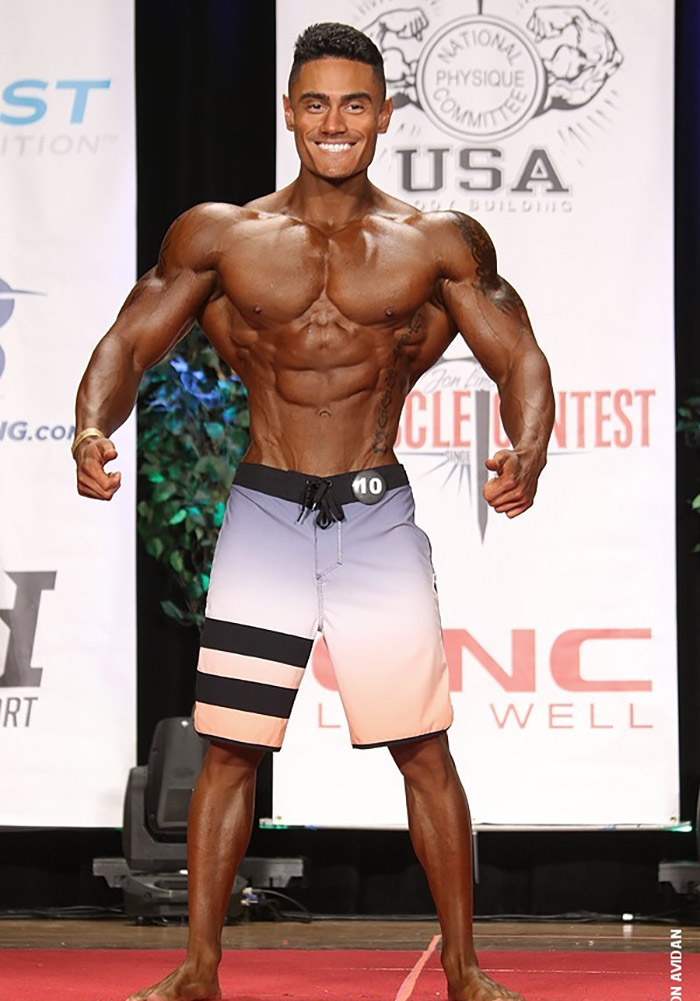 What we can learn from Jeremy Potvin
If there is one thing we can learn from Jeremy, it's perseverance. Not giving up when it's hard and staying true to your goals is the main part of his philosophy on life.
He's also a firm believer that we are all designers of our own destiny, and if we truly want something, we will do whatever it takes to reach that goal, whatever it may be.
Jeremy was a soldier in Iraq, not knowing what may have happened from one day to the next, yet he still found a way to bring light to his life by working out.
Find a passion, and never stop working on turning that passion into your lifestyle, just like Jeremy. By following the same principles, you too can achieve your own greatness.