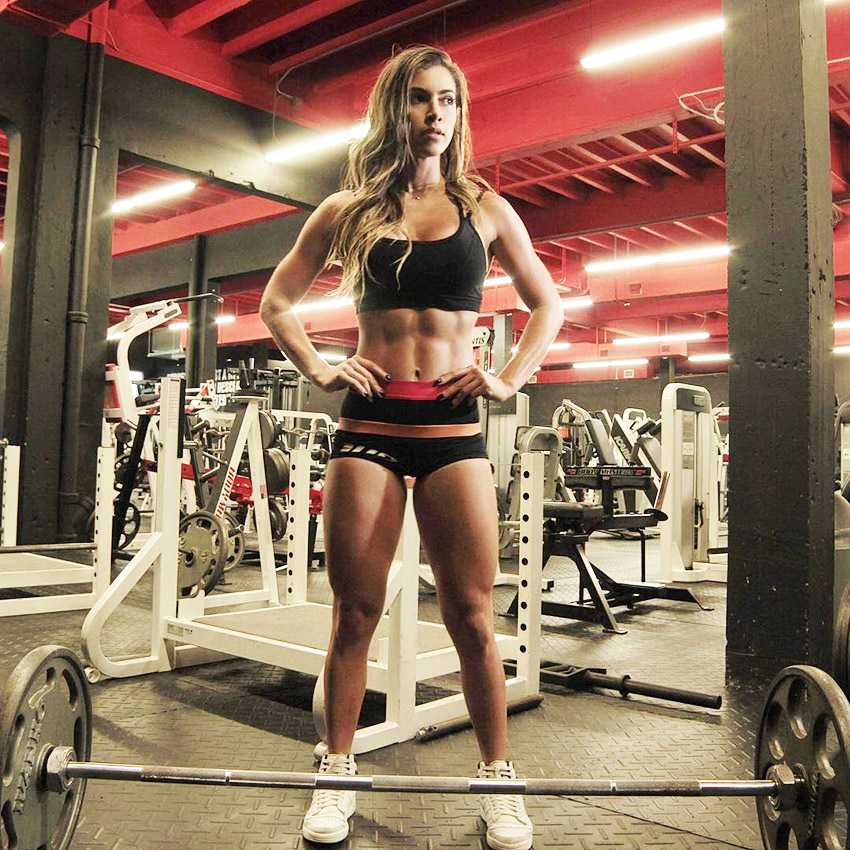 Anllela Sagra
Fitness Model, Bodybuilder,
Anllela Sagra is a fitness model and sponsored athlete from Colombia. She rose to fame when she won multiple figure competitions in the 2010's.
Anllela started working out with the intention of furthering her career as a fashion model. She fell in love with lifting almost immediately and began to train regularly – loving the results she saw.
After a year of intense training, in 2013, she decided to enter her first competition where she placed 3rd. Since then, Anllela has acquired an army of followers on social media, inspiring many to achieve their dream physiques.
---

"Do not allow yourself to fall for nothing."
Athlete Statistics
Full Name: Anllela Sagra
Weight
Height
Bust
Hips
125 - 135lbs (56.7 - 61.2kg)
5'9" (175cm)
34"
33"
Waist
Year of Birth
Nationality
24"
1993
Colombian
Profession
Era
Fitness Model, Bodybuilder,
2010
| | |
| --- | --- |
| Weight | 125 - 135lbs (56.7 - 61.2kg) |
| Height | 5'9" (175cm) |
| Bust | 34" |
| Hips | 33" |
| Waist | 24" |
| Year of Birth | 1993 |
| Nationality | Colombian |
| Profession | Fitness Model, Bodybuilder, |
| Era | 2010 |
---

"Never let anyone or anything interfere with your dreams."
Biography
Fashion Modeling To Fitness
Anllela Sagra first started her career in fashion design, along with modelling. It was during this period that she recalled being; "extremely thin since a muscular body is not something desired in the modeling world. "
However, one day when Anllela was in the gym she met a personal trainer, who, in her own words said; "I met a trainer who would forever change my life, his knowledge and mentoring catalyzed the life style that I now live."
It was during this early period where Anllela stated to understand more about the human body, and the way it adapted to new training styles. Anellela said; "my body was starting to respond to the training."
Leaving Modeling Behind
While Anllela started to gain a love for working out, more specifically weight training, she slowly moved away from her modelling career, due to the 'extra muscle' that she'd built.
In Anllela own words; "Many told me to stop training because I was "hurting" my body, but the passion I had for the life I was starting to live was incredible."
Enrolling In Fitness Competitions
Not wanting to pay attention to what others were saying around her, Anllela continued on her path towards fitness. After gaining more confidence in the gym, she decided to enter in her very first fitness bikini competition.
Here's Anllela talking about her first competition appearance;
"After a year and a half of discipline and dedication, I enrolled in a fitness competition in which I came in 3rd place. I was extremely surprised by the results and even more by the comments from big names and judges, since I had only been in this world for such a short period of time."
Making Tough Career Decisions
After successfully completing her first bodybuilding competition, Anllela was stuck in a difficult position, she had to make a choice about her future career within modelling, or to move forward with fitness full-time.
As Anllela said; "It was during this time where I was torn between what I wanted in life. Do I want to be a model like all the other ones in Colombia or do I want to be the first Colombian fitness model? Was it worth leaving everything I worked for behind and receive criticism for it? Is all this worth it to chase what I love?"
After a lot of careful consideration, Anllela decided to move away form her first career choice to take up fitness modeling once and for all. As Anllela said; "I decided to take it and risk everything."
Needless to say, Anllela made the right decision. She now boast an army of followers online that continue to grow year after year. What started as humble beginnings, ended up becoming her career, and passion.
---

"In life there is no such thing as luck, there are only opportunities and it is your decision whether or not to take a chance on them. I decided to take it and risk everything, lose everything and just jump into the world of possibilities and the truth is that it was the best decision I ever made in my life.."
---

"Enjoy the process and be thankful of every little thing you accomplish! Life is short to not celebrate every little thing." 
Training
Full Body Workouts
There is one particular body part that Anllela likes to train the most, and that's her lower body, more specifically her glutes.
Anllela uses a variety of 'classic' movements such as the dead lift, squat, weighted kickbacks and hip thrusts as her main tools for building her athletic physique.
As for her upper body, Anllela likes to use lighter weight along with her own body weight. Some of the exercises she'll use are pull ups, push ups, bicep curls and the shoulder press.
Apart form her lower and upper body, Anllela is known for having a strong and toned core. To create her strong midsection, she performs exercises such as hanging leg raises, and crunches.
---
 
"Always seek to improve and help others by leading by example."
---

"No resting when it comes to reaching your dreams! Work for what you love everyday, no excuses!"
---

"Look at yourself…That's the only competition you have!"
What we can learn from Anllela Sagra
What we can learn from Anllela is; hard work and dedication pays off, even when those around you don't believe in you. Throughout it all, she remained true to her goals and pushed forward regardless.
This type of resistant and strong attitude, is what made Anllela a house-hold name in Brazil, and around the world.
If you ever find yourself in a situation where you have to choose between a passion, or what others are telling you to do, reading Anllela's story might help you in making that tough decision.