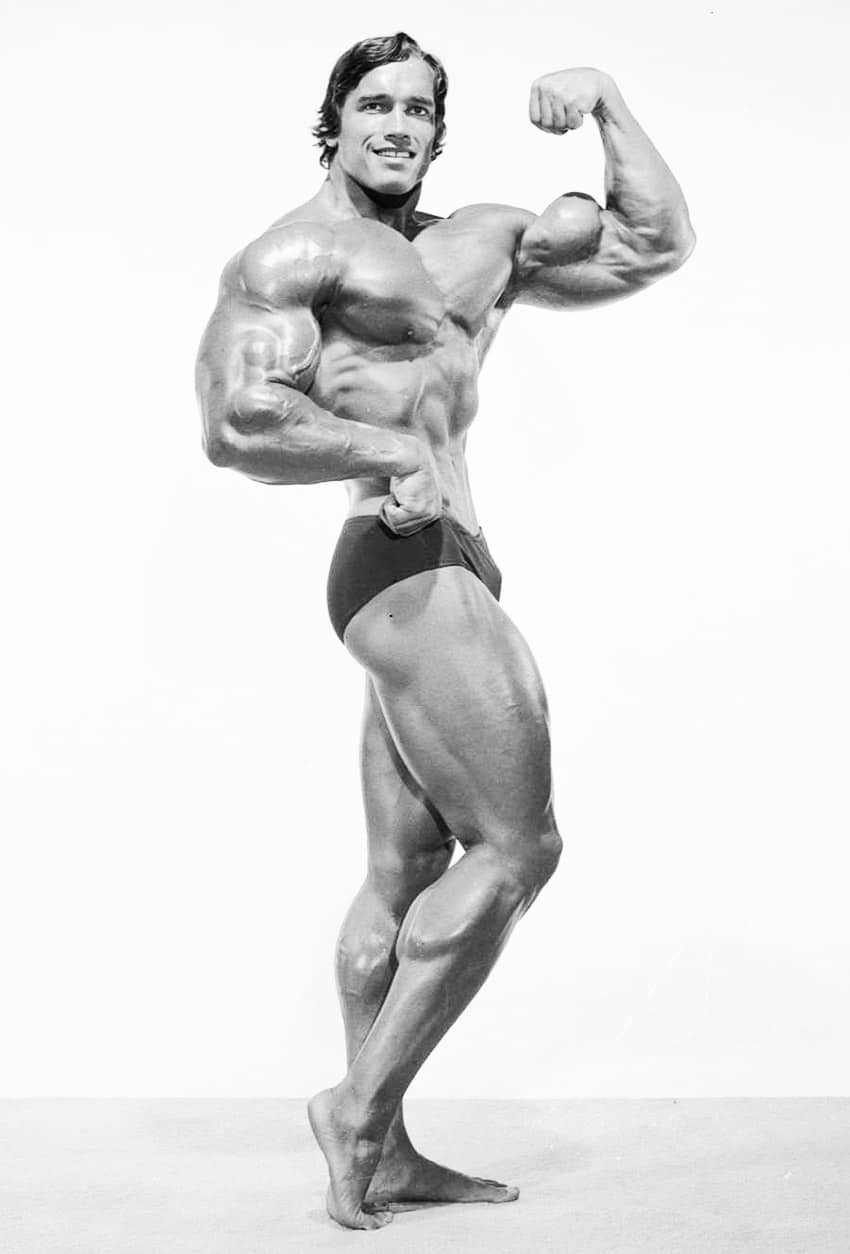 Arnold Schwarzenegger
Bodybuilder, Actor, Movie Star, Producer, Activist, Businessman, Inventor, Writer, Politician
Arnold Schwarzenegger – He's been named the Austrian Oak, The Terminator, John Matrix, Mr. Freeze, The Governator, and to many of his fans just Arnie. Not only is he known as one of the greatest bodybuilders in history, but also as an action movie star, and an American politician.
Arnold began his journey after seeing the iconic idol Reg Park appearing as Hercules. This, Arnold says, "is when I saw the entire plan laid out before me."
Being "the figurehead" and "the golden boy" of the "golden era," Arnold brought bodybuilding to the mainstream. He soon appeared on the big screen, commercials, magazines, and advertisements across the entire country.
In later years, he has been known for bringing equality and equal rights to the forefront of political campaigns, fighting for environmental issues and social reformation. His one-liners, humor (on and off the stage) and larger than life personality continue to echo through the minds of fans around the world to this day. If there was ever a poster child for the American dream, Arnold's the one.
This is Arnold Schwarzenegger's story:
---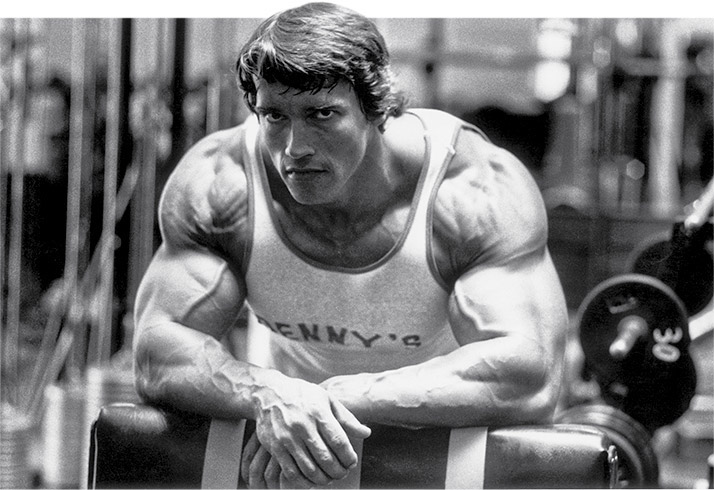 "For me life is continuously being hungry. The meaning of life is not simply to exist, to survive, but to move ahead, to go up, to achieve, to conquer."
Athlete Statistics
Full Name: Arnold Alois Schwarzenegger
Weight
Height
Arms
Chest
225 - 235lbs (102.1 - 106.6kg)
6'3" (190.5cm)
22"
57"
Waist
Thighs
Calves
30"
28.5"
20"
Year of Birth
Nationality
Profession
1947
Austrian, American
Bodybuilder, Actor, Movie Star, Producer, Activist, Businessman, Inventor, Writer, Politician
Alias
Era
The Austrian Oak
1960, 1970, 1980, 1990, 2000, 2010
| | |
| --- | --- |
| Weight | 225 - 235lbs (102.1 - 106.6kg) |
| Height | 6'3" (190.5cm) |
| Arms | 22" |
| Chest | 57" |
| Waist | 30" |
| Thighs | 28.5" |
| Calves | 20" |
| Year of Birth | 1947 |
| Nationality | Austrian, American |
| Profession | Bodybuilder, Actor, Movie Star, Producer, Activist, Businessman, Inventor, Writer, Politician |
| Alias | The Austrian Oak |
| Era | 1960, 1970, 1980, 1990, 2000, 2010 |
---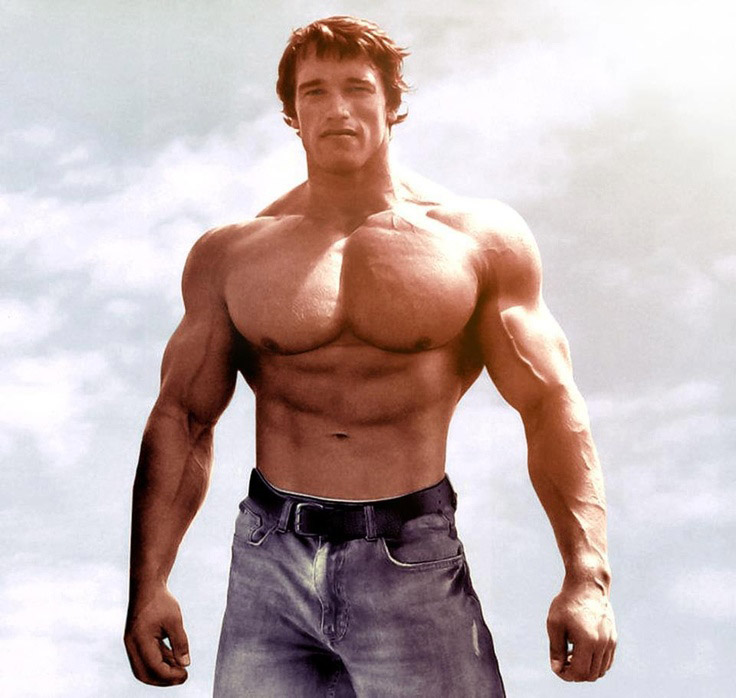 "Everything I have, my career, my success, my family, I owe to America."
---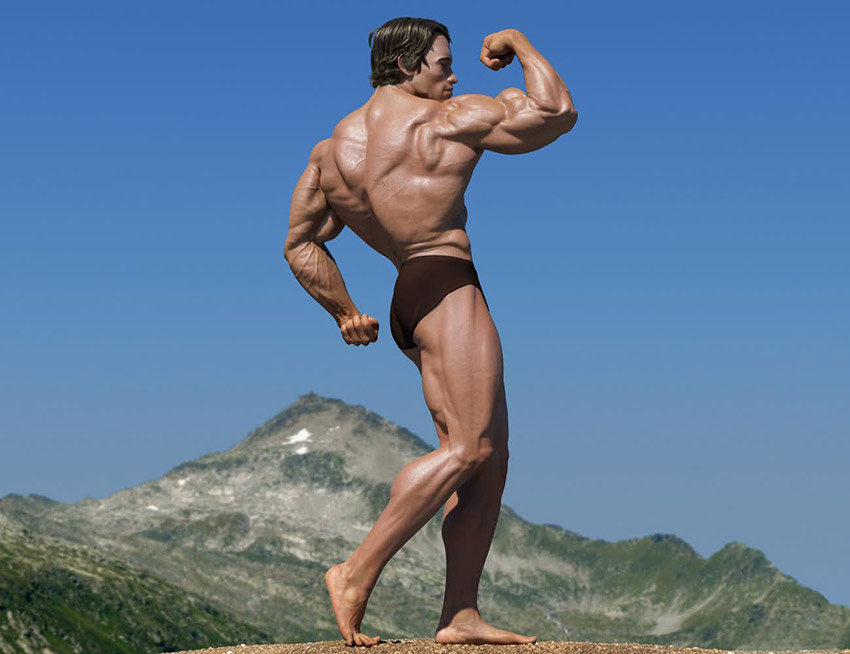 "I just use my muscles as a conversation piece, like someone walking a cheetah down 42nd Street."

Related article: Best natural testosterone boosting supplements for fast muscle gains
Accomplishments
Bodybuilding Competitions
1963 Steirer Hof Competition in Graz, Austria (runner-up).
1965 Junior Mr. Europe in Germany
1966 Best-Built Athlete of Europe in Germany
1966 International Powerlifting Championship in Germany
1966 Mr. Europe – amateur in Germany.
1966 NABBA Mr. Universe – amateur in London, England
1967 NABBA Mr. Universe – amateur in London, England
1968 German Powerlifting Championship in Germany
1968 IFBB Mr. International in Tijuana, Mexico
1968 NABBA Mr. Universe – professional in London, England
1968 IFBB Mr. Universe in Miami, Florida (tall class winner)
1969 IFBB Mr. Universe in New York
1969 IFBB Mr. Olympia in New York (2nd place to Sergio Olivia)
1969 NABBA Mr. Universe – professional in London, England
1969 IFBB Mr. Europe – professional in Germany
1970 NABBA Mr. Universe – professional in London, England
1970 AAU Pro Mr. World in Columbus, Ohio
1970 IFBB Mr. Olympia in New York
1971 IFBB Mr. Olympia in Paris, France
1972 IFBB Mr. Olympia in Essen, Germany
1973 IFBB Mr. Olympia in New York
1974 IFBB Mr. Olympia in New York
1975 IFBB Mr. Olympia in Pretoria, South Africa
1980 IFBB Mr. Olympia in Sydney, Australia
---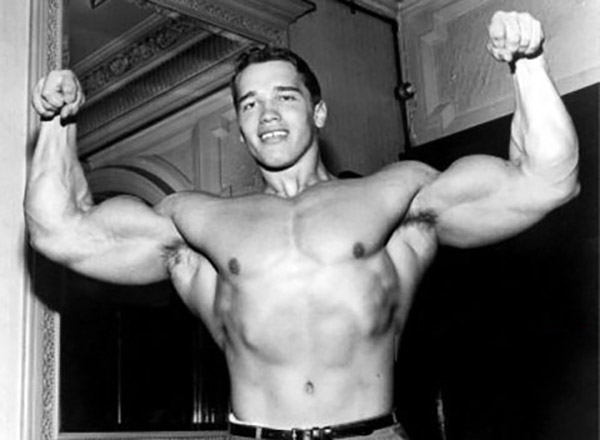 "What is the point of being on this Earth if you are going to be like everyone else?"

Related article: Best muscle building, libido and fat loss supplements for men over 50
---
Powerlifting/weightlifting
During Arnold's early years in bodybuilding, he also competed in several Olympic weightlifting and powerlifting contests. Arnold won two weightlifting contests in 1964 and 1965, as well as two powerlifting contests in 1966 and 1968.
In 1967, Schwarzenegger competed in and won the Munich stone-lifting contest. In the event he lifted a stone weighing 508 German pounds (254 kg/560 lbs) between his legs while standing on two foot rests before successfully placing it on the raised platform.
---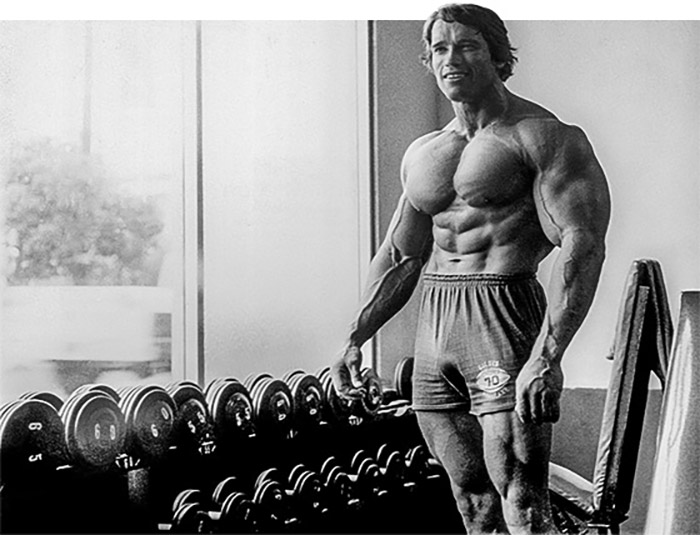 "Positive thinking can be contagious. Being surrounded by winners helps you develop into a winner."
---
Arnold's records
Clean and press – 264 lb (120 kg)
Snatch – 243 lb (110 kg)
Clean and jerk – 298 lb (135 kg)
Squat – 545 lb (247 kg)
Bench press – 520 lb (240 kg)
Deadlift – 710 lb (320 kg)
---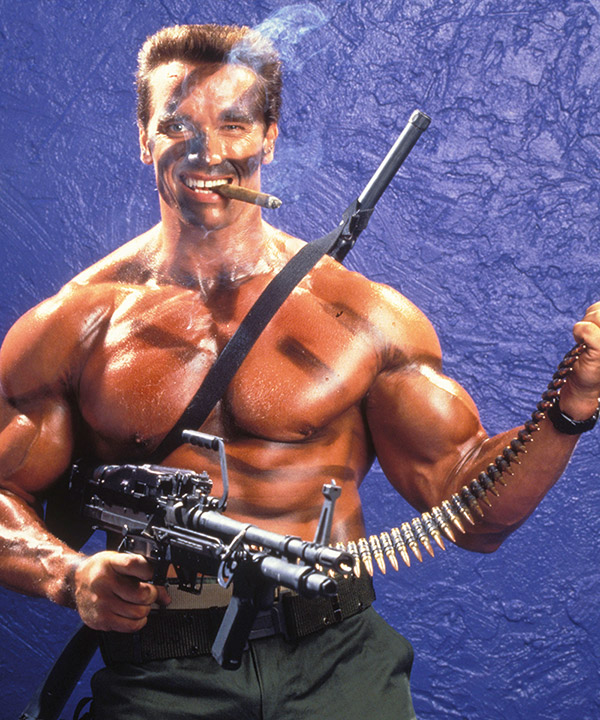 "There are no shortcuts—everything is reps, reps, reps."
---
Arnold's Movies
Hercules in New York 1969 Hercules

The Long Goodbye 1973 Hood in Augustine's office (uncredited)
Happy Anniversary and Goodbye 1974 Rico
Stay Hungry 1976 Joe Santo
Pumping Iron 1977 Himself
The Villain 1979 Handsome Stranger
Scavenger Hunt 1979 Lars
The Comeback 1980 Himself
Conan the Barbarian 1982 Conan
Conan the Destroyer 1984 Conan
The Terminator 1984 The Terminator
Red Sonja 1985 Kalidor
Commando 1985 Colonel John Matrix
Raw Deal 1986 Mark Kaminsky, aka Joseph P. Brenner
Predator 1987 Major Alan "Dutch" Schaefer
The Running Man 1987 Ben Richards
Red Heat 1988 Captain Ivan Danko
Twins 1988 Julius Benedict
Total Recall 1990 Douglas Quaid / Hauser
Kindergarten Cop 1990 Detective John Kimble
Terminator 2: Judgment Day 1991 The Terminator
Last Action Hero 1993 Jack Slater / Himself
Dave 1993 Himself
True Lies 1994 Harry Tasker
Junior 1994 Dr. Alex Hesse
Terminator 2: 3-D Battle Across Time 1996 The Terminator
Eraser 1996 U.S. Marshal John Kruger
Jingle All the Way 1996 Howard Langston
Batman & Robin 1997 Dr. Victor Fries / Mr. Freeze
End of Days 1999 Jericho Cane
The 6th Day 2000 Adam Gibson / Adam Gibson Clone
Dr. Dolittle 2 2001 White Wolf
Collateral Damage 2002 Gordy Brewer
Terminator 3: Rise of the Machines 2003 The Terminator
The Rundown 2003 Bar Patron
Around the World in 80 Days 2004 Prince Hapi
The Kid & I 2005 Arnold
Terminator Salvation 2009 The Terminator
The Expendables 2010 Trench Mauser
The Expendables 2 2012
The Last Stand 2013 Sheriff Ray Owens
Escape Plan 2013 Emil Rottmayer / Victor Mannheim
Sabotage 2014 John 'Breacher' Wharton
The Expendables 3 2014 Trench Mauser
Maggie 2015 Wade Vogel
Terminator Genisys 2015 Terminator/Pops/Guardian
478 2016 Victor
Why We're Killing Gunther TBA Gunther
---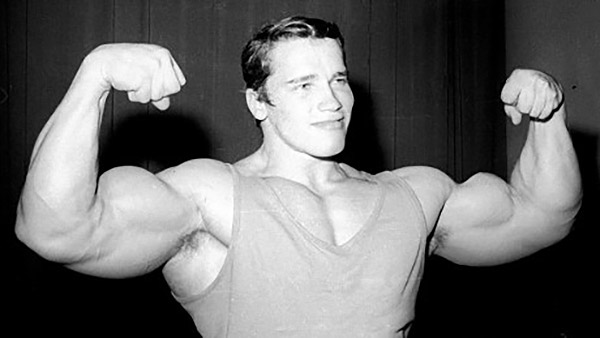 "You'll get more from being a peacemaker than a warrior."
---
Awards and honors
Seven-time Mr. Olympia winner
Four-time Mr. Universe winner
1969 World Amateur Bodybuilding Champion
1977 Golden Globe Award winner
Star on the Hollywood Walk of Fame
International Sports Hall of Fame (class of 2012)
WWE Hall of Fame (class of 2015)
Schwarzenegger Institute for State and Global Policy (part of the USC Sol Price School of Public Policy at the University of Southern California) named in his honor
Arnold's Run ski trail at Sun Valley Resort named in his honor. The trail is categorized as a black diamond (high difficulty level)
"A Day for Arnold" on July 30, 2007, in Thal, Austria
---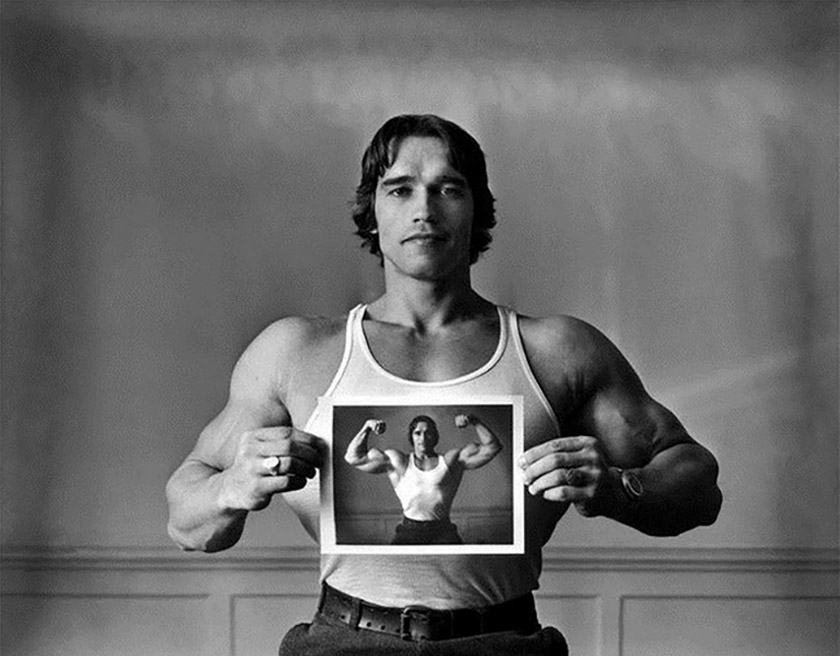 "Be hungry for success, hungry to make your mark, hungry to be seen and to be heard and to have an effect. And as you move up and become successful, make sure also to be hungry for helping others."
Biography
Arnold Schwarzenegger The Self-Made Man
A warrior for the golden state, a tireless leader, a bodybuilding icon, an action movie sensation and an inspiration for millions everywhere. These are just some of the things Arnold has been known for. His domination drive and unwavering focus have placed him in the limelight for decades.
In the movies, he's been an all-time classic action hero where he's become famous for his incredibly funny and unforgettable one-liners. Also, not to forget, he's become the best and most famous bodybuilder of all time in the process.
Setting his sights further and ticking all the boxes on his life's goals. It's clear to see that Arnold's drive and intense focus is hard to match.
There have been some negative allegations made against the Austrian Oak at times, but one thing will always stand true when his name is spoken. He will be remembered for centuries to come as one of the most inspirational characters the world has ever seen – both in the movies and real life.
It all started in 1947, way back in a sleepy Austrian village on July 30th.
---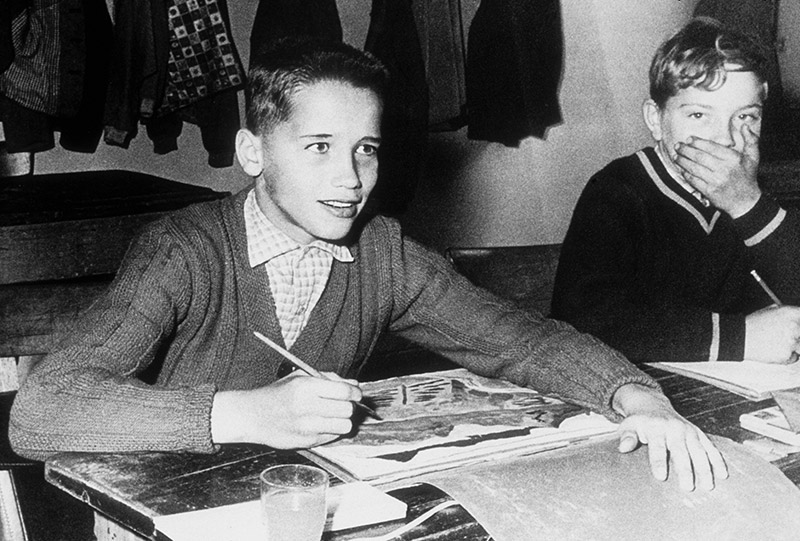 "If you want to turn a vision into reality, you have to give 100% and never stop believing in your dream."
---
Early Life
Arnold Alois Schwarzenegger was born in a small village in Austria on July 30th, 1947. The village names Thal borders the Styrian capital of Graz.
His parents, Gustav Schwarzenegger (17 August 1907 – 13 December 1972), and Aurelia (née Jadrny; 29 July 1922 – 2 August 1998) were both the local police chiefs. They married on October 20, 1945 – Gustav was older at 38, and Aurelia was a young 23-years-old.
Gustav, Arnold's father, voluntarily served in World War II under the Nazi party in 1938. He served in Hauptfeldwebel of the Feldgendarmerie and was discharged in 1943 after he was found to have caught malaria.
"Back then in Austria it was a very different world, if we did something bad or we disobeyed our parents, the rod was not spared."
Schwarzenegger was a caring and humorous child, but his father had a preference for his older son, Meinhard (17 July 1946 – 20 May 1971). Understandably, this caused Arnold some great upset during his youth. According to the Austrian Oak, Gustav believed that Arnold was not his biological child. Arnold said that he was "strong and blatant," about his affection for his older brother.
Schwarzenegger's descriptions regarding his father have always been reserved, but he did say that his father had: "no patience for listening or understanding your problems." However, in contrast to his troubled relationship with his father, Arnold always had a good connection with his mother. He kept in touch with until her death.
---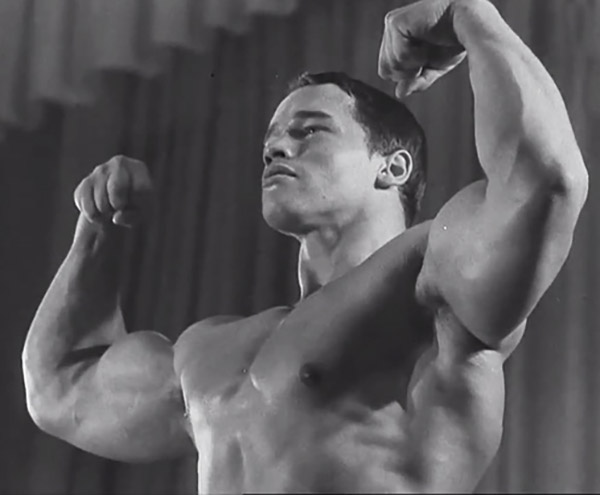 A young Arnold bodybuilding.
---
Bodybuilding – The Beginning
When Arnold was at school, he was described as a cheerful and good-humored child. This good humor is still seen today, he's always telling "one-liners" or trying to make people laugh.
Back in his early childhood, money was tight. Things were so tough that one of the highlights of his childhood is when his family could afford to buy a refrigerator.
Being a healthy and active teenager in his youth, Arnold played many sports. One of the main activities he participated in was football. His father encouraged him to play as many sports as a possible.
When his soccer coach took him to the gym at age 14, Arnold had his very first encounter with a set of weights. This was the beginning for the Austrian Oak, and was something that would shape and change his entire life forever.
Arnold wasn't only brawn, but brain too, having always been interested in how the mind works. After being used to physical training from his early years playing soccer, he considered himself to be in good enough shape to start weight training seriously. Here's Arnold talking about when it all happened;
"I actually started weight training when I was 15, but I'd been participating in sports, like soccer, for years, so I felt that although I was slim, I was well-developed. At least enough so that I could start going to the gym and start Olympic lifting."
In a recent biography of Arnold's life, it discusses how, and when, he started training and educating the mind; "At 14, he started an intensive training program with Dan Farmer, studied psychology at 15 (to learn more about the power of mind over body) and at 17, officially started his competitive career."
---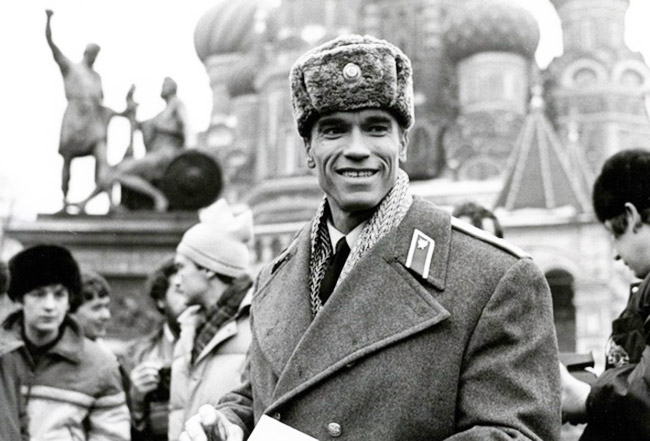 "Participating in the competition meant so much to me that I didn't carefully think through the consequences."
---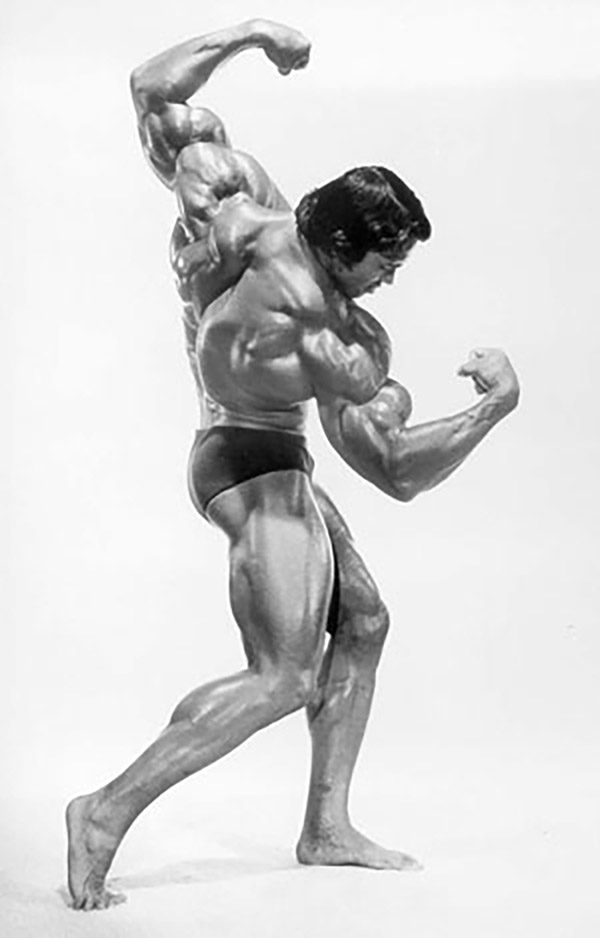 ---
The Austrian Army 
In Austria, at the time Arnold was a teenager, national service was required for all men turning 18 years of age. The young men of the country would leave their homes and join the army and enter a life full of discipline and strict training sessions for an entire year. In 1965 Arnold left for a life full of excitement and opportunities.
Something that Arnold took to like a fish to water, his military precision and work ethic are what made him the famous bodybuilder, actor, businessman, and politician we know him as today.
Already spending a couple of years weight training back home, Arnold took the opportunity to enter a bodybuilding competition during the time of his service. This was the junior Mr. Europe contest, Arnold won the competition hands down. A beginning that would soon progress him into the world famous "Austrian Oak".
The competition didn't come without a price. He spent a week in Military Prison as he went AWOL during the beginning of his basic training. It wasn't exactly the best start for Arnold, but he knew deep down that he had to compete and make a name for himself. During his service, he took part in another competition at Graz – The Steirer Hotel, where he was crowned The Best Built Man of Europe. This is what made Arnold famous.
---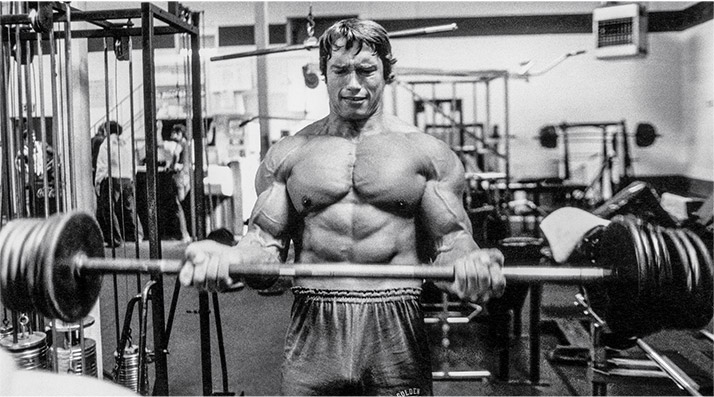 "The Mr. Universe title was my ticket to America – the land of opportunity, where I could become a star and get rich." Schwarzenegger made his first plane trip in 1966, attending the NABBA Mr. Universe competition in London.
---
Arnold's Visualization
Arnold saw something happening before anyone else could catch on. He was becoming a world champion. His drive, ambition, and skill to visualize his goals and turn them into a reality would make him into a success.
Arnold started to study rigorously. Learning more about bodybuilding competitions, where they were held, and the different classes he needed to win to become a household name held his total focus. He knew this was his ticket to fame and fortune.
His sights were set on Mr. Universe. This, he knew, was his path to achieving greatness.
Before he could enter the competition, he first had to qualify for in the 1966 NABBA Mr. Universe in London. After this, Arnold could see America was within his grasp.
---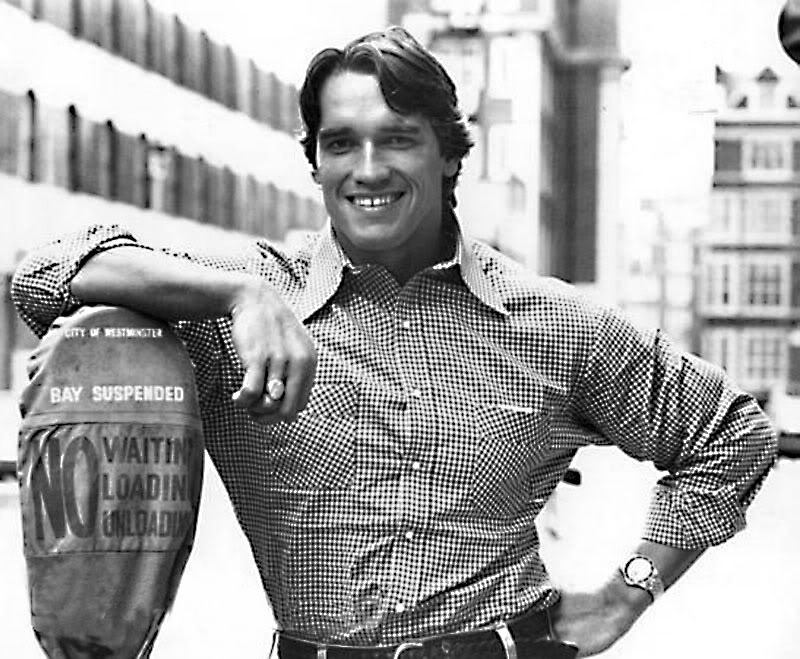 "The more knowledge you have, the more you're free to rely on your instincts."
---
Moving to London
With only a gym bag in hand and a pocketful of change, Arnold boarded a plane and left for London England to take part in Mr. Universe. He fought hard and placed a respectable second place. It was American winner, Chester Yorton, who presented more muscle definition to take home the 1st.
After not having enough muscle definition at the time but still being full of potential, a judge from the evening's show, Charles Bennett, offered to coach the young and thirsty Arnold.
With very little in the way of worldly possessions, Schwarzenegger enthusiastically accepted Bennett's offer. The young Arnie then went to stay at his crowded home above one of his gym's in Forest Gate, London. This is where Arnold learned and mastered the secrets to muscle building.
Arnold lost the competition due to his lack of leg muscle definition. Therefore, a plan was created by Bennett to build Arnold's legs by adding more size and strength.
---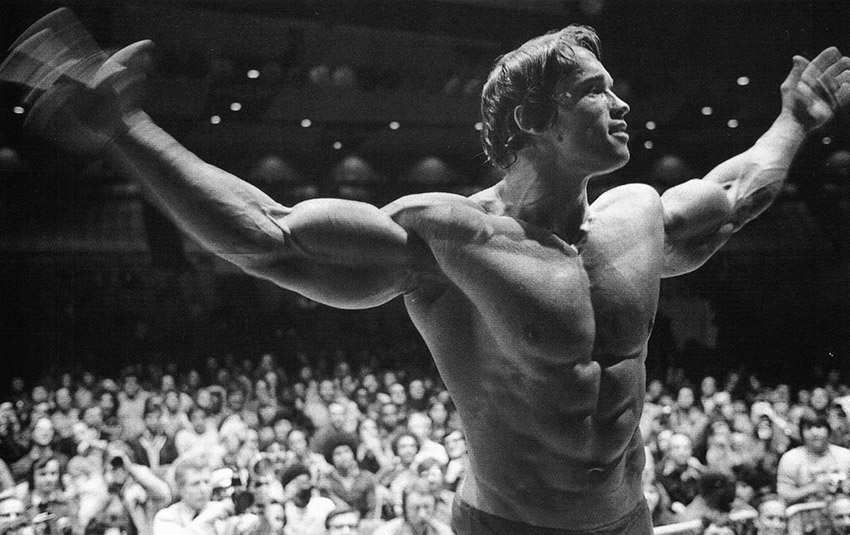 "I love it when people say that something can't be done. That's when I really get motivated; I like to prove them wrong."
---
Mr. Universe At 20
While Arnold was living in London, he had the opportunity to practice his English and also he met his idol, Reg Park. They immediately became friends and Reg mentored Arnold for a short time.
Training with the best like Reg Park and coach Bennett helped Arnold to increase his size and muscular definition tremendously. All the hard work paid off, as in 1966, he won the Mr. Universe title for the very first time at the age of 20. This made Arnie the youngest ever winner in the history of bodybuilding, and he'd also go on to win Mr. Universe a further three times.
Arnold eventually left London and Bennet's home. He headed back to Munich, where he trained continuously for six hours a day. It was at this time in his early years of bodybuilding, that he knew, he wanted more than just a bodybuilding title. He wanted to become a movie star.
On returning to Munich, with a new goal in mind, Arnold would say to his speech and language coach, Roger C. Field;
"I'm going to become the greatest actor!" – Arnold Schwarzenegger
---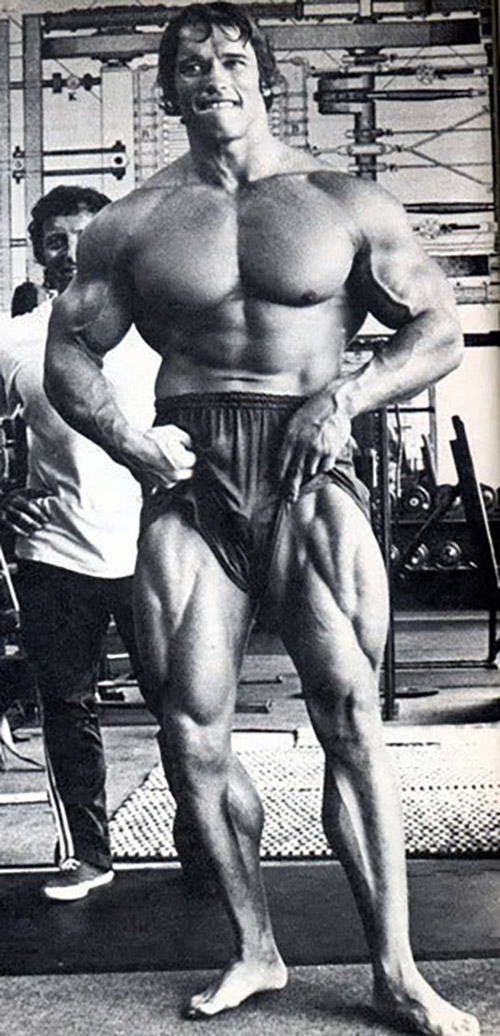 ---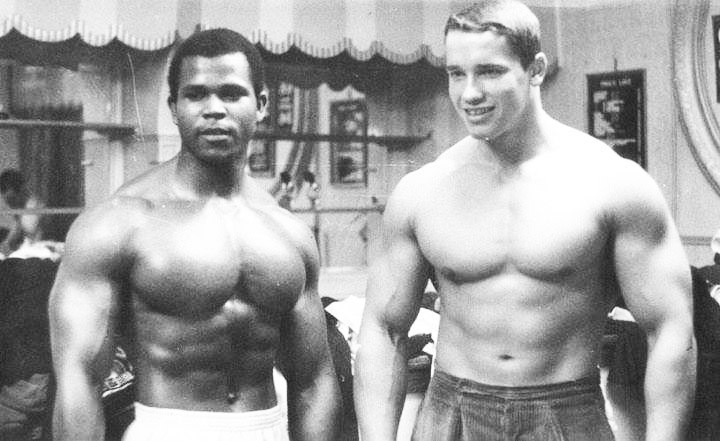 Arnold as a teenager with Serge Nubret.
---
Powerlifting & Weightlifting Competitions
It wasn't only bodybuilding that got Arnold started on his road to glory. He also competed in a number of Olympic weightlifting and powerlifting contests in his homeland. Schwarzenegger impressively went on to win two weightlifting contests, one in 1964 and another 1965.
Arnold also received medals for his powerlifting contests, one in 1966 and 1968. While Powerlifting never became a competitive focus for Arnie, the big lifting movements became fundamental parts of his bodybuilding training. For example, he used exercises like the deadlift and squat to build strong and powerful muscle for his entire career.
One year after winning the Mr. Universe at the age of 2o, Schwarzenegger won the 1967 stone-lifting contest held in Munich. During the contest he lifted a stone weighing 508 pounds (254 kg/560 lbs.) from the ground onto a podium.
---
---
Record Breaking Mr. Olympia
Being a driven, focused and a hard working individual, Arnold knew he wanted to take the world title for being the best bodybuilder of all time. This meant becoming the Mr. Olympia champion.
He first attempted to win the trophy in 1969, where he lost to three-time champion Sergio Oliva. In later years Arnold and Sergio would even become close friends.
Schwarzenegger, being Schwarzenegger, came back in 1970, stronger, and even more determined to win the competition. He smashed the other competitors out of the water and walked away with the win. As Arnold was only 23 at the time, this victory made him the youngest ever Mr. Olympia winner up to that point.
Not stopping there, Arnold also went on to win the Mr. Olympia for a consecutive six times, all the way from 1970-1975. Then, after beating Franco Columbo (who later became his best friend, business partner, and training buddy) he announced his retirement from the sport of bodybuilding.
---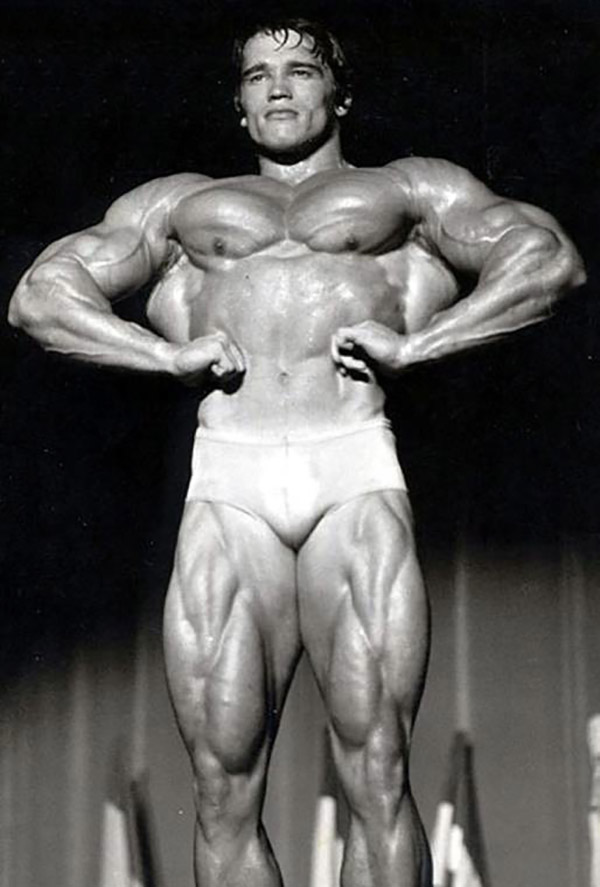 A young Arnold competing in his 20s'.
---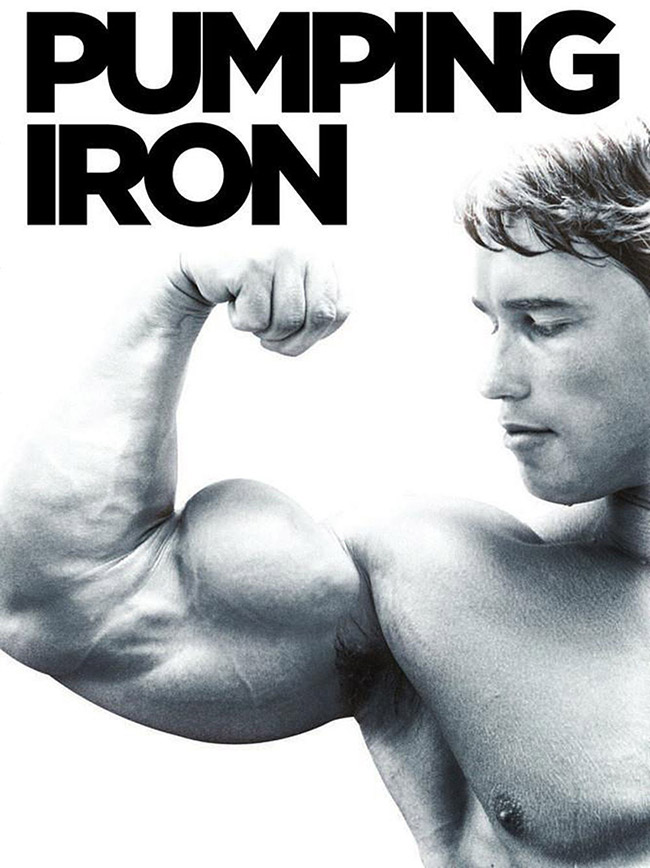 "I'll pump you up" – Arnold Schwarzenegger
---
Pumping Iron
The smash hit "Pumping Iron" documents Arnold and the "Golden Era" of bodybuilders preparing for the 1975 Mr. Olympia. Their lives, for the very first time, were recorded and released to the eager public, who wondered with curiosity and excitement what the "life of a bodybuilder" was like.
Some feared that Arnold wouldn't win the 1975 Olympia over the strong competitor Lou Ferrigno. This was because he was much smaller than previous years, due to the fact that he had to lose weight for the movie Stay Hungry starring Jeff Bridges.
But, even though Arnold wasn't as big or as defined as some may have thought, he trained hard and outclassed everyone in the competition. Ultimately, this just showed what an incredible athlete Arnold was during the height of his bodybuilding career.
---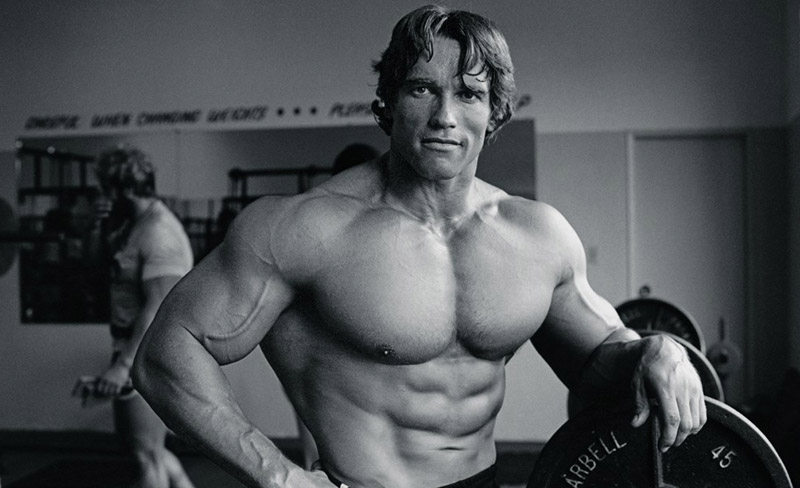 "My definition of living is to have excitement always; that's the difference between living and existing."
---
Out Of Retirement
In 1980, Arnold came out of retirement and decided he'd compete in the 1980s, Mr. Olympia. At the very same time, Arnold was training for his role in the film Conan The Barbarian. He was said to be in the best shape of his life at this point. The grueling training on set prepared Arnold for what was about to become his biggest move in bodybuilding history.
---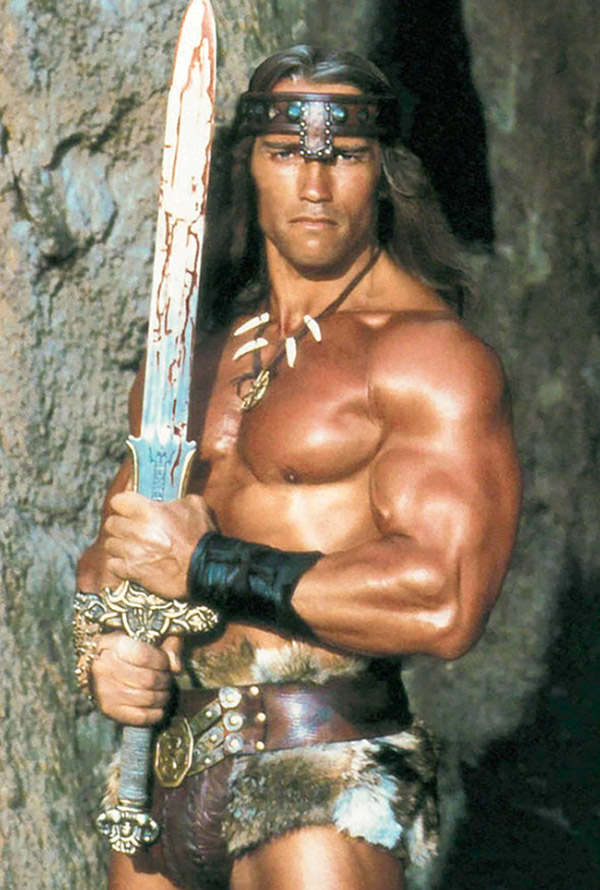 "Conan! What is best in life?" "To crush your enemies – See them driven before you, and to hear the lamentation of their women!" – Arnold as Conan the Barbarian 
---
Seven Weeks For The Olympia
Horseback riding, endless hours of sword training and running were the backbone of Arnold's training during the filming of Conan. He knew he was in such good condition that entering the Olympia for one last time needed to be done. Arnold gave himself a tight deadline of only seven weeks to prepare for the competition.
With Arnold's world famous focus, drive, and determination, that he's used his entire life to win and succeed. He made the decision he was going to win the 1980 Olympia. All of this was in complete secret just in case an accident may have prevented him from competing.
At the same time of the event, Arnold was hired to provide color commentary for network television, when he announced to the world at the very last minute he was going to compete for the Olympia. Needless to say, Arnold walked home with the win, after only seven weeks of preparation. Upon winning the Olympia for a seventh time, Arnold retired from competing permanently.
---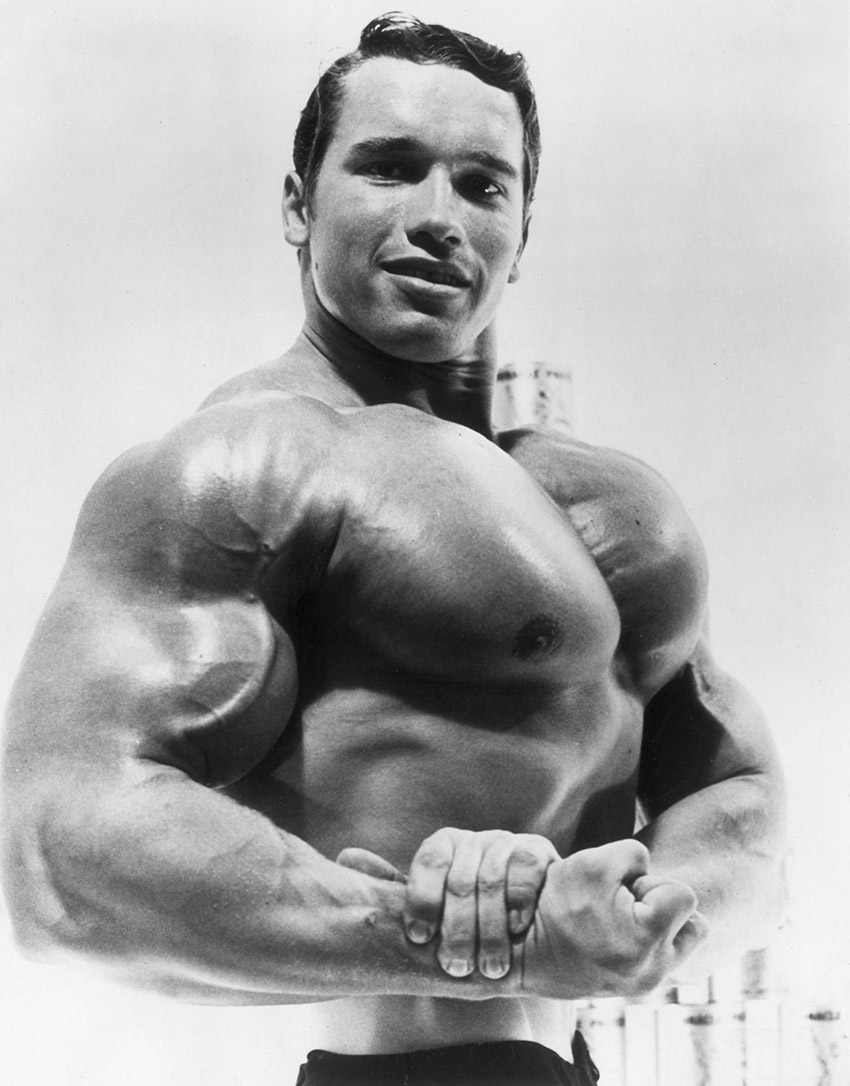 "steroids were helpful to me in maintaining muscle size while on a strict diet in preparation for a contest. I did not use them for muscle growth, but rather for muscle maintenance when cutting up."
---
The Use Of Steriods
Like some of the professional bodybuilders in today's competitive world, and the ones back in the "golden era," steroids have been present in their preparation for competitions. Arnold admits he used performance-enhancing anabolic steroids while they were legal.
Arnold came across some conflict with using steroids in 1999 when a German doctor "publicly predicted" Arnold's early death on the link between steroids and a heart condition.
The doctor stated that because of this direct link between the use of steroids and his heart condition, where he was born with a small defective, congenital aortic heart valve. He would suffer an early death.
These type of claims could have cost Arnold numerous acting contracts, publicity roles and other areas of work as the companies wouldn't want to hire someone with a "possible heart condition" heightened by the use of steroids. Arnold sued the doctor for $10,000 US dollars in a German Court. In 1999 he also sued and settled with Globe, a U.S. newspaper that made similar claims.
---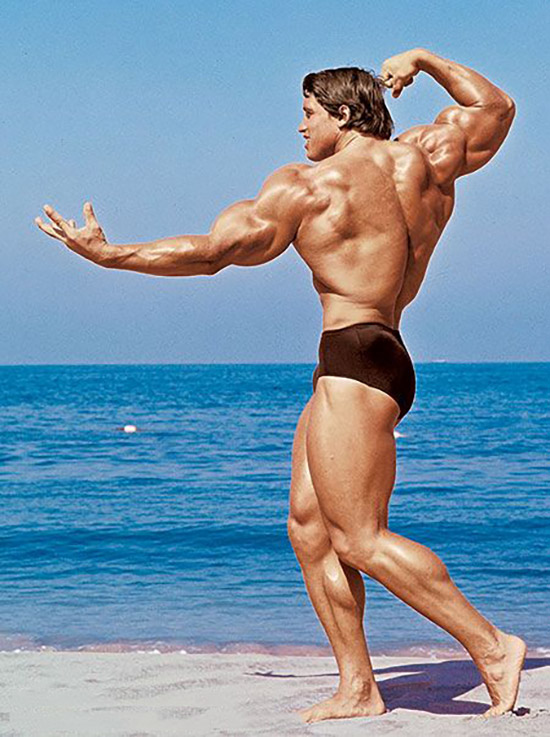 ---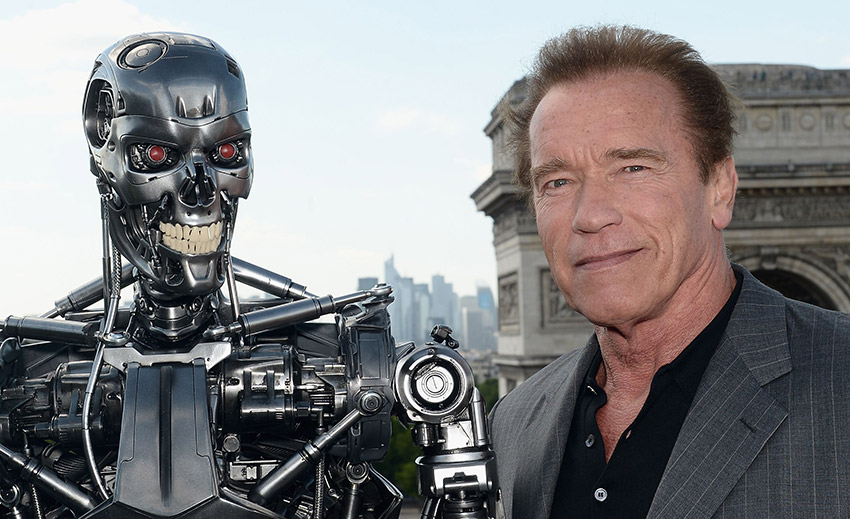 "Don't go where it's crowded. Go where it's empty. Even though it's harder to get there, that's where you belong and where there's less competition."
---
Arnold's Acting Career
Arnold always knew he was destined for greatness, not only on the stage of bodybuilding, but also on the big screen. Taking acting lessons and private English classes, he set his sights on becoming a leading actor in Hollywood movies.
While looking for acting roles, his agents told him directly that he couldn't act because of his thick Austrian accent. To Arnold, this was just another chance to prove "them" wrong. He continued to take accent removal classes to soften his strong European voice and worked harder to improve his acting skills.
Needless to say, Arnold has become one of the greatest motion picture action heroes of all time. He's starred in numerous box office hits and been an idol for generations of young, and old people for decades.
Infamous for his "one liners" such as "I'll be back" from the very first 1984 Terminator, and humor on and off the screen, he's been adored and idolized the world over. The lovable character that is Arnold Schwarzenegger continues to produce, direct and star in films to this day.
---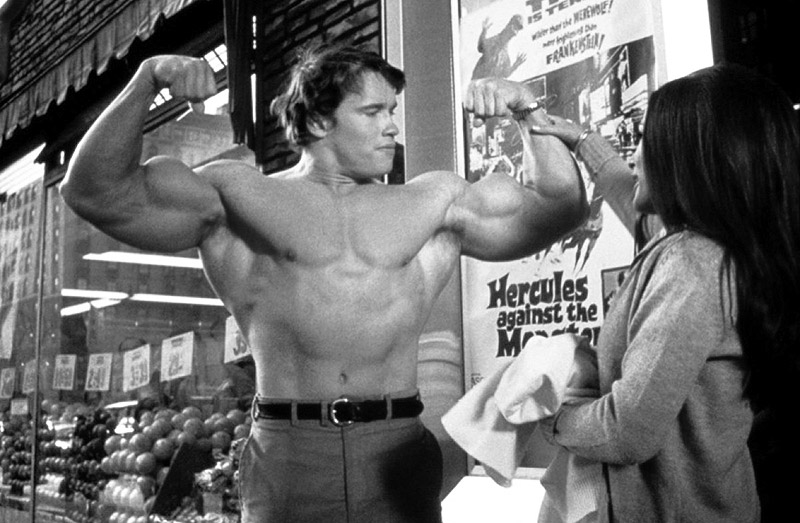 "It was very difficult for me in the beginning – I was told by agents and casting people that my body was 'too weird', that I had a funny accent, and that my name was too long. You name it, and they told me I had to change it. Basically, everywhere I turned, I was told that I had no chance."
---
First Feature Film & The Golden Globe Award
Successfully dominating the bodybuilding world had been checked off Arnold's "To-do" list. His sights were now set on the big screen. He landed his first role as "Arnold Strong," in the 1970's production of Hercules in New York.
Although he worked hard with speech coaches for years previous to his first movie, Arnold's voice was dubbed for the final production. His thick European accent was too difficult to understand. But this didn't deter the "Austrian Oak" from pursuing his dreams of becoming the best action hero of all time.
His second movie presented Arnold as a deaf mute hit-man for the mob in Robert Altman's "The Long Goodbye" produced in 1973. This later followed with a more integrated role in "Stay Hungry" filmed in 1976. Arnold's performance awarded him with a Golden Globe for New Male Star of the Year.
Defying the odd's and facing countless setbacks from producers, agents and everyone in between who told him he'd never be in the acting business. Arnold never gave up on his dreams and kept pushing forward with the belief he had something that the public wanted.
---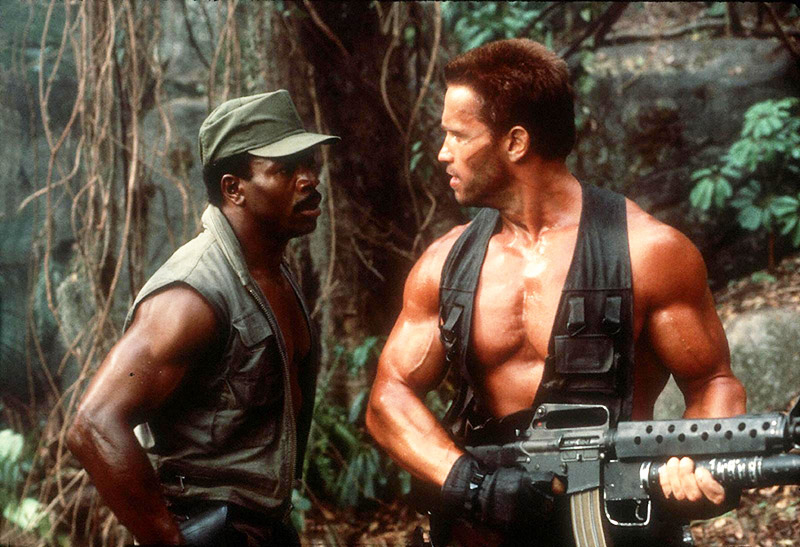 "If it bleeds, we can kill it!" – Arnold Schwarzenegger
---
Action Hero
Arnold's become world famous for his roles in movies such as the Commando, Predator, Red Heat and The Terminator. His first box office hit "Conan The Barberian" made Arnold the action hero he is today. This was his very first, but not last box-office hit.
In the 1982 movie, Arnold can be seen wielding swords, riding horses and performing his own stunt work, this cemented him as the "all-around" action hero. The big screen hit was followed by a sequel, Conan The Destroyer in 1984.
The very same year he made his first appearance as the hard hitting, comic, cyborg assassin from the future in Terminator. The movie was written and directed by James Cameron and became Arnold signature role. The film banked a reported $78.3 million USD.
With a huge muscular physique, Arnold dominated the "action movie" scene for decades, especially in the "80s and "90s where audiences had a hunger for action roles with comical one-liners. He's continued to provide humorous moments with jaw-dropping action throughout his entire career.
---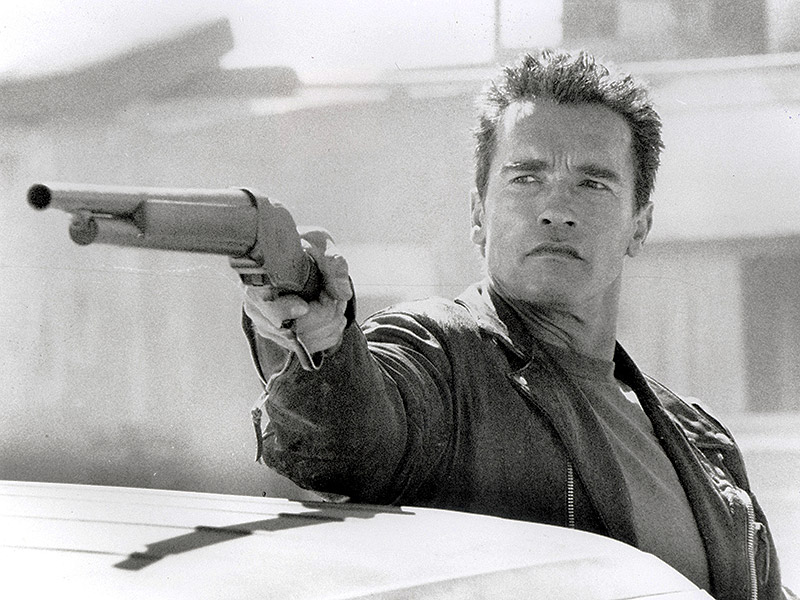 "Hasta la vista baby" – Arnold Schwarzenegger
---
International Star Of The Decade
In the height of his movie career, Arnold featured in films such as Terminator 2 Judgment Day, which was the highest-grossing film at the time in 1991. The very next year in 1993, he was named the "International Star Of The Decade" by the National Association of Theatre Owners, not bad for someone who was told he'd never act in Hollywood.
Like all great actors, he experienced some ups and downs. There were films that didn't always appeal to everyone. His role in "The Last Action Hero" saw Arnold play himself as an action hero brought to life from the screen by a die-hard fan. The film was released the same year as Jurrasic Park in 1992, which outweighed his second major role.
Arnold's next leading role was in the action comedy "Ture lies,'" (filmed in 1994) which became very popular film among Schwarzenegger fans.
---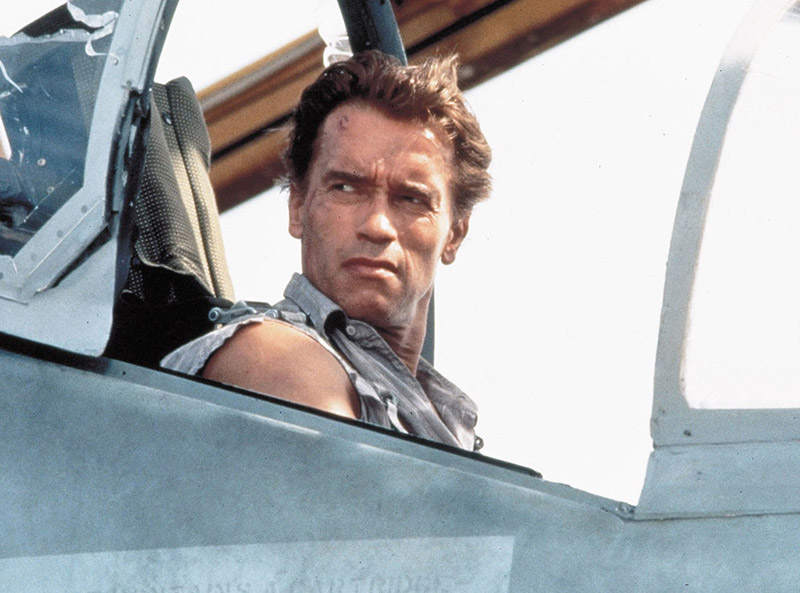 "I'm a big believer in hard work, grinding it out, and not stopping until it's done."
---
Golden Globe Nomination – Best Actor
The classic movie "Twins" brought Arnold more fame and fortune, with endless recognition for his size and muscular strength. Arnold continued to bring bodybuilding to the mainstream. His role saw Julius (Arnold) and Vincent (Danny DeVito) who were separated at birth in search for their long lost biological mother. The film was a huge success and took a total of $216.6 million USD. This movie brought him his second Golden Globe nomination, but this time, it was for Best Actor in the Musical and Comedy genre.
Arnold continued to stack-up the action scene with his ever popular and larger than life personality and huge muscular physique in the movie Eraser (1996). This saw Arnold play a US Marshall Witness Protection agent who dealt with erasing people's past and dealing with their future.
There were numerous films during Arnold's career that did well in the box office and others failed to impress. The likes of Jingle All The way – filmed in 1996, and Batman & Robin – filmed in 1997, saw a decline in earnings at the box office that he'd previously experienced. But Arnold's presence on screen continued to entertain and thrill millions of fans around the word with his timeless characters and famous one-liners lines.
In 2003, in the movie Terminator 3: Rise of the Machines, put Arnold placed back in the limelight when the film earned a massive $150 million USD.
---
"have a vision, trust yourself, break some rules, ignore the naysayers, don't be afraid to fail."
---
Arnold's Famous Quotes
"I'll be back," "get the the chopper" and "come with me if you want to live" are all lines from Arnold's illustrious and colorful career that's been remembered in history as some of the best  "one-liners" that were ever created.
"Hasta la vista, baby" – Terminator 2: Judgment Day.
 "Don't disturb my friend he's dead tired." – Commando
"You're a funny guy Sully, I like you. That's why I'm going to kill you last." – Comando
"Your clothes, give them to me, now!" – Terminator
"Get to the chopper!" – Predator
"Killian, here's your Subzero… now plain zero." – The Running Man
"You hit like a vegetarian!" – Escape Plan
"Now this is the plan : Get your ass to Mars!" – Total Recall
"Hasta La Vista, Baby!" – Terminator
"Let off some steam, Bennett" – Commando
"See you at the party, Richter!" – Total Recall
"If it bleeds, we can kill it" – Predator
"Do it!" – Predator
---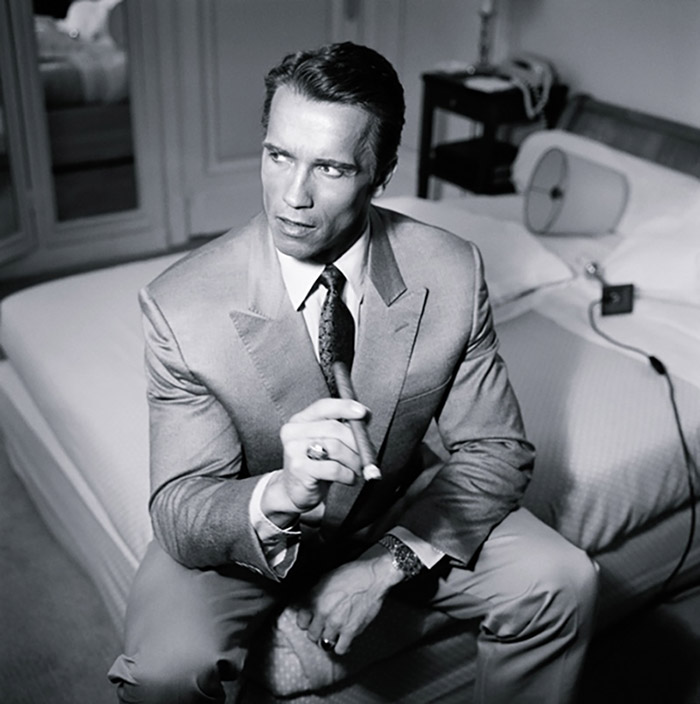 "Early to bed, early to rise, work like hell, and advertise."
---
Arnold The Entrepreneur
Ever since Arnold learned that he could use his ability to charm and humor everyone around him, he knew he could make a living being his own boss. With a sharp mind and an even sharper ability to visualize his goals, he went on to create a number of businesses throughout his career.
His "goal setting" became world famous. He'd use a technique where he'd write his objectives for the year on action cards and make them into a reality. Arnold became so proficient at setting goals and making them happen, he became a millionaire by the time he was 30 years old.
He thrived on financial independence, which came from his success as a gifted entrepreneur. He's created, owned and managed a number of successful business.
---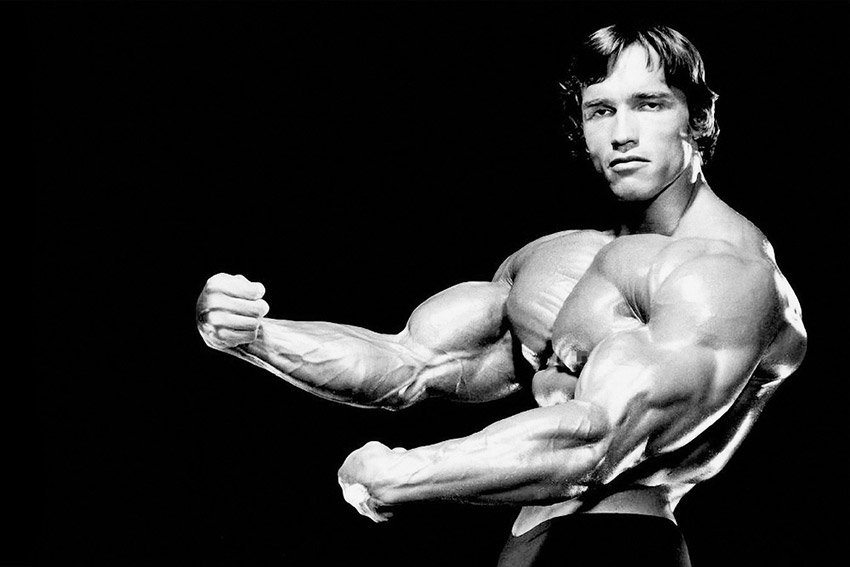 "The worst thing I can be is the same as everybody else. I hate that." – Arnold Schwarzenegger
---
Arnold's Businesses
European Brick Works
When Arnold first came to the USA and was sponsored by Joe Weider to train and compete, he started a day business with long time friend Franco Columbo in 1969. The duo created worked in construction and bricklaying. They hit gold when the area of San Fernando suffered and earthquake in 1971.
Mail Order Company 
When their profits started to run high from the bricklaying business, they set up a home office where they ran a mail order company selling bodybuilding and fitness equipment.
Real Estate Investing
The mail order company took off, and with Arnold's extra income from bodybuilding and competing, he decided to become a real estate investor. His first investment was an apartment worth $10,000 USD. He later invested in more retail properties that saw continuous growth.
Restaurant Owner 
Arnold and his wife Maria Shriver (who later divorced) opened their own restaurant in Santa Monica called Schatzi On Main. The restaurant was profitable, but, they decided to sell and claim their hard earned efforts in 1998.
---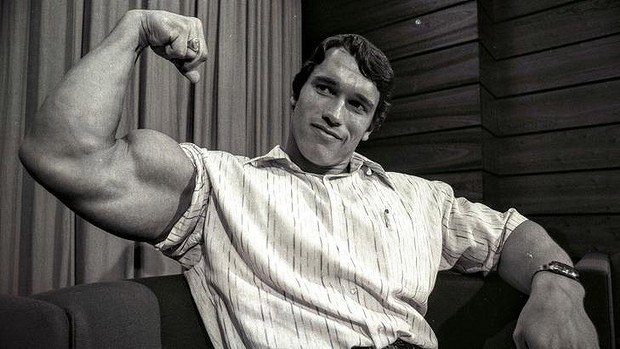 "I couldn't have learned about business without a parade of teachers guiding me… from Milton Friedman to Donald Trump… and now, Les Wexner and Warren Buffett. I even learned a thing or two from Planet Hollywood, such as when to get out! And I did!"
---
Planet Hollywood Resturant Chain 
Arnold became one of the first founding celebrity investors in the Planet Hollywood chain of international theme restaurants. The likes of Bruce Willis, Sylvester Stallone, and Demi Moore also became founders.
Schwarzenegger decided to cut his ties with the business in 2000, as he said the company had not been as successful as he'd hoped. He wanted to focus his attention on his movie career and US global business ventures.
Long Term Businesses 
Arnold's also created, joint ventured in and funded numerous business throughout the years. To name a few, these are;
Arnold's Sports Festival – Held every year in Columbus, Ohio. This event is a competition among the world's best professional bodybuilders and Olympic sports competitors.
Dimensional Fund Advisors – Holds investments with this Austin, Texas, Investment, Money Handling Company.
Oak Productions, Inc. –  Arnold owns and manages Oak Productions. 
Fitness Publications – A joint publishing venture with Simon & Schuster. A publishing company founded in New York.
---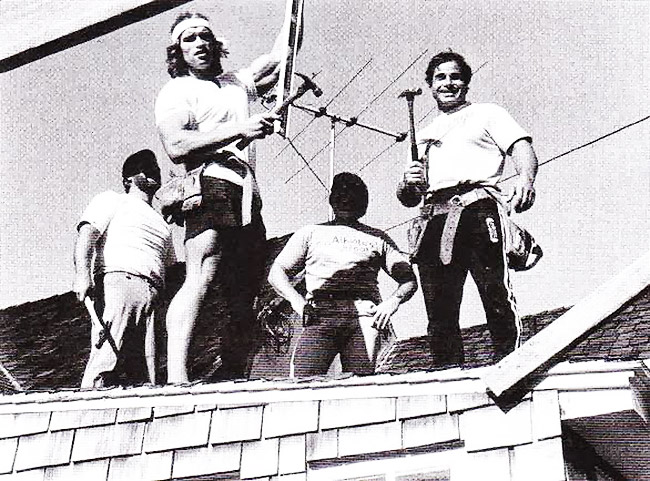 European Brickworks – Arnold & Franco.
---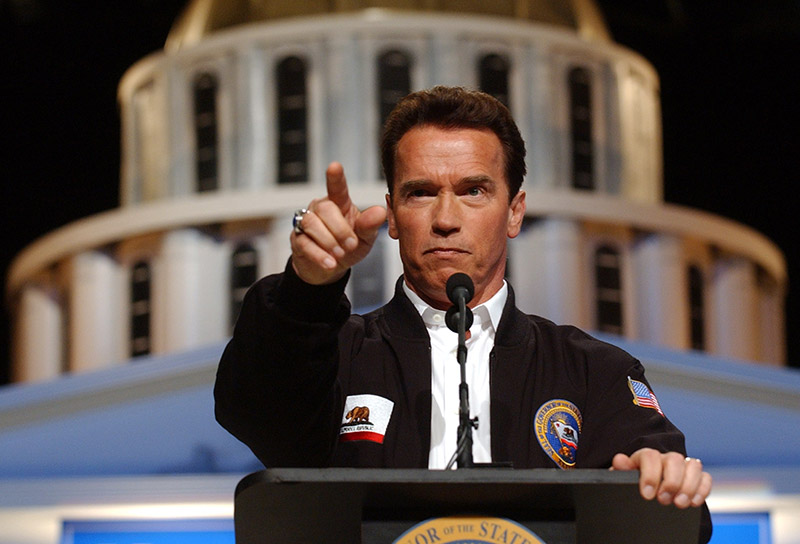 "Yes, I would love to be governor of California … If the state needs me, and if there's no one I think is better, then I will run."
---
Governor Of California AKA. The Governator
In 2003 Arnold Schwarzenegger became appointed the 38th Governor of California. His relationship with politics started years earlier when he married his now-separated wife, Maria Shriver, who's a relation to the Kenedy family.
Previous to running for Governor of California, he was appointed to the President's Council on Physical Fitness and Sports by President George H.W. Bush. Arnold served from 1990 to 1993 and became Chairman of California Governor's Council on the Physical Fitness and Sports under the Governor of the time, Pete Wilson.
During this time, Arnold traveled around the U.S. promoting physical education and sports to children. George Otott, an ex-marine and Arnold's chief of staff at the time said;
"He would hit sometimes two or three governors in a day in his own airplane, at his own expense, somewhere around $4,000 an hour. When he walked in, it wasn't about the governor, it was about Arnold. He has what we in the military call a command presence. He becomes the number one attention-getter."
He then moved towards a position as Chairman in the California Governor's Council on Physical Fitness and Sports under Pete Wilson, then Governor at the time. Schwarzenegger gained his first major political recognition on November 5th, 2002, when the people of California approved his "personally crafted and sponsored" Proposition 49. This was the"After School Education and Safety Program Act of 2002." This saw an initiative to make state grants available for after-school programs.
---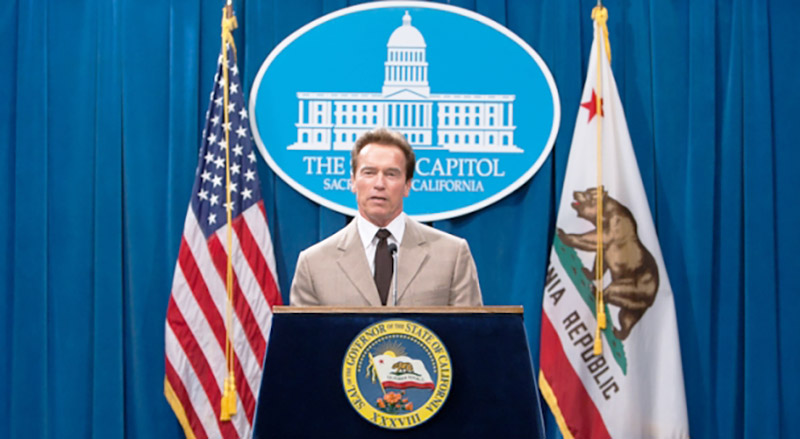 "I always believed in shooting for the top, and to become an American is like becoming a member of the winning team."
---
Running For Governor Of California
Arnold was asked by the California Republican party in March 2001 to run for governor. Arnold debated the position for some time, but in an interview with Esquire Magazine in July 2003, he said: "Yes, I would love to be governor of California … If the state needs me, and if there's no one I think is better, then I will run." At the time, then governor Gray Davis received a petition to recall as the Democratic governor, a ballot was passed on July 24th. Schwarzenegger was just wrapping up a promotional tour for
Schwarzenegger was finishing a promotional tour for Terminator 3 and said that he'd announce his final decision whether or not to run as the Governor of California on August 6, on The Tonight Show with Jay Leno. Arnold appeared on the show full of confidence and announced to the world that he'd run for Governor, a decision he made in the very last minute of appearing on the show.
Schwarzenegger felt that it was time for a new leader. He saw the way politics was going with "back door" deals and an untrust from the public. He knew things needed to change. He stole the moment and made use of his famous humor by saying one-liners such as his promising to "pump up Sacramento, California," and "I'll tell Gray Davis hasta la vista." At the end of his first press conference, Arnold told the audience, "I'll be back."
---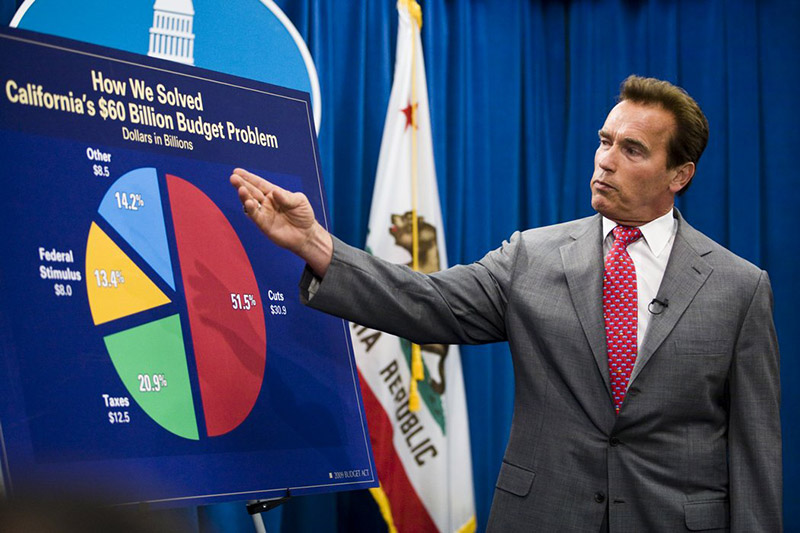 "To be successful, however, you must be brutal with yourself and focus on the flaws."
---
Arnold's Political Views
"I came first of all from a socialistic country, which is Austria, and when I came over here in 1968 with the presidential elections coming up in November, I came over in October, I heard a lot of the press conferences from both of the candidates Humphrey and Nixon, and Humphrey was talking about more government is the solution, protectionism, and everything he said about government involvement sounded to me more like Social Democratic Party of Austrian socialism."
"Then when I heard Nixon talk about it, he said open up the borders, the consumers should be represented there ultimately and strengthen the military and get the government off our backs. I said to myself, what is this guy's party affiliation? I didn't know anything at that point. So I asked my friend, what is Nixon? He's a Republican. And I said, I am a Republican. That's how I became a Republican."
After a long and busy 7 years of governing the state of California, Arnold Schwarzenegger decided it was time to step down at the end of his second term. Jerry Brown, a Democrat, took over from Arnold on January 2nd, 2011.
While Schwarzenegger was governor, he was known for pushing environmental issues, calling for measures to be set in place for greener communities, and cleaner sources of fuel to be used in transportation.
---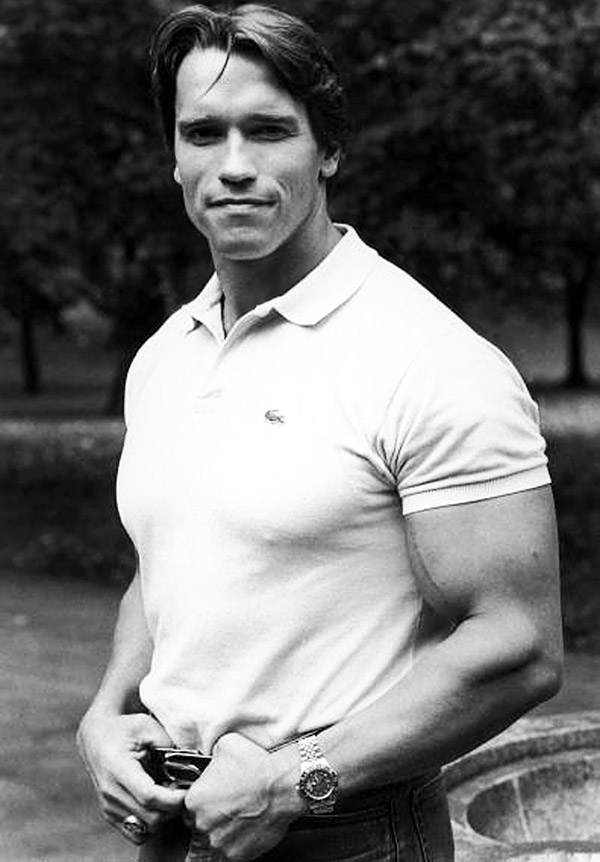 "You can't be paralyzed by fear of failure or you will never push yourself."
---
Magazine Editor AKA. "The King"
For a number of years, Arnold was appointed to write in the bodybuilding magazine Muscle & Fitness and Flex. Soon after he was appointed the executive editor for both of the leading fitness magazines. Speculation as to why he was appointed the magazine editor shortly after he became governor of California.
The magazine donated to Arnold, and his cabinet, a total of $250,000 a year for supporting various physical fitness initiatives. Arnold also received $1 million per year for his "role" as the magazine's executive editor went public in 2005, he received wide criticism.
Arnold, shortly after the public announcement, relinquished the executive editor role in 2005. In March 2013, Arnold was re-appointed as their chief executive editor after he left the position as governor of California. He's also appeared in the magazine MuscleMag International, in a monthly two-page article, where they refer to him as "The King".
---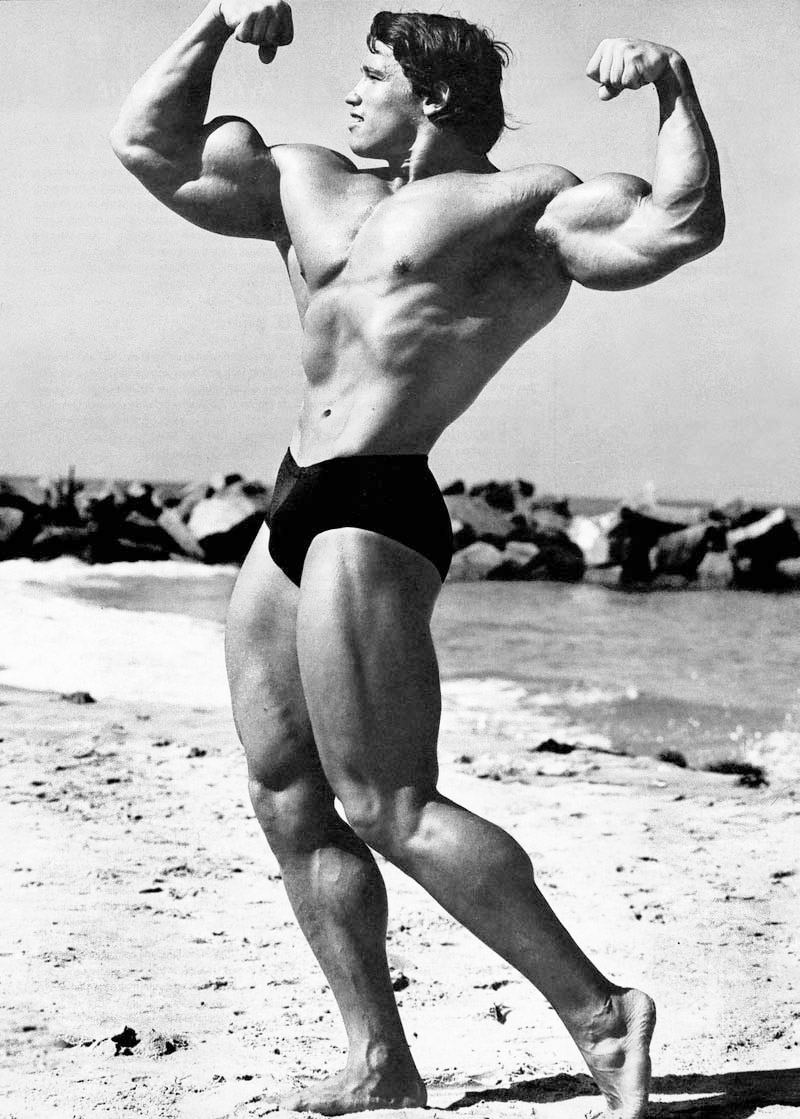 "You have to remember something: Everybody pities the weak; jealousy you have to earn." – Arnold Schwarzenegger
---
Arnold's Fortune
It's been debated that Arnold's net worth is somewhere between $100–$200 million. But in recent years after separating from his wife, Maria Shriver, and filing tax returns in 2006, it's been estimated closer towards $400-800 million USD.
He's invested throughout his entire life in bodybuilding, movies, the stock market, bonds, property, and a whole variety of companies.
When Arnold was asked about money, and if it made him happy, he replied, "Money doesn't make you happy. I now have $50 million, but I was just as happy when I had $48 million. I've made many millions as a businessman many times over."
---
---
Personal Life
One of Arnold's first serious relationships was with English teacher Barbra Outland. They first met after Arnold arrived in the U.S. Their first date was reported to be watching the first Apollo Moon landing on TV. The couple shared an apartment in Santa Monica for three years. They had very little money in the beginning, but the couple would visit the beach often and make barbecues with friends in their backyard.
Baker claims that in the beginning, Arnold had "little understanding of polite society" and she found Arnold was sometimes a turn-off. She said; "He's as much a self-made man as it's possible to be – he never got encouragement from his parents, his family, his brother. He just had this huge determination to prove himself, and that was very attractive … I'll go to my grave knowing Arnold loved me."
---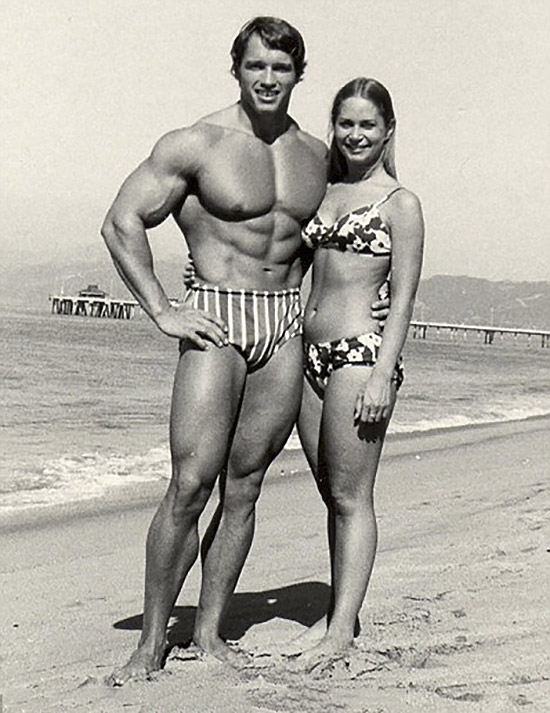 Arnold and Barbra Outland in Santa Monica.
"The years with Barbara taught me a great lesson: how having a good relationship can enrich your life."
---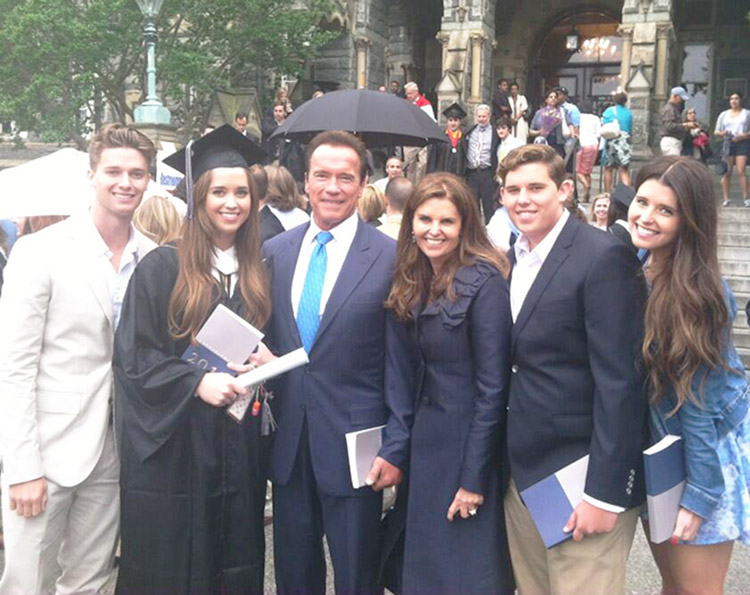 "The mind is the limit. As long as the mind can envision the fact that you can do something, you can do it, as long as you really believe 100 percent."
---
Arnold's Family
Schwarzenegger married television journalist Maria Shriver on April 26th, 1986. Shriver, the niece of President John F. Kennedy, married Arnold in Hyannis, Massachusetts. They have four children Katherine Eunice Schwarzenegger, Christina Maria Aurelia Schwarzenegger, Patrick Arnold Shriver Schwarzenegger, and Christopher Sargent Shriver Schwarzenegger.
The Affair
The couple are now in a separation process after Arnold was found to be having an affair with the family's housemaid for a number of years, Mildred Baena. Maria Shriver confronted Mildred after she had suspicions that Arnold was having a log term affair after she saw Arnold's resemblance in Mildred Baena's son. It turned out that Arnold fathered a child with the Baena.
Sexual Allegations
There have also been reports of sexual abuse raised against the Ex-governor. This news became public in only five days of his final election campaign. Newspapers were recounting allegations of his sexual misconduct from a number of women. Six people came forward with their reports of abuse.
Three of whom claimed Arnold "grabbed their breasts." and the fourth woman said; "he placed his hand under her skirt on her buttock." Another woman claimed that he tried to undress her from her swimming costume in a hotel elevator. Another report said that he pulled a woman onto his lap and asked her about a sexual act.
Arnold admits that it was "the stupidest thing" knowing he "inflicted tremendous pain" on his entire family. He's also admitted he's "behaved badly sometimes" and has apologized, but also said that "a lot of what you see in the stories is not true."
---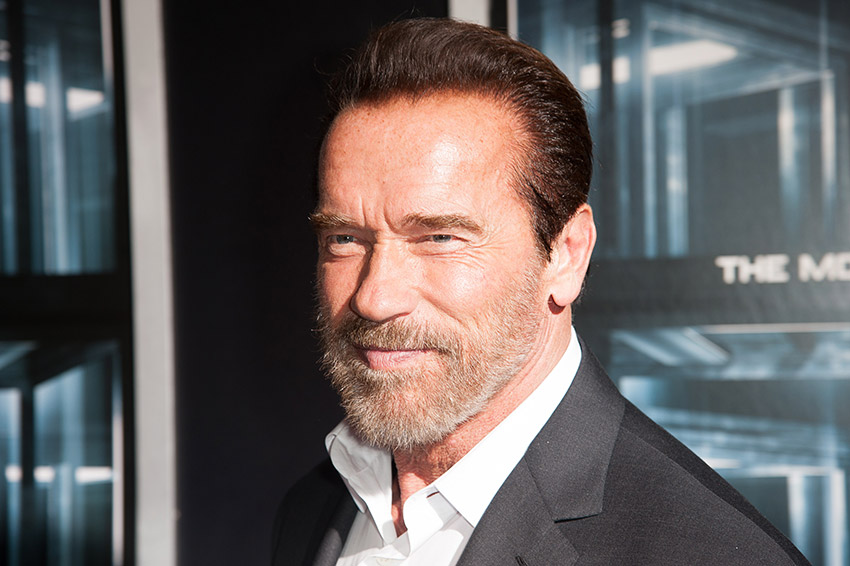 "I was always dreaming about very powerful people – dictators and things like that. I was just always impressed by people who could be remembered for hundreds of years, or even, like Jesus, be for thousands of years remembered."
---
Heart Troubles
Schwarzenegger was born with a minor complication with his heart. His an aortic valve had only two leaflets, where a normal aortic valve has three leaflets. He signed up for a procedure for a replacement heart valve in 1997, made from his own transplanted tissue.
Experts said that he'd need a full heart valve replacement following surgery between two to eight years as the valve would have degraded slightly. Arnold went against the medical experts advice of transplanting the heart valve, but instead reduced his physical activity.
---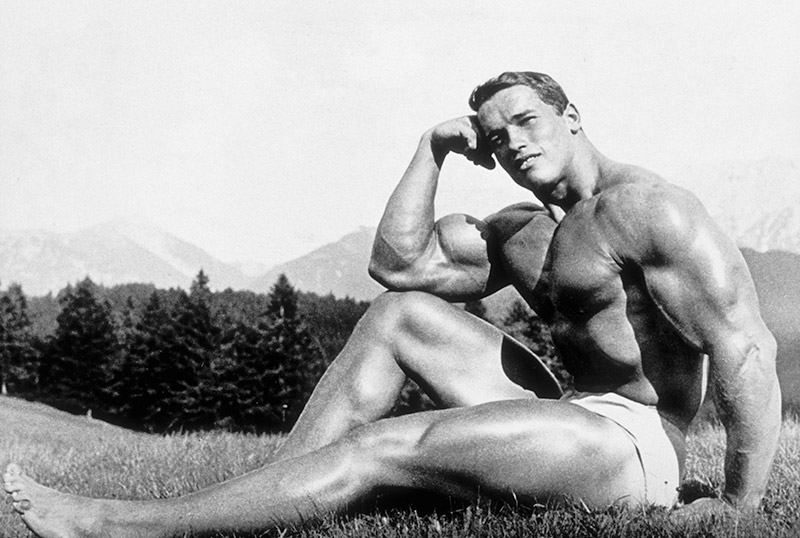 "Start wide, expand further, and never look back."
---
Accidents, Saving Lives, And Breaking Ribs
Arnold Schwarzenegger is no newbie when it comes to action and danger on the big screen. This can also be said for his life. He's been in numerous accidents and heroic adventures throughout his life. On the 9th of December 2001, he broke six of his ribs and went to the hospital after a serious motorcycle crash in L.A. He was riding the motorcycle with his son Patrick in the sidecar, while another driver reversed into the street. Arnold and his son rode straight into the car, but thankfully it was at low speeds.
While Patrick and the other driver weren't seriously injured,  Schwarzenegger had a minor injury to his lip, where he required 15 stitches. He's also been known to have saved a man's life from drowning in 2004 while on vacation in Hawaii. Arnold brought the man back to shore just in time.
Whole on vacation skiing, Schwarzenegger accidentally tripped over a ski pole and broke his right femur in Sun Valley, Idaho, whole vacationing with his family. This resulted in a 9o minute operation involving wires, cables, and screws to fuse the bones back together. He was released and sent home on December 30, 2006, from the St. John's Health Center.
When Schwarzenegger's private jet made an emergency landing at Van Nuys Airport on June 19, 2009, people feared the worst when the pilot reported smoke coming from the plane's cockpit. Fortunately, no one was injured on the flight.
---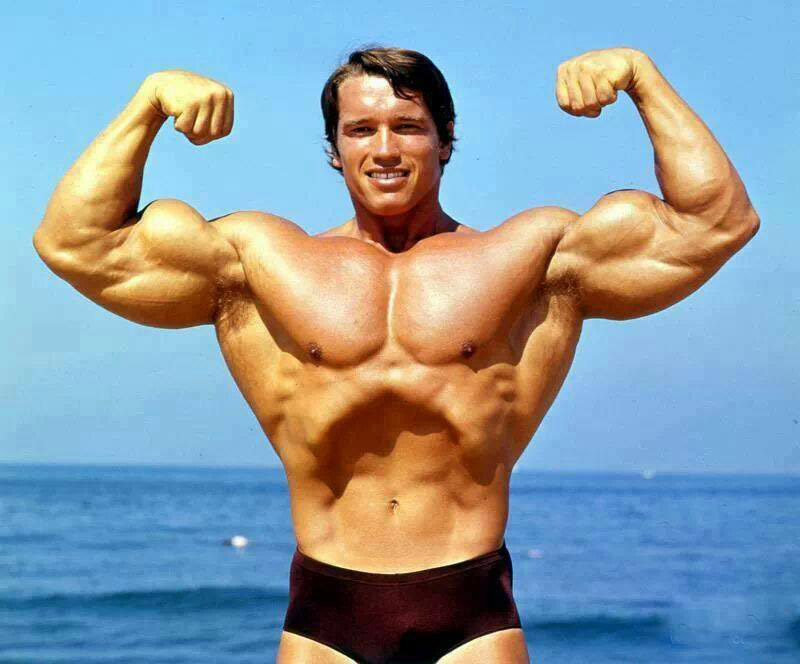 "Strength does not come from winning. Your struggles develop your strengths. When you go through hardships and decide not to surrender, that is strength."
---
Now Lives
Schwarzenegger now lives in an 11,000-square-foot (1,000 m2) home in Brentwood USA, while the divorced couple (Arnold and Maria) own a number of vacation homes in Sun Valley, Idaho and Hyannis Port, Massachusetts. They still today attended St. Monica's Catholic Church to keep the family together and strong for their children.
Arnold is now dating his physical therapist Heather Milligan.
American Dream
Schwarzenegger, who dreamed of moving to the U.S. since the age of 10, and saw bodybuilding as the avenue through which to do so, realized his dream by moving to the United States in September 1968 at the age of 21, speaking little English. There he trained at Gold's Gym in Venice, Los Angeles, California, under Joe Weider. From 1970 to 1974, one of Schwarzenegger's weight training partners was Ric Drasin, a professional wrestler who designed the original Gold's Gym logo in 1973.
Schwarzenegger also became good friends with professional wrestler "Superstar" Billy Graham. In 1970, at age 23, he captured his first Mr. Olympia title in New York, and would go on to win the title a total of seven times.
---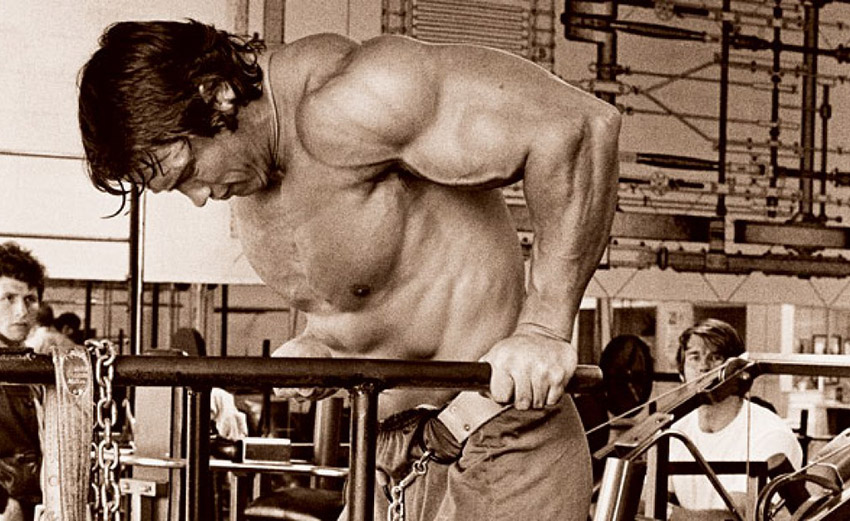 "The resistance that you fight physically in the gym and the resistance that you fight in life can only build a strong character."
---
Training
In the days of the Olympia when Arnold was training twice per day, once in the morning and again in the evening, there was never a shortage of motivation or training buddies in the famous Gold's Gym. But Schwarzenegger's journey started way back when he was around the age of 15.
Arnold had two choices, soccer or Olympic weightlifting. He chose to lift. But, he couldn't move straight onto bodybuilding, Arnold first had to prove himself in the gym and compete as a powerlifter and Olympic weightlifter.
---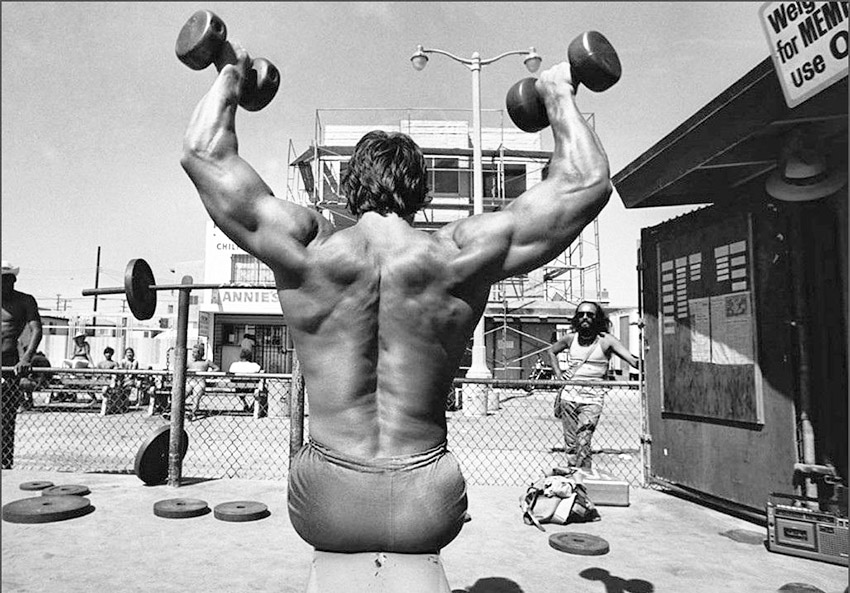 "I knew I was a winner back in the late sixties. I knew I was destined for great things. People will say that kind of thinking is totally immodest. I agree. Modesty is not a word that applies to me in any way. I hope it never will."
---
Arnold's First Training Session
In his very first training session, Arnold was fresh-faced faced, green behind the ears, and eager to learn. The guys in the gym put him through a grueling two-hour workout for the very first time. This was his introduction to training, he loved every minute. but something happened on the way home that made him realize the importance of training and recovery.
On his way home while on his bicycle, a few minutes into his journey, Arnold started to have a problem. His hands started to go numb, he couldn't control his arms or the breaks on his bike. He flew into a ditch and crashed his bike.
When he got up, Arnold soon realized that he could hardly walk, his legs were numb also, all of this was a result of over-training and pushing the body to the extreme.
Fast forward to when Arnold was preparing for the Mr. Olympia in his 20's. he'd built up a solid resistance to training over years of hard work and patience. This, Arnold says is the key to achieving your goals, persistence, and dedication.
---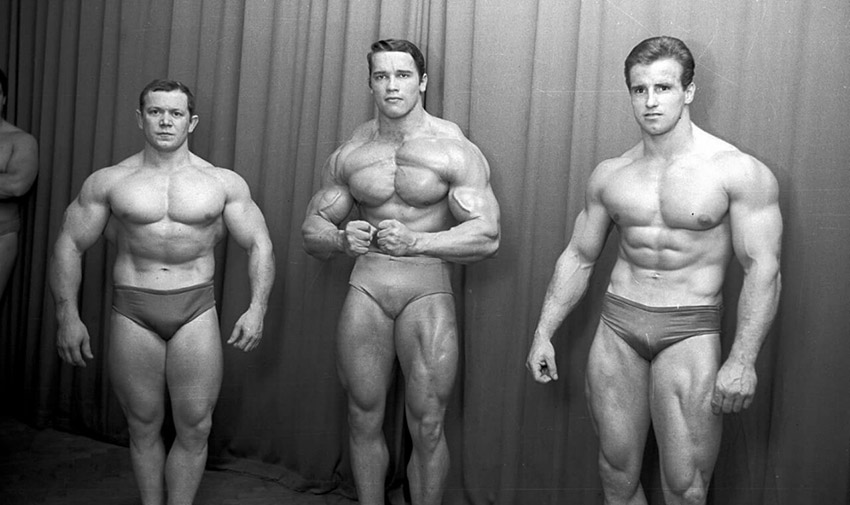 "Learned helplessness is the giving-up reaction, the quitting response that follows from the belief that whatever you do doesn't matter."
---
The Supersetting Marathon
Arnold's known for bringing bodybuilding to the mainstream, he's also known for doing the same with supersets. Arnold would punish his muscle anyway he could. Everything was about the "shock" tactic as he calls it.
Somedays would be drop sets starting with 400lbs, and other days would be pyramid training to exhaust the muscles, but everything they did back in the "golden era" in Gold's Gym, almost always revolved around super setting the exercises.
---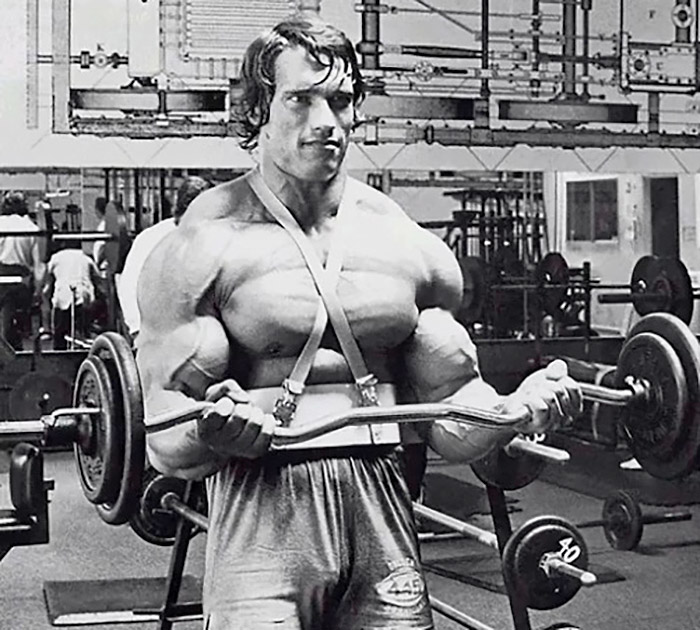 "More often than not, a lack of progress in your muscle-building efforts can be linked to nutritional shortcomings in your diet."
---
Training For The Olympia
For the ultimate test that is the Olympia, Arnold used simple exercises and intensive training routines that lasted hours every day. It was high frequency and high volume all the way. His training always included the main lifts. These were, deadlift, squat, push press, bent over row and the bench press.
Arnold says that these lifts become even more important the closer towards to competition. Through the year, he spent months building mass, then working on isolation exercises to create definition. But the last three months is when he'd train with the most intensity and ferociousness.
From the beginning, Arnold looked to train every single body part with maximum effort. When he stepped into Gold's Gym he meant business. Being able to train in the world famous gym back in the "Golden Era" didn't come easy, it wasn't as simple as signing up and there you go. Arnold and the rest of the gang had to prove their worth. This was a place where champions were made or broken.
---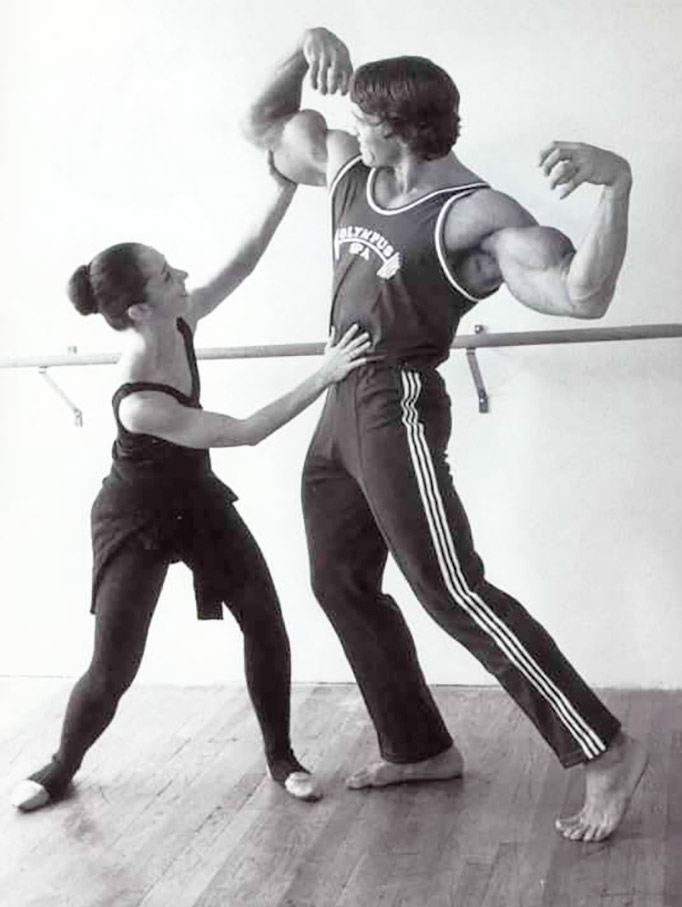 ---
Ballett For The Olympia
In bodybuilding, and more specifically bodybuilding competitions, it's more than just how big, defined and muscular the competitor was. It was also about how they displayed their muscles on stage.
Arnold was a master at this, many still today try to emulate his posing styles and positions that became timeless classics in his Mr. Olympia competitions. Taking ballet lessons for posture and perfecting his swooping shots of symmetry and natural flow was Arnold's way to create the full package.
---
Arnold and Franco having fun during ballet lessons.
---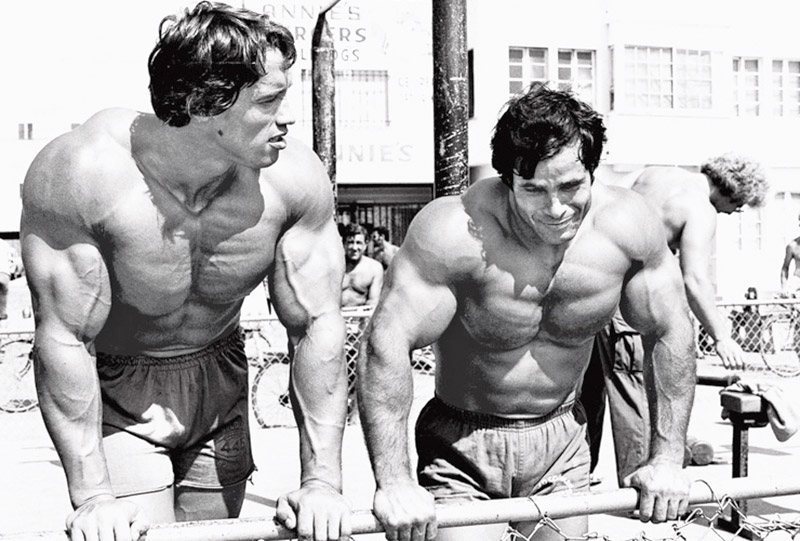 "The training partner was always responsible to challenge you at all times. I beleive 100% in a training partner" – Arnold Schwarzenegger
---
Training Buddy Franco
Arnold's sheer drive and determination have surpassed what many thought were impossible, that's until he won the Olympia for a total of seven times. But one thing he always knew the importance of, and that was the right training partner to help get him through the workouts in a motivating but also fun way.
"Franco Columbo was my training partner who was responsible for my motivation. If he saw me blink, he'd say, 'let's pump up the day. Today I challenge you to a bench press competition, let's see if you can beat a 180lb little guy.' He would know how to push the button, because that's whet the responsibility of a training partner is" – ArnoldSchwarzenegger
---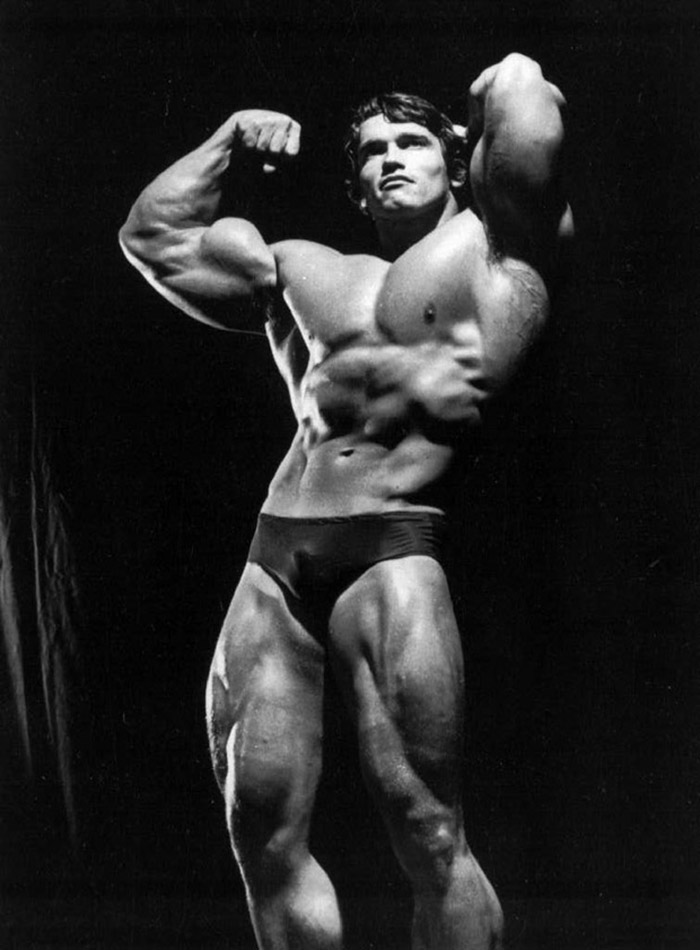 ---
Encyclopedia of Modern Bodybuilding
Arnold Schwarzenegger has revealed a weekly workout program that he followed to train the most important body parts twice a week.
Monday and Thursday
Chest, Abs, and Back exercises
5 sets of Flat-Barbell Bench Press and Barbell-Incline Bench Press (reps: 30, 12, 10, 8, and 6; rest: 45 sec)
5 sets of Dumbbell Flyes and Dumbbell Pull-Over (reps: 30, 12, 10, 8, and 6; rest: 45 sec)
4 sets of Wide-grip Chin-Up (reps: to failure; rest: 45 sec)
5 sets of Hanging Leg Raise (reps: 25; rest: 45 sec)
5 sets of Bent-Over Barbell Row and Bent-Over Two-Dumbbell Row (reps: 30, 12, 10, 8, and 6; rest: 45 sec)
Tuesday and Friday
Shoulders, Arms (Biceps and Triceps), Abs exercises each with 5 sets
Clean and Press (reps: 5; rest: 45)
Standing Dumbbell Press and Front Dumbbell Raise (reps: 30, 12, 10, 8, and 6; rest: 45 sec)
Lateral Raise, Upright Row, and Barbell Curl (reps: 30, 12, 10, 8, and 6; rest: 45 sec)
Incline Dumbbell Curl, Concentration Curls, and Close-Grip Barbell Bench-Press(reps: 30, 12, 10, 8, and 6; rest: 45 sec)
Barbell Skullcrushers and Dumbbell One-Arm Triceps-Extension (reps: 30, 12, 10, 8, and 6; rest: 45 sec)
Wrist Curls and Reverse Wrist Curls (reps: 30, 12, 10, 8, and 6; rest: 45 sec)
Decline Sit-up (reps: 25; rest: 45 sec)
Wednesday and Saturday
Leg exercises
5 sets of Barbell Squat and Stiff-Legged Barbell Deadlift (reps: 8-12; rest: 45 sec)
5 sets of Good Morning (once a week; reps: 8-12; rest: 45 sec)
5 sets of Barbell Lunge (reps: 8-12; rest: 45 sec)
5 sets of Leg Extensions and Seated Leg Curl (reps: 8-12; rest: 45 sec)
5 sets of Standing Calf Raises and Seated Calf Raise (reps: 8-12; rest: 45 sec)
4 sets of Kneeling Cable Crunch (reps: 25; rest: 45 sec)
---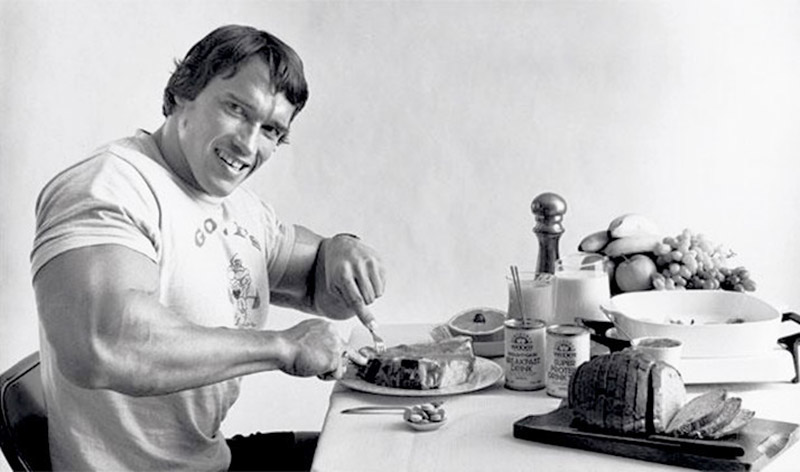 Nutrition
A recent interview with Arnold hears him talk about nutrition, most importantly the need for protein. The 250lbs Austrian Oak is packed full of healthy mass. But the challenge always came in the form of protein and getting enough.
Here's Arnold talking about eating enough protein: 
"I felt like it worked best when I had five meals per day. There are some people who can work with three meals. For me, five meals was the answer because I never was a big eater. I always felt comfortable with a regular-sized steak. If you gave me a 10-ounce steak, even in my heyday, I was happy."
For breakfast, Arnold would mainly eat a just three scrambled eggs, some bacon, a little sausage, and some tomatoes on the side.
"I was fine with that," says Arnold. "The only thing is, two hours after that breakfast I was hungry." To help him further meet the requirements of the 250 grams of protein he needs per day, he'd always have a protein shake close to hand.
---
Editor's Tip
Inspired to reach your true potential like Arnold? Read our comprehensive guide on how testosterone boosting supplements can really enhance your game!
---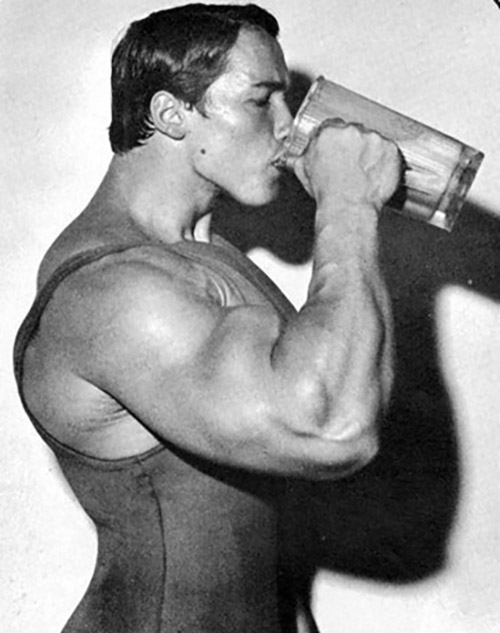 A young Arnold drinking his protein shake.
---
"As I was sitting there at Santa Monica City College or doing construction, I would pull out of my bag a little plastic container full of milk and protein powder. That was the additional 30 grams of protein that I needed at that time."
One hour later after studies or work, Arnold would be heading to the gym. After the gym all of the bodybuilders ate together, this kept them on track. If one of the guys were seen reaching for the bread, the rest of the pack would be on top of him like a shot.
Their meals consisted of steak with vegetables and tomatoes on the side. All the basics that bodybuilders need. After lunch, two hours later, Arnold would have another protein shake, that's another 30grams of protein.
---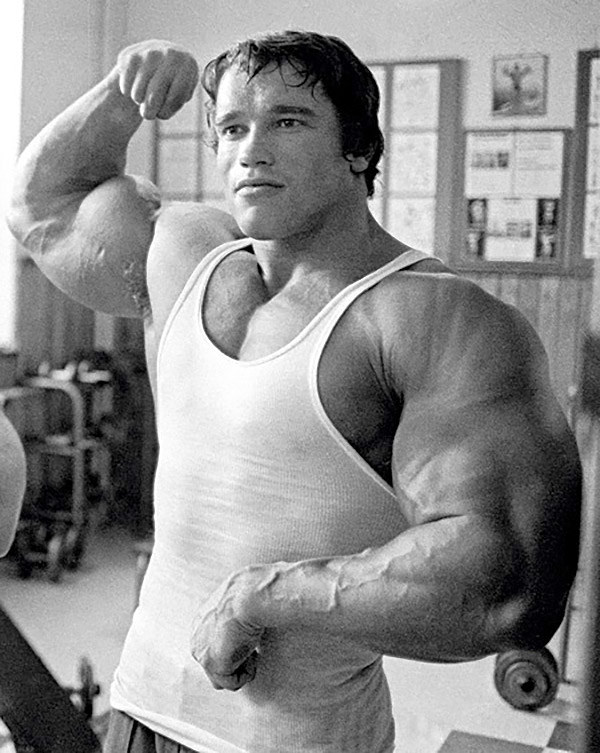 "So, two times per day, I would have protein drinks in order to get up to the 250 grams that I needed."
---
Arnold's Guide To Muscle Building
I always lived off the rule that for every pound of bodyweight, I needed one gram of protein.
Aside from protein, Arnold also knew the value of supplementing his meals for the overall health of his body. "We have to recognize that we do not get all of the nutrients—the vitamins, the minerals, the protein—through regular meals," says Arnold. "That's why we have supplements. No matter how healthy we eat, we won't get enough [essential nutrients] from regular meals."
Although you're working on a bigger, more imposing body, you need to fuel your efforts with quality nutrition at the right times. This meal plan has a great macronutrient profile coupled with precise nutrient timing that will ensure your body is getting everything it needs to build some serious muscle and mass.
Feel free to customize this meal plan to fit your needs. However, the main goal should be to get nearly one gram of protein per pound of bodyweight. It's also important that you fuel with enough carbohydrates. You'll be doing some serious high-volume workouts, and you'll be doing them frequently—so don't fear the carb!
---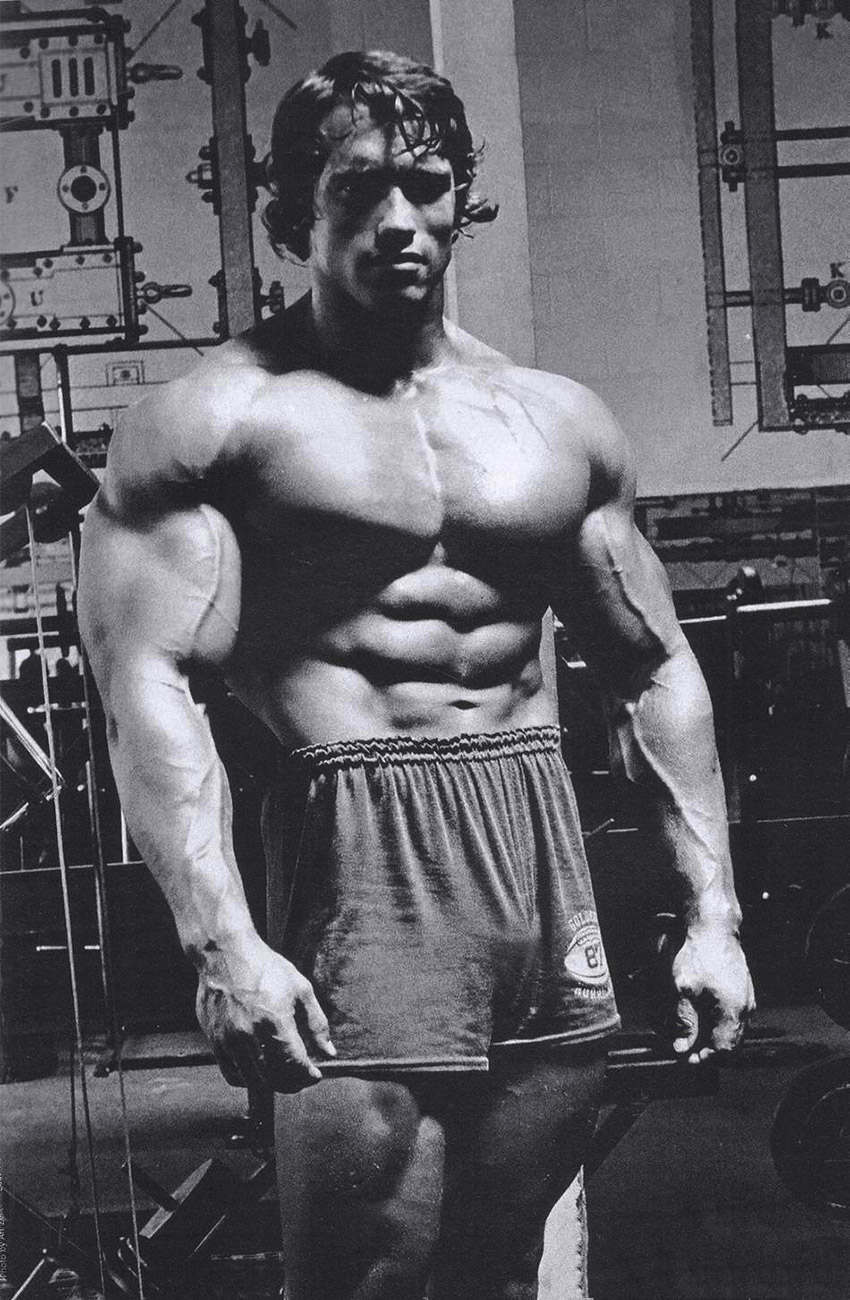 ---
Arnold Schwarzenegger Diet Rules
Schwarzenegger made sure that he was on point with his train g and nutrition in every single meal. Below are the principles that Arnold used to build his world famous physique.
Eating frequently: Eating 5-6 times each day with supplements as and when needed
High calorie and protein intake: Consuming about 4,000 calories and 250 grams of protein per day
Consumption of carbs: Have carbs within half an hour after workout
Protein shakes: Taken when the daily protein intake has to be increased
Arnold Schwarzenegger Diet Plan
Along with the basic rules and principles that Schwarzenegger uses daily to maintain his healthy and aesthetic body. He also outlines a quality nutrition guideline that he tailored to suits his needs for the years he spent competing.
Meal 1: 3-4 whole eggs, 2 pieces of bacon, 1-2 pieces of Ezekiel Bread with cashew/almond butter, or ¼ cups of oats with honey, or ¼ avocado, multivitamin supplement
Pre-Workout: Creatine-free supplement with agmatine to improve workout (1 serving)
Post-Workout: Creatine powder for increased strength and recovery (1 serving), weight gain powder containing BCAA nitrates, complex carbs, and healthy fats (2 scoops with whole milk)
Meal 2: 10 ounces of red meat or grilled fish, 1 cup vegetables or salad comprising avocado, macadamia, or olive oil as base, 1-2 sweet potatoes, 2-3 oz. of cashews, walnuts, or almonds
Meal 3: Weight gain powder containing BCAA nitrates, complex carbs, and healthy fats (2 scoops with 6 ounces milk)
Meal 4: 12 ounces of grilled lean meat, 1-2 cups of brown rice, 1-2 cups of vegetables or large salad comprising avocado, macadamia nut, or olive oil as base
Meal 5: 2 cups of cottage cheese, 2-3 ounces of cashews, almonds, or walnuts
Before Bed: Nighttime support powder with 5-HTP for improving sleep cycle and maximizing muscle growth
---

Idols and Influences
One of Arnold greatest influences of all time was Reg Park, his idol who he first saw on the front of a magazine reading; "How Reg Park Became Hercules," this, Arnold says, is where he saw his plan, life, and future laid out before him.
Another one of his idols in later years was the great Muhammed Ali. Arnold described him as a man who had tremendous amounts of generosity, who could unite people and would always give back to the community. He recalls seeing him hand out $100.00 bills to people in need and work constantly with charities.
---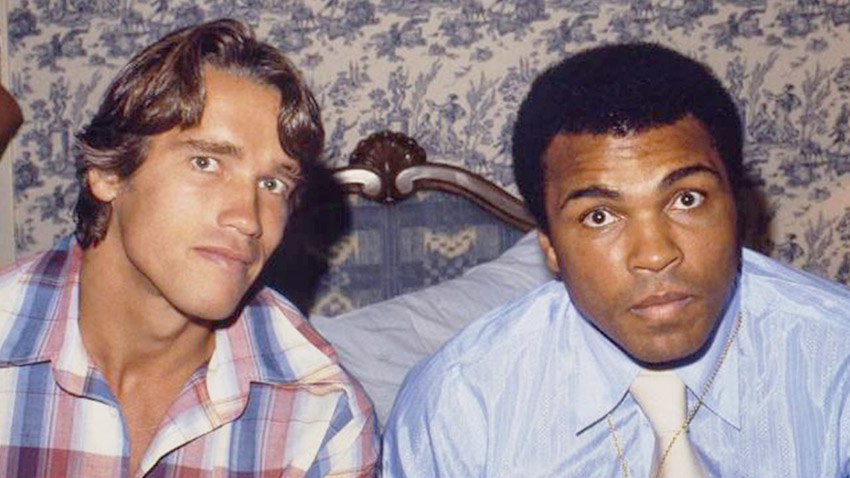 ---
Inspiring Millions
Apart from Arnold's own influences that urged him on to greatness, he's also been a big screen icon, bodybuilding idol and motivational superstar for millions of people the world over.
With a charismatic charm and a body that people everywhere aspire to achieve, Arnold's a true champion and idol in his own right.
---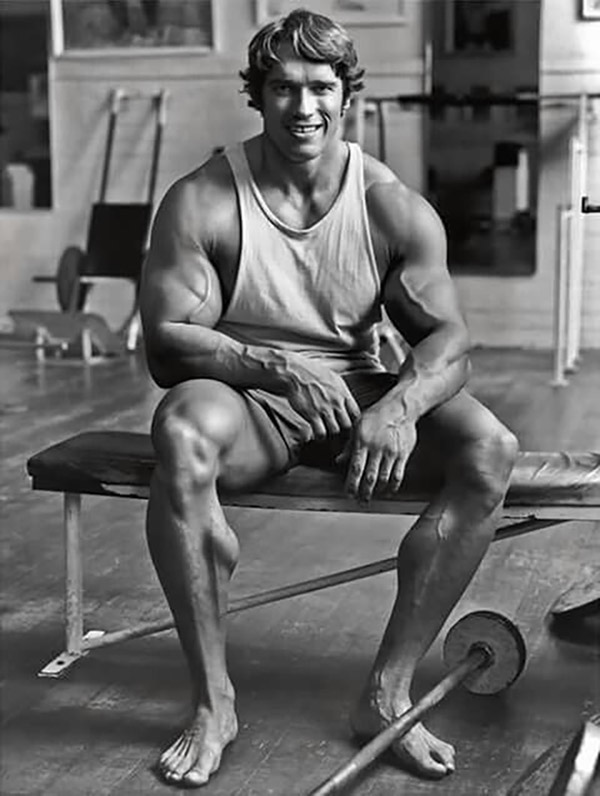 What we can learn from Schwarzenegger
With everything Arnold's achieved, been known for, and created in his illustrious career as a superstar in more than one discipline, it's hard to summarize how important his actions and personality that is the legend of Arnie.
In the beginning of Arnold's life, he was second best to his older brother. His father didn't care very much for his hobbies, how he felt or what he wanted from life. This could have contributed to his awesome drive and dedication to prove everyone wrong who ever said no to him.
Seeing his idol Reg Park in a magazine, inspired him to be the next bodybuilder, superhero and world sensation. This motivated Arnold so much he "broke the rules but never the law"  to get out of the dead-end town in Thal, Austria.
Joining the national service at the age of 18, and already immersed in the life of bodybuilding, seeing his ticket to stardom, he went AWOL, traveled to Germany overnight on the train to avoid being caught by guards. The young fresh-faced new kid on the block went on to win the competition. This, Arnold knew, meant his dreams could come true.
Setting his sights a little further each time he achieved his goals, meant he continued to impress those around him. Moving to London to train with Charles Bennett and Reg Park, Arnold went on to win numerous competition, and eventually, the Mr. Olympia a total of seven times.
---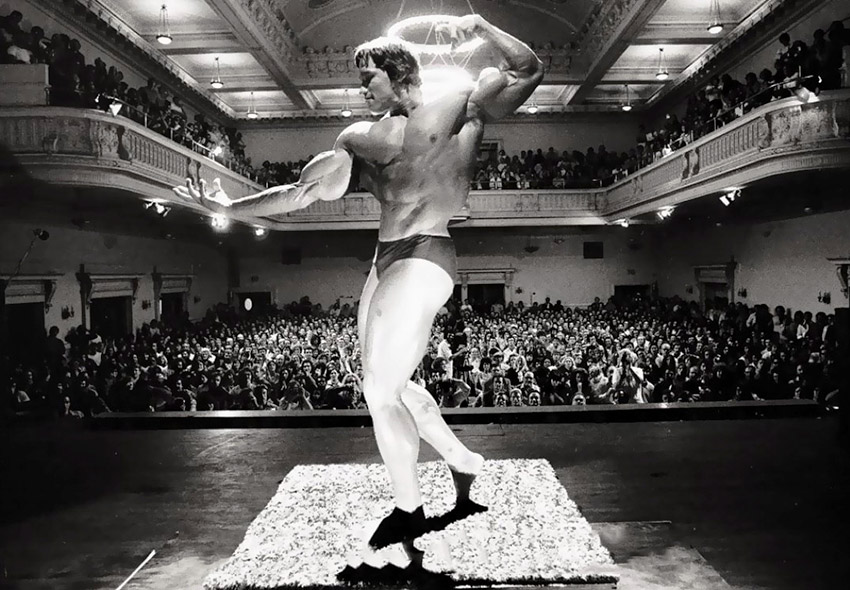 ---
Arnold's Burning Focus
The burning image of Reg Park as Hercules continued to dominate Arnold's mind as he gravitated towards acting and the big screen. Quickly, he made a name for himself as a comic-action hero that glowed on the big screen, people loved to watch him, they couldn't get enough.
Surpassing his goals as the best bodybuilder in the world, action hero, and motivational inspiration, he moved on to politics, his biggest challenge to date. A pattern is emerging, Arnold sets goals, makes them happen, and moves on to the next one.
Everytime Arnold's achieved his goals, his sights get bigger and bigger with every move he makes. His thirst to grow, not only in the gym, but to dominate in his field, which is wide and varied, shows us that this type of focus, drive, and sheer grit to get the work done breeds champions.
Set goals, make them happen and work hard, this is Arnold's philosophy. Seeing what it takes to be the best, there's no time to waste. In the words of Arnie "Failure is not an option. Everyone has to succeed."  – Arnold Schwarzenegger