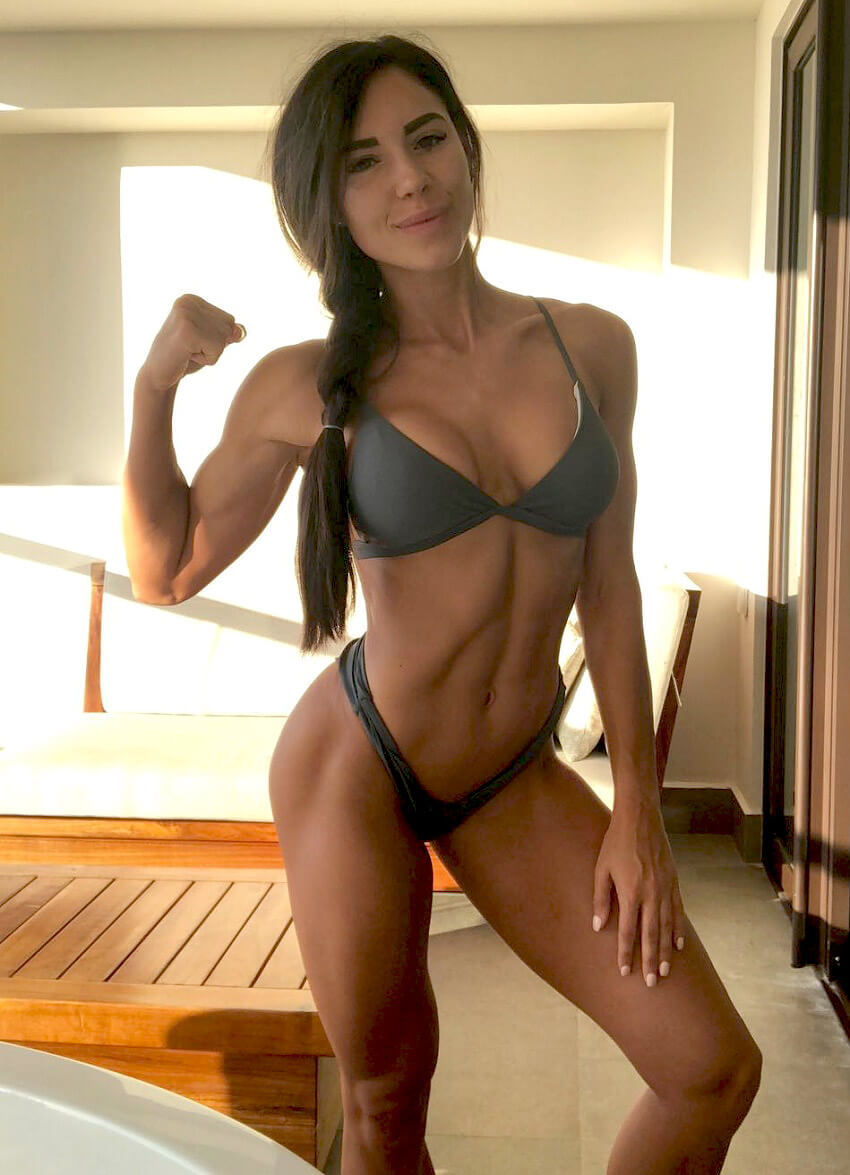 Kelsey Wells
Fitness Model, Athlete, Online Coach
Kelsey Wells is one of the most recognized names in the fitness industry. Working with the likes of Kayla Itsines, she's built a fitness empire with her workout videos, pictures, and awesome quotes.
However, Kayla wasn't always a fan of exercising. She spent her early years playing sports, but after finishing school, training became a chore.
It wasn't until she gave birth to her son that she returned to lifting weights in order to combat post-partum depression. Since then, her love for fitness has grown by leaps and bounds and so did her influence as an online coach and model.
This is Kelsey's story:
---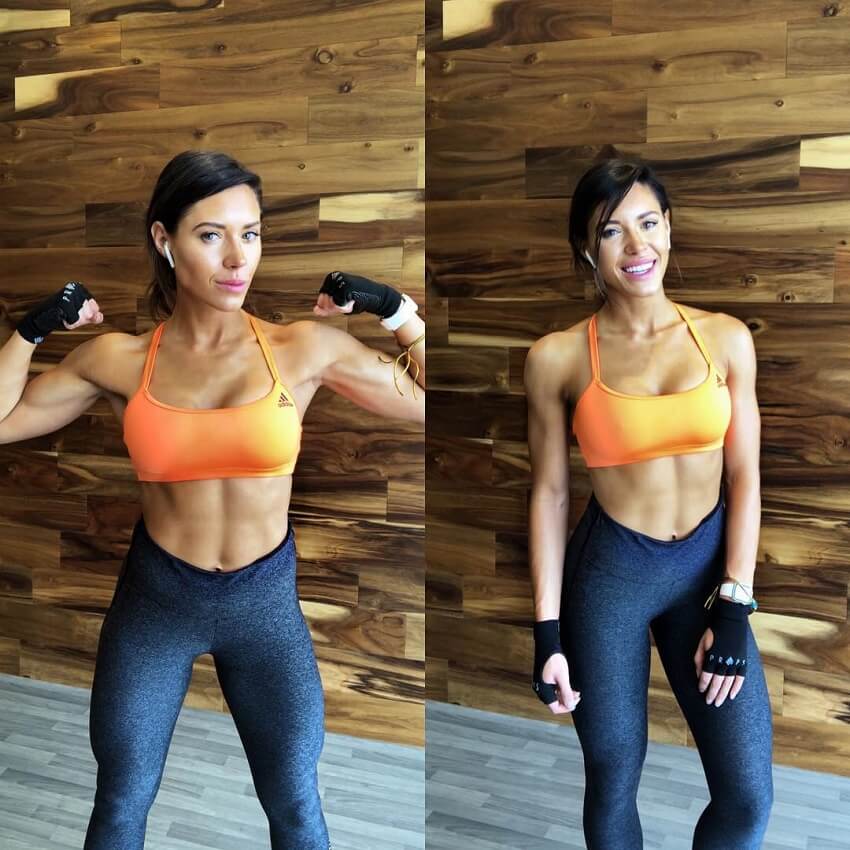 Athlete Statistics
Full Name: Kelsey Wells
Weight
Height
Age
Date of Birth
135 - 145lbs (61.2 - 65.8kg)
5'7" (170cm)
33
September 1, 1990
Nationality
Profession
Alias
Australian
Fitness Model, Athlete, Online Coach
mysweatlife
Era
2010
| | |
| --- | --- |
| Weight | 135 - 145lbs (61.2 - 65.8kg) |
| Height | 5'7" (170cm) |
| Age | 33 |
| Date of Birth | September 1, 1990 |
| Nationality | Australian |
| Profession | Fitness Model, Athlete, Online Coach |
| Alias | mysweatlife |
| Era | 2010 |
---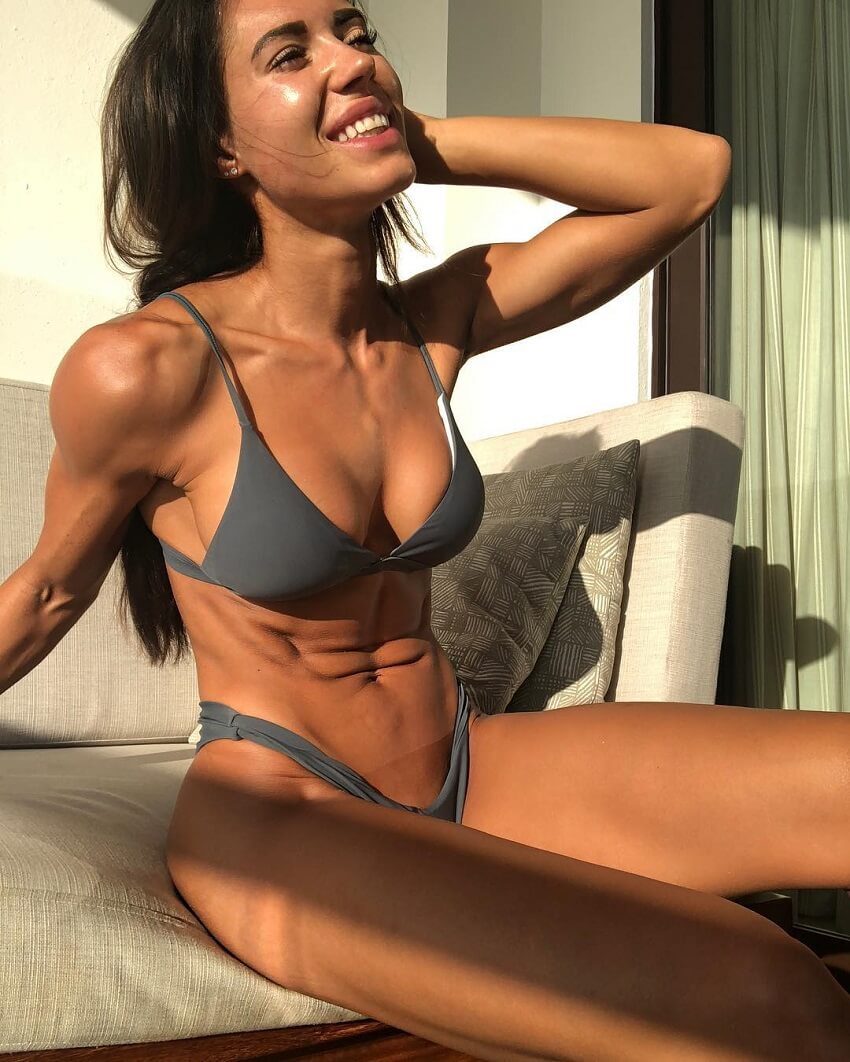 "I've never done anything extraordinary. Any woman can do what I've done. I've just chosen to take care of myself day by day, little by little."
Accomplishments
Fitness Trainer
Model
Athlete
Online Personality
---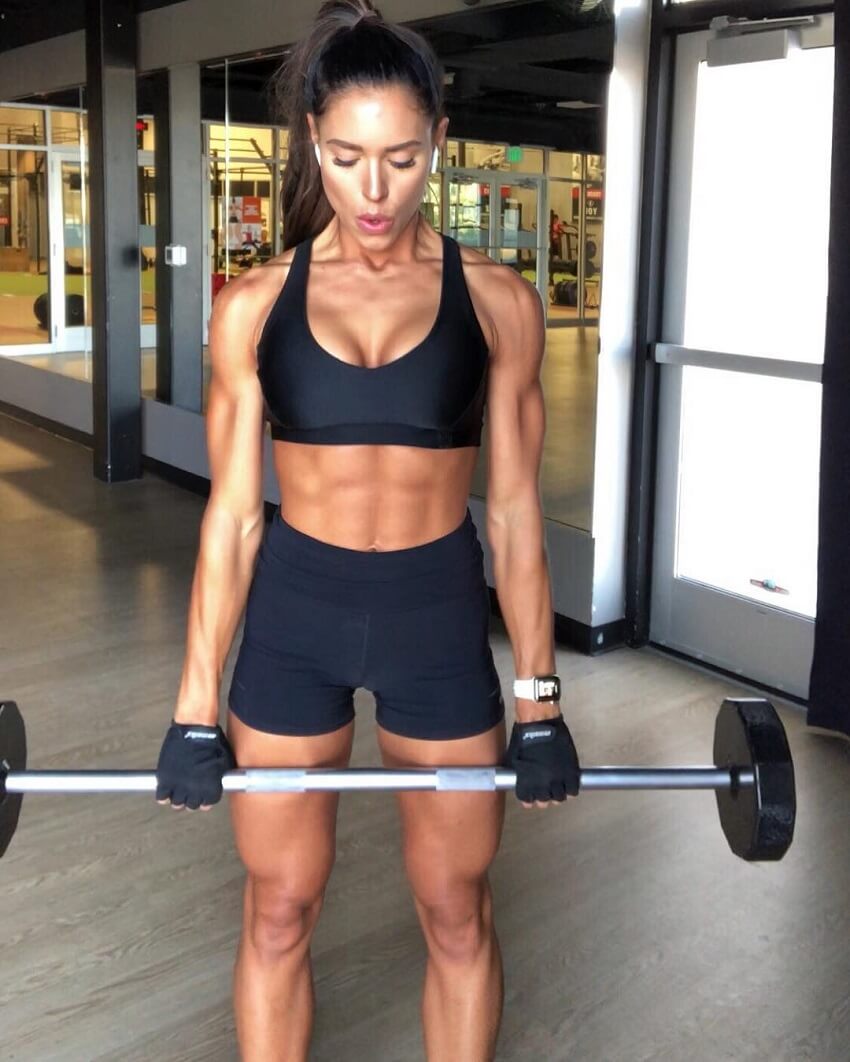 Biography
Post-Partum Depression
Kelsey Wells didn't love to exercise as an adult, until having her first child. The entire pregnancy and birth were hard on Kelsey, just as much mentally as they were physically. After giving birth, she developed post-partum depression and knew something needed to change.
In Kelsey's words: "I went to a post-partum Dr. checkup and broke down in tears as I filled out the survey to assess mental health and post-partum depression/anxiety. I knew I was not ok. As we discussed treatment options, I was told regular exercise might help." – Kelsey Wells
---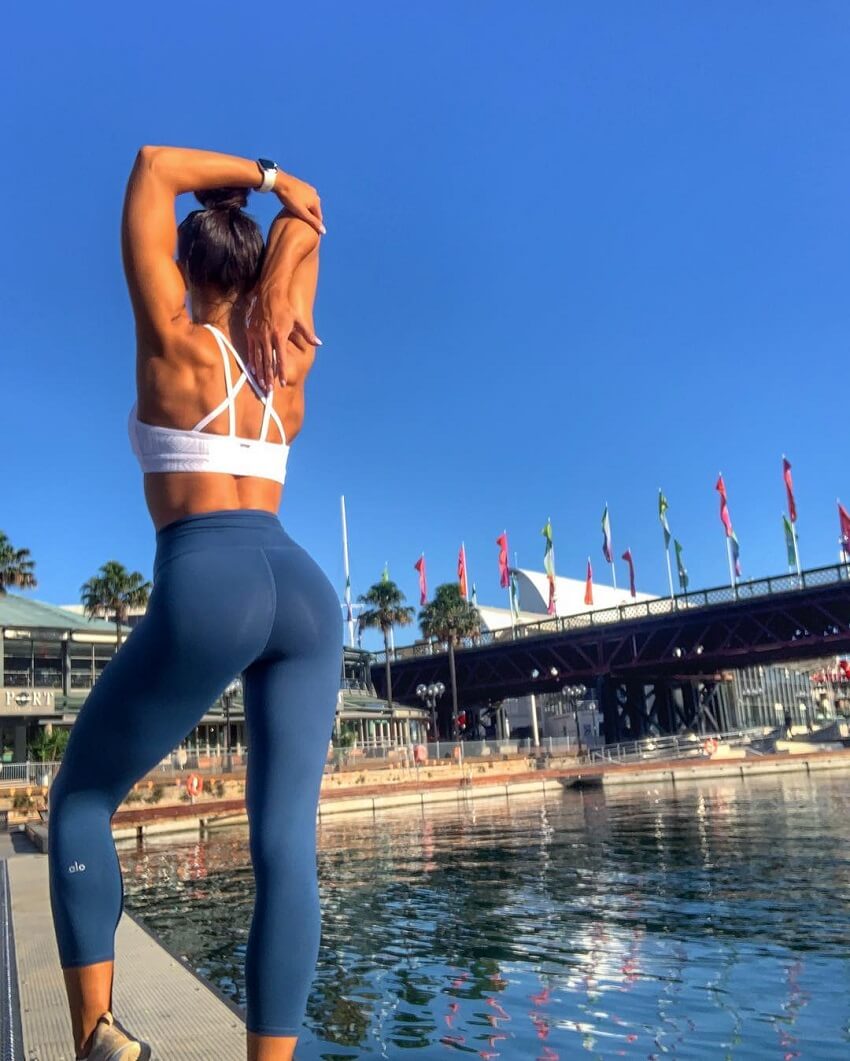 ---
Kelsey's Fitness Journey
Staying fit and active in the gym allowed Kelsey to vent her negative emotions. Not only that, but she also felt better after seeing progress in her body from training.
Motivated to learn more, Kelsey started researching more advanced topics about nutrition. She soon realized that the food she ate could massively impact the way she felt. As a result, she revamped her diet from the bottom up – and this is where the biggest improvements followed.
With a regular training routine and a healthy diet in place, Kelsey began feeling much better. Her body also improved by leaps and bounds. She weighed 140lbs at this point, which was the same weight Kelsey had prior to her pregnancy. But her body composition was completely different now, due to weight training. She looked better than ever.
"I slowly began to gain confidence and appreciation for my body and manage my anxiety in a holistic and healthy way. Simply, the more I cared for my body, the more I began to love myself and believe it was worth caring for."
---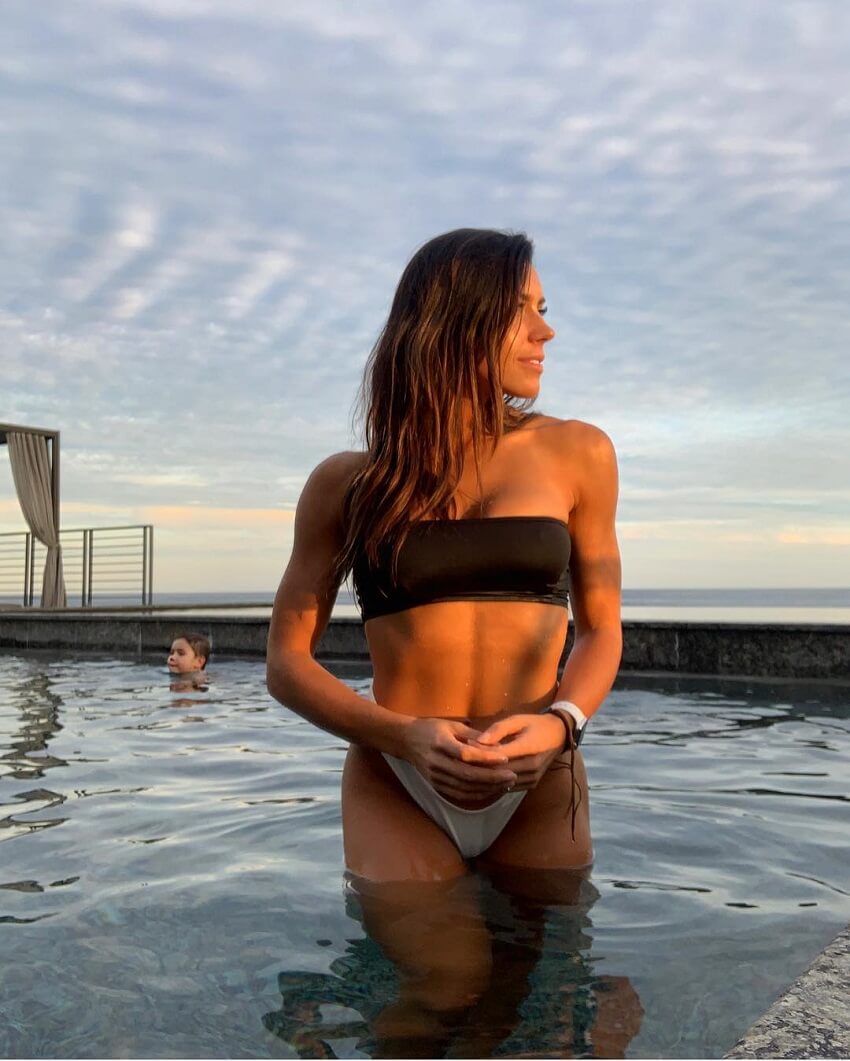 ---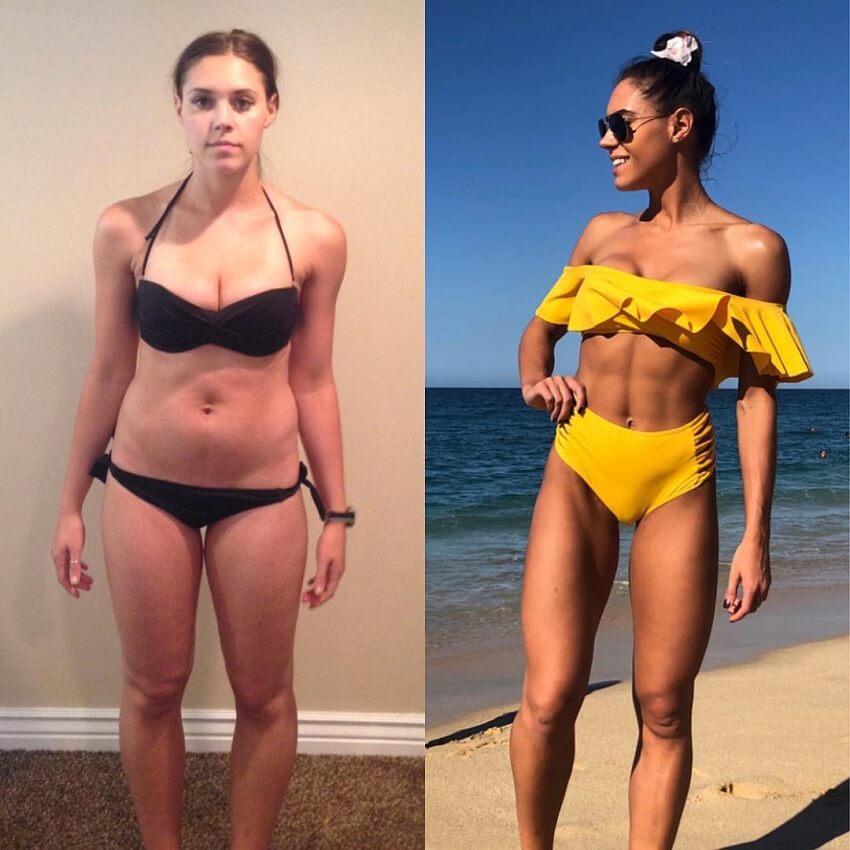 ---
Empowering Others
Watching her own body transform gave Kelsey the courage to inspire others with her example.
She went on to open a social media account to post pictures of her transformation. Along with pictures, she also posted brief quotes of her fitness journey. Before long, more and more people came and resonated with her story, especially other mothers who faced post-pregnancy depression.
Within months, Kelsey became a fitness guru. She used this opportunity to open her online coaching programs, along with other businesses. Over the years, she's grown into a successful entrepreneur and icon of the fitness industry.
Kelsey says she is grateful for her struggles, for they have made her into the person she is today. She now uses her story to inspire and educate others about the benefits of fitness.
"After years of hard work, consistency, and finally believing in and being true to myself later, I am who I am and where I today. I am immensely grateful for my struggles and every part of my journey and you should be too."
---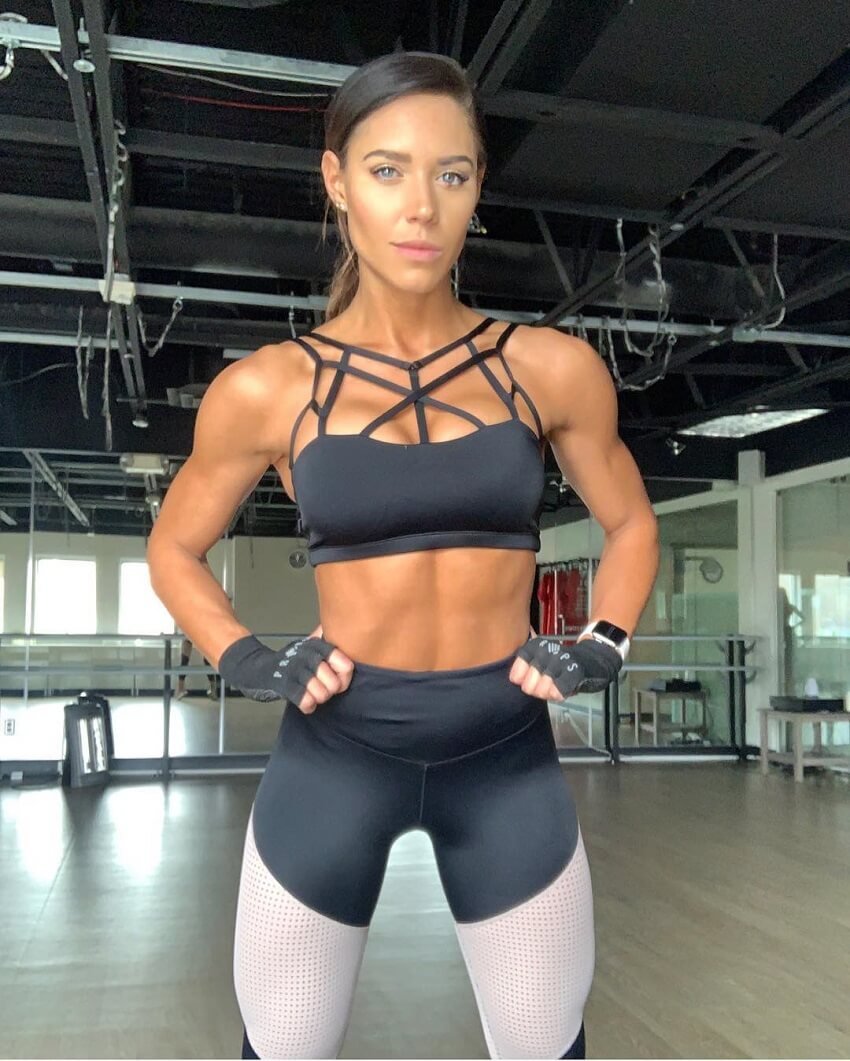 Training
Kelsey aims to train six days per week, doing fast and intense workouts that cater to her busy schedule.
She does everything from body-weight exercises, cardio, to strength workouts. Her typical training session lasts around 45 minutes.
She goes to the gym at the same time every day, which is 11.30am. Kelsey finds this time to be the least busy, allowing her to focus on her workout.
Cardio vs. Strength Training
Kelsey's week of training consists of 4-6 strength workouts and 2 cardio sessions.
However, she doesn't stress too much if she misses a cardio workout. In her opinion, weightlifting is more important for having a lean and toned body.
---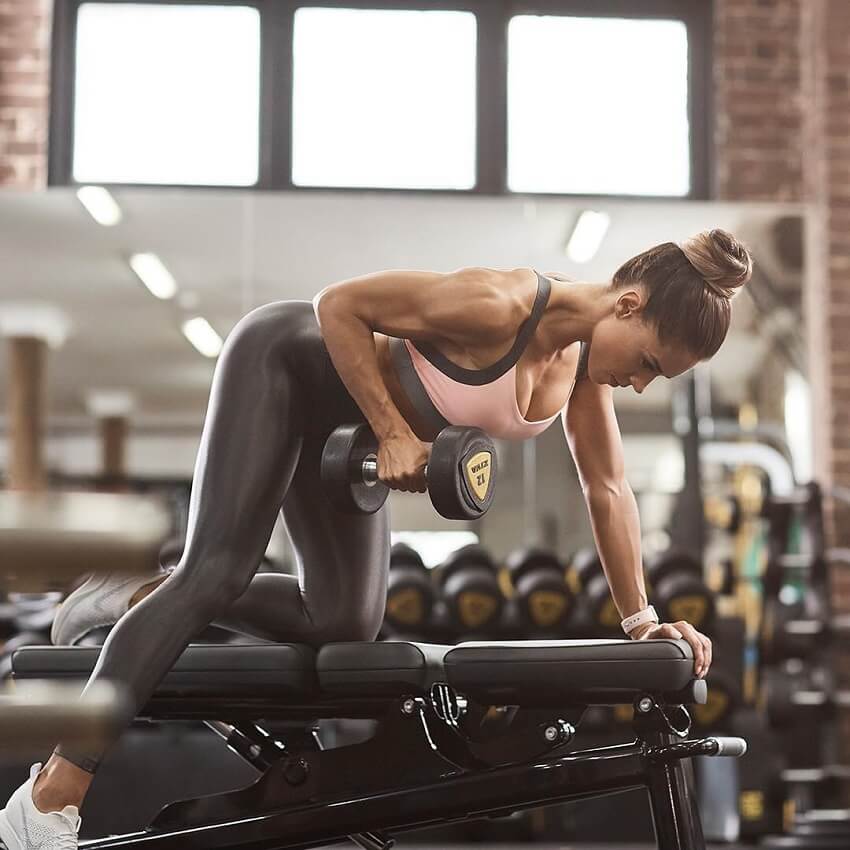 ---
Warming Up
Before she starts with her workout, Kelsey usually warms up with 3-5 minutes of treadmill running.
After this, she does a series of light-weight, high-rep exercises to get her muscles fully activated for the workout.
---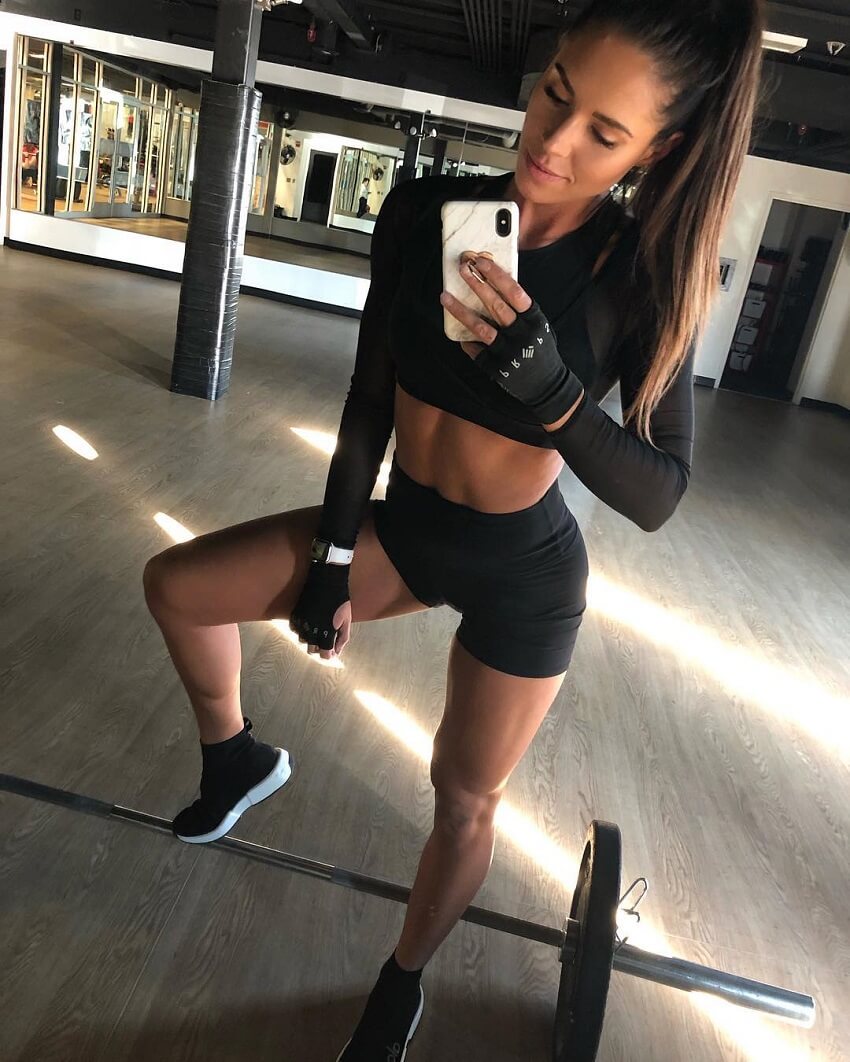 ---
Foam Rolling and Recovery
Kelsey tends to do foam rolling and stretching after her workouts. This helps her cool down and reduce the inflammation the next day.
However, if she is already sore from her previous workout, Kelsey will foam roll prior to training to ease off the pain.
Kelsey's Workout Routine
Monday – Chest and Triceps
Warm-Up
Push-Ups, 15 reps
Burpees, 10 reps
Chest Flys, 15 reps
Wide Mountain Climbers, 24 reps
Pyramid Sets
Chest Press, 15, 12, 10, 10 reps
Decline Chest Press, 12, 10, 10 reps
Tricep Pushdowns
Triceps Pushdowns (overhand), 12, 10, 10 reps
Supersets
Chest Flys, 12 reps
Tricep Extensions, 12 reps
Triceps Push-Up, 12 reps
Skull Crushers, 12 reps
Workout Finishers
Tricep Dips, 60 seconds
Tricep Pushdowns, 60 seconds
Tuesday – Glutes and Hamstrings
Warm-Up
Gute Kickbacks, 30 reps
Burpees, 10 reps
Fire Hydrant, 30 reps
Knee-Ups, 20 reps
Pyramid Sets
Sumo Squat, 15, 12, 10, 10 reps
Straight-Leg Deadlift, 12, 10, 10 reps
Hip Thrusts, 12, 10, 10 reps
Supersets
Hamstring Curls, 12 reps
Jump Lunges, 20 reps
Sumo Squats, 12 reps
Box Jumps, 12 reps
Workout Finishers
Hamstring Curls, 60 seconds
Glute Bridge, 60 seconds
Wednesday – Back and Biceps
Warm-Up
Bent-over Reverse Flys, 15 reps
Wide Mountain Climbers, 24 reps
Push-Ups & Rows, 10 reps
Jumping Jacks, 20 reps
Pyramid Sets
Lat Pulldowns, 15, 12, 10, 10 reps
Bent-Over Reverse Flys, 12, 10, 10 reps
Bicep Curls, 12, 10, 10 reps
Supersets
Single-Arm Rows, 20 reps
Bicep Curls (Underhand), 10 reps
Bicep Curls (Overhand), 10 reps
Workout Finishers
Front Lat Pull, 60 secs
Negative Bicep Curls (Underhand), 60 sec
Thursday – Leg Workout
Warm-Up
Clams, 30 reps
Mountain Climbers, 40 reps
Donkey Kicks, 30 reps
Burpees, 10 reps
Pyramid Sets
Leg Press, 15, 12, 10, 10 reps
Front Squats, 12, 10, 10 reps
Hip Thrusts, 12, 10, 10 reps
Supersets
Straight-Legged Deadlifts, 12 reps
Stop Squats, 12 reps
Goblet Reverse Lunges, 20 reps
Inchworm, 15 reps
Workout Finishers
Double-Pulse Squats, 60 seconds
Glute Bridge, 60 seconds
Friday – Shoulders and Abs
Warm-Up
Single-Arm Reverse Flys, 20 reps
Drop Push-Ups, 12 reps
Straight-Leg Raises, 15 reps
Mountain Climbers, 40 reps
Pyramid
Shoulder Press, 15, 12, 10, 10 reps
Face Pulls, 12, 10, 10 reps
Bent-Leg Raises, 12, 10, 10 reps
Supersets
Knee Tucks, 12 reps
Burpees, 10 reps
Upright Rows, 12 reps
Side to Front Raises, 8 reps
Workout Finishers
Decline Oblique Crunch, 60 seconds
Bent-Leg Raises and Hip Lift, 60 seconds
Saturday – Abs
Warm-Up
Straight-Legged Raises, 15 reps
Mountain Climbers, 40 reps
Planks, 30 seconds
Burpees, 10 reps
Pyramid Sets
Crunches, 15, 12, 10, 10 reps
Decline Sit-Ups, 12, 10, 10 reps
Hollow Holds, 60, 45, 45 seconds
Supersets
Straight-Legged Jackknife, 12 reps
Wide Mountain Climber, 24 reps
Oblique Crunch, 20 reps
Drop Push-Ups, 12 reps
Burnout
Pike, 60 seconds
Planks, 60 seconds
Sunday – Rest and Recovery
---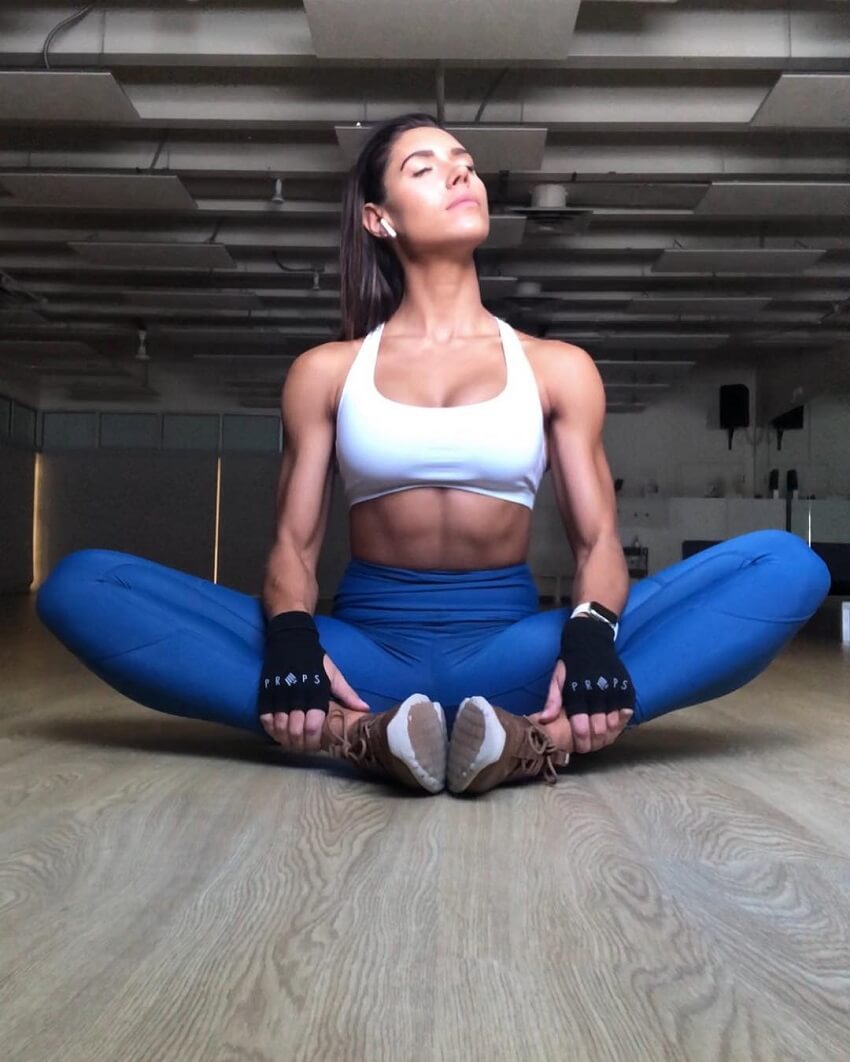 Nutrition
Foods
Kelsey Wells eats a variety of healthy and unprocessed foods. These include Greek yogurt and protein pancakes for breakfast, chicken and salad for lunch, and quinoa with shrimp and vegetables for dinner.
She enjoys snacking on healthy food in between main meals. Her favorite snacks are raw fruits, almonds, and vegetables dipped in cottage cheese.
Pre-Workout Latte
Kelsey loves sipping on an iced latte about 30 minutes before a workout.
It's one of her favorite pre-workout snacks, due to the energy boost she gets from the caffeine.
---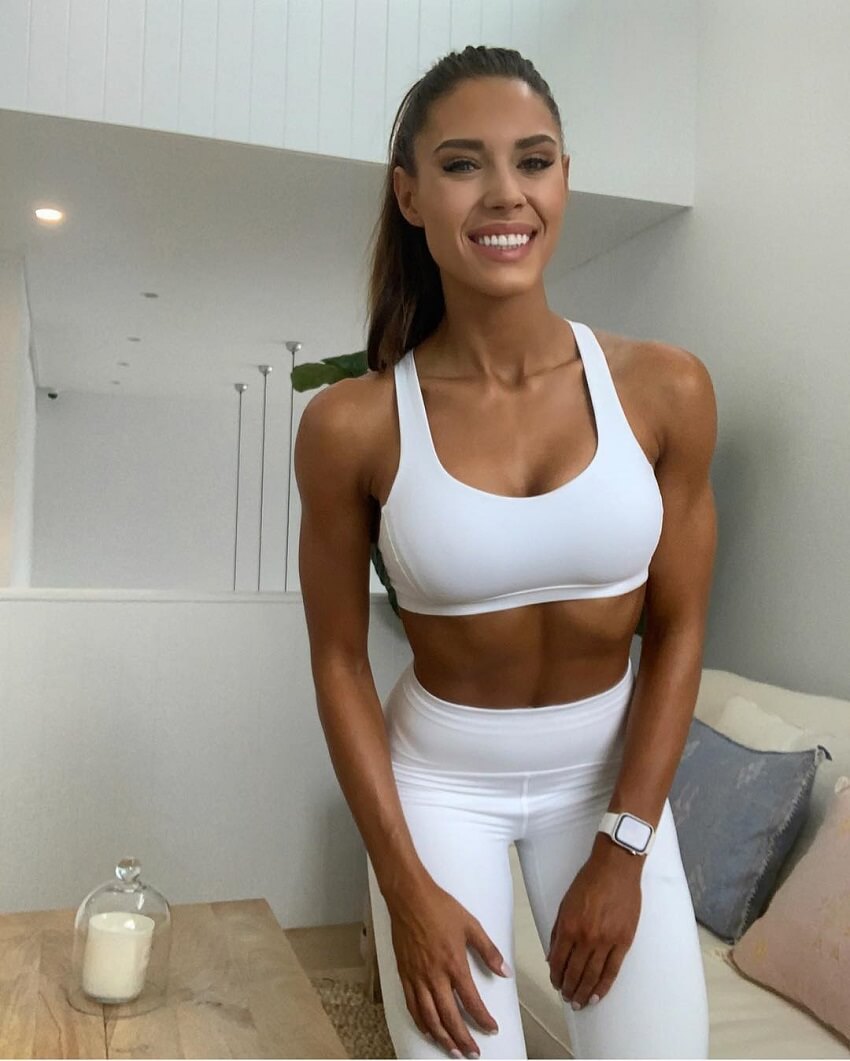 ---
Sunday Doughnut Funday
While Kelsey eats strictly for most of the week, she takes one day a week to eat something she enjoys.
One of her favorite treats is a doughnut, which she eats on Sundays. That's why Kelsey calls this day "Sunday Doughnut Funday".
---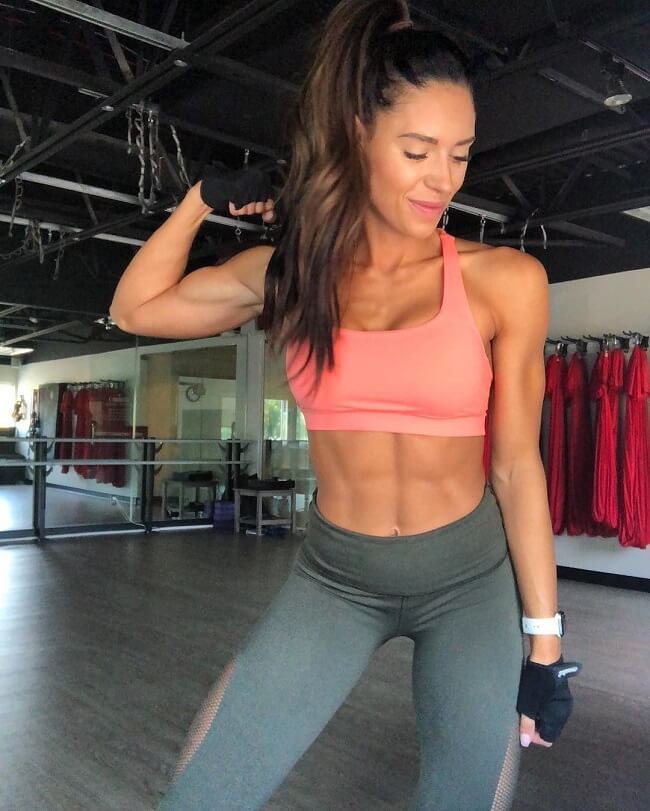 Idols and Influences
Kelsey Wells was influenced to train by her doctor, who told her that working out might help her overcome post-partum depression.
From this point on, Kelsey slowly started feeling better. Within months, she became a completely different person – both on the inside and outside.
Nowadays, Kelsey's source of inspiration are her fans. Their own personal success stories motivate Kelsey to keep sharing her awesome fitness advice with everyone online.
---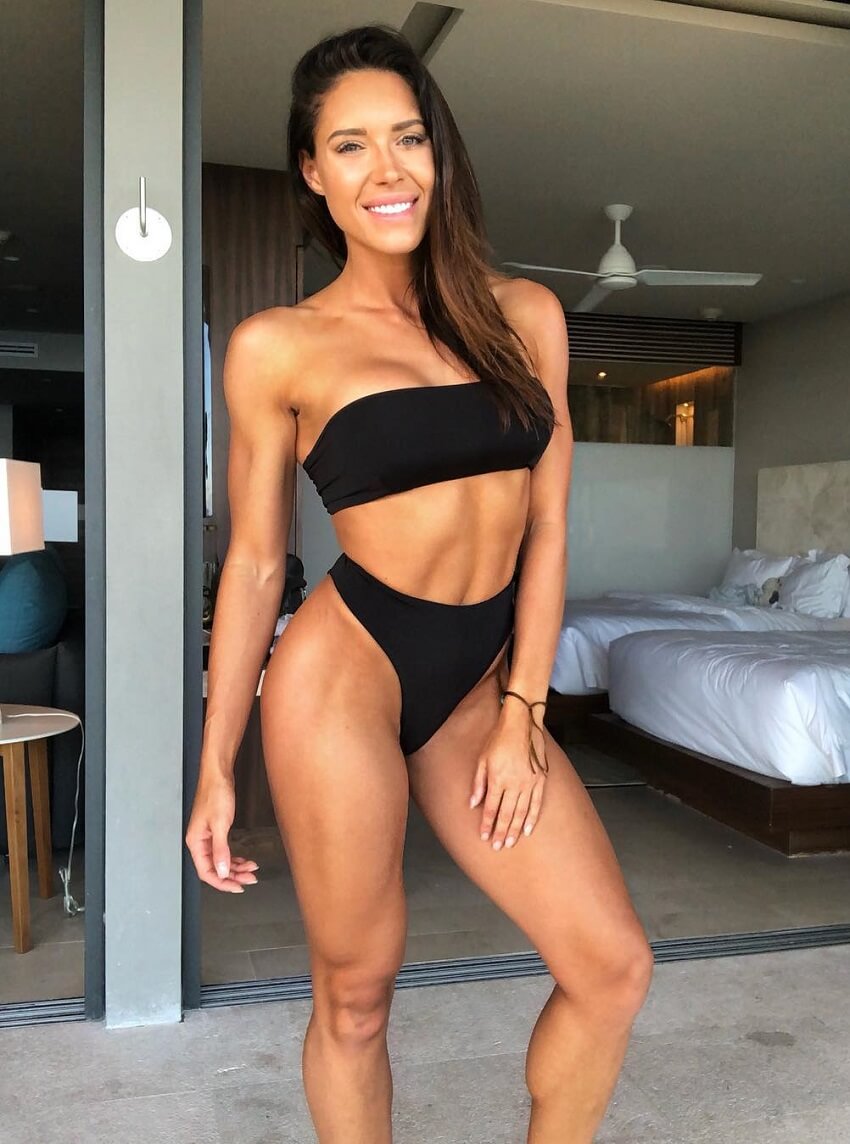 What we can learn from Kelsey Wells
Kelsey Wells initially got into fitness because she felt physically and emotionally drained, after giving birth to her first child. Through weight training, she was able to overcome her obstacles and become an example for others.
Keep Kelsey's story in mind next time you face a challenge in your own life. Reading stories such as hers might give you the motivation to turn your own obstacles into a success story – just like she did.