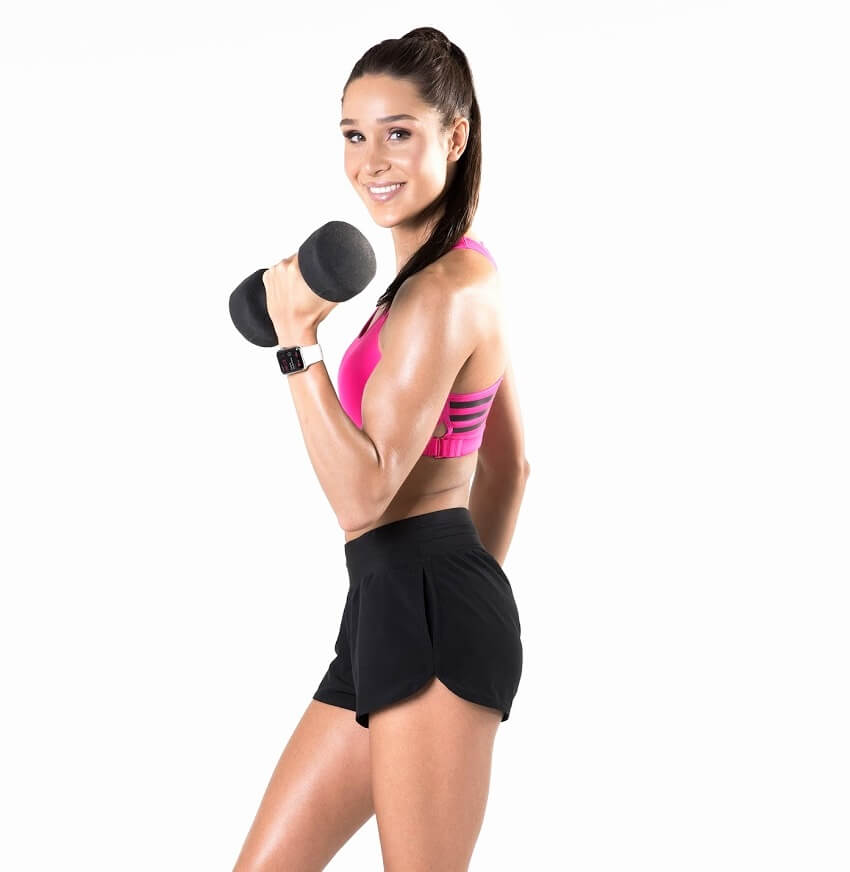 Kayla Itsines
Fitness Celebrity, Online Coach
Kayla Itsines has become one of the most famous fitness icons of the modern era. Through her workout guides, she's helped millions of women reach their physique goals.
But Kayla hasn't always been into fitness. Growing up, she wanted to become a beauty therapist, and was intimidated by the sight of the gym.
This is her story:
---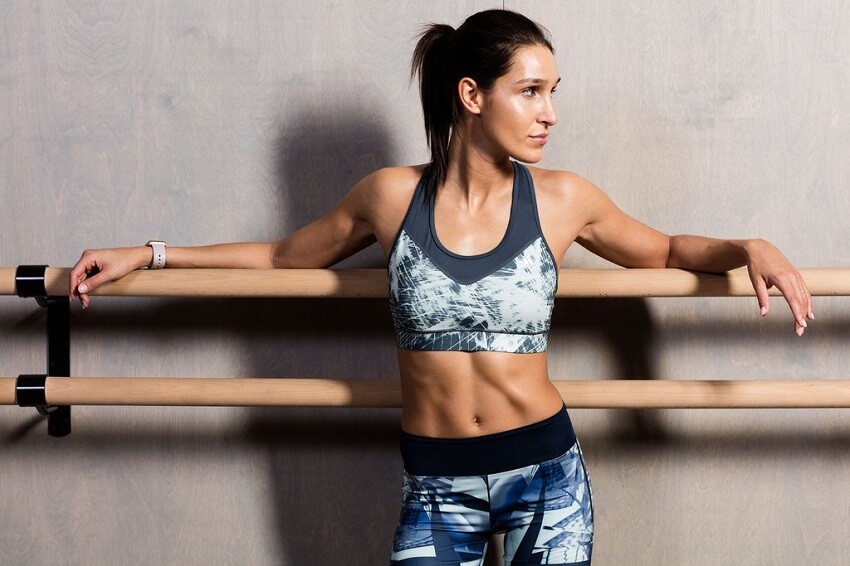 "I'm just like anyone else, when I finish work (whether that's training with clients in the gym or filming content), I try to switch off and unwind."
Athlete Statistics
Full Name: Kayla Itsines
Weight
Height
Bust
Hips
115 - 125lbs (52.2 - 56.7kg)
5'5" (165cm)
34''
35''
Waist
Age
Date of Birth
24''
32
May 21, 1991
Nationality
Profession
Alias
Australian
Fitness Celebrity, Online Coach
kayla_itsines
Era
2010
| | |
| --- | --- |
| Weight | 115 - 125lbs (52.2 - 56.7kg) |
| Height | 5'5" (165cm) |
| Bust | 34'' |
| Hips | 35'' |
| Waist | 24'' |
| Age | 32 |
| Date of Birth | May 21, 1991 |
| Nationality | Australian |
| Profession | Fitness Celebrity, Online Coach |
| Alias | kayla_itsines |
| Era | 2010 |
---
"Don't let other people's opinions of you define you."
Accomplishments
Fitness Celebrity
Online Coach
Entrepreneur
Author
---
"It's important to have a balanced diet. It's not necessarily about restricting certain ingredients or cutting things out, it's more important to have a healthy balanced diet, and a healthy balanced mind as well."
Biography
Kayla's Background
Kayla Itsines was born on 21st of May 1991, in Australia. While she loved playing sports growing up, she wasn't interested in fitness.
Kayla says she was overwhelmed with the gym as a child – it was an intimidating place for her.
Interest in Fitness
It wasn't until Kayla's sports coach told her to "just start somewhere," that she mustered up the courage to step into the weights room for the first time.
To her surprise, Kayla found that working out with weights wasn't nearly as frightening as she previously thought. In fact, she enjoyed it.
The more she trained, the more her passion for fitness grew. This eventually led Kayla to give up on her initial plan to become a beauty therapist. She instead started studying to become a Master Trainer at the Australian Institute of Fitness.
---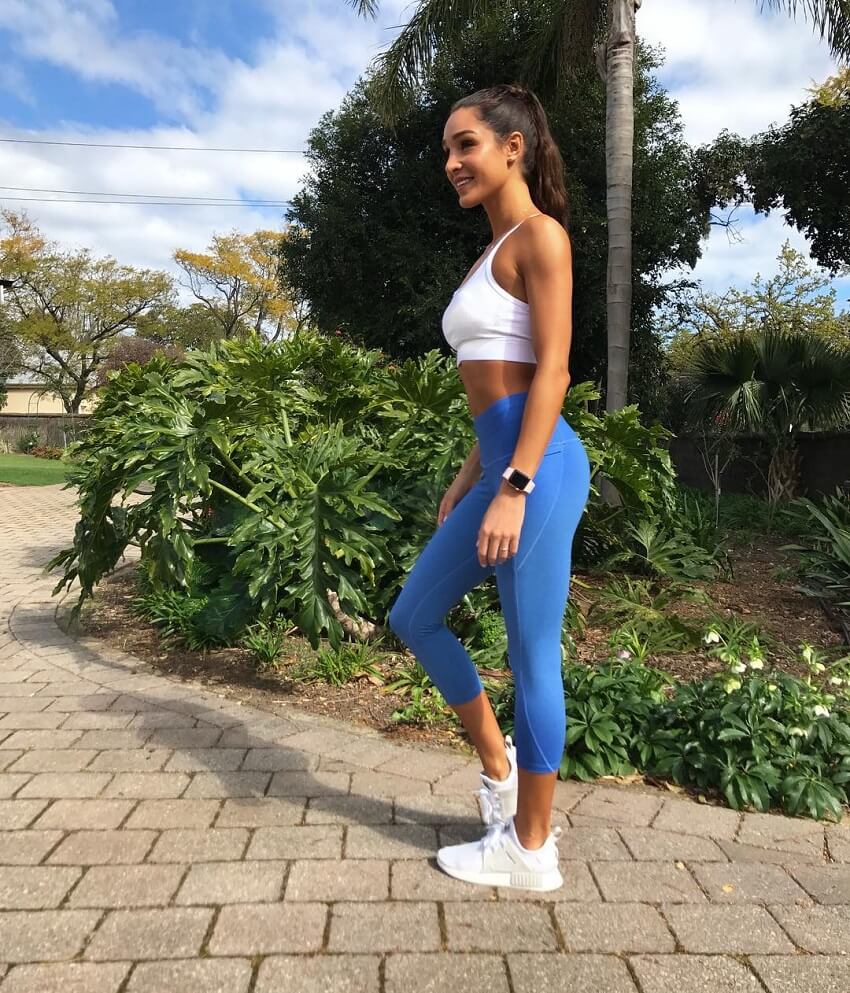 ---
Start of Personal Training
Not long after graduation, Kayla found a job as a trainer at a gym in Adelaide.
While she worked there, Kayla noticed that most of her female clients weren't happy with their results from training. Kayla's clients did a lot of traditional machine exercises, which they didn't enjoy.
Seeing this, Kayla decided to change the approach by replacing the machines with creative aerobic exercises. The client response was fantastic.
Kayla soon realized that females who trained at her gym had a specific goal in their mind. They wanted flat abs, toned inner thighs, and they didn't want to look 'bulky'. This encouraged Kayla to train her clients in a specific way to achieve their goals.
---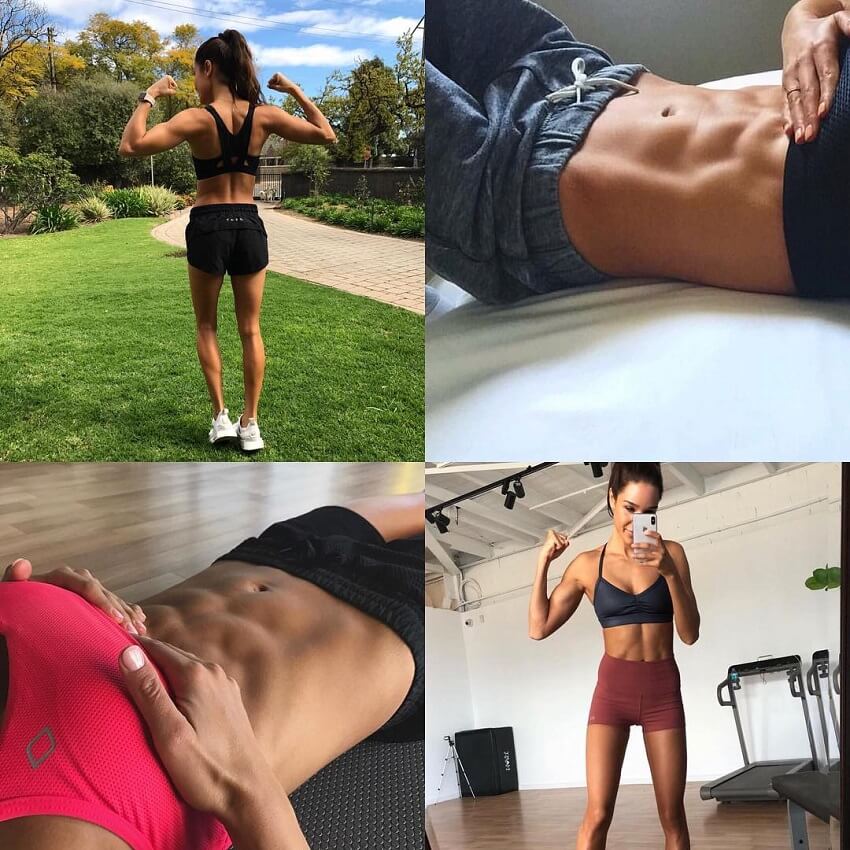 ---
Getting Viral Online
Kayla's progress as a personal trainer was noticed by her cousin, who suggested she should post before-after pictures of her clients on social media to follow their progress.
Within a few months, Kayla's posts went viral, leading her to gain countless followers. What's more, many of these people started asking Kayla for training advice.
Motivated by this, Kayla worked hard on building her brand and establishing herself as an authority in the female fitness industry.
---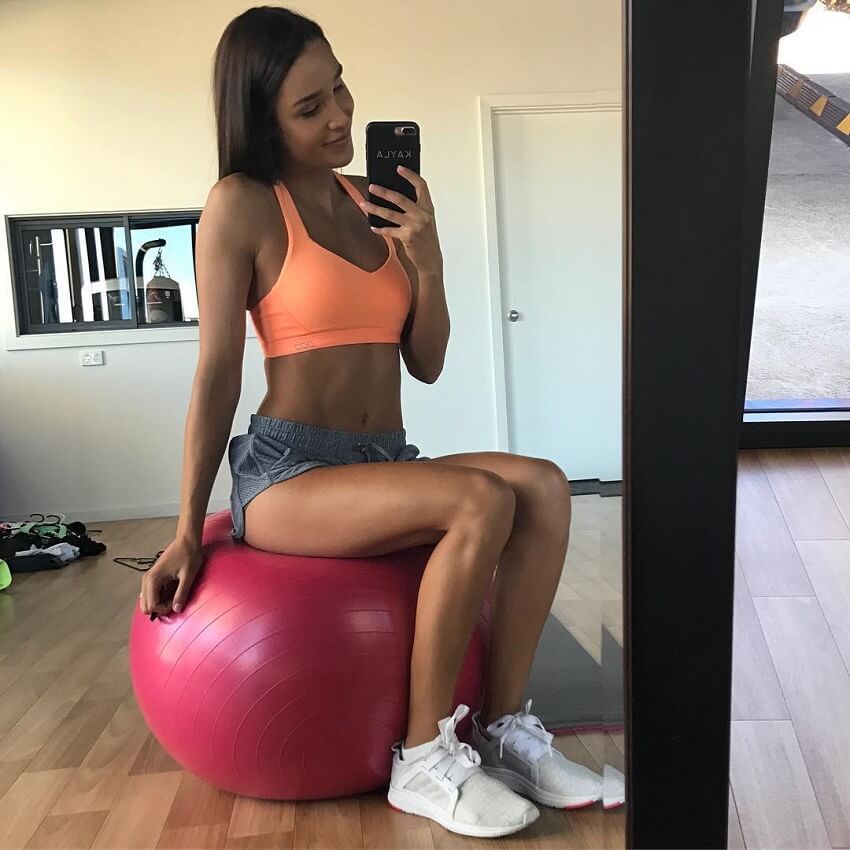 ---
Business Goals
After months of dedication, Kayla launched her first fitness business with the goal of helping her fans.
The idea worked out extremely well, leading Kayla to become a worldwide fitness sensation.
---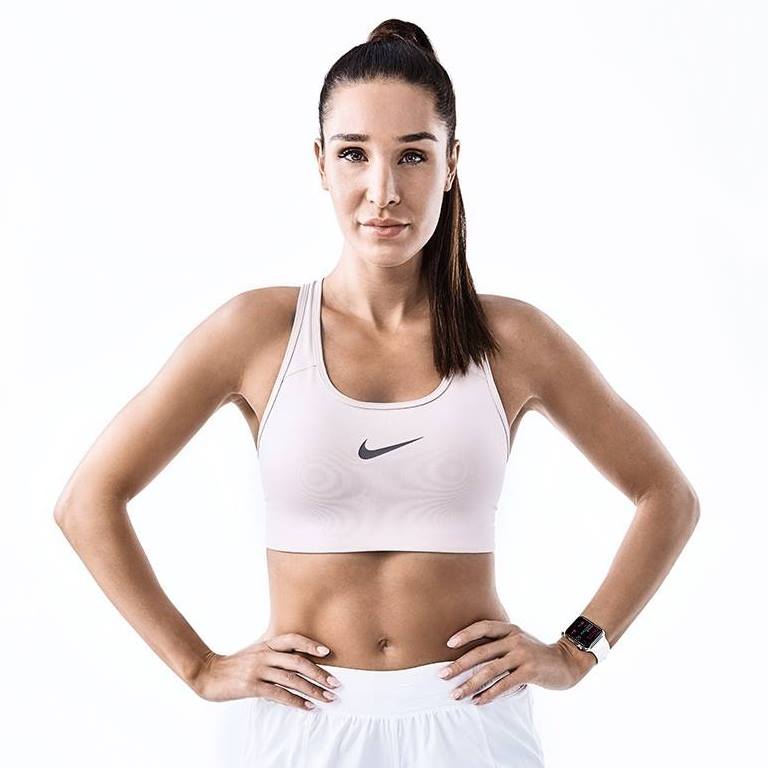 ---
World Tour
As Kayla's popularity continued to grow, many fans started asking her to organize meet-ups in their cities.
Kayla listened to her fans and embarked on a fitness world tour. During the tour, she taught free fitness boot-camps to everyone attending.
The tour included all major Australian cities, Los Angeles, London, and New York City.
---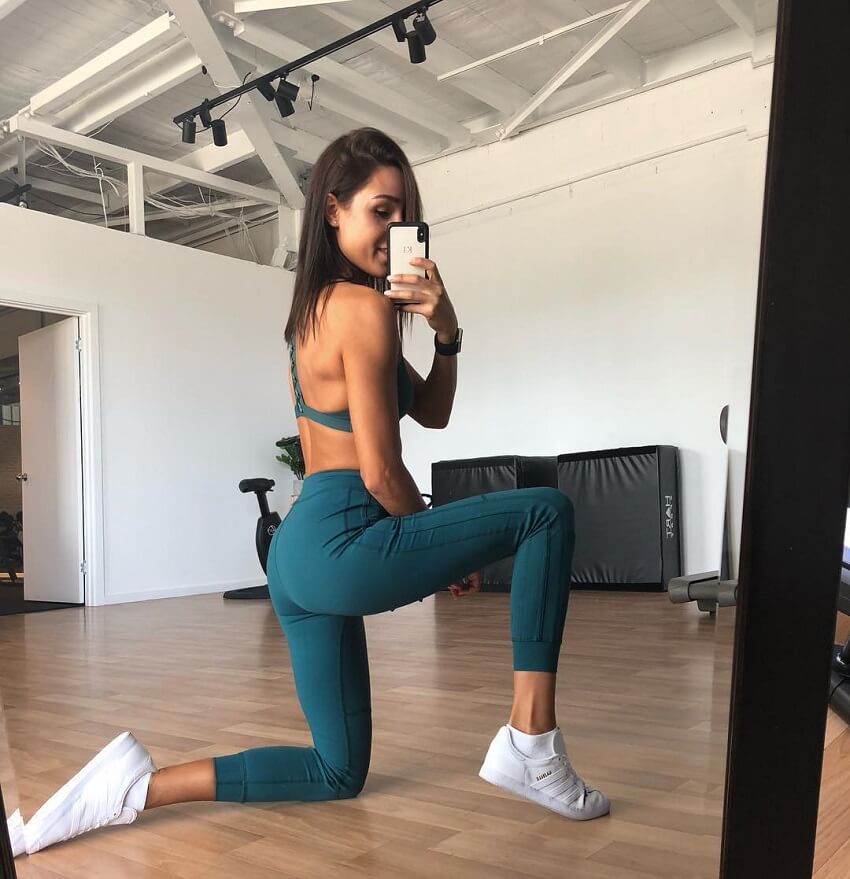 ---
Kayla Itsines Today
These days, Kayla is recognized as one of the top personalities in the fitness industry, having helped millions of women achieve their dream figures.
She says her success is a result of focusing on other people as opposed to her own goals. This ethos is something Kayla carries over to her followers, encouraging them to help each other on their own journey towards success.
---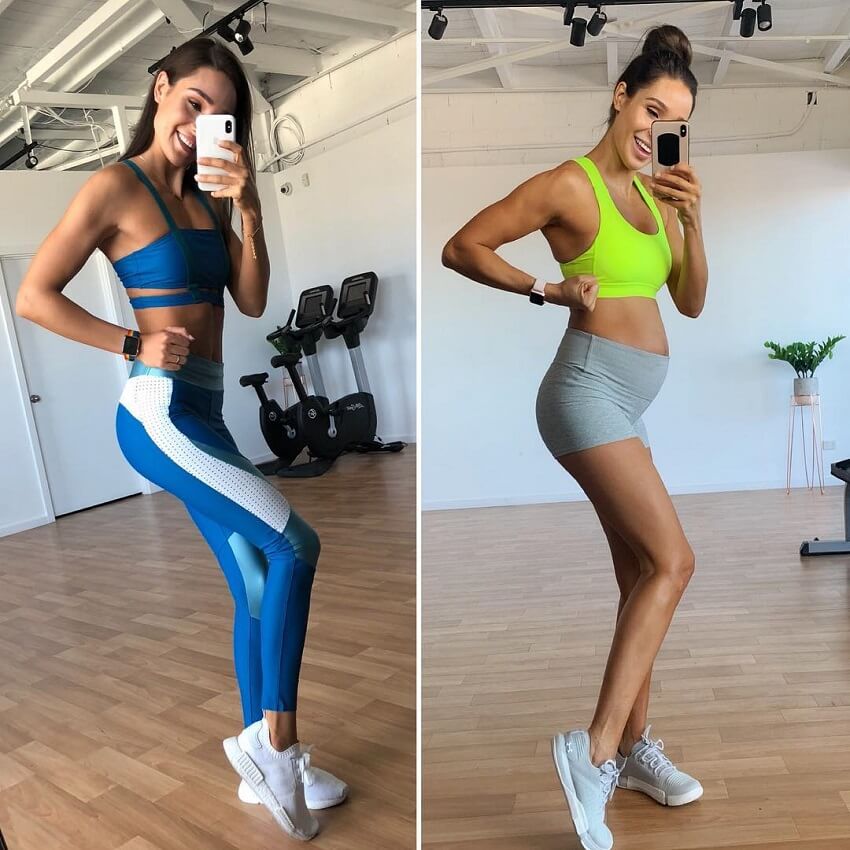 Kayla Itsines before and during pregnancy.
"I don't think there is one exercise that may work specifically for everyone—it's all about finding what works for you! But I think commando or X- hops are great because they work on multiple muscle groups."
Training
Kayla aims to complete 3-4 gym sessions per week. "I also incorporate some cardio too!", says Kayla.
Her favorite exercise in the gym is the cable pulldown. Kayla also loves doing planks, which she believes are extremely underrated. According to her, planks work on stabilizing the core and strengthen the entire body.
In terms of weights, Kayla doesn't like lifting heavy. Instead, her focus lies on maintaining a strict form, doing slow and controlled movements that fully activate her muscles.
A Week of Training
Here's one of Kayla's weekly fitness routines;
Monday: Abs and arms
Tuesday: 30-minute brisk walk, or another type of cardio
Wed: Lower body
Thursday: 30-minute brisk walk, or another type of cardio
Friday: Full-body
---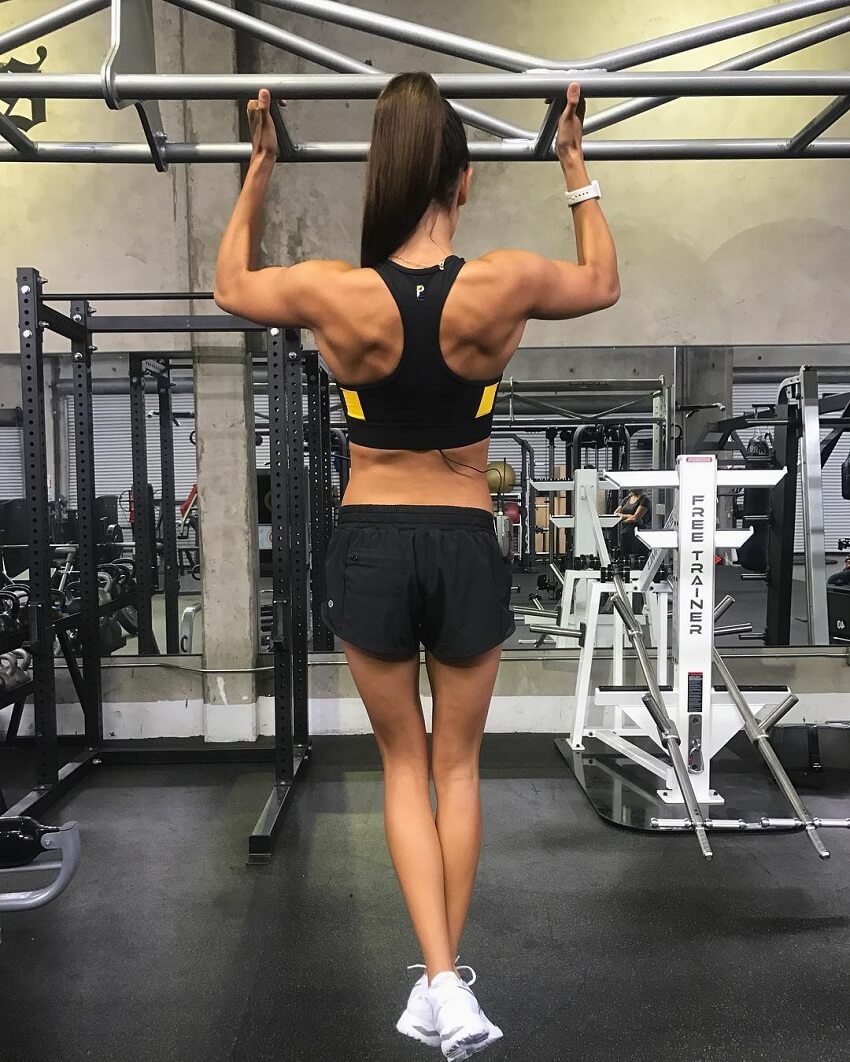 ---
Full-Body Circuit Workout
This is a 28-minute circuit workout which Kayla uses to tone her muscles and lose fat. The goal of the workout is to keep everything short and intense.
To achieve this, Kayla does 4 circuits, each one consisting of different exercises. She only takes a break once the entire circuit is completed.
Here's how the workout looks;
1st Circuit – Arms
Snap Push-Ups, 15 reps – In this exercise, Kayla ensures to keep the feet shoulder width apart as she jumps them in towards her hands.
Negative Triceps Dip, 15 reps – Kayla uses a bench for this exercise, and keeps her posture straight throughout the whole movement. She lowers slowly while keeping her abs flexed.
Commando, 24 reps – Keeping her shoulders in line with her hands, she engages her core throughout the movement to ensure a correct form.
2nd Circuit – Abs
Bent Leg Raise + Hip Lift, 15 reps – "Tuck your knees all the way into your chest to fully contract your abs".
Outward Snap Jump, 20 reps – In this exercise, Kayla keeps her shoulders in line with her hands and keeps her core tight to prevent her hips from swaying.
Straight-Leg Situps + Twist, 20 reps – Kayla avoids using arms to swing herself up, instead, she uses her core to initiate the movement.
3rd Circuit – Legs
In+Out Jump Squat, 20 reps – Here, Kayla keeps her knees in line with both of her feet. This not only improves the efficiency of the exercise but also prevents injuries.
Alternating Front Lunge, 24 reps – According to Kayla, the most important factor of this exercise is keeping her front knee in line with her toes. She also makes sure to evenly distribute the weight between her legs.
X-Hops, 24 reps – With X-Hops, Kayla pays attention to land with "soft knees" to avoid injury.
4th Circuit – Full-Body
Lay-Down Burpee, 10 reps – During this movement, Kayla keeps her entire back straight. Especially her lower back, which is prone to injury.
X-Mountain Climber, 40 reps – Much as with other exercises, Kayla focuses on keeping her hands shoulder-width apart when doing X-Mountain Climbers.
X-Jump, 20 reps – The key to this exercise, as Kayla believes, is rotating through the upper body instead of the lower body. She also makes sure to keep her knees and toes in line at all times.
---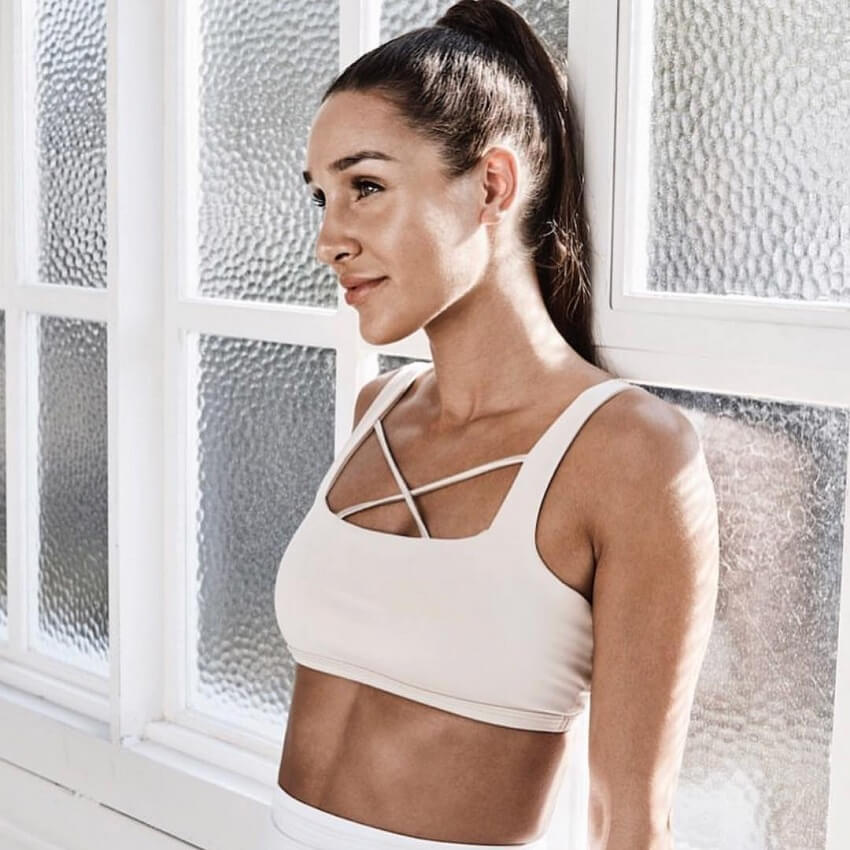 ---
Rest and Recovery
Among Kayla's top priorities is getting enough sleep every night. Even when traveling, she makes sure to get at least 8 hours of sleep – it's non-negotiable for her.
"I go to bed really early. I normally wake up at 6-6.30am in Adelaide and go to sleep at about 10.30 at night. When in London, I've been waking at 3 AM and falling asleep at 7 PM, but I've been still getting my eight hours, so that's good."
---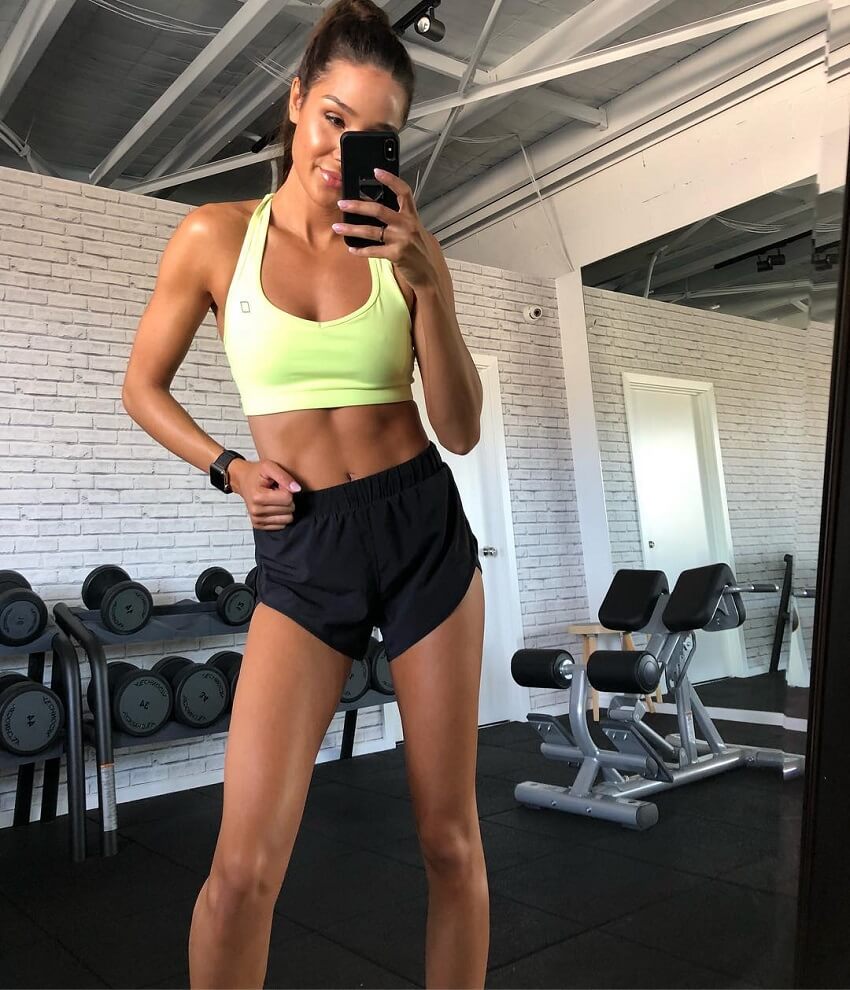 "It's not possible to lose fat from one particular area of your body by just doing exercises that target that area. It's a full-body process, so you need to lose body fat all over in order to look more lean or "toned"."
Nutrition
Kayla's Diet
Because she eats healthily, Kayla finds it easy to stick to a balanced diet wherever she goes.
She often eats foods such as eggs, avocado on a toast, mushrooms, and tomatoes for her main meals.
As for snacks, Kayla loves Greek yogurt with fresh berries. It's not unusual to spot Kayla eating a tuna sandwich after her workout. She says this isn't something many fitness models do but is one of her favorite peculiarities.
"After a workout, you might find this funny, but I might refuel with a tuna sandwich."
Here's how Kayla's day of eating looks;
Meal Plan
Breakfast: Avocado on a toast, poached eggs, tomatoes, a cup of herbal tea
Mid-Morning Snack: A piece of fruit
Lunch: Chicken wrap with lettuce, onions, tomatoes, and homemade sauce
Afternoon snack: Tuna salad and some fruit
Dinner – Lemon, rice, and chicken soup
Before bed: Peppermint tea for relaxation
---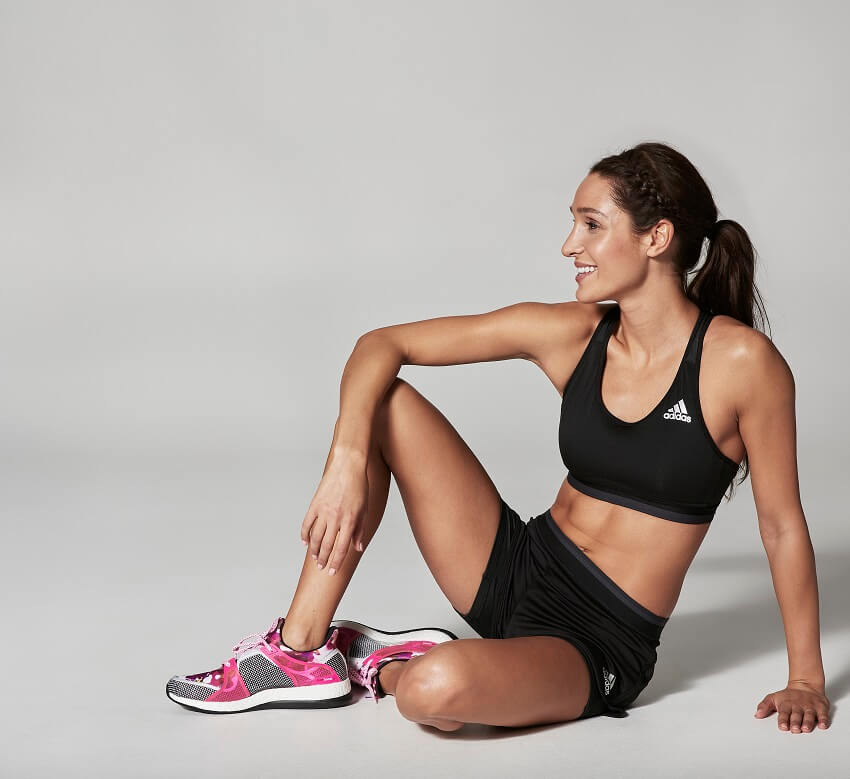 ---
Kayla Itsines Supplements
Eating from a variety of food sources allows Kayla to get all of her daily nutrients without taking supplements.
However, she realizes that everyone is different, and never neglects the importance of taking supplements if the diet is lacking certain nutrients.
For example, if Kayla travels a lot and can't meet her protein requirements, she'll opt for a quality protein shake. This saves her time while keeping her muscles fueled.
---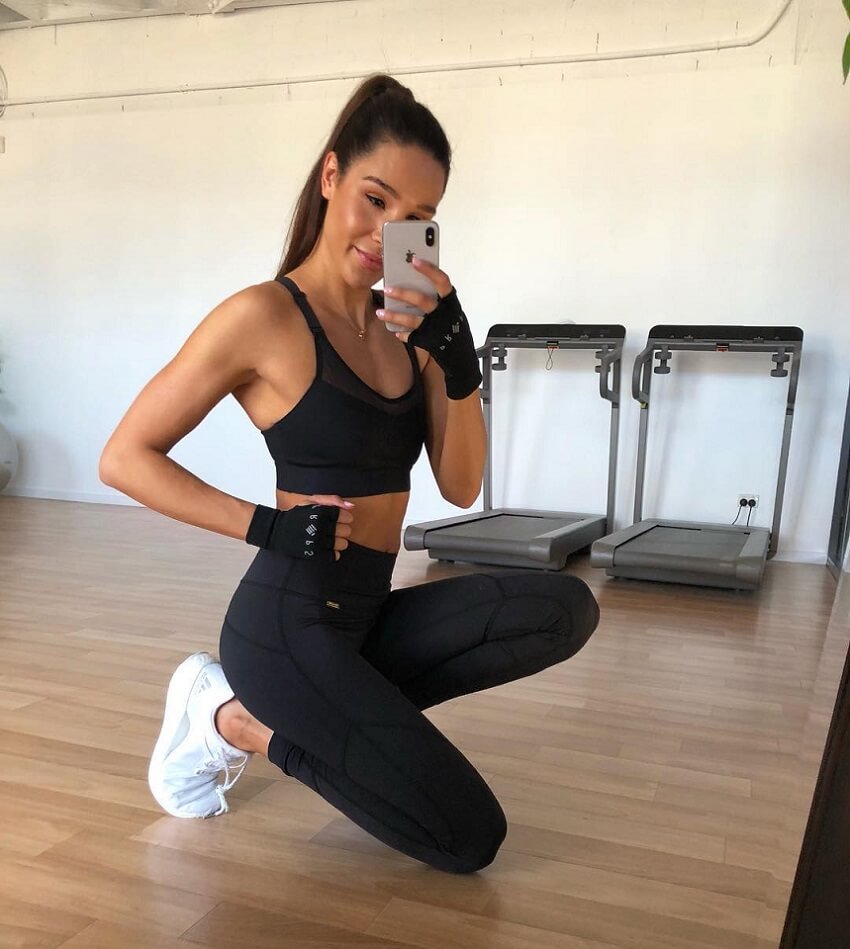 "Social media has been key to reaching so many women all around the world.  My focus is always on posting content on social media that is useful and adds value to my followers."
Idols and Influences
Kayla Itsines says she wasn't inspired by one particular person, but rather by a chain of events that had happened in her life. "My love of sport and basketball lead me to personal training. That's when I discovered how much I loved helping people to become healthier and happier, and have never looked back since, for me it was a great life-changing decision." – Kayla Itsines
Nowadays, Kayla's source of inspiration comes from fulfilling her mission, which is to help people around the world with her fitness advice. As she says: "now my mission inspires me".
---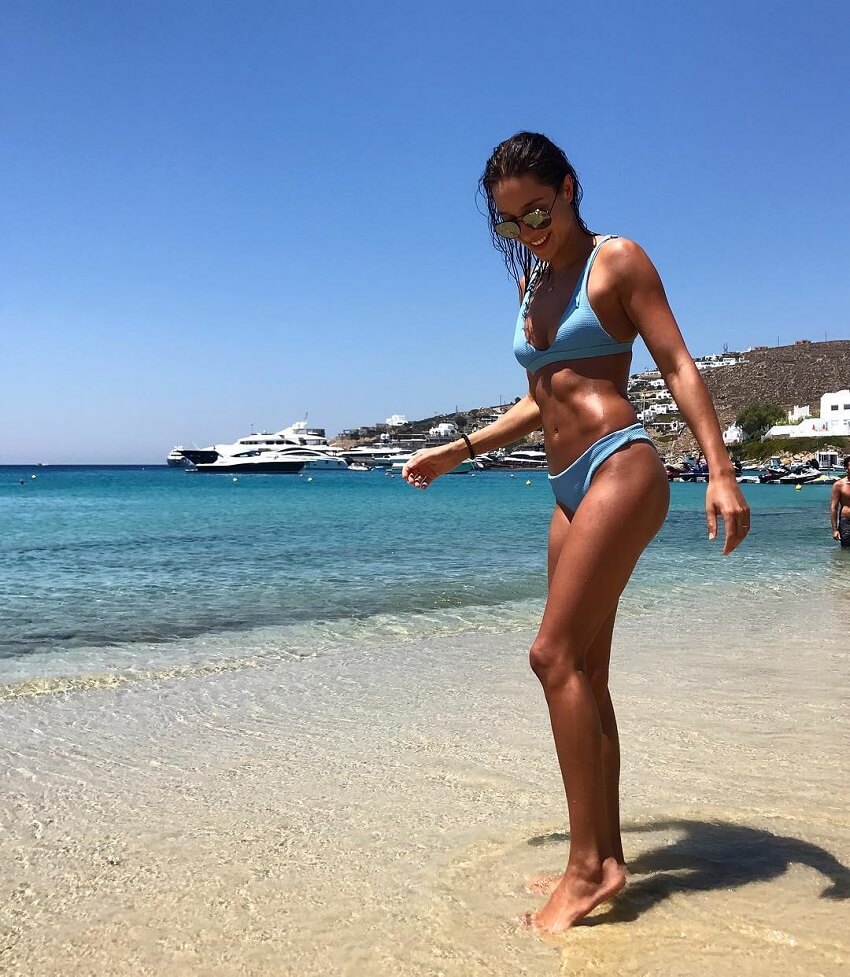 What we can learn from Kayla Itsines
Although Kayla is now a fitness icon, she once wanted to be a beauty therapist. It wasn't until she started training that Kayla's passions changed; this is when she took a route of becoming a fitness trainer.
What her story tells us, is that you should welcome changes in your life. Don't be afraid to stray off the beaten path if an opportunity arises. By doing this, you too can achieve your dream lifestyle – just like Kayla Itsines did.