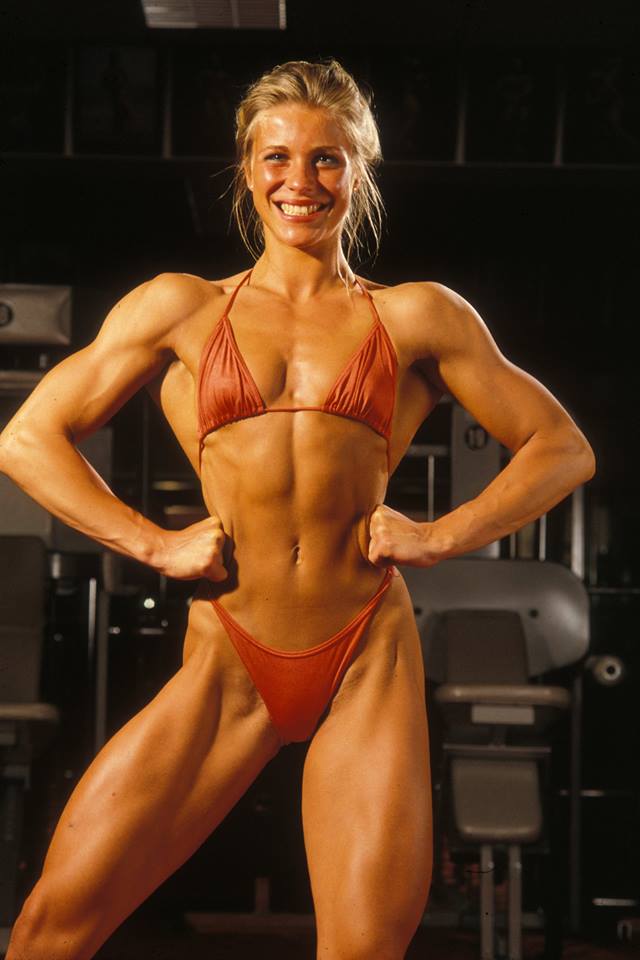 Anja Langer
Bodybuilder, Fitness Model, Personal Trainer
Anja Langer is Germany's best female bodybuilder in history. She's the only female bodybuilder to be inducted in the German Bodybuilding Hall of Fame. Her career peaked in 1988, after placing 2nd to Cory Everson at the Ms.Olympia.
However, things weren't always easy for Anja – she had to face the death of her father while she was in the middle of her preparations for 1987 Ms. Olympia.
This is her story:
---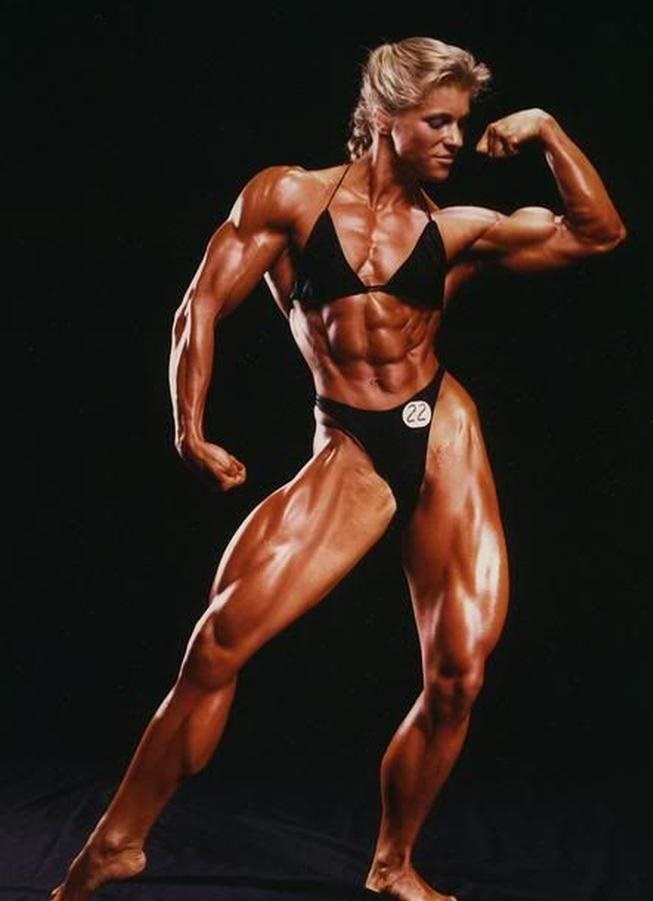 Athlete Statistics
Full Name: Anja Langer
Weight
Height
Age
Date of Birth
145 - 155lbs (65.8 - 70.3kg)
5'7" (170cm)
58
June 2, 1965
Nationality
Profession
Era
German
Bodybuilder, Fitness Model, Personal Trainer
1980, 1990, 2000
| | |
| --- | --- |
| Weight | 145 - 155lbs (65.8 - 70.3kg) |
| Height | 5'7" (170cm) |
| Age | 58 |
| Date of Birth | June 2, 1965 |
| Nationality | German |
| Profession | Bodybuilder, Fitness Model, Personal Trainer |
| Era | 1980, 1990, 2000 |
---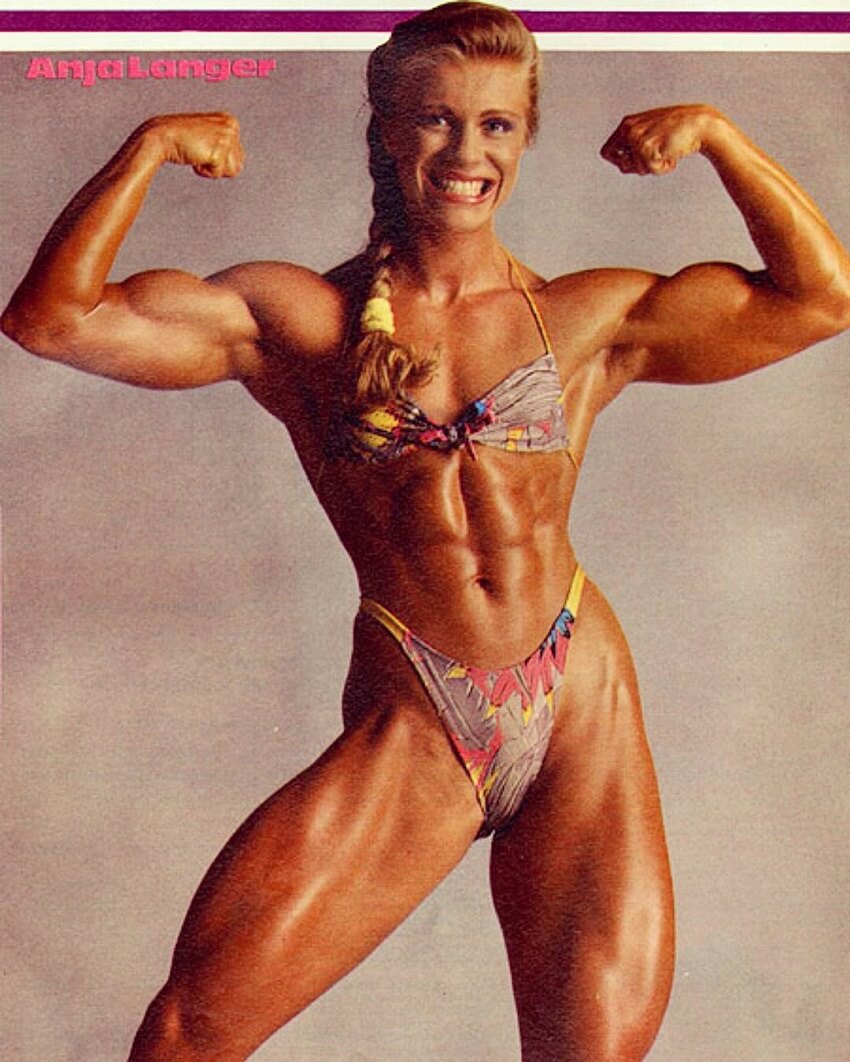 Accomplishments
Contest History and Other Achievements
1981 Baden-Württemberg Championships – Did not Place
1982 Baden-Württemberg Championships – 2nd
1983 NPC German Championships – 4th
1984 NPC Amateur World Championship – 2nd (with a partner)
1985 NPC Junior World Championships – 1st
1986 IFBB European Amateur Championships – 1st (HW)
1986 IFBB German Championships – 1st (MW & Overall)
1987 IFBB Ms. Olympia – 4th
1987 IFBB World Pro Championships – 2nd
1988 IFBB Ms. Olympia – 2nd
2009: Inducted into the German Bodybuilding Hall of Fame.
2011: Inducted into Joe Weider's Bodybuilding Hall of Fame.
---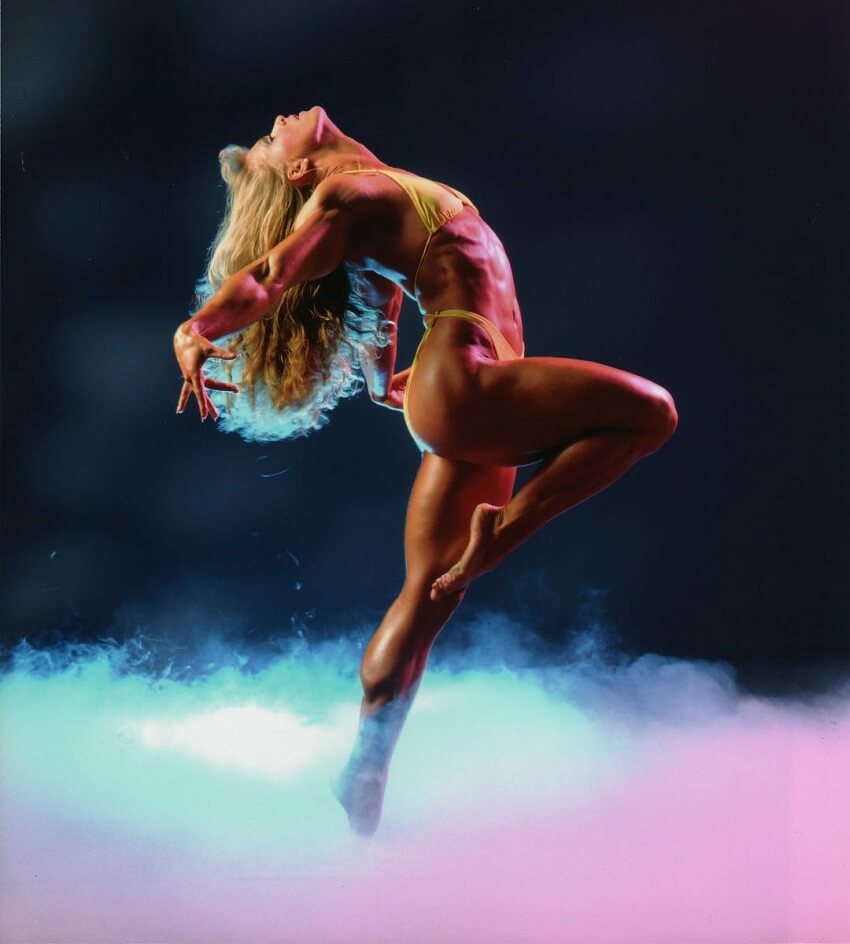 "My experiences in life have shown me the importance of having a strong foundation, and through physical activity, especially bodybuilding, I was able to obtain my personal strength in both body and mind."
Biography
Anja's Childhood and Sports
Anja Langer was born in 1965 in Germany. Her house was close to a forest, where Anja often went to play with her family and friends. "This probably explains my fascination for nature which still exists today," says Anja.
She discovered sports at a young age, realizing her talents lied in these activities. By the age of 8, Anja was a part of a professional gymnastics confederation and participated in a number of contests.
A couple of years later, she became interested in horseback riding and went on to take part in several horse contests.
However, no matter which sport she competed in, Anja excelled in every one of them. This is what sparked a thought in her mind "why not become an athlete?" However, she still wasn't familiar with bodybuilding at this point.
---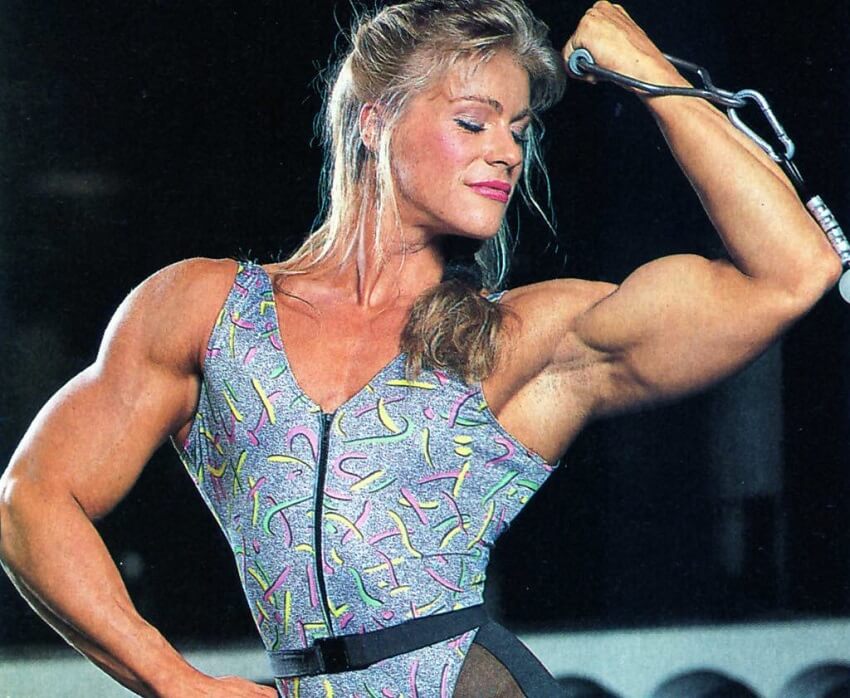 ---
Jazz Dance
Over the years, Anja tried almost every sport 'under the sun'. However, during high school, she decided to try something completely new – jazz dance.
"I was filled with enthusiasm for jazz dance, for I loved the music, the motion, the expression, and especially performing. My affiliation to jazz dance would later be of great benefit to my bodybuilding career, especially when I had to do a posing routine on stage; I always treated my routines as dance performances. "
First Training Session
Eventually, the day came where Anja stepped into the gym for the first time.
She was 15 years old and was the only girl who trained in her gym. But this didn't bother Anja. She instantly fell in love with the feeling she experienced from training, and soon became immersed in bodybuilding.
"I was the only girl in the gym, but this did not bother me. I actually enjoyed it, especially since the guys were all amazed at how strong I was."
Giving Bodybuilding Competitions a Try
Anja's gym training sessions soon began reflecting on her physique – her muscles improved by leaps and bounds over the months.
Seeing these results motivated Anja to take part in fitness contests. In 1982, Anja entered her first bodybuilding show; it was called the Baden Wuerttemberg Championships. Although she placed second to last, Anja wasn't discouraged by the result. On the contrary, this fueled her ambition to train harder and improve.
"I learned about dieting, as well as how to get the most out of my workouts, and I applied that knowledge to my pre-competition training."
One year later, in the same show, Anja finished in the second place.
---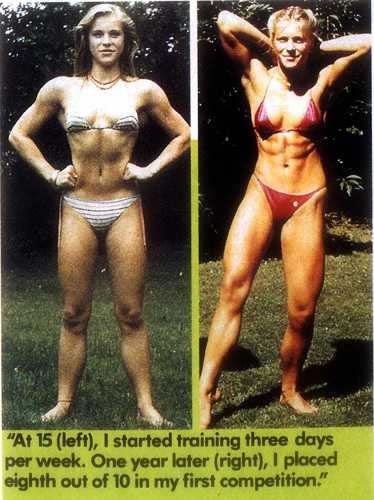 ---
From a Hobby to Career
After finishing secondary school, Anja began to fantasize about becoming a professional bodybuilder. However, her parents didn't allow this, and instead wanted Anja to focus on her academia.
Still, Anja knew her true passion was training the gym, not being at school. As a result, she started training secretly, along with competing without her parents' knowledge.
"It wasn't until much later that my parents finally recognized that bodybuilding was part of my personal philosophy on life, and that my positive outlook has, and still is, a direct result of my participation in that sport."
In 1983, Anja went on to place 4th at the German Bodybuilding Championships. A year later, she was the runner-up at the World Amateur Championships in Madrid, together with her posing partner.
Then, 2 years later, Anja won the Junior World Championships in Australia, followed by two additional victories at the European Bodybuilding Championships and German Championships in 1986. It was after this that Anja fully committed to bodybuilding as her profession, turning it from a hobby to a career.
Runner-Up Ms. Olympia
In 1987, in an attempt to take her career a step further, Anja started preparing for Ms. Olympia. However, this was an extremely difficult year for her because her father passed away.
But Anja knew her father would want her to keep going strong, and that's exactly what she did – taking 2nd place at the prestigious IFBB Pro World Championships. She later went on to take 4th place at the 1987 Ms. Olympia.
In 1988, Anja made her best ever Ms. Olympia appearance, being crowned the vice-champion.
---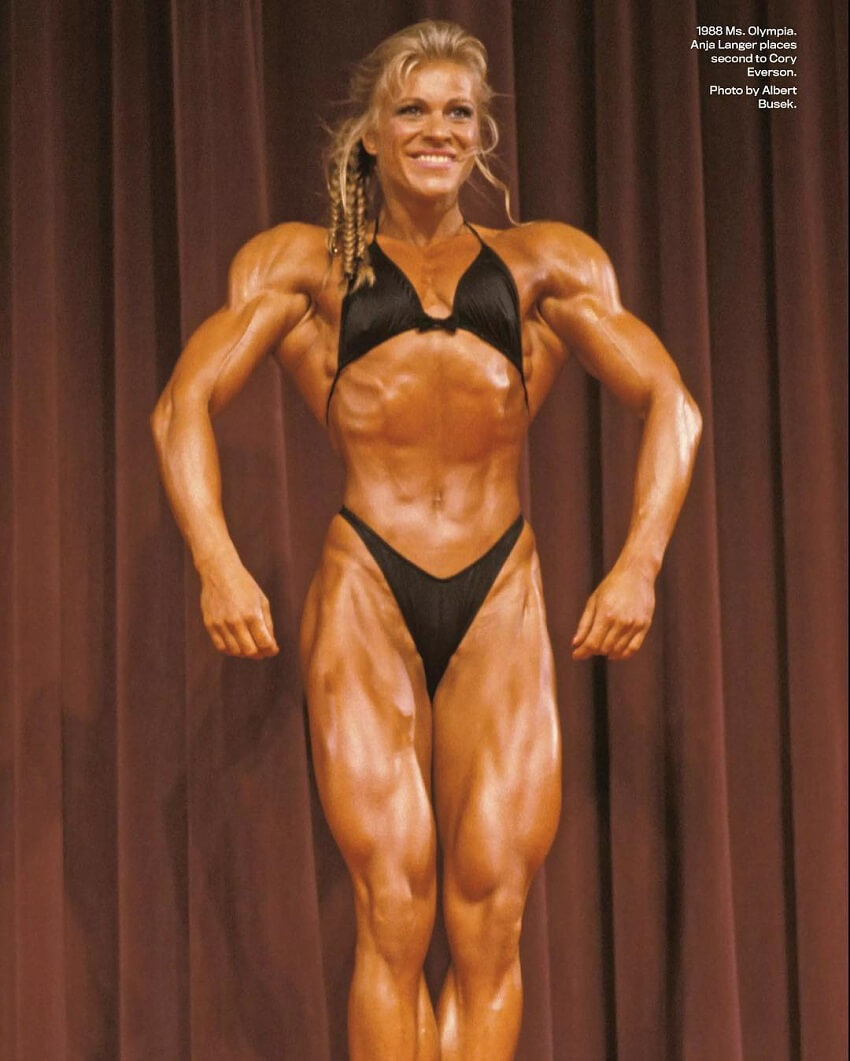 ---
Pregnancy
After placing 2nd at the Olympia, Anja decided to take 1 year off from competing to "recompose myself". She was only 23 years old at the time and knew she had plenty of room for improvement, with a goal of coming back and winning the 1990 Ms. Olympia.
Anja was prepared to dedicate her entire life to winning that trophy. However, as Anja says, "fate had other plans."
Just as she started preparing for the contest, Anja found out she was pregnant. "Instead of training for Ms. O. in 1990, I was preparing myself for a different, though no less exciting event: Childbirth!"
Throughout her pregnancy, Anja followed a special training and dieting program. Then, in 1991, she gave birth to her son. With new priorities in her life, Anja decided to end her pro-bodybuilding career, but her passion for lifting weights remained.
A New Chapter in Bodybuilding
By the end of 1991, Anja co-authored her first book on training, nutrition, and bodybuilding. She also later returned to the bodybuilding stage, although only as a guest poser.
Even though she didn't do this to win trophies, Anja says guest posing was one of her favorite experiences in bodybuilding. In her words; "Although, not as muscular as during my competitive days, my audience was enthusiastic and it was the most fun I ever had on stage."
---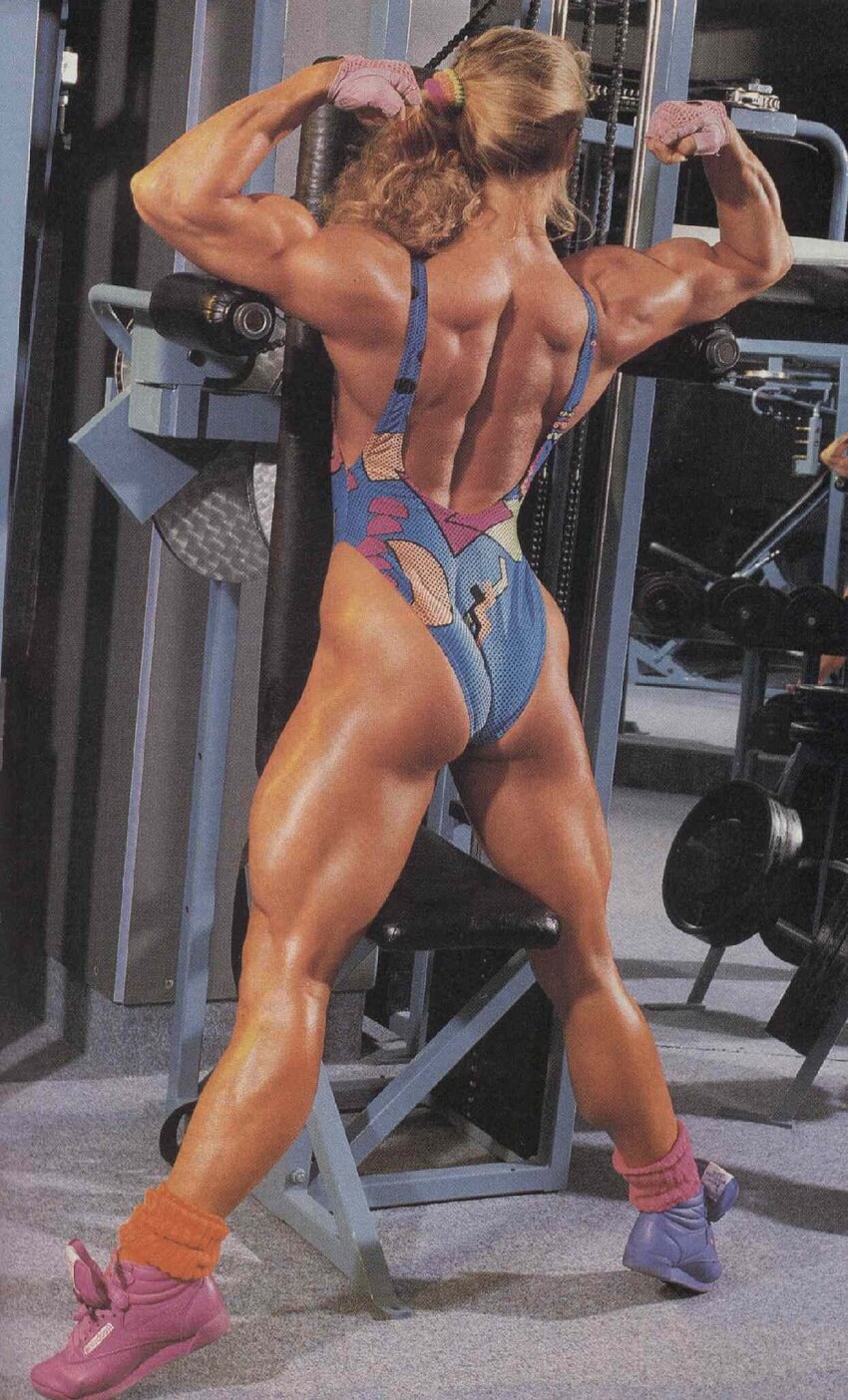 ---
Buying a Gym
In 1995, Anja bought her own gym in Stuttgart, with a goal of becoming an entrepreneur.
Although exciting at first, Anja says she quickly lost passion for running a gym. This was mostly due to the constant stress and lack of free time that came with running a business. As a result, she eventually sold the gym in 1998.
After selling the business, she began working as a personal trainer, model, and fitness consultant. Anja says these were hard times; being a single working parent meant she had to work extremely hard to provide her family with everything they needed.
Return to Fitness Scene
In 1999, Anja met her husband whom she married one year later. With his help and support, Anja had more free time to focus on her passions.
This led her to return to the bodybuilding scene, not as a competitor, but as a spokesperson and professional fitness model. She had a number of high-profile photo shoots throughout the early 2000s, which led her to become one of the top female models of that time.
"I soon started to reappear in magazines and calendars. I even considered returning to the competitive stage, but once again motherhood jumped in the way. In 2001, I gave birth to my second son. Since that time, I have periodically appeared in numerous magazines."
---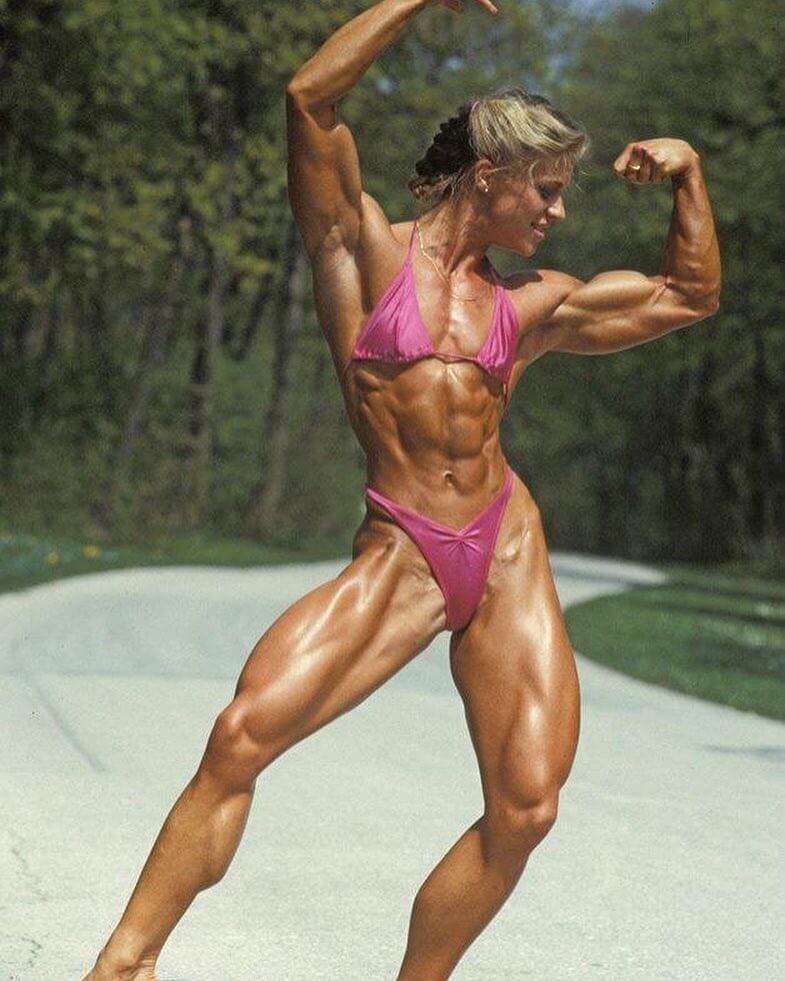 ---
Anja Langer Now
To this day, Anja Langer remains the most successful female bodybuilder from Germany.
This was proven in 2009 when she was inducted into the German Hall of Fame of Bodybuilders. She was the first female to achieve this feat.
The final stamp on Anja's glittering career came in 2011 when she was inducted in Joe Weider's Bodybuilding Hall of Fame. "An honor for which I'm truly grateful." – Anja Langer
---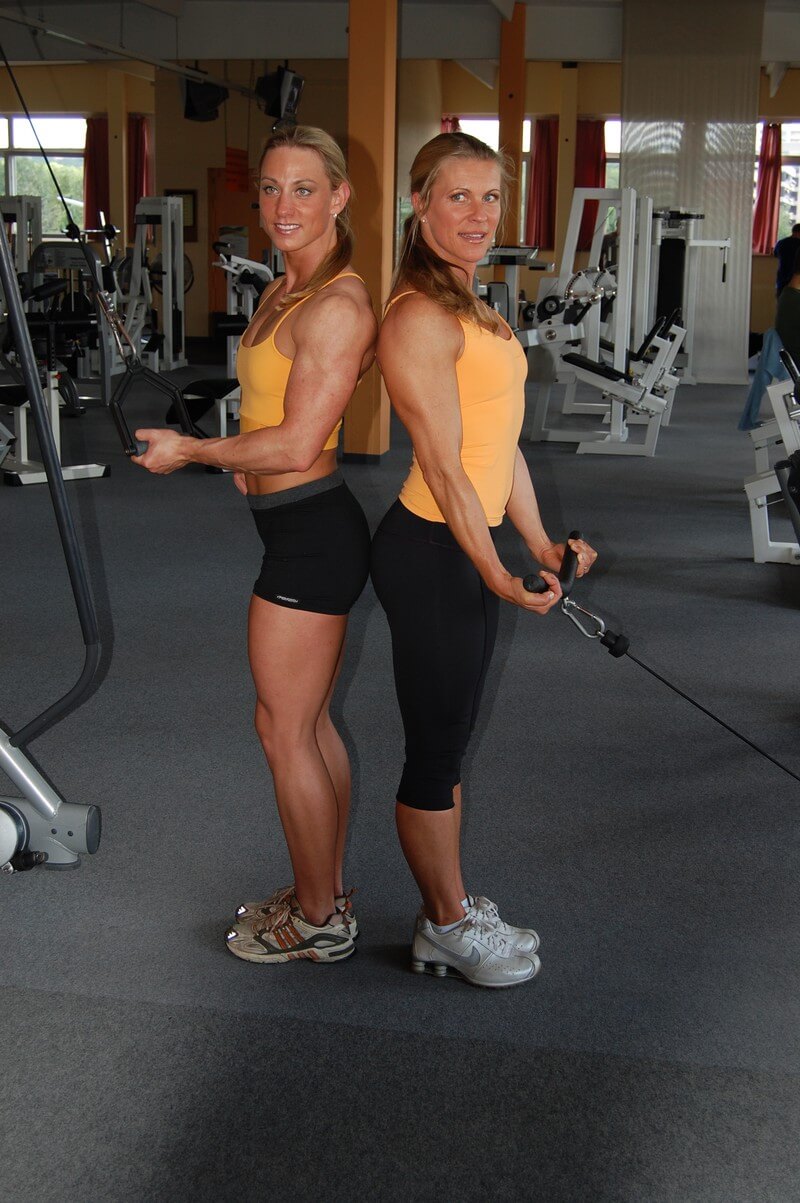 Anja Langer (right) today.
Training
During her prime, Anja Langer trained with a combination of compound and isolation exercises.
She began her workouts with exercises such as bench press, pull-ups, and squats. As the workout progressed, Anja added isolation exercises to focus on a single muscle.
She followed a push-pull routine, training for three consecutive days before taking a day off. As Anja's legs were her strong points, she focused on improving her chest and back to achieve a well-balanced figure.
She has always believed that correct form trumps the weight. That's why she rarely lifted extremely heavy, but instead, focused on the exercise execution.
---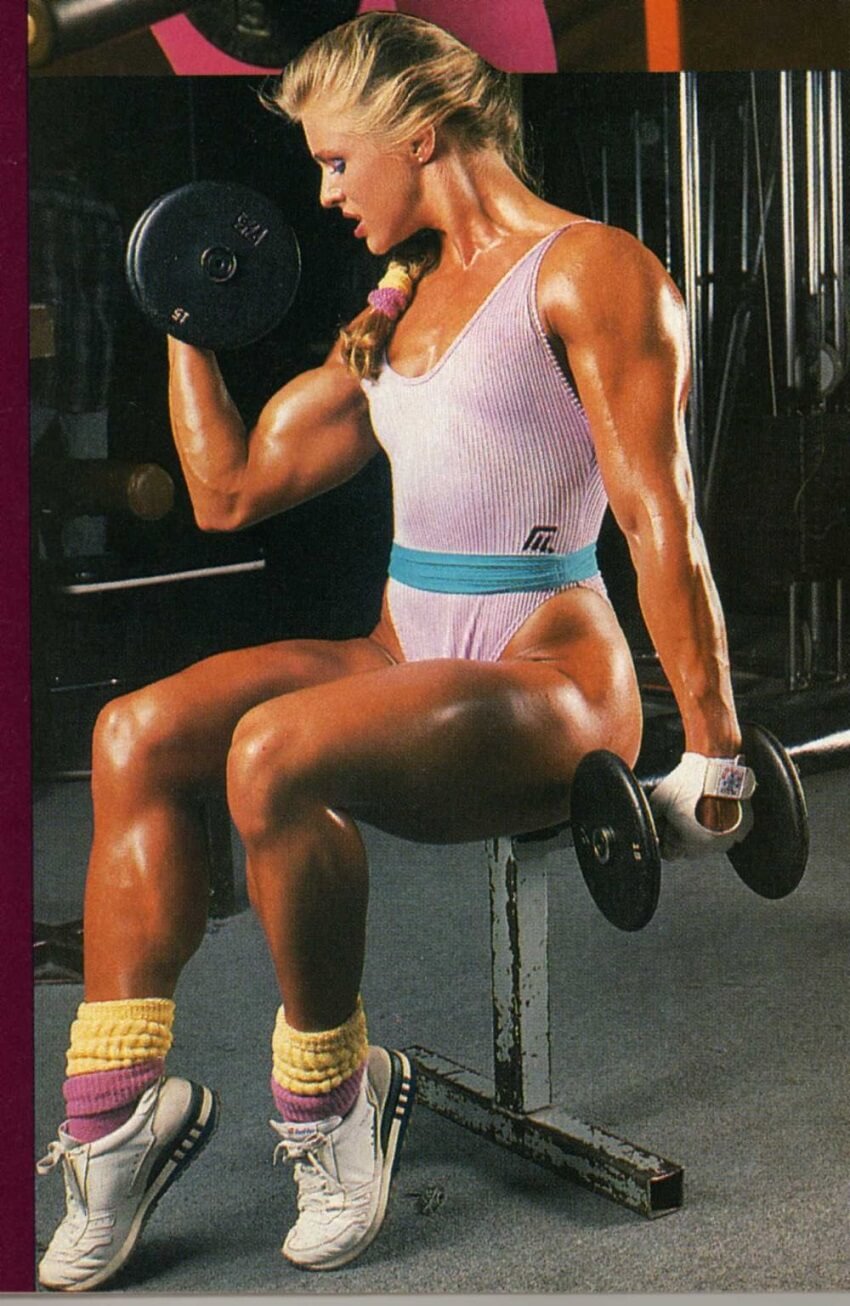 Nutrition
Diet Trumps Training
Anja has always believed that 60% of her results in bodybuilding came from her diet.
According to her, people have the misconception that training hard will give them the perfect body. When in fact, it's the diet that plays a crucial role in getting that famed six-pack.
"Bodybuilders will attest to this, so will the many fashion models, which do very little exercise but are slim and virtually fat-free."
Anja's Macros
In terms of macros, Anja ate a diet consisting of 40% proteins, 50% carbs, and 10% fats. This is what's worked best for her, but as Anja says, it might not work for everyone. Experimenting is key.
In terms of the quality of her foods, Anja didn't eat sugars, processed meat, or drink alcohol. Only wholesome and clean foods were allowed during her contest preparations.
Anja also ensured that her muscles stayed constantly fueled with protein. As a result, she often drank protein shakes before bed and after waking up. This helped prevent her body from going catabolic.
---
Idols and Influences
Anja was heavily influenced by her own motivation to be the best in anything that she did, even from a young age. This trait stuck with Anja as she grew up.
Ultimately, this competitive drive allowed Anja to become one of the greatest bodybuilders of her era.
---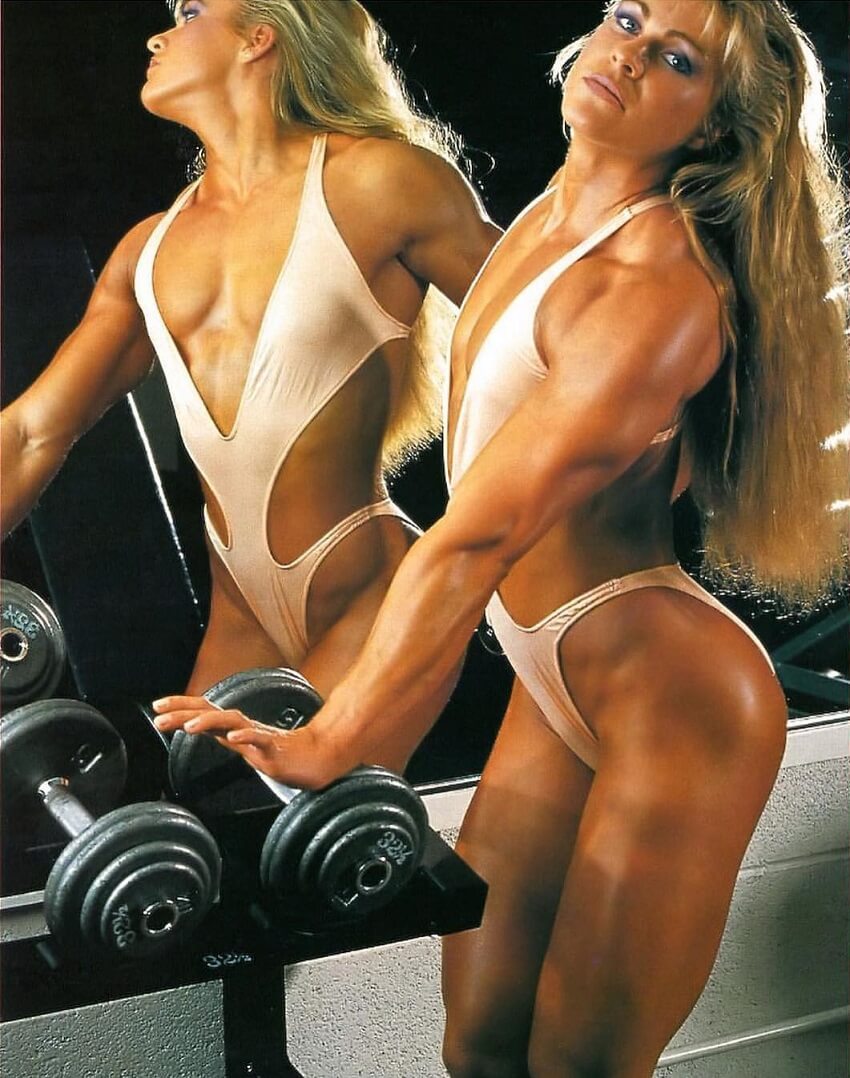 What we can learn from Anja Langer
Anja's journey into sports began when she was only 8 years old. Over the years, her interest in lifting weights led her to sculpt an aesthetic and awesome figure, and become one of Germany's most recognized female bodybuilders.
If there's a lesson to learn from Anja Langer, it's that becoming successful boils down three key things; effort, consistency, and sacrifice. By working hard every single day, and by plowing through any obstacle that might stand in your way, you too can reach your own mountain of success – just like Anja did.