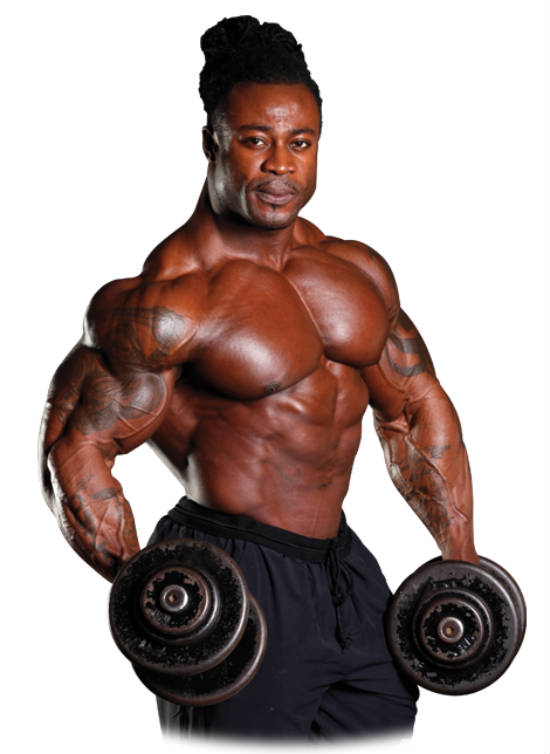 William Bonac
IFBB Professional Bodybuilder, Sponsored Athlete
William Bonac is an IFBB Professional Bodybuilder and sponsored athlete from Ghana. He's worked extremely hard to build the physique he has today. He prides himself on his confident, down to earth attitude.
This mental approach has taken him all the way to the Mr Olympia stage. He's admired for his large legs and arms, as well as his dedication to proper nutrition – being compared frequently to the American bodybuilder Kai Greene.
It has been a long and difficult road for William in reaching this level. He makes it clear to his fans that it's certainly not the career for every fitness enthusiast. He started training at 13 years old as a way to release stress – it took him almost 2 decades to reach the 2016 Mr Olympia stage.
With an ever-increasing social media fan base, William Bonac is a face to look out for on the professional competition circuit.
---

Athlete Statistics
Full Name: William Bonac
Weight
Height
Age
Date of Birth
225 - 235lbs (102.1 - 106.6kg)
5'7" (170cm)
41
May 18, 1982
Nationality
Profession
Era
Ghanaian
IFBB Professional Bodybuilder, Sponsored Athlete
2010
| | |
| --- | --- |
| Weight | 225 - 235lbs (102.1 - 106.6kg) |
| Height | 5'7" (170cm) |
| Age | 41 |
| Date of Birth | May 18, 1982 |
| Nationality | Ghanaian |
| Profession | IFBB Professional Bodybuilder, Sponsored Athlete |
| Era | 2010 |
---

Accomplishments
Competitions
2011 IFBB Arnold Amateur, 3rd
2012 IFBB Dallas Europa Supershow, 3rd
2012 IFBB British Grand Prix, 6th
2012 IFBB EVLs Prague Pro Championships, 4th
2013 IFBB EVLs Prague Pro, 5th
2014 IFBB Australia Pro Grand Prix XIV, 2nd

2015 IFBB Nordic Pro, 1st

2015 IFBB Dayana Cadeau Pro, 1st

2015 IFBB San Marino Pro, 2nd

 2016 IFBB Mr Olympia, 5th
---

Training
Heavy And Intense
William's workout are both intense, and heavy. He completes sets of both free-weight exercises and machines, where he pushes his body to failure regularly. His weekly split looks like this:
Monday: Chest and Triceps
Tuesday: Back and Biceps
Wednesday: Rest
Thursday: Quads, Hams and Calves
Friday: Shoulders
Saturday: Cardio
Sunday: Rest Day
Focusing On Constantly Improving Legs
William admits that his legs have always been his weakest area. He now trains them extremely hard. His favorite exercise is the front squat, and values this exercise as one of the main movements of his entire routine.
He says "I prefer the front squat because the front Squat attacks my quads more than the Squat, plus it prevents me from using too much of my lower back." He also advises people new to the exercise to never let their knees cross over their toes. He says that doing so, makes stabilizing with a straight back more difficult.
Strong Arm Workouts
Many of William's high competition scores have come as a result of his well developed arms. He trains his triceps and biceps with his back and chest, seeing this combination perfect for spending a lot of time on the muscle individually.
Many of his fans recognize his bicep peaks as some of the best on earth. He incorporates heavy machine workouts for his biceps, and also pushes hard on dumbbell bicep curl drop sets top achieve this amazing feature.
William values the barbell curl in particular for his large arms.
In terms of tricep exercises, William does a lot of tricep pushdowns. He likes this exercise due to the predictable movement it offers. Additionally, he completes tricep extensions, dips, and a variety of other machine based exercises.
---

Nutrition
Buying In Bulk
William buys his own food from his local market in the Netherlands. He does this because he can buy a lot of meat and eggs for half the price, compared to his local supermarket.
Every fortnight, William does one large shop that sees him through the next two weeks. He does this to make sure he's always got enough food at home for recovery, and pre-training meals.
Healthy And Nutritious
Once he's bought and stored all this food, he prepares his own meals in advance and stores them in small Tupperware containers.
He loves to eat lean fish and meat, with rice and potatoes and other healthy carb options. He also buys a lot of eggs, so he regularly makes omelettes for breakfast, or eats them boiled.
A daily meal plan which William follows regularly is below:
1st Meal  – 100g of cooked oats, 3 whole eggs, 3 egg whites and 1 scoop of whey, with almonds
2nd Meal  – 175g chicken, 1.5 cups of cooked white basmati rice, vegetables and more almonds
3rd Meal  – 175g chicken, 1.5 cups of cooked white basmati rice, a selection of green vegetables and almonds
4th Meal  – A pancake with 100g of cooked oats, 1 whole egg, 5 egg whites and 2 scoops of whey protein
---
Editor's Tip
Inspired to reach your true potential like William? Read our in-depth guide on how testosterone booster supplements can really enhance your game!
---

Idols and Influences
Flex Wheeler was one of William's favorite bodybuilder's growing up. When he was in his twenties, it was Kai Greene who really caught his attention, and inspired him to compete.
As well as these legends, he is also inspired by his own journey.
---

What we can learn from William Bonac
It took William almost 2 decades to reach the professional standard he competes at today. He stresses to his fans that it isn't an easy road to get a Pro Card, and reach the Mr Olympia, as the journey involves a lot of sacrifice.
With this in mind, if you are considering becoming a professional bodybuilder, be prepared for a long and difficult journey to the top. However, if you follow this route with the same dedication as William Bonac, you'll be one step closer to achieving your goals.