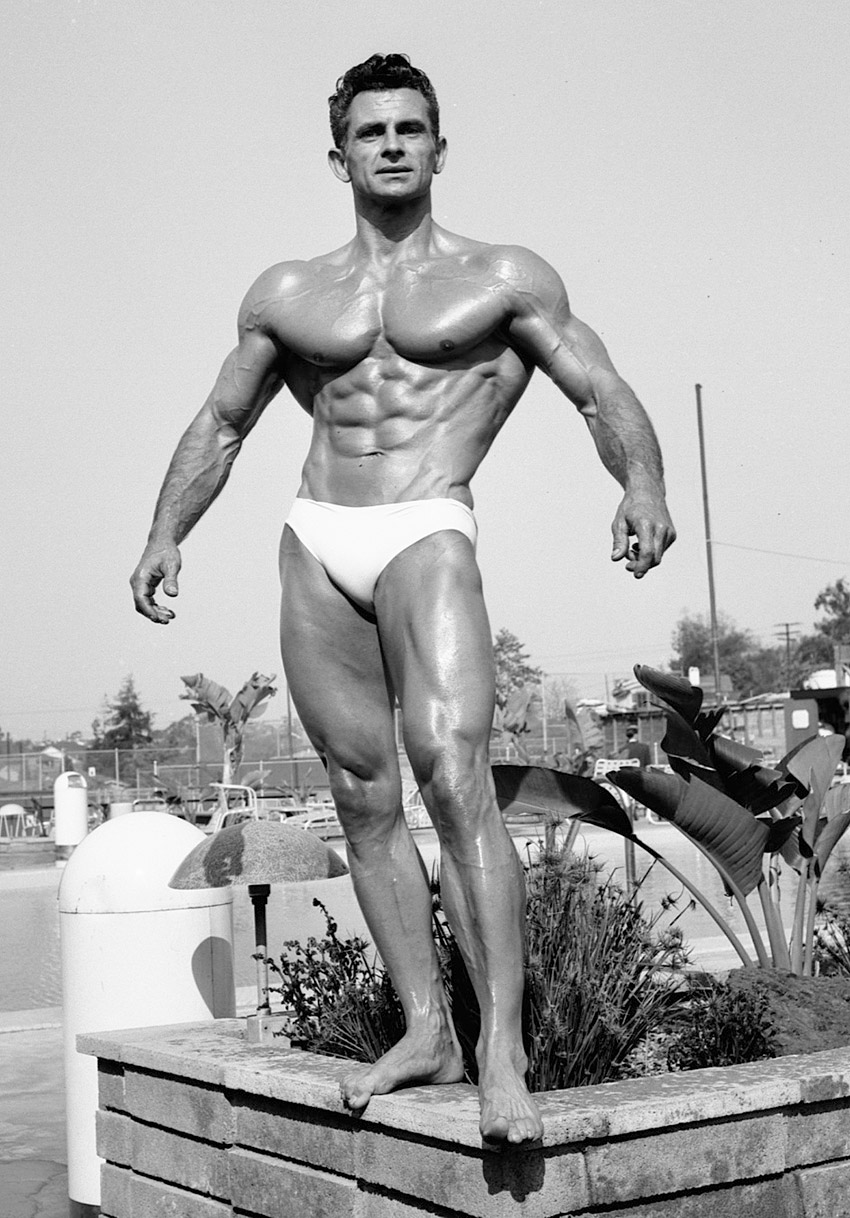 Vince Gironda
Bodybuilder, Gym Owner, Personal Trainer
Born in the Bronx New York, Vince Gironda grew up with a fearless attitude and can-do approach to life. Being inspired by his father as a stuntman to follow in his footsteps, Gironda sought after a new life in the limelight.
It wasn't until Gironda saw a picture of John Grimek that he realized he wanted to make a big change in the way he looked. Joining the local gym and immediately becoming and instructor, he continued his dream and moved to Hollywood to open his own training center.
Gironda soon made a name for himself in Hollywood as "The Iron Guru." He trained a countless number of stars and famous bodybuilders, such as Larry Scott and Arnold Schwarzenegger.
He's been remembered for his hard-as-nails attitude and creating controversial training and dieting protocols that are widely used to this day.
This is his story:
---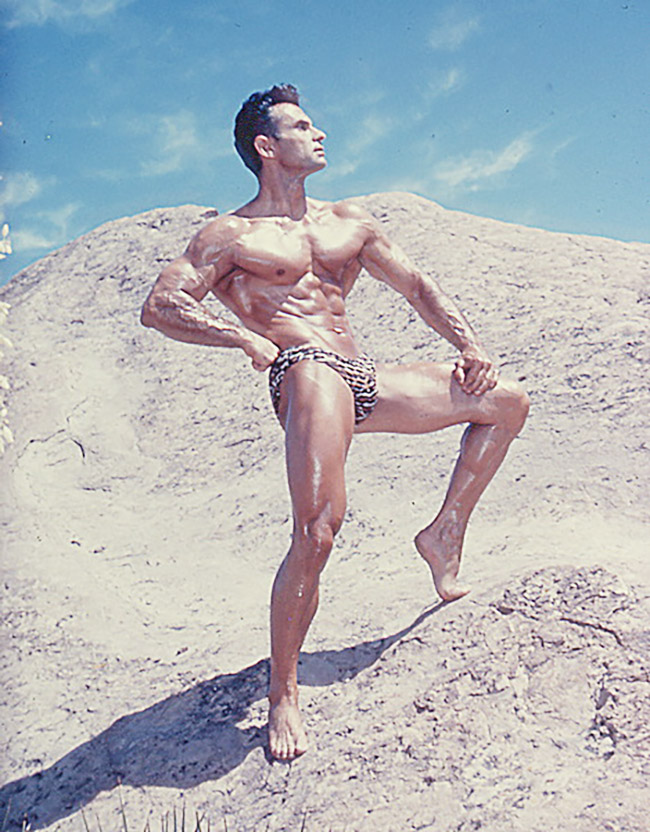 Athlete Statistics
Full Name: Vincent Anselmo Gironda
Weight
Height
Nationality
Profession
185 - 195lbs (83.9 - 88.5kg)
5'8" (172.5cm)
American
Bodybuilder, Gym Owner, Personal Trainer
Era
1950
| | |
| --- | --- |
| Weight | 185 - 195lbs (83.9 - 88.5kg) |
| Height | 5'8" (172.5cm) |
| Nationality | American |
| Profession | Bodybuilder, Gym Owner, Personal Trainer |
| Era | 1950 |
---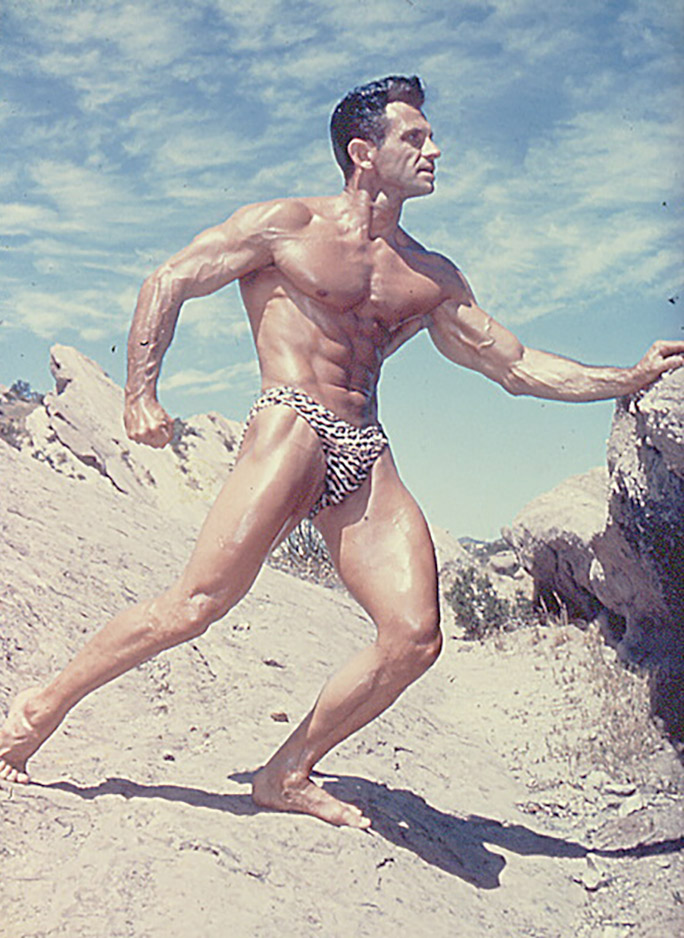 Accomplishments
Competitive history
1949 Pro Mr. California -4th
1950 Mr. USA -4th
1952 AAU Mr. America -2nd
1958 Mr. USA -3rd
1962 Mr. Universe -2nd
Books
Robert Kennedy and Vince Gironda, Unleashing the Wild Physique, 1984, Sterling Pub. Co.
Alan Palmieri, Vince Gironda Legend, And Myth.
Daryl Conant, "InVINCEable, 2009.
Randy Roach, "Muscle, Smoke and Mirrors"
---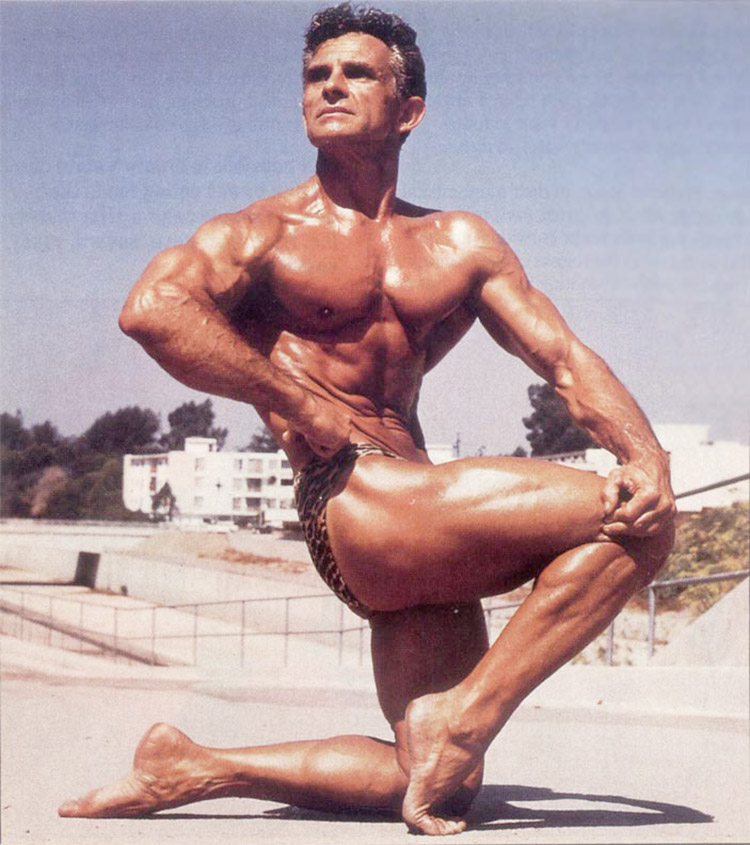 Biography
Stuntman To Bodybuilder 
Gironda was born in 1917 on the 9th of November in Bronx New York. In his early years as a child, the entire family moved west to Los Angeles as his father's line of work as a stuntman required the whole family to pack up and head West. His father was offered work in the upcoming film Ben Hur, and being inspired by his father, Gironda also tried his hand and being a stunt man.
He soon realized his physique was lacking muscle and strength after seeing a photograph of John Grimek. At the age of 22, he decided to start weight training.
The very first gym that Gironda joined was the local YMCA. Training In the local club he started to develop and grow and understanding of muscle building and strength training. After eight months, he moved to the Easton Brother's Gym.
After seeing his potential and keen attitude to learn more about weight training, the Easton Brothers helped Gironda to become one of their instructors. While teaching numerous individuals and experimenting with different training methods, he eventually opened his own gym in North Hollywood, California called "Vince's gym" in 1948.
---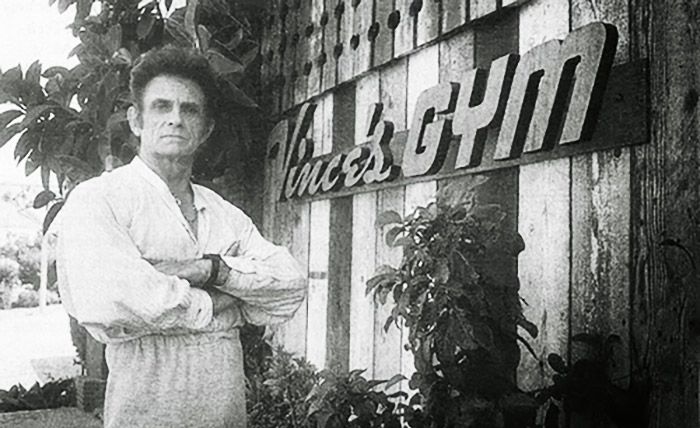 ---
The Iron Guru
Gironda, after years of training, became hugely popular in the world of Hollywood and bodybuilding. He trained people such as Scott, Jake Steinfeld, Lou Ferrigno, Frank Zane, Don Howorth and the legend that is Arnold Schwarzenegger. He became so popular among the fitness world he was nicknamed "The Iron Guru", by a magazine and photo editor Denie Walter.
The list of celebrity names began to stack up. Names such as Robert Blake, Cher, Clint Eastwood, Denzel Washington, James Garner, Brian Keith, Robert McRay, Sean Penn and Erik Estrada were among the many who were trained by Gironda.
---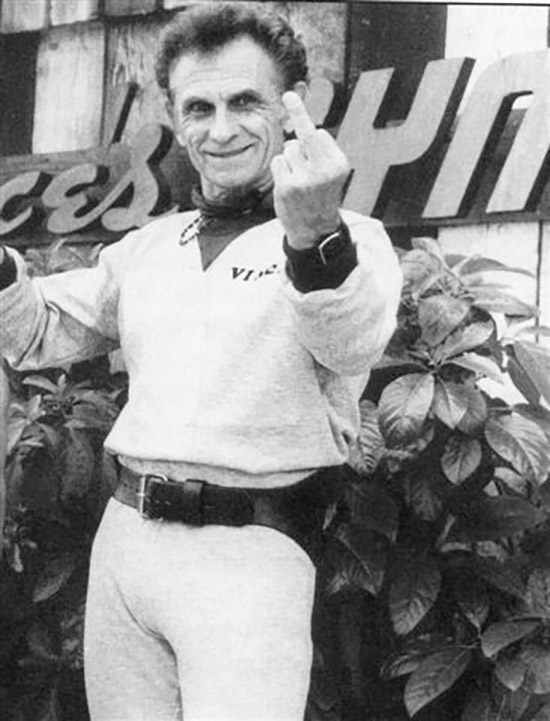 ---
Hard-As-Nails Attitude
As well as being a trainer of the stars, Gironda was also known for his strong personality and fearless attitude. It was claimed that one time Arnold visited his gym, and Mr. Schwarzenegger presented himself as "I'm Arnold and I'm this and that…" building himself up as Arnold has been known to do. Gironda's response was simple and sharp "You're nothing but a fat you-know-what."
He became known for his hard attitude, some loved him for it and some hated him just the same. Needless to say, he continued to be a success in the bodybuilding world. It was said he became so successful at changing people's physiques in such a short space of time, Hollywood would send their actors to Gironda's gym for a quick transformation.
Low-Carb Creator
Gironda's been quoted to say bodybuilding is 90% nutrition. His belief was the way in which someone eats is the key to success or failure. He was the father of low-carb dieting, saying that a diet rich in proteins and fats are the best way to reproduce natural testosterone and steroid-like effects without using drugs.
He's also been known to consume three dozen fertile hen-eggs a day, including raw unpasteurized cream. The large amounts of fertile eggs, he claimed, was measured to the anabolic effect that the drug Dianabol would give.
Being against the use of steroids to create the perfect physique, he claimed the use of steroids produced and unnatural and grotesque physique. This claim may have been true for Gironda, but all of his professional clients used steroids, such as Arnold and Lou Ferrigno.
Training Methods
In the beginning, a large amount of people considered his training approach controversial, as he would avoid many compound exercises that many have said to be, "the backbone of strength and size", Gironda thought otherwise. He was also the first person to comment that situps did not contribute towards the development of abdominals.
His gym didn't own a squat rack, for example, he said it would cause the muscles in the gulets and thighs to over develop in relation to the rest of the body. His prescription for leg training would consist of leg extensions, leg curls, sissy squats and hack squats.
Along with his claims that the standard back squat was unnecessary in building leg development, he would also say the regular bench press activated too much shoulder strength from the front deltoids. To replace this, Gironda came up with an exercise called the "neck press" which meant having a much wider grip and lowering the bar down towards the neck instead of the chest. This movement activated more of the chest muscles rather than the shoulders.
Over the years, Gironda came up with numerous training techniques that showed proven results in many of his clients. Although he was a controversial character with new ideas, his methods seemed to work.
Competitive History
Gironda had a successful bout of competitions throughout 1949 all the way to 1962. He placed in the top-three in many of his competitions such as the 1952 AAU Mr. America where he placed 2nd, and his final shown in 1962 Mr. Universe where he also placed 2nd. Vince Gironda wasn't only a teacher, he was also a world-class competitor.
---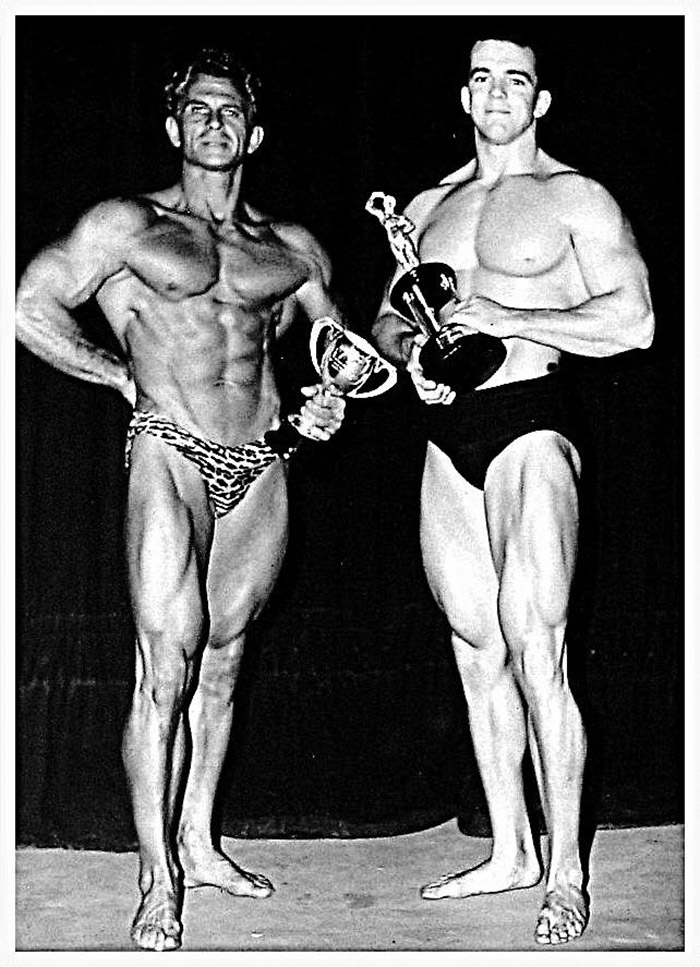 ---
Fitness Writer And Entrepreneur
Apart from being a personal trainer, gym owner and renowned guru of fitness, Gironda also wrote for fitness magazines and supplement companies. He also created his own mail-order company which included his own training and nutrition manuals.
Gironda also published a book with the collaboration of another big name in the fitness and magazine world. The book was titled "Unleashing The Wild Physique". It consisted of Gironda's wealthy of knowledge over his many years of training and coaching others. He then went on to give talks and seminars around the country which quickly sold out.
Downfall of Vince's Gym
With the growing popularity of larger gyms that were opening up in the area in the 1990's, Gironda's gym was eventually forced to closed down. The modern equipment and larger facilities meant he couldn't keep up with the growing demand of state-of-the-art equipment and larger gym floors the other gyms offered.
Gironda also struggled to keep up with the business when his son Guy became unwell. Looking after Guy took all of Gironda's energy and lead to the closure fo his beloved gym. The gym closed in November 1995.
Death
Vince Gironda died on October 18, 1997.
---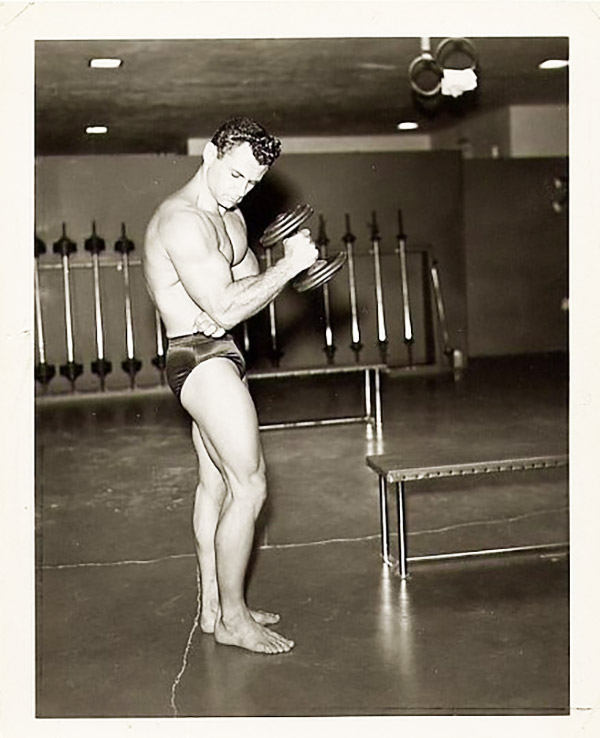 Training
Gironda's training approach was orthodox and controversial compared to what many people believed a correct training program should consist of. He replaced heavy compound exercises with those to isolate the muscle. His aim was to connect the muscle with the mind as much as possible to create the perfect physique.
Chest: In replacement of the standard bench press, Gironda preferred to use the neck press. This, he says, was the best option to make the chest grow and become wider.
Shoulders: For maximum shoulder growth, front raises, side lateral raises, and bent over lateral raises were all said to be Gironda's favorite.
Triceps: For triceps, the overhead extension was prescribed for the best results. Gironda believed this exercises isolated the muscle the best.
Biceps: For bigger biceps, preacher curls and dumbells curls were "unbeatable" in his words.
Abs: Claiming that traditional sit-ups did nothing to enhance the abdominal muscles, Gironda prescribed and exercises known as "frog sit-ups." This meant lying on the back with the legs placed under the legs and curling the head forward towards the center of the core which is meant to isolate the muscles in the abdominals.
Vince's Workout
Front Lateral Raise – 3 sets of 8 reps
Chest Dips – 3 sets of 8 reps
Front Lat Pulldowns – 3 sets of 8 reps
Tricep Rope Pulldown – 3 sets of 8 reps
Barbell Curls – 3 sets of 8 reps
Hack Squat – 3 sets of 8 reps
Seated Calf Raise – 3 sets of 8 reps
Frog Sit-ups – 3 sets of 8 reps
---
Nutrition
Low Carb Hig Fat
Gironda believes that a diet high in fat and protein, especially beef, was the way to increase testosterone and loose weight. He was the creator of the low-carb diet.
Bodybuilders everywhere now consume foods high in fat such as full-fat cream, cheeses, beef and whole eggs thanks to Gironda's proven results.
He was also said to supplement with desiccated liver tablets, vitamin c tablets, digestive enzymes.
---
Idols and Influences
Throughout the years Gironda trained in his gym, he inspired thousands, if not millions of people the world over with his unorthodox approach and his infamous attitude. He knew how to get people ready for a show, or in the Hollywood world for an upcoming film.
His approach to dieting and isolating the muscle for the mind-muscle connection are still used the world over, which are staples in many people training approach. It's clear to see that Vince Gironda has influenced generations of people interesting in fitness.
---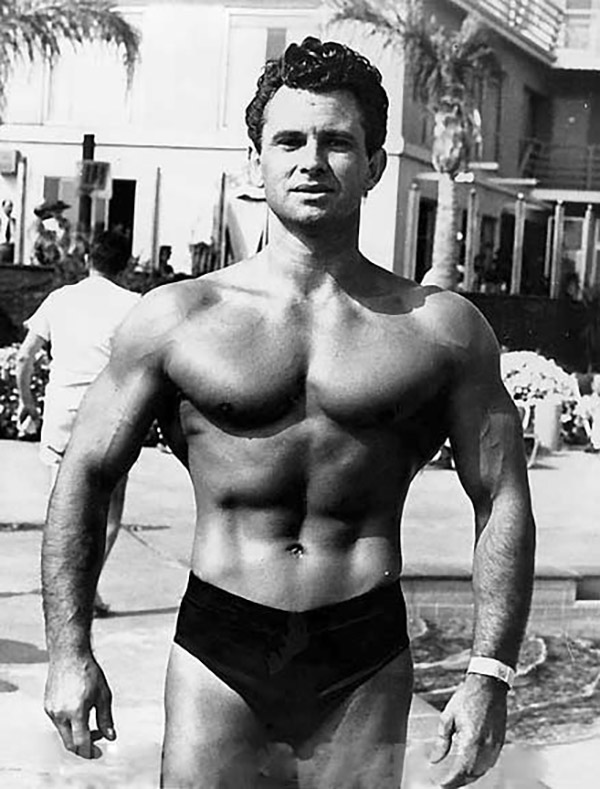 What we can learn from Vince Gironda
One thing we can learn from Gironda is if we have a dream to be strong and healthy while maintaining a good physique, using his nutrition and training approach could help us reach that goal.
Nutrition and exercise aren't the only things we can learn from Gironda. Following his hard working attitude and strict approach to training, and in life, can make dreams into a reality.
No matter how different or controversial people thought he was, he's shown everyone dreams are obtainable and a better life can be created with the right amount of hard work and patience.
"Remember that nutrition is 90% and exercises is 10%" – Vince Gironda