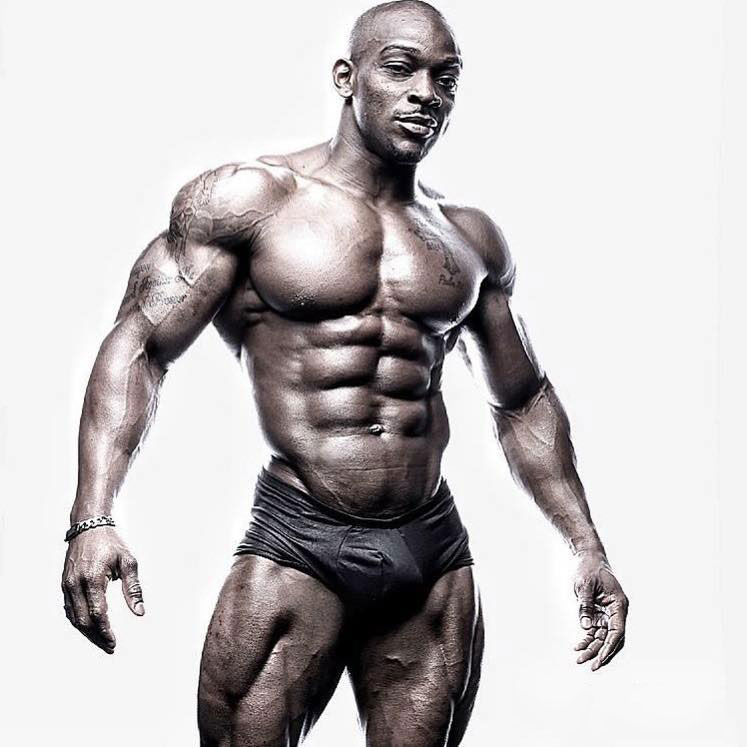 Tyrone Ogedegbe
Bodybuilder, Sponsored Athlete
Tyrone Ogedegbe, also known as Ty Og or tyoghd, took inspiration from professional wrestlers and action movie stars throughout his youth, building a great physique to follow in the footsteps of his idols.
Further down the line, Tyrone found success on the bodybuilding stage at the very first attempt – finishing 1st and overall champion in the 2012 Musclemania Britain competition.
Just two years into his bodybuilding career, Tyrone achieved the same feat a year later – finishing 1st and overall champion in the 2013 Musclemania Universe Pro competition. As a result of his success, he's propelled to fame on social media – paving the way to become a sponsored athlete.
This is his story.
---
 
Athlete Statistics
Full Name: Tyrone Ogedegbe
Weight
Height
Arms
Chest
205 - 215lbs (88.5 - 93.0kg)
5'8" (172.5cm)
19"
42"
Waist
Age
Date of Birth
32"
39
February 24, 1984
Nationality
Profession
Era
British
Bodybuilder, Sponsored Athlete
2010
| | |
| --- | --- |
| Weight | 205 - 215lbs (88.5 - 93.0kg) |
| Height | 5'8" (172.5cm) |
| Arms | 19" |
| Chest | 42" |
| Waist | 32" |
| Age | 39 |
| Date of Birth | February 24, 1984 |
| Nationality | British |
| Profession | Bodybuilder, Sponsored Athlete |
| Era | 2010 |
---

Accomplishments
Career Achievements
Bodybuilder
Sponsored Athlete
Competition Results
Overall Champion Musclemania Universe Pro Division (2013)
1st place Pro Short Division Musclemania Universe (2013)
Overall Champion Musclemania Britain, Mens Open (2012)
1st place Mens Open, Musclemania Britain (2012)
---

Biography
Bodybuilding Aspirations
Tyrone Ogedegbe's passion for fitness dates back to his youth. He set out to build an awesome physique from an early age, after taking inspiration from the toned and muscular bodies of action movie stars and professional wrestlers.
Tyrone gave his all to achieve solid results – strength training in the gym in addition to following a healthy diet. After just a few short months, Tyrone was able to build substantial muscle mass.
A personal trainer in his gym took notice of Tyrone's incredible progress. He suggested that Tyrone could one day become a professional bodybuilder, if he really put his mind to it. Eager to take his fitness career to the next level, Tyrone took on board the advice given to him – as he upped his game to enter the competitive bodybuilding industry.
---

Tyrone Ogedegbe in his youth compared to how he looks now.
Competitive Career
Tyrone began competing in 2012, when he entered the Musclemania Britain competition. Finishing as 1st and overall winner, Tyrone realized that he had the potential to build upon his first win as a bodybuilder.
Fast forward to a year later, in the 2013 Musclemania Universe bodybuilding competition, Tyrone found success once more – finishing 1st and overall champion in the Pro Short Division.
Tyrone Ogedegbe Nowadays
Because of his success on the bodybuilding stage, Tyrone has gained the support of fans from all over the world. He updates his social media pages documenting his progress in the gym, as well as offering advice and support to his followers, so that they're able to realize their full potential in fitness.
Outside of bodybuilding, Tyrone built a successful career within investment banking. Despite the busy schedule his job entailed, Tyrone ensured that fitness remained a priority. Over the years, he's been able to maintain his incredible physique, alongside making a living for himself away from the bodybuilding stage.
---

Training
Busy Lifestyle
Tyrone performs strength training in the gym four days per week, working around his hectic schedule in his job as an investment banker.
Cardio and Strength Training
Tyrone performs HIIT (high intensity interval training) cardio twice per week in order to stay as lean as possible throughout the year.
In regard to strength training, Tyrone prefers lifting free weights to perform the majority of his exercises, as opposed to using exercise machines. As Tyrone says:
"Free weights in my opinion have a greater effect than machines. It requires more effort and so inevitably pushes you that much harder, which means tearing more fibre and gaining better results. A plus is the fact that you get better control of the power you possess. Machines tend to give you a level of support which when you don't have a training partner might help and vice-versa, but generally I find that Free weights give better results".
Tyrone's Favorite Exercises
Here's Tyrone talking about his three favorite exercises; explaining their fundamental role in building strength in the weights room:
Deadlifts: "I do a lot of deadlifting to build my back because it releases so much growth hormone". 
Squats: "Squats are great for total body size and shape. As well as working your biggest muscle groups – your legs and back – they help you develop a great six-pack and give you the strength you need to do almost every other move in the gym".
Lat Pulldowns: "Great for helping you develop an awesome v-shaped look".
Tyrone's Training Split
Tyrone's training split looks something like this:
Monday
3 Various Shoulder Press Exercises: 6 sets each of 10 reps:
Front Deltoids (8 sets of 10 reps)
Side Deltoids (12 sets of 8-10 reps)
Rear Deltoids (10 sets of 10 reps)
Tuesday
Back Squats: 4 sets of 10 reps – Super Set with Straight-Legged Deadlifts
Quad Extensions: 5 sets of 18 reps, incorporating 10 fast (heavy weight) and 8 slow (Lighter weight)
Hamstring Machine: 12 sets of 8-10 reps
Calf Leg Raises: 10 sets each of 3 different angles, 10 reps each.
Front Squats (Quads) 5 sets of 10 reps
Leg Press: 5 sets 8-10 reps
Wednesday
Cardio Speed Intervals (Incline on Treadmill): 20 minutes
Thursday
Wide Grip Pull Ups: 1 set of 20 reps
Wide Grip Pull Downs: 6 Sets of 10 reps
Deadlifts: 5 sets of 8-10 Reps
Closed Grip Pulldowns: 5 sets of 10 reps
Pull Row Machine: 4 sets 10 reps
Upper Back Pulls, Alternate Machine: 8 sets 10 reps
Hammer Curls, Wide and Close Grip – 4 sets each of 10 reps
Bicep Curls – 4 sets of 10 reps
Friday
Incline Press (Upper Chest): 4 sets of 10 reps
Cable Flyes – 4 sets of 10 reps
Bench Press; 4 sets of 10 reps
Decline Bench (Lower Chest): 4 sets of 10 reps
Lower Outer Curve on Chest: (Cables) 4 sets of 10 reps
Skullcrushers, Close and Wide Grip: 4 sets of 10 reps
Triceps Pull Using Cables, Wide Grip: 4 sets of 10 reps
Close Grip Bench Press: 4 sets of 10 reps
Saturday
Cardio Speed Intervals (Incline on Treadmill): 20 minutes
Sunday
---

Nutrition
Tyrone's goal is to stay as lean as possible, regardless of the dieting phase he's in – such as bulking and cutting. Towards the end of the year, he increases his calorie intake to build lean muscle. During the summer months, he reduces his calories slightly in order to maintain his shredded physique.
Here's Tyrone's lean muscle building meal plan, which consists of lean protein, healthy fats, complex carbohydrates, along with fruit and vegetables:
Tyrone's Healthy Nutrition Plan
Breakfast: 9am
11am
Chicken/Mackerel or any other kind of fish – preferably salmon, tuna 1 Protein shake (Casein Protein -Slow release) with Spinach/Broccoli
Lunch: 1pm
Chicken, Prawns and Salad – Sweet Potatoes (Optional)
3pm
Chicken/Fish with Broccoli
5pm
Chicken/Fish with Broccoli
Post-Workout
2 Bananas, and Post Workout Protein Shake
Dinner
Chicken, Salad then 1 Protein Shake before Bed (Casein Protein – Slow Release)
(Monday-Saturday)
---

Idols and Influences
Tyrone admires bodybuilding legend Kai Greene because of his overall stage presence, incredible physique, in addition to the success that he's earned on the bodybuilding stage. This kept Tyrone motivated to become a success in his own career.
Tyrone has become a successful bodybuilder over the years, by maintaining a self-motivated attitude, along with taking full advantage of the support of his family. As Tyrone says:
"The satisfaction of knowing I have accomplished my goals rejuvenates my passion to succeed and so I persist in my vision to make that happen".
---

What we can learn from Tyrone Ogedegbe
If there's one thing we can take from Tyrone Ogedegbe's story, it's that discipline and motivation can lead you on the path to greatness in your fitness journey.
By staying consistent with his training in the gym, Tyrone made a name for himself on the bodybuilding stage – earning an awesome physique in the process. By following a similar approach to your own training, you too could build a great physique – just like Tyrone.