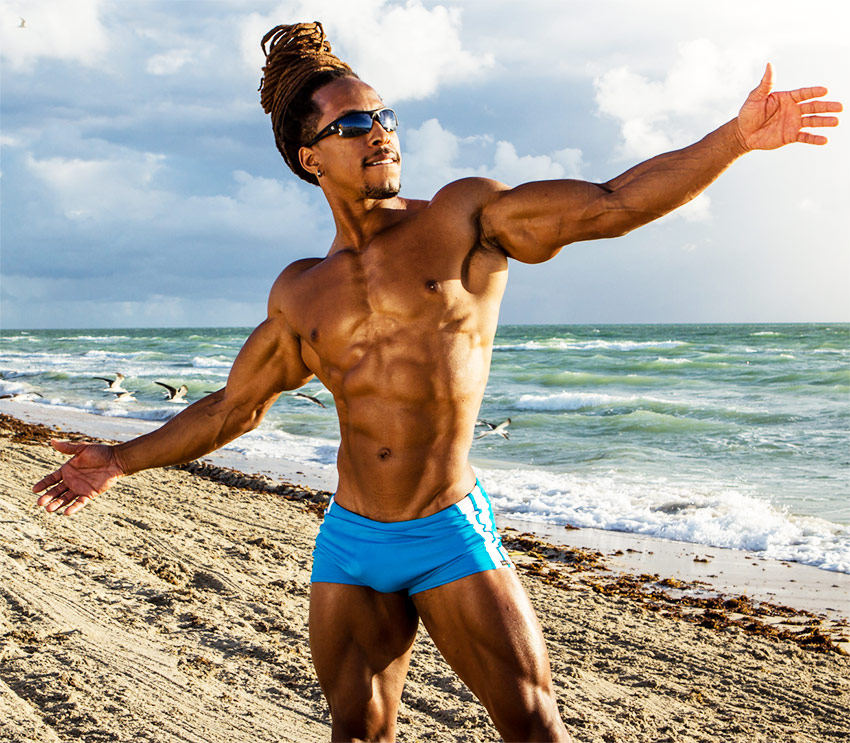 Torre Washington
Professional Bodybuilder, Fitness Model
Torre Washington is known as the 'vegan bodybuilder'. He's proven that plant-based athletes can compete against meat-eaters, winning numerous competitions since 2009.
He has an interesting story – Torre moved to Jamaica when he was a child, and was picked on due to his American accent. However, he didn't let the bullies get him down.
Instead, he focused on his ambition, building a powerful physique and becoming a fitness icon.
This is his story:
---

"For many years, I just enjoyed competing but was very private about it. I never had any intention of becoming known as the vegan athlete."
Athlete Statistics
Full Name: Torre Washington
Weight
Height
Nationality
Profession
165 - 175lbs (74.8 - 79.4kg)
5'7" (170cm)
American
Professional Bodybuilder, Fitness Model
Alias
Era
The Vegan Bodybuilder
2010
| | |
| --- | --- |
| Weight | 165 - 175lbs (74.8 - 79.4kg) |
| Height | 5'7" (170cm) |
| Nationality | American |
| Profession | Professional Bodybuilder, Fitness Model |
| Alias | The Vegan Bodybuilder |
| Era | 2010 |
---

"In 2009, I competed in my first show and got third place. I was so excited and signed up for another one. I won that second show and I've never stopped."
Accomplishments
Competition History
NPC Nationals, Classic Physique – 10th Place
2016 NPC Southern States – 2nd Place
2016 Arnold Classic Bodybuilding – 4th place
2015 Arnold Classic Bodybuilding – 9th place
2014 Trussville Muscle – Bodybuilding – 1st place and overall
2013 NPC NAaionals – Bodybuilding – Top 23
2013 NPC-State championship – Bodybuilding Welterweight- 1st place
2013 WNBF Naturally Fit Show – Open bodybuilding – 1st Place and Overall
2013 Musclemania Universe – Open Bodybuilding -1st Place (Pro Card)
2013 SNBF Pro Bodybuilding – 2nd Place
2013 IFPA Pro Bodybuilding- 1st Place
2012 Musclemania Universe – Open Bodybuilding – 2nd Place
2012 SNBF Pro Bodybuilding – 2nd Place
2012 IFPA Pro Bodybuilding – 3rd Place
2011 Musclemania Universe – Open Bodybuilding – 3rd Place
2011 SNBF Pro Bodybuilding – 3rd Place
2009 SNBF Pro Bodybuilding – 5th Place
2009 SNBF Open Bodybuilding – 1st Place and Overall
2008 SNBF Open Bodybuilding – 3rd Place
---

"When my brother and I first moved to Jamaica from Alabama, we had thick Southern accents. Other kids picked on us, so I needed to have an outlet and to get strong."
Biography
Early Years – Move to Jamaica
Born in the south of USA, Alabama, Torre was was raised in a vegetarian family, and had no interest in fitness as a child. He took part in football, but he didn't follow a healthy diet or lifestyle.
However, Torre and his brother moved to Jamaica to live with his grandparents for a few years. Here, he began eating meat for a short period, being fed jerk chicken and curried goat.
Going Vegan
During his time in Jamaica, Torre was picked on, due to his southern American accent. As a result, he wanted to gain size and strength – this is what motivated him to begin training in the gym.
At the age of 23, in 1998, Torre decided to follow a vegan diet, refusing to eat any animal products of any kind. He began training in the gym, packing on muscle mass – even through many told him that meat was important to his success in fitness.
---

---
Bodybuilding
Over the next 10 years, Torre continued training hard to achieve his dream physique – all while staying clear of animal products.
By 2008, he'd managed to sculpt an impressive body and was encouraged to enter fitness competitions. At this point, his friends advised him to consume meat to meet his protein requirement.
But Torre stayed strong and carried on his vegan lifestyle. He set his sights on winning a bodybuilding show, determined to prove that vegan athletes could beat any competitors.
First Competition
That same year, Torre stepped on stage at the 2008 SNBF Open Bodybuilding contest, with no experience. Although he hadn't been taught how to pose correctly, he placed an impressive 3rd place.
But he was hungry to take home a trophy.
---

---
Success
After a year of further developing his physique, Torre returned to the SNBF show in 2009. He impressed the judges with his shredded figure, and was rewarded with the first place award.
Torre continued to compete over the next 6 years, appearing in 15 competitions. He added to his trophy collection by winning 3 more shows, and placing highly in them all.
In the process, Torre earned his Pro Card in 2013, after winning the MuscleMania Universe competition that year.
Online Sensation
By 2016, Torre had attracted masses of fans around the world. He was given the title of 'The Vegan Bodybuilder', defying many people's beliefs about what a non-meat eater could achieve in the industry.
He continues to post pictures and videos of his fitness journey and lifestyle, promoting the vegan diet daily.
---

Training
Torre trains in the gym up to 6 times per week. However, he doesn't follow a set workout routine.
Instead, the vegan bodybuilder simply trains whatever muscle-group he feels needs working on the day.
---

""I hope it helps others who are considering a vegan bodybuilding lifestyle to see that they can still put on mass and build a great physique."
Nutrition
Unlike many other bodybuilders and athletes, Torre doesn't track his protein intake. He simply follows a healthy vegan diet, making sure to eat enough so that he feels full and satisfied, while having the energy required to train rigorously in the gym.
"People ask me about protein, nutrients, and how many carbohydrates I get everyday because they want specifics. But I never track any of these things."
Torre's three main primary sources of protein are; beans (tofu and tempeh), lentils, and seitan.
Diet Plan
Here's Torre's diet plan:
Breakfast – 1/2 block of extra firm Tofu scrambled, with spinach, peppers, 3/4 cup oatmeal, and banana.
Snack – Extra firm tofu scrambled with spinach and peppers, grapefruit, almond butter and ezekiel bread sandwich.
Lunch – Black bean chili with 1 can black beans, 1/2 pack of seitan, vegetables, baked sweet potato, 1/4 avocado.
Post-Workout – Apple, banana, and almond milk.
Dinner – Large spinach salad, 1/4 cup lentils, vegetables, brown rice, 1/2lb broccoli or asparagus (all cooked in spices).
Snack – 2 tbsp almond butter on celery sticks.
Drink throughout the day – Tea, water or seltzer.
---

"What inspires me the most is that I'm able to motivate thousands across the world to have the courage to pursue their dreams and give them courage!"
Idols and Influences
Torre looked up to fictional superheroes, such as wolverine, as a child. However, as his interest in fitness grew, he became inspired by golden era bodybuilders, like Arnold Schwarzenegger.
As 'The Vegan Bodybuilder', Torre has become a fitness idol himself – inspiring masses of vegan athletes to realize their dreams.
---

"Learn what works for your own body. I want to create leaders, not followers. So I want to teach people to eat effectively for their own bodies."
What we can learn from Torre Washington
One thing we can take away from Torre's story, is to never let anything put you down. He was frequently told that vegan athletes couldn't compete against other bodybuilders, but he proved his doubters wrong by earning his Pro Card in 2013.
Always stay true to your beliefs and lifestyle. Anything is possible, if you work hard enough and stay disciplined.