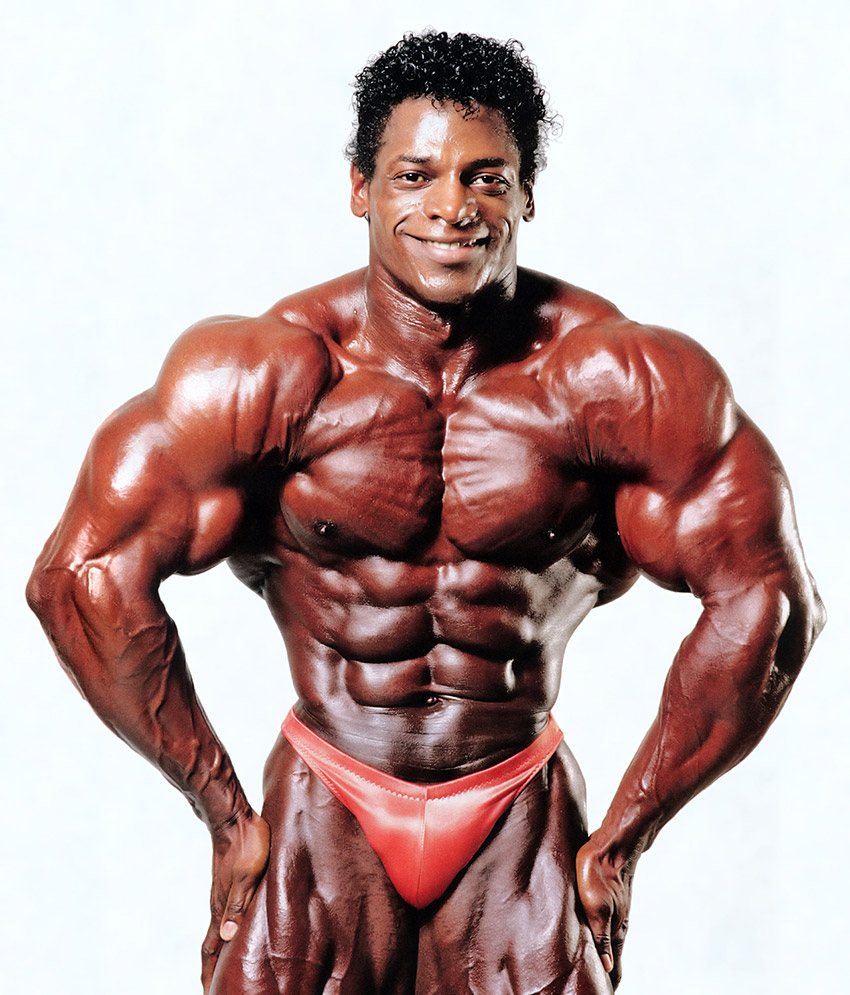 Tony Pearson
Bodybuilder, Personal Trainer
Tony Pearson AKA "The Jet Man" has delivered an outstanding career since his teenage years all the way into his 60's. Starting his sporting life as a high school wrestler, then moving to bodybuilding as a preventative measure to rehabilitate an injured knee, Tony found his passion and it shows.
Domestic abuse and neglect plagued his early days as Tony had to struggle through life until one day, the school saw the problem and stepped in. Finding his way to channel his energy through the use of weight training, Tony has shown the world that it's never too late to start bodybuilding.
With shows in 2010 at the age of 53, he's become a model not only for the older generation of bodybuilders who what to get into shape, he's also an inspiration for men and women of all ages, shapes, and sizes around the globe.
This is his story:
---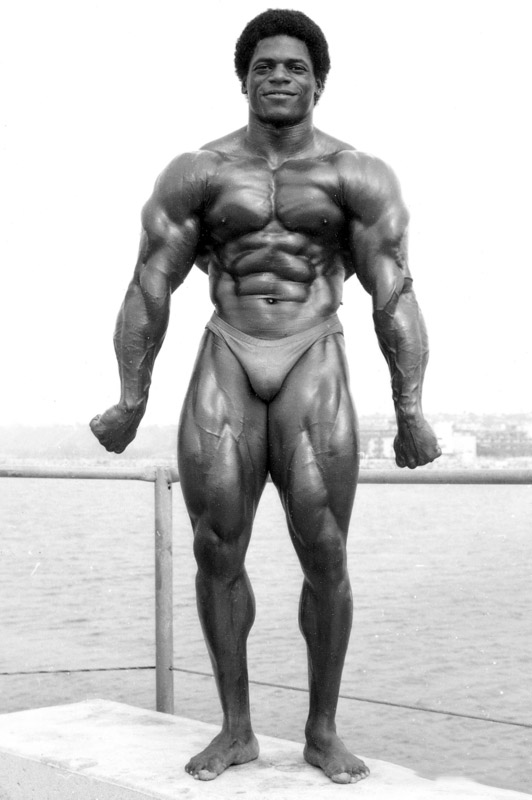 Athlete Statistics
Full Name: Tony Pearson
Weight
Height
Year of Birth
Nationality
205 - 215lbs (88.5 - 93.0kg)
5'8" (172.5cm)
1957
American
Profession
Alias
Era
Bodybuilder, Personal Trainer
The Michael Jackson of Bodybuilding & The Jet Man
1970, 1980, 1990
| | |
| --- | --- |
| Weight | 205 - 215lbs (88.5 - 93.0kg) |
| Height | 5'8" (172.5cm) |
| Year of Birth | 1957 |
| Nationality | American |
| Profession | Bodybuilder, Personal Trainer |
| Alias | The Michael Jackson of Bodybuilding & The Jet Man |
| Era | 1970, 1980, 1990 |
---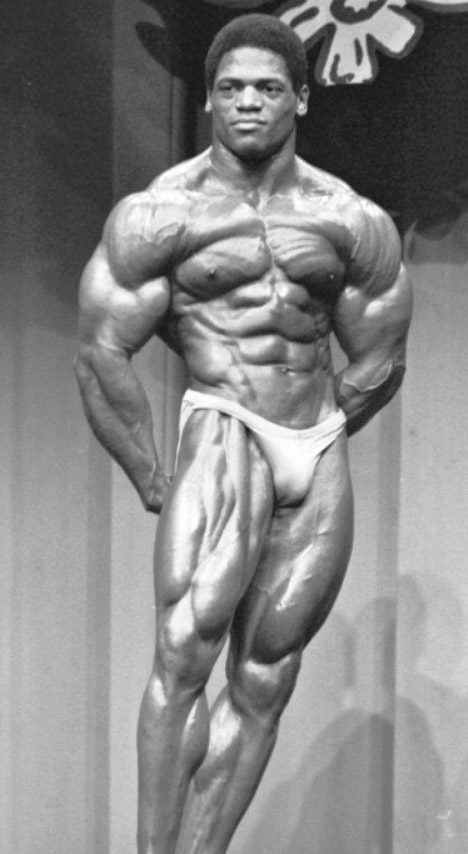 Accomplishments
1976 AAU Gold's Classic Teen overall winner
1976 AAU Gold's Classic Teen, Short1st
1977 AAU Junior Mr. USA Short 3rd
1977 AAU Mr. Los Angeles Junior1st
1977 AAU Mr. Southern California Junior 1st
1978 AAU Mr. America overall winner
1978 AAU Mr. America Medium 1st
1978 AAU Mr. California Short 1st
1978 AAU Junior Mr. America Medium 1st
1978 AAU Junior Mr. America overall winner
1978 AAU Junior Mr. USA overall winner
1978 AAU Junior Mr. USA Medium 1st
1979 WBBG Olympus winner
1979 NABBA Mr. Universe Medium 2nd
1979 WBBG Pro. Mr. World winner
1979 WABBA World Championships Medium 1st
1979 WABBA World Championships overall winner
1980 NABBA Universe Pro. winner
1980 WABBA World Championships Professional 3rd
1980 WABBA Pro. World Cup 5th
1981 IFBB Canada Pro. Cup 4th
1981 IFBB Grand Prix Belgium 6th
1981 IFBB Grand Prix Wales 5th
1981 IFBB Universe Pro. 3rd
1981 WABBA Pro. World Cup 7th
1981 IFBB World Grand Prix 4th
1981 IFBB World Pro. Championships 3rd
1982 IFBB Night of Champions 6th
1982 IFBB World Pro. Championships 6th*
1983 IFBB Grand Prix Denver winner
1983 IFBB Grand Prix England 4th
1983 IFBB Grand Prix Las Vegas 6th
1983 IFBB Grand Prix Portland 2nd
1983 IFBB Grand Prix Sweden 6th
1983 IFBB Grand Prix Switzerland 6th
1983 IFBB World Pro. Championships 8th
1984 Canada Pro. Cup 3rd
1984 IFBB Olympia 12th
1984 IFBB World Grand Prix 3rd
1985 IFBB Night of Champions 9th
1985 IFBB Olympia 12th
1986 IFBB Los Angeles Pro. Championships 5th
1986 IFBB Night of Champions 4th
1986 IFBB World Pro. Championships 9th
1987 IFBB Night of Champions did not place
1987 IFBB World Pro. Championships 8th
1988 IFBB Grand Prix US Pro. 6th
1988 IFBB Niagara Falls Pro. Invitational 5th
1988 IFBB Night of Champions 8th
1988 IFBB World Pro. Championships 8th
1989 IFBB Grand Prix France 11th
1989 IFBB Grand Prix Germany 9th
1989 IFBB Grand Prix Spain 9th
1989 IFBB Grand Prix Spain (2) 9th
1989 IFBB Grand Prix Sweden 11th
1990 IFBB Arnold Classic 6th
1990 IFBB Houston Pro. Invitational 6th
1990 IFBB Ironman Pro. Invitational 8th
1991 WBF Grand Prix 11th
1993 IFBB Chicago Pro. Invitational 13th
1993 IFBB Night of Champions did not place
1993 IFBB Pittsburgh Pro. Invitational 16th
1994 IFBB Ironman Pro. Invitational 14th
1994 IFBB San Jose Pro. Invitational 16th
---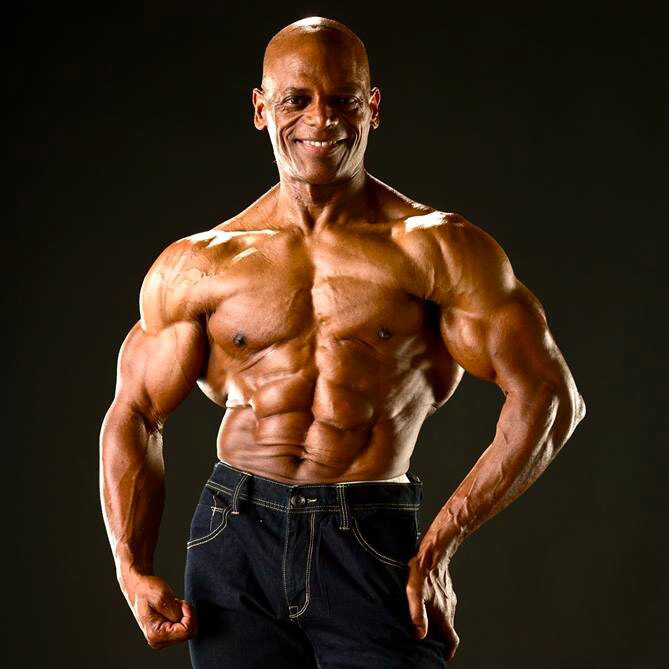 Biography
Divorce, Civil Rights, And Sports
Tony Pearson came from a large family of eight children, which Tony was the second youngest out of three boys and five girls. His parents, Daisy and Sam worked hard to provide their children with everything they needed. Durig the civil rights movement of the early 1960s in Memphis, Tennesee, there were struggles felt all around, especially in the home.
His mother and father felt the strain for providing for such large family in difficult economic and socially active times. Tony's parents divorced in 1959, this meant that by the age of two, Tony and his sister, Carolyn, had to go live with their aunt.
The pressure was also felt by their aunt, who, at the time, was an older lady with little in the way of finances to help provide for the children. By 1970 Tony and Carolyn moved to St. Louis MO, where he joined Normandy Junior and high school.
By 1973, Tony had suffered years of abuse and neglect which finally stopped when the school counselor and the state of Missouri took the children into custody and placed them in a foster home.
Wrestling Injury
Tony eventually started playing sports in high school and thrived on competing, especially on the school's wrestling team. Unfortunately, he suffered a knee injury and used weight training as a tool to rehabilitate his week ligements.
He saw how quickly his body changed in such a short space of time, this is the moment Tony decided to become a bodybuilder. Tony's coach saw how keen he was to learn more with his natural talent bursting through and decided to take him to a professional gym, which was George Turner's gym in Clayton, MO.
"I trained 10 sets of ten, Monday Wednesday and Friday."
The gym housed some professional bodybuilders of the time, such as Ken Waller, Dave Johns, and Samir Bannout. It only took one training session to make the trainer and owner of the gym say to Tony "You've got potential kid. I'm going to train you. I think I can make you a champion."
Tony's sights were set on becoming one of the best bodybuilders in his era. In the space of a few months, he packed on twenty pounds of muscle. Six moths after his enormous transformation, Tony declared to his trainer that he was leaving to fulfill his dream of becoming a professional bodybuilder.
Bodybuilding As A Profession
With only a handful of change in his pocket and a small bag of clothes, he headed to California where he arrived in Los Angeles with a glint in his eye and an inner desire to make his goals into a reality. After struggling for a period of time financially and being homeless, Tony gravitated toward the mecca of bodybuilding, Golds' Gym Venice Beach California.
He met his idols and the greats of the time as they were preparing for the 1976 Mr. Olympia, this only fueled his fire to compete further.
After only two months, he entered the Mr. Venice Beach California Competition and won it hands down. While training on Muscle Beach, none other that Arnold Schwarzenegger approached Tony and said to him; "I have been watching you – you train very hard, let me take you through a workout."
Meeting Arnold And Winning Titles
This is where Arnold walked Tony through a couple of exercises and gave him Joe Weider's address. Arnold said that Joe should write an article on the upcoming star of bodybuilding in his magazine. "Go there, tell him that I sent you," said Arnold.
Building his way up through the bodybuilding ranks in the amateur competitions and in 1978 he won the Mr. Los Angeles Jr, Mr. USA Jr, Mr. America and then Mr. America. He's been featured in Arnolds "Encyclopedia of Bodybuilding" and possibly, has been on more fitness magazine covers than most other professional bodybuilders in the history of the sport
The owner of Gold's Gym (Joe Gold) asked Tony to guest pose at the Mr. L.A Bodybuilding Championships in 1979 with a fellow bodybuilder Lisa Lyon. There was some hesitation in the beginning from Tony as this would have been the first time in history that a man and a woman would present their physiques on stage together. Needless to say, Tony and Lisa created a storm along with openinig up the door for two new categories, the women's and the couples category.
The Famous Tony And Lisa Duo
The competition was a huge success, it featured a saxophone player on stage as they performed, and to add to their mystique, they used only two spotlights onstage. Tony was beginning to become slightly worried as they went through their performance as nothing could be heard apart from the sound of his beating heart and the saxophone playing in the background.
"This is a bad idea." he thought to himself. When the performance finally ended the entire audience gave a standing ovation, a success thought Tony, Lisa, and Joe.
---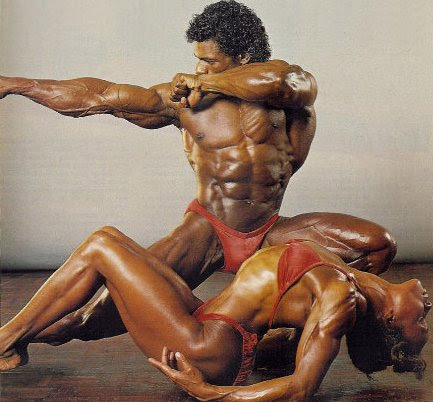 Lisa Lyon and Tony Pearson posing together.
---
Personal Trainer
By 2010 at the age of 53 years old, Tony decided to give bodybuilding and guest posing another shot. He stepped back onto the stage with his former Mixed Paris partner, the Ms. Olympia 2001 Juliette Bergmann. Things went well as Tony decided to carry on and make another guest appearance in the FIBO Power 2001 in Germany.
Tony officially retired from bodybuilding in 1994, this is when he started his personal training business where he's been able to share his thirst for knowledge with appreciative clients. His methods and insight into training and the sport of bodybuilding has been passed onto celebrities and many other individuals who have all experienced first hand Tony's knowledge of training.
He uses the very same techniques with his clients that he's adopted over the years in his very own programs. His main focus is the correct motivation, discipline, and professionalism which has helped and encourage all of his clients to achieve their own greatness.
Tony's Hall Of Fame
Tony Pearson was inducted into Muscle Beach Bodybuilding Hall of Fame in 2007. He's been on shows such as Good Morning America, NBC Sportsworld, and Soul Train. He also competed in the World Bodybuilding Federation's shows, which was launched by Vince McMahon. They called him "The Jet Man."
Bringing to the world a strong character and living proof that bodybuilding doesn't have to end in your early years, he's lead by example and continues to do so today. After decades in the fitness world, he continues to spread the good word to the younger generation and encourages everyone to live out their goals and dreams.
---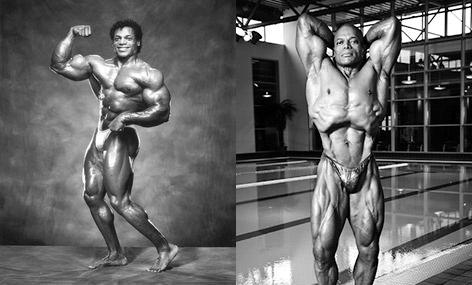 Tony Pearson past and present.
---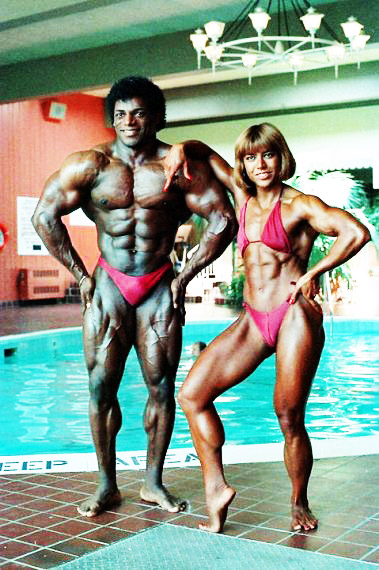 "While doing deadlifts, you might just think you are working the back, but you're working the entire body."
Training
Tony's Chi
Tony's a huge believer that the mind has to be connected to the muscle in order to see the best results. When he does a bicep curl, he's not doing the exercise hoping that his muscles will grow, he's doing it with his mind completely connected to that particular muscle knowing what's happening on every rep. He allows the bicep to pull the weight using strict form and lighter weights if necessary.
"Isolation means size!"
Finding his "chi" as Tony calls it, he allows the mind to be completely connected to his body and lets the isolated muscle do the work. He says that the last rep should be like the first, "slow and controlled."
---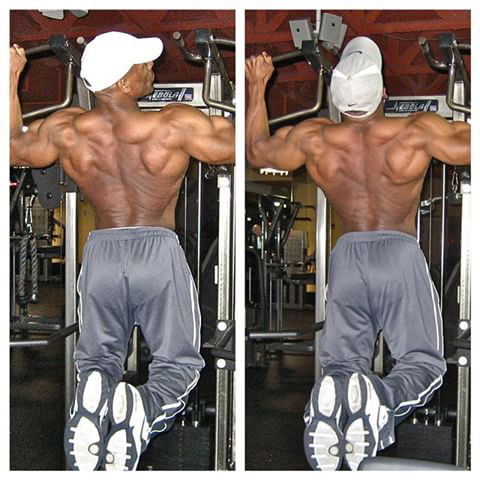 "The last rep is the same as the first one."
Weights, Cardio, And Drugs
Tony trains twice a day and uses straight sets and reps with the basic principles that have lasted a lifetime among the bodybuilding world, such as 8 – 10 – 12 reps with compound and isolation exercises. He'd move up to using 15 reps with slightly lighter weights for competition stages.
As Tony is an ectomorph, he doesn't need to incorporate cardio into his training routine, he'll simply let his diet and weight training routine do the all the work. With training sessions that are intense and filled with supersets, there hasn't been a need to add cardio into his workouts.
There was a time that Tony did use drugs such as Primobolan and an anabolic steroid to help increase his size to competing weight. But as Tony feared these types of drugs and didn't know what they would do to his body in the long run, he made sure that he'd only use very small amounts, and by 1990 he stopped taking anabolics all-together.
---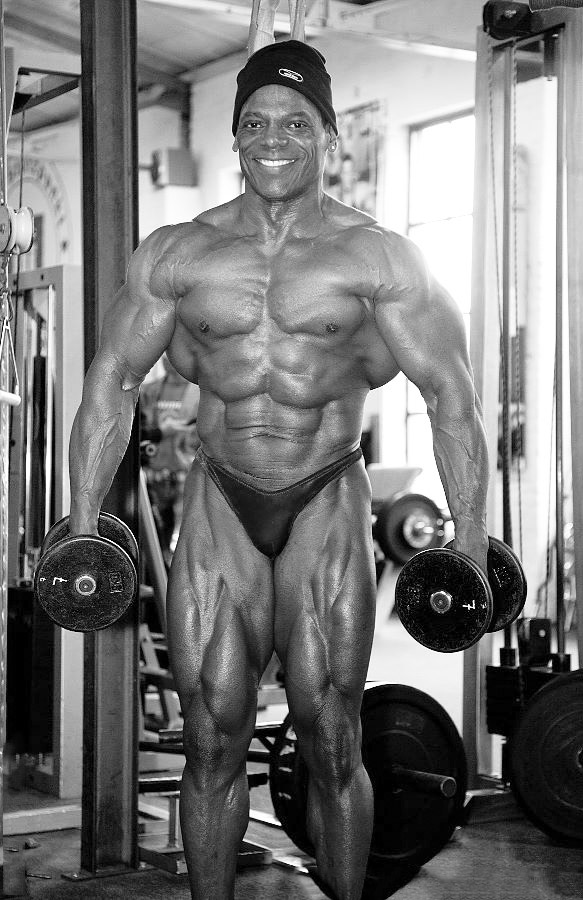 Nutrition
Tony's Diet
High protein, low carbs, and almost zero fats is the way Tony likes to eat. His diet consists of Chicken breasts, ground turkey meat, egg whites with a couple of yolks, asparagus, broccoli, two apples a day and one grapefruit with very little brown rice. Tony doesn't use protein shakes, or any complex grains such as porridge, he'll also avoid coffee and will eat six meals a day.
---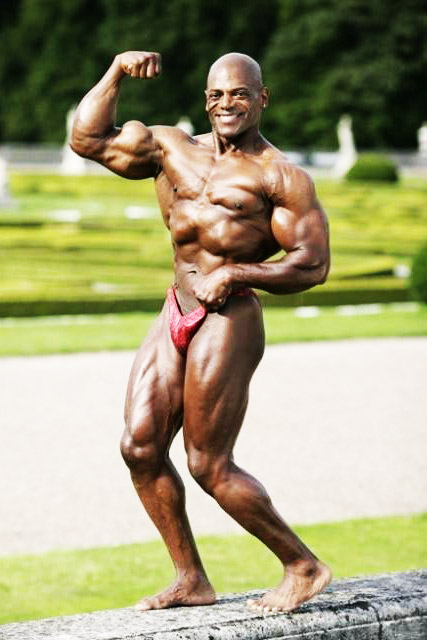 Idols and Influences
Tony's early influences came from his time spent wrestling in hight school, this later turned towards bodybuilding when he experienced a knee injury. It's clear to see his drive and ambition are what shot Tony into the professional world of bodybuilding.
Some of his idols were among Arnold Schwarzenegger, Ric Drasin, and Lou Ferrigno. It didn't take long until Tony became an idol himself for aspiring fans around the world hoping to become bodybuilding legends.
---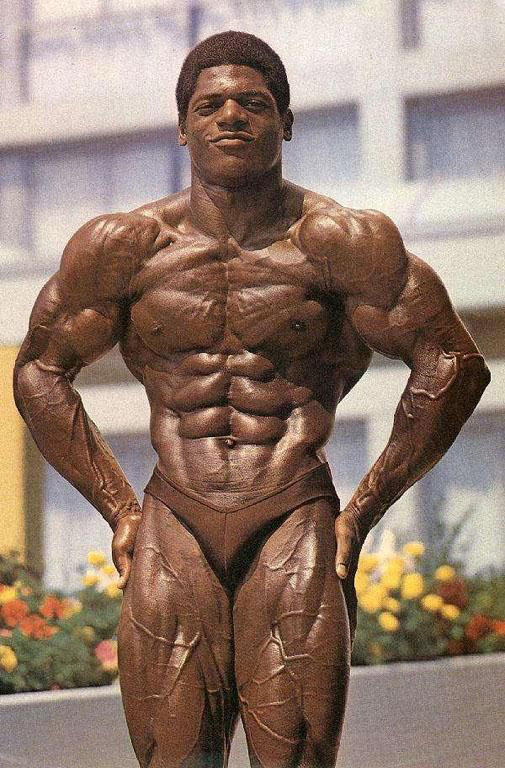 "Always keep your goal in sight. Stay focused no matter what the obstacles, because there will always be challenges along the way, no matter what you pursue. But if you are persistent, have a positive attitude and surround yourself with positive people, you will achieve your ultimate dream." – Tony Pearson
What we can learn from Tony Pearson
Domestic abuse and neglect could have held Pearson back from achieving so much in life. He decided otherwise, his drive and ambitions nature mixed with a love for health and fitness has rocketed Tony to the top of his game and kept his fighting fit for decades.
He's been competing for over 40 years, with that kind of discipline, a champion must be bread, and that's exactly what Tony is, a true physique of greatness and one of lifes heroes for people everywhere.