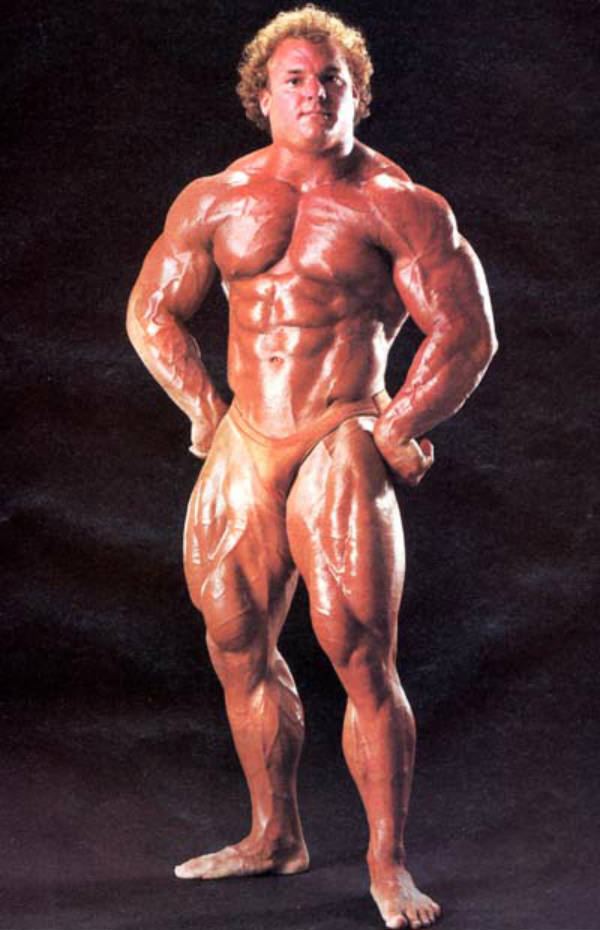 Tim Belknap
IFBB Professional Bodybuilder
Tim Belknap was an IFBB professional bodybuilder from Illinois, USA. He was well-known as a professional level competitor, who also battled diabetes throughout his life.
Growing up, Tim was very active and always had a passion for weightlifting and showing off his body. He was also diagnosed with diabetes very young, which meant that he would spend the rest of his life taking insulin shots.
As Tim developed his physique and read about proper nutrition and lifting technique, he also became fascinated by the idea of competing. He would start competing in the early 80's; entering the bodybuilding scene with a well-researched nutritional plan and highly developed lower body.
This preparation paid off for Tim. He won 2 of his first 3 competitions and came 2nd in the 3rd. He joined the IFBB in 1981, winning another 4 shows before retiring. This is his story:
---

Athlete Statistics
Full Name: Tim Belknap
Weight
Height
Age
Date of Birth
245 - 255lbs (111.1 - 115.7kg)
5'4" (162.5cm)
65
September 2, 1958
Nationality
Profession
Era
American
IFBB Professional Bodybuilder
1980, 1990
| | |
| --- | --- |
| Weight | 245 - 255lbs (111.1 - 115.7kg) |
| Height | 5'4" (162.5cm) |
| Age | 65 |
| Date of Birth | September 2, 1958 |
| Nationality | American |
| Profession | IFBB Professional Bodybuilder |
| Era | 1980, 1990 |
---

Accomplishments
Competitions
1981 AAU Mr. America Light-HeavyWeight & Overall, 1st
1981 AAU Mr. Midwest Short & Overall, 1st
1981 IFBB World Amateur Championships Light-HeavyWeight, 2nd
1982 NPC Nationals HeavyWeight, 3rd
1983 IFBB Grand Prix Las Vegas 10th
1984 NABBA Mr. Universe Short, 1st
1984 NABBA World Championships Short & Overall, 1st
1985 NABBA Mr. Universe Short & Overall, 1st
1985 NABBA World Championships Short & Overall, 1st
1991 IFBB Niagara Falls Pro Invitational, 10th
1991 IFBB San Jose Pro Invitational, 7th
1992 IFBB Ironman Pro Invitational, 14th
---

Biography
Early Years
Tim Belknap was born in Rockford, Illinois, USA in 1958. Growing up, he was extremely active, but he always gravitated towards sports where he could use his strength and size.
As he developed himself as a weight lifter, he also used his nutritional knowledge gained as a diabetic, to plan meals for muscle gain. He began to attend the gym almost everyday with the intention of becoming bigger.
While he wanted to become bigger more than anything else, he also suffered from adverse reactions to his insulin injections occasionally. These injections would occasionally leave him without any appetite, which would mean that he couldn't eat properly.
Deciding To Build Muscle
Because of this, at 18 years old he decided that he would simply have to eat as much as possible when he could.  He faithfully followed advice in Muscle magazine and began to build size and strength, recalling that he realized that he had "some serious genetic potential."
After a few years spent following this approach, Tim weighed 230 pounds in the off-season. He had gained a large amount of muscle mass across his body and decided that he would try and compete.
---

---
Competing
Tim decided that he would start to compete in bodybuilding shows in 1980. By 1981, he was posing on the stage at the AAU Mr. America Light-HeavyWeight & Overall, and had managed to cut down below 200lbs.
At 5'4″, this aesthetic was extremely impressive and he managed to take a 1st and overall at this show. He also managed to qualify for the AAU Mr Midwest show, which he also won quite easily, taking the trophy in the short category.
For Tim, this was just the beginning. He would go on to win the 1984 NABBA Mr. Universe, the 1985 NABBA Mr. Universe and the 1985 NABBA World Championships. He also qualified for, and competed with the IFBB during his decade-long career.
Heart Disease
His career came to a close when he began to suffer with serious heart problems. Heart disease was prevalent in his family, so Tim was always aware that it may be an issue, but he pushed it to the back of his mind.
One April in the early 90's, he noticed a shortness of breath and chest pains (symptoms of a mild heart attack.) He was 37 years old at the time and could not believe that his heart was in any way unhealthy.
He says when reflecting on this period that all he could think about was "doing the right thing." A month later, he underwent open-heart surgery which meant that he would have to lower the intensity of his workouts permanently.
---

Training
Heavy Back Approach
When Tim trained his back, he worked very hard and used mind-muscle connection. After his back workout, he could be found doing 10 sets of tension posing. He always followed each set with stretching exercises, such as hanging from a pull up bar or pulling against a stationary upright.
It took him about 40 minutes to complete a back workout. He always combined this session with a chest workout, to make use of the popular double-split training principle.
Tim's back used to be considered his weak point, but after hard work it became his prized feature. He was told that his back was "spectacular" when he won the Mr. America contest.
Back Exercises
He started his back routine with five very heavy sets of Seated Rows, done on a special rowing machine in Gold's Gym. After this, he would perform each rep to full peak contraction.
This would always be followed up with 4 heavy pulldowns to the chest, using a semi-wide grip. Before a contest, this may be dropped to 2 sets due to low energy levels while eating 900 calories a day.
The pulldowns wouldn't stop there. Tim would continue with a close-grip Pulldown to the chest, using a reverse grip. After 3 or 4 sets of these, the exercise burns the lower lats.
For his final pulldown exercise, Tim chose wide-grip Chins behind the neck for 3 or 4 sets. He would pause at the bottom of each rep, forcing the muscle to contract fully. Heavy dumb­bell Pullovers would follow this exercise to finish.
Famous Arms
Tim had 18 inch arms that looked twice that size on his small frame while competing. He would regularly train them in a split routine twice a week and his favorite movement for his biceps was the standing cable curls.
His biceps were particularly impressive, but his triceps were also extremely well-built. These muscles were developed while completing a close-grip bench-press. Tim said that this was the best movement to isolate all three heads of the triceps.
---

Nutrition
Changing His Diet After His Heart Attack
For most of his life, Tim says that he would often eat foods high in fat. He believed that, while bulking, this wasn't a huge issue. As he began to suffer from heart issues, he developed a suitably balanced, low-fat diet that excluded red meat and cheese.
Competition Diet
In order to maintain and build his mass during his competition days, Tim would always eat high-protein foods. He loved to eat eggs, chicken and cheese every 3-1/2 hours. Through doing this, he managed to gain a large amount of muscle mass.
During some cutting seasons, Tim would lose as much as 32 pounds in a few weeks. He said that he was "often asked" how he could lose so much weight so quickly, but he told them that a lot of it was water weight.
---

What we can learn from Tim Belknap
Tim battled against diabetes from an early age and had serious heart problems which ended his career. While these problems were severe, however, they never once affected his love for the sport or his willingness to compete.
If you are struggling with health issues, it may be useful to look at Tim as an example of someone who never quit. He followed his dreams throughout his career and always saw the positive.