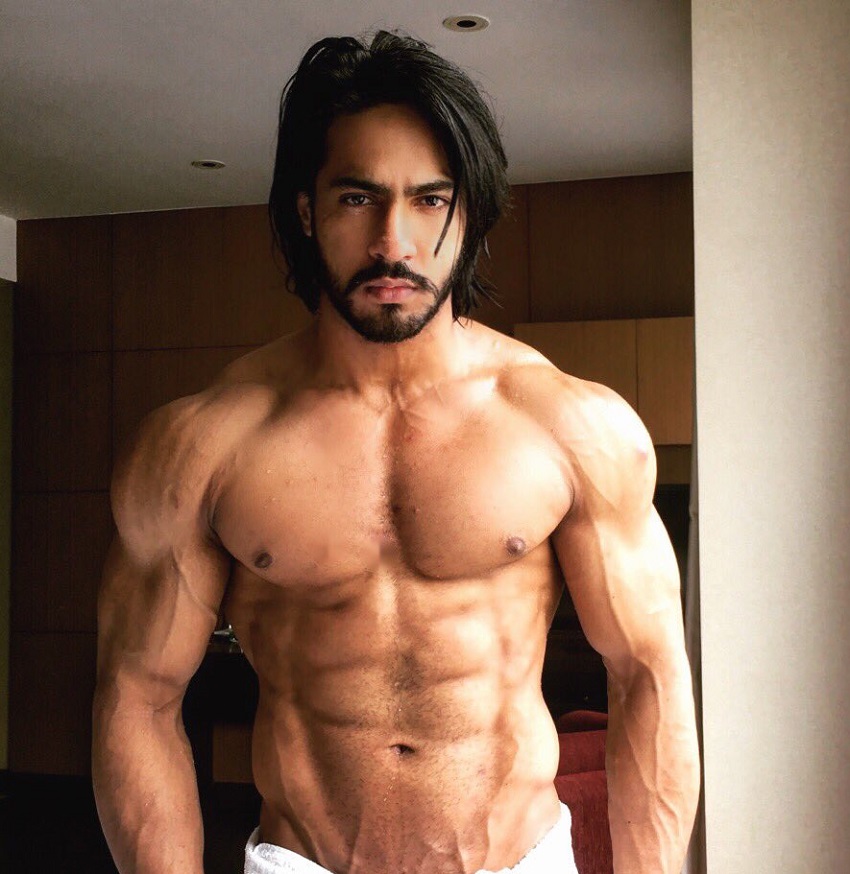 Thakur Anoop Singh
Actor, Fitness Model, Bodybuilder
Thakur Anoop Singh – an actor, fitness model, and Mr. India bodybuilding champion. These are just some of the achievements Thakur boasts in his remarkable career.
Initially, Thakur studied and worked to become a pilot. At the age of 19, he fulfilled his biggest ambition; earning his pilot license. But this dream was short-lived.
After a recession in India hit, Thakur was forced to pursue a different career path in order to make ends meet. It was here that he began fantasizing about the idea of becoming an actor.
Fast forward to 2015, and Thakur achieved all of his dreams and more. He won three major bodybuilding shows that year, alongside becoming one of the most recognized TV personalities in India – known for his role in Mahabharat.
This is his story:
---
"I am an actor who follows method acting. I believe in being and feeling that person within me, if I have to act as that character."
Athlete Statistics
Full Name: Thakur Anoop Singh
Weight
Height
Age
Date of Birth
185 - 195lbs (83.9 - 88.5kg)
6' (183cm)
34
March 23, 1989
Nationality
Profession
Era
Indian
Actor, Fitness Model, Bodybuilder
2010
| | |
| --- | --- |
| Weight | 185 - 195lbs (83.9 - 88.5kg) |
| Height | 6' (183cm) |
| Age | 34 |
| Date of Birth | March 23, 1989 |
| Nationality | Indian |
| Profession | Actor, Fitness Model, Bodybuilder |
| Era | 2010 |
---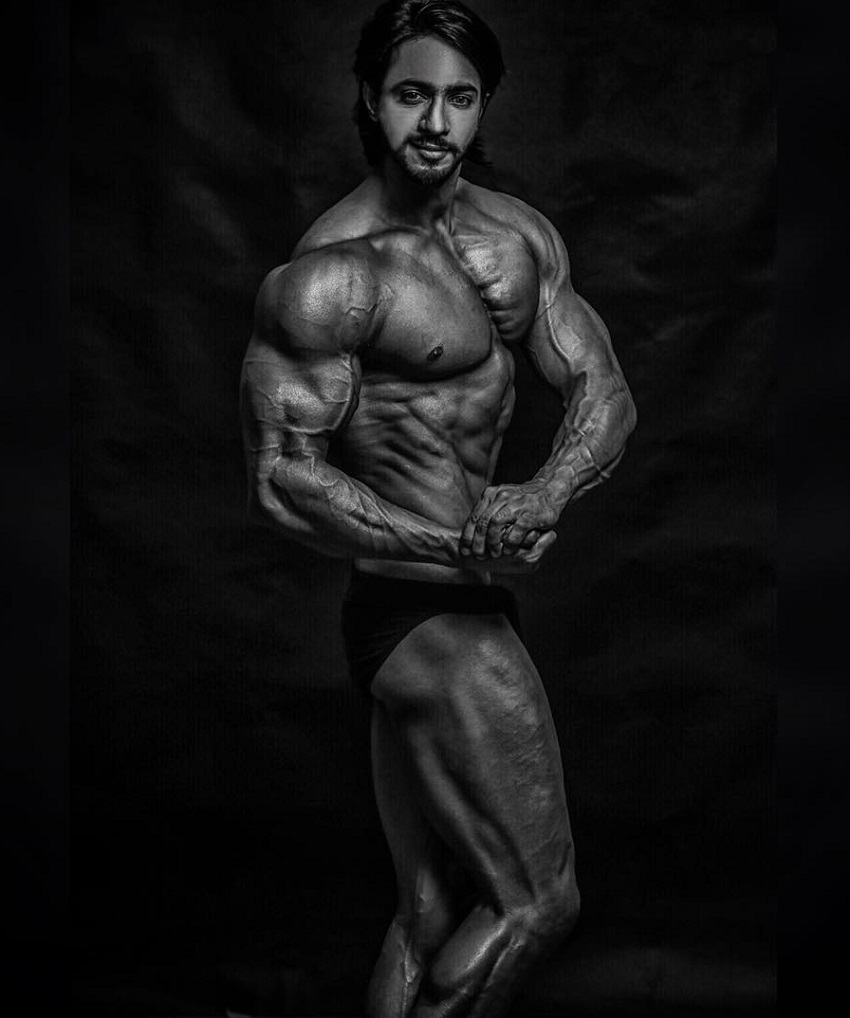 "I am glad that at least once in my life I have proved my love for my nation and how proud I have been to be a part of an independent fast growing nation like India!"
Accomplishments
Fitness Model
Actor
Competitive Bodybuilder
Pilot
Singer
Bodybuilding Achievements
2015
Fit Factor Mr. India Champion
Mr. Asia 2015
Mr. World 2015
---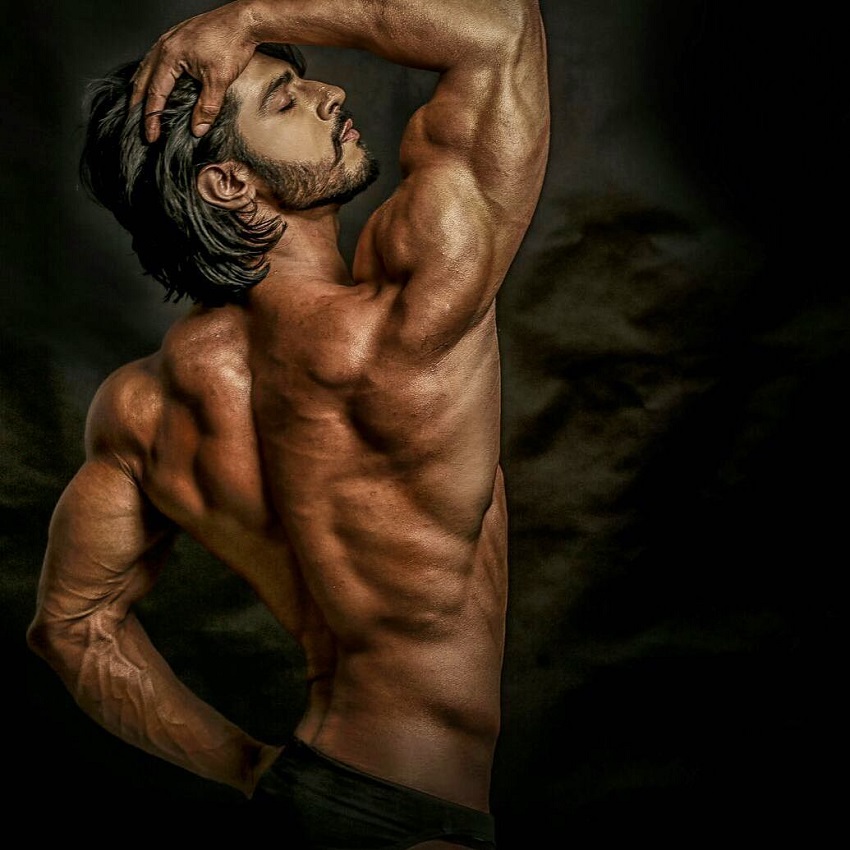 "It's not the appearance, it's the essence! It's not the money, it's the education! Show class, have pride, and display a character.. success and winning will take care of itself!"
Biography
Thakur's Background
Growing up, Thakur Anoop Singh dreamed of becoming a pilot. After high school, his dreams became a reality. He earned his pilot license at the age of 19 and began flying across the skies of his native India.
Unfortunately for Thakur though, this period didn't last long. Around this time, the worldwide recession was in full swing, and the airline sector in India was heavily affected by it.
As a result, Thakur had to abandon his career as a pilot and pursue something else. "I just had to be sure that whatever I chose to do next, I needed to surrender myself to it and enjoy doing it." – Thakur Anoop Singh
Acting
Eventually, Thakur decided that he wanted to pursue acting. It was something that always interested him, but he never had the time to pursue it seriously – until now.
However, Thakur's road to becoming an actor wasn't a smooth ride. After being rejected from several acting auditions, he realized that reaching success in this field was far harder than he initially thought. But still, he didn't give up.
Thakur kept auditioning for various screen roles, and eventually, his persistence was rewarded. After a series of rejections, he was selected during an audition for Mahabharat, a popular Indian TV series. This was his stepping stone towards bigger and better things – allowing him to propel his career as an actor.
---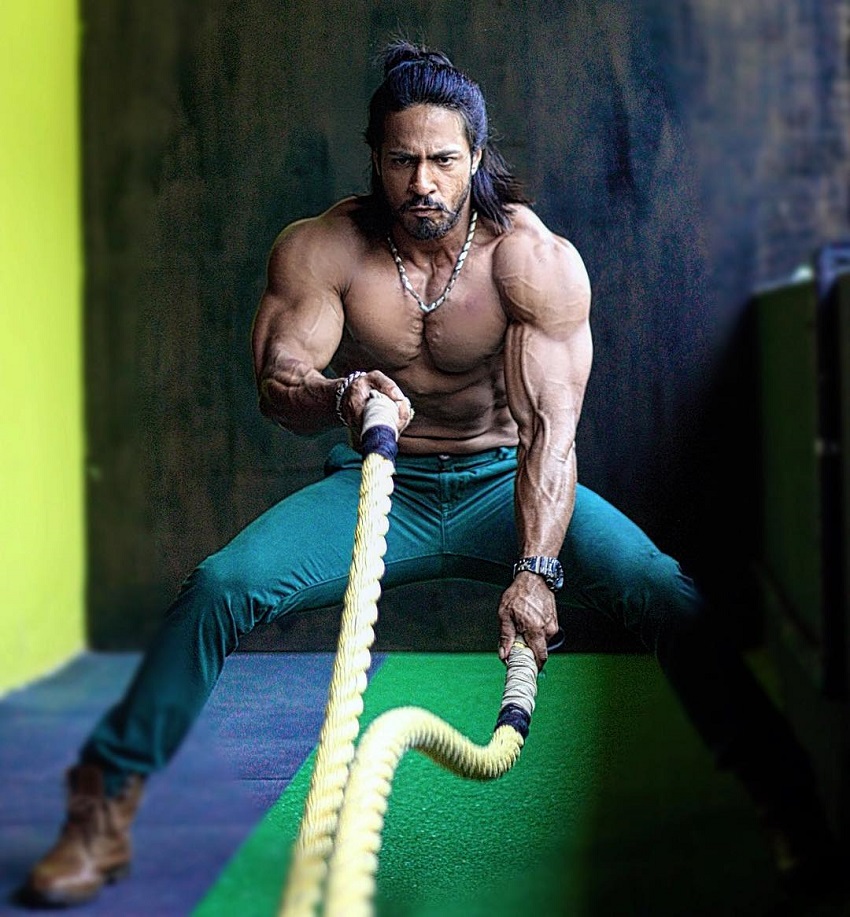 ---
Mahabharat Experience
Here's Thakur talking about his experience with Mahabharat; "Mahabharat has been a life changing experience for me indeed. It is crazy and amazing at the same time when even kids as small as six years old recognize me as Dhritarashtra when they see me walking with long hair." – Thakur Anoop Singh
However, while Thakur's first acting experience was mostly positive, there were also some downsides to it. For his role in Mahabharat, Thakur had to put on a lot of weight.
At first, this wasn't a problem for Thakur. But over time, his character became a part of his personality in everyday life.
This is something that soon started troubling Thakur, as he didn't want to look or feel overweight. I had to break that image and that could have happened only if I transformed how I looked," Thakur said.
A New Chapter in Bodybuilding
In order to break the image he'd created, Thakur decided to start training in the gym to get in shape.
With the help of his friend Rohit Shetty, who was a professional bodybuilder, Thakur was able to quickly transform how he looked.
As he saw his transformation unfold in front of his own eyes, Thakur became 'obsessed' with bodybuilding. Over time, he was able to sculpt an amazing physique.
This spurred him on to take a new challenge in his fitness journey – competing in a fitness & bodybuilding show on the stage. Thakur saw this as an ideal way to test his physique against other aspiring athletes.
---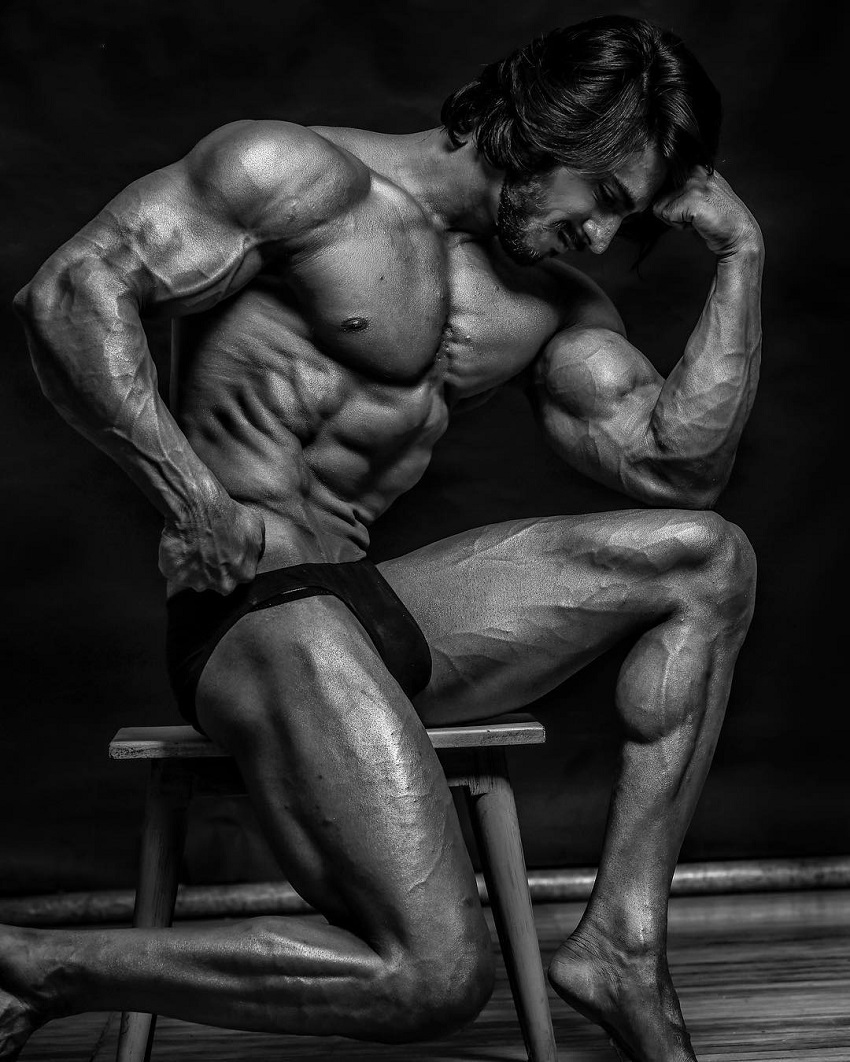 ---
Mr. Asia, Mr. World, and Fit Factor Champion
After his first show in bodybuilding, Thakur found a new love for competitions. He said; "It was very inspiring and that's when I started believing I could take it up professionally and compete at an international level."
It was at this point, he began competing as a bodybuilder on a regular basis, alongside playing as an actor on TV.
Throughout the years, Thakur achieved massive success in his career. He became known for his ripped and vascular physique, which helped him win some of the biggest contests in Asia. These included the 2015 Fit Factor Mr. India, Mr. Asia, and Mr. World.
An Actor, Bodybuilder, and Internet Celebrity
With his success an actor and bodybuilder, Thakur has captured the attention of millions of onlookers around the world.
His work ethic is what inspires his fans to pursue their own dreams and goals. His awesome physique is an example of what hard work and dedication to fitness can bring.
There's a lot more to come from Thakur – he'll be sure to grace the TV screens and fitness shows for years to come.
---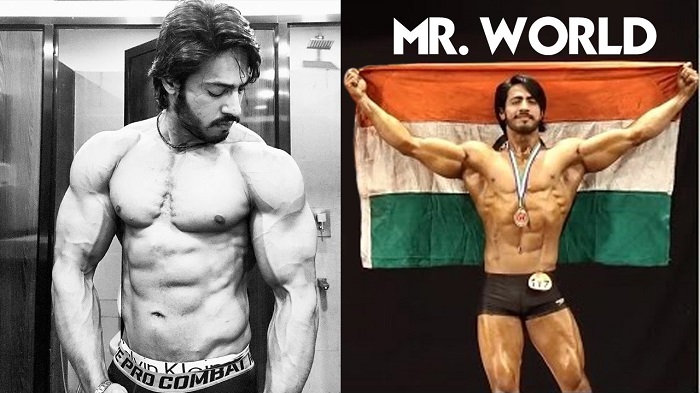 Thakur Anoop Singh winning Mr. World 2015.
Training
Training For Mr. World
In order to win his 2015 Mr. World title, Thakur had to adopt a strict training regimen. In the morning, he did 30-minutes of cardio on an empty stomach. This was followed by a weightlifting session in the afternoon, and another 30-minute cardio drill before bedtime.
Contrary to most athletes, Thakur constantly changed his training style during preparations. One day, he'd train with heavy weights and low reps. Other days, he'd train at a high rep range with light weights. He did this in order to not let his body adapt.
Thakur also did a lot of so-called 'slow-motion training.' He would do each rep of an exercise extremely slowly to maximally fatigue his muscles. As Thakur said; "I used to do what's called slow motion training, where you do the repetitions very slowly. Most athletes competing in the Olympics do this."
Lastly, Thakur worked a lot on his flexibility and agility. Prior to the contest, Thakur said his flexibility was very poor. However, he decided to hire a gymnast who helped him get his flexibility to an optimal level – allowing him to perform at his best during the Mr. World contest.
---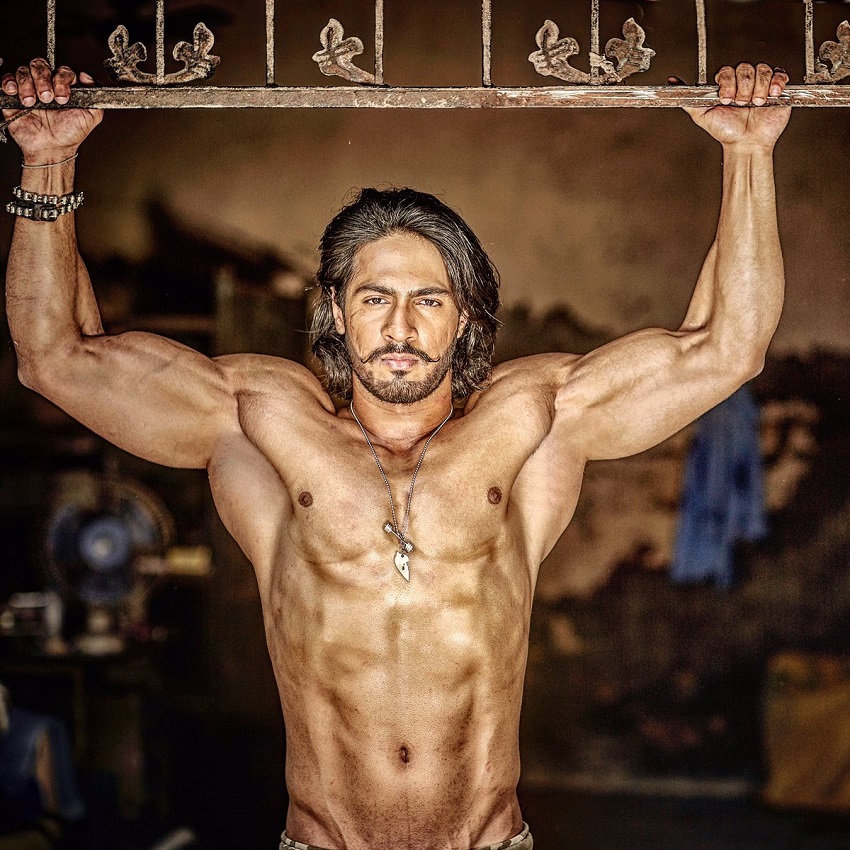 ---
Thakur's Workout Routine
| | |
| --- | --- |
| Monday | |
| Fasted Cardio | 45 minutes |
| Abs | Crunches, Leg Raises, Cables |
| Shoulders | Overhead Press, Lateral Raises, Shrugs, Arnold Press, Front Raises |
| Calf's | Standing Calf Raise, Seated Calf Raise |
| | |
| --- | --- |
| Tuesday | |
| Fasted Cardio | 30 minutes |
| Gymnastics | 30 minutes |
| Legs (Quads) | Squats, Leg Press, Leg Extension |
| | |
| --- | --- |
| Wednesday | |
| Fasted Cardio | 30 minutes |
| Abs | Leg Raises, Crunches, Sit-ups |
| Chest and Triceps | Bench Press, Incline/Decline Press, Fly's, Tricep Pushdown |
| | |
| --- | --- |
| Thursday | |
| Legs (hamstrings+calfs) | Leg Curl, Lunges, Stiff Leg Deadlift, Standing/Seated Calf Raise |
| Steam | 30 minutes |
| Sauna | 30 minutes |
| | |
| --- | --- |
| Friday | |
| Fasted Cardio | 30 minutes |
| Gymnastics | 30 minutes |
| Back and Biceps | Deadlift, Pullup, Lat pulldown, Rowing, Bicep Curl, Hammer Curl |
| | |
| --- | --- |
| Saturday | Rest |
| Sunday | |
| Legs | Squats, Leg Press, Leg Extension |
---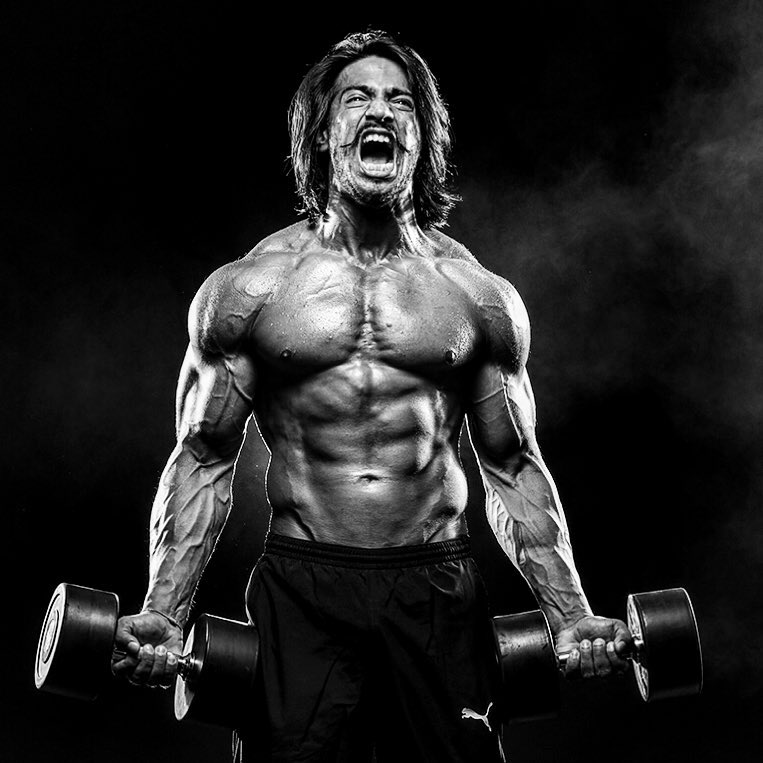 "A physique that can be attainable yet beautiful should be the goal. To all the aspiring athletes who are wishing to compete, please never neglect your posing routines! Try different poses in front of the mirror that define your personality. This will make you stand out from the rest."
Nutrition
Dieting for Mr. World
Much like with his training, Thakur had to completely overhaul his diet in order to win the 2015 Mr. World contest. Prior to the show, Thakur didn't pay a lot of attention to the quality of the foods he was eating. He knew this had to change.
One of the first things Thakur changed in his diet was drastically reducing carbs. He then added a lot of high-quality proteins and fats to ensure optimal energy levels and muscle growth. Thakur would eat 40 egg whites and 1,5 kilograms of chicken every day during this stage.
24-hours prior to the contest, Thakur completely cut out his water intake in order to achieve a shredded look. Then, one hour before stepping on the stage, he did what is called a 'carb fill.'
This meant Thakur drastically increased carbs one hour before the contest in order to make his muscles appear fuller and larger. As he describes it; "One hour before getting on stage I started loading on sweet potato, chocolate spread, and chocolate sauce. It gives you that fuller and shredded look." – Thakur Anoop Singh
---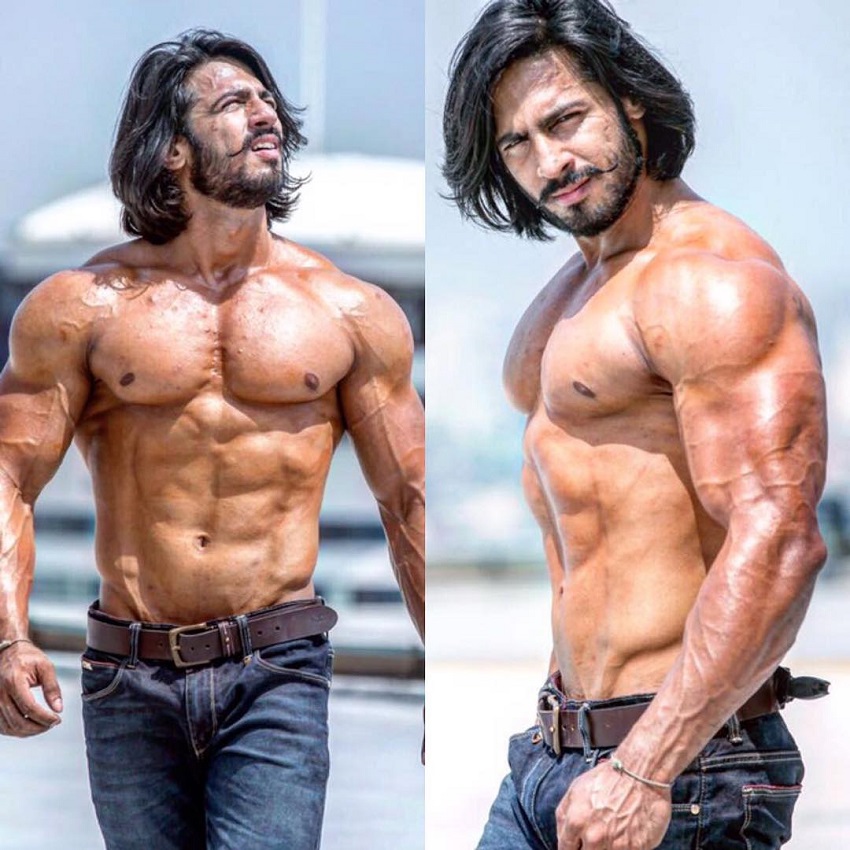 ---
Thakur Anoop Singh Meal Plan
| | | |
| --- | --- | --- |
| Meal | Time | Description |
| Meal 1 | 9 am | Whey Protein- 2 scoops, oats, and 10 egg whites |
| Meal 2 | 1 pm | 300 gms chicken breast with vegetables, 5 egg white omelet, 200gm sweet potato with lemon ice tea or watermelon slices |
| Meal 3 | 4 pm | Same as Meal 2 |
| Meal 4 | 6 pm | Oats, Whey Protein- 2 scoops, 10 egg whites, 1 scoop pre-workout |
| Meal 5 | 10 pm | 300 g chicken breast, salad, 6 egg whites |
---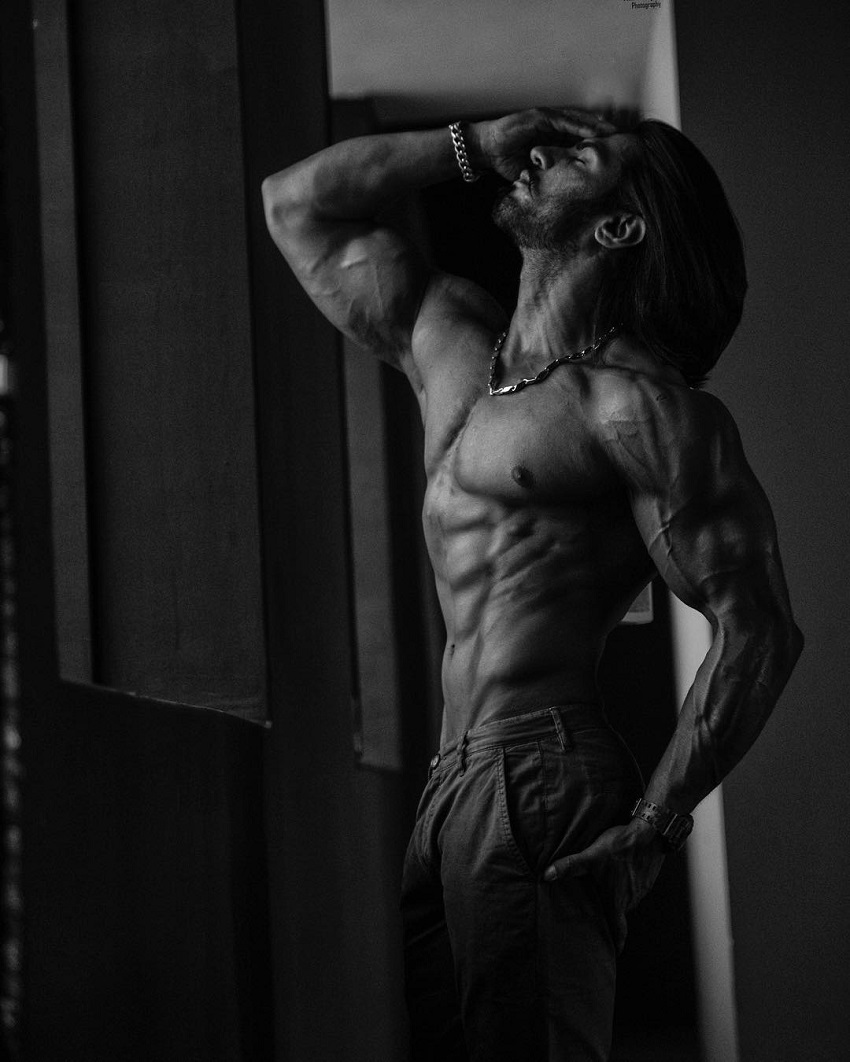 Idols and Influences
One of the people who influenced Thakur during his bodybuilding journey was Rohit Shetty.
Rohit, a professional bodybuilder at the time, helped Thakur develop a workout routine that helped him sculpt an awesome physique for his debut bodybuilding show.
---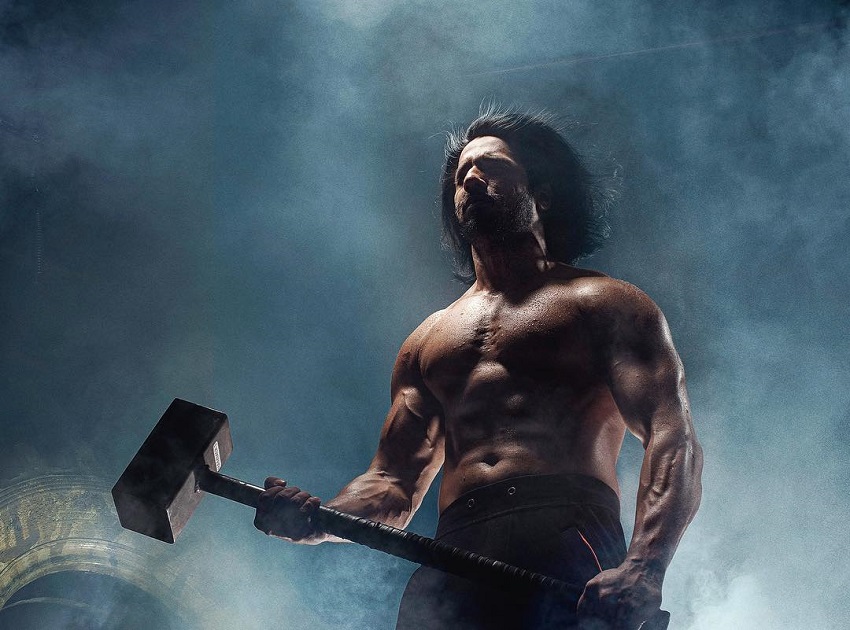 What we can learn from Thakur Anoop Singh
Thakur Anoop Singh is someone who worked hard for his dreams. He made no excuses on his road towards success.
If you're looking to build an aesthetic physique, and possibly a career in fitness along the way, look no further than Thakur Anoop Singh.
With his incredible work ethic, determination, and success in different areas of life, he's shown us that everyone can reach their own greatness if they're willing to work for it.