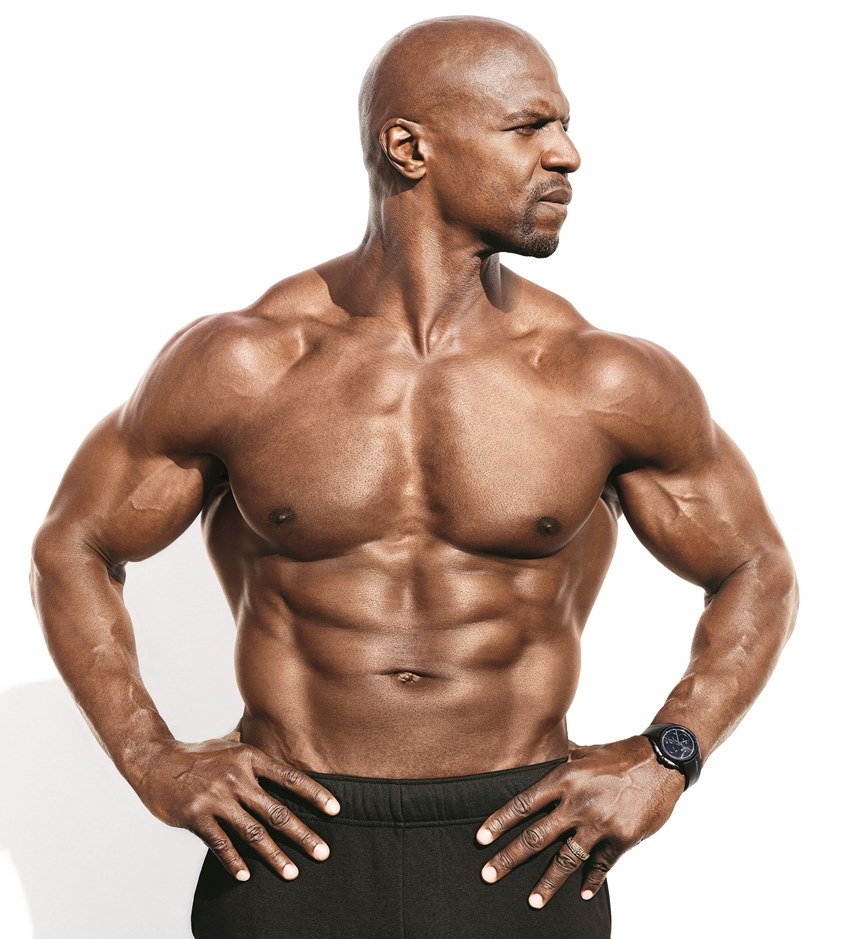 Terry Crews
Football Player, Actor, Artist
Terry Crews is a popular American actor, artist, and former NFL football player. He's starred in numerous movie roles, comedy shows, lent voices for animated productions, and has hosted his own reality TV show.
He's best known for his role of Julius Rock on the sitcom Everybody Hates Chris, and his humorous TV commercials which he did for a popular deodorant company.
However, Terry's start to acting was all but easy. During the 2001-2002 period, he failed to land a single acting role. But he came back strong to cement his name among the best actors of his generation.
This is Terry Crew's story:
---
"I was a sports nut. I stayed after school probably three hours every day – from fall, to winter, to spring. Football, basketball, track… I've played all of them, over and over again. I loved all of it. I just loved being an athlete and all that it entailed. It really accounts for who I am today and even how I think today."
Athlete Statistics
Full Name: Terry Alan Crews
Weight
Height
Age
Date of Birth
235 - 245lbs (106.6 - 111.1kg)
6'2" (188cm)
55
July 30, 1968
Nationality
Profession
Era
American
Football Player, Actor, Artist
1990, 2000, 2010
| | |
| --- | --- |
| Weight | 235 - 245lbs (106.6 - 111.1kg) |
| Height | 6'2" (188cm) |
| Age | 55 |
| Date of Birth | July 30, 1968 |
| Nationality | American |
| Profession | Football Player, Actor, Artist |
| Era | 1990, 2000, 2010 |
---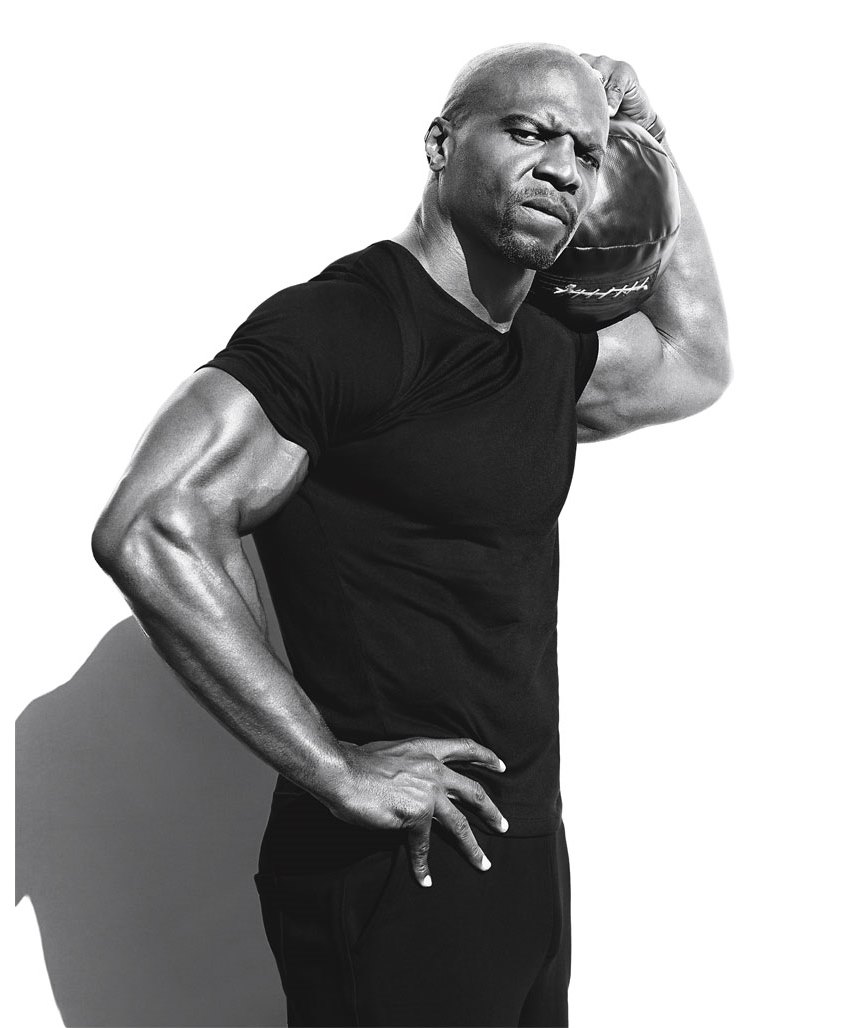 "I constantly get out of my comfort zone. Looking cool is the easiest way to mediocrity. The coolest guy in my high school ended up working in a carwash. Once you push yourself into something new, a whole new world of opportunities opens up. But you might get hurt – in fact, you will get hurt. But amazingly, when you heal – you are somewhere you've never been."
Accomplishments
Filmography
2017
Sandy Wexler, role – 'Bedtime' Bobby Barnes
Where's the Money
2016
Aztec Warrior, role – Juan Claudio
2015
Scheer RL TV, role – P-Diddy
The Ridiculous Six, role – Chico
These Walls, role – Kendrick Lamar
2014
The Expendables 3, role –  Hale Caesar
Blended, role – Nickens
Draft Day, role – Earl Jennings
The Single Moms Club, role – Branson
2013
Reach Me, role – Wilson
Cloudy with a Chance of Meatballs 2, role – Earl Devereaux
Scary Movie V
2012
The Expendables 2, role – Hale Caesar
2011
Bridesmaids, role – Boot Camp Instructor
2010
Lottery Ticket, role – Jimmy the Driver
The Expendables, role – Hale Caesar
Middle Men, role – James
2009
Gamer, role – Hackman
Terminator Salvation, role – Captain Jericho
2008
Get Smart, role – Agent 91
Street Kings, role – Det. Terrence Washington
2007
Balls of Fury, role – Freddy
Who's Your Caddy?, role – Tank
Norbit, role – Big Jack
2006
Harsh Times, role – Darrell
Idiocracy, role – President Camacho
2005
The Longest Yard, role – Cheeseburger Eddy
2004
White Chicks, role -Lattrell Spencer
Starsky & Hutch, role – Porter
2003
Baadasssss!, role – Big T
Malibu's Most Wanted, role – 8 Ball
2002
Friday After Next, role – Damon
Serving Sara, role – Vernon
2000
The 6th Day, role – Vincent
---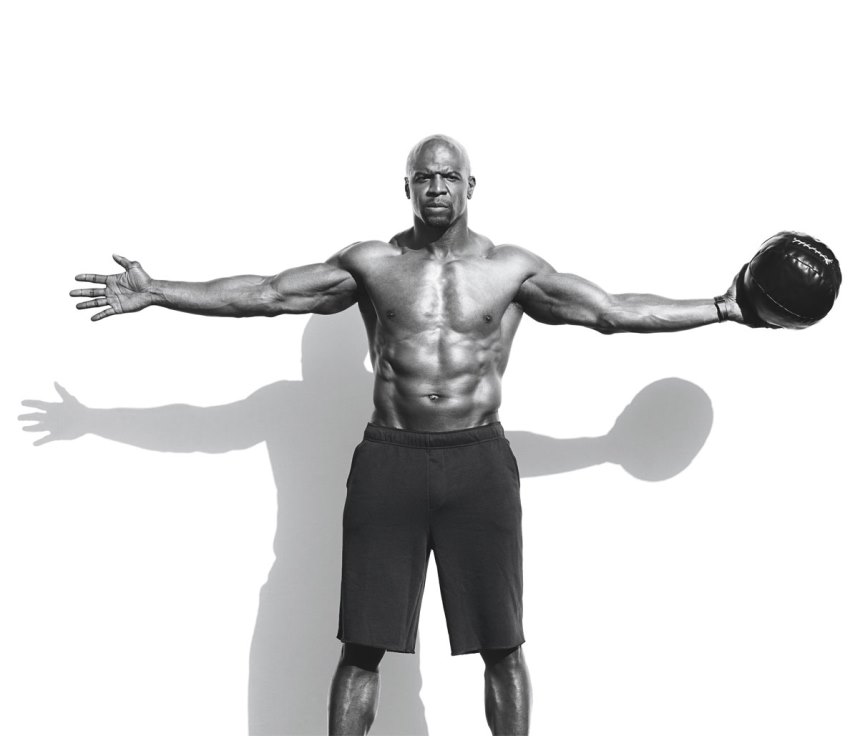 Biography
Arts and Sports
Terry Alan Crews grew up in Flint Michigan, and was raised by his parents Terry Crews Sr. and Patricia Crews. Growing up in a strict religious environment, Terry described himself as a "small kid with big dreams." He was enthusiastic about everything he took part in, including art – one of his favorite hobbies.
He enjoyed expressing himself through art so much, that he earned a sponsored art scholarship at the Center for Arts in Michigan. After graduating from high school. Later, he earned another scholarship in Art Excellence.
Alongside his "artistic passions," Terry was also a keen football player. Out of the two, art was his favorite hobby for the majority of his schooling days. However, over time, his passion for football "took over."
Terry played as a defensive end, aka, linebacker for his football team WMU Broncos. There, he saw his amazing performances earn him and his team All-Conference honors, and the 1988 Mid-American Conference Championship title.
Career in American Football
During his 6-year-long career in football (1991-1997), Terry played for some of the top NFL teams. Including the Los Angeles Rams, Washington Redskins, Philadelphia Eagles, and the San Diego Chargers.
During this time, he played in 32 games; achieving a personal record of 57 tackles, and 38 assists.
"What shocked me, and what I wasn't prepared for, was just how brutal and how unethical some people can be in the NFL. I mean, there were some great people, but there were some real snakes, too. I was like, 'Holy cow!' But it made me a better person, and it got me ready for other things."
---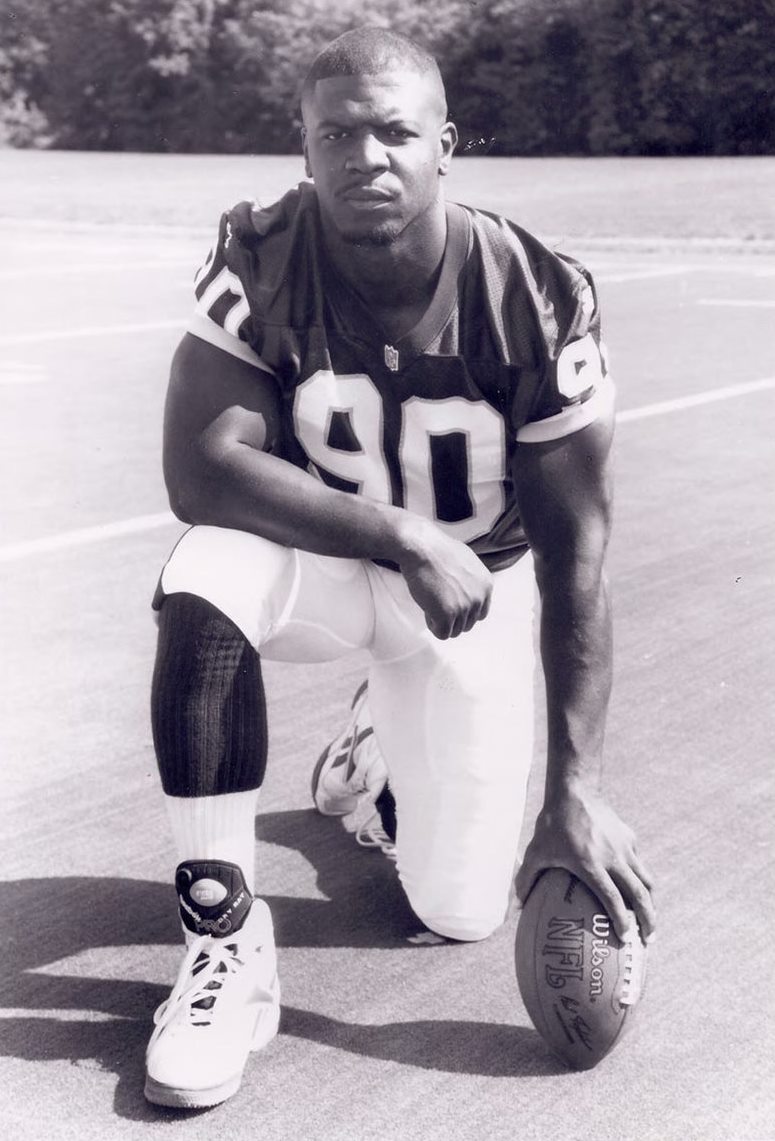 ---
Start of the Acting Career
After his retirement from American football in 1997, Terry moved to Los Angeles to pursue a career in acting. He always dreamed of becoming an actor one day, but it wasn't until 1998 when his dream would become a reality.
His first film was 'Young Boys Incorporated,' which he had co-produced. It was filmed in Detroit, and carried an anti-drug message. Even though Terry described the film as "horrible," he said the experience itself was insightful, and interesting.
In 1999, Terry auditioned for a role in Battle Dome, a popular show. He earned the role of a 'character athlete' called "T-Money." He played the role for two seasons, before the show was cancelled in 2001. His debut in Hollywood came in 2000, with the Arnold Schwarzenegger movie, The 6th Day.
Performing in front of a big audience in his first show, and movie, is what made Terry realize he wanted to chase acting as his career. However, he failed to land a single job as an actor for the following two years.
Becoming Recognized
After two years of "spinning in circles," Terry finally made his first big breakthrough. He got a role in the movie Friday After Next, playing as Damon. In the movie, he starred along Ice Cube, a popular rapper, and actor.
Terry said he never took acting classes before this. He then asked himself what the audience wanted, believing this was the key to success.
Soon, appearances in numerous commercials, comedy shows, and movies followed. Terry's performance in 'White Chicks (2004),' and later, 'Everybody Hates Chris',  brought him a lot of prominence in the media.
After his appearance in 'Everybody Hates Chris,' Terry started landing main roles in sitcoms such as 'Are We There Yet?,' and 'Brooklyn Nine-Nine,' where he played as Sergeant Terry Jeffords.
Other Roles
During 2006-2009, Terry mostly appeared in comedy movies and shows. However, he later found success in action movies such as 'The Expendables' playing Hale Caesar.
Although Terry has kept a muscular physique throughout his acting career, he rarely played a role of a "typical brawny action hero." Instead, he often mocked the stereotype of the "gym-addicted" bodybuilder in his comedies. This is what ultimately separated him from the rest on the mainstream TV – bringing him a lot of success in the process.
This contrast between Terry's roles and his physique is what led to him creating a number of humorous deodorant commercials, for which he's well known.
Alongside comedies and action movies, Terry also lent his voice to several animated productions.
Some of them are 'Cloudy With a Chance of Meatballs,' and 'American Dad!' He also ran his own reality TV series, 'The Family Crews,' where he showed the public a closer look at his personal life. The series ran for two seasons, before Terry moved onto hosting a game show, 'Who Wants to Be a Millionaire.'
---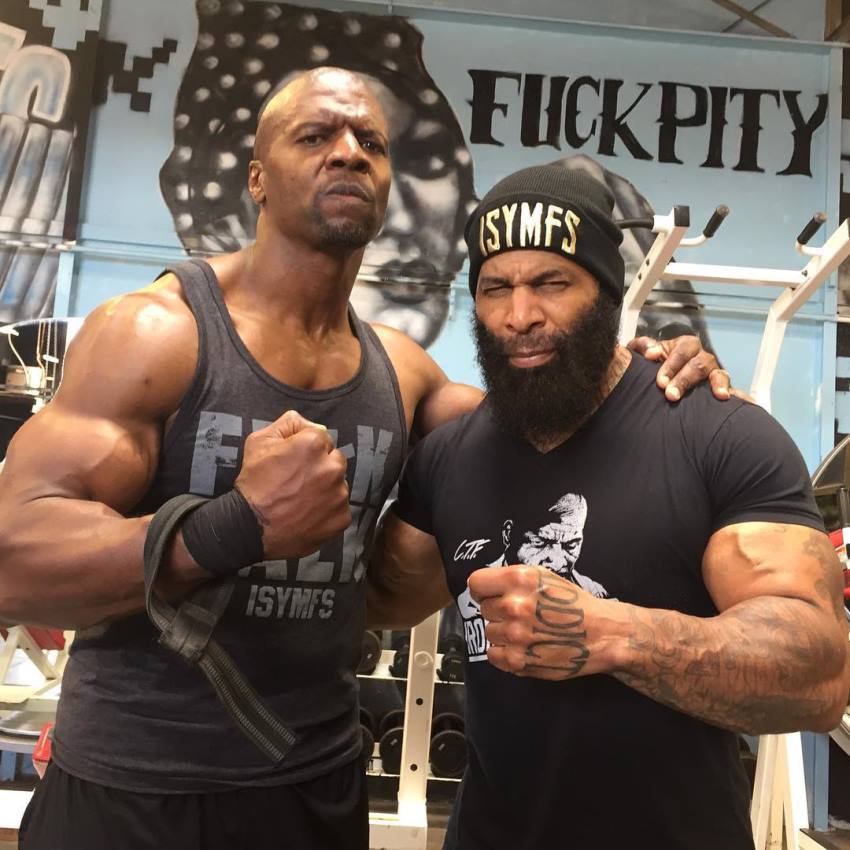 Terry Crews with CT Fletcher, the 3-time world champion in bench press
---
Terry's Personal Life
Terry has a wife Rebecca King (former gospel singer). They have four children named Wynfrey, Azriel, Tera, and Isaiah. Terry also has a stepdaughter, and one granddaughter from his wife's previous marriage.
In his free time, Terry is a painter, PC gamer, sketch artist, and video content creator.
Autobiography
In 2014, Terry released his autobiography book 'Manhood: How to Be a Better Man or Just Live with One.' In the book, he mentioned his long-lasting addiction to pornography, which he was able to beat through rehabilitation in 2010.
To this day, Terry often speaks publicly about the dangers of this particular addiction, and the negative impact it can have on people's lives.
---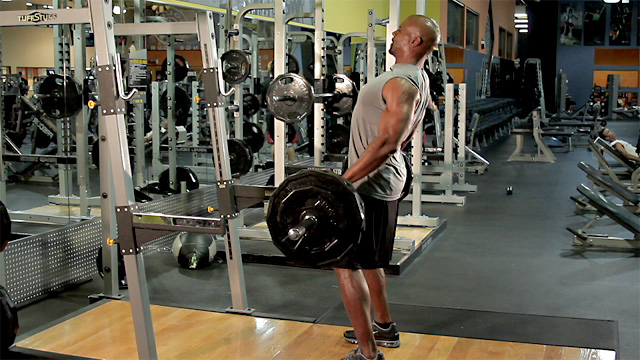 "I will always consider myself an athlete. My workouts are about survival, longevity strength and endurance. I realized working-out should be about getting smarter as well as stronger."
Training
Big Lifts and Cardio
Terry combines his athletic background with the knowledge he'd gained over years spent working out in the gym. He trains with movements which use multiple joints, such as power clean and deadlifts. These, according to him, build "total-body power," and also thicken his muscles.
After he's done with his standard compound lifts, Terry proceeds to isolation exercises. Which focus on specific body parts.
He also incorporates cardio in his weightlifting regimen, having six 30-45 minute sessions per week.
"It's important to balance weights with an activity that makes you look like you can do something. That's the whole purpose of fitness – you want to be able to move, you want to be able to do stuff." – Terry Crews
Boosting Testosterone
Terry says the best thing for boosting natural testosterone levels is lifting heavy weights. He believes this is especially important for men who enter their 40s and 50s.
However, he never advises going for a 1-rep-max. Instead, he believes the best way to grow in strength, and keep optimal testosterone levels is by lifting weights 3-5 times with the right form.
Listening to His Body
Terry usually has one rest day per week. However, he pays attention to the signs his body gives him. Meaning, if something "feels off," or if he feels more tired than usual- he'll rest as long as he feels it's necessary.
---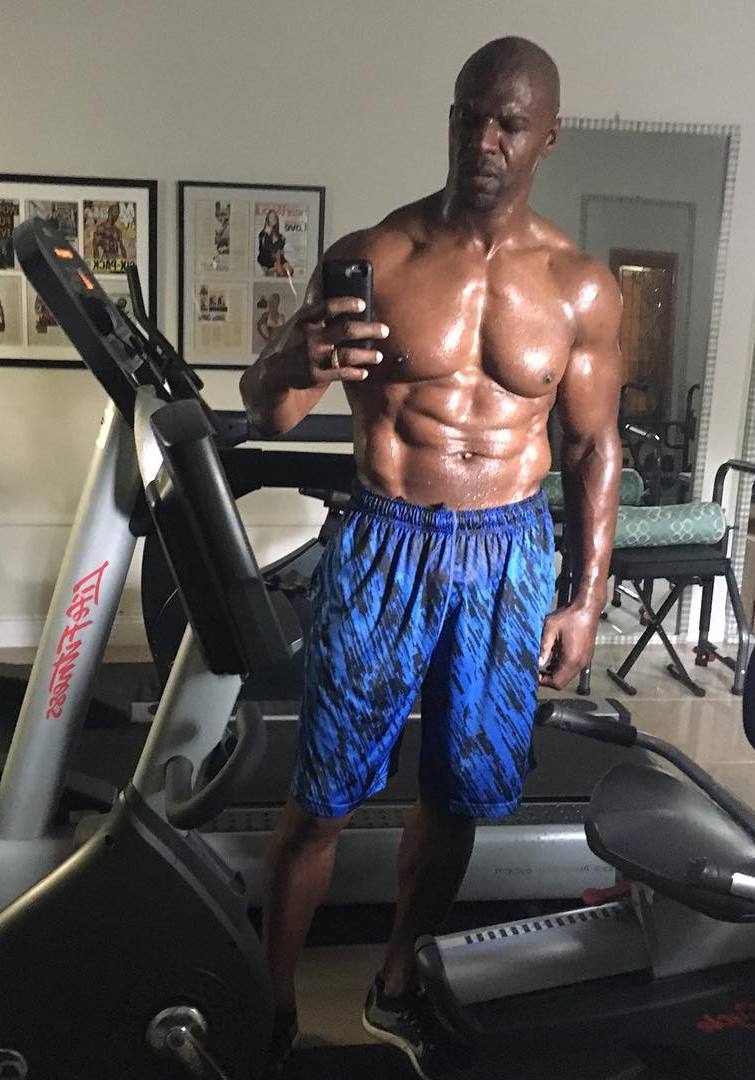 ---
Terry's Workout Routine
Monday – Shoulders/Arms/Abs/Cardio
Upright Rows, 2 sets of 6 reps
Romanian Deadlifts, 2 sets of 6 reps
Power Clean and Jerk, 2 sets of 6 reps
Jump Squats, 2 sets of 6 reps
Alternating dumbbell front lateral raise, 2 sets of 5 reps
Arnold Dumbbell Press, 2 sets of 5 reps
Lateral Raise, 2 sets of 5 reps
Rear Dumbbell Flys, 2 sets of 5 reps
Hammer Dumbbell Curls, 2 sets of 5 reps
Rotator Cuff, 2 sets of 5 reps
Ab Crunches, 3 sets of 10 reps
Tuesday – Back and Cardio
Heavy Deadlifts, 4 sets of 8 reps
Pull-ups, 3 sets of 10 reps
Behind the neck pull ups, 2 sets of 10 reps
Reverse Barbell Rows, 4 sets of 10 reps
Machine Rows, 4 sets of 8-10 reps
Seated Rows, 4 sets of 10 reps
Wednesday
Cardio – Treadmill running for 45 minutes
Thursday – Chest/Arms/Abs/Cardio
Power Clean and Jerk, 4 sets of 6 reps
Barbell Bench Press, 4 sets of  8-10 reps
Incline Bench Press, 4 sets of 8-10 reps
Dumbbell Flys, 4 sets of 10 reps
Biceps Curls, 4 sets of 10 reps
Bar Dips, 2 sets of 10 reps
Pushups, 4 sets of 15 reps
Leg Raises, 4 sets of 6-8 reps
Friday – Legs/Triceps/Abs/Cardio
Squats, 4 sets of 8-10 reps
Leg Press, 4 sets of 8-10 reps
Calf Raises, 4 sets of 10 reps
Hack Squats, 4 sets of 10 reps
Close-Grip Bench Press, 4 sets of 8-10 reps
Leg Extensions, 4 sets of 10 reps
Saturday – Cardio
Treadmill running for 45 minutes
Sunday – Rest day
---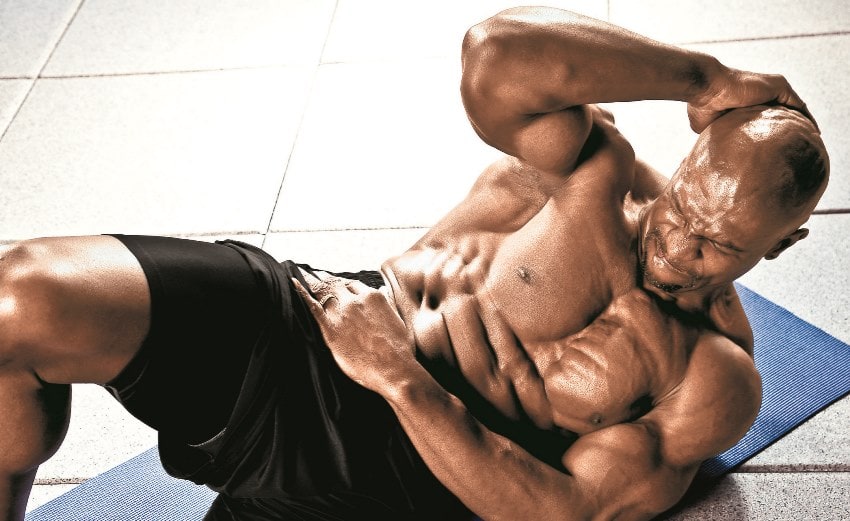 Nutrition
Intermittent Fasting
Terry doesn't believe in the idea of bulking and cutting. He likes to stay lean year-round, saying; "I always stay about two weeks out from being able to take my shirt off. There's no off-season for me. I don't like this whole bulking up and getting down thing. You should be ready to look good all the time."
One of the ways he achieves this is by doing Intermittent Fasting. The term means not eating anything for a period of time. In Terry's case, he doesn't eat anything until 2 p.m. After this, he has an 8-hour window during which he consumes three or four meals. His biggest meal comes last – around 10 p.m.
During his fasting periods, Terry only drinks green tea and amino-acids. They provide him with vitamins and other essential proteins he needs.
As a result of this approach, Terry's weight doesn't fluctuate. It stays at around 235 pounds throughout the entire year.
Meal Plan for a Movie Role
While he was "shredding down" for a movie role in 'The Expendables,' Terry followed this diet;
1st Meal
2nd Meal
3rd Meal
4th Meal
5th Meal
6th Meal
---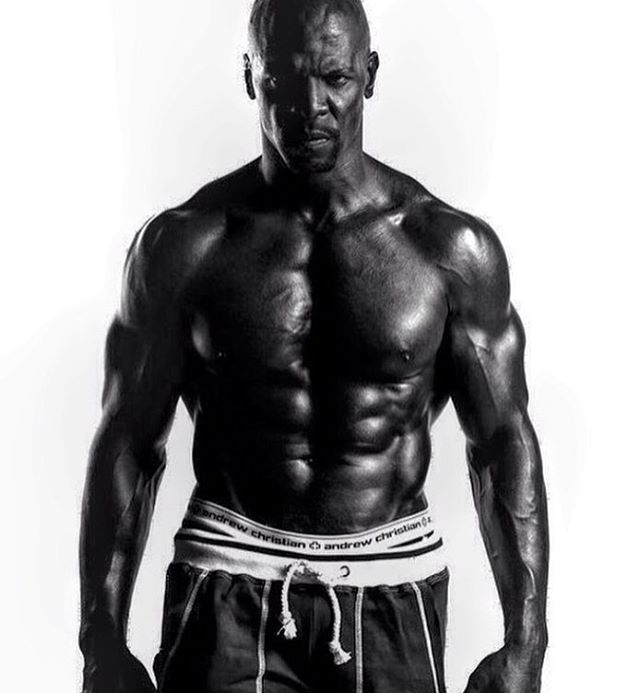 Idols and Influences
Although he had support from his family and close friends, Terry had to be his own influence for the better part of his acting career.
He had to "plow through" those difficult periods where he didn't get any movie roles; having only hope as his motivation to continue working hard on his career.
---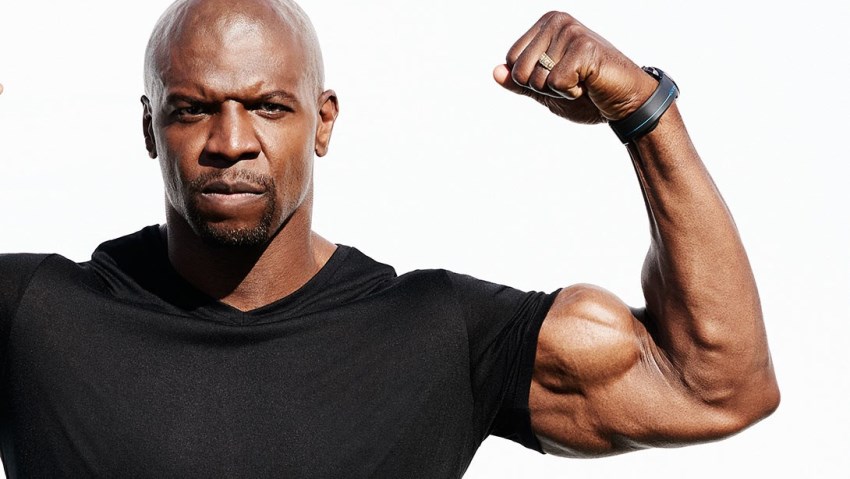 "I'm a very physical actor; everything I do is pretty much body-oriented. I sometimes am able to deliver information just with a look; my face does two or three different things, and it says it all. "
What we can learn from Terry Crews
Even though Terry is an individual with an enormous talent for acting, and sports, he's proven to everyone that hard work is still the number one recipe for success. As he says; "Without sacrifice, talent by itself is not enough." 
That's why it's important to keep "putting in the reps" on your journey towards greatness. Without relying too much on 'external factors.' It's important to push through those moments where it feels like nothing is going according to plan. It's during these moments that characters of greatness are built – just like in Terry Crew's case.