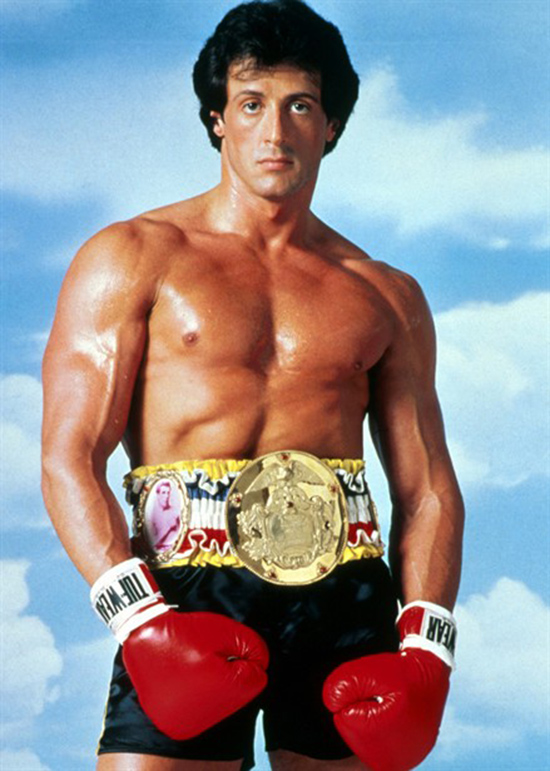 Sylvester Stallone
Actor, Director, Producer, Fitness Superstar, Businessman
Sylvester Stallone, or Sly as he's commonly known as, is one of the most iconic action heroes to ever grace the big screen. He's inspired generations of people to 'hit the iron' and get into shape for over 40 years. Even though Stallone is now in his 70's, he's still rocking the fitness lifestyle, looking stronger and leaner than ever before.
If anyone has proven the willingness to work hard against all of the odds, it's this man. Stallone fought to make a name for himself in the very beginning of his acting career. He even sold his dog to put food on the table – displaying heart, passion, and 'true grit' to make it to the top.
Looking through his gleaming career as a fitness superstar, Hollywood actor, director, and businessman. It's clear Sylvester Stallone has marked himself as one of the great icons of the 20th century.
This is his story:
---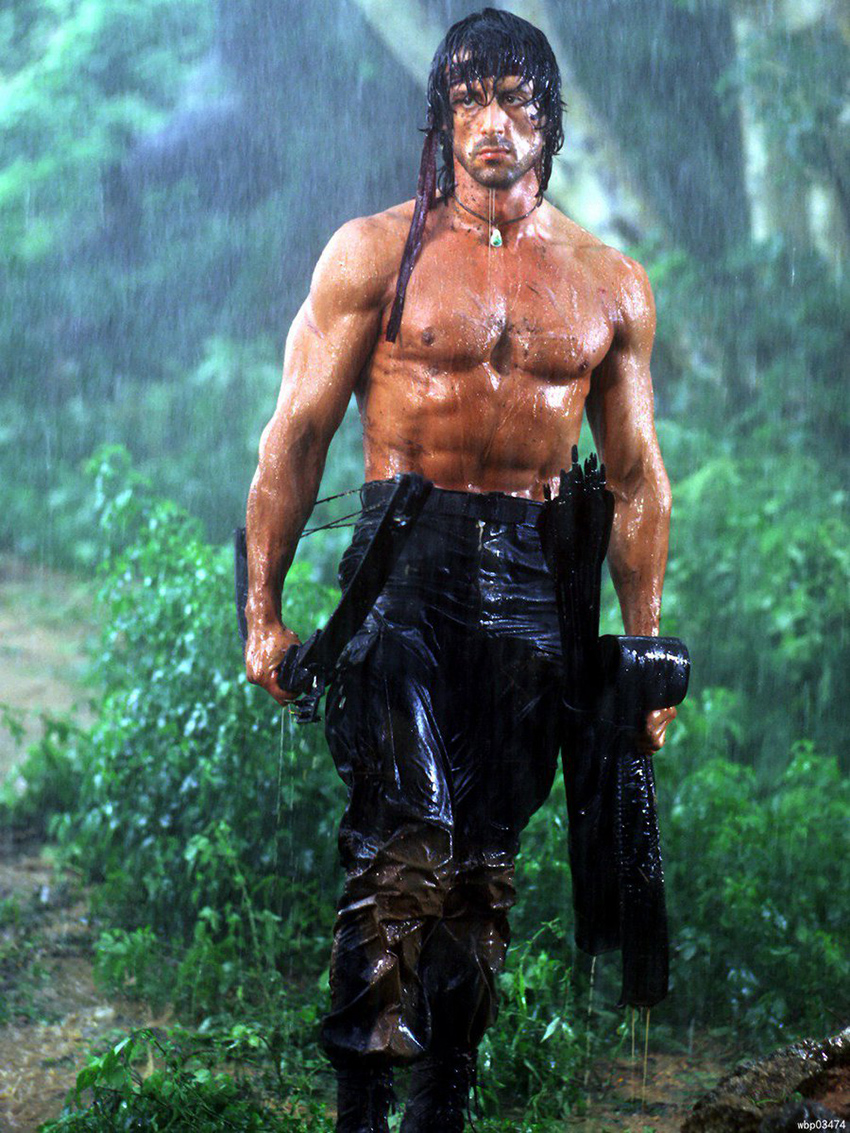 "I believe there's an inner power that makes winners or losers. And the winners are the ones who really listen to the truth of their hearts."
Athlete Statistics
Full Name: Michael Sylvester Gardenzio Stallone
Weight
Height
Age
Date of Birth
185 - 195lbs (83.9 - 88.5kg)
5'10" (177.5cm)
76
July 6, 1946
Nationality
Profession
Era
American
Actor, Director, Producer, Fitness Superstar, Businessman
1960, 1970, 1980, 1990, 2000, 2010
| | |
| --- | --- |
| Weight | 185 - 195lbs (83.9 - 88.5kg) |
| Height | 5'10" (177.5cm) |
| Age | 76 |
| Date of Birth | July 6, 1946 |
| Nationality | American |
| Profession | Actor, Director, Producer, Fitness Superstar, Businessman |
| Era | 1960, 1970, 1980, 1990, 2000, 2010 |
---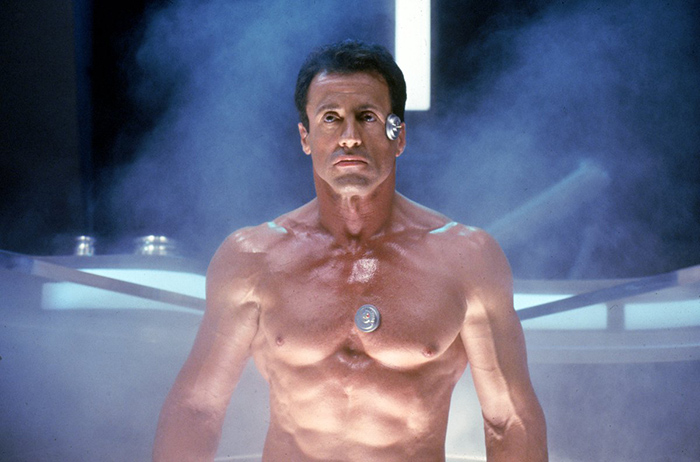 "You, me, or nobody is gonna hit as hard as life. But it ain't about how hard ya hit. It's about how hard you can get hit and keep moving forward. How much you can take and keep moving forward. That's how winning is done!"
Accomplishments
Film History
1969

Downhill Racer
The Square Root

1970

MASH[1]
The Party at Kitty and Stud's
Pigeons
Lovers and Other Strangers
No Place to Hide

1971

Bananas
Klute
1972
What's Up, Doc?
1974
The Lords of Flatbush

1975

Capone
Death Race 2000
Farewell, My Lovely
The Prisoner of Second Avenue
Mandingo

1976

Cannonball
Rocky

1978

F.I.S.T.
Paradise Alley
1979
Rocky II

1981

Nighthawks
Escape to Victory

1982

Rocky III
First Blood
1983
Staying Alive
1984
Rhinestone

1985

Rambo: First Blood Part II
Rocky IV
1986
Cobra
1987
Over the Top
1988
Rambo III

1989

Lock Up
Tango & Cash
1990
Rocky V
1991
Oscar
1992
Stop! Or My Mom Will Shoot

1993

Cliffhanger
Demolition Man
1994
The Specialist

1995

Judge Dredd
Assassins
1996
Daylight

1997

Cop Land
The Good Life

1998

54
Antz
2000
Get Carter
2001
Driven

2002

D-Tox
Avenging Angelo

2003

Taxi 3
Spy Kids 3-D: Game Over
Shade
2006
Rocky Balboa
2008
Rambo
2010
The Expendables
2011
Zookeeper

2012

The Expendables 2
Bullet to the Head

2013

Escape Plan
Homefront
Grudge Match

2014

The Expendables 3
Reach Me
2015
Creed
2016
Ratchet & Clank

2017

Guardians of the Galaxy Vol. 2
Animal Crackers
2018
Escape Plan 2: Hades
2018
Creed II
TBA
Escape Plan 3
---
"I am not the richest, smartest or most talented person in the world, but I succeed because I keep going and going and going."
Biography
Early Life
Sylvester Stallone is the elder son of Jacqueline Stallone and Frank Stallone, Sr. He was born in the Hell's Kitchen neighborhood located in Midtown Manhattan, New York City.
Sylvester's father, who was a hairdresser originally from Aulia Italy – emigrated to the United States in the 1930s. His mother was of half-French half-Ukrainian descent.
Sylvester also has a younger brother who, just like him, is an actor and musician.
Facial Complication
When Stallone's mother was giving birth to Sylvester, the doctors had to use two pairs of forceps. Unfortunately, there was a slight complication.
The doctors misused these forceps, accidentally cutting a nerve which resulted in paralysis in parts of Sylvester's face.
He was left with a permanent impairment on the lower left side of his face – an accident which has given Sylvester Stallone his unique speech and looks.
Education
Sylvester attended Notre Dame Academy and Lincoln High School, located in Philadelphia. Following his graduation, he enrolled in Charlotte Hall Military Academy, and later the University of Miami and Miami Dade College.
Acting Career
Sylvester Stallone is famous for his action roles in Hollywood movies. Including Rocky Balboa, a legendary boxer and the title character of the Rocky film series (1976-2015).
He's also known for his role of John Rambo, a soldier and the main character in Rambo movie franchise (1982-2008). One of his more recent blockbuster roles was that of Barney Ross in The Expendables series (2010-2014).
---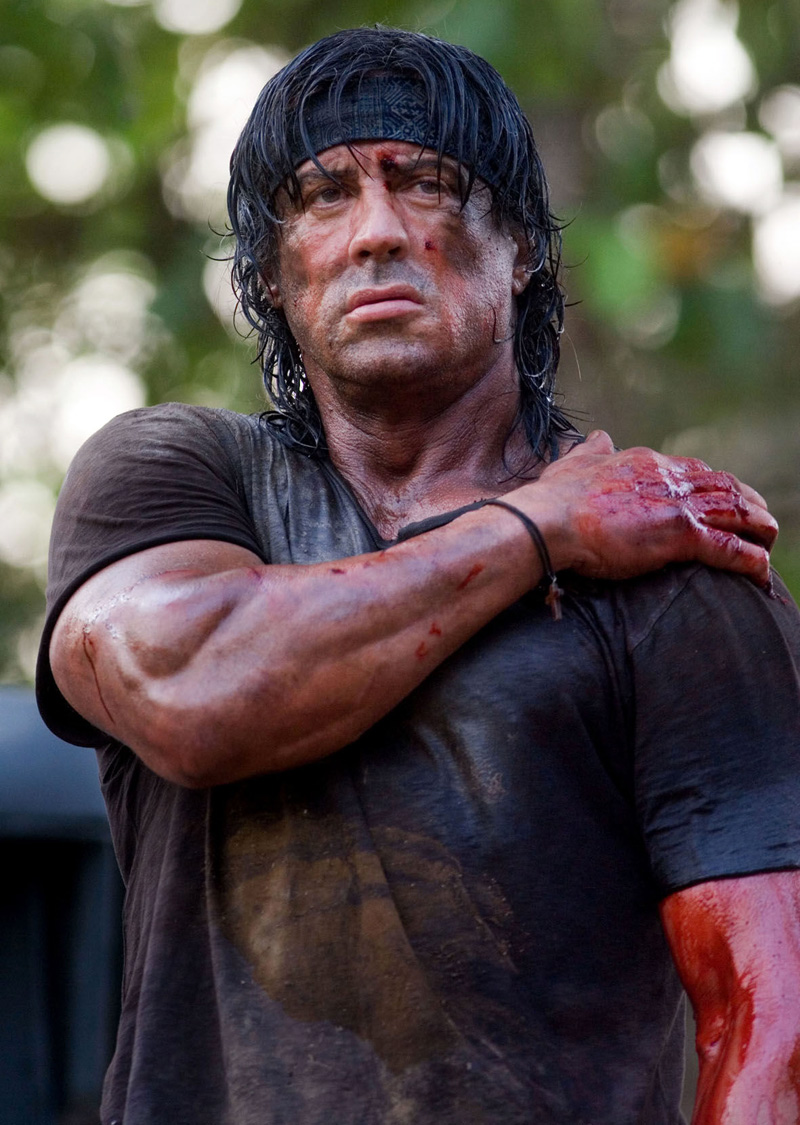 Sylvester Stallone during one of the scenes in Rambo 4.
---
Rocky Balboa
The movie Rocky was so successful that it was inducted into the National Film Registry, in addition to having its place in the Smithsonian Museum.
Also, Sylvester's iconic film scene where he used the front entrance to the Museum of Art in Philadelphia resulted in the area being nicknamed The Rocky Steps – a memento of the huge mark the Rocky movie franchise had left.
The Rocky Statue
However, this wasn't all. The governing bodies of Philadelphia agreed to have a statue of Rocky character placed permanently near the Philadelphia Museum of Art.
This was yet another reminder of the huge impact the movie had left on people. In the early December of 2010, Sylvester Stallone was voted into the International Boxing Hall of Fame.
In 1977, he was nominated for two Academy Awards for his movie role in Rocky – Best Actor, and Best Original Screenplay. With this feat, Sylvester became the third man in history to receive two nominations for the same movie; the other two were Orson Welles and Charlie Chaplin.
---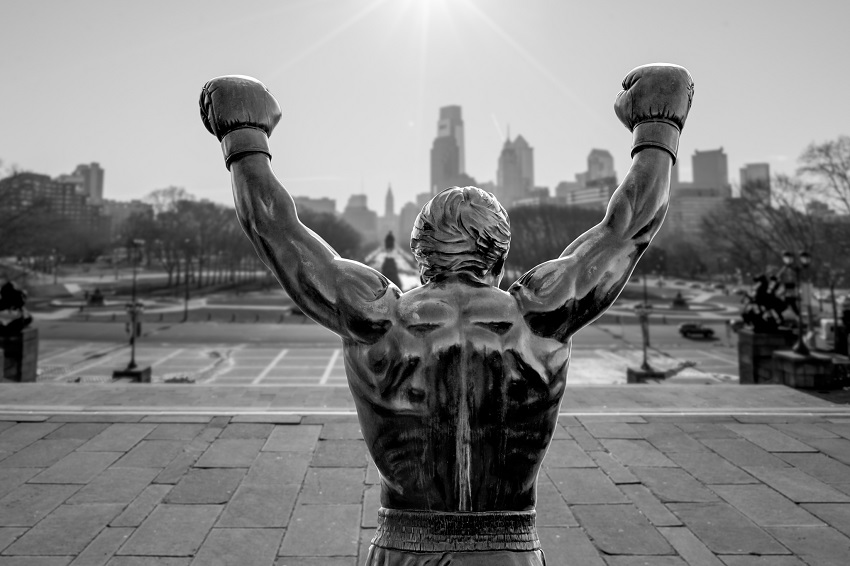 Rocky Balboa's statue in Philadelphia, standing as a memento of one of the most iconic scenes in Rocky film series.
---
Personal Life
Sylvester Stallone has been married on three occasions. At the age of 28, he married his spouse Sasa Czack. Sylvester and Sasha had two sons together, one of which unfortunately died at the age of 36 due to a heart disease. Sylvester's other son from his first marriage was diagnosed with an autism disorder when he was a child. Sylvester and Sasa divorced in February 1985.
On the same year in December, Sylvester married actress and a model Brigitte Nielsen. The ceremony was held in Beverly Hills, California. The marriage was short-lived, lasting only two years. The divorce between Sylvester and Brigitte was highly publicized by the mainstream media and caused a lot of disturbance in their personal lives.
Sylvester Stallone's third marriage came in May 1997. That year, he married Jennifer Flavin with whom he had three daughters – Scarlet, Sophia, and Sistine. At the 74th Golden Globe Awards, Sylvester's daughters were elected to be Miss Golden Globe, also known as The Golden Globe Ambassador.
In August 2012, Sylvester's half-sister Toni Ann Filiti died after a long battle with lung cancer. Refusing to spend her last days in a hospital, Toni died at their mother Jackie's home in Santa Monica.
Stallone's 'Infamous' Injuries
Sylvester Stallone was known for his willingness to do many of his own stunts, as well as playing physically demanding roles. As a result, he suffered a number of injuries during his acting career.
During one of the scenes in Rocky IV, Stallone told Dolph Lundgren to punch him as hard as he could in the chest. "Next thing I know, I was in intensive care at St. John's Hospital for four days. It's stupid!" said Stallone.
In a fight scene with Steve Austin in The Expandables, Sylvester broke his neck. Consequently, he had to go to the emergency to have a metal plate inserted. While filming a scene in Escape to Victory, Sylvester broke his finger trying to save a penalty spot kick from the legendary footballer Pelé.
It was also in the film 'Rambo First Blood' where Stallone fell through tree branches, breaking his ribs due to the heavy impact of the fall. The cast and crew though his acting was astonishingly real, until they found out he was screaming in pain due to his broken ribs.
---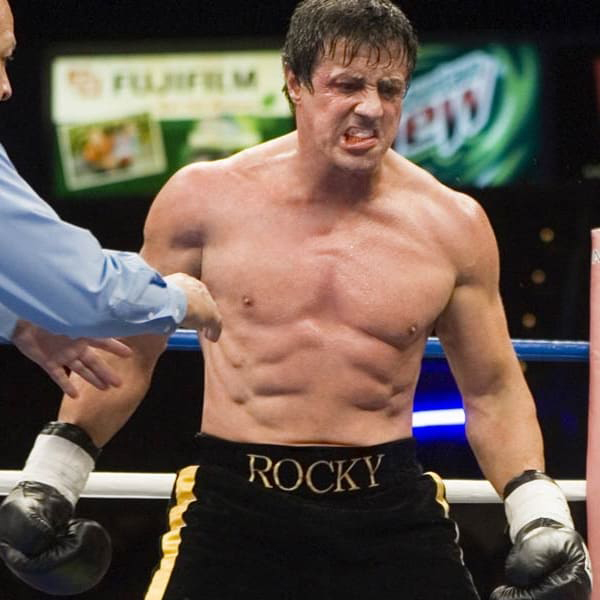 "Every time I've failed, people had me out for the count, but I always come back."
Training
Sylvester Stallone's Rocky Training
Sylvester's workouts for Rocky series changed dramatically from movie to movie. In Rocky 3, he followed a metabolic conditioning circuits method, which allowed him to quickly burn fat, resulting in a ripped physique.
On the other hand, when he trained to look bigger for the Rocky Balboa movie role. Sylvester followed a typical 6-days-a-week bodybuilder's workout, focusing on heavy weights and high volume.
During his preparations for Rocky II movie, Sylvester trained under the guidance of the two-time Olympia champion Franco Columbu. Franco helped Sylvester get in the best shape of his life by forcing him to do the same workout routine he did for the Mr. Olympia contest. Needless to say, it was a big challenge.
Here's Franco talking about his experience training Sylvester Stallone; "If I took a weight and did 12 reps, Sylvester would have to try and to at least 7. After all, I may be stronger than he is, but not that much stronger.
Then, next set, I'd do 15 reps, so he would have to increase his reps to at least 10. By the end of our training, he was doing curls with 70-lbs dumbbells!" – Franco Columbu
---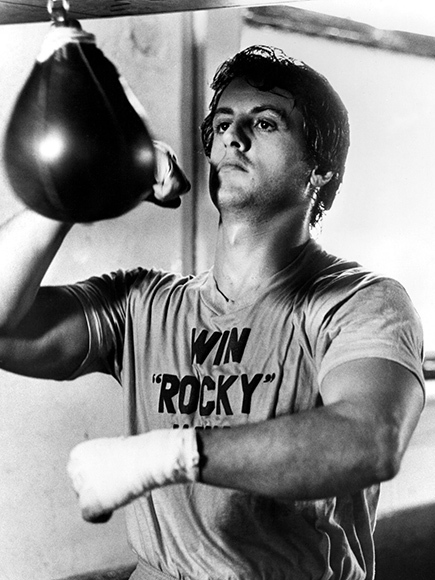 ---
Rocky II Workout Routine
Sylvester Stallone used a 14-day split for his Rocky II movie role. Here's how it looked;
Day
Morning
Afternoon
Day 1
Chest / Shoulders
Arms/Abs
Day 2
Back
Legs
Day 3
Chest / Shoulders
Abs
Day 4
Arms
Abs
Day 5
Legs
Back
Day 6
Chest / Shoulders
Abs
Day 7
Rest
Day 8
Arms/Abs
Legs
Day 9
Back
Abs
Day 10
Chest / Shoulders
Arms
Day 11
Back/Abs
Legs
Day 12
Chest / Shoulders
Abs
Day 13
Arms
Abs
Day 14
Rest
---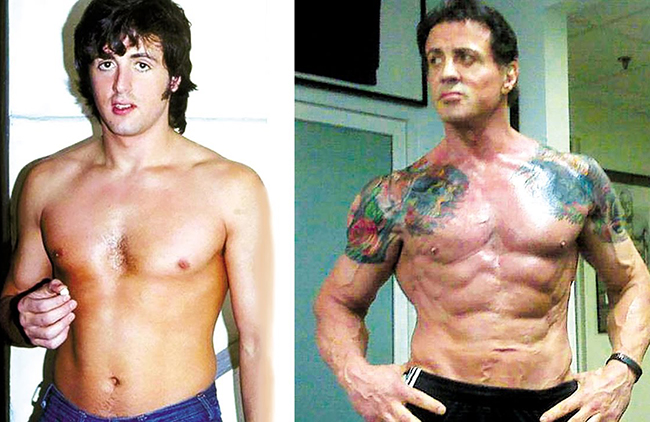 "Every morning, I crawl out of bed. I sit there and think, 'Do I really need this?' And I drag myself to the gym in my garage. It's not fun. I hate it. I work out alone. Weights."
---
Rocky II Shoulder Workout Routine
One of Sly's most prominent body parts in the Rocky II movie was his shoulders. To build them, Sly incorporated different exercises which targeted all three of his deltoid heads. These exercises included standing lateral raises, alternating dumbbell front raises, and Arnold press.
Unlike with other body parts, Sylvester didn't do any supersets. Instead, he focused on doing one exercise after another with minimal rest between sets. He also used a spotter for behind-the-neck presses to help him with the last few reps.
Sly's shoulder routine;
Arnold Press, 4 sets of 10 reps
Standing Lateral Raises, 4 sets of 10 reps
Bent-over Lateral Raises, 6 sets of 10 reps
Behind-the-Neck Presses, 4 sets of 10 reps
Alternating DB Front Raises, 3 sets of 8 reps
Cable Lateral Raises
---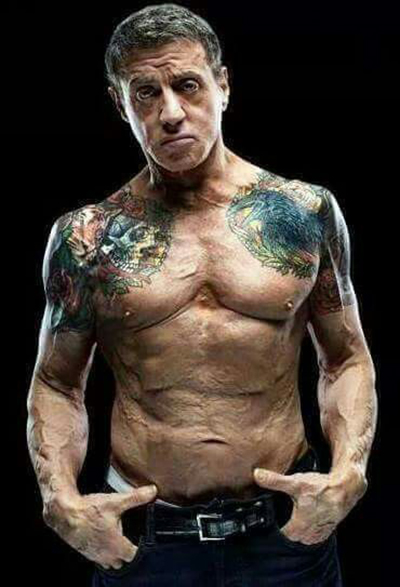 ---
Training for Rambo 4
Sylvester Stallone's Rambo 4 workouts were nothing short of awe-worthy. Aged 61 at the time, Sly utilized double split workout routine for his Rambo 4 role.
Specifically, he trained six days a week, two times per day. He'd do cardio in the morning, and train with weights later in the day, or vice versa. In each exercise, he'd do anywhere between 3-4 sets and 8-12 reps.
At his age, it was extremely difficult to gain lean muscle and lose fat at the same time. However, there was no obstacle too big for Sly. He poured his 'heart and soul' into his Rambo 4 workouts, sculpting a chiseled physique in the process.
His Rambo 4 workout routine looked like this;
Monday/Wednesday/Friday
Morning
Afternoon
Shoulders
Arms
Abs
Cardio
Tuesday/Thursday/Saturday
Morning
Afternoon
Rear Delts
Traps
Abs
Cardio
---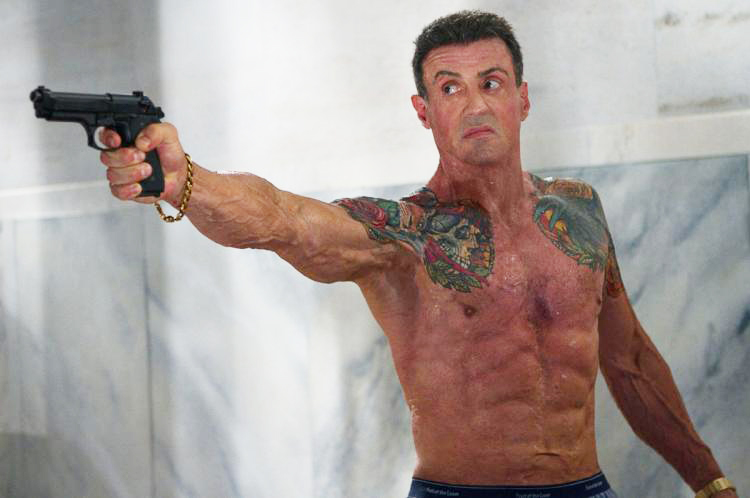 ---
Cardio Training For Movies
Whenever he wanted to lose fat for a movie role, Sly would do cardio 5 times per week for 30 minutes.
He'd train on the stationary bike, treadmill, or another traditional cardio machine, usually on an empty stomach early in the morning. His heart rate would be at around 85% of his maximum.
In the evening, Sylvester would do one more cardio session, repeating the same process as in the morning.
---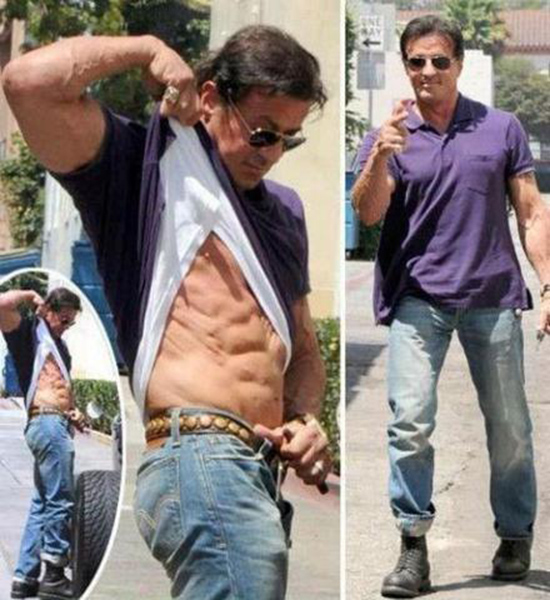 Nutrition
Sylvester Stallone's Diet Overview
Sly's primary goal when dieting for movies was that of strength and fat loss. Because of this, he ate similarly to professional bodybuilders – consuming high amounts of proteins, moderate amounts of carbohydrates, and low-to-moderate amounts of fat.
His diet also included supplements such as protein powders, fat burners, multivitamins, and BCAAs. In conjunction with healthy foods, these supplements helped Sylvester get ripped and muscular in the shortest space of time possible.
A typical day of eating for Sylvester Stallone looked like this;
Pre-breakfast: A glass of liquid amino-acids
Breakfast: 3 egg whites, half a yolk, Irish oatmeal, toasted pumpernickel bread, fresh papaya, few figs
Lunch: Roasted summer squash, broiled skinless chicken, salad, figs or berries
Dinner: Salad, broiled fish, high-fiber toasted bread; occasionally veal
---

---
Insane Dieting For Rocky III
In order to sculpt his impressive Rocky III physique, Sylvester Stallone had to push his diet to the absolute extreme. While filming for the movie, Sly's meals consisted of extremely small portions of low-calorie cookies made with oatmeal and brown rice. In addition, he'd consume up to 25 cups of coffee every single day.
His diet was based on lean proteins and almost no carbohydrates – he didn't even consume fruits or vegetables. As a result, Stallone's body would be pushed to its absolute limits at times, resulting in extreme exhaustion and lightheadedness.
In fact, Sly admitted he would get so exhausted from his dieting, that while filming his boxing rounds, he'd do handstands in the corner just to get the blood flowing into his brain. This, in turn, would help him not to collapse.
But, this wasn't all. Because of his extreme diet, Sylvester reached a point where his body fat was at a dangerously low 2.9%, similar to professional bodybuilding competitors. Although Sylvester later said that this wasn't the best idea, he doesn't regret doing it.
---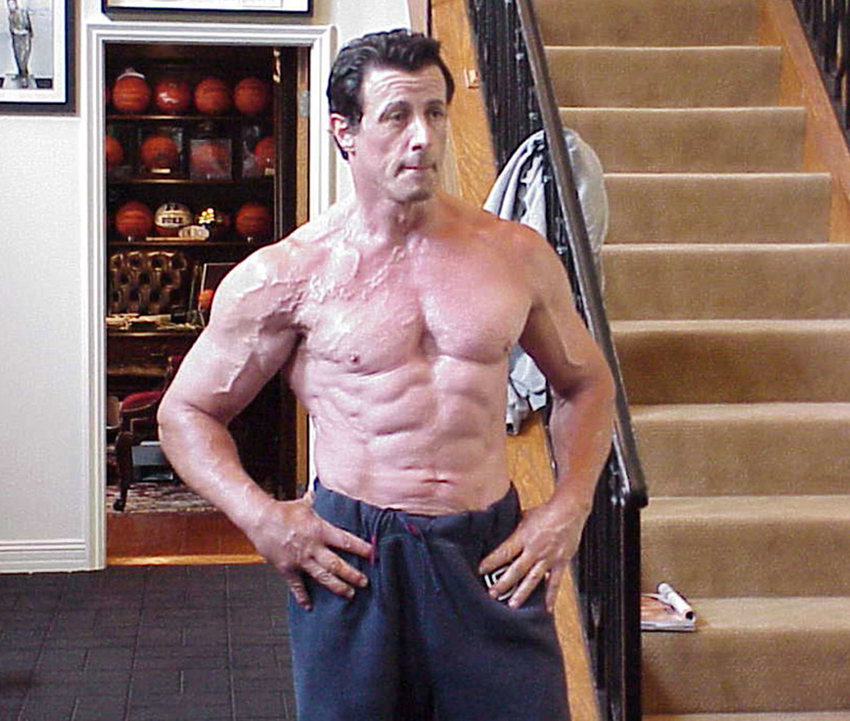 "Testosterone to me is so important for a sense of well-being when you get older."
---
Sylvester Stallone's Supplement Stack
These were the supplements Sylvester Stallone took for his movie role in Rambo 4;
BCAAs
Protein Powder
Glutamine
Fat Burner
Multivitamin
---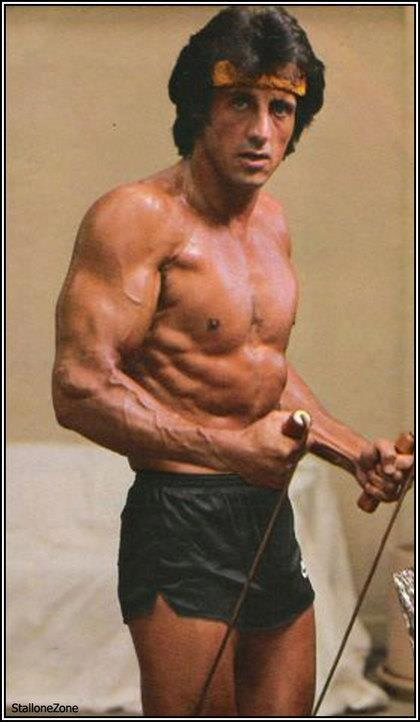 Idols and Influences
Sylvester Stallone has been an idol for generations of people – a person they have looked up to and tried to emulate.
His incredible life's story, glittering career, and larger than life personality have inspired countless of individuals to become a better version of themselves, and will continue to do so for years to come.
---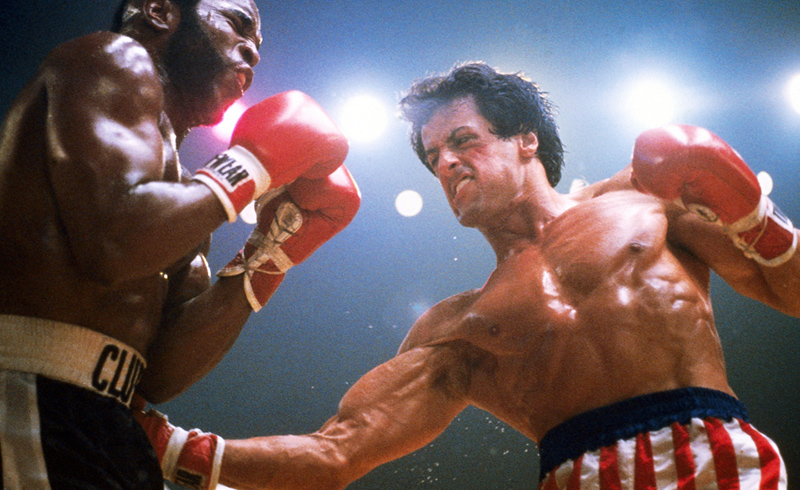 "Once is a man's life, for one mortal moment, he must make a grab for immorality; if not, he has not lived."
What we can learn from Sylvester Stallone
The biggest lesson Sylvester Stallone has left us with is this; all your goals, dreams, and ambitions are within your reach, as long as you don't give up.
Sylvester had all the odds against him, life brought him down numerous times, but he didn't give up. Through hard work, dedication, and perseverance, Sylvester reached the top, becoming an icon we all know today.
Stallone's Motivation
If you ever need the inspiration to accomplish your goals, here's a famous quote from Sylvester Stallone that might help; "Let me tell you something you already know. The world ain't all sunshine and rainbows.
It's a very mean and nasty place and I don't care how tough you are it will beat you to your knees and keep you there permanently if you let it. You, me, or nobody is gonna hit as hard as life.
But it ain't about how hard ya hit. It's about how hard you can get hit and keep moving forward. How much you can take and keep moving forward. That's how winning is done!" – Sylvester Stallone