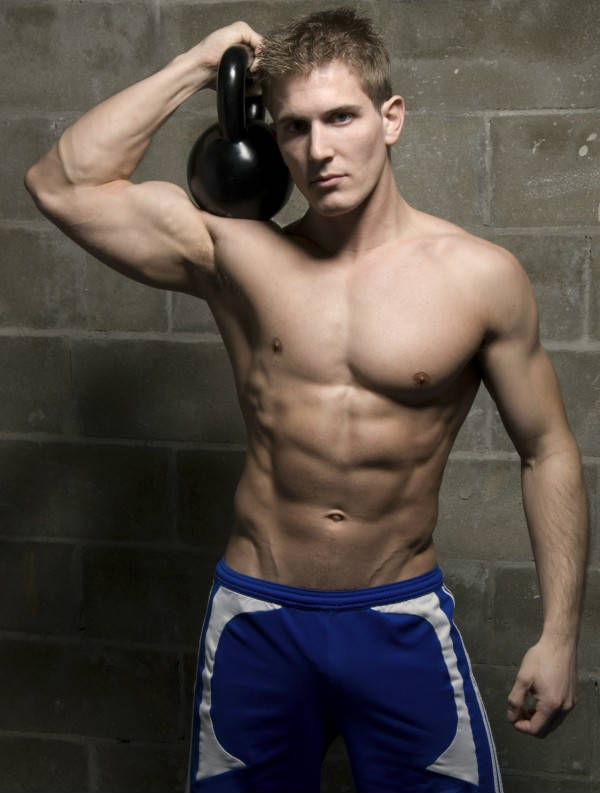 Scott Herman
Fitness Model, Entrepreneur
Scott Herman is a fitness model, entrepreneur and social media celebrity from Massachusetts, U.S.A.  He is a well-known face on YouTube, who has dedicated his life to building an enviable physique and helping others build theirs.
His introduction to bodybuilding came when he was 12 years old. He found his father's old weights in his basement and was "hooked" straight away. From that day forward, he began to train as hard as possible, hoping to work in the fitness industry, as well as in acting.
His dedication paid off, and he landed a role on a famous reality show. After this, he created a YouTube channel which has attracted over a million subscribers. He tries to help everyone sculpt a great physique, through regular instructional and motivational videos. This is his story:
---

Athlete Statistics
Full Name: Scott Herman
Height
Age
Date of Birth
Nationality
5'10" (177.5cm)
39
October 18, 1984
American
Profession
Fitness Model, Entrepreneur
| | |
| --- | --- |
| Height | 5'10" (177.5cm) |
| Age | 39 |
| Date of Birth | October 18, 1984 |
| Nationality | American |
| Profession | Fitness Model, Entrepreneur |
---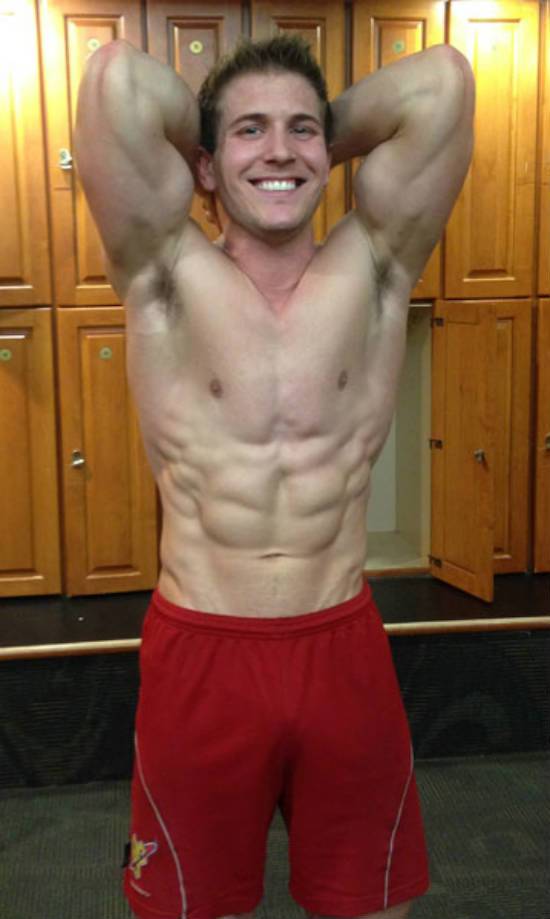 "Determination. It makes everything possible."
Accomplishments
---

Biography
Early Years
Scott was born and raised in Massachusetts, U.S.A. He played many sports as a child such as wrestling and soccer, and says that his first interest in muscular physiques, came from watching his favorite superheroes on television.
He says that he always wanted to be a stronger version of himself, due to the fact that he was bullied as a child. He says; "I thought that if I had big muscles like they had, I could stop other kids from picking on me or anyone else."
While he suffered from some bullying at school, he says that his family life was relatively normal. He grew up in a big family, which put "tough love," as well as independent thought first. He says that because of this, he had to work hard to achieve anything.
Bodybuilding Beginnings
Scott's first actual taste of bodybuilding, came when he stumbled across his Dad's weight set in his basement. He was 12 years old at the time, and says he "had no idea" about how to lift correctly at all.
His Dad made sure that Scott learned the basics, and he says that for a while, his relatively light weight set was enough. But Scott wanted more. He applied to clean for 3 hours every Saturday at a local Gold's Gym for free membership, and became obsessed with the fitness lifestyle.
He says that, initially, lifting weights was a way to vent his anger, but it eventually became an important part of his life. When reflecting on this period, Scott says "my limitations were only the ones I set in my mind, and I have been hooked ever since."
---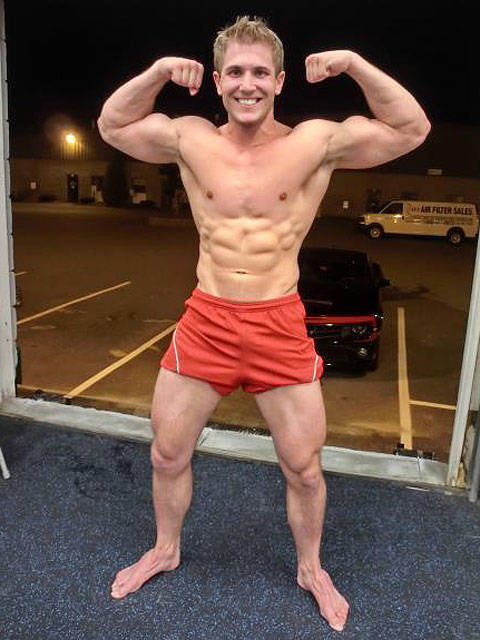 ---
College And First Acting Roles
Scott didn't stop working out for a second during his teenage years. He managed to juggle his workout schedule, with a college degree in Business from Merimack College, and a successful DJ business which he managed.
While he improved his body, he became more self confident and decided to find some work in television. He moved to Brooklyn in New York, and began to work with talent scouts to find some roles.
Scott managed to land a place on a show called 'The Real World' – a reality TV show where strangers are filmed living together. He was chosen due to his toned physique and "surfer look"  He enjoyed the role greatly.
Winning 'Iron Abs'
When Scott entered his final year of college, he had built an enviable physique and had decided to make a name for himself in the fitness world. He entered the Men's Health 'Iron Abs' competition, and managed to win.
On the back of this competition win, Scott was also being invited to fitness industry events. He traveled around New York and met with a number of high-profile brands which sponsored him in photo shoots.
Starting YouTube Channel
With the confidence he had gained in his acting role and Iron Abs victory, Scott decided to start a YouTube channel to help other people reach their fitness goals. He managed to build this page into one of the most popular channels on the website, gaining over 1,300,000 followers by 2017.
From this page he offers advice regarding nutrition and weight lifting technique. He's become a well-known figure alongside individuals such as Elliott Hulse and Scooby Werkstatt.
---

Training
Free weights Over Machines
Scott believes that machines have their place, but for the most part, he says they are not necessary. The only time Scott uses machines is for his abdominal workouts, but aside from that he always uses free weights.
He also maintains his intensity with the free weights all year-round. He says that he has "never had an off-season," and doesn't feel the need to have a bulking or cutting season. His only regret through doing this, is that his muscle gains are relatively slow.
His Three Favorite Exercises
Scott's three exercises of choice are the deadlift, seated dumbbell overhead extension, and the dumbbell bench press. He loves the deadlift due to its compound movement, which works the glutes, hamstrings and quads.
When it comes to the other two exercises, he says that dumbbell exercises are some of the best for creating a toned physique.
He loves the pump he can generate through the shoulder press, and he sees the dumbbell bench press as superior to the barbell press. This is because it engages the pecs well and prevents a lot of injuries.
Workout Routine
Scott focuses on making lean gains. His routine to do so looks like this:
MONDAY- Chest and abs
Dumbbell chest press – (3 sets) 6-8 reps
Dumbbell incline chest press – (3 sets)  6-8 reps
Cable flys: high – (3 sets)  6-8 reps
Cable flys: low – (3 sets)  6-8 reps
Cable flys: middle – (3 sets)  6-8 reps
TUESDAY- Back Shoulders and Abs
Lat pull-downs – (3 sets)  6-8 reps
Reverse pull-downs – (3 sets)  6-8 reps
Deadlifts (straight bar) – (3 sets)  6-8 reps
Wide-grip pull-ups – (3 sets) 6-8 reps
Low rows – (3 sets) 6-8 reps
Dumbbell shoulder press – (3 sets) 6-8 reps
Dumbbell lateral raises – (3 sets) 6-8 reps
Dumbbell front raises – (3 sets) 6-8 reps
Dumbbell alternating overhand/underhand lateral raises – (3 sets)  6-8 reps
Shrugs (straight bar) – (3 sets) 6-8 reps
WEDNESDAY- Legs
Squats – (5 sets) 15-20 reps
Leg extensions – (3 sets) 6-8 reps
Single-leg extensions – (3 sets) 6-8 reps for each leg
Hamstring curls – (3 sets) 6-8 reps
Single-leg curls – (3 sets) 6-8 reps for each leg
Hip adduction – (3 sets) 15 reps
Hip abduction – (3 sets) 15 reps
Donkey calf press – (3 sets) 15-20 reps
Single-leg calf raises – (3 sets) 15-20 reps for each leg
THURSDAY – Arms and Abs
Straight-bar biceps curls – (3 sets) 6-8 reps
Alternating dumbbell curls – (3 sets) 6-8 reps
Hammer curls – (3 sets) 6-8 reps
Reverse curls – (3 sets) 6-8 reps
Close-grip bench press – (3 sets) 6-8 reps
Seated triceps extensions – (3 sets) 6-8 reps
Triceps push-downs (V-bar) – (3 sets) 6-8 reps
Reverse pull-downs – (3 sets) 6-8 reps
FRIDAY- Abs
SATURDAY- Rest
SUNDAY- Cardio
---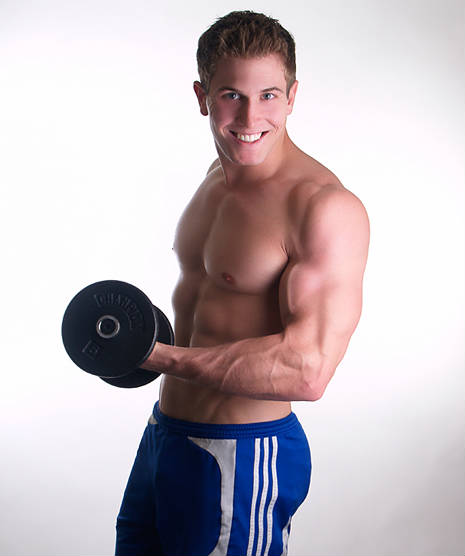 ---
 Cardio
When it comes to cardio, Scott likes to do a very simple 20 minute session three times a week. This allows him to maximize his efforts during his workout routines and maintain a leaner look.
He usually completes his session on the treadmill, and chooses a 3% incline for an 8mph run. Before these runs, he likes to complete some side shuffling for about 3 minutes. This allows him to keep his ankles as strong as possible.
---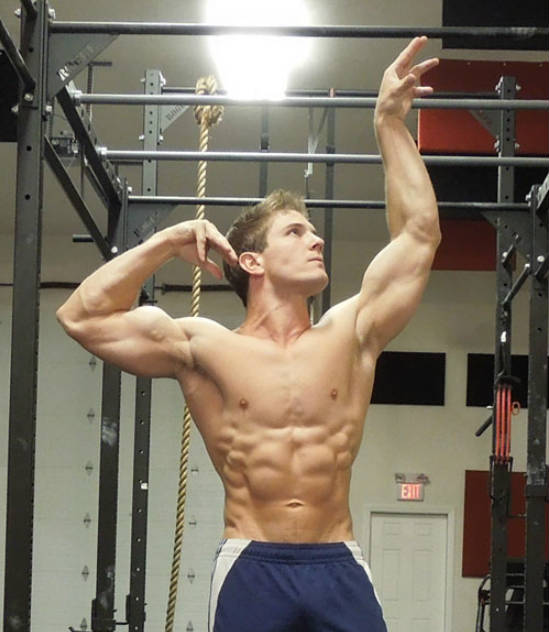 "The only thing keeping me going is not stopping!"
Nutrition
Macronutrient Target
Scott is very particular about what he eats. He focuses on figuring out his macronutrient needs for each day, and then hitting these needs exactly with healthy nutritious foods and supplements.
Because he wants to hit his macros exactly, he tends to eats the same meals everyday.
This doesn't become boring for him, as he knows that he must suffer through the meals if we wants to be rewarded with an excellent figure.
Occasionally in the off-season, Scott also likes to eat out. If he does, he says that he "makes sure he prepares for the adjustment in macros needed."  His daily calorie and macro target in the off-season is as follows:
Calories: 2800-3100
Protein: 200-220grams
Carbs: 250-350grams
Fat: 80-100grams
Staple Diet
The staple foods which Scott includes in his meal plan are below:
Greek Yogurt
Chocolate Milk
Apples
Bananas
Strawberries
Granola
Pasta
Chicken
Broccoli
Bagels
Peanutbutter
Rice
Beans
Almonds
---

Idols and Influences
Scott says that "being successful" is what keeps him motivated and dedicated to his fitness goals. He says that an athlete "can't be afraid to take risks," and he believes that succeeding against all odds has inspired him to push harder.
---

What we can learn from Scott Herman
Scott's attitude towards his diet, is one which many beginners could benefit from emulating. He focuses on his macronutrients for each day, and doesn't leave any room for error.
He plans his meals and his calories also, making sure there are no excuses as to why he couldn't improve his physique.
This is a very useful way to approach bodybuilding dieting, and is something all athletes could consider to achieve their goals – just like Scott Herman.