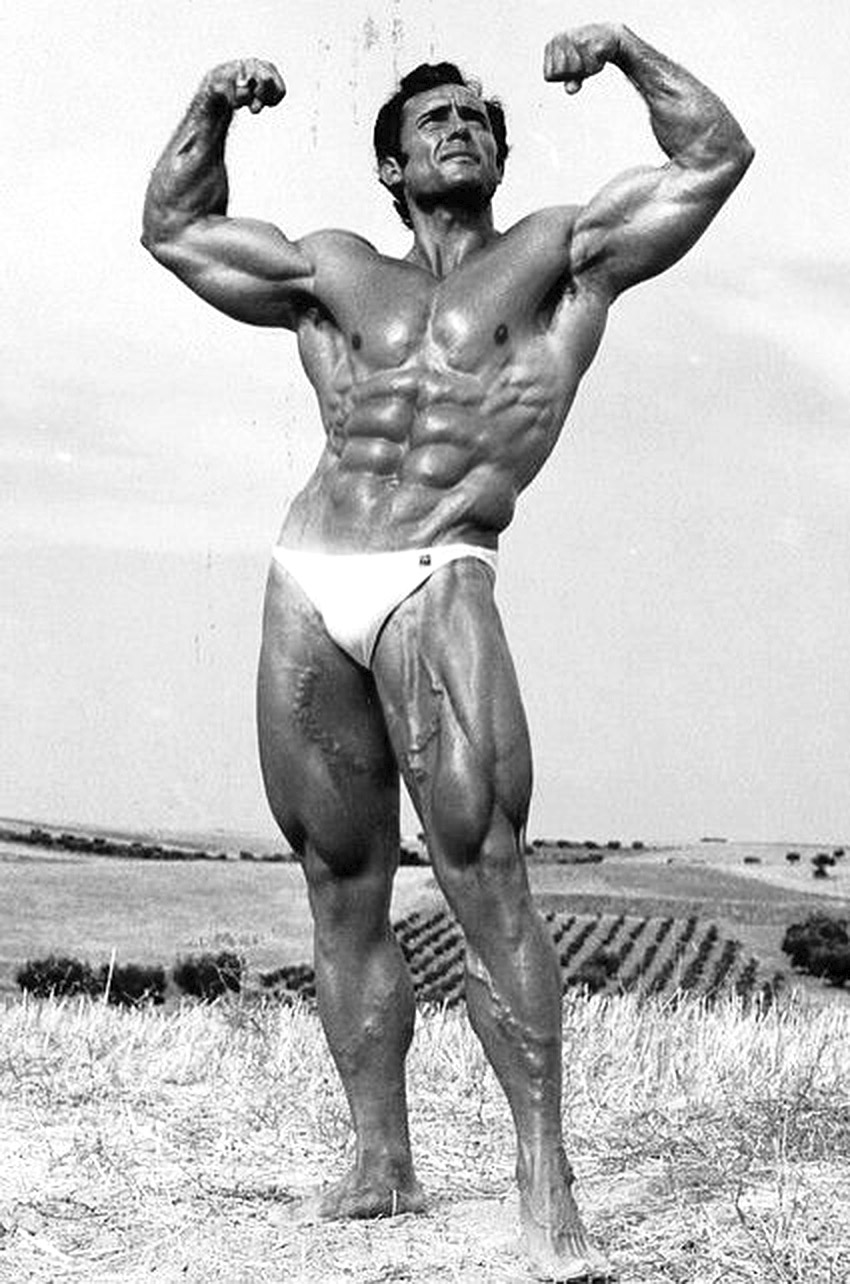 Salvador Ruiz
Professional Bodybuilder
Salvadore Ruiz (AKA. El Maestro) left his family home at 16-years-old to pursue his dream of becoming a professional bodybuilder. Through his incredible journey, he started his own company, opening three gyms and releasing a line of supplements.
Salvadore left his mark on the industry as perhaps, the great bodybuilder to have come from Spain – he's inspired countless fans to lead a healthy lifestyle, and become a national hero.
This is his story:
---

Athlete Statistics
Full Name: Salvador Ruiz
Height
Nationality
Profession
Alias
5'8" (172.5cm)
Spanish
Professional Bodybuilder
El Maestro
Era
1970, 1980
| | |
| --- | --- |
| Height | 5'8" (172.5cm) |
| Nationality | Spanish |
| Profession | Professional Bodybuilder |
| Alias | El Maestro |
| Era | 1970, 1980 |
---

Accomplishments
1967 Mr. Madrid, 1st
1969 Mr. Spain, 3rd
1974 Mr. Spain, 1st
1975 Mr. Spain, 1st
1975 IFBB Universe, 18th
1976 Mr. Spain, 1st
1976 Mr. Europe, 1st
1977 Mr. Spain, 1st
1977 NABBA Mr. Universe, 2nd
1977 WABBA World Championship, 4th
1978 Mr. Spain, 1st
1978 NABBA Mr. Universe, 1st
1978 WABBA World Championship, 1st
1980 NABBA Mr. Universe, 4th
1981 WABBA Pro World Cup, 10th
1981 WABBA World Cup, 13th
1983 IFBB World Pro, 16th
1984 IFBB World Pro, 18th
1985 IFBB Mr. Olympia, 20th
1989 IFBB Grand Prix Sweden, 12th
1989 IFBB Grand Prix Spain, 14th
1989 IFBB Grand Prix Germany, 10th
1989 IFBB Grand Prix France, 4th
---

Biography
Early Years
Born in Argamasilla de Alba, Spain, Salvadore took part in numerous sports growing up, such as cycling and boxing. However, the small village where he lived had no gym.
As he grew older, his passion for fitness developed – at the age of 15, Salvadore became unhappy with the lack of sports facilities in his home.
The youngster crafted barbells using cement and began weight lifting at the back of a bread factory.
Fitness Journey
A year later, by the age of 16 in 1962, Salvadore had made strong progress to his physique and fallen in love with fitness. At this point, he wanted to take his passion further.
That same year, Salvadore moved to Barcelona, determined to pursue a career in fitness. For the next two years, he worked as a waiter while developing his body.
However, there weren't many opportunities to compete, so he moved again, to Madrid. It was here that his career as a bodybuilder really began.
---

---
Competing
After moving in with his relatives in Madrid, at the age of 21, Salvadore entered his first competition – the 1967 Mr. Madrid show.
The Spanish athlete started his competitive career strong, walking away with the trophy. This motivated him to step up his game and compete in bigger contests.
2 years later, Salvadore entered the national 1969 Mr. Spain show. Although he didn't win, he placed in the top 3 and gained valuable experience at a young age (23).
During this period, he also broke the national record for the military press by lifting 131 kilos. This exposure allowed Salvadore to gain recognition as a bodybuilder.
---

---
Entrepreneur
A few years later, alongside his growing list of achievements in the sport, Salvadore founded his own gym. By 1973, his sports facility had become so popular, that he opened a further two gyms.
During this period, Salvadore also started his own supplements company, selling protein powders among other products.
Unbeaten in Spain
Between 1974 – 1978, Salvadore remained unbeaten as a competitive bodybuilder in his home country. During this period, he'd won every Mr. Spain show and even placed in IFBB, WABBA and NABBA world championships.
Salvadore's greatest victories yet came towards the end of 1978, when he won the NABBA Mr. Universe and WABBA World Championship.
But he was only just getting started.
---

---
Becoming a Legend and Retirement
Over the course of the next decade, Salvadore placed highly in a further 10 competitions.
During this period, he placed alongside the likes of Lee Haney and Mohamed Makkawy in such prestigious shows as the 1985 Mr. Olympia – he became the first Spanish bodybuilder to compete in Mr. Olympia's history, cementing his name as a fitness icon.
After an illustrious 22-year career, Salvadore made the decision to retire from competing. He left the sport, at the age of 43, as a hero in his home country, and a legend of bodybuilding.
---

What we can learn from Salvador Ruiz
Salvadore has taught us to take action towards our dreams. He moved out of his family home at 16-years-old to pursue his ambition of becoming a professional bodybuilder.
Salvadore has proved that with enough determination, anyone can succeed. By the time he retired, he'd opened three gyms and won numerous competitions.