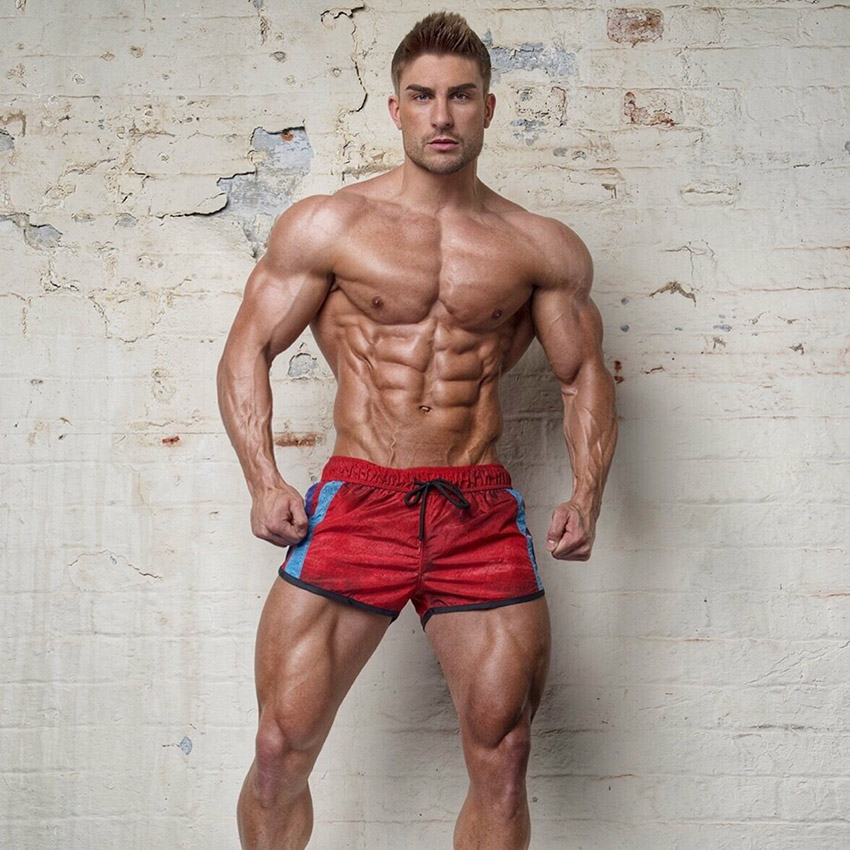 Ryan Terry
Bodybuilder, Model, Apparel Ambassador
From a competitive streak in high school to working as a plumber, Ryan Terry has proven that it's possible for anyone with drive and determination to stand shoulder to shoulder against world leading competitors and come out on top.
From a small town in the UK, Ryan has adopted hard work and a deep passion for improvement and is now known as Mister International, and this is his story:
---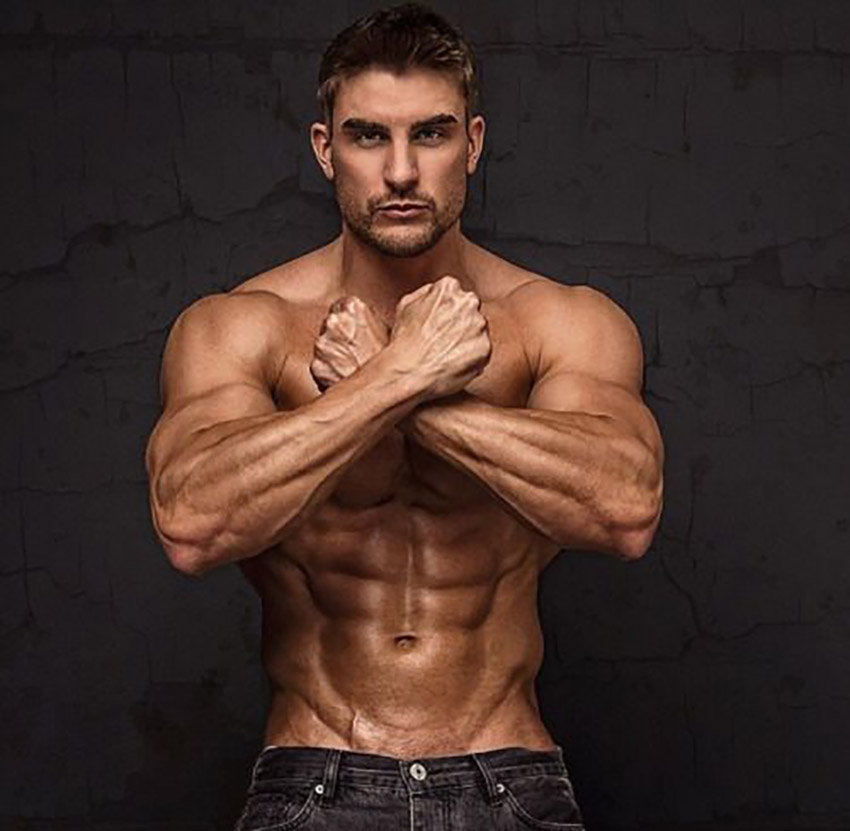 Athletic Statistics
Full Name: Ryan Terry
Weight
Height
Year of Birth
Nationality
185 - 195lbs (83.9 - 88.5kg)
5'10" (177.5cm)
1988
British
Profession
Era
Bodybuilder, Model, Apparel Ambassador
2010
| | |
| --- | --- |
| Weight | 185 - 195lbs (83.9 - 88.5kg) |
| Height | 5'10" (177.5cm) |
| Year of Birth | 1988 |
| Nationality | British |
| Profession | Bodybuilder, Model, Apparel Ambassador |
| Era | 2010 |
---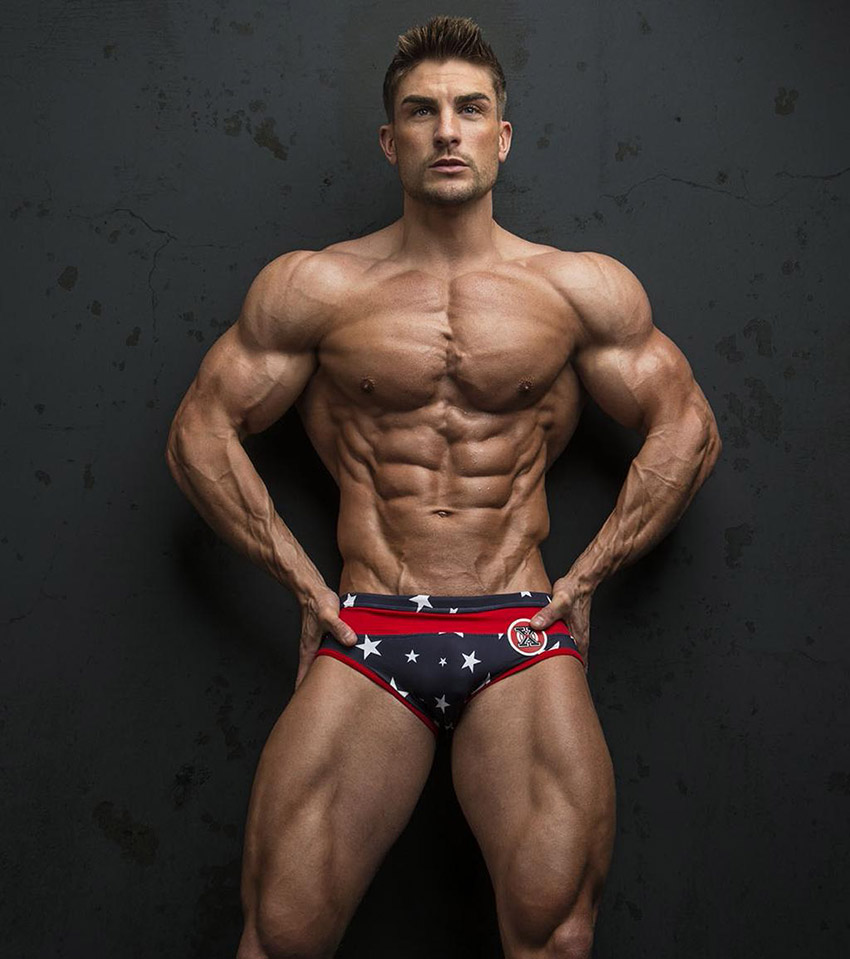 Accomplishments
Ryan became Mister International 2010 and Mister Great Britain 2010. In 2013 Ryan took the step and became an IFBB professional bodybuilder, and winning the UKBFF championships whilst becoming the first ever Men's Physique professional from the United Kingdom. After finishing in 4th place in the 2015 Mr Olympia Men's Physique Showdown and again making 4th place in the 2016 Arnold Classic competition.
Ryan has appeared in Men's Health and in numerous commercials and fitness magazines, such as Muscle & Fitness UK.
---

Biography
Building Inner Strength
Like so many of us, Ryan Terry at the age of 14 first started going to the gym to build his confidence. After many years of hard work, Ryan's progress was starting to show. Things started to get serious when he took the step and decided to compete in his first bodybuilding competition. At this time he was working as a plumber and modeling part time, but Ryan felt that this was the right way to go.
"I started training for fitness and to gain in confidence. I kept getting aggressive, set new goals and that's how I started competing. I actually started as a model and moved on to bodybuilding."
Things soon started to change when Ryan won the Mr Great Britain pageant in 2010 at the age of 21. His conditioning was at his best so he decided to represent Great Britain again in the Mr International competition in Indonesia. Ryan came away with a 1st beating his competitors from over 40 nations around the globe, he also came away with the Best Body Award.
Step It Up A Gear
Calls soon started to jam up his phone line as the UK plumber turned fitness model was being hounded to represent leading nutrition and fitness brands. This is where Ryan knew that he needed to step it up a notch, and focus on competitive bodybuilding as a career full time.
In April 2013 at UK Nationals as he secured first place and was crowned the UKBFF National Champion. The very same year Ryan became the European Arnold Classic Men's Physique Champion. Not wanting to stop there, Ryan now wants to compete in America and represent UK in the Pro Leagues and eventually compete for the Mr Olympia title.
---

"Mr International was about staying in shape rather than about the size. Switching from a beauty pageant to bodybuilding needs one to concentrate more on food and nutrition and weight training. I had to focus on aesthetically building each muscle part."
Training
Ryan's advice when starting exercising is to always see a personal trainer to get your basics right. "Don't avoid anything, be open. Progress slowly rather than causing injury" suggests Ryan. He also suggests that if you can't afford a PT you can always see lot's of great videos on online for advice on how to lift weights and working out. "Go for the resistance machine. Always emphasize on an egg-shaped body — broadened shoulders and more taper on the waist."
Ryan's Workout
Monday: Back
Wide-grip pull-up (four reps)
Close-grip pull-up and pull-down (four reps each)
Olympic bar bent over row overhand grip (four reps)
Deadlifts (four reps)
Tuesday: Shoulders
Machine shoulder press (four reps).
Side lateral raise
Dumbbell side lateral raise Bent over rear fly
Dumbbell front raise
Cable side lateral raise and shrugs.
Wednesday: Legs
Squats
hack squat
leg press
leg extension
seated hamstring kill
lying hamstring kill
walking lunges
calf raises (single and double)
Thursday: Arms
Tricep dips
cable rope push down
skull pushes
EZ bar
dumbbell hammer curl
Friday: Abs and Chest
Waited ab machine crunch
plank
sit-ups
cable wood chops
Incline barbell press
Inclined dumbbell press
flat bench dumbbell flies
standing cable flies.
standing cable flies
Saturday and Sunday
Relaxing time, or low-intensity cardio.
"Always set a goal. It will prevent your mind and body from cheating" Suggest Ryan. Also, making sure that you stay disciplined. "Nutrition is more important than training. If you manage all that, all else will fall into place"
---

"I also love seeing how my body can change and improve over time with hard work in the gym and discipline in the kitchen"
Nutrition
Ryan likes to follow a caveman type diet, anything that is natural and with single ingredients is the best thing to go for. As for carbohydrates, Ryan advises it's best to shoot for complex carbs such as brown rice, sweet potato, and oats. "Don't worry about high carbs, instead, condense your diet to small meals. Remember that overeating leads to bulking" suggest Ryan.
Ryan's Diet
Meal 1 – 120g Oats, 30g Blueberries, 10g Almonds & 30g of Whey Protein
Meal 2 – 3 Eggs & 2 slices of Granary Bread
Meal 3 – Tin of Tuna, 300g White Potato & Mixed Salad/Vegetables
Meal 4 – 200g Chicken Breast & 80g Dry White Rice
Meal 5 – 300g Steak, 200g Sweet Potato & Mixed Vegetables
Meal 6 – 200g Salmon & Salad
Supplements – Whey protein and dextrose
---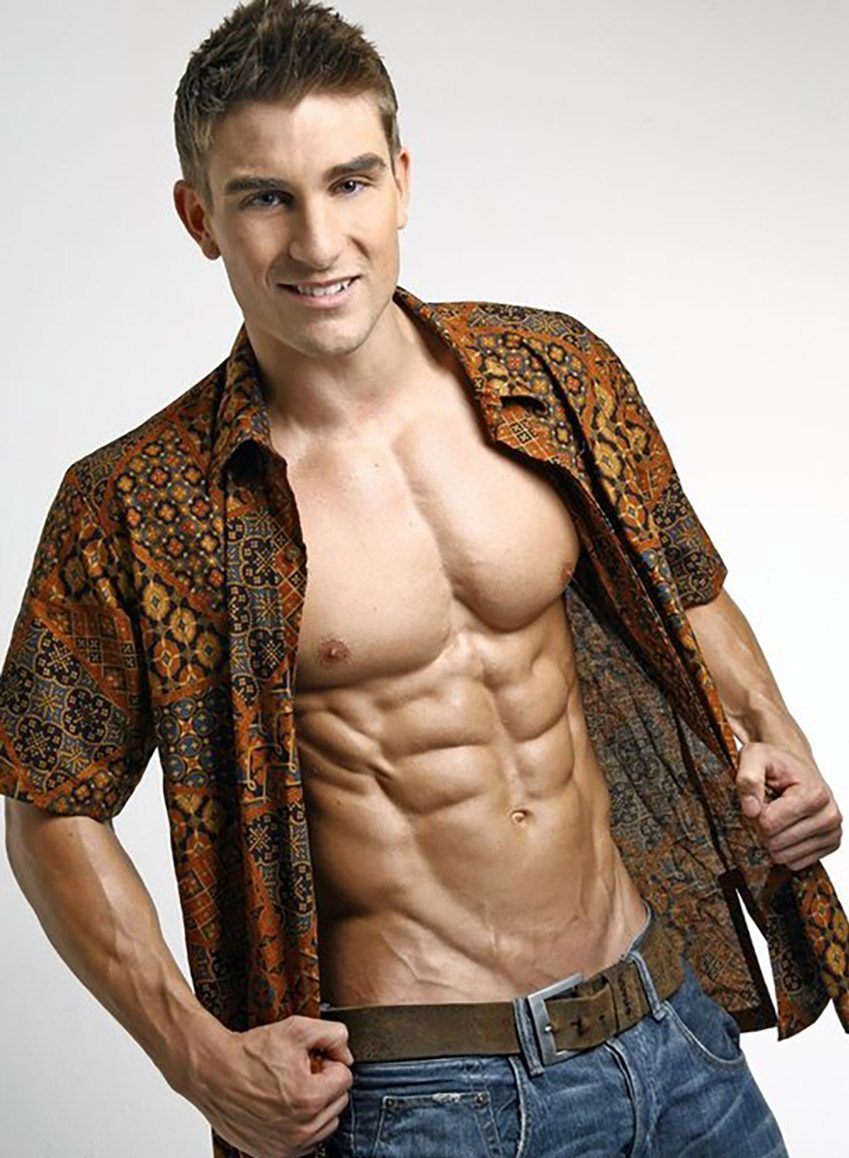 Idols and Influences
As a youth, Ryan took part in a lot of competitive sporting activities, he was always pushing to the limits in sports and everyday life, so for Ryan, competing was a something that he could work towards.
Ryan grew up admiring and trying to emulate his idol from the UK Rob Riches, who is well-known for his natural aesthetics among the fitness and modeling world. Ryan talks about Riches, saying that "He has a very attainable physique. It has aesthetic looks and is not at all about getting big. He has a great mid-section."
As seen from Ryan's shape, we can see that his physique is based around the aesthetic bodybuilders of today such as Rob Riches, Greg Plitt and Shaun Stafford.
---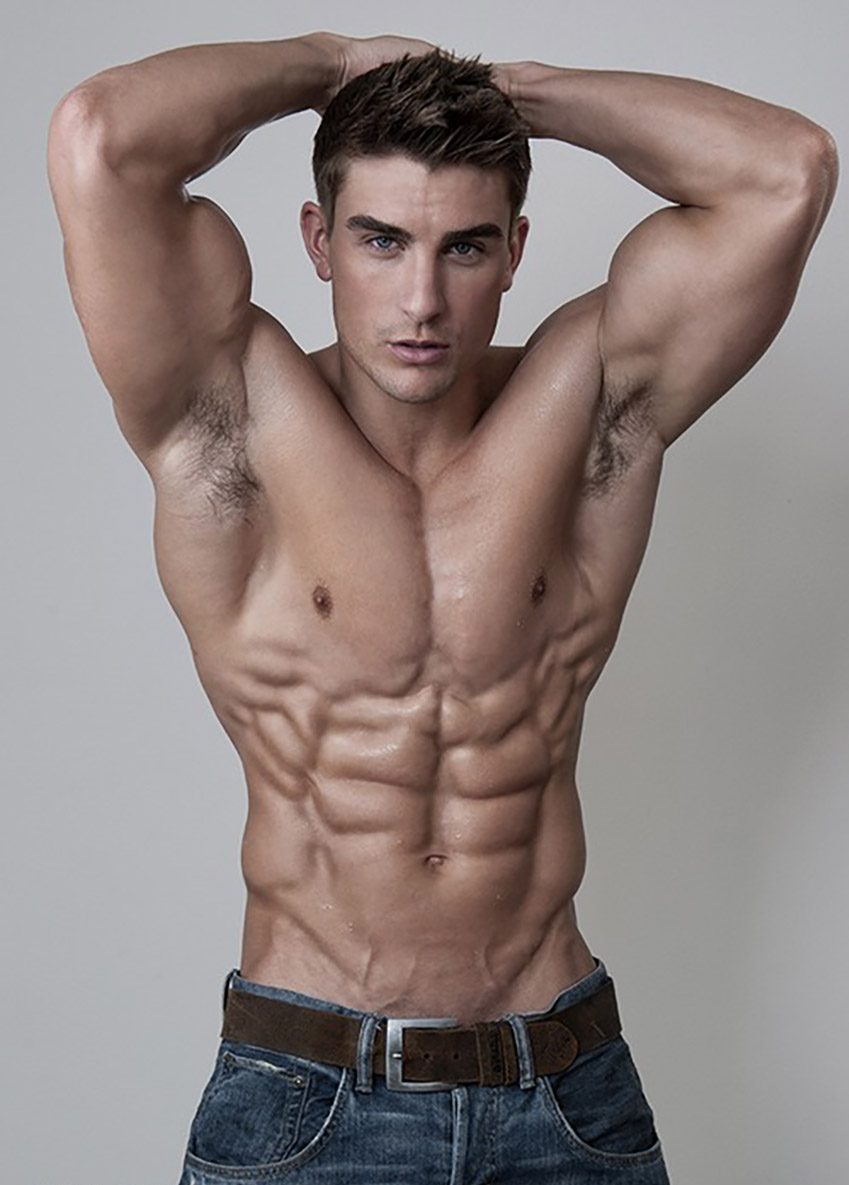 What we can learn from Ryan Terry
With Ryan's competitive nature we can learn that not all things come as easily as we'd like. It takes years of hard work, dedication, and sacrifice to achieve great things. Working with intensity, structure, and a solid nutrition plan, we can see how a great physique like Ryan's is formed.
Perhaps it was his competitive nature at school with a thirst for the win! or perhaps it was his overall approach to life to go one step further and try his hardest to succeed, or maybe it was Ryan's way to overcome his teenage insecurities that led him to greatness.
Whichever it was, we can see that if you work hard and step by step you too can be rewarded with a physique of greatness.