Ron was one of the greatest teenage bodybuilders of all time in the 1970s. He won numerous awards and surpassed his older competitors by huge margins. His love for sports in high school led him to train for strength, size, and power.
From high school football and an active member of the wrestling team, Ron's life revolved around being the best he could possibly be. As seen from his photos that were taken in his prime, Ron was a force to be reckoned with. He was known for his rock hard bulging abs, that some said, they looked as if they were cast from granite.
Know by his family and close friends as a caring individual, but also with a wild side. It came as a great disappointment and shock to the world of bodybuilding when Ron passed away at the age of 45. His legacy still lives on today as being one of the best teenage bodybuilders of all time, and this is his story:
---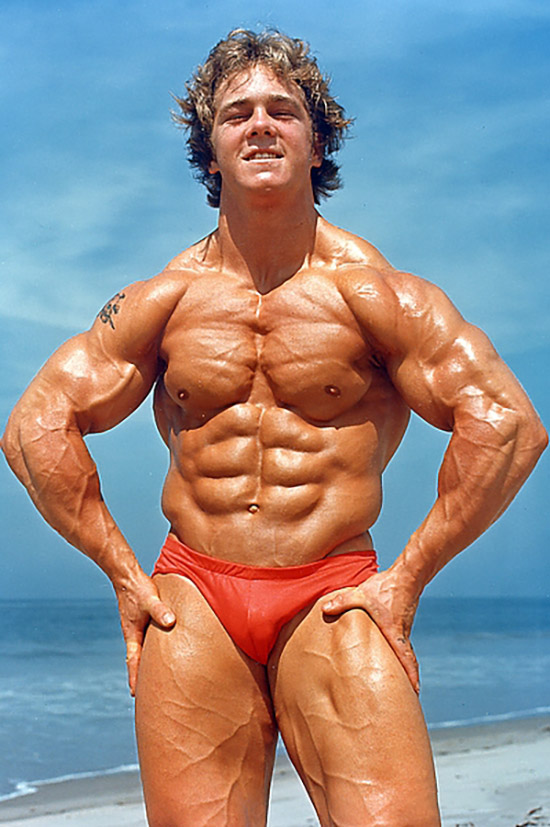 Athletic Statistics
Full Name: Ron Teufel
Weight
Height
Arms
Chest
185 - 195lbs (83.9 - 88.5kg)
5'6" (167.5cm)
18"
47"
Waist
Thighs
Calves
30"
26"
18"
Nationality
Profession
Alias
American
Bodybuilder
Tuffel
Era
1960, 1970
| | |
| --- | --- |
| Weight | 185 - 195lbs (83.9 - 88.5kg) |
| Height | 5'6" (167.5cm) |
| Arms | 18" |
| Chest | 47" |
| Waist | 30" |
| Thighs | 26" |
| Calves | 18" |
| Nationality | American |
| Profession | Bodybuilder |
| Alias | Tuffel |
| Era | 1960, 1970 |
---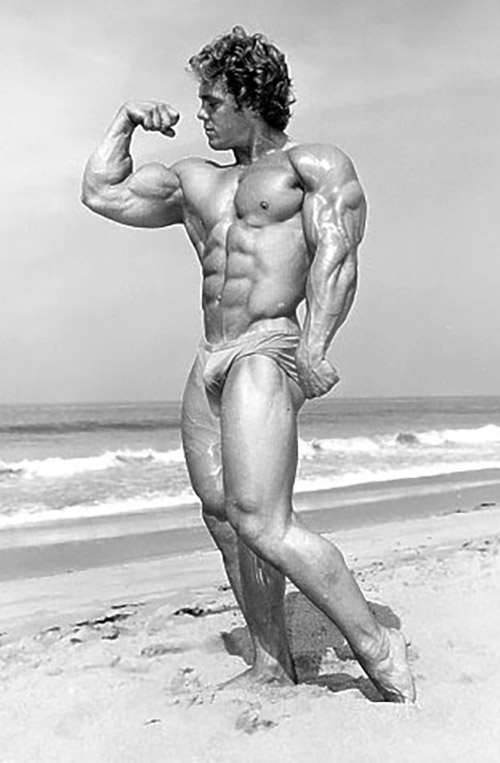 Accomplishments
1975 Teen America AAU
1975 Teen Mr. USA 1st Short Class
1977 Mr.America 1st Short Class
1978 Mr. California AAU
1978 Mr. USA Overall Winner AAU
1979 Mr. America 1st Short Class AAU
1980 IFBB Mr. Inteernational 2nd Light Heavy-Weight
1981 IFBB Washington Gran Prix 5th Place
1982 IFBB Night of Champions 7th Place
---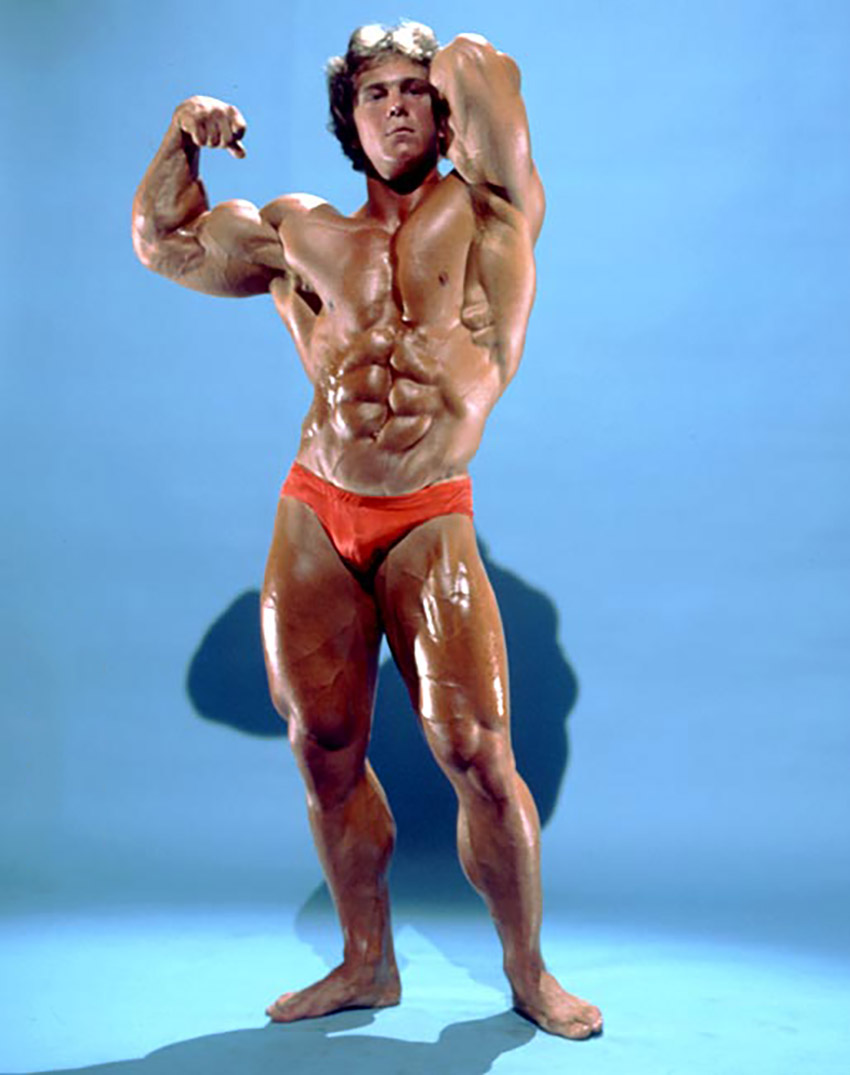 "In 1975 I entered a total of nine physique contests and came in 1st in five and placed in all the rest."
Biography
Wrestling and Football In High School
In his early days at high school, Ron was an avid wrestler and swimmer. He also played football for a total of 9 years. His plan was to go to college after graduation, as there were many colleges at the time offering Ron scholarships to study and play any sport he desired. They saw his amazing potential to do well in almost any sport, it was all set in stone for Ron, he knew he'd be continuing a career in sports from this point onwards.
"By the time I graduated in June of 1974, my bodyweight was up to 150. I wrestled in the 132-pound class and won 1st place in district, regional, and statewide competitions. I was also active in football and swimming."
Ron's strongest sport in high school was wrestling. He took part in the state wrestling championships three years in a row, securing him as an able and gifted wrestler. Although, when he was in his youth and part of the wrestling team, he was much leaner and smaller than he later became.
Ron remembers how the cheerleaders would scream "Go Tuffy Tuffel." This would push Ron to work harder when wrestling, this really got him hyped up for his matches. Although it wasn't enough for Ron, he knew he could do better, he knew he had more to give.
Building His Strength For Sports
To increase his size and strength to surpass his sporting rivals, Ron discovered he had another love in his life other than wrestling, football, and swimming, and this was weight lifting. In the beginning, weight training was only a tool to become better than his competitors. His thirst to become stronger and more powerful, lead him into a life of bodybuilding.
This is where he soon realized his full potential, he started to focus all of his attention on bodybuilding. It was just another way for Ron to be strong and fit, this was Ron's way of showing his health and strength to the entire world.
Soon, he increased in size in a matter of months, Ron was dominating his high school sports whilst feeding his passion for bodybuilding. He would help coaches at school and take part in other sports whilst always lending a helping hand to anyone looking to get fit and strong. His life was sports, and this is the way he wanted to go.
---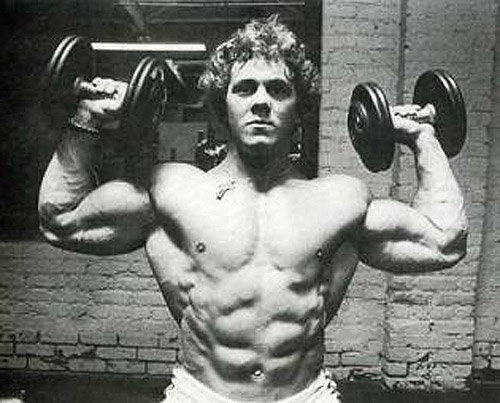 "I was offered a total of 14 college scholarships for wrestling and football but none of the schools had decent weight training facilities, so I passed them up. But this time I knew what I wanted."
High School Graduation
Ron didn't go to college as many thought he would, his love for bodybuilding grew much more than his family and friends expected. He said that all of the colleges weren't up to scratch when it came to gym equipment. He needed a solid gym to continue his passion in bodybuilding. Ron's sights were set on becoming one of the greatest bodybuilders of his time.
"But this time I knew what I wanted. I wanted a number of things – to be healthy and fit all my life; to get to the top in bodybuilding; and one day to open up a gym of my own. I love the sport, competition, clean way of living, and I'd like to help others."
After Ron graduated, he got his first job driving the high school bus. Ron says this was perfect, as he would work for only a couple of hours in the mornings and in the afternoons, leaving the rest of his free time to focus on training. He also enjoyed being around the school where he could give a lending hand to any of the sports teams, and coach the wrestling teams from time to time.
Ather dedicating himself to bodybuilding for some time, Ron soon became well known for his bulging muscles and rippling abs. He knew this was the right time to start competing and to start making a name for himself as a powerful teenage bodybuilding competitor. He took part in his first competition and secured 1st place at the early age of 18 years old in the 1975 Teen America AAU.
Teenage Mr. America Winner and IFBB
At 19 years old, Ron took part in his second competition in 1976 and took second in his class for the AAU Mr. America. He impressed the judges with his thick and solid muscles and bulging abdominals. previous to taking second place at the AAU Mr. America, Ron's former Teenage Mr. America win empowered him with a thirst for more. There's no doubt that weight lifting, bodybuilding, and sport was in Ron's blood from the very beginning.
At the age of 20, Ron quickly rose to the top of the short class division as he took part in the biggest amateur bodybuilding contest in America. He easily beat his competition that were much older and who had trained for many years perfecting their physiques.
After taking home the win in 1977 in the AAU Mr. America, he made the decision to move to southern California and train at the famous Gold's Gym. He said at the time there was a movement of bodybuilders from that era, he knew he had to be a part of it.
In 1978 Ron won a total of six medals, he was on to a winning streak. He took home 1st place in the Mr. America AAU and again took 1st place Mr. California AAU. He also became the Mr. USA AAU overall winner and Mr. USA AAU in the Short class division. Not stopping there he also took 1st place for the middleweight USA vs the World in the IFBB competition.
---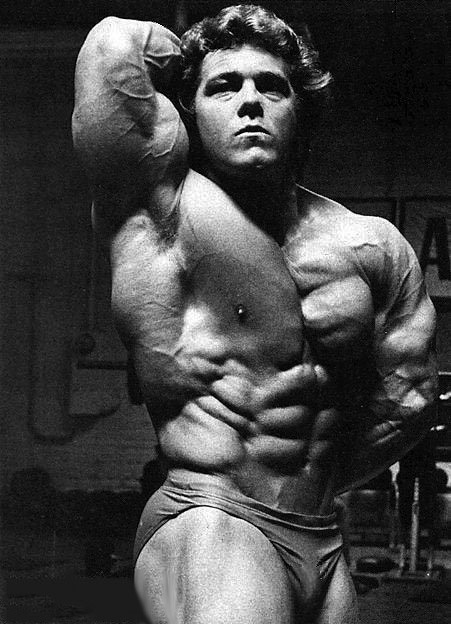 A young Ron Tuefel.
Ron's Ambitions and Wild Side
Ron was always a determined individual, but also with a wild side at times. As you can see below from the way he would talk about his goals and ambitions in life:
"You know, Teufel in German means devil – and I can get devilish! I like cars, motorcycles, I like to attend wrestling matches, football games and like to help out and coach wrestling at the high school. I also like to attend concerts and listen to music at home – my favorite group is Harold Melvin and the Blue Notes. I have lots of friends, so many that between them. Patti, work, family, ant training, my days are full. But they are extremely rewarding because I know where I'm heading!"
Ron was a fun guy to be around, it's clear to see it wasn't all sports that dominated his life, he also made time for his family and friends and other activities he enjoyed, such as going to concerts and attending sporting matches with his girlfriend. This was one of the biggest reasons that Ron was missed the most.
Ron's Death
On December the 22nd in 2002, Ron died from liver failure. Whether this was due to the use of steroids or a terminal condition we cannot know, as an official report has never been given.
But one thing that can be said about Ron, he loved sports, bodybuilding, and competing. His life revolved around trying to be the best and trying to attain greatness, such as the classics like Arnold, whilst also making time for the people that mattered in his life.
Ron was also known by his close family and friends as a helpful, kind and supportive person. He's been sadly missed among the bodybuilding and sporting world.
---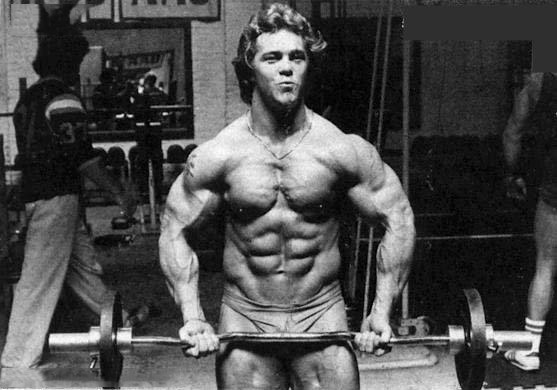 Training
Ron was an incredibly hard worker in the gym. His training sessions were hard, intense and arduous. He would show up many of his competitors with his tremendous strength and power. He could bench 405, deadlift 525 and squat a massive 75 pounds. His training routine was consistent with classic bodybuilders routines. He would train almost every day of the week and train hard.
His routine would be comprised of supersets spread throughout his workouts. In the majority of his exercise, he uses heavy weights. When it was time for competitions, a month prior, he would train twice a day and increase the intensity. This would create more muscle mass, density, and vascularity to impress the judges.
The below workout has been taken from Ron's training schedule which he used for the Teenage America and USA contests.
Ron's Weekly Workout
Monday & Thursday
Chest — Sets — Reps
Bench press — 5 — 6-8
Incline bench press — 5 — 8-10
Incline dumbbell press — 4 — 10
Dips — 4 — 10-12
Back
Wide-grip rows — 4 — 8-10
Close-grip rows — 4 — 8-10
Seated rows — 4 — 12-15
Dumbbell rows — 4 — 8
Chins — 6 — 10-12
Lat-machine — 6 — 12-15
Tuesday & Friday
Shoulders
Seated press — 5 — 6-8
Behind-neck press — 5 — 12
Dumbbel shrug — 4 — 12-15
Upright rows — 4 — 12-15
Lat raises — 4 — 12
Arms
Preacher curls — 5 — 8
Curls — 5 — 8-10
Dumbbell curls — 5 — 12
Triceps pushdowns — 4 — 15
Triceps extensions — 4 — 10
Dumbbell triceps extension — 4 — 12
Wednesday & Saturday
Legs
Squats — 6 — 15
Hack squats — 5 — 15-20
Leg press — 4 — 20
Leg extensions — 6 — 15-20
Leg curls — 4 — 15
Calves
Toe raises — 5 — 20
Toe presses — 5 — 20
Monday – Wednesday – Friday
Abdominales
Sit-ups — 1 — 100
Roman chair — 1 — 200
Leg raises — 1 — 200
Twists — 1 — 200
Sundays
This would consist of his cardio workouts, which would normally be a 4 or 5-mile run first thing in the morning.
Right after each training session, Ron would don his swimming shorts, practice his posing, then jump in the shower and head home to have a large home cooked meal with his family.
---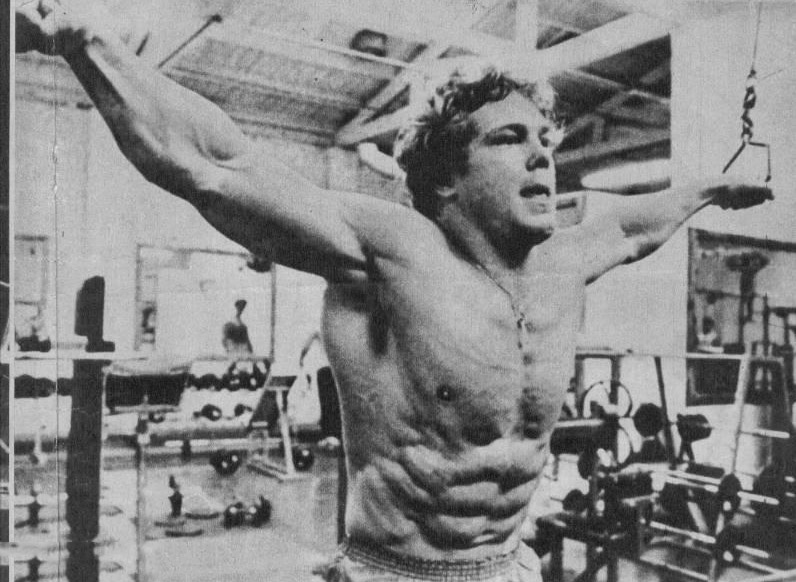 Nutrition
Ron was a heavy eater, he loved home cooked food that his mom would prepare after his training sessions. They consisted of beef with gravy and mashed potatoes, fresh vegetables and a green salad on the side. Ron would accompany each meal with a hot drink of unsweetened tea.
His main weakness when it came to his diet was ice cream. In the off-season when training to build extra mass, he would eat a hearty bowl of ice cream with his dinner.
Ron's Diet
Here's Ron talking about his diet when getting ready for his competitions:
"breakfast always consists of five fried eggs, two slices of toast if I'm not preparing for a contest, and two cups of hot tea. For lunch I'll have meat or poultry, a salad with French dressing, and iced tea. Dinner usually consists of a steak or other cut of beef, fish, or chicken, salad and tea. And, if I'm hungry at night, which is usually the case, I'll snack on a bowl of ice cream, but only if I'm not in training, otherwise it's a broiled hamburger."
Breakfast
Eggs, toast and two cups of hot tea
Lunch
Meat or poultry, salad with french dressing and iced tea
Dinner
Steak, fish, or chicken with salad and a tea. If Ron was hungry at night he would eat a bowl of ice cream in the off-season. But for competitions, he would eat a broiled hamburger.
Ron's Supplements
Every day Ron would take two multivitamins, tow B-complex tablets. Vitamin A, C, E tablets, and four lecithin capsules, and also 10 desiccated liver tablets.
---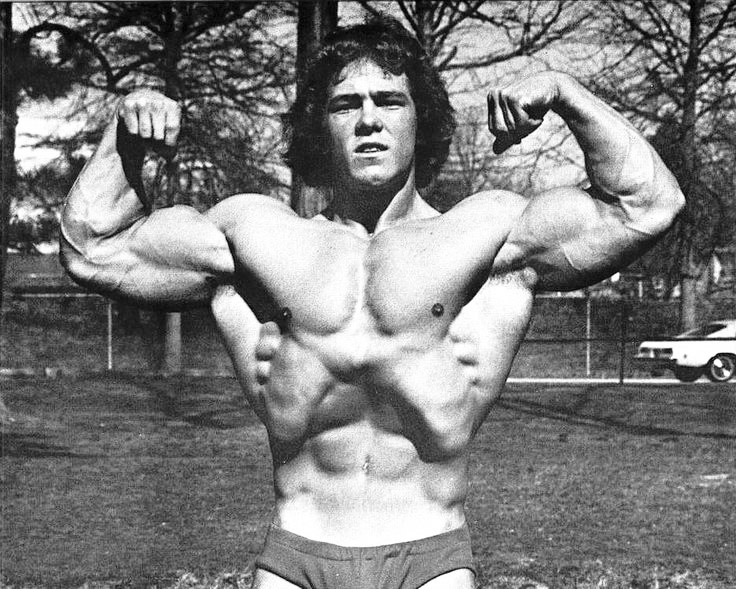 "One day, my picture will be on one of those magazine covers."
Idols and Influences
With Ron's background in sports, a lot of his influences came from high school wrestling and competitive football which sparked him to grow stronger and bigger in order to beat his rivals. He was also influenced by the great such as Arnold and Franco.
Ron would keep posters on his wall of these great athletes and one day he hoped to stand shoulder to shoulder with the very same giants. Looking at his awesome physique, it's clear to see he achieved just that.
---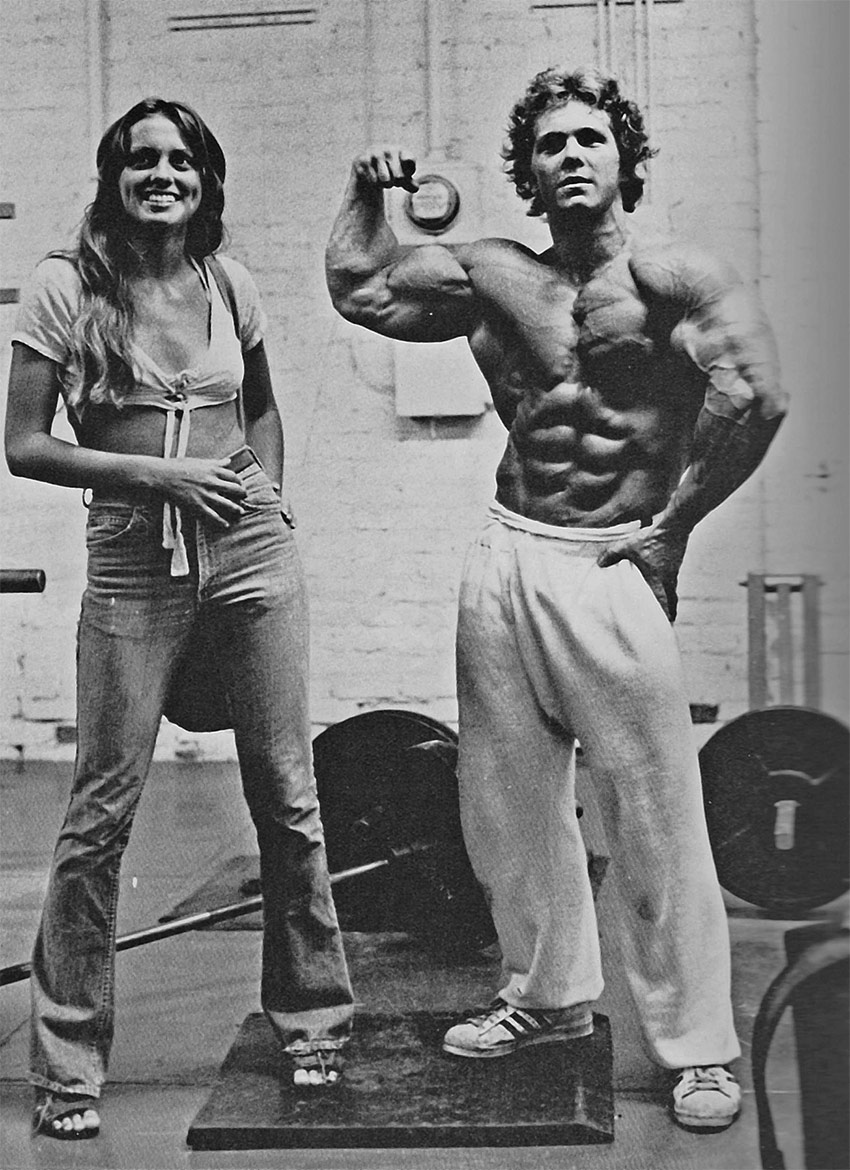 What we can learn from Ron Teufel
Ron always knew he was bound for a sporting life from his early years playing high school football and wrestling. He later turned his attention to bodybuilding where at the time he became Americas best teenage bodybuilder. He was unstoppable.
His love for sports and to live a healthy life inspired him to compete and become one of the world's best teenage bodybuilders. For Ron, we can see that his drive and determination to focus his life on family, moving to California and training in Golds Gym, were all decisions that lead him to greatness. With the same passion, discipline and hard work, you too can achieve greatness.