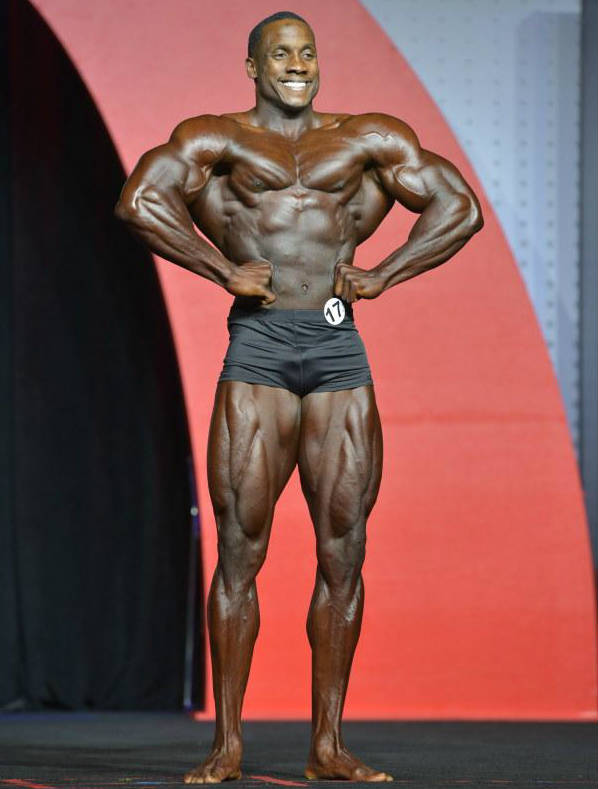 Robert Timms
IFBB Professional Bodybuilder
Robert Timms is an IFBB professional bodybuilder from the USA. He competes in the classic physique division, attracting attention due to his rapid rise through the ranks.
Growing up, Robert was very active and played a number of sports at school. One of his favorite sports was karate, which he practiced to a high level – becoming stronger in the process.
When he left school, he joined the air force and struggled through a cancer scare while based in Italy. After recovering from chemotherapy, Robert would go on dedicate himself to bodybuilding; training hard and gaining 60 pounds.
Fast forward today, and Robert has sculpted this 230lbs physique into a classic, v-tapered aesthetic. He has won a number of high-profile competitions and loves to show off his hard work on stage.
This is his story:
---

Athlete Statistics
Full Name: Robert Timms
Weight
Height
Nationality
Profession
235 - 245lbs (106.6 - 111.1kg)
5'11" (180cm)
American
IFBB Professional Bodybuilder
Era
2010
| | |
| --- | --- |
| Weight | 235 - 245lbs (106.6 - 111.1kg) |
| Height | 5'11" (180cm) |
| Nationality | American |
| Profession | IFBB Professional Bodybuilder |
| Era | 2010 |
---

Accomplishments
Competitions
2015 Arnold Amateur Physique, 8th
2016 NPC Junior USA, 1st and overall (pro card)
2016 Mr Olympia Weekend, Classic Physique, 6th
2016 IFBB Ferrigno Legacy, Classic Physique, 1st
---

Biography
Sporting Beginnings
Growing up, Robert was always extremely active and played a number of sports. His favorite sport since he was just 8 years old was Karate, which he practiced to a high level.
After receiving his black belt in the Shotokan style of karate, Robert began training in kickboxing and then boxing in high school. Through these sports, he gained a knowledge of strength training and built a strong physique.
Joining The Air Force
After high school, Robert decided to join the air force. He was stationed in Aviano, Italy and played semi-professional football while stationed on the base.
While playing regularly, he also attended the base's gym daily and loved to lift weights and build his physique. Through this, he built the foundations for the physique he would build in the years to come.
Beating Cancer
While Robert was focused on fitness and was enjoying his time in Italy, this all came crashing down when he was diagnosed with cancer. He had a lymphoma on his knee, so had to undergo a long chemotherapy session.
This gave him time to think more deeply about his path in life, but it also made him loose weight and muscle mass. At the end of the chemotherapy, Robert was 170lbs.
---

---
Working Out In Afghanistan
Following Robert's return from Italy, he was sent to South Georgia where he was deployed to Afghanistan shortly after. In this base gym, Robert found a friend who had been training all his life, so he helped Robert learn new lifts.
After 7 months of hard training and eating, Robert weighed 235lbs and was stronger than ever. His friend suggested to Robert that he competed and showed the world his new body. At first, he wasn't too sure, but after some thought he said "why not?" and began reading about the cutting diet and posing.
Competition Wins
After learning the basic poses and cutting down to reveal his definition, Robert began to pose in his first contests. He managed to take a 1st and overall in his 2nd competition, which gave him his pro card and allowed him to pose with the best in the classic category worldwide.
He also qualified for the Mr Olympia Weekend. He took a 6th at this show, which was an excellent placing at his first major contest. It also allowed him to experience a classic physique contest at the highest level, standing alongside athletes such as Danny Hester.
"My back was the epitome of a blessing…  I was killing it from the rear."
One of the best performances of his career came at the 2016 IFBB Ferrigno Legacy. Robert took an excellent 1st place at this show and knew that his hard work and dedication had paid off.
---

Training
Heavy Upper-Body Workout
"I think too many people try to make training complicated. I know what works for me and what has worked for many who have come before me. The basic exercises are the best, and that is what I stick with."
When Robert lifts, he lifts heavy. He has always favored simple compound movements and classic training routines, believing that these are tried and tested methods to build muscle.
He also lifts for as many reps as he can, pushing to failure regularly. He sees that if you are going to workout, then you must workout hard. Because of this, four or five sets per exercises is common, with a rep range of 10 to 20 reps.
Shoulder Workout
Seated Lateral Raise 5  sets x 20 reps
Reverse Pec Deck 5 sets x 20 reps
Seated Dumbbell Shoulder Press 4 sets x 10 reps
Dumbbell Front Raise 4 sets x 10 reps
Robert places a lot of value on the V-taper aesthetic. Because of this, he chooses exercises that allow him to sculpt a small waist and wide shoulders
He always starts his workout with heavy lateral raises. He wants his side delts to look as big as possible, so this is the perfect exercise to build the muscle mass in this area.
---

---
Chest Workout
Pec Deck 4 sets x 20 reps
Machine Seated Chest Press 5 sets x 10 reps
Cable Crossover 4 sets x 20 reps
Incline Dumbbell Bench Press 5 sets x 10 reps
The chest is Robert's favorite area to workout by far. He says that it's the main area which distinguishes him from his competition so, consequently, he hits it hard.
The bench press is central to Robert's workout. He completes a press with dumbbells on the bench, but also on the machine with a seated chest press. After these movements, he moves to the cables and completes 4 sets of cable crossovers.
Arm Workout
Cable Biceps Curl 3 sets x 20 reps
Triceps Pressdown 3 sets x 20 reps
Cable Biceps Curl 3 sets x 20 reps
Reverse-Grip Pressdown 3 sets x 20 reps
Barbell Biceps Curl 3 sets x 20 reps
Skull Crusher 3 sets x 20 reps
When it comes to the arms, Robert likes to alternate between biceps and triceps. He sets aside a day for his arm session and loves the pump the session gives him.
He also values including triceps and biceps in the same workout, due to the fact that while one muscle is being worked out, the other is recovering. Because of this, he can hit both muscles hard and give them more weight over the course of the session.
---

---
Occasional Full Body Workouts
Sometimes, Robert likes to throw in a full body workout to introduce variety. He completes a number of compound movements and works himself to his limits.
Dynamic Warm Up (5-10 mins)
Barbell Squat 3 sets x 10 reps
Barbell Walking Lunge 3 sets x 10 reps
Incline Dumbbell Press 3 sets of 10 reps
Dumbbell Fly 3 sets x 10 reps
Wide Grip Lat Pull Down 3 sets x 10 reps
Seated Cable Row 3 sets x 10 reps
---

Nutrition
Pre-workout Nutrition
"I try to ensure that I get everything I need in for the job, just like having my tools for work."
Before Robert trains, he likes to take in some type of simple carbohydrate for energy during the workout. He also has a whey isolate shake, as it can be digested faster than food and is useful for protein synthesis and muscle building.
Healthy And Nutritious
Robert's diet generally is very healthy and nutrient packed. He eats a lot of lean meats such as chicken, turkey, beef and other ground options. He also includes healthy carbohydrate options such as sweet potato, brown rice and yams.
One of his favorite meals is banana and oatmeal drizzled with honey, followed by a 13 oz. steak. He says that he always keeps the enzymes found in steak nearby.
---

What we can learn from Robert Timms
Robert Timms battled through cancer while in the air force, loosing weight and strength. After recovering from his chemotherapy, Robert decided that he would no longer be victim and built a physique worthy of the best stages on earth.
He has gained his pro card, won professional competitions, and is a name to look out for on the classic physique circuit. If you face a tough hurdle in your life, show the same perseverance as Robert and who knows what you could achieve.