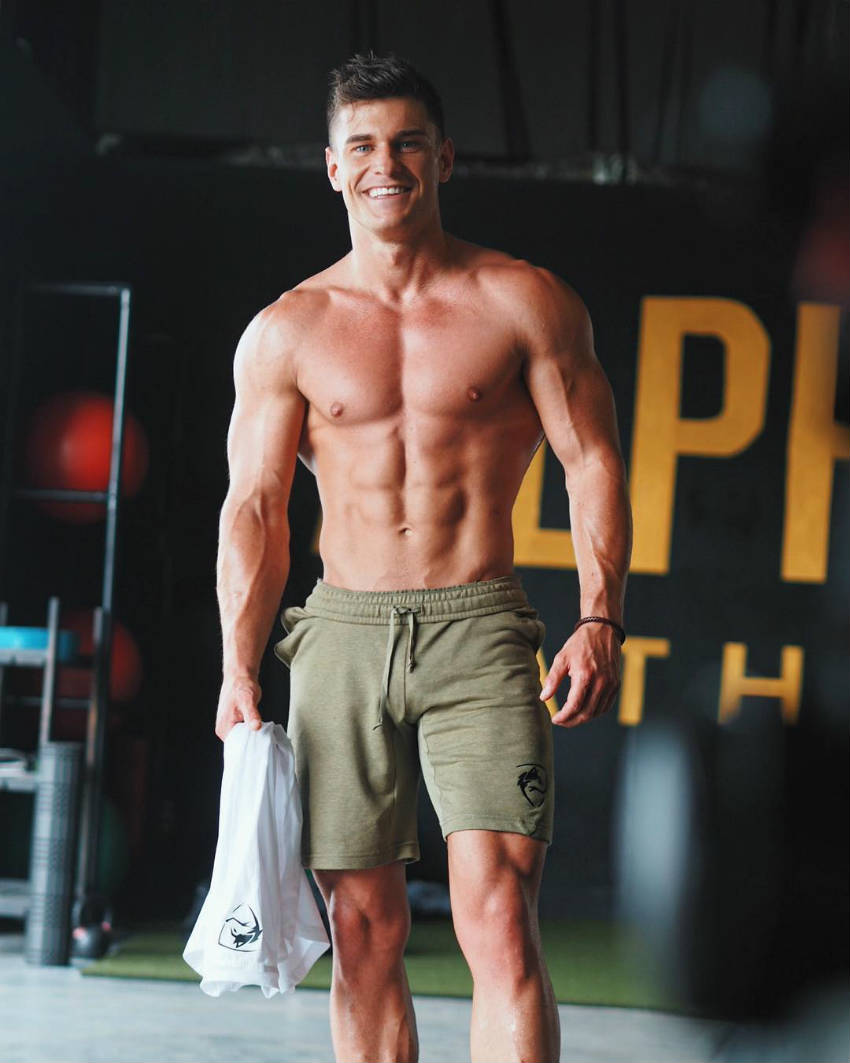 Rob Lipsett
Personal Trainer, Sponsored Athlete
Rob Lipsett is a personal trainer and sponsored athlete from Ireland. He's made a name for himself through his YouTube channel and Instagram page; promoting healthy eating and advising beginners on weightlifting techniques.
Growing up, Rob was an extremely active boy, playing rugby and other sports at his school. Rugby was his main passion through, and he played to a high-level during school, as well as after for a few years.
Gradually, this passion for rugby developed into a passion for hitting the gym. He had to train regularly to maintain his size, but lifting weights and bodybuilding gradually became more important to him than adding mass for the pitch.
Fast forward to today, and Rob has dedicated his life to fitness and bodybuilding. By uploading motivational and instructional videos on YouTube, he managed to attract 250,000 fans by 2017. He aims to help as many people as he can to build their best body.
This is his story:
---

Athlete Statistics
Full Name: Rob Lipsett
Nationality
Profession
Era
Irish
Personal Trainer, Sponsored Athlete
2010
| | |
| --- | --- |
| Nationality | Irish |
| Profession | Personal Trainer, Sponsored Athlete |
| Era | 2010 |
---

Accomplishments
Qualified personal trainer
---

Biography
Sporting Beginnings
In his school in Ireland, Rob had one main passion which dominated his life – rugby. Throughout junior and high school, he would play the sport almost everyday, so by his high school years he was on the first team playing around the country.
While it was just a school team, the sport was taken very seriously and Rob had to follow a serious training regime which included fitness, conditioning and weight lifting.
When Rob was in the class, he says that all his teammates hated the brutal sessions, but he loved them. He says that he used to love pushing himself to his limits, loved the pain, and felt a real sense of accomplishment after finishing a good session.
Developing The Love For Weightlifting
When Rob started seeing serious improvements in his physique, he became more and more obsessed with being in the gym. He says that at this point he ended up stopping rugby after playing for 7 years straight.
Rob also decided that he would follow a new career entirely. He got his personal training qualification and began to work with clients in a local gym, loving every minute of helping other people reach their fitness goals.
Starting A YouTube Channel
Around this time, Rob also set up his facebook account in order to attract potential clients and build a brand around his name. After just a short period, he says he got "hundreds upon hundreds of inboxes asking fitness related questions and looking for training and meal plans."
This inspired him to start uploading videos on YouTube – aiming to answer multiple questions at once and get his face out there at the same time. Ultimately, he would begin to attract tens of thousands of fans across his social media accounts.
---

---
Setting Up Personal Training Website
One of the main requests Rob was receiving, was for personalized training plans. Fans were desperate to know the ins-and-outs of the routine he had put in place, so he began to write it up and add advice for his fans.
At this point, he started his self-titled website. He received massive support almost instantly, and began updating the site regularly to keep the readers informed on his plans for the future.
Social Media Fame
By 2017, Rob had developed a massive fanbase through his website, training plans and motivational video posts. On Instagram he had 149,000 fans, his YouTube channel had gathered a quarter of a million and his other sites were faring just as well.
He saw this as the start of a career through which he could inspire a lot of people to get in shape and feel healthy.
---

Training
Training Approach
Rob trains (on average) around 5-6 times a week. He usually stays in the gym for about an hour and focuses solely on weight training.
When it comes to cardio, Rob doesn't really do much but he does stay very active. He says that his cardio comes in the form of hiking with friends, going on long walks and climbing up hillsides.
Favorite Day Of The Week
Rob loves push days the most. His push day includes chest, shoulders and triceps, so he says that the main reason he likes these sessions is because he looks great afterwards.
When Rob is travelling and unable to hit the gym and make some gains, he completes upper/lower training, or even full body workouts occasionally.
Arms Workout
Rob is proud of the muscle mass he has added to his arms. This workout below is one of Rob's favorites for the sheer tension involved and effort needed to complete it without cheating.
Cable Preacher Curls supersetted with…
Overhead Tricep Extensions: 4 Sets of 10 reps
Seated Incline DB Curls: 4 Sets of 10 reps
One Arm Cable Pushdowns: 4 Sets of 10 reps
Hammer Curls: 3 Sets of 12 reps
Rope Curls: 3 Sets of 12 reps
Skull Crushers: 3 Sets of 15 reps
Herc Curls: 3 sets of 15 reps with a 1 second pause at the top of the contraction
---

Nutrition
Flexible Diet
Rob follows a flexible diet, which means that every day he will allow himself to eat something that he really enjoys, as long as for the rest of the day he is eating perfectly.
He will allow himself to eat meals such as pancakes for breakfast, or other sweet treats to make sure he stays on track. Through doing this, he won't actually feel the need to go out and have a massive cheat meal.
Food Choices
Rob's day-to-day diet includes a lot of fruits, vegetables and lean meats. He chooses meats such as turkey, chicken and beef – valuing these options for their protein content.
Importantly, Rob believes he can stick to this diet quite easily. He tells his clients that actually planning a diet that you will enjoy is crucial.
Protein Pancakes Recipe
One of Rob's favorite meals, which combines a cheat option with a nutritious, protein packed breakfast, is his protein pancakes. He combines a standard pancake batter with protein powder and peanut butter, before cooking it in a pan.
His ingredient list for this tasty and easy-to-male meal is below:
50g Oats
100g Banana
2 Large Whole Eggs
1 Egg White
20g Crunchy Natural Peanut Butter
50g Low Fat Yoghurt
30g Protein Powder
50ml of low fat milk but only if needed
Pinch of salt and cinnamon
Macros: Protein: 61 Carbs: 68 Fat: 31
Total Calories: 795
Supplements
Supplements are crucial in Rob's diet and were an extremely useful tool as he built the physique he maintains today. Over multiple years of trial and error, Rob learned a lot about supplements and kept the products which he believed were the most useful.
He tells his clients over and over that supplements are just that – a supplement. He used to spend a lot of money on them when he was younger, but this doesn't achieve much at all if the diet isn't on point. His current stack (below) reflects this trial and error over time.
Stack
Creatine
Caffeine based pre- workout
Fish oil
Vitamin d
Multivitamin
Green tea supplement
---

What we can learn from Rob Lipsett
Perhaps the clearest lesson in Rob's story, is that social media is an extremely powerful tool in the fitness industry. Rob has an audience of over 250,000 people, and hopes to build this fan base even more.
People want to know how to train, when to train, and the right methods to use. Rob has filled that gap and developed name for himself through his hard work. Maybe you could help your own fan base one day?