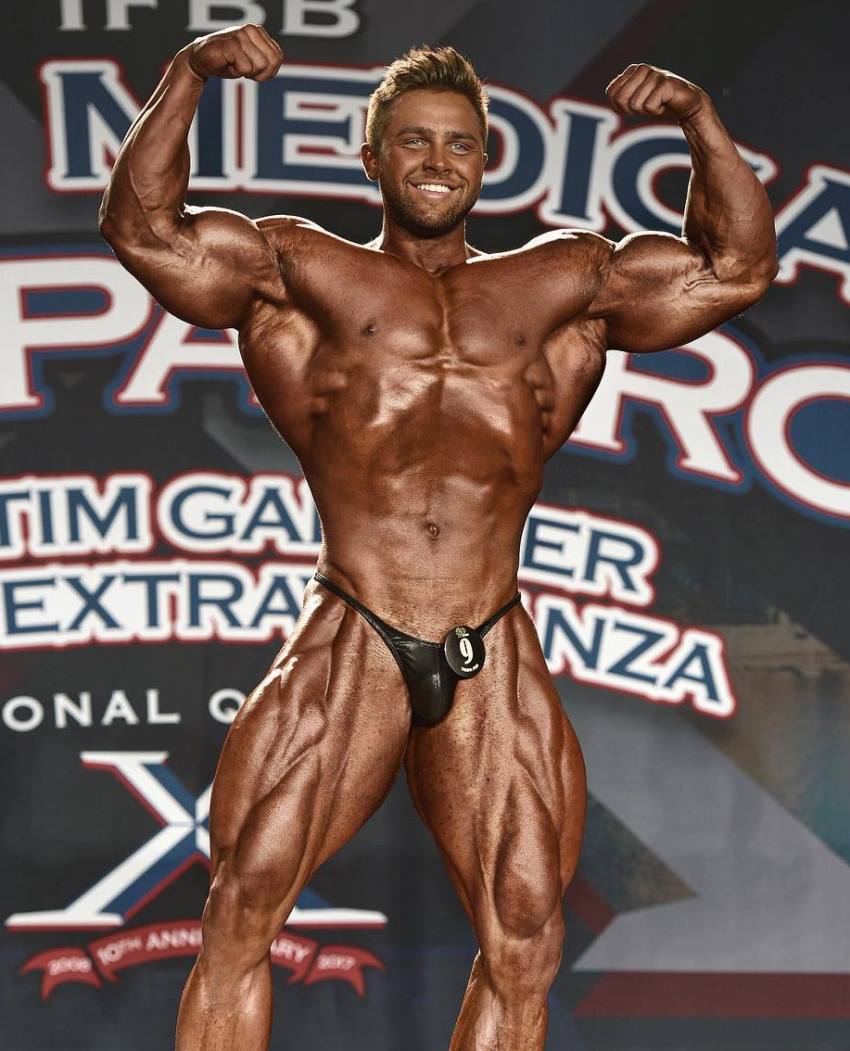 Regan Grimes
Professional Bodybuilder, Entrepreneur
Regan Grimes is a Canadian professional bodybuilder who has been training in the gym since he was 17. However, Regan's reasons for working out have greatly changed over the years.
When Regan first entered the gym, he just wanted to get bigger and stronger for motocross races. However, after seeing the results on his body from weight training he was 'hooked.' As Regan stated; "I started lifting weights and loved it. After about a year of lifting, I decided to do my first show."
Ever since making his first appearance on the bodybuilding stage at 18, Regan has gone on to become an IFBB Pro bodybuilder and fitness entrepreneur – owning a clothing line business, and gym.
---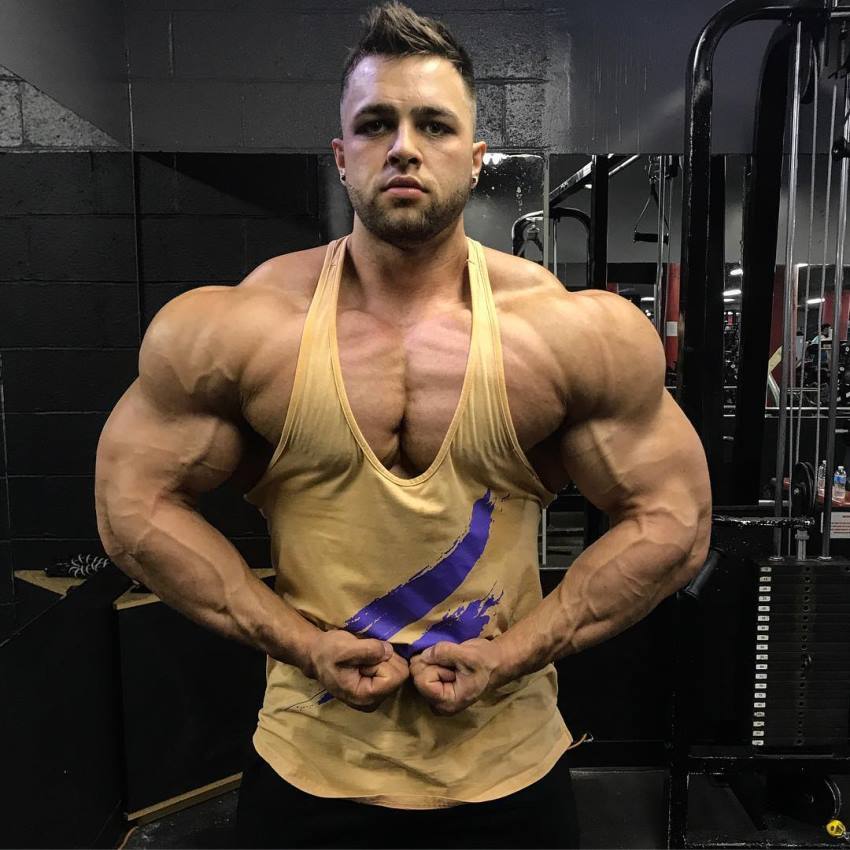 Athlete Statistics
Full Name: Regan Grimes
Weight
Height
Arms
Chest
215 - 225lbs (93.0 - 102.1kg)
5'11" (180cm)
18''
49.5''
Waist
Thighs
Calves
31''
28''
18''
Age
Date of Birth
Nationality
30
June 26, 1993
Canadian
Profession
Era
Professional Bodybuilder, Entrepreneur
2010
| | |
| --- | --- |
| Weight | 215 - 225lbs (93.0 - 102.1kg) |
| Height | 5'11" (180cm) |
| Arms | 18'' |
| Chest | 49.5'' |
| Waist | 31'' |
| Thighs | 28'' |
| Calves | 18'' |
| Age | 30 |
| Date of Birth | June 26, 1993 |
| Nationality | Canadian |
| Profession | Professional Bodybuilder, Entrepreneur |
| Era | 2010 |
---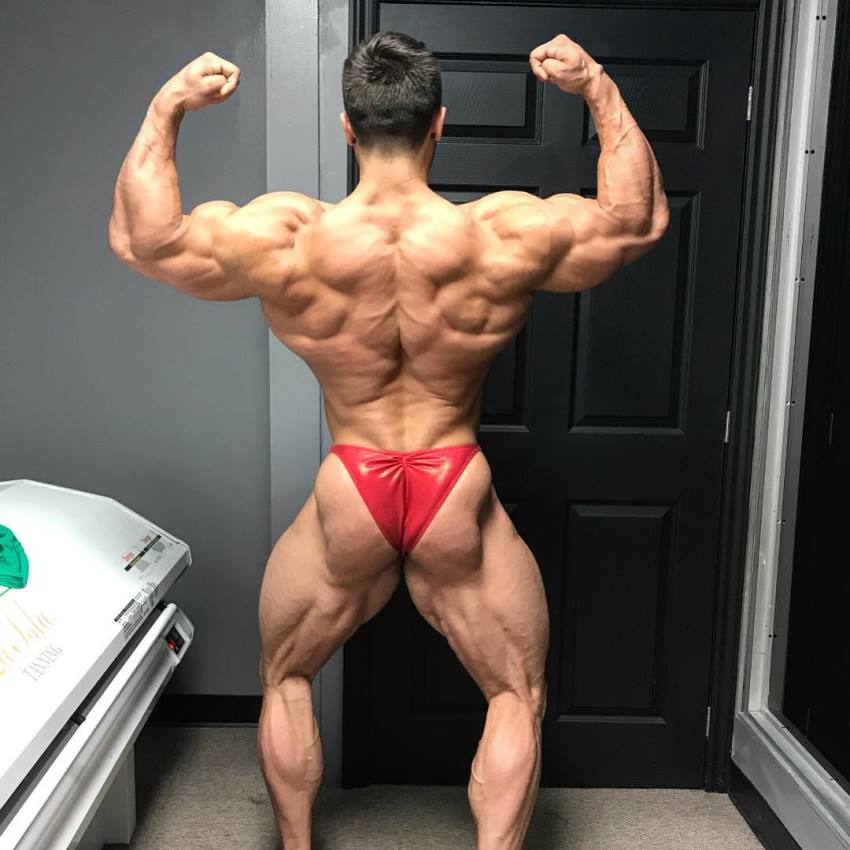 Accomplishments
Professional Career
2017
Vancouver Pro, IFBB Men's Bodybuilding, 2nd place
Wings of Strength Chicago Pro, IFBB Men's Bodybuilding, 5th place
Tampa Pro, IFBB Men's Open Bodybuilding, 5th place
Amateur Career
2014
Ontario Provincials, 2nd place Open Men's Heavyweight, 2nd place Junior Heavyweight
Mississauga Luchka O'Brien Classic, Junior Bodybuilding, Men's Bodybuilding Heavyweight, and Overall, 1st place
2012
Ultimate Fitness Events Bodybuilding Contest (UFE), Middleweight Men's Bodybuilding, 1st place
---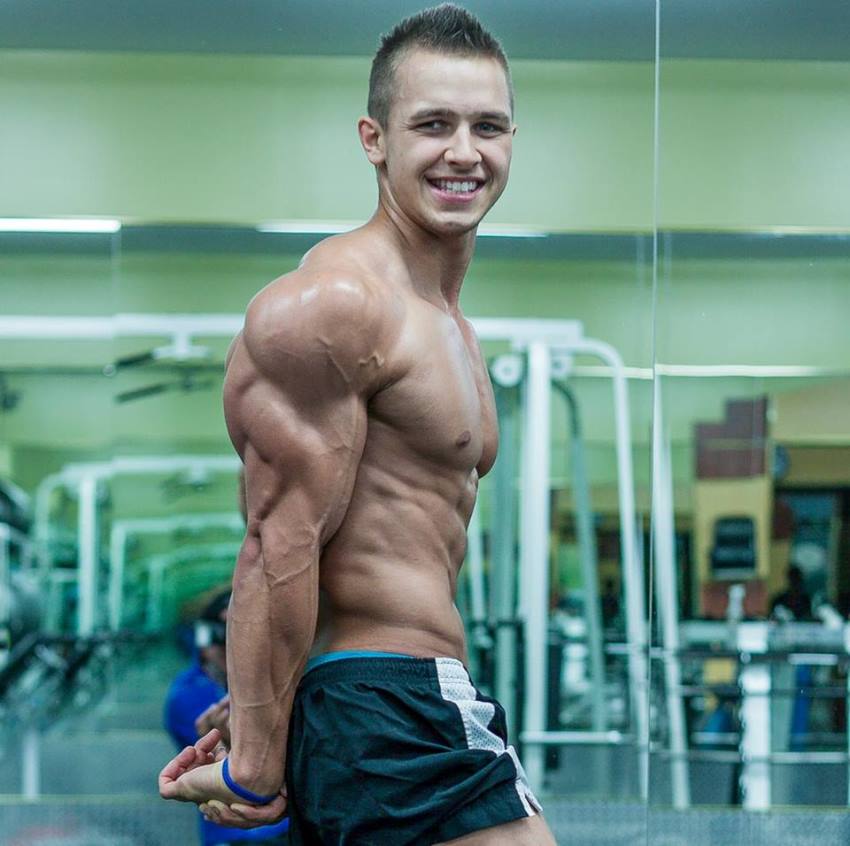 Regan Grimes at 18 years old.
---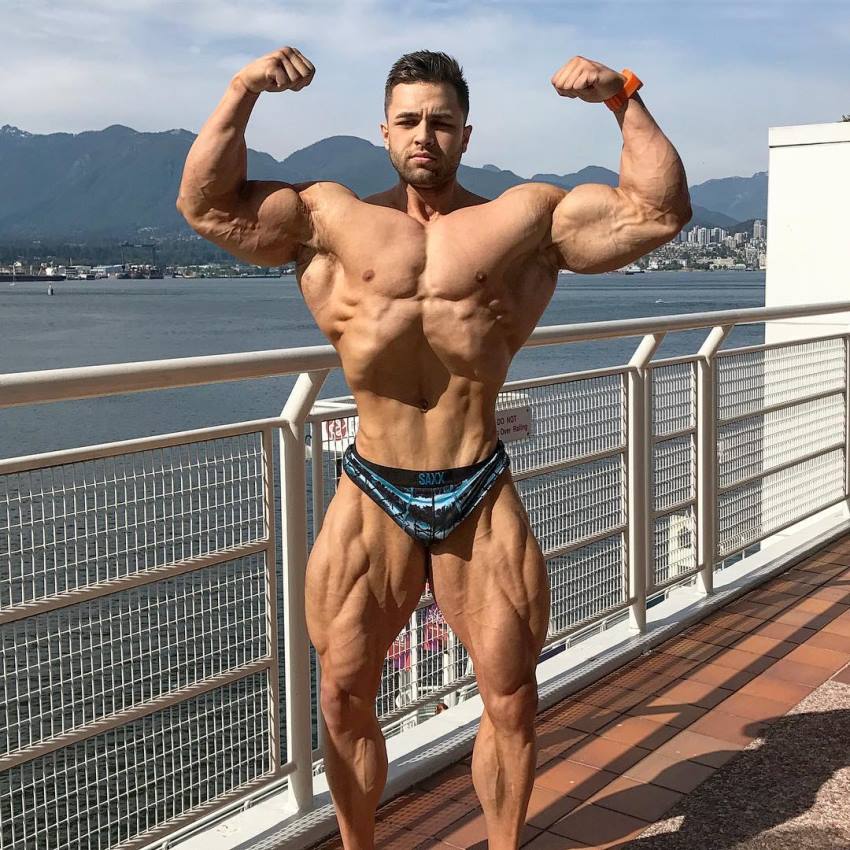 "I remember going to the gym for the first couple of times, using an application on my phone. I would type in the muscle group that I wanted to work out and it would give me a demonstration of the exercises I could do!"
Training
Going After Pump
One of Regan's goals when working out is to get as much blood flowing to his muscles as possible.
Regan was once asked what his favorite thing about training was, and this is what he said; "The pump!! Throwing my headphones in and crushing heavy ass weight!!"
To achieve the pump, Regan will do several things. First, he'll warm up his muscles to get the blood flowing and to get the joints ready for heavy sets. He'll then proceed to heavy compound exercises to work on his strength and hypertrophy.
After this, Regan will move on to isolation exercises, but he'll use much lighter weight. This way, he can do many repetitions; achieving the pump.
---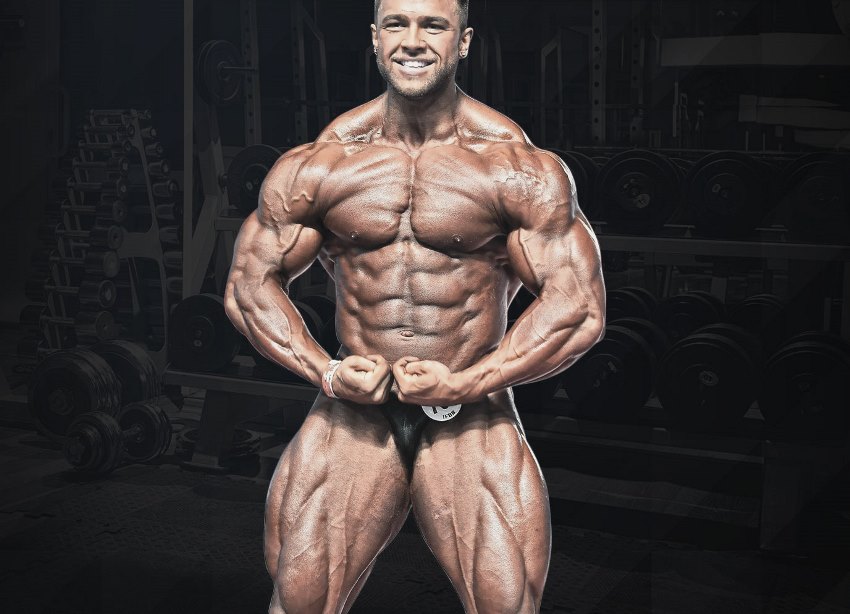 ---
Regan Grimes' Back Workout
Regan adds a lot of volume to his back workouts. He'll do up to 5 sets per exercise, and around 12 repetitions per set. This allows him to train every muscle in his back with enough intensity, and volume.
High pull cable row, 5 sets x 12 reps
V Bar smith machine Row, 4 sets x 12-15 reps
DB Rows, 4 sets x 12 reps
Sideways High row hammer strength, 4 sets x 12 reps
Smith machine rack pulls controlled, 4 sets x 12 reps
---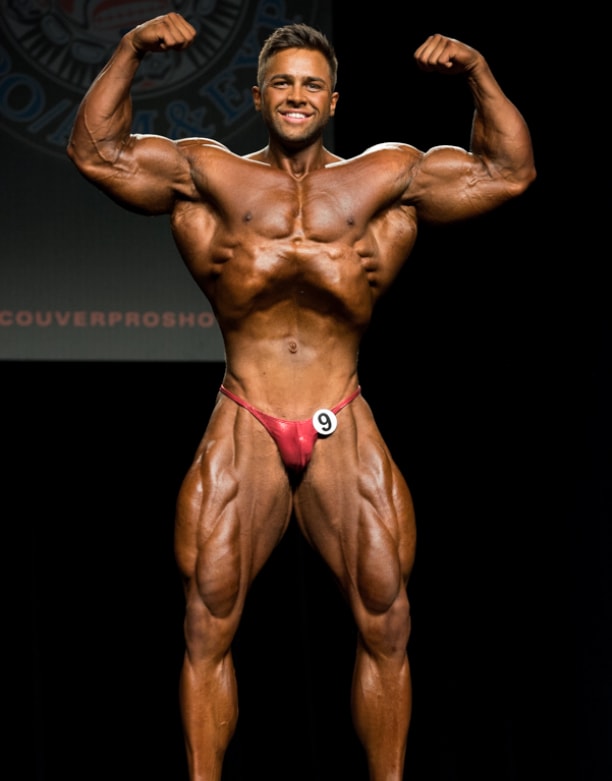 Nutrition
Weight Gain When 'Bulking'
Regan says it's difficult to stay lean when adding muscle mass – especially for natural bodybuilders. According to him, it's normal to gain some excess weight when 'bulking', and it shouldn't be a thing to worry about.
Here's Regan expanding upon the topic of 'bulking' and 'cutting'; "There are two phases in bodybuilding. You are either bulking or cutting. If you are looking to make serious gains in the offseason you have to let the fact of staying super lean go! You just won't see the results!!"
---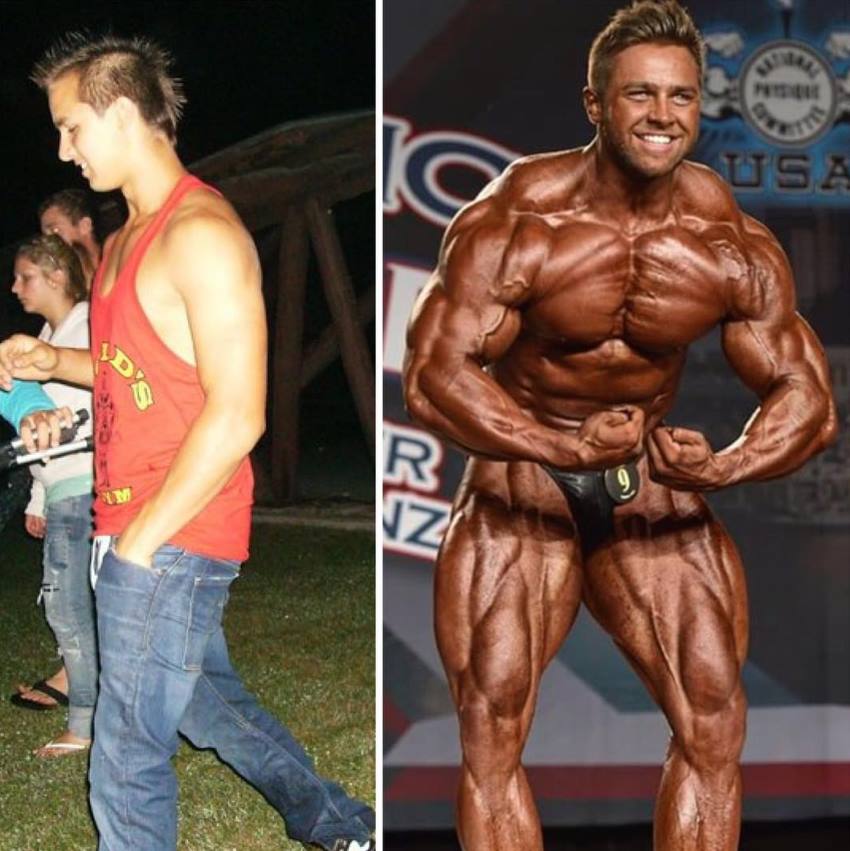 Regan Grimes' transformation: When he was a teenager, compared to now.
Idols and Influences
The bodybuilder whom Regan looked up the most when he set off on his bodybuilding journey was Antonie Valliant.
Regan says he "watched all of Antonie's training videos when I first started and took notes. He has a killer physique!"
---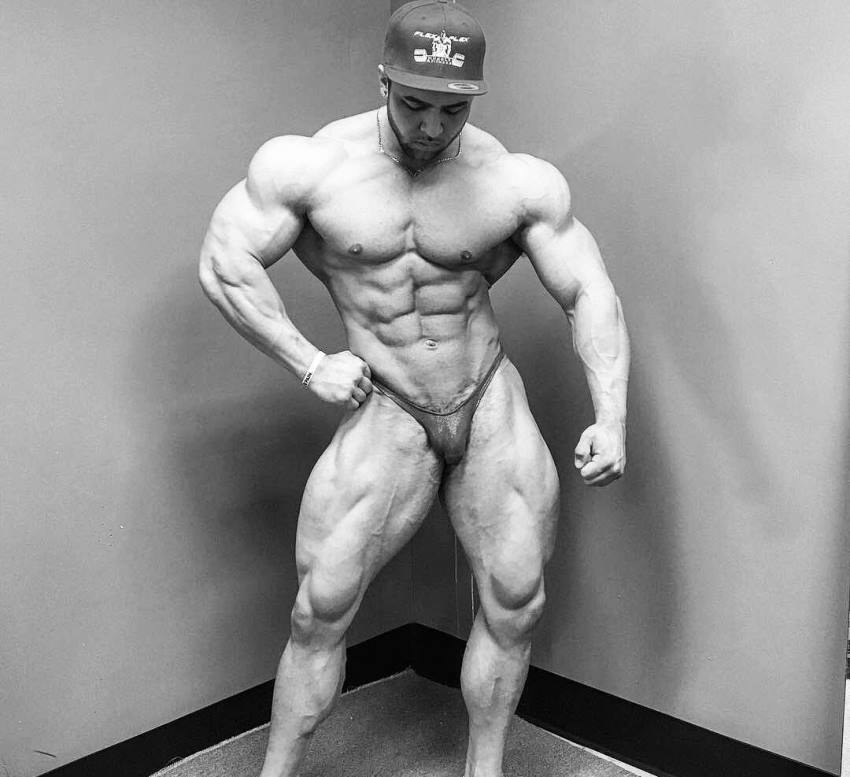 What we can learn from Regan Grimes
Although Regan Grimes initially began working out to better his results in motocross, he later saw a bigger opportunity in the industry of bodybuilding.
He went on to make the 'leap of faith', and follow what his instinct told him. It was this bold move that allowed Regan to grow his career to an extent he never thought was possible – becoming an IFBB Pro bodybuilder and entrepreneur.
This tells us that we shouldn't be afraid to give up on certain things in order to pursue bigger opportunities. Playing it safe may sometimes be a smart thing to do. However, taking small, calculated risks can sometimes pay off – just like with Regan Grimes.