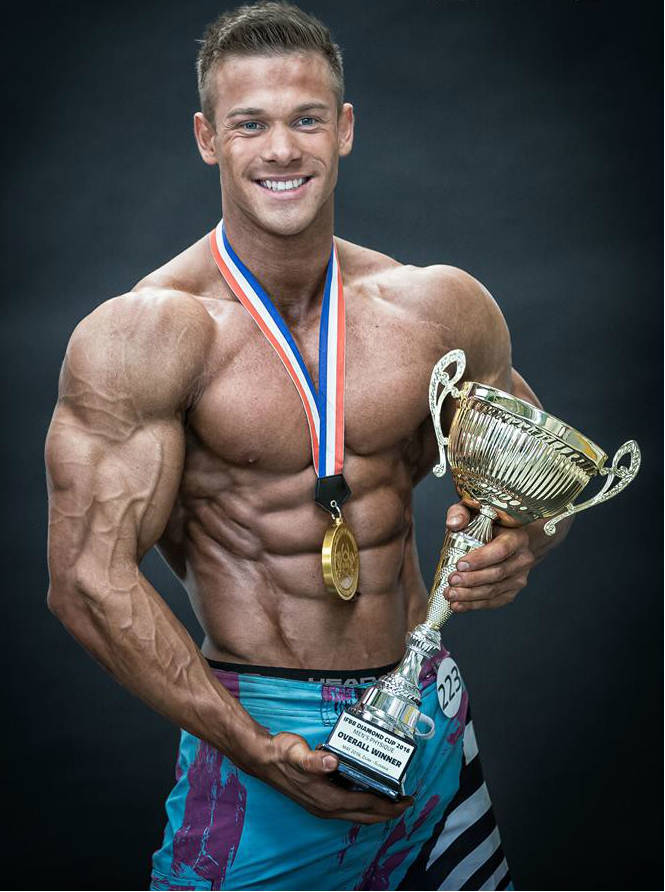 Ondrej Kmostak
IFBB Professional Bodybuilder, Sponsored Athlete
Ondrej Kmostak is an IFBB professional bodybuilder and personal trainer from Frýdek-Místek, Czech Republic. He is well-known as a Czech bodybuilding champion and has a big fan following throughout the country.
Growing up, Ondrej was extremely sporty and was brought up in a motocross family. He learned how to ride a bike as a youngster, suffering from a serious injury aged 13 which prevented him from using his forearms for 3 months.
After recovering, Ondrej was determined to build muscle on his thin physique. He attended a gym and was bitten by the weightlifting bug immediately – becoming obsessed with bodybuilding culture.
Fast forward to today, and Ondrej has won a number of major amateur shows. He beat stiff competition to become the Czech republic champion and has since taken his Pro Card. This is his story:
---

Athlete Statistics
Full Name: Ondrej Kmostak
Weight
Height
Nationality
Profession
215 - 225lbs (93.0 - 102.1kg)
5'11" (180cm)
Czech
IFBB Professional Bodybuilder, Sponsored Athlete
Era
2010
| | |
| --- | --- |
| Weight | 215 - 225lbs (93.0 - 102.1kg) |
| Height | 5'11" (180cm) |
| Nationality | Czech |
| Profession | IFBB Professional Bodybuilder, Sponsored Athlete |
| Era | 2010 |
---

Accomplishments
Competitions
2015 Overall champion of Czech republic
2015 European championship, 6th
2015 BFC Cup, 1st
2015 Survival GP, 1st
2015 Overall champion of Czech republic
2015 Arnold Classic Europe junior, 3rd
2015 – Olympia Amateur Europe, 4th
2016 – Diamond Cup Žilina, 1st place, overall
2016 – Olympia Amateur Spain, 1st, overall
2016 – Power Pro Show Moscow, 2nd
---
"Everyday be a little bit better than you were yesterday."
Biography
Early Years
Born in Frýdek-Místek, Ondrej was extremely active growing up and would never stop playing sports or thinking about them. His family was also extremely active and were obsessed with motocross and motorbike racing.
In his early teens, Ondrej also became an avid motorbike rider. He suffered from a serious injury aged 13 and lost the use of his forearms for 3 months – loosing a lot of muscle in the process.
Around this time, Ondrej began to think about staying fit and building back the muscle he had lost. When he was fit again, he started to attend the gym and learn basic weightlifting techniques with the intention of adding muscle.
Deciding On Bodybuilding As A Career
When Ondrej turned 17, he realized that he liked bodybuilding much more than motocross. It wasn't the danger that made him stop riding his bike, but the results he was seeing from his weightlifting.
Around this time, people in his gym began to see the improvements that Ondrej was making. They asked him whether he competed in physique shows and gave him some information about Czech Republic based contests.
This gradually sparked an interest in Ondrej. He decided that, if he was going to build a great physique, he may as well try and compete as well.
Competing
At the age of 20, he decided to participate at his first men's physique competition. He became the overall winner of the 2015 Czech republic championship – beating an array of amateurs from across the nation.
In 2015, he won another four titles at competitions across the country. Following this, he took a 3rd and 4th place at the Arnold Classic Europe and the Olympia Amateur Europe.
In 2016, Ondrej would go on to claim his IFBB Pro card by winning the overall title at Diamond Cup in Zilina, Slovakia. This was a huge achievement for the young Czech and from this point, he decided that he would focus completely on his professional career and nutrition.
Olympia Amateur Spain
His next major competition was the amateur Olympia in Spain. He competed against the best in the amateur world and won the 1st and overall; receiving the winners trophy and setting his sites on the world stage immediately.
---

Training
Hard And Heavy Chest Sessions
Ondrej works extremely hard to build the chest he has today. He focuses on dumbbells rather than barbells, as he wants to build as much chest size as he possibly can.
When he completes the dumbbell chest press, he uses 30kg dumbbells and lifts heavy with intensity. He also focuses on the mind-muscle connection – aiming to work his pectorals as much as he possibly can, without working his delts or triceps.
After he has hit his chest with the bench press, he moves on to dumbbell flyes. He uses 20kg dumbbells for this exercise and then supersets with 15kg weights to work his entire chest area until failure.
Cables are introduced to finish the workout and he completes cable lower chest raises and crossovers. He loves the cable exercises in particular, as they offer a unique tension at the top of the movement that no other option can.
Bodyweight Exercises
Combined with his heavy lifting, Ondrej also places a lot of importance on bodyweight exercises. He completes press-ups, sit-ups, dips and a variety of other options.
His favorite bodyweight exercise of them all is the pull-up. He completes pull ups regularly in multiple sessions and loves to include them at the end of his arm workout to really burn the already pumped muscles.
---

Nutrition
Protein In Every Meal
Ondrej focuses on meeting his daily macronutrient needs with healthy and nutritious meal options. He loves to eat healthy lean meats, and includes them in almost every meal.
He can often be found walking to and from the gym eating and he insists on eating a number of small meals throughout the day. He aims to keep a steady stream of nutrients ending his body, so this is the most efficient way of doing so.
Supplements
Combined with these whole foods, Ondrej also includes supplements to maintain the best diet he can, while staying prepared for each workout.
One of his favorite supplements is whey protein. He says that it would be hard to eat enough protein for his needs, so he includes whey drinks to bridge the gap.
As well as this diet supplement, he also uses pre-workout drinks to pump him up before each workout. He loves the caffeine
---

What we can learn from Ondrej Kmostak
Ondrej has shown how important hard work is as an amateur. He trained hard and created the body he always wanted, while enjoying a new sport and making new friends.
Through the dedication he put in early on, he managed to win competitions and take the all important pro card. If you have big dreams for your fitness journey, put in the effort early and who knows where you could end up.