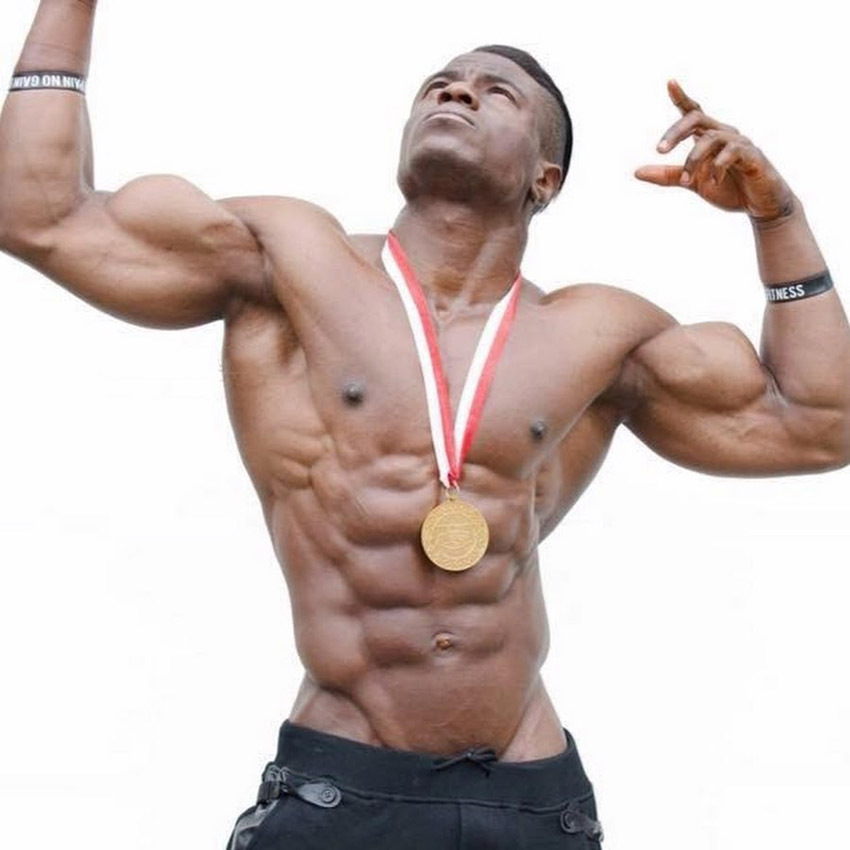 Nathan Mozango
Bodybuilder
The French-born bodybuilder Nathan Mozango was always keen on building a "God-like" physique and building his strength. However, Nathan wasn't always interested in bodybuilding and building a large amount of "mass".
He was more interested in martial arts in his youth. But, as Nathan grew older and he saw the changes take place after years of strength training, he started to respect the sport of bodybuilding a whole lot more.
Needless to say, he went on to compete and won his first competition. Being one of the youngest competitors to ever win a Pro card, Nathan now has his sights set on bigger competitions in the Pro league. He continues to train hard and represent his awesome physique as a testament to what can be achieved with hard work and commitment.
This is his story:
---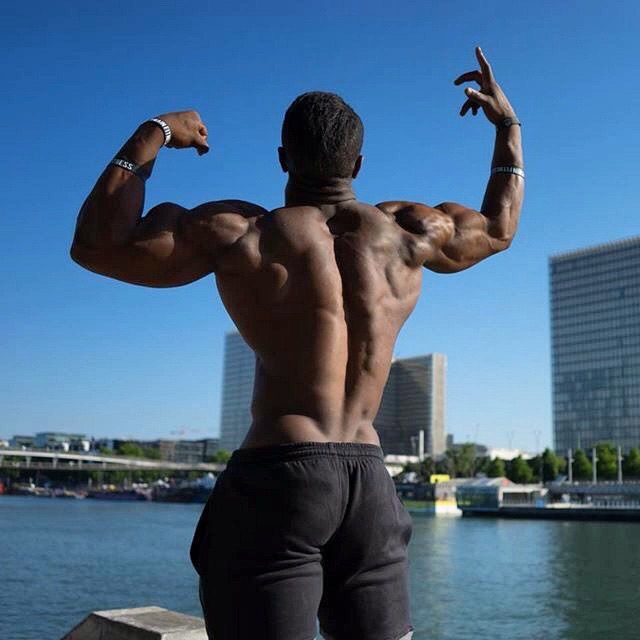 Athlete Statistics
Full Name: Nathan Mozango
Weight
Height
Arms
Chest
175 - 185lbs (79.4 - 83.9kg)
5'11" (180cm)
17"
57"
Waist
Thighs
Calves
29"
26"
16.5"
Nationality
Profession
Era
Belgian
Bodybuilder
2010
| | |
| --- | --- |
| Weight | 175 - 185lbs (79.4 - 83.9kg) |
| Height | 5'11" (180cm) |
| Arms | 17" |
| Chest | 57" |
| Waist | 29" |
| Thighs | 26" |
| Calves | 16.5" |
| Nationality | Belgian |
| Profession | Bodybuilder |
| Era | 2010 |
---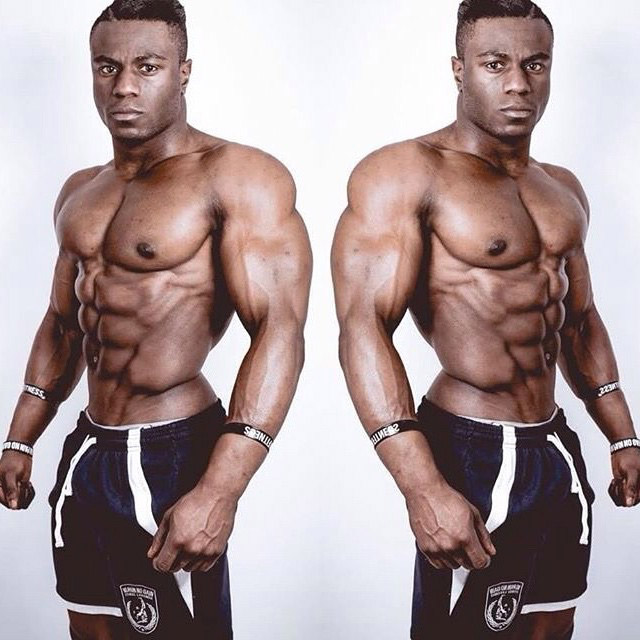 "You have created your own Limits. Now, break them! "
Accomplishments
Competitions 
2015- WBFF Pro Muscle, London – 1st Place (195 lbs.) – Men's Model Pro Card
2014- Musclemania Paris- Bodybuilding category Junior – 2nd Place
Events
2015- Salon du Fitness – Paris. Guest celebrity greeter and posing. (March 2015)
---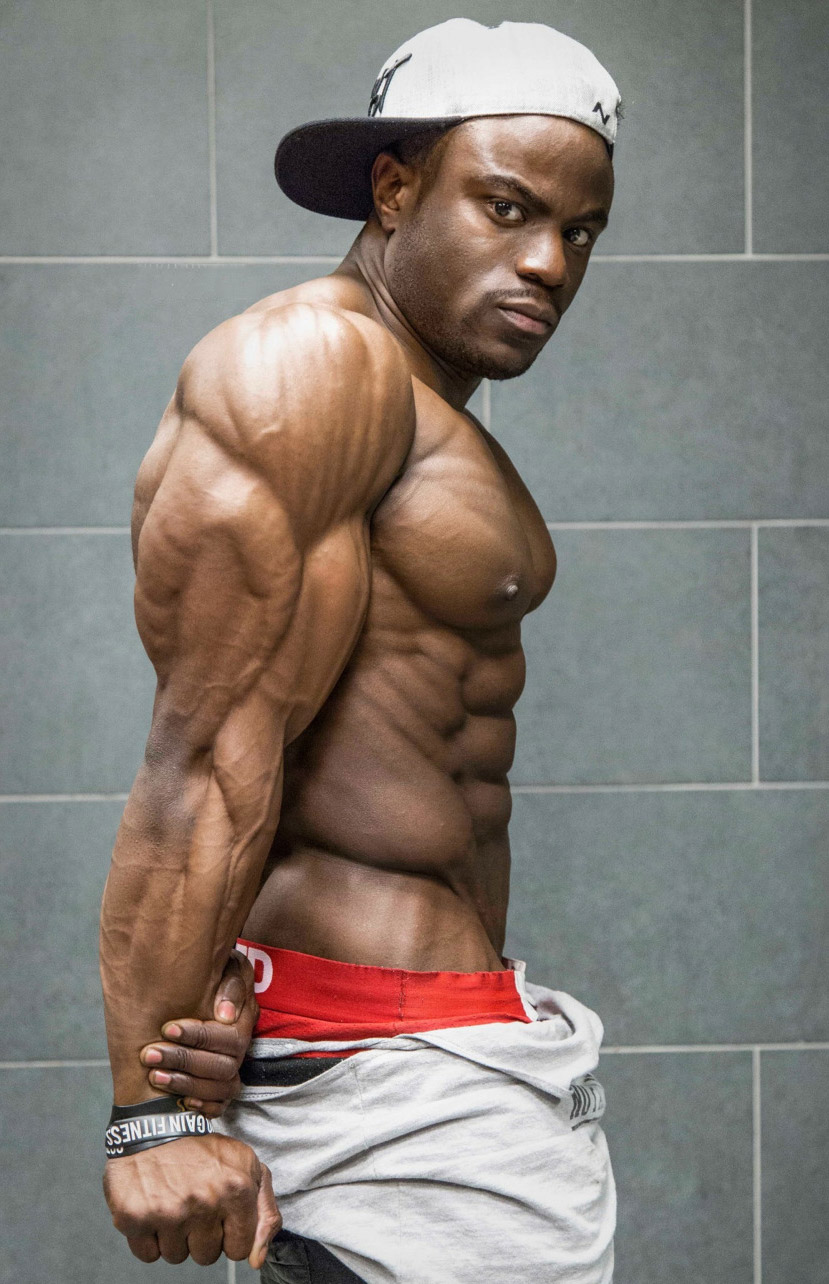 "Im actually more looking for Aesthetics in the style of Greek Gods."
Biography
Martial Arts To Bodybuilding
Nathan Mozango was born in Brussels, Belgium, in 1994. He first started weight training at the age of 15 after he saw his idols such as Bruce Lee and the film "Rocky". It was these iconic fitness idols that influenced Nathan to become "strong and powerful". In the beginning, it was martial arts that motivated him the most.
However, as Nathan wasn't old enough to join a gym, he decided nothing was going to stop him in creating his dream physique. Nathan would workout in his room every day. And after hundreds of pushups, situps, and kung fu techniques which he found online and in magazines, he soon started to see a change in his physique.
Through many months of training, and despite his lack of knowledge when it came to training, a strong and healthy physique started to show. It was at the age of 15 Nathan had the opportunity to take part in his first gym session in school (due to age restrictions previously).
This is when Nathan really started to develop. And by the time he hit 16, he was already signed up to his local gym. This, as Nathan says, "is where the real fun began". 
Competition History
In May of 2015, Nathan went on to compete in the WBFF Muscle Model event in London. His awesome muscle gains mean Nathan beat his competition hands down. He was awarded with the WBFF Champion Male Model Pro, this is where he won his Pro card.
Winning this competition was a huge milestone for Nathan as the very people he was competing against were some of the very people he admired growing up. As Nathan says, "A dream that became true…where I finished in the first place".
He is now looking forward to competing in the Pro division for the coming future.
---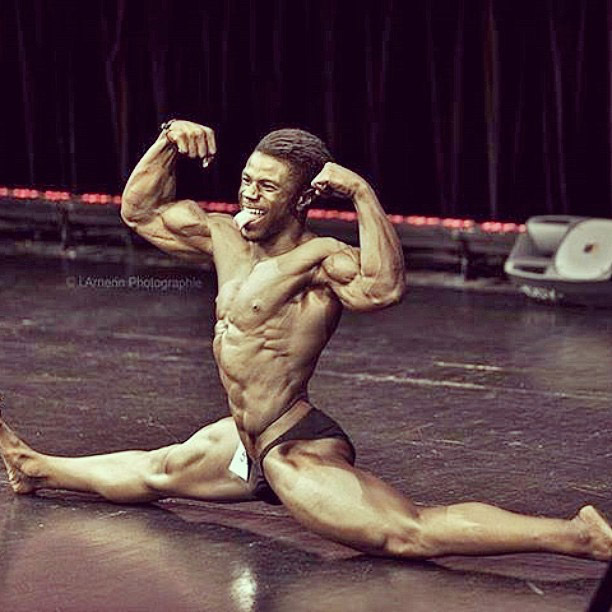 ---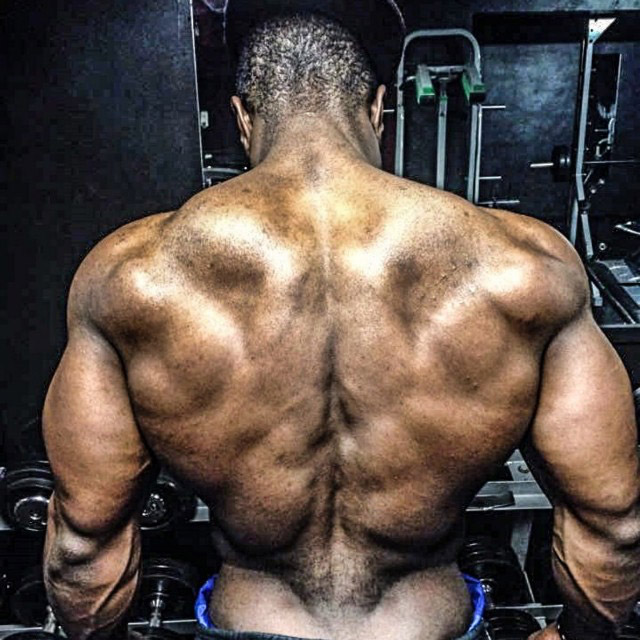 ---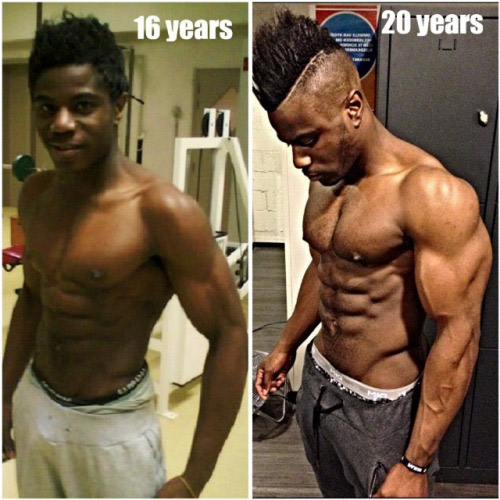 Nathan before and after.
---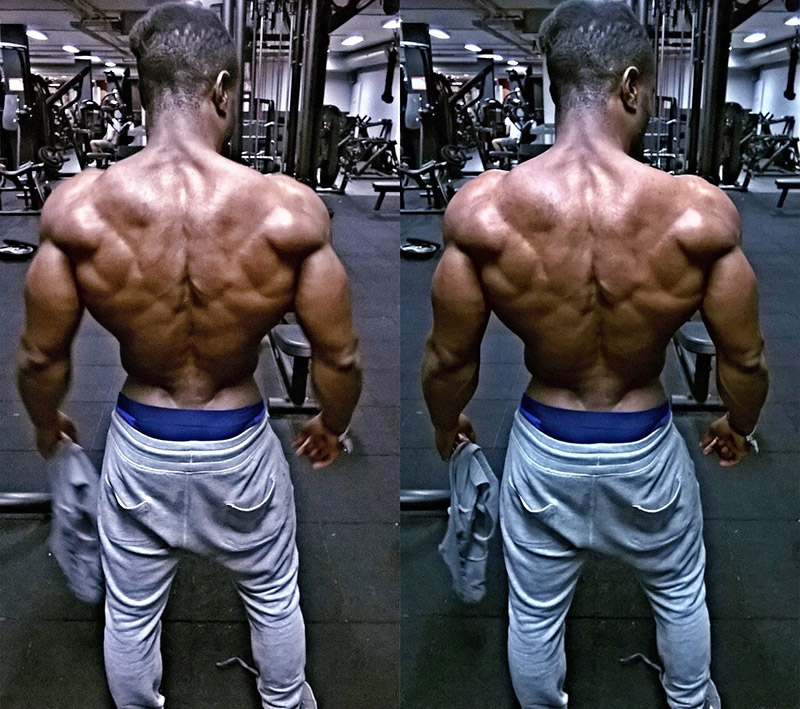 Training
Cardio
Nathan will generally follow a training split routine 5-6 days per week. He will also perform cardio, Nathan's favorite form of cardio is running. He says he likes to manipulate his effort through the difference terrain.
On the flats, he'll keep a steady pace, but when he reaches a hill, he'll increase the speed to get the heart pumping, and on the downhill, he'll slow right down to bring his heart rate back to normal.
However, when he's on a mass gain diet, he will limit his jogging routines to 12km per week. On the other hand, when summer comes around and he want's to be shredded, he will increase his jogging to four times per week.
Abs Training
For his abdominal training, Nathan will work his abs three times per week straight after his jogging session right before breakfast.
Nathan's Workout
Monday: Chest and Triceps 
Benchpress (bench)
20 reps at 70 kgs
15 reps with 80 kg
10 reps at 90 kgs
7 reps at 100 kgs
5 reps at 110 kg
Incline dumbbell press (Incline Dumbbell)
20 reps at 30 kgs
10 reps at 32 kgs
7 reps at 34 kgs
5 reps at 36 kgs
Weighted push ups
10 reps at 40 kgs
7 reps at 50 kgs
Tuesday: Back
Bent over Row
30 reps at 55 kgs
20 reps at 65 kgs
15 reps at 75 kgs
10 reps at 85 kgs
Seated Row 
12 reps with 60kgs
8 reps at 65 kgs
6 reps at 70 kgs
Lateral Pull Down
20 reps at 75 kgs
12 reps at 80 kgs
7 reps at 85 kgs
5 reps at 90 kgs
Wednesday: Legs
Full squat ( "ass to grass")
30 reps at 80 kgs
25 reps 90 kg
20 reps at 100 lbs
12 reps at 110 kgs
8 reps at 115 kgs
90˚ degrees vertical press
15 reps at 270 lbs
10 reps at 290 kgs
6 reps at 300 kgs
Leg extension
1 drop set: 20 reps at 110 lbs / 10 reps at 90 kgs / 10 reps at 70 kgs
Leg curl lying
1 drop set: 20 reps at 35 kgs / 10 reps at 30 kgs / 10 reps at 25 kgs
Calves
Plantar extensions to the press
4 sets max 170 kgs (I do not count the reps)
Extensions seated calf machine
4 sets max between 75-95 kgs
Thursday: Triceps and Biceps
Tricep Push Down 
25 reps at 50 kgs
20 reps at 60 kgs
12 kgs to 70 reps
8 reps at 80 kgs
Dips
40 reps BW
20 reps at BW + 25 kg
12 reps at BW + 35 kgs
6 reps at BW + 45 kgs
Dips Machine
3 sets to the max with the entire stack (90 kgs)
Biceps
EZ Curl bar
25 reps at 36 kgs
20 reps at 40 kgs
12 kgs to 44 reps
8 reps at 48 kgs
Curl inclined sitting with dumbbells
15 reps with 18 kg
12 kg 20 reps with
8 reps at 22 kgs
EZ Curl bar reversed (to work the forearms)
3 sets to the max with a weight between 26 and 36 kgs
Friday: Shoulders and Traps
Push Press 
20 reps at 30 kgs
15 kgs to 40 reps
8 reps at 45 kgs
5 reps at 50 kgs
Arnold Press 
15 reps with 22 kg
10 reps with 24 kgs
7 reps with 26 kgs
Hang Pull
3 sets max with a weight of 46-54 kgs In superset with frontal elevations 3 sets with 14 kg max
2 sets max of lateral raises to the pulley
Saturday & Sunday: Off
---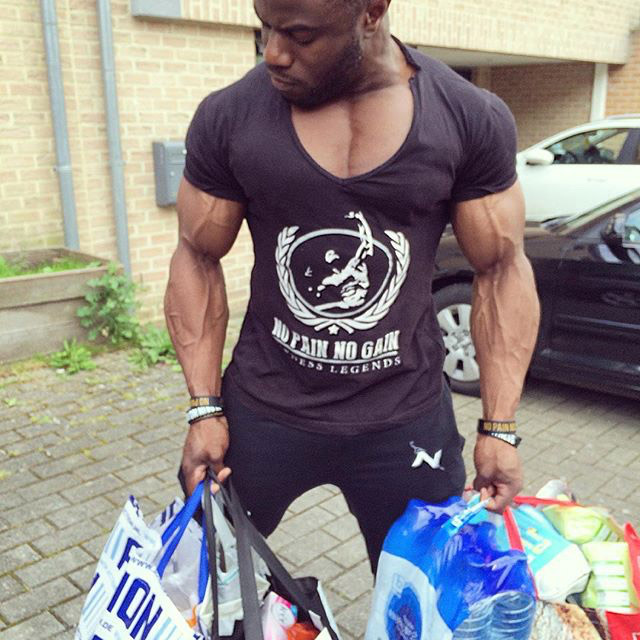 ---

Nutrition
Like most bodybuilders, Nathan likes to prepare his meals in advance by cooking everything at once and placing it evenly in containers so he's never without a healthy and balanced meal.
His protein sources are mainly lean chicken breast, and the fats occasionally come from peanut butter and virgin olive oil and eggs, and his carbs come from brown rice and sweet potatoes.
This diet has served him well over the years in becoming one of the best youth competitors from France where he's managed to grow some serious size and strength in the process.
---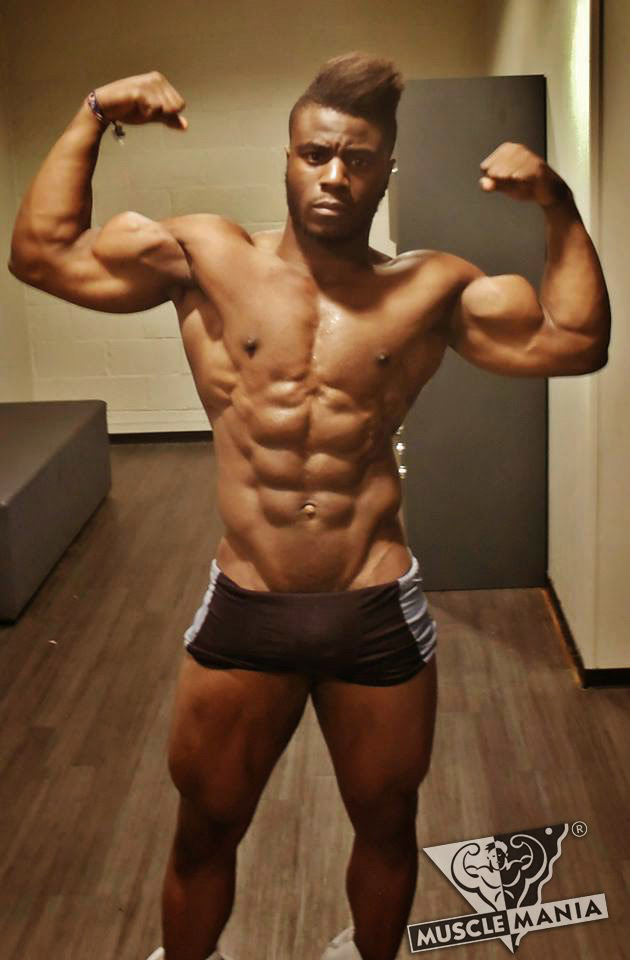 Idols and Influences
Bruce Lee, Sylvester Stallone, and the Greek Gods and all Nathan's idols which motivate him to keep pressing forward with his training. Ever since he was a teenager, Nathan knew he wanted to look like a "Greek God", and it's clear to see he's achieved just that.
---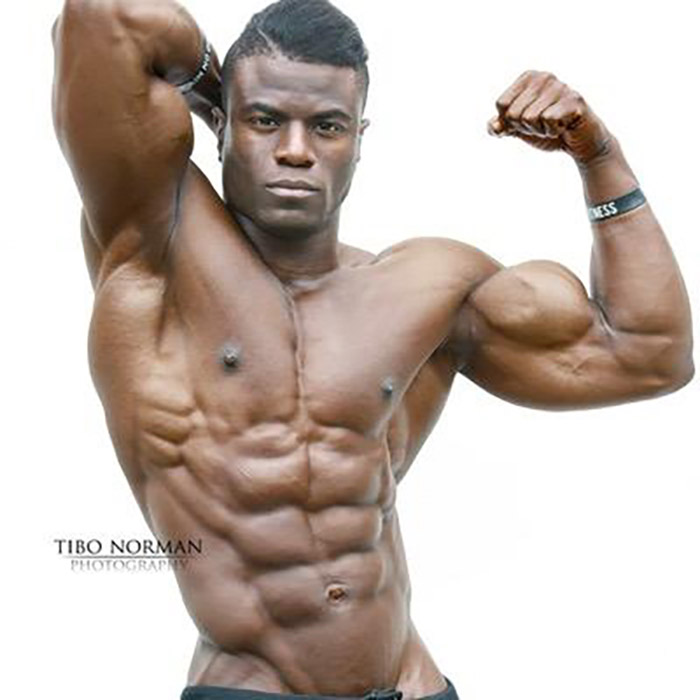 "Victory is not about being better or worse than somebody else. It's about being able to keep going when everything around you forces you to give up."
What we can learn from Nathan Mozango
Nathan Mozango always knew he wanted to have a "God-like" physique. His early influences such as Bruce Lee and Sylvester Stallone motivated him on to become a world-class athlete.
Having to wait until he was older to join a gym only made his passion grow stronger, Nathan exploded in the gym and onto the bodybuilding scene in only a short space of time.
If we can learn anything from Nathan it's to keep pushing forward and make your dreams a reality no matter what obstacles you may face along the way.