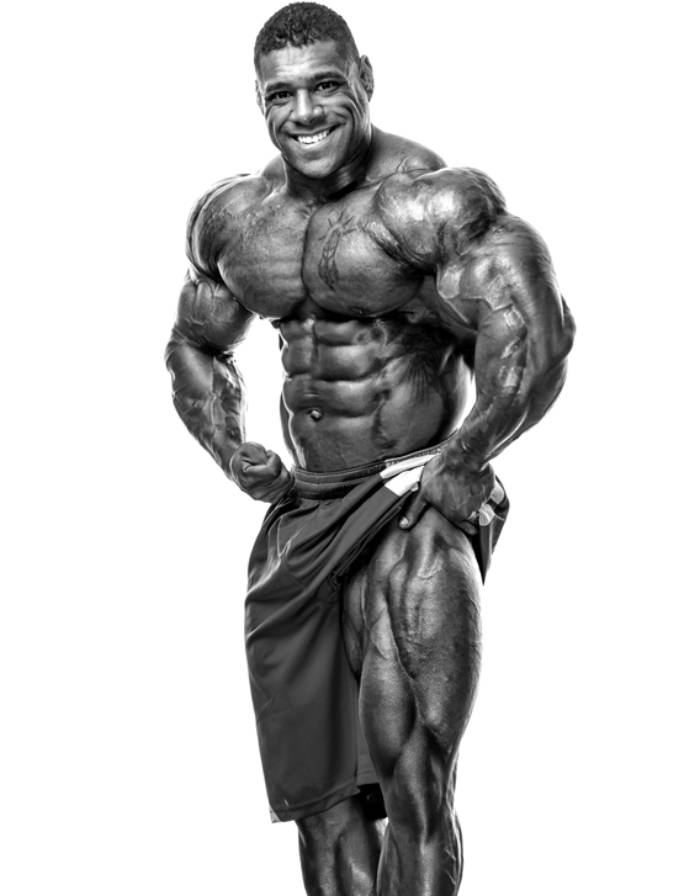 Nathan De Asha
IFBB Professional Bodybuilder, Sponsored Athlete
Nathan De Asha is an IFBB professional bodybuilder and sponsored athlete from Liverpool, England. He made his pro debut in 2016, and has since competed at Mr Olympia and won 2 professional competitions.
Growing up, Nathan lived in a poor area of Liverpool where his single mother parent struggled to make ends meet. Because of this,  he decided to become a famous figure in fitness and raise his family in a better environment.
After winning some local and national amateur competitions, Nathan managed to get his Pro Card at the 2014 British Championships. Since then, he has been a key figure in the professional circuit, competing at Mr Olympia and building a fan base on social media. This is Nathan's story:
---

Athlete Statistics
Full Name: Nathan De Asha
Weight
Nationality
Profession
Era
245 - 255lbs (111.1 - 115.7kg)
British
IFBB Professional Bodybuilder, Sponsored Athlete
2010
| | |
| --- | --- |
| Weight | 245 - 255lbs (111.1 - 115.7kg) |
| Nationality | British |
| Profession | IFBB Professional Bodybuilder, Sponsored Athlete |
| Era | 2010 |
---

Accomplishments
Competitions
2006 NABBA Mr. Northwest, 1st
2006 NABBA Mr. Britain, 3rd
2006 NABBA Mr. Universe, 3rd
2007 NABBA Mr. Northwest, 1st
2007 NABBA Mr. Universe, 4th
2007 NABBA Mr. Europe, 1st
2007 NABBA Mr. Universe, 1st
2007 UKBFF British Championships, 1st
2010 UKBFF British Championships, 1st
2014 British Championships, 1st, 1st (overall)
2016 IFBB BodyPower Pro, 2nd
2016 IFBB Toronto Pro, 1st
2016 IFBB New York Pro, 7th
2016 IFBB California Pro, 2nd
2016 IFBB Mr. Olympia, 12th
2016 IFBB Kuwait Pro, 6th
2016 IFBB Lou Ferrigno Legacy, 1st
---

Biography
Early Years
Nathan was born and raised in a poor area of Liverpool, England. He was raised by a single mother who was on government welfare, and struggled to make ends meet. He says "there weren't a lot of options in life for us there… the schools weren't very good, so you could either do sports, or hang around the streets and make money any way you could."
Luckily, Nathan was an excellent soccer player, and he spent a decade playing semi-professionally for a local team. Following this, he transitioned to the sport of rowing for a couple of years. He was on the same team as Olympic gold medalist Sir Steven Redgrave for a while – enjoying the sport greatly.
Discovering Bodybuilding
Nathans first experience of weight training came when he was 18 years old. He says that he wanted to put on some extra weight to help his soccer career, but didn't really know the best way. He was told about a local "backstreet gym"- but when he attended he says that the massive guys in the gym "intimidated" him.
Even though it was a daunting experience for Nathan, he loved the experience of lifting the various free weights and building his body. Around this time, he also started to buy some bodybuilding literature, and particularly enjoyed reading a Joe Weider book, which detailed basic bodybuilding movements.
As he learned the basics, he began to create an excellent diet to match with his training routine, and saw quick results. He says that the first thing he noticed was that his "clothes were fitting tighter on Saturday nights."All in all, Nathan managed to put on 45 pounds of muscle mass in his first 15 months of training.
Starting To Compete
While Nathan was enjoying working out and changing his physique, he initially didn't regard bodybuilding as a true sport. In his words, bodybuilding was just "guys putting on these little trunks and painting on a fake tan."
His friend Darren Smith, who was a well-known competitor in Liverpool, managed to convince Nathan otherwise. He explained that the shows were the true test of a bodybuilder, and the muscles built could only be properly judged on the competition stage.
This talk managed to convince Nathan to test the waters at a local NABBA show. He was 21 years old at the time, and as he stepped onto the stage he was nervous, and out of his comfort zone. Even so, he managed to win the competition,"surprising himself" greatly.
The confidence he gained from winning this show, ultimately spurred Nathan on to take part in more. He ended up winning the NABBA Mr Universe and Mr Europe titles, and also won the junior title at the British Championships. He also began to study for a degree in sports science at this time, hoping to use the knowledge from this degree to build a career in the fitness industry.
---

---
Going To Jail
Nathan was absolutely dedicated to a career in bodybuilding at this stage, and was enjoying his degree. He knew that he had a professional level physique, and he was on the brink of chasing his pro card. Unfortunately though, his life took a turn for the worse.
Riots broke out in Liverpool in 2011, and Nathan objected to the police and media labeling the rioters as the "black kids of single mothers." He wrote about this on Facebook, and the police took notice – charging him with encouraging looting and violence in Liverpool.
Nathan could have chosen to accept the charge and walk free, but he instead chose to plead not guilty on principle. Because of this, he was made an example of and received 20 months in prison.
Going For His Pro Card
When he was released from prison in 2012, he tried to complete his degree, and was told that he could not be hired as a dietitian due to his criminal record. Because of this, he decided that he would go for the 2013 British Championships, and claim his Pro Card by winning.
Unfortunately, before the competition he suffered from 3 blood clots while training that nearly killed him. He was back to square one, and decided that he would now have to aim for the 2014 show. Once again a few major events tried to ruin his show; his niece died and he suffered from a bout of pneumonia. He managed to fight through these issues however, and came first place in the heavyweight category – claiming the elusive professional title.
Mr Olympia
The next championship Nathan entered was the professional level UK Bodypower. He managed to take a respectable second against Roelly Winklaar, but he had his mind set on the Mr Olympia. It is very common for bodybuilders to wait a few years until they are ready for the Olympia, but Nathan disagreed with this approach.
"I know a lot of guys now like to take time off and skip the bigger shows until they think they're ready, but that makes no sense to me… you never know what's going to happen in life. That might have been your only chance. And if you qualify for the Olympia and skip it, you just took that chance away from some other guy who would have loved to get up on that stage."
He loved every second of the world famous contest. He was on stage with the likes of Phil Heath, and he says that he came to realize that they were just men, and not unbeatable gods. He placed 12th in the contest, but saw it as his first step in a gradual journey to the top.
---

Training
Liverpool Or Kuwait
Nathan trains in both Liverpool and Kuwait. He managed to start training in 'Oxygen Gym' in Kuwait, after his friend (and bodybuilding legend) Roelly Winklaar invited him to join him. Roelly has now become Nathan's de facto coach when he is in Kuwait, and the two enjoy working out together.
Training Split
Day 1: Chest
Day 2: Back
Day 3: Arms (Trices a.m., Biceps p.m.)
Day 4: Delts
Day 5: Legs (Hams a.m., Quads p.m.
Off, repeat
Back Focus
Nathan believes that his back is one of his weaker areas, so he hits this muscle group every fifth day in his split. He completes a short warm up in the morning, then returns at 3pm for a longer session.
 "I realize my back is one of my weaker body parts that I need to bring up, so I'll dedicate the day to it."
Morning
His usual morning workout incorporates hyperextensions and deadlifts. He completed 15 reps of bodyweight for his first set of Hypers. He then follows this routine:
10 kilos for 15 reps
15 kilos for another 15
25 kilos for a dropset,  (10 reps with 25 kilos, 10 reps with 20 kilos, 10 reps with 10 kilos)
When it comes to his morning deadlifts, he will do a warm up set. After this, he will then work his way up to 260 kilos by his fourth or fifth set. For this weight he tries to complete 10 reps. While this is taxing for Nathan, it is the afternoon when he really starts workign to his limits.
Afternoon
He starts the afternoon with four sets of pullups. He says that he can often push out 14 reps per set, but if he is feeling sore, he will do 10-12. After this, he completes four sets of front pulldowns.
For his pulldowns, he completes sets of 15 reps, 12 reps then 10 reps. Straight away after these sets, he likes to move on to two single-arm exercises – completing single armed seated rows or hammer strength pulldowns. These choices allow him to work until exhaustion, and go home feeling like his back has been hit as hard as possible.
---

Nutrition
Healthy Options
As Nathan spends a large chunk of his year in Kuwait, he has become used to eating a Kuwaiti diet. He loves to try out new curried meats with rice -adapting his macronutrient needs to this new cuisine.
When he is back in Liverpool, he loves to cook a lot of his own food. He eats meals such as peppered pork steaks with cheesy potatoes, and has his meat delivered to his door.
Supplements
As well as this healthy food, Nathan also uses supplements heavily in order to maintain his size and strength. He uses whey protein, as well as pre-workout supplements, amino acids and vitamins to keep his body in good working order.
---

What we can learn from Nathan De Asha
Nathans ability to fight through setbacks in order to reach his goals, has allowed him to become an IFBB pro and Mr Olympia contender. He suffered from blood clots and a family death, which almost stopped him competing for good – but he didn't give up.
If you suffer a setback in your fitness journey, it may be useful to see it as an opportunity to learn and come back stronger.