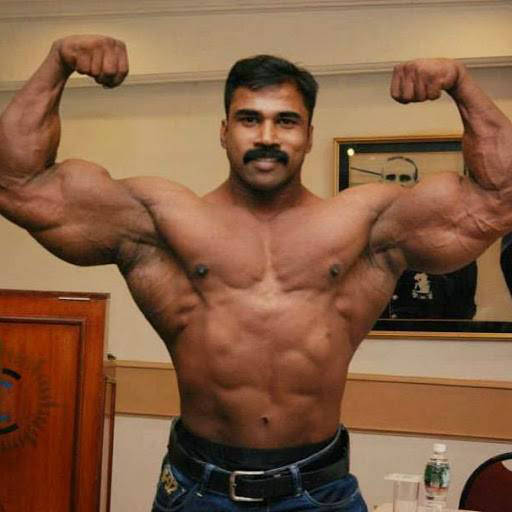 Murali Kumar
Professional Bodybuilder
Murali Kumar is a well-respected professional bodybuilder from Kerala, India. He's known for his complete dedication to the bodybuilding lifestyle, which has allowed him to rise to the top of the Indian rankings.
While Murali's large and well-proportioned physique is a testament to his hard work in the gym, he's had to juggle weightlifting with his two day jobs. He has worked as both a software engineer and a naval seaman; injuring his leg in the navy, where he begun a strength training program to avoid further injury.
It was this strength training that sparked Murali's passion for the gym. He began to build his physique, and was constantly inspired by his friends to push himself towards professional competitions. He did so, and managed to win several amateur shows, before winning Mr India in 2013.
Murali has since won several more professional competitions, claiming his spot as one of the best bodybuilders in India. He's always looking to help other Indian bodybuilders reach their goals – just like he did. This is his story:
---

Athlete Statistics
Full Name: Murli Kumar
Weight
Year of Birth
Nationality
Profession
215 - 225lbs (93.0 - 102.1kg)
1985
Indian
Professional Bodybuilder
Era
2000, 2010
| | |
| --- | --- |
| Weight | 215 - 225lbs (93.0 - 102.1kg) |
| Year of Birth | 1985 |
| Nationality | Indian |
| Profession | Professional Bodybuilder |
| Era | 2000, 2010 |
---

Accomplishments
Professional Competitions
2013 Mr India – 1st Place
2013 Mr Asia – 1st Place
2013 Mr World -3rd Place
2014 Mr India – 1st Place
---

Biography
Growing Up In India
Murali Kumar was born and raised in Kottayam in Kerala – a state on India's Malabar tropical coast. He had a very lively upbringing, playing a number of sports including cricket and soccer, but his main passions were electronics and fixing computers.
This interest in electronics led Murali to study software engineering. He enjoyed this course a lot and became a software engineer in his local town; but in his words, he wanted to do something more "active" with his life.
The Indian Navy
This need for physical activity inspired Murali to join the Indian Navy. He greatly enjoyed this new career path, but he unfortunately broke his leg during training, which forced him out of service. As part of the recovery process, the doctor advised him to take up strength training to re-build his leg muscles.
The doctors order to attend the gym became Murali's new passion – almost immediately. He loved every aspect of the fitness lifestyle; the dedication needed, the nutritional element and the weightlifting itself.
---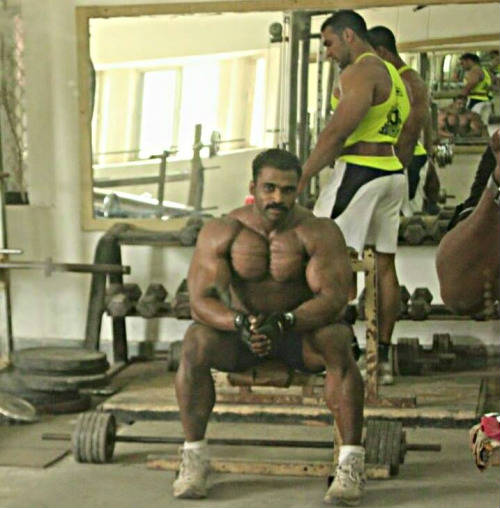 Murali in the gym in the early 2000's
---
Developing His Passion
As Murali concentrated on his legs mainly, he only saw improvements in this area. While this was what the doctor ordered, Murali wanted to build his upper body and develop a true bodybuilders physique.
He knew that he had an ideal frame with wide shoulder's, so he got to work chasing his dream. His gym friends were extremely impressed with his initial progress, pushing him in his workouts. From then on, he says there was '"no looking back."
Competing
The confidence Murali's friends had in him, had no limit. As his physique improved rapidly, they saw that Murali's size and stature was good enough for him to win competitions. He agreed and began training with a coach to build the best possible physique he could.
It took him 10 years of continuous effort to get to the point where he could compete professionally. In 2013 , after competing in and winning several amateur shows, Murali set his sights on the 2013 Mr India title, facing up against the famous Indian bodybuilder Sangram Chogule.
As Murali stepped on the stage he was confident, but  wasn't sure if he had what it took to win. When the judges showed him to the 1st place podium he was shocked, but knew that his hard work had paid off in a big way.
He says that this win "changed his life." He went on to win Mr Asia and Mr World in the same year and Mr India again the next year.
---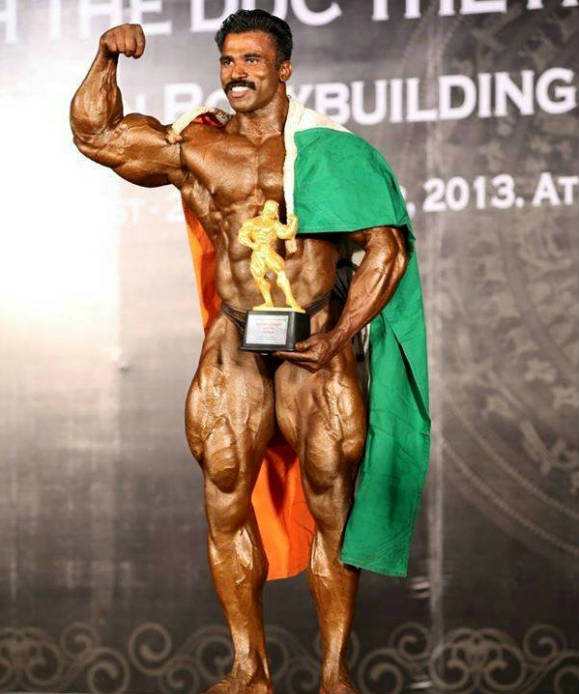 Nutrition
High Protein Diet
Murali believes that his high protein and high calorie diet is the key to his success. His daily meal plan includes 50 Egg whites, and a lot of green Indian vegetables such as Malabar spinach. He tries to eat every two hours, to ensure that he has a constant stream of protein entering his body.
Supplements
In terms of supplements, Murali doesn't use as many as most western pros. He chooses to use whey protein on its own, incorporating it on days when he hasn't eaten enough, as well as after most workouts.
---

Murali (right) posing with bodybuilding friends
Idols and Influences
Murali was inspired in his early days by the likes of Dorian Yates. Dorian, who won the prestigious Mr Olympia title 6 times in a row, was Murali's idea of what a bodybuilder should look like. He idolized Dorian's chest and arms in particular, aiming to one day have a body like his idol.
---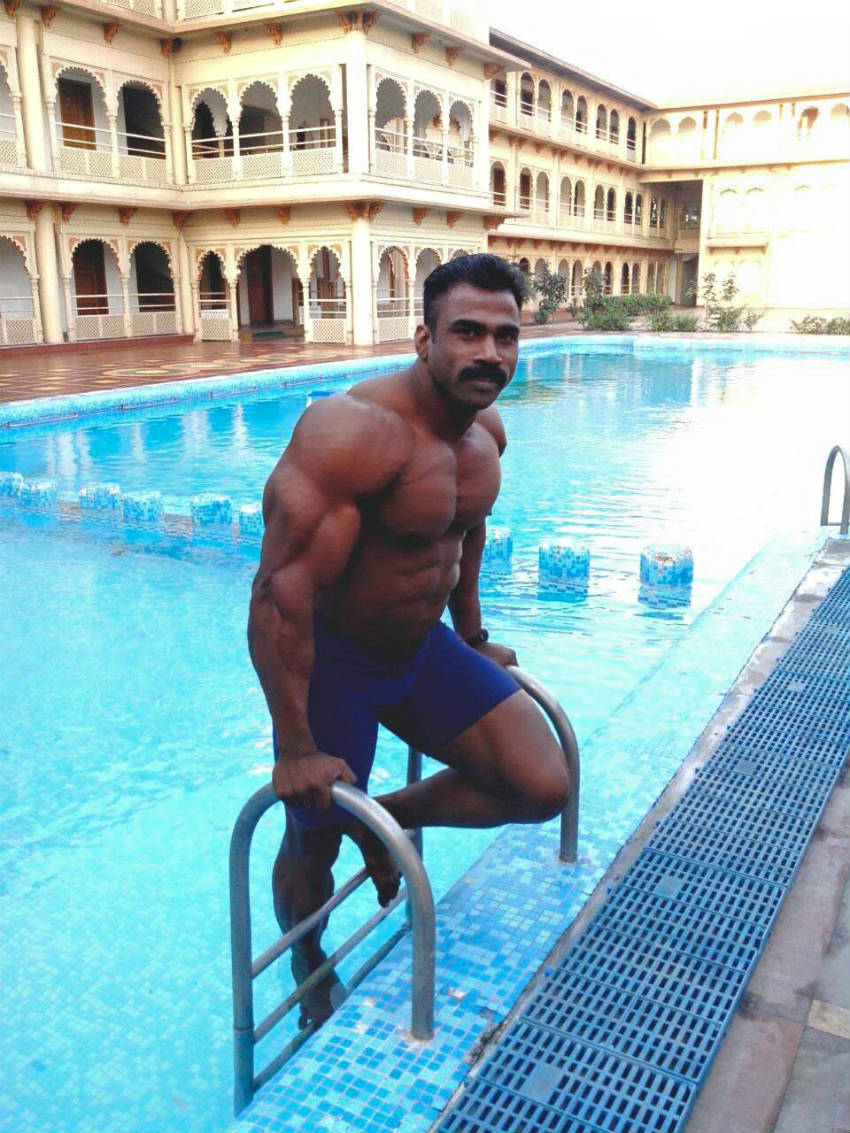 What we can learn from Murali Kumar
Murali's story has shown us that it is possible to bounce back from setbacks and find new passions. He suffered a serious injury in the navy that put him out of action, but the strength training in his recovery process inspired him to pursue a new career.
If you suffer a setback in your fitness journey, it may be useful to take a leaf out of Murali's book and find a new path towards your fitness goals.