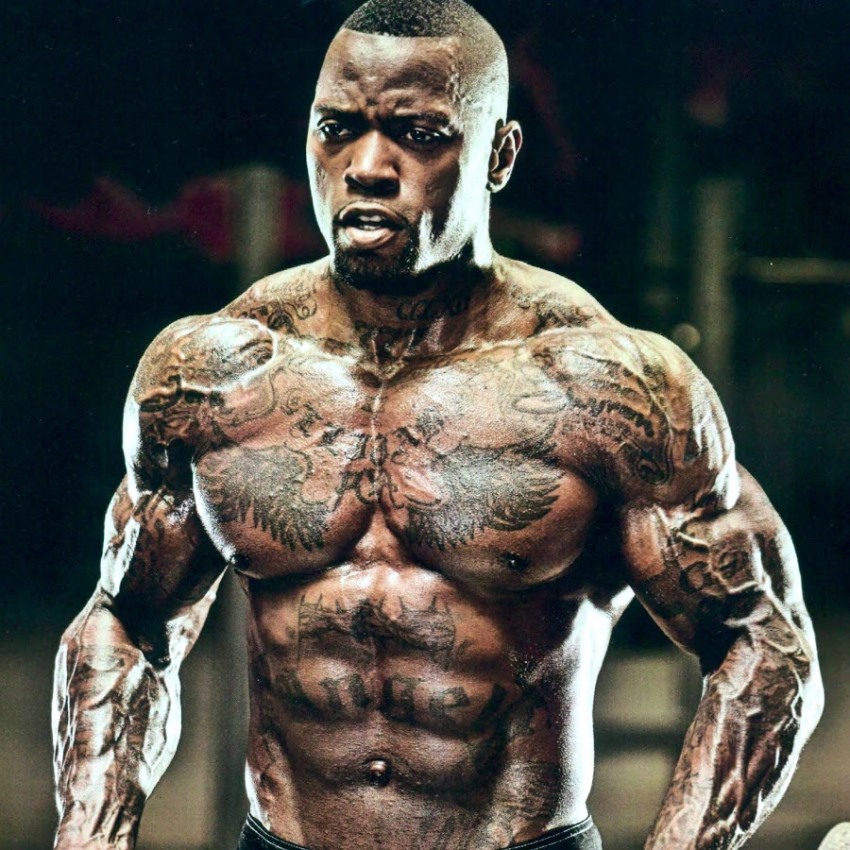 Mike Rashid
Boxer, Professional Bodybuilder, Author, Entrepreneur, Actor
Mike Rashid is a power bodybuilder, author, entrepreneur, former boxer, and online fitness guru from the United States. Alongside being the owner of a popular gym in Miami, Mike also runs his own supplement and clothing line, which has seen a lot of success since he started it.
Growing up, Mike became involved in working out from an early age, thanks to his father. "My father had my brothers and I chopping wood, swimming, sprinting in sand, hiking, doing pull-ups, etc. I had my 1st boxing match at age 12," says Mike.
Mike's interest in boxing grew bigger and bigger as he came into his teens – to the point that he became a professional boxer, winning the National Golden Gloves award on two occasions.
As Mike got into his late 20s, he gradually transitioned to fitness and power-bodybuilding; becoming a WBFF Pro, later, starting his fitness video channel. In his videos, Mike would share his knowledge on fitness, spirituality, and entrepreneurship. Alongside featuring other fitness gurus and stars like CT Fletcher, Dana Linn Bailey, and Kai Greene.
---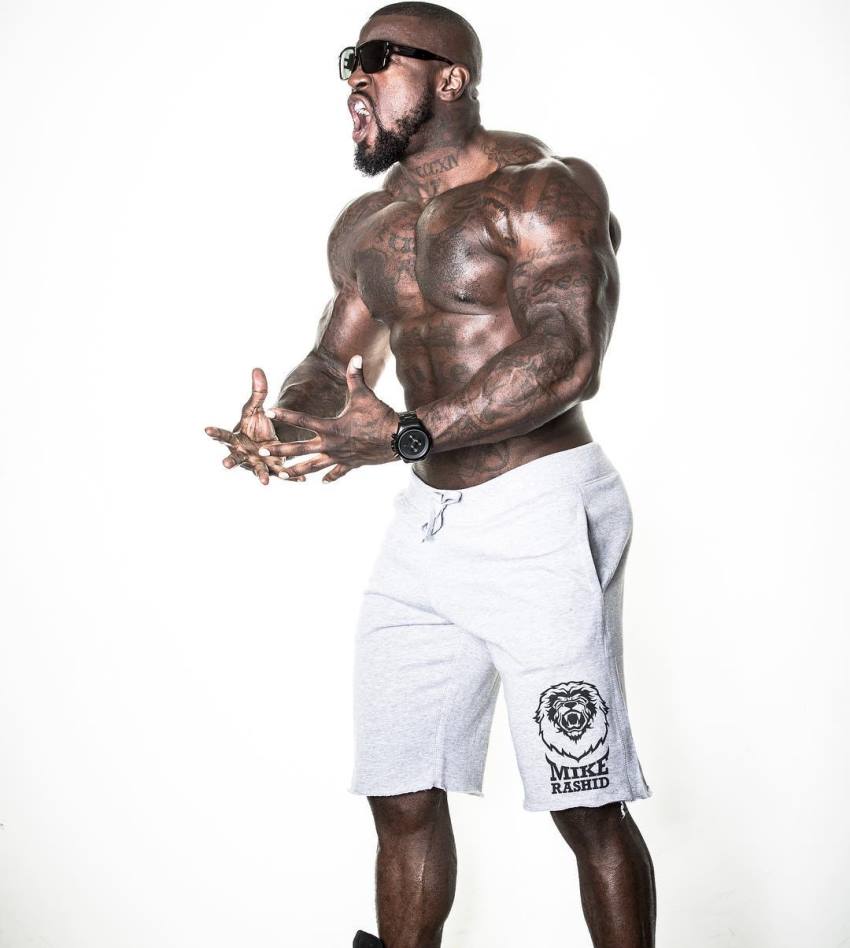 "I never had any intention on competing, someone recommended I do a show, 2 weeks prior to it. I accepted the challenge and it went well, I liked it so I kept on doing it."
Athlete Statistics
Full Name: Mike Rashid
Weight
Height
Age
Date of Birth
215 - 225lbs (93.0 - 102.1kg)
5'11" (180cm)
41
March 14, 1982
Nationality
Profession
Era
American
Boxer, Professional Bodybuilder, Author, Entrepreneur, Actor
2010, 2000
| | |
| --- | --- |
| Weight | 215 - 225lbs (93.0 - 102.1kg) |
| Height | 5'11" (180cm) |
| Age | 41 |
| Date of Birth | March 14, 1982 |
| Nationality | American |
| Profession | Boxer, Professional Bodybuilder, Author, Entrepreneur, Actor |
| Era | 2010, 2000 |
---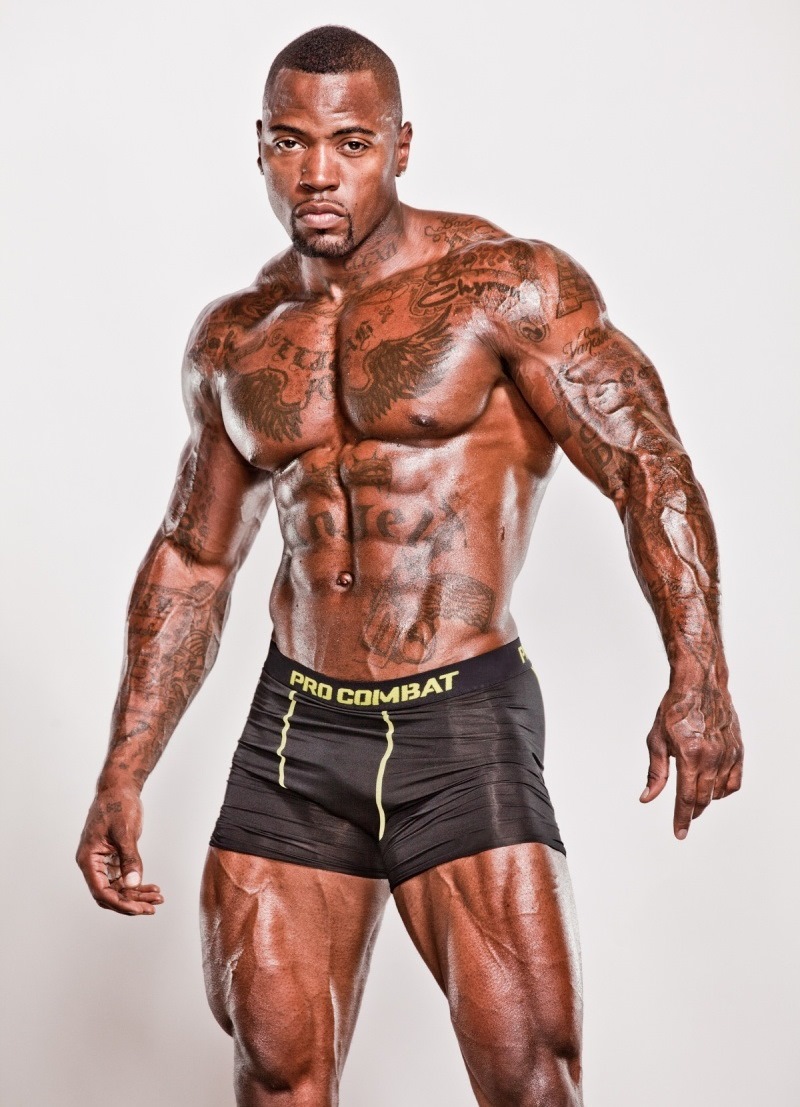 "Since I've started practicing mindfulness my life has been different. Hate to sound dramatic but it's true. If I miss days, I really feel it. I feel I'm vibrating on higher frequencies. I recommend it. Stress becomes less stressful. People seem to move in slow motion. I feel a lot more aware. Life just overall feels more pleasant. Try it. Or don't."
Accomplishments
2x National Golden Gloves Winner
WBFF Pro Power BodyBuilder
Competitions
2013 WBFF Worlds Las Vegas, 7th.
2011 EPFNB Michigan Challenge Of Grand Rapids, 6th.
2011 NPC Michigan Bodybuilding, Figure, Fitness, Bikini & Physique Championships, 7th.
2010 NPC Flint/Mid-Michigan Natural Bodybuilding, Fitness, Figure and Bikini Championships, 1st.
2008 NGA Great Lakes Natural Championships, 2nd.
Feats of Strength
Deadlift – 635
Squat – 585
Bench Press – 475

---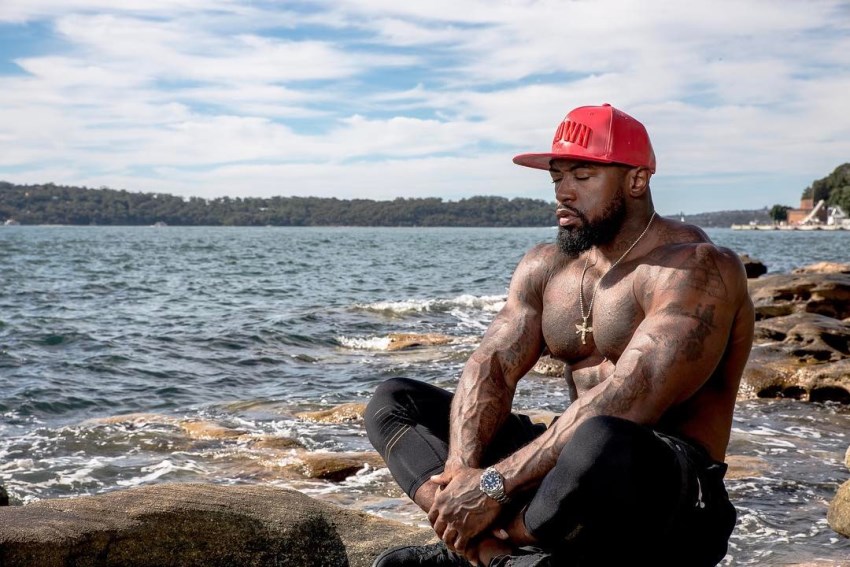 ---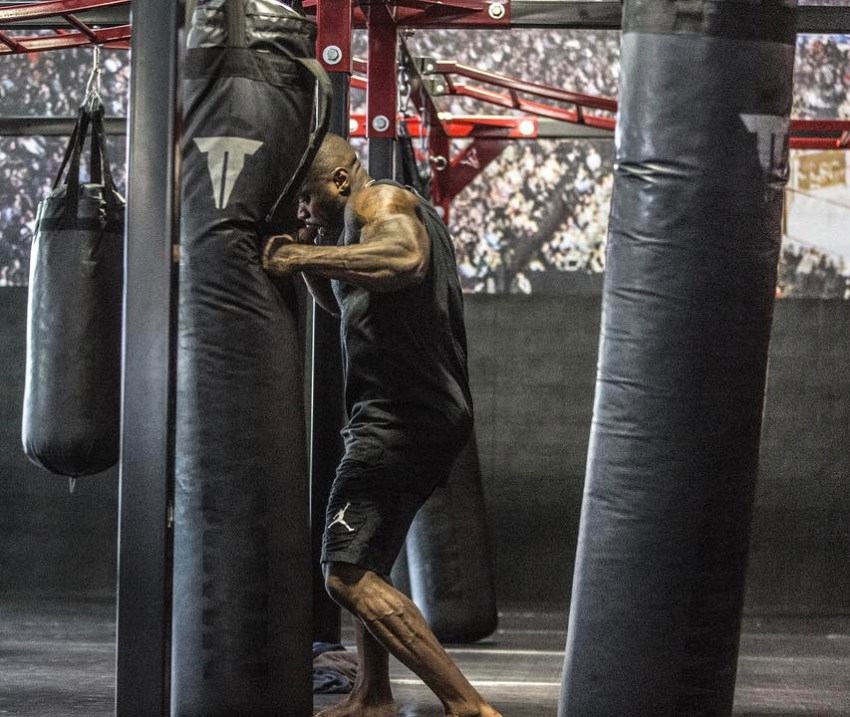 Training
Combining Strength and Endurance
As a former boxer, Mike's goal in fitness is to stay strong, durable, and functional over a long period of time.
Mike says, it can be difficult to maintain both strength and endurance at the same time. However, he likes challenges, so he does his best to keep both aspects of his fitness at their highest.
For strength and size, Mike utilizes heavy compound lifts like squats, deadlifts, and bench press.
These are the basis of his training program. Other exercises, such as isolations, have their place in Mike's workouts, but they aren't utilized as much.
Powerlifting Tips
"I feel squats are the foundation for any athlete, in any sport. I like to incorporate powerlifting principles in progressing to a max effort for a neural response which translates to strength. However I like to progress with bodybuilding styled rep ranges which expands cells translating to larger muscles. After which I activate that inner athlete to do any type of crazy burn out or drop set which translate to badassery."
For functionality and endurance, Mike does things like heavy tire flips, sparring, fight training, running in nature, etc.
This not only helps Mike with his endurance and flexibility, but it also serves him as cardio; being good for fat loss and cardiovascular health.
---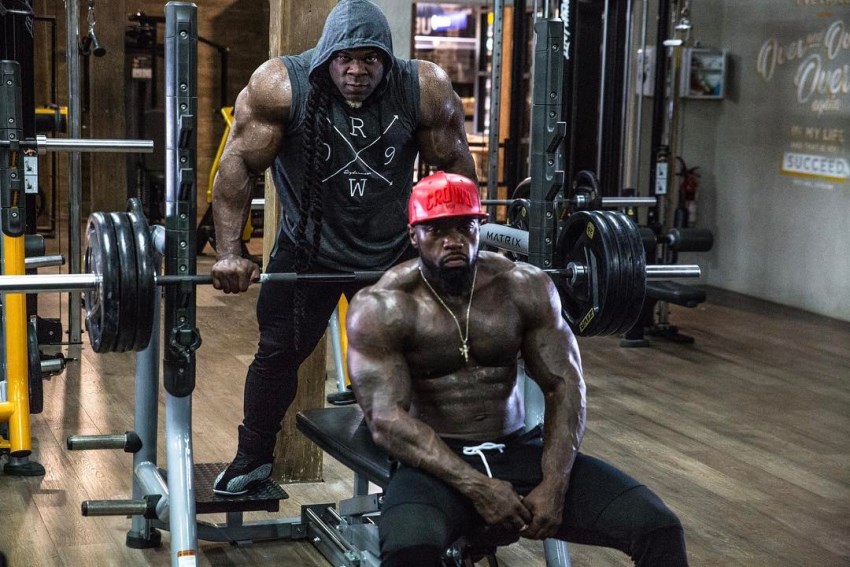 Mike Rashid preparing to do a heavy bench press, having Kai Greene behind spotting him.
---
Mike Rashid's Shoulder Workout
While Mike often mixes his workouts up, he keeps some things the same. Such as starting out with a heavy compound movement which, in this case, can be either standing barbell press, or standing dumbbell press. His shoulders are worked the most during this exercise.
Later in the workout, when he performs other shoulder exercises, Mike focuses on high reps and light weights – maximally exhausting the muscle, and achieving the best pump possible.
Here's how it looks;
Standing Barbell Military (or strict press), 7 sets of progressive increase in weight until 5th set, then reduce the weight on the last 2 sets. Reps: 20, 20, 15, 6, 2, max reps, max reps.
Barbell Upright Row / Supersetted with Resistance Band Row, 5 sets of progressive increase in weight until 4th set, then decreasing the weight significantly at 5th set. Reps: 20, 20, 20, 20, max reps.
Side Delt Raises, 4 sets of 30, 30, 30, 30 reps.
Shoulder Shrug (traps) / Supersetted with Reverse Flye (rear delts), 4 sets of 20, 20, 20, 20 reps.
Saunas and Meditation
Mike regularly visits saunas to detoxify his body. He also meditates often, believing that mindfulness is the key to lowering stress.
Linking this to fitness and bodybuilding, Mike mentioned less stress means less cortisol, a hormone which can be catabolic. The less cortisol there is in his body, the more muscle mass he'll retain.
---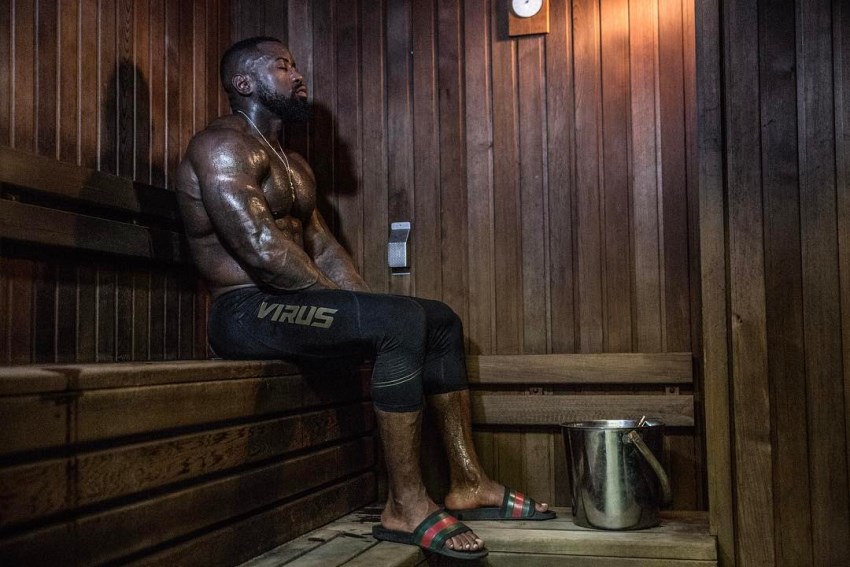 Nutrition
Mike's diet has changed radically over the years. When he competed, he ate like any other competitive bodybuilder – consuming lean and nutritious foods, along with drinking a lot of water, and taking necessary supplements.
One Meal A day Approach:
However, Mike has, at times, completely changed his approach, to what may seem as 'insane' to many.
Mike has experimented with eating once a day, with minimal intake of animal protein. This way, he gets all of his daily calories in one meal, which consists of a lot of healthy fats and plant-based protein.
Mike says, he dropped his weight from 240 to 225 pounds this way, and didn't lose any strength or muscle in the process – only fat.
Instinctual Eating:
Apart from his 'radical' approaches to dieting, Mike is very much a balanced individual, both in life, and when it comes to dieting.
He often sees his eating regime as a practical task, rather than something he has to monitor closely everyday.
He does this by reducing processed foods, and making healthy, 'whole-food' choices as much as possible. This way, Mike stays on track all-year-round.
Mike's Advice On Diet
This is Mike talking about his diet; "I want to drop even more weight. My strength is still the same, been losing fat, not muscle. The less you eat, the more clearly you think. Our ancestors ate a couple times a week if lucky. Food is the number one killer in the United States. Heart disease from overeating the wrong things. 'Let thy food be thy medicine'." – Mike Rashid
Supplements Stack of Mike Rashid
Mike only takes a plant based protein, green superfood blend supplement, and sometimes BCAAs.
---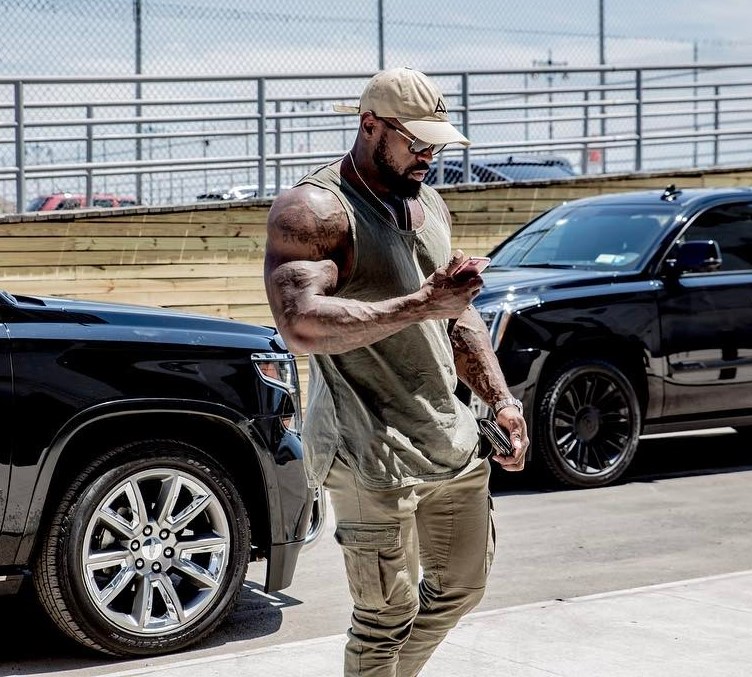 Idols and Influences
When asked who is his main inspiration in life, Mike simply said; "My father. A complete Alpha Male. A mans man. Honest, hard working, strong and gentle."
Besides being a strong and exemplary figure in Mike's life, his father also helped him build a solid foundation for his journey in fitness, and entrepreneurship.
---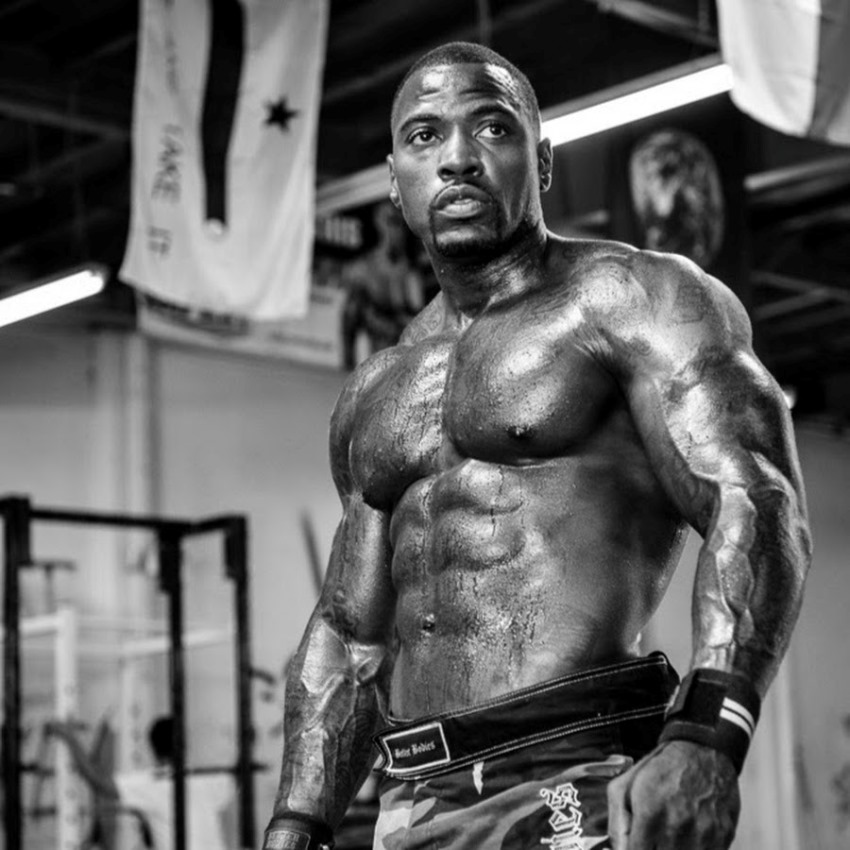 "Honestly, what's it worth if your abs only last a couple days? From what I've observed during my brief time in this "fitness industry" many of these "fitness" folks aren't fit. For some, having abs is a result of being malnourished.

If you are a part of this industry, try to actually be fit and healthy. If you being healthy doesn't allow you to be the most shredded person on the planet, then so be it. I feel this obsession with being "shredded" is mentally unhealthy. Some have to do so much for this temporary look, they gain weight after and get depressed."
What we can learn from Mike Rashid
Mike Rashid is someone who would always take the harder, less crowded route, if he had to choose.
He believes that by choosing discomfort over comfort, he builds his character and strength in life, which ultimately, makes him a happier person.
Choosing the more difficult path is something you too should be willing to do, because it will not only make you stronger, but it'll also make you appreciate your successes that much more.
As someone once said; "Difficult roads often lead to beautiful destinations."