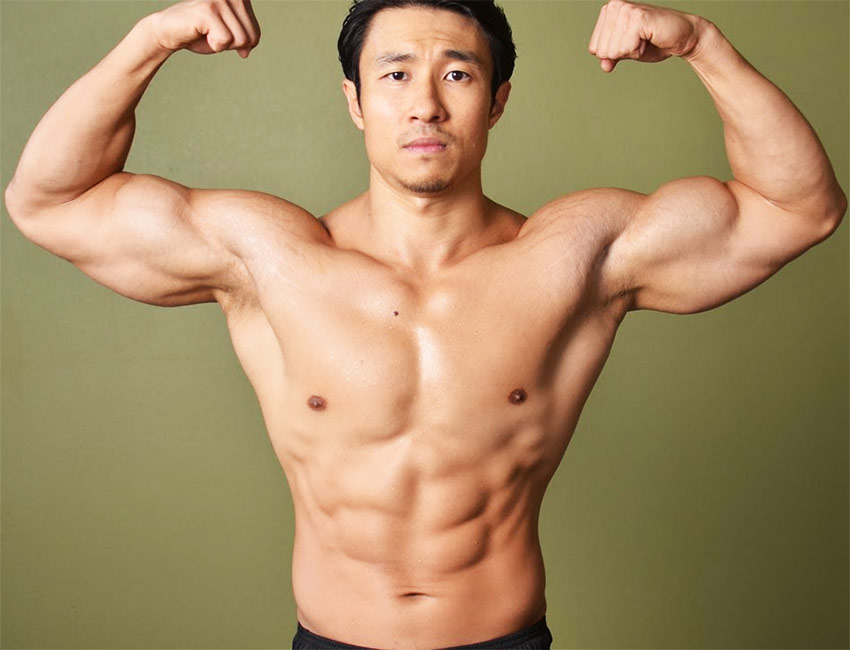 Mike Chang
Entrepreneur, Social Media Star
Best known for promoting a popular workout plan, Mike Chang became one of the most recognizable online fitness guru's. His personal story, of how he lost weight to sculpt a great physique, fascinated fans around the world.
As a result, he gained a cult following on social media (especially YouTube), and became a very successful entrepreneur in the process.
This is his story:
---

There's an importance of getting the right fitness information. There's so much misleading information out there."
Athlete Statistics
Full Name: Mike Chang
Weight
Height
Age
Date of Birth
185 - 195lbs (83.9 - 88.5kg)
5'9" (175cm)
40
November 30, 1982
Nationality
Profession
Era
Taiwan
Entrepreneur, Social Media Star
2000
| | |
| --- | --- |
| Weight | 185 - 195lbs (83.9 - 88.5kg) |
| Height | 5'9" (175cm) |
| Age | 40 |
| Date of Birth | November 30, 1982 |
| Nationality | Taiwan |
| Profession | Entrepreneur, Social Media Star |
| Era | 2000 |
---

"I like showing people exactly hwo to train their body in the right way – so they don't injure themselves and get results."
Accomplishments
Founder of a popular fitness program
Creator of a fat burner supplement
ISAA Certified Personal Trainer
---

I get tons of viewers that have changed their physiques by watching our videos. It's awesome!"
Biography
Start of Fitness Journey
Born in Taipei, Taiwan, but raised in the Lone Star State, Texas (USA), Mike Chang grew up as an overweight teenager – weighing in at 250lbs (113.4lg). During this period of his life, he found it difficult to attract females, and became unhappy with his appearance as a result.
Mike realized that his increasing body fat would lead to serous health issues later in his life – as a result, he sought the help of numerous online fitness trainers and set his sights on sculpting his dream physique.
Early Mistakes
Although Mike had the determination to succeed on his journey, he was following the advice of gimmicks he found online. However, this only led to hum purchasing more ineffective workout guides in desperation.
Over the next 2 years, Mike was able to lose weight – but he'd find himself 'rebounding' every time, and gaining back most of the body fat he'd lost afterwards.
Ultimately, this is what made him realize that the workout guides he was buying were simply gimmicks.
---

---
Becoming a Personal Trainer
Towards the end of 2006, Mike had finally refused to follow online fitness programs and built his own system for weight loss – and it paid off.
Within a couple of months, the 24-year-old managed to shred body fat and achieve his ideal six pack. This inspired him to begin helping others, and it wasn't long until Mike passed the exams to become a certified ISSA Personal Trainer.
Equipped with his new qualification, Mike was ready to begin a new chapter in his life – motivated to help others attain their dream figures.
Six-Pack Abs Coach
During his time working as a personal trainer, Mike's effective system for weight loss resulted in him gaining the nickname 'Six Pack Abs Coach' from his clients.
After being encouraged to reach out to a bigger audience by one of his clients, Mike created various social media profiles. In 2009, at the age of 27, Mike began working towards making a name for himself in the fitness industry.
He began planning his journey as a fitness entrepreneur, creating a marketable strategy for his weight loss system.
---

---
Social Media Star
On the 1st March 2010, Mike uploaded his first workout video on YouTube, using his business social media profile for the first time. This proved to be an instant success, gaining over 800,000 views within the first few months.
This was the motivation he needed to continue creating fitness videos on YouTube – he uploaded a further 7 videos in September 2010, experiencing a rise in popularity.
By November 2010, Mike's weight loss system had become so successful that he began planning a new program. By the end of the year, the online fitness guru released a mass building guide – designed to help people gain muscle quickly.
Entrepreneur
3 years after his first YouTube upload, Mike celebrated his 200th workout video after gaining nearly 2 million subscribers. At this point, the social media star had become one of the most recognizable figures in the fitness industry – boasting over 200 million views on his YouTube profile.
But he wasn't finished yet.
---

---
Fat Burner Supplement & Controversy
In 2015, at the age of 33, Mike created his own fat burner supplement – he began promoting this product using his social media platforms.
However, he received negative feedback from this new venture – along with his millions of followers, Mike had gained many 'haters' that claimed he was taking steroids.
Not everyone believed that he used this new fat burner to sculpt his physique, and this product wasn't a big success. After this slight downfall, Mike decided to leave his career in the fitness industry behind – he disappeared from the online world, and many began questioning his reasons behind leaving.
The Return Of Mike Chang
In late 2016, Mike made his first video on YouTube after leaving his fitness career. However, his new series of videos were not exercise related.
Mike decided to begin uploading inspirational videos, detailing his philosophies in life – and explaining what he'd been doing since his disappearance from the online community.
Despite the emergance of critics towards the end of his fitness career, many of his followers remained loyal; as a result, Mike managed to quickly regain popularity as a Social Media Star.
---

"When you're working on getting a six pack, you need to get rid of the fat through exercises that burn more calories."
Training
Mike knows that following an effective training routine is key to success in the gym. He believes in performing exercises that burn the most calories – which helps you increase your calorific deficit and therefore lose body fat.
However, Mike also believes that you can make use of your environment anywhere; for this reason, he often provides his followers with workouts they can perform at home.
Workout Routine
Here's Mike's favorite home workout:
Half Burpees
Elbow-to-Knee Crunch
Mountain Climber
Jackknife Crunch
---

""If you can't make healthy food taste good, nobody's going to eat it."
Nutrition
Mike Chang is a strong advocate of eating clean all-year-round to retain his trademark six pack. However, he also believes that you should enjoy a variety of foods in your diet, and plan them in advance.
"Almost everyone can agree that you need to eat about five times a day.
But over the course of a month, that's 150 decisions you need to make. If you don't plan it all in advance, you're bound to fail." – Mike Chang
Mike encourages people to put sauces they enjoy on healthy food, if it makes then more likely to continue following a healthy diet plan. He believes this keeps his clients from indulging in junk food.
In terms of foods, the social media star consumes lean proteins, green vegetables and complex carbohydrates – he makes sure to eat 5 times per day, to keep his metabolism and fat burning potential high.
Mike Chang's Foods to Avoid
Here's the 5 foods that Mike advises to avoid:
Wholewheat Bread – "It's not much better than white bread. It's mostly processed carbs and will make you fat"
Fruit Juice – "A cup of orange juice contains around 6 oranges. You'd never eat 6 oranges at once, or you'd feel like you're over eating; this can make you fat"
Granola – "If you want to lose weight, then choose oatmeal instead of granola"
Sports Drinks – "Athletes burn so much calories, so they can drink these calories and still stay in shape. Normal people don't need as much calories, and will just get fat. There are better sources of electrolytes available"
Organic Junk Food – "Foods like organic pizzas and organic muffins are still bad for you. If you're trying to lose weight, then treat this like normal junk food; okay for cheat days, but bad for normal days"
---

"It was one of my clients called Dan who encouraged me to make vids on YouTube."
Idols and Influences
In terms of influences, Mike credits his early clients to his success – it was these people that encouraged him to begin posting workout videos online, leading to his success as an entrepreneur.
---

"Take a well-planned approach to your goals, and you'll get there with hard work."
What we can learn from Mike Chang
Mike changed his lifestyle and transformed his physique – from being an overweight teenager, to one of the most iconic 6 pack figures in the online fitness community.
This determination also helped him find success as an entrepreneur; after marketing his workout routines to the public, his fitness programs also became one of the most successful in the business.