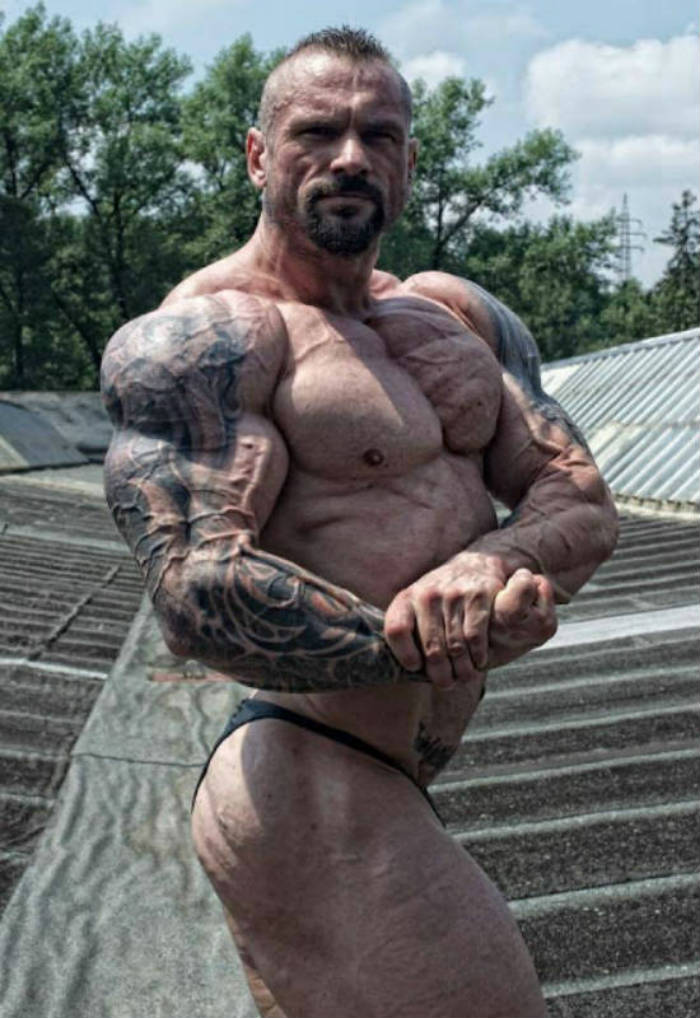 Miha Zupan
IFBB Professional Bodybuilder, Sponsored Athlete
Miha Zupan is an IFBB professional bodybuilder from Kranj, Slovenia. He's attracted a strong following in the fitness world, due to his vascular physique and his dedication towards helping others.
Growing up in Slovenia, Miha didn't initially intend to be a bodybuilder. He was a motorbike rider and only attended the gym to stay strong when he wasn't racing. This time in the gym rapidly developed into a passion, and Miha became obsessed with building a large body.
As Miha developed an excellent physique, he began competing with the intention of going pro. After 13 years of hard work and dedication, he managed to land his pro card in 2015 at the IFBB Amateur Mr Olympia. He sees helping others as crucial for professionals – believing that without this effort, the future generations may receive poor advice.
This is Miha's story:
---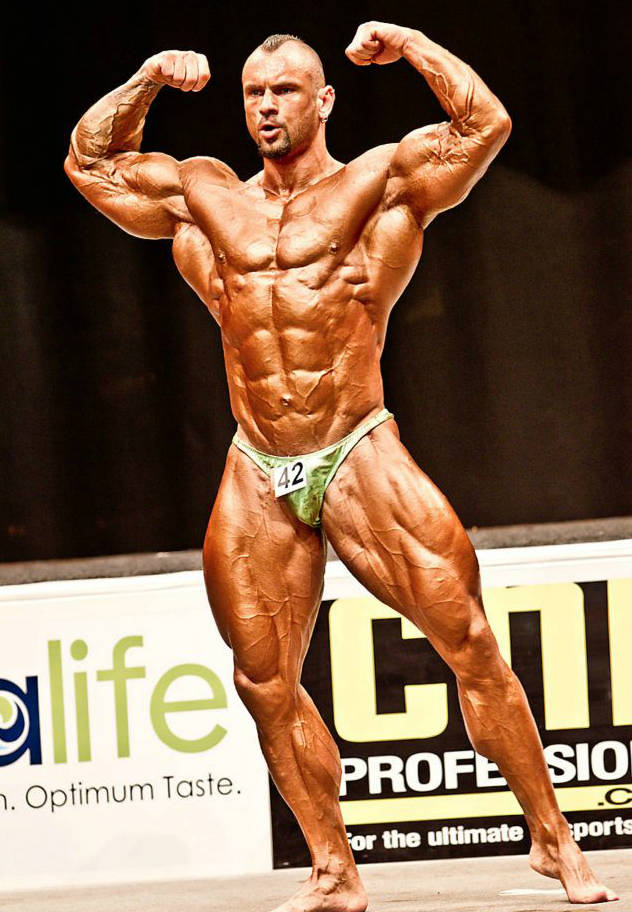 "I love the fact that bodybuilding is hard."
Athlete Statistics
Full Name:
Weight
Height
Age
Date of Birth
215 - 225lbs (93.0 - 102.1kg)
5'8" (172.5cm)
41
September 13, 1982
Nationality
Profession
Slovenian
IFBB Professional Bodybuilder, Sponsored Athlete
| | |
| --- | --- |
| Weight | 215 - 225lbs (93.0 - 102.1kg) |
| Height | 5'8" (172.5cm) |
| Age | 41 |
| Date of Birth | September 13, 1982 |
| Nationality | Slovenian |
| Profession | IFBB Professional Bodybuilder, Sponsored Athlete |
---

Accomplishments
Competitions
2004 IFBA World Championships, 1st
2008 NABBA World Championships, 2nd
2009 NABBA Mr Universe, 2nd
2009 WABBA World Championships, 2nd
2010 NABBA Mr Universe, 1st
2010 NABBA Mr Universe, 1st
2011 IFBB Arnold Amateur Europe 3rd
2011 IFBB European Amateur Championships, 2nd
2012 IFBB Arnold Amateur, 3rd
2012 IFBB Arnold Amateur Europe, 4th
2012 IFBB European Amateur Championships, 3rd
2014 IFBB Amateur Olympia Europe, 2nd
2014 IFBB  European Amateur Championships, 1st
2015 IFBB Amateur Olympia Spain, 1st (pro card)
2015 IFBB Prague Pro Championships, 13th (pro debut)
---

Biography
Starting To Work Out
Miha Zupan never intended to be a bodybuilder growing up. He says that one of his first passions was actually competitive motorcycling, but he always worked out in the gym during his off- season.
When he went to the gym, Miha says that he became obsessed by the muscles he saw around him. He gradually focused less on the motorbike and more on his own muscles – signing up for a gym membership in order to become a bodybuilder.
Developing  A Daily Routine
At first, Miha says that he found it hard to stick to a bodybuilding routine. Due to this, he decided to break his day into stages – planning out each stage so that he had no excuse not to train.
When he wakes up, Miha goes straight to his family workshop where he works. Luckily for him, the gym is only a few yards away, so he goes to the gym mid-morning to to train a smaller muscle group.
After this, he returns to work for a few hours, before completing his second workout of the day which involves compound lifts. He then completes a large grocery shopping trip where he buys his food for the evening.
First Competition Win
As Miha began to follow this routine more religiously, he saw huge gains in his physique. Because of this, he decided that he would begin training hard in the 2000's with a view to competing.
His first competition was the IBFA World Championships in 2004. He wasn't sure of how he would place, but he was extremely confident in his appearance and had worked very hard in the preparation stage. He ended up winning the competition, and lifting his first of many winners trophies.
Becoming A Professional Bodybuilder
After his first competition in 2004, Miha competed in another 12 amateur level competitions in order to reach the level where he could achieve a Pro Card. He managed to win another 3 of these competitions, and placed in the top three in almost every competition bar one.
After this successful journey, Miha knew that he had learnt enough to train for the pro card. His opportunity came in 2015, when the IFBB Amateur Mr Olympia Spain competition contacted him with news of the competition date.
After training extremely hard to reveal his muscles in the cutting stage, Miha competed confidently – winning the 1st place in the '-100kg' category. Typically, athletes have to win the overall in order to become a professional, but due to Miha's successful track record, the IFBB promoted him and gave him his pro card immediately.
---

Training
Offering Training Advice To Beginners
When it comes to bodybuilding, Miha believes that all successful bodybuilders should spend time helping the younger or less experienced lifters.
Miha's advice to those learning the basics, is that first of all they should always use the right amount of weight for them. He says that he sees too many people in the gym lifting way too heavy and not completing enough reps.
In terms of form, Miha stresses that the individual should always focus on how long the muscle is under tension. He believes that a squeeze at the end of each rep is essential if the person wants to break down the muscle well.
Questions About Vascularity
Miha has an extremely vascular aesthetic which many bodybuilders crave. He says that he receives questions all the time about how to achieve this look, but he believes that the veins showing under his skin is largely a genetic thing.
He goes further when asked, and tells them that they would need to have "thin skin, full muscles and no subcutaneous water (water directly under the skin.)"
Favorite Exercise
Miha loves his leg days, saying that his favorite exercise is the Squat. He says that the squat is an exercise that he both "fears" and "respects." He loves the element of pain that it provides also – seeing this as proof that its working.
Abdominal Exercises
When Miha is preparing for a show, he also focuses heavily on his ab workouts. He says that cutting to reveal his abs is quite a challenging process, so he works as hard as possible with crunches and machine workouts.
More importantly for him though, he focuses on making his abs visible through a solid cutting diet.
---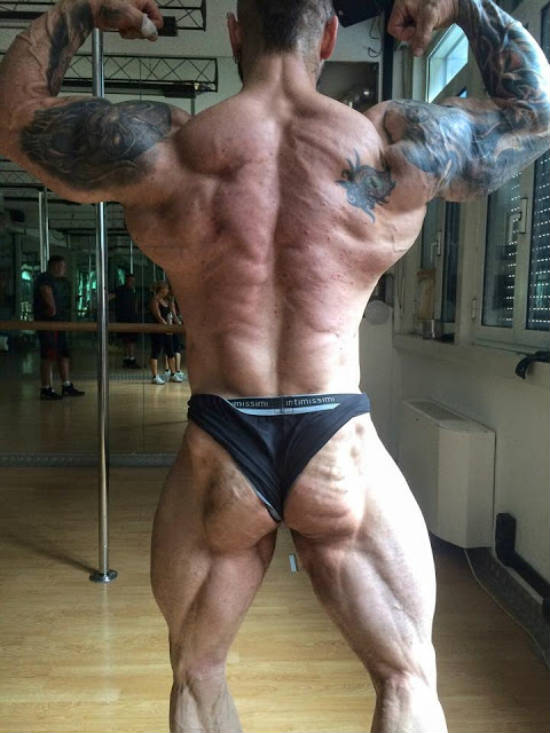 "The pain you feel today will be the strength you feel tomorrow."
Nutrition
Choosing Not To Bulk
This diet required to reveal his abs is "high protein, zero carb and low fat." He says that he has tried to bulk previously, but didn't enjoy the process of gaining a lot of weight.
He believes that the best route for his body is to remain relatively lean all year. This makes it easier to prepare faster for competitions, but he says that, ultimately, it depends on his physique from month to month.
"In the off season I add some carbs but it all depends on my form. I make very small changes to my diet quite often depending on how I feel and look as I go on."
Post Workout Meal
Miha places a lot of value on a big post workout meal. He buys all his own food in his local town, and loves to include a lot of lean meat options such as chicken and red meats.
With this meal, (which for Miha is usually potatoes and red meat with vegetables,) he drinks a whey protein isolate shake.
Supplements
He sees supplements such as whey protein isolate as an essential component of his diet. His stack (below) focuses on keeping his body as healthy as possible, with a lot of vitamins and amino acids.
Whey isolate
BCAA's
Glutamine
Creatine
Omega 3
CLA
Multi vitamin and minerals
---

What we can learn from Miha Zupan
Miha has shown us that can take a long time to reach the professional level. He competed in 13 competitions before finally getting his hands on his Pro Card. He also worked extremely hard to develop a daily routine which combined his job with his gym workouts.
This dedication to become a professional from very early on, is a hallmark of every IFBB pro card holder. If you want to achieve in your own fitness journey, stay committed and you too could reach your goals.