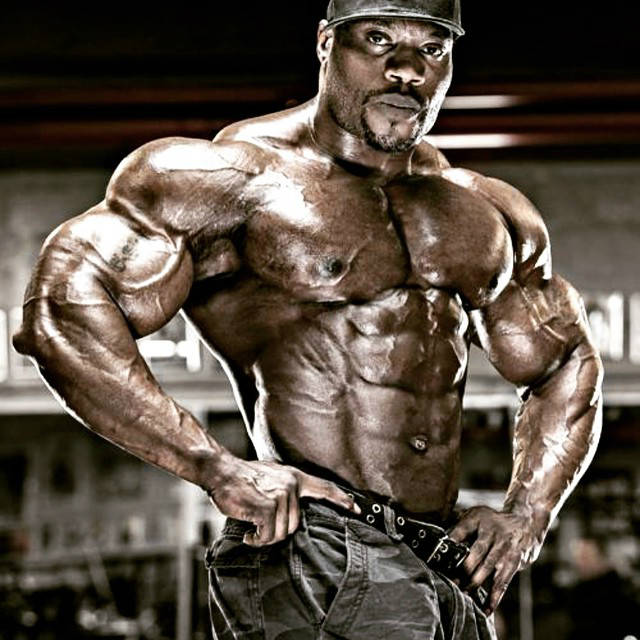 Maxx Charles
IFBB Professional Bodybuilder, Sponsored Athlete
Maxx Charles is an IFBB professional bodybuilder and sponsored athlete from Port-au-Prince, Haiti. He's a well-known figure in the professional bodybuilding circuit, and is recognized for his unorthodox approach to training and nutrition.
Spending the first 9 years of his life in Haiti, Maxx says his family life was hard. Luckily his father moved to New York when he was one, and worked for many years – saving up to move Maxx, his mother, and his siblings to the city.
When Maxx arrived in New York, he watched Arnold Schwarzenegger act in movies and dedicated himself to creating a body like his. He chased the bodybuilding dream of competing at Mr Olympia, and after years of working out hard and pushing himself, managed to get on the Olympia stage in 2015.
Since his first Olympia appearance, Maxx continues to create an excellent body worthy of the world stage. He's attracted a large amount of attention on social media, and is dedicated to becoming the best bodybuilder on earth.
---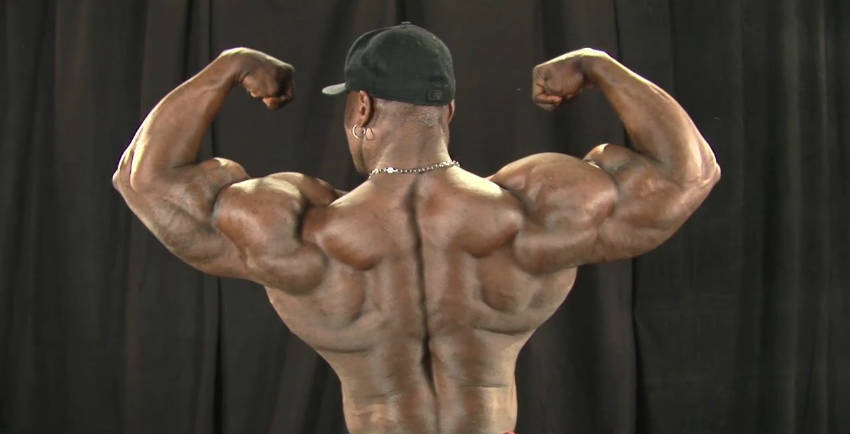 Athlete Statistics
Full Name: Maxx Charles
Weight
Height
Age
Date of Birth
Over 310lbs (140.6kg)
5'11" (180cm)
43
February 20, 1980
Nationality
Profession
Era
Haitian
IFBB Professional Bodybuilder, Sponsored Athlete
2010
| | |
| --- | --- |
| Weight | Over 310lbs (140.6kg) |
| Height | 5'11" (180cm) |
| Age | 43 |
| Date of Birth | February 20, 1980 |
| Nationality | Haitian |
| Profession | IFBB Professional Bodybuilder, Sponsored Athlete |
| Era | 2010 |
---

Accomplishments
Competitions
2008 NPC Eastern USA BodyBuilding, Figure & Fitness Competition, 1st
2011 NPC National Championships, 2nd
2011 NPC Bev Francis Atlantic States Bodybuilding, Figure, & Fitness Championships, 1st

2012 NPC USA Championships, 3rd

2013 NPC USA Championships, 1st

2013 NPC USA Championships, 1st

2014 IFBB New York Pro, 5th

2014 IFBB PBW Tampa Pro, 4th

2015 IFBB New York Pro, 3rd

2015 IFBB Wings of Strength PBW Tampa Pro, 1st

2015 IFBB Olympia Weekend, 12th
---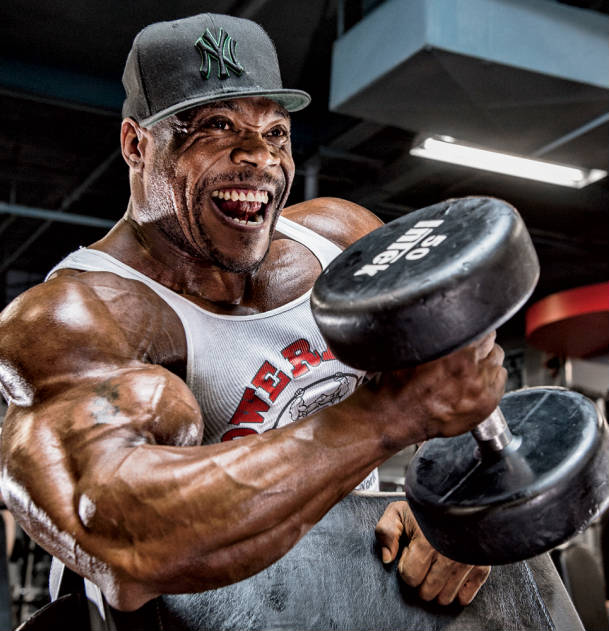 "I know I have a reputation as this massive guy, but for me, it's not about being as big as you can— more about being as good as you can."
Biography
Early Years
Maxx was born in Port-au-Prince, Haiti. He lived with an older brother and younger sister, and says that life was "tough." Some of his first memories involved "a lot of violence involving kidnapping and murder," and he says there wasn't really a sense of community protection by the police.
Luckily, when he was one, his father decided to travel to New York to make a living for the family. He managed to find work for 9 years in order to relocate the entire family to the 'Big Apple.'
Maxx says that when he met his father at 10 years old, he hadn't seen him in 9 years. Only then did he truly realize "how much he'd sacrificed" for the family. His fathers stories of working menial jobs to get them flown over, really struck a chord with him.
First Exposure To Bodybuilding
Maxx's love for bodybuilding and fitness was sparked when he was 8 years old. He says that when he saw Arnold Schwarzenegger in the movie 'Commando,' he was instantly impressed by his physique.
Following seeing this film, he researched Arnold's life and became interested in the Mr Olympia competition.
He says that Arnold immediately became a hero figure for him. While he enjoyed watching bodybuilding in his younger years, he says that he didn't actually lift his first set of weights until he was 15 years old.
He loved every minute of working out, saying that the opportunity to take part in a sport that involved "only him," as opposed to team sports, was "fantastic." He says the ability to shape your own destiny is what drew him to the sport deeply – he hasn't looked back since.
---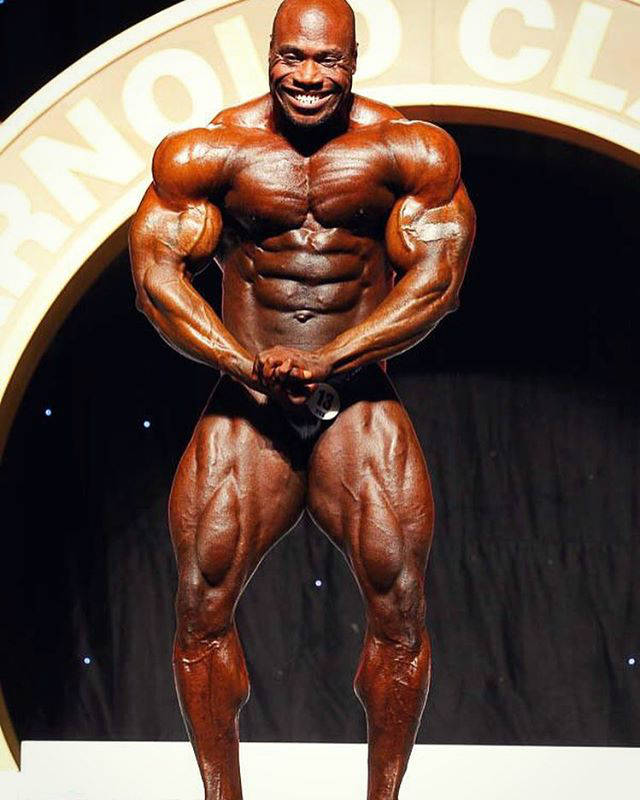 ---
Developing His Physique
As Maxx kept lifting throughout his teenage years, he began to improve his diet and managed to reach the weight of 300lbs at 19 years old, with little to no body-fat.
His friends asked him to enter a local competition, but he refused – saying "no disrespect to the local shows, but I wanted to enter a higher level show." In Maxx's mind, his target was to reach the professional shows, and no local competitions would suffice.
From 1999 when he was 19 years old, it took Maxx nine years of hard work in the gym to develop a body that he thought was worthy of a competition win.
Competing And Claiming His Pro Card
This win came in 2008 when he entered the 2008 NPC Eastern USA BodyBuilding, Figure & Fitness Competition. He posed in the super-heavyweight division, and easily beat all the other giant competitors in attendance.
With the confidence he had gained in this victory, Maxx progressed through the ranks. He took second place at the 2011 NPC National Championships, third at the 2012 NPC USA Championships, and won his Pro Card by winning the Overall category at the 2013 NPC USA Championships.
Chasing The Mr Olympia Dream
Becoming Mr Olympia was always Maxx's dream. As he progressed through the ranks, he won the Tampa Pro in 2015 and began to realize it was within his grasp.
Unfortunately, on his debut at the Olympia Weekend he only managed to place 13th. But, despite the lower place, simply attending the Olympia event itself was a huge inspiration for Maxx.
He says that he didn't expect to win that time around anyway, as his calf was injured badly, and he couldn't train his legs as much as he'd wanted to.
As a commitment to his Olympia dream, he decided to work on his legs as much as possible. He says that he has been "hammering his legs seven days a week" ever since, in order to prepare for future Olympia's.
---

Training
Intense, Unrelenting Sessions
When it comes to training for these competitions, Maxx says "I don't really have breaks… I've trained every day, no days off at all for a long time." In the whole of 2015, he says he only had three days when he didn't train.
In terms of his daily workouts, Maxx says that training every day, three hours a day, creates the ideal conditions for his body to respond well. He says that initially, he tried the traditional 45-60 minute approach, but it didn't work very well for his body.
"What I do doesn't make sense to a lot of people, but it makes sense to me. This is an individual sport, and you have to find what works best for you."
Heavy Arm Workouts
To add to this unorthodox approach, Maxx also chooses not to count his reps. He says that rep counting allows the person to limit themselves, so to prevent himself doing this he simply lifts for as many reps as possible until failure.
This instinctive form of training is Maxx's passion. This extends to his choice of exercise, as he likes to take traditional exercises and revamp them to suit his needs.
He chooses to do exercises such as skull crushers, but he does them on the seated cable row machine with the top of his head facing the stack. He says he prefers the muscle response he gets from this exercise, and wouldn't change it for any-other.
Training Split
Monday – Glutes and hamstrings
Tuesday – Chest
Wednesday – Quads
Thursday – Shoulders
Friday – Back
Saturday – Arms
Sunday – Off
Biceps Workout
Cable Curl facing into the stack (5 sets) (20-30 reps)
Cable Curl facing away fro mthe stack (4 sets) (40-50 reps)
Seated Curl (on close grip lat-pull down machine (3 sets) (16-30 reps)
Dumbbell or rope hammer curl (2 sets) (16-30 reps)
One-arm preacher curl (2 sets) (20-30 reps)
Alternate dumbbell curl (2 sets) (20-30 reps)
Machine Curl (2-4 sets) (20-30 reps)
Dumbbell Concentration Curl (1 set) (20-30 reps)
Triceps Workout
Wide-grip cable push down (5 sets) (25-30 reps)
Rope Pushdown (7 sets) (25-30 reps)
Lying cable skull crushers (3 sets) (25-30 reps)
Machine Dip (2 sets) (25-30 reps)
Cable Kickback (1 set) (40-50 reps)
---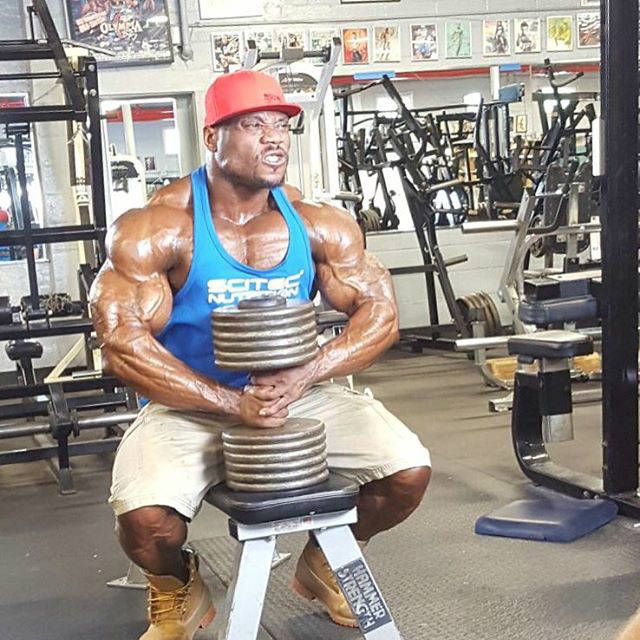 Nutrition
Unorthodox Dieting
As he likes to train differently, he also eats differently to most professional bodybuilders. While it's common to eat 6 meals a day, prepared in advance, Maxx chooses to eat three daily meals of healthy meats and vegetables.
He does try and keep within his macronutrient target. When he does eat his meals, he eats big and includes a lot of carbs, protein, and healthy fats to ensure his body gets the nutrition he needs.
---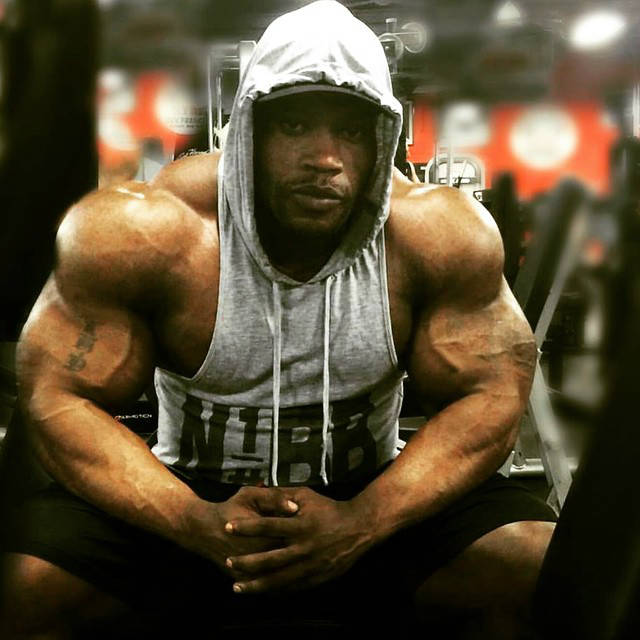 Idols and Influences
When Maxx was growing up, he read a lot of bodybuilding magazines and was inspired by the likes of Ronnie Coleman, Flex Wheeler, Shawn Ray, Kevin Levrone and Dexter Jackson.
As well as these legends of the sport, he's also inspired by his family. His parents and relatives have pushed him to reach goals, ever since he first started working out as a teen.
---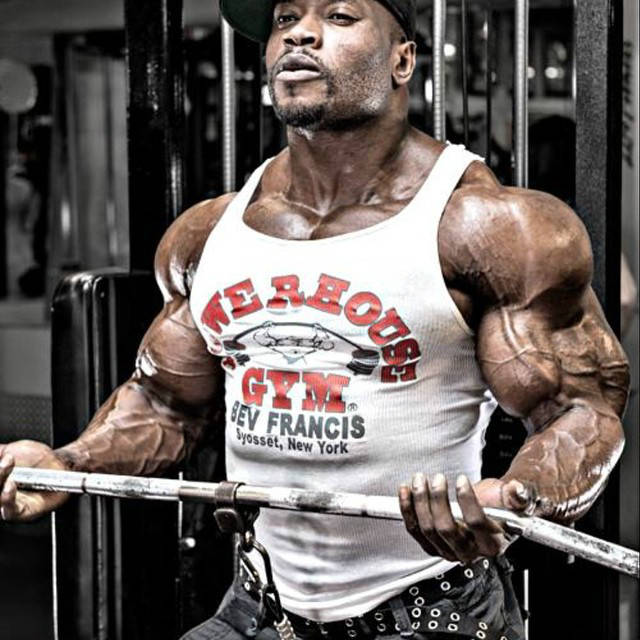 What we can learn from Maxx Charles
Maxx Charles' story has shown how powerful the bodybuilding dream can be in someone's life. The move from his violent hometown in Haiti was a blessing. He managed to set up a life and career for himself in New York.
His unorthodox approach to weight-lifting, and nutrition, is also something to admire. It can be very useful to find the nutritional and training approach that works for you, rather than following the crowd – just like Maxx did on his path to greatness.