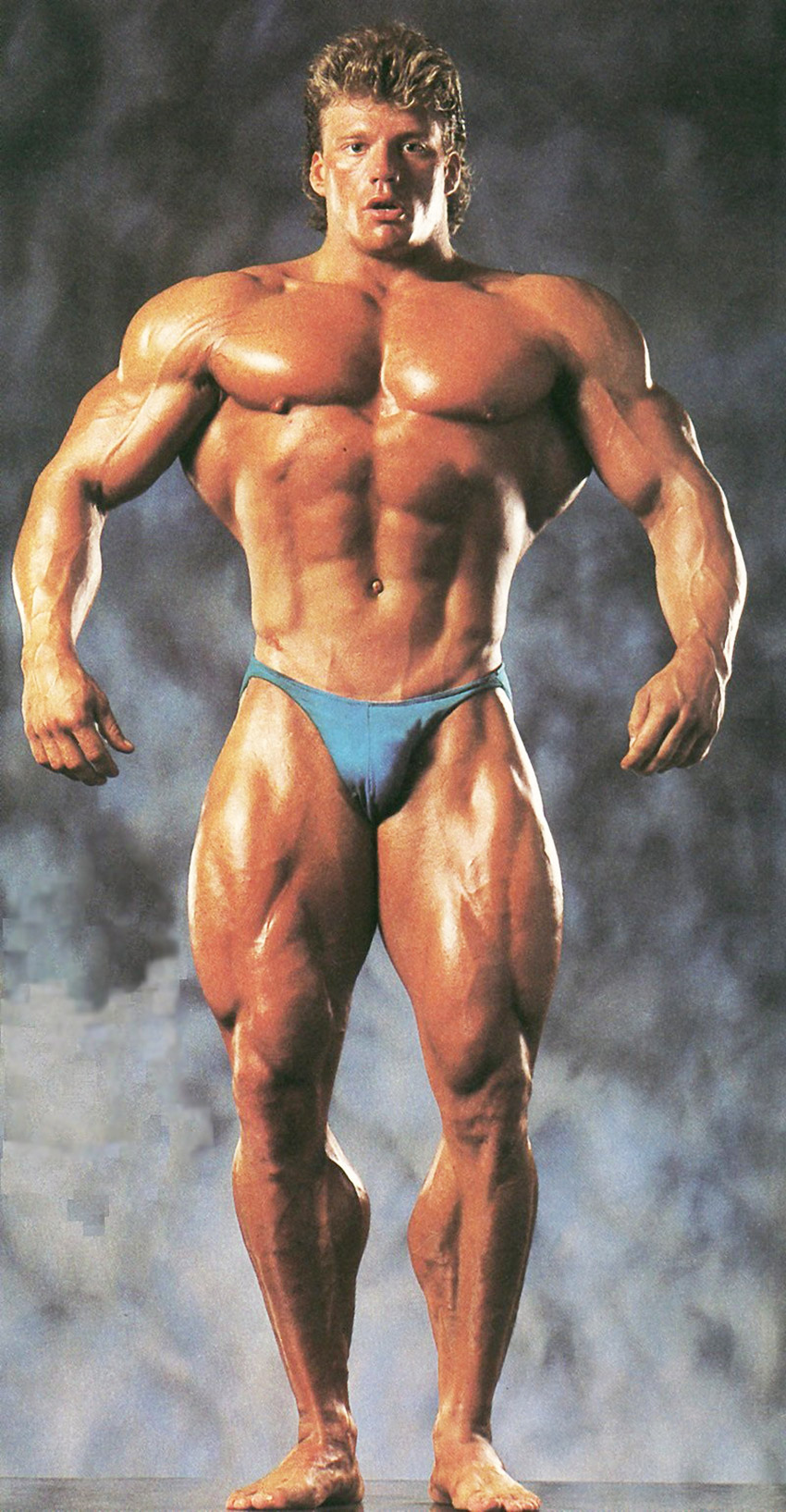 Matt Mendenhall
Bodybuilder, Personal Trainer
Matt Medenhall (AKA. Mr. Genetics) was one of the most promising youngsters in 1982 along with Lee Haney. He's considered the greatest bodybuilder to have never turned professional.
Matt has a list of unfortunate illnesses that stopped him from reaching his peak and earning his pro card.
But despite all his bad luck, he didn't give up on his dream until he was forced to – his body started to shut down after years of intense bodybuilding.
This is his story:
---

Athlete Statistics
Full Name: Matt Mendenhall
Weight
Height
Year of Birth
Nationality
235 - 245lbs (106.6 - 111.1kg)
5'11" (180cm)
1960
American
Profession
Alias
Era
Bodybuilder, Personal Trainer
Mr. Genetics
1970, 1980, 1990
| | |
| --- | --- |
| Weight | 235 - 245lbs (106.6 - 111.1kg) |
| Height | 5'11" (180cm) |
| Year of Birth | 1960 |
| Nationality | American |
| Profession | Bodybuilder, Personal Trainer |
| Alias | Mr. Genetics |
| Era | 1970, 1980, 1990 |
---

Accomplishments
1978 Mr Ohio High School, 1st
1979 Teenage Mr Ohio, 3rd
1980 Teen Mr. Metropolitan, 1st and Open winner
1980 Mr. Ohio Association, 3rd
1981 Mr Cincinnati 1st,
1981 Buckeye Open, 1st
1982 NPC Nationals, 2nd
1983 NPC Nationals, 4th
1984 NPC Nationals, 2nd
1985 NPC USA Championships, 1st
1985 IFBB World Games, 2nd
1986 NPC Nationals, 2nd
1987 NPC Nationals, 10th
1988 NPC Nationals, 11th
1991 NPC Nationals, 5th
---

Biography
Early Years
Born in Cincinnati, Ohio, Matt grew up in a family addicted to fitness – three of his siblings were bodybuilders, with two of them competing while he was a child.
In his early years, Matt didn't follow family tradition. He was a keen football player and enjoyed pole-vaulting.
However, his amazing genetics allowed him to develop a great physique without stepping foot in the gym.
Injury and Entering the Gym
At the age of 15, in 1975, Matt suffered a serious injury to his forearm while practising pole-vaulting. At this point, he almost had his forearm amputated, and the doctor told him that it wouldn't recover fully.
But his siblings encouraged him to never give up. Under their guidance, he entered the gym and began rehabilitation using weights.
It wasn't long until he'd proved his doctor wrong – he'd regained full use of his forearm, and packed an impressive amount of muscle mass onto his frame.
---

Matt as a teenager in high school.
---
First Competition
3 years after he began lifting weights in the gym, Matt had sculpted an incredible physique. He'd surpassed all of his schoolmates in his senior year in terms of muscle, and already looked like a seasoned bodybuilder.
In 1978, at the age of 17, after encouragement from his family and school sports teacher, Matt entered his first competition – the Mr. Ohio High School show.
Despite no preparation, posing experience or tan, Matt dominated the contest. He walked away from his debut with the trophy.
It was at this point that Matt realized his potential to succeed in the industry.
Series of Unfortunate Events
Over the next 7 years, Matt appeared in a further 9 competitions, winning 4 of them. Although he came second on numerous occasions, Matt lost very respectably – in 1982, at the young age of 22, he lost out to future legend, Lee Haney.
However, he never managed to reach his genetic potential due to a series of serious illnesses and events.
In 1983, he suffered from a flu virus 3 weeks before the NPC Nationals. He lost significant weight and condition while recovering, but stepped on stage after his parents arrived at the show excited to see him compete.
A year later, he was involved in a car crash and was flung out of his front window. Although he managed to recover and bring his best shape to the competition, he was controversially beaten by Mike Christian to 1st place – the crowd were fuming and this decision would be questioned for years to come.
But in 1985, at the age of 25, Matt tasted rare success. He entered the NPC USA Championships and took home the trophy in the heavyweight division. This victory gained him entry to the World Games that year.
---

Matt (middle) after placing 2nd behind Lee Haney (right).
---
Short Break
By the time of the 1985 NPC World Games, Matt was suffering from jetlag and exhausted from his flight to London. This caused him to retain a lot of fluid for the competition, and he lost to a shredded Berry DeMey.
After another second place at the 1986 NPC Nationals, Matt fell ill again. His body wasn't taking the pressures of competitive bodybuilding well, and he started to consider hanging up his boots.
After placing 10th and 11th in the 1987  and 1988 NPC Nationals – the lowest he'd placed in his career – he finally decided to take time away from the sport.
For the next 3 years, he enrolled a college to study homeopathic medicine and started his own supplements company.
Last show and Retirement
After being asked countless times by Joe Weider to make a comeback to competitive bodybuilding, Matt stepped on the stage at the 1991 NPC Nationals. Although he didn't win, he'd placed at a respectable 5th
At the age of 31, Matt had made his last appearance on stage.
After retiring from the sport, Matt moved to Texas and began a personal training company. However, Matt had left the industry as a legend, regardless of his competitive history.
Death
On August 28, 2021 Matt passed away at the age of 61. At the time of writing, his cause of death has not been made public.
---

Training
While in his peak, Matt performed anywhere between 6-30 reps in sets of 4-5 depending on the exercise.
He enjoyed training to failure and completing forced reps in every exercise except legs.
Chest (Monday and Thursday)
•   Incline dumbbell press: 5 sets x 6 to 8 reps with 130 lb [59 kg]
•   Flat dumbbell press: 5 x 6 to 8 with 130 lb [59 kg]
•   Flat or incline flies: 5 x 6 to 8 with 70 lb [32 kg]
•   Barbell decline press: 4 x 6 with 340 lb [154 kg]
•   Dumbbell pull–overs: 4 x 10 with 130 lb [59 kg]
•   Cable crossovers: 4 x 10 with 120 lb [55 kg]
Back (Monday and Thursday)
•   Wide–grip chins 4 x 8 to 10
•   T–bar rows: 4 x 8 to 10 with 275 lb [125 kg]
•   Lat pull–downs (front): 4 x 10 with 250 lb [114 kg]
•   Seated rows: 4 x 8 with 250 lb [114 kg]
•   Lat pull–downs (rear): 4 x 10 with 200 lb [91 kg]
•   Hyperextensions: 4 x 12
•   Dumbbell bent–over rows: 4 x 10 with 120 lb [55 kg]
(Note: Deadlifts are a major part of my back training, but I stop doing them about 6 weeks prior to the contest to avoid injury.)
Shoulders (Tuesday and Friday)
•   Behind–neck press: 5 x 8 with 190 lb [86 kg]
•   Side lateral raises: 5 x 8 with 50 lb [23 kg]
•   Rear delt bent–over laterals: 5 x 8 with 80 lb [36 kg]
•   Shoulder shrugs: 5 x 8 with 405 lb [184 kg]
•   Upright rows: 3 x 8 with 145 lb [66 kg]
Biceps (Tuesday and Friday)
•   Standing dumbbell curls: 4 x 8 with 65 lb [29 kg]
•   Preacher curls: 4 x 8 with 120 lb [54 kg]
•   Standing barbell curls: 4 x 8 with 150 lb [68 kg]
•   Concentration dumbbell curls: 4 x 8 with 40 lb [18 kg]
Triceps (Tuesday and Friday)
•   Lying French extensions: 4 x 8 with 140 lb [64 kg]
•   Seated French extensions: 4 x 8 with 130 lb [59 kg]
•   Push–downs: 4 x 8 with 150 lb [68 kg]
•   Dumbbell extensions: 4 x 8 with 40 lb [18 kg]
Forearms (Friday)
•   Reverse curls: 4 x 8 with 100 lb [45 kg]
•   Wrist curls: 4 x 12 with 100 lb [45 kg]
Thighs (Wednesday and Saturday)
•   Squats: 5 x 6 to 10 with 405 to 550 lb [184 to 250 kg]
•   Hack squats: 4 x 8 with 250 lb [114 kg]
•   Leg curls: 5 x 10 with 120 lb [54 kg]
•   Thigh extensions: 5 x 10 with 200 lb [91 kg]
(Note: The last 3 weeks I add 4 sets of front and side lunges for separation.)
Calves (Wednesday and Saturday)
•   Standing calf machine: 5 x 10 with 800 lb [364 kg]
•   Seated calf raises: 5 x 8 with 300 lb [137 kg]
•   Toe raises on leg press: 5 x 10 with 400 lb [182 kg]
•   Donkey raises: 5 x 10 to 12
Abs (Everyday)
•   Hanging leg raises: 4 x 30
•   Sit–ups: 4 x 30
•   Lying leg raises: 4 x 30
---

Nutrition
When he was competing, Matt would keep his calories at 1800 to get into peak condition. He'd cut out junk food completely from his diet and kept his fat intake as low as possible.
However, unlike other bodybuilders, Matt never counted his carbs. He planned his diet around lean proteins, complex carbs, fruit, and vegetables.
Matt prepared all of his meats and vegetables in a steamer.
Diet Plan
Matt's diet would've looked something like this:
Meal 1 – Protein shake with banana, apple juice and ice
Meal 2 – Piece of fruit
Meal 3 – Fish or chicken with vegetables
Meal 4 – Fish or chicken with vegetables
Supplements Stack:
Whey Protein
Multivitamins
Minerals
Lecithin
Choline
Inositol
Vitamin B
Vitamin C
---

Idols and Influences
Since beginning weight training, Matt's family had always been behind him – he names them as his main influences during his journey.
It was his brothers that led him onto the path of bodybuilding, and they trained with him throughout his career.
---

What we can learn from Matt Mendenhall
Matt has taught us to never give up on our dreams, regardless of any events. He still stepped on stage at numerous competitions despite suffering from extremely unfortunate events only weeks before.
One thing we can take away from Matt's story is that winning trophies isn't everything in life. Although he placed second on many occasions and didn't become a professional bodybuilder, he's still remembered as one of the greatest athletes in the sport's history.