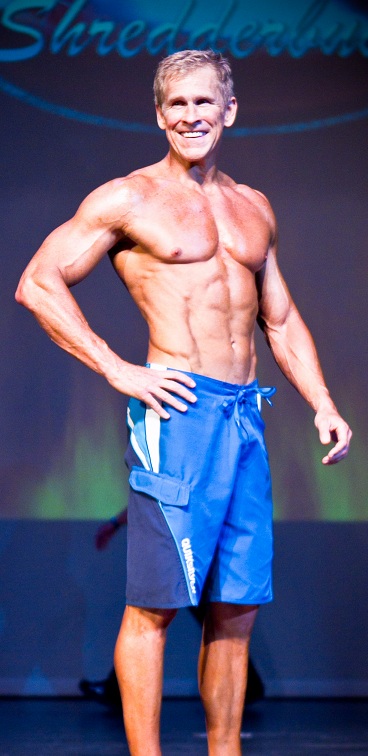 Mark Mcilyar
Entrepreneur, personal trainer
Mark Mcilyar is a personal trainer, physique competitor and entrepreneur from Texas, USA. He is well-known as an online fitness guru, who built an excellent physique and ripped abs in his 50's.
Growing up, Mark was extremely active and played a number of sports at school. He built these fitness levels throughout early adulthood, but as he entered his thirties, things began to change. He realized that the workouts he was doing in his 20's simply weren't having an effect anymore, so he considered his options.
After a lot of thought and research, Mark decided to design a workout routine and diet plan. He wanted to maintain high testosterone levels and build muscle, but also follow a 100% natural approach. As he created the routine, he also began to post his exercises online – receiving media attention as the hype grew
Mark appeared on several news stations and became a recognized name in the fitness industry. He continued to work out hard, well into his 60's; enjoying the body and lifestyle he had created for himself.
This is his story:
---

Athlete Statistics
Full Name: Mark Mcilyar
Height
Nationality
Profession
Era
6' (183cm)
American
Entrepreneur, personal trainer
2010
| | |
| --- | --- |
| Height | 6' (183cm) |
| Nationality | American |
| Profession | Entrepreneur, personal trainer |
| Era | 2010 |
---

Accomplishments
Competitions
2012 NPC Texas Shredder Classic, 1st
---

Biography
Healthy Life As A Younger Man
Growing up, Mark was always very active and loved to workout every day. He played a variety of sports such as basketball, tennis and golf and loved the opportunity to be outdoors.
As a result of this love for sports, Mark was always extremely fit and healthy. He also loved to lift heavy; building a body at a very young age which he could show off at the beach.
Loosing His Physique With Age
As mark entered his thirties, he gradually realized that he could not maintain the body he had as a younger man. He said that "at 25, you have a lot of testosterone so everything works," but as you age, you need to switch up your workout as your testosterone levels fall.
The area which Mark wanted to change in particular was his stomach. He worked out extremely hard and completed cardio regularly, but he couldn't shift the fat he held in his midriff.
Designing A Suitable Routine
At this point, Mark started to create a workout routine which would be suitable for someone of his age. He radically changed his approach, focusing on a number of bodyweight and weighted movements that would keep his body strong and lean.
---

---
Media Attention
Through promoting this routine online, Mark received a lot of media attention. To his surprise, he was asked to appear on a number of news stations to explain how he stayed in such good shape.
On live television, Mark was questioned about his diet, routine and asked about how he maintains his figure. He loved the opportunity to display his figure and his routine to the world.
Results In His Physique
As mark hit 50 years old, he was still in excellent shape and lived a life full of sports and activity. One of his favorite hobbies was vintage car racing, and he attributed his wins to his upper-body strength and his ability to manhandle the car into the corners.
Mark continued to race well into his 60's and stayed in shape and strong for a long time after that.
---

Training
Training Approach
Mark believes that his ripped physique is the product of his unique workout approach. He splits his 90 day, year-round routine into three stages which he believes all men of his age should follow.
Phase One: Weight Loss (diet)
Phase Two: Male Hormone Optimization (compound lifts)
Phase Three: Full-Auto Fat Burning Mode (cardio)
Compound Lifts
In order for these stages to be completed, he says that proper technique is essential. He also sees compound lifts as central; believing they are vital to the success of any bodybuilding routine.
His favorite exercise options are squats and deadlifts. The movements are generally more dangerous for the older man, so Mark has adapted them to suit his strength levels.
Through completing such lifts, he can keep his testosterone levels stable, due to the intensity of this kind of resistance training.
Cardio
As well as compound lifts, cardio is essential for Mark to burn his excess body fat. He completes a variety of exercises in the gym such as treadmill jogs, eliptical machine walks and High Intensity Interval Training (HIIT) circuits.
---

Nutrition
Eating Correctly
In order for Marks routine to have any lasting results, he needs to eat properly. He has to ensure that his meals meet his caloric and nutrient requirements every day.
Because of this, he created a meal plan which leaves no room for error. He dropped his carbs massively and introduced a strict diet of lean meat, healthy fats and nutritious carbohydrate sources.
Through doing this, he could work out his daily macronutrient needs precisely and lose fat, while gaining as much muscle as naturally possible.
Food Choices
As mentioned, lean meats are central in Marks diet and he's created a number of recipes which pack a protein punch. He also focuses on meals which can be completed quickly and eaten "on-the-go."
One of his favorite meals is chicken tacos. This meal can be prepared in under 10 minutes and includes chicken, salad and whole grain tortilla.
Testosterone Boosting Foods
All of his meals have the background effect of naturally increasing testosterone as well. He chooses a variety of meats such a beef, as well as fish such a tuna.
These options have scientifically proven test-boosting benefits and are also tasty, healthy and extremely nutritious options for men.
---

What we can learn from Mark Mcilyar
Mark proves that it is never too late to build the best physique of your life. He was unhappy with his physique as a middle aged man, so decided to design a workout which would let him increase his testosterone levels, burn fat and build lean muscle mass.
If you have a fitness goal that you would like to achieve, don't let your age be a barrier. With a dedicated approach that takes into account your age and strength levels, you could still create a great physique.