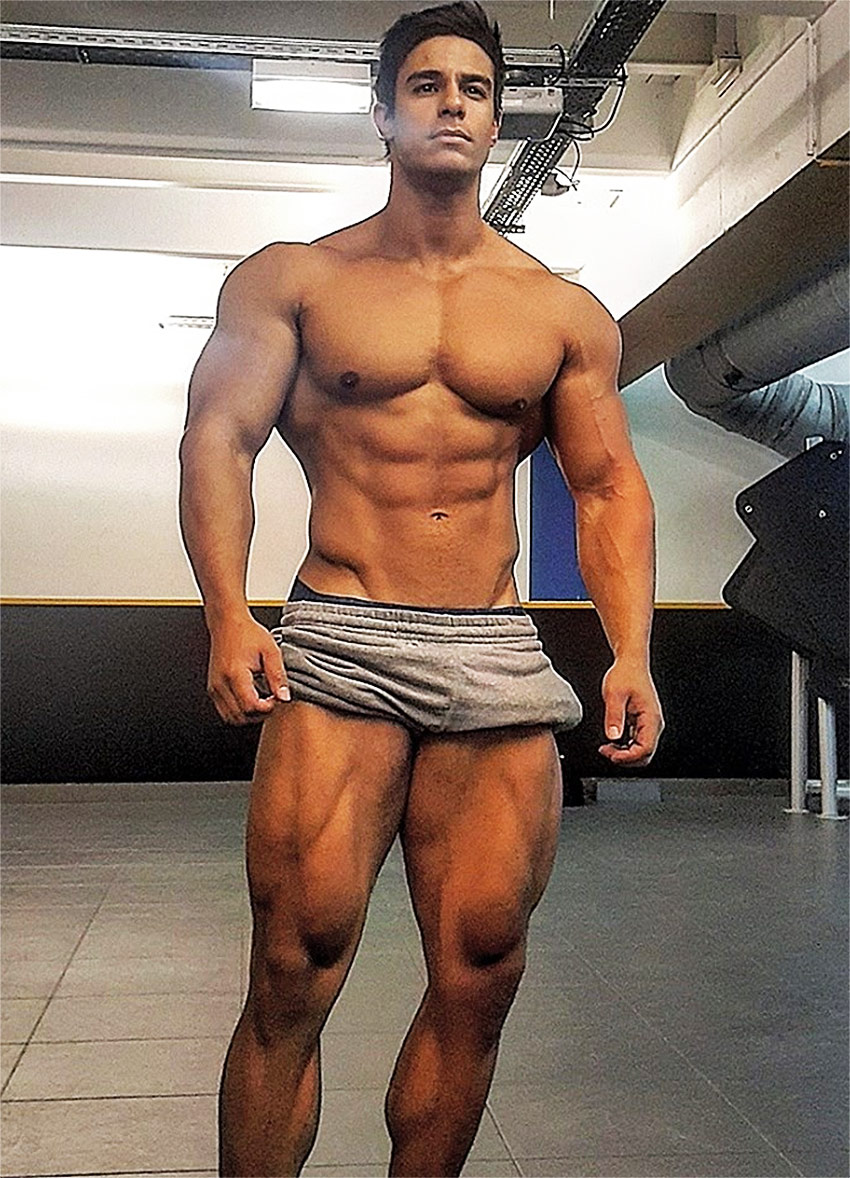 Loic Zine
Professional Bodybuilder
Loic Zine is a Professional Bodybuilder from France. He began training at the age of 16, lifting weights and sculpting his physique for 7 years before entering his first competition.
After winning his debut show, Loic went from strength to strength, and earned his Pro Card by 23. This is his story:
---

Athlete Statistics
Full Name: Loic Zine
Weight
Height
Year of Birth
Nationality
215 - 225lbs (93.0 - 102.1kg)
6'1" (185.5cm)
1992
French
Profession
Alias
Era
Professional Bodybuilder
Superman, The Bear
2010
| | |
| --- | --- |
| Weight | 215 - 225lbs (93.0 - 102.1kg) |
| Height | 6'1" (185.5cm) |
| Year of Birth | 1992 |
| Nationality | French |
| Profession | Professional Bodybuilder |
| Alias | Superman, The Bear |
| Era | 2010 |
---

Accomplishments
Competition History
2015 MuscleMania Amsterdam – 1st
2015 MuscleMania Paris – 1st (Pro Card)
2015 MuscleMania Europe
2016 Fitness Universe Weekend, Miami Beach – 2nd
---

Biography
Start of Fitness Journey
Loic first began lifting weights at the age of 16, in 2008, initially with the aim of building his strength. After gaining muscle mass and starting to sculpt a lean physique, the Frenchman took a keen interest in bodybuilding.
He began reading muscle magazines and idolizing legends of the sport, such as his countryman, Serge Nubret – Loic made it his goal to build a similar body to him.
---

Loic's transformation – from 16 years-old to 23.
---
First Competition
After 7 years of gruelling gym sessions, Loic was ready to compete; he'd transformed his physique, and had built himself a powerful frame.
At the age of 23, Loic stepped on stage at his first competition – the 2015 MuscleMania Amsterdam. Although he was inexperienced and hadn't had any guidance on stage-posing, Loic's impressive physique made up for it.
The Frenchman stepped off stage with the trophy, placing 1st in his debut appearance.
---

Loic competing at the 2015 MuscleMania Paris.
---
Pro Card
Riding high off the back of his victory, Loic set his sights on his second competition – the 2015 MuscleMania Paris show.
He was told that he could earn a Pro Card, if he placed 1st – with this in mind, Loic stepped up his training intensity, aiming to add to his trophy cabinet.
After a few months of rigorous preparation, Loic competed in the MuscleMania Paris. He managed to bring a better package to this show, and it proved to be a success.
Loic ended the night after placing 1st, and fulfilling his ambition of becoming a professional bodybuilder.
---

Training
Loic enjoys training multiple muscle groups per gym session – believing that his body responds to this routine well. However, he doesn't have a set weekly workout routine that he sticks to.
Instead, Loic approaches the gym everyday, deciding which muscle groups can be trained. He also targets weaker parts of his physique, to attain a balanced figure.
---

Nutrition
To fuel his huge physique, Loic consumes up to 7 meals per day. He plans his meals around lean proteins, complex carbohydrates, and healthy oils.
Loic's usually very strict with his diet, but he allows himself a cheat meal or snack when he feels strong cravings – he believes that you can these in moderation.
Diet Plan
Loic's diet plan looks something like this:
Meal 1: 7 Egg Whites, 1 Whole Egg, 2 tablespoons Cottage Cheese, 2 ½ ounces Brown Rice, Portabella Mushrooms and 2 tablespoons Salsa
Meal 2: 7 ounces Chicken Breast, 5 ounces Yam or Sweet Potato, 1 cup Broccoli, 1 cup Spinach and 1 teaspoon Flaxseed Oil
Meal 3: 3 ½ ounces Salmon, 6 Egg Whites, 2 ounces Brown Rice, 1 cup Kale and 1 cup Green Beans
Meal 4: 6 ½ ounces Ground Turkey, 2 ounces Brown Rice, ¼ Avocado, 1 cup Green Beans and 1 cup Broccoli
Meal 5: 1 scoop Whey Protein and 2 ½ ounces Dates
Meal 6: 2 ½ ounces Ground Turkey, 1 ½ ounces White Rice, 1 teaspoon Flaxseed Oil, 1 cup Green Beans and 1 cup Asparagus
Meal 7: 5 ounces Cottage Cheese, 1 scoop Casein, ½ ounce Almond Butter and Stevia Extract mixed in blender
Supplements Stack
In terms of supplemens, Loic takes:
Whey Protein
BCAAs
Pre Workouts
Fish Oil
Dextrose
Multivitamins
---

Idols and Influences
Loic's main idol since beginning his fitness journey has been fellow countryman and bodybuilding legend, Serge Nubret. 'The Black Panther' is one of the greatest bodybuilders to have come out of France, and Loic dreams of having his name next to Serge one day.
Loic also names Arnold Schwarzenegger and Ronnie Coleman as big influences on his fitness journey.