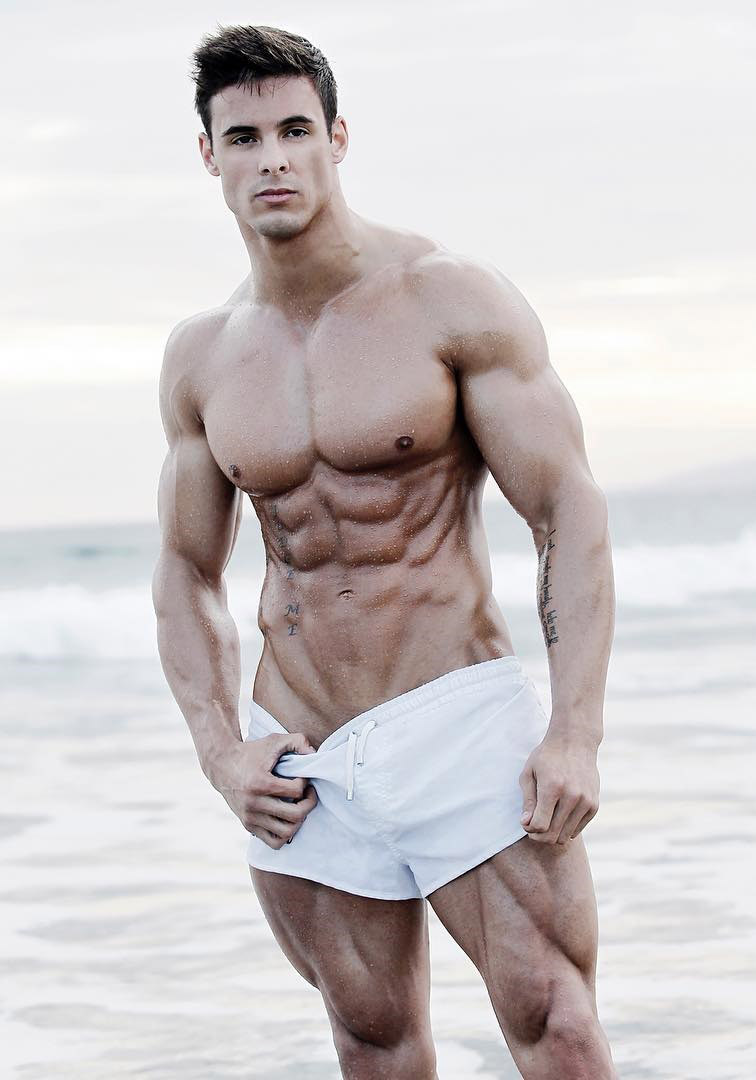 Logan Franklin
From being a motocross racer in his senior year to serving in the US military, Logan Franklin has developed an unstoppable mentality and even better physique.
But it wasn't always a smooth ride for Logan. His training began as a necessity to avoid being targeted by the bigger kids during high school.
After battling through Afghanistan as a teenager, and overcoming the tough desert environment, Logan came back stronger than ever. He was ready to enter the bodybuilding industry, and succeed as an international fitness model.
This is his story:
---

"I was a smaller kid and I just didn't want to get picked on by anybody who thought they were better than me because they were bigger."
Athlete Statistics
Full Name: Logan Franklin
Weight
Height
Year of Birth
Era
185 - 195lbs (83.9 - 88.5kg)
5'11" (180cm)
1991
2010
| | |
| --- | --- |
| Weight | 185 - 195lbs (83.9 - 88.5kg) |
| Height | 5'11" (180cm) |
| Year of Birth | 1991 |
| Era | 2010 |
---

"For me bodybuilding is my life, I go to the gym almost everyday!"
Accomplishments
2014 Formulation 1 Classic – MP Class D open 1st place
2014 Nationals – MP Class D 1st place and Overall Winner
2015 Pittsburgh Pro
2015 Dallas Europa
2015 NY Pro
2016 Karina Nascimento Pro (2nd Place)
2016 NY Pro (4th Place)
2016 Dallas Europa (2nd Place
---

"I always try to do the right thing and help people the best I can by motivating them and helping them where I can."
Biography
Early Life
Born in the cowboy state of Texas, Logan was always athletic growing up. Despite being small for his age as a teenager, he played football, baseball and raced in motocross during high school.
He was embarrassed about not being able to lift the bar on his bench press when he first started lifting. The rest of his football team were much stronger than him.
This is what inspired him to start lifting to gain size and strength. His father was a keen trainer and encouraged him. In 2005, at the age of 14, he entered his home gym and began training.
For Logan, this was the start of a journey that would take him around the world.
Serving in the US Military
Logan continued training for the next 4 years, slowly sculpting his physique. He began to see great results and was getting closer to his goal of being big and shredded, but it would only be after his time in the military when he would follow a strict diet. After graduating from high school in 2009, he decided to join the US army at the age of 18.
During his time battling in Afghanistan, he survived the tough conditions and warfare. 13 months later, he returned home before being assigned to a unit in South Korea – he spent the next 4 years guarding an important figure there.
On 14th July 2014, after 5 years honorably serving the US Military, he returned home with a new ambition. He wanted to succeed as a professional bodybuilder. His experience gave him more motivation to succeed, and taught him the necessary discipline needed for when his service ended.
He was more determined than ever to make something of himself in the industry. 
---

"When I was in the military I was constantly being pushed to better myself, and the brothers I had around me."
---
Competing and earning his Pro Card
Logan began focusing on his fitness career ever since he finished his duty, and because of his intense military training, it only took him 4 months to prepare for his first show –  the Formulation 1 Classic in his hometown. He walked away from this competition as the champion in October 2014.
But this was only the beginning.
Logan went on to win his class division and the overall in the the nationals 4 days later. As well as the first place trophy, he walked away with something that had been his aim since the start – a Pro Card. He had reached his goal of becoming a professional bodybuilder.
From here, Logan set his sights on earning his way into the 2016 Olympia.
2016 Olympia 
After working hard and placing in several more competitions throughout 2015 and 2016, Logan finally smashed another target. He had earned his place in the 2016 Olympia.
He walked on stage, up against tough competition with the likes of George Brown. Although he didn't win, the US army veteran came out in a respectable 4th place.
---

"My motivation is my obsession with being the best I can possibly be! I want to be the best in this sport and I know that if I halfway work myself, there's always going to be someone killing it harder than me!"
Training
Logan follows a strict, regimented routine as he enjoys knowing exactly which muscle groups he's working when entering the gym. The only parts of his body he trains separately are his legs and shoulders. His favorite exercise is squats.
He prefers a higher rep range, training with 10-20 reps per set, as he believes that his body responds to this the best. After training rigorously in the military, the veteran continues running for 2-3 miles on any given day, making sure that he stays in peak condition all-year-round.
Workout Plan
Logan's workout plan would look something like this:
Monday: Chest/Biceps
Incline Smith Press 4 x 15, 12, 10, 10
Incline Dumbbell Fly's 3 x 12-15
Flat Barbell Bench Press 3 x 12-15
Dips 2 x 12-15
Cable Cross Overs 2 x 12-15
Straight Barbell Curls 4 x 20, 15, 15, 12
Dumbbell Concentration Curls 3 x 12-15
Standing Machine EZ Bar Curls 3 x 12-15
Tuesday: Legs/Side Delts
Leg Extensions 4 x 20-30
Squats 3 x 15-20
Walking Barbell Lunges 3 x 150 Feet
Lying Leg Curls 5 x 20, 20, 20, 15, 12
Seated Dumbbell Side Laterals 5 x 20, 15, 15, 12, 12
Dumbbell Upright Rows 3 x 12-15
Cable Side Laterals 3 x 12-15
Wednesday: Back/Triceps
Pull Ups 3 x 15
T-Bar Rows (with Olympic Bar) 4 x 10-15
Deadlift from Rack 3 x 8-12
Barbell Rows (Palms Up) 4 x 10-15
Seated Cable Row (Rope) 3 x 15
Triangle Bar Press Downs 4 x 12-20
Close Grip Bench 4 x 10-15
Overhead Dumbbell Extensions 4 x 12-15
Dumbbell Kickbacks 3 x 15
Rope Press Downs 3 x 15
Thursday: Off
Friday: Shoulders
Barbell Shrugs 4 x 10-15
Dumbbell Shrugs 3 x 12-15
Seated Dumbbell Laterals 5 x 12-15
Military Press 4 x 12
Reverse Dumbbell Fly's 4 x 12-15
Dumbbell Upright Rows 4 x 12-15
Saturday: Legs
Stiff Leg Deadlifts with Dumbbells 4 x 15-20
Seated Leg Curls 3 x 15
Walking Barbell Lunges 3 x 150 Feet
Abductors 3 x 40
Sunday: Off
---

"Dieting is a crucial factor when it comes to living a healthy lifestyle and progressing in the gym. I choose to stay lean year round, I never go through a bulking phase, it doesn't appeal to me."
Nutrition
Unlike other bodybuilders, Logan always attempts to stays lean and never bulks. He's not a fan of the overly muscular look, and has no ambition of getting bigger, so he eats clean all-year-round.
Logan's diet would look something like this:
Meal 1: 8 Egg Whites with 1 yolk & 4 tablespoons of cream of wheat
Meal 2: 7 oz. Chicken & 7 oz. White Rice (cooked)
Meal 3: Whey Protein Shake & 2 slices of Ezekiel Bread
Meal 4: 7 oz. Chicken Breast or 8 oz. 85/15 Ground Beef, 3-5 oz. Greens, Asparagus, Broccoli, Spinach, Romaine, Green Beans & 6 oz. of White Potatoes
Meal 5: 5 Egg Whites, Casein Shake & Oatmeal
Supplements Stack:
Whey Protein
Casein Protein
Pre-Workout
---

"I train in the gym to live a healthier, more aesthetic lifestyle. I want to feel good about myself everywhere I go and look good as well."
Idols and Influences
Logan was inspired to gain size at an early age, mostly because of the size of his dad – he wanted to be as big as him when he grew up. Another key reason was because he knew he would get less negative attention if he was bigger. This motivated him to begin training at 14 in his dad's home gym, kick-starting his journey into fitness.
Logan admires the late Greg Plitt, and names him as his main influence in the fitness industry:
"I only have 1 fitness idol and that's Greg Plitt, He's got the perfect physique and he has the same attitude as me!"
---

"The experiences I've been through and the brotherhood that was formed will never be matched by anything."
What we can learn from Logan Franklin
Logan Franklin has shown us that discipline is the key to achieving your goals. He learned the hard way in the military and his discipline has helped earn him a Pro Card.
One thing we can learn from Logan is that you follow your dreams. He finished serving in the army and went straight into his first competition 4 months after – two years after, he had become a professional bodybuilder. Always set your ambitions high and see them through.