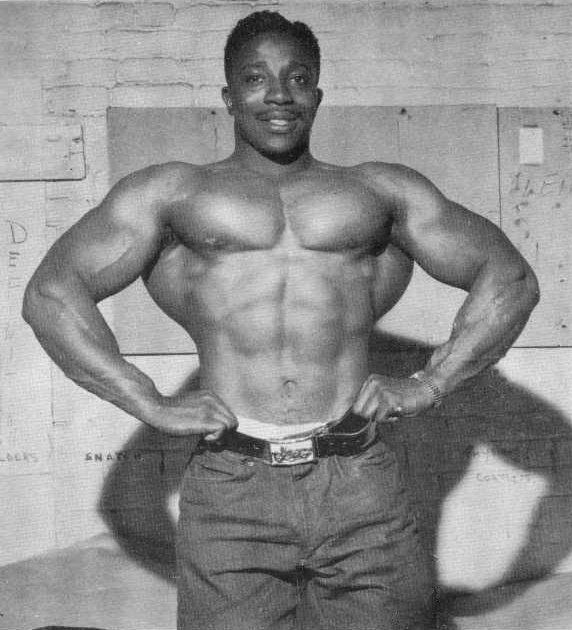 Leroy Colbert
Bodybuilder
Leroy Colbert was a bodybuilding legend, who prided himself on being a 'natural' bodybuilder. He was credited for being the first man to develop 21 inch arms 'drug-free'.
Despite growing up in a period of intense racial prejudice, Leroy was able to break through the race barrier at the age of 20 – becoming the first ever black athlete to appear on the front cover of Muscle Power magazine.
After he formed a close friendship with fitness icon Joe Weider throughout his 20s, Leroy was able to rise to fame – earning the Mr. America title in 1953. However, his fitness career came to a grinding halt, when a serious motorcycle accident ended his ambitions on the bodybuilding stage once and for all.
Despite this, Leroy dedicated his entire life to bodybuilding, right up until the moment he sadly passed away in 2015. Because of his great achievements, Leroy has left a lasting legacy – going down in history as one of the most widely respected athletes the sport of bodybuilding has ever known – inducted into the IFBB Hall of Fame in 2003.
This is his story:
---

Athlete Statistics
Full Name: Leroy Colbert
Weight
Arms
Chest
Waist
205 - 215lbs (88.5 - 93.0kg)
21.25"
52"
32"
Thighs
Date of Birth
Date of Death
28"
May 9, 1933
November 20, 2015
Age at Death
Nationality
Profession
82
American
Bodybuilder
Era
1950
| | |
| --- | --- |
| Weight | 205 - 215lbs (88.5 - 93.0kg) |
| Arms | 21.25" |
| Chest | 52" |
| Waist | 32" |
| Thighs | 28" |
| Date of Birth | May 9, 1933 |
| Date of Death | November 20, 2015 |
| Age at Death | 82 |
| Nationality | American |
| Profession | Bodybuilder |
| Era | 1950 |
---

Accomplishments
Career Achievements
Competitive History
1954: Junior Mr. America – did not place
1953: Mr. Eastern America – 1st place
1952: AAU Mr. New York State – 5th place
1952: AAU Mr. America – 17th place
1952: Mr. New York City – 1st place
1951: Mr. Eastern America – 6th place
---

Biography
Leroy's Early Life
Born in New York, USA in 1933, Leroy Colbert became involved within fitness from the age of 10, when he read a bodybuilding magazine which sparked his interest in bodybuilding from an early age.
Highly impressed by the incredible physiques of the bodybuilders that were featured in the magazines, Leroy set his sights on building a great physique of his own.
When Leroy first started to lift weights, he had no access to a gym, or even a weight set. In spite of this, Leroy constructed himself a home-made barbell using buckets of sand, and tied them to a broomstick – aiming to build muscle in his arms. As Leroy says: "I was determined to build big arms, I made it an obsession".
Eventually, Leroy saved up some money together with his friends, who also had an interest in fitness. Once they were able to obtain enough money, they set up their own basic gym across the road from where Leroy lived. From then on, Leroy trained regularly to build the a great physique – just like his bodybuilding icons.
Life within Bodybuilding
Leroy lifted weights with his training partners on a regular basis during his childhood. Despite having limited gym equipment, they all motivated each other – performing dips, barbell curls, and standing overhead presses until their muscles were completely fatigued.
Leroy became completely infatuated with bodybuilding because of the results he earned through his hard work and determination. Although he placed focus on building muscle in his arms, he was able to form a solid foundation for his great physique by the time he'd reached his teenage years.
Further down the line, Leroy came to the realization that he needed to focus on his other muscle groups, in order to reach his full potential in bodybuilding. It was at this point, he completely overhauled his workout routine – increasing the intensity of his training, aiming to achieve a proportional physique.
Reaching the Bodybuilding Stage
Because he'd progressed massively, Leroy soon set his sights on becoming a competitive bodybuilder. At the age of 18, Leroy was able to achieve just that – entering the 1951 Mr. America, a competition where he finished in 6th place. Even though he didn't perform as well as he'd hoped, Leroy was eager to break into the top 5 in his next competition.
The following year, Leroy entered the 1952 Mr. New York City competition – his first bodybuilding triumph at the young age of 19. It was at this point, he drew the attention of bodybuilding pioneer Joe Weider, who was impressed by Leroy's excellent achievement. By the end of 1952, Joe hired Leroy to work as a warehouse assistant.
Joe and Leroy instantly hit it off, forming a close friendship from the very start. Just months later, Joe told Leroy that because of his phenomenal physique, he wanted to get him on the cover of one of the most well known fitness magazines in the world.
Because of the racial prejudice during this period, Leroy thought that if he made it on the front cover, the magazine simply wouldn't sell. As Leroy says:
"In the summer of 1953 I was going about my duties in the warehouse when Joe came in and almost matter-of-factly said, 'Leroy I'm going to put you on the next cover of Muscle Power.' I thought it was crazy when considering the way things were then with black athletes just not being visible on newsstands. I told him it simply wasn't practical to put me on the cover – the issue won't sell well. But Joe was adamant and his final word was, 'You deserve to be on the cover it's only fair'".
---

Building a Great Reputation in Bodybuilding
By the end of 1953, Leroy placed first in the Mr. Eastern America competition. As a result of his remarkable performance, Joe Weider stuck to his word – publishing Leroy on the front cover of fitness magazine Muscle Power. This is when Leroy truly rose to prominence, which offered him the platform to build a successful career within bodybuilding.
After he'd stormed to the title of Mr. America, Leroy felt that nothing could go wrong – the only way from here was up. As Leroy's mentor at the time, Joe Weider believed that Leroy could achieve greater things in his bodybuilding career, stating to him: "You look great, next year I am sending you to the Mr. Universe contest in London, so train hard and I know you will win".
When His Bodybuilding Career Ended
Leroy's fitness career unfortunately came to an abrupt end in 1954, when a severe motorcycle accident stopped him in his tracks. While out on a motorcycle trip alongside his friends, Leroy suffered horrific injuries in a serious crash – almost completely severing his foot from the ankle down.
At first, Leroy didn't realize the severity of the motorcycle accident, because his entire body was in complete shock. But a few weeks later, Leroy realized that because of the extent of his injuries, he was forced to call time on his competitive bodybuilding career. As Leroy says:
"After a month in the New Hampshire hospital, I was transferred to the Hospital of Joint Disease, in New York City. This is where the final blow to my competitive career came to past. The chief surgeon at the hospital told me they must freeze the ankle with pins because the pivotal joints had been destroyed. What a mental come down that was. So I smashed my ankle, big deal, I can still train and make the Mr. Universe. But with a frozen ankle it is over, my competitive bodybuilding career is over at 21 years of age, the height of youthful arrogance. I never stopped bodybuilding, it is in my blood, but my dream of winning multiple awards would have to be shelved".
Later in his Life
Despite his career-ending injury, Leroy remained active within the bodybuilding industry. He placed focus on developing his upper body further, as he was no longer able to work on his legs.
After just a short while, Leroy's arms measured an incredible 21″, which Leroy says he earned naturally. At this moment in time, steroids had just started to enter the bodybuilding industry, but Leroy wanted to remain clear.
During his time working in Joe Weider's warehouse prior to his accident, Leroy developed an extensive knowledge of bodybuilding supplements. Because of this, he entered the supplement industry – opening his own store which he ran right up until his final days.
Before he sadly passed away, Leroy set up his own YouTube channel – offering him the platform to provide his bodybuilding expertise, which he'd built up over a 60 year period.
---

Training
Leroy Colbert's Workout Routine
During his prime, Leroy worked multiple muscle groups on the same training day. His workouts were performed using high volume sets, while lifting heavy weights. Here's the training routine, which Leroy liked to call a 'full body blitz':
Bench Press: 10 sets of 8 reps
Bent Arm Lateral Raises: 10 sets of 8 reps
Lat Pulldown: 10 sets of 8 reps
Behind Neck Pull Ups: 10 sets of 8 reps
Behind Neck Sitting Press: 10 sets of 8 reps
Standing Lateral Raises: 10 sets of 8 reps
Alternate Curl: 10 sets of 8 reps
Sitting Barbell Curl: 10 sets of 8 reps
Bent Arm Pullover: 10 sets of 8 reps
Squat: 6 sets of 12 reps
---

Nutrition
Leroy's Meal Plan
During his heyday, Leroy didn't have access to many of the supplements that are available to bodybuilders in the 21st century. Despite this, he was able to build a huge amount of muscle by eating foods from natural sources. Here's some of the foods that he ate on a daily basis to develop his physique:
2 lbs of Steak with Potatoes and Onions
Six Eggs
1 lb of Cottage Cheese
2.5 lbs of Chicken
1 Can of Tuna
2 Cartons of Milk
1/2 a Pineapple
1 Gallon of Water
---

Idols and Influences
After he'd started to make a name for himself in his fitness career, Joe Weider took Leroy under his wing to help him take his bodybuilding journey to the next level. Joe and Leroy remained close friends, even after Leroy's accident in 1954.
Because of Joe's influence, Leroy was motivated to achieve greater things after winning the Mr. America title in 1953. Leroy and Joe stayed in touch right up until Joe's passing in 2013.
---

What we can learn from Leroy Colbert
Leroy Colbert has taught us that it takes consistency, dedication, and patience to reach your fitness goals. In Leroy's own words: "champions are made, not born".
Because he only had access to basic gym equipment during his childhood, Leroy struggled to build muscle at first. However, by the time he reached his mid teens that all began to change. When he turned 18 years old, he was able to reach the bodybuilding stage as a result of his hard work.
However, Leroy's fitness career unfortunately ended prematurely, which meant that he was never able to reach his full potential. If he'd have continued, he perhaps could have rivaled some of the greats in the 'classic era' of bodybuilding – such as Arnold Schwarzenegger, or Sergio Oliva.
Despite the fact his competitive career came to a sudden end, Leroy dedicated the rest of his life to the one thing that he loved – bodybuilding.