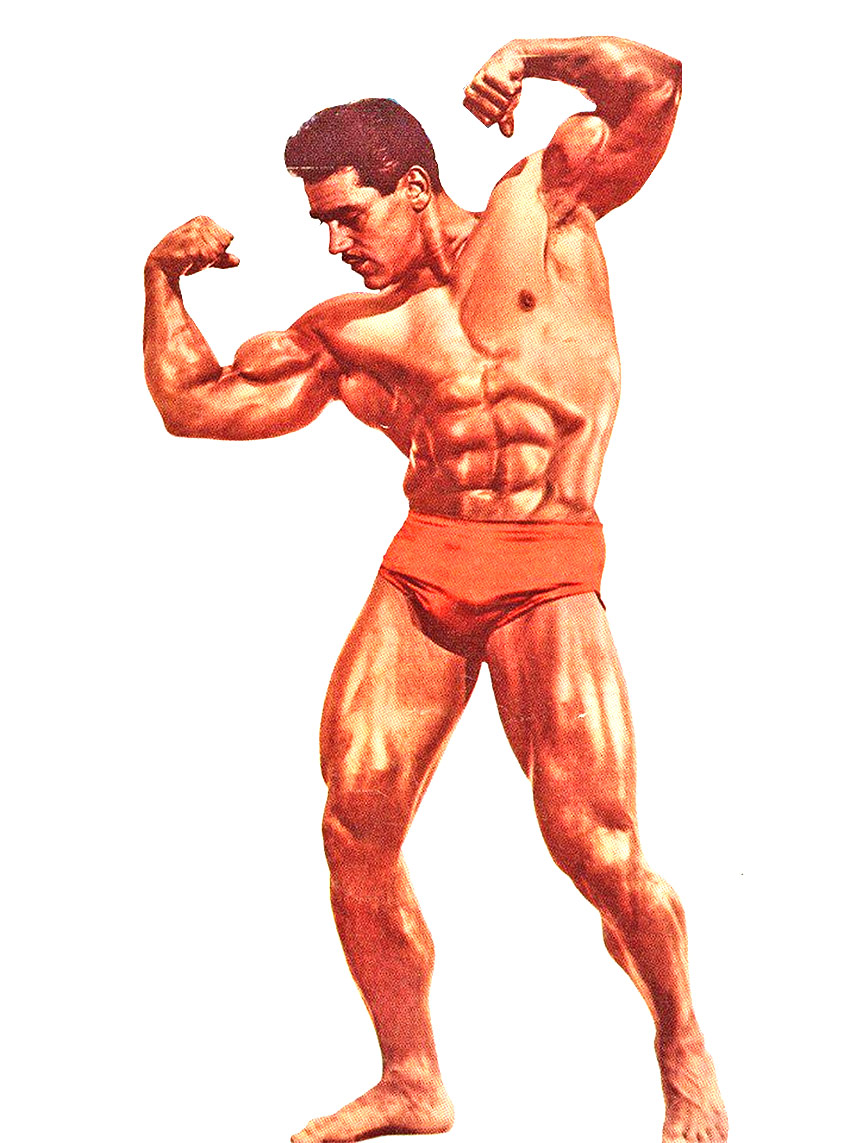 Leo Robert
Bodybuilder, Fitness Model
Leo Robert made history by becoming the first Canadian to win the Mr. Universe competition. Although less known than the golden era athletes, he is regarded as an icon by countless fans and bodybuilders.
But it wasn't always a smooth ride – Leo struggled to develop his physique in his early years, even considering quitting his fitness journey.
This is his story:
---

"A proportioned, balanced physique has always been my goal."
Athlete Statistics
Full Name: Leo Robert
Weight
Height
Arms
Chest
165 - 175lbs (74.8 - 79.4kg)
5'7" (170cm)
19.5"
46"
Waist
Year of Birth
Nationality
31"
1921
Canadian
Profession
Era
Bodybuilder, Fitness Model
1940, 1950
| | |
| --- | --- |
| Weight | 165 - 175lbs (74.8 - 79.4kg) |
| Height | 5'7" (170cm) |
| Arms | 19.5" |
| Chest | 46" |
| Waist | 31" |
| Year of Birth | 1921 |
| Nationality | Canadian |
| Profession | Bodybuilder, Fitness Model |
| Era | 1940, 1950 |
---

"To the surprise of many, I did not set out to achieve the Mr. Universe title in the beginning."
Accomplishments
1947 Mr. Montreal, 1st and Overall
1947 Mr. Province of Quebec, 1st (Pro Card)
1948 IFBB Mr. Eastern North America, Most Muscular, 2nd
1949 IFBB Mr. Eastern North America, Most Muscular, 3rd
1949 IFBB Mr. America, 3rd
1950 AAU Mr. Eastern America, 2nd
1951 IFBB Mr. Canada, 1st
1955 NABBA Mr. Universe, 1st and Overall (First Canadian to win)
---

"I began training in an attempt to give up a sedentary lifestyle and to start feeling better physically."
Biography
Early Years
Born and raised in the 'Cradle of Strongmen' Quebec, Montreal (Canada), Leo Robert was very active as a child. He grew up playing numerous sports, most notably, Ice Hockey – it was this sport that taught him the value of hard work.
After graduating from high school, Leo began working as a Longshoreman, moving cargo on the docks. But the youngster noticed that he wasn't strong enough to continue his profession.
Leo left the docks and began working in an office, but his inactivity meant that his body fat increased. He became overweight, with a 35 inch waist.
The future legend was on a downward spiral – but all hope wasn't lost yet.
Start of Fitness Journey
Leo became unhappy with his physique after becoming seriously overweight during his office job. But he found the inspiration he needed, when he saw a muscle magazine for the first time.
Leo set his sights on sculpting his dream physique. It wasn't long until he'd contacted a personal trainer and began lifting weights in the gym.
At the age of 23, in 1944, Leo had embarked on his fitness journey.
---

"The iron game was very much a brotherhood."
---
Bodybuilding
Leo didn't make much progress in his first month of working out in the gym. He described himself as "flabby and soft", and being a hard-gainer, he became disappointing with his lack of development.
At this point, Leo considered giving up on his dream of building a shredded physique. But his friends encouraged him to continue lifting weights and motivated him to succeed.
It wasn't long until Leo's hard work paid off.
Making Progress
Three months after entering the gym, the Canadian made great progress and began seeing results. By 1947, three years after starting his fitness journey, he'd realized his ambition of sculpting a shredded physique.
Leo returned to his job as a Longshoreman, determined to continue his healthy lifestyle. He became admired for his transformation, and was encouraged to begin competing as a bodybuilder.
Motivated by his friends, Leo set his sights on becoming a professional.
First Competition
Proud of his progress, Leo entered his first show – the 1947 Mr. Montreal. Impressively, the Canadian placed first and was awarded the overall title.
That same year, Leo returned to the stage at the 1947 Mr. Province of Quebec competition. He managed to replicate his success, taking home the trophy, but that wasn't all.
At the age of 26, Leo earned his Pro Card, realizing his dream of becoming a professional bodybuilder.
---

"Being at the gym meant working towards self improvement."
---
Life as a Professional Bodybuilder
Riding high from his early success, Leo didn't waste any time entering his first show as a pro. He stepped on stage at the 1948 IFBB Mr. Eastern North America, hoping to continue his winning streak.
Although Leo didn't win, he placed a close second. He was determined to make a name for himself in the industry.
Becoming a Legend
Over the next 7 years, the Canadian entered a further 5 competitions, placing in the top 3 in every contest.
However, his biggest achievement came in his last show. At the age of 33, Leo became the first Canadian to win the 1955 NABBA Mr. Universe.
He'd written his name into the record books, becoming a legend in the sport.
---
Training

"I studied each of my muscles to ensure that they were developing proportionately."
Training
Leo was known to train twice a day, in order to develop his physique. He enjoyed split-training, working his upper and lower body on different days.
However, he'd only perform 4 exercises for his upper body, and 3 for his lower body – keeping his workouts short, making sure not to over-train his muscles.
Leo always mixed up his workouts, to shock his body and force it to develop further.
The Canadian believed in resting his body to promote muscle growth, and spent the weekends away from the gym.
After Leo retired, he focused on maintaining his physique, performing more reps to stay shredded.
Maintenance Workout Routine:
Bench presses 3 x 10
Incline dumbbell
presses 3 x 10
Dumbbell pullovers 3 x 10
Seated presses
(front to back) 3 x 10
3-way lateral raises   3 x 10
Pulldowns 3 x 10
Barbell curls 3 x 10
Triceps extensions 3 x 10
Leg presses 3 x 10
Leg extensions 3 x 10
Leg curls    3 x 10
Side bends and crunches to failure
---

"The journey to ultimate nutrition may take a lifetime for many… but it is a road that each one of us must travel to ensure good health."
Nutrition
Leo followed a strict diet – he believed nutrition was the key to sculpting a great physique. He would aim to consume 6 meals per day, to keep his body topped up and ready to develop.
He based his meals around lean proteins (steak, chicken, fish), fruit and vegetables, complex carbohydrates, as well as vitamins and minerals.
Example Diet Plan
Leo's diet would look something like this:
Meal 1 – Oats, fruit and vitamins
Meal 2 – Chicken and green vegetables
Meal 3 – Steak and green vegetables
Meal 4 – Chicken and green vegetables
Meal 5 – Fish and green vegetables
Meal 6 – Chicken and green vegetables
---

"We had no idea how popular bodybuilding would become."
Idols and Influences
It was Leo's friends that motivated and encouraged him to succeed as a bodybuilder – especially at the start of his fitness journey. Leo named them as his biggest influences.
---

"I was very fortunate in possessing responsive muscles and the right type of instructions."
What we can learn from Leo Robert
If Leo's story has taught us anything, it's to never give up.
He considered quitting his fitness journey within his first few weeks of training due to lack of progress. But he continued working hard and eventually sculpted his dream physique, surpassing all of his expectations by becoming a professional bodybuilder.
You should always work towards your goal, regardless of how big or small it might be – nothing is impossible.