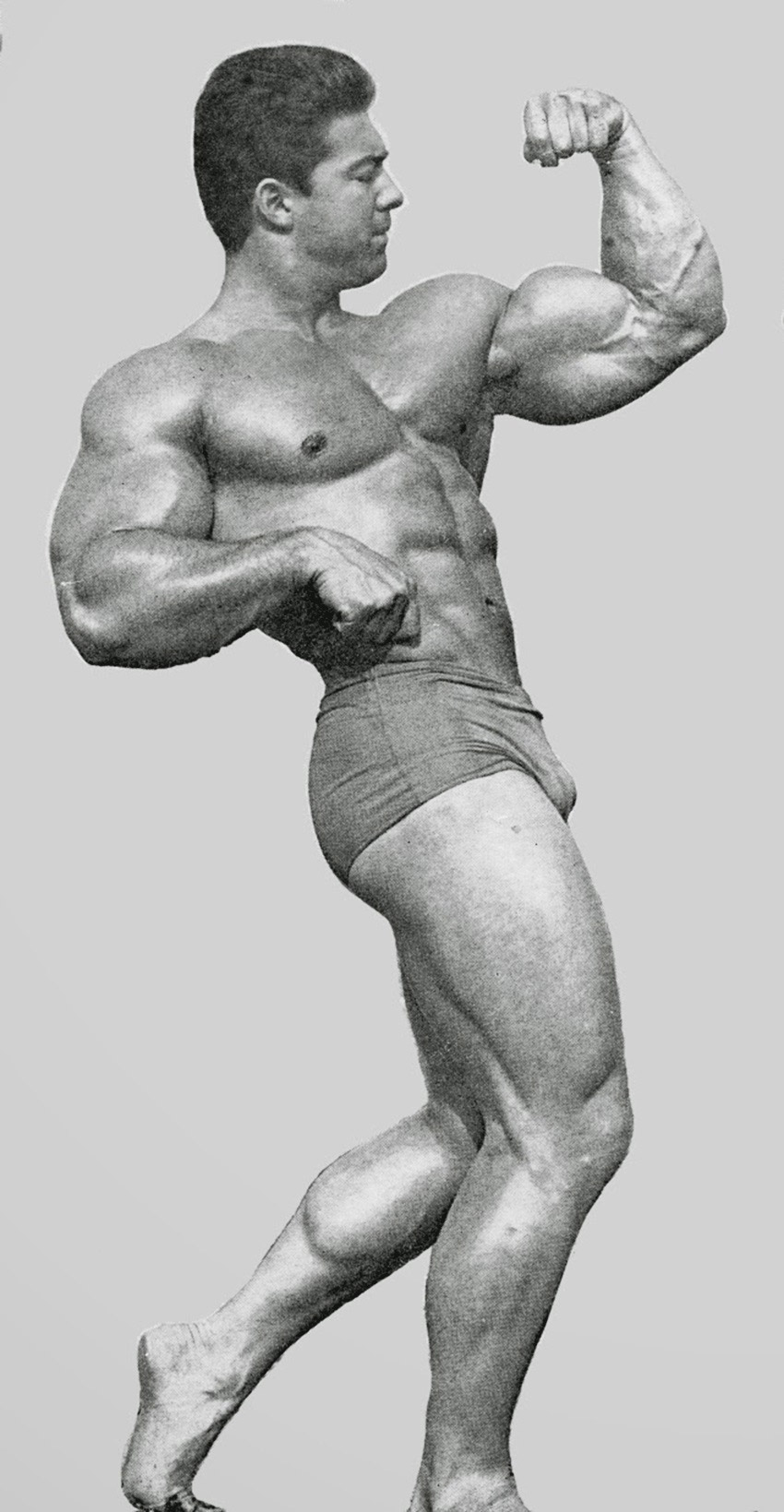 Larry Scott
Professional Bodybuilder
Larry Scott (AKA. The Legend and The Golden Boy) is a legend of the sport. He won the first ever Mr. Olympia titles back-to-back, and was the first athlete to sculpt 20″ arms.
He inspired the golden age bodybuilders, including Arnold Schwarzenegger, and popularized what is now known as "Preacher Curls".
However, he wasn't always a muscular icon – he was too short and small for his football and basketball teams during high school.
This is his story:
---

Athlete Statistics
Full Name: Larry Scott
Weight
Height
Arms
Nationality
205 - 215lbs (88.5 - 93.0kg)
5'7" (170cm)
20"
American
Profession
Alias
Era
Professional Bodybuilder
The Legend, The Golden Boy
1950, 1960, 1970, 1980
| | |
| --- | --- |
| Weight | 205 - 215lbs (88.5 - 93.0kg) |
| Height | 5'7" (170cm) |
| Arms | 20" |
| Nationality | American |
| Profession | Professional Bodybuilder |
| Alias | The Legend, The Golden Boy |
| Era | 1950, 1960, 1970, 1980 |
---

Accomplishments
1959 Mr. Idaho, 1st
1960 Mr. California – AAU, Most Muscular, 1st
1960 Mr. Los Angeles – AAU, Most Muscular, 3rd
1960 Mr. Los Angeles – AAU, 3rd
1961 Mr. Pacific Coast – AAU, Most Muscular, 1st
1962 Mr. America, Medium, 2nd and Overall
1963 Mr. Universe, Medium, 1st
1964 Mr. Universe, Medium, 1st and Overall
1965 Mr. Olympia, 1st
1966 Mr. Olympia, 1st
1979 Canada Diamond Pro Cup, 9th
1979 Grand Prix Vancouver, Did not place
---

Biography
Early Years
Born and raised in Idaho, America, Larry always had a passion for sports growing up. But as a child, he was too small to play football and basketball at high school.
At this point, Larry had never lifted weights. Instead, he joined the gymnastics squad and became a prolific tumbler – he was at such a high level that he toured with his state team.
Bodybuilding
In 1956, at the age of 18, during his senior year in high school, Larry encountered a bodybuilding magazine. The future legend was instantly inspired and began lifting weights.
However, he wasn't training in the gym – at this point, he was using a deserted tractor axle as a dumb bell.
---

Larry as a child, before he started training.
---
First Competition
In 1958, Larry entered his first competition – the Mr. Idaho show. All of his hard work paid off, and he placed 1st in his debut.
This victory made him realize that he had the potential to succeed in the industry. He set his sights on becoming a fitness sensation.
Move to California and College
It wasn't long until Larry had fallen in love with fitness. In 1958, he moved to California and began training at Bert Goodrich's Hollywood Gym.
It was there that Larry met "Mr. Muscle Beach", Lou Degni – he took Larry under his wing and him helped develop a great body.
During this period, Larry also enrolled at Valley College, majoring in Electronics. He started working as an electronics technician simultaneously, managing to fit in gym sessions in his spare time.
This dedication to fitness was key to attaining the greatest physique in the world.
---
 
  Larry at 21-years-old.
---
Meeting Vince Gironda
Soon after, Larry had a change of scenery and joined Vince's Gym. Here, he met the owner and bodybuilding legend, Vince Gironda – The Iron Guru took it upon himself to personally train the youngster.
Under the guidance of an icon, Larry made serious progress and was ready for his first major competition – the 1960 AAU Mr. California.
He managed to walk away with the trophy, but this was just the beginning.
---

Vince being trained by "The Iron Guru", Vince Gironda.
---
Champion
Over the next 4 years, Larry continued developing his physique, gaining more recognition with every competition. During this period, he took home 4 trophies, as well as placing in the top 3 in 3 shows.
By the age of 26, The Golden Boy had packed on around 50lb of muscle using Vince Gironda's methods and had sculpted an incredible physique. After dominating the Mr. Universe contests in 1963 and 1964, he set his sights on bigger competitions.
Mr. Olympia
A year later, Joe Weirder created the prestigious Mr. Olympia show, which held it's first ever competition in 1965. Joe wanted the event to host the best bodybuilders in the world, so he only invited top title winners.
Without hesitation, as the back-to-back winner of the Mr. Universe, Larry entered the 1965 Mr. Olympia. He managed to replicate his previous success, and he was unanimously placed 1st.
Winning this title meant that Larry was crowned as the world's greatest bodybuilder. But he wasn't done yet.
He returned a year later and stepped on stage at the 1966 Mr. Olympia. The Legend successfully defended his position as the king of the industry, becoming a superstar.
---

---
Retirement
Larry had reached the peak of his career after winning the first two Mr. Olympia shows.
At this point, he felt that he'd achieved everything in the industry. Larry wanted to focus on his marriage and step away from the limelight.
At 28, The Golden Boy announced his retirement from competitive bodybuilding after his victory in 1966.
Comeback
After a 13 year absence from the sport, Larry decided to make his comeback in 1979. At the age of 41, he entered two competitions – the Canada Diamond Pro Cup and the Grand Prix Vancouver.
However, the highest he placed was 9th. Larry accepted that his best years were behind him, and he hung up his boots once more.
The Legend
In 1999, Larry's accomplishments in the fitness industry were memorialized.
He was inducted into the coveted IFBB Hall of Fame, alongside other icons like Reg Park and Arnold Schwarzenegger.
---

Training
At his peak, Larry trained 6 days per week in the gym, focusing on 2-3 muscle groups every session. He performed 8-10 reps in equally as many sets.
Each of his sessions lasted 2 hours – he made sure to work out for 12 hours total per week. The Legend believed in taking as little rests between exercises as possible, to keep blood in the muscle and maintain the pump.
Surprisingly for his size, Larry never used what he considered to be extremely heavy weights – the highest he'd go to for his bicep curls was 150lbs.
At Vince's gym, he made the most of all the specialist equipment available which would isolate muscle groups – he credits these machines to his progress.
---

Nutrition
Larry followed an unusual diet when he was competing. He mostly consumed proteins such as meat, cheese, and eggs with almost no carbs and very little vegetables.
The Golden Boy tried to eat 6-8 meals per day to keep his body fuelled and metabolism high. He included whey protein, which he would mix with milk and cream, in his diet plan.
Diet Plan
Larry's diet would have looked something like this:
Meal 1 – Whey Protein, Milk and Cream
Meal 2 – Cheese
Meal 3 – Any meat
Meal 4 – Any meat
Meal 5 – Whey Protein, Milk and Cream
Meal 6 – Any meat with Cheese
Supplements Stack:
Whey Protein
B Complex
Liver Formula
Hydrochloric Acid Tablets
---

Idols and Influences
Larry has inspired many of the golden age bodybuilders, including Arnold Schwarzenegger, and many modern athletes.
However, during his career, he gained his inspiration from Lou Degni and Vince Gironda.
---

What we can learn from Larry Scott
Larry has taught us to always chase our dreams. He took the risk of moving to California to pursue his goal of sculpting the greatest physique in the world.
One thing we can learn from Larry's story is that learning from experienced professionals is the key to success – he took on the help of Lou Degni and Vince Gironda, and became a legend in the industry.