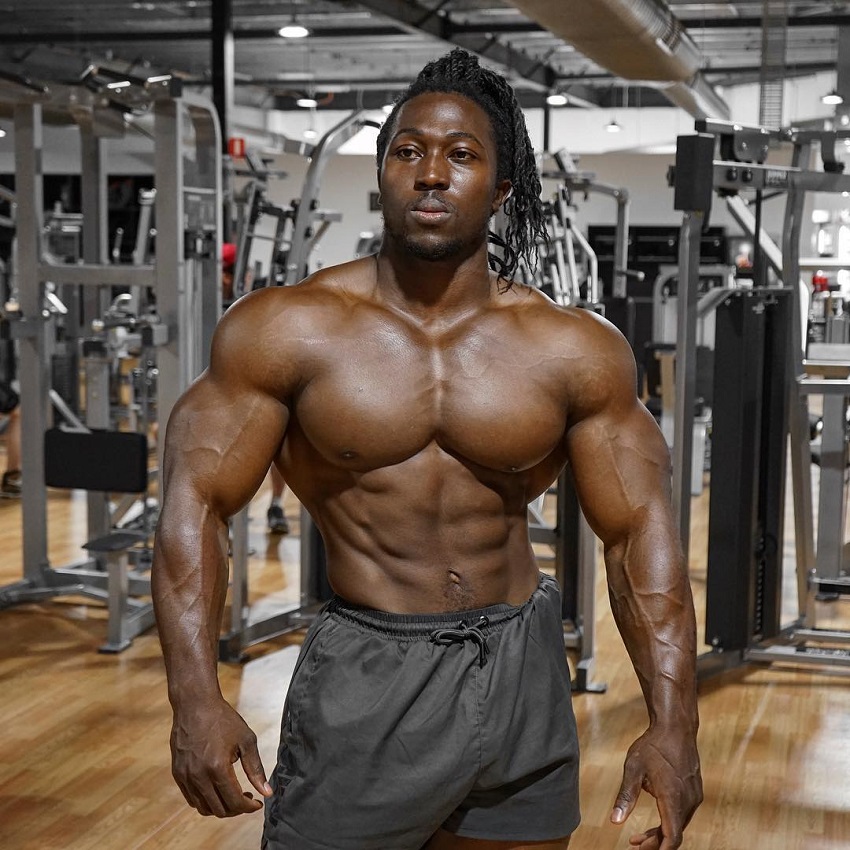 Kwame Duah
Bodybuilder, Fitness Personality
Kwame Duah is a respected online coach and bodybuilder from Adelaide, Australia.
In 2014, Kwame became the youngest bodybuilder to turn Pro in a Musclemania show. In addition, he's been featured in fitness magazines and is a well-known social media influencer.
Kwame initially started competing at the age of 18. The more he competed, the more his passion for the sport grew. He's since not only won bodybuilding titles, but also received a degree in Nutrition and Food Sciences. Which makes him a qualified health coach.
Kwame's success continues to grow, and he keeps inspiring people across the world to stay physically active.
This is his story:
---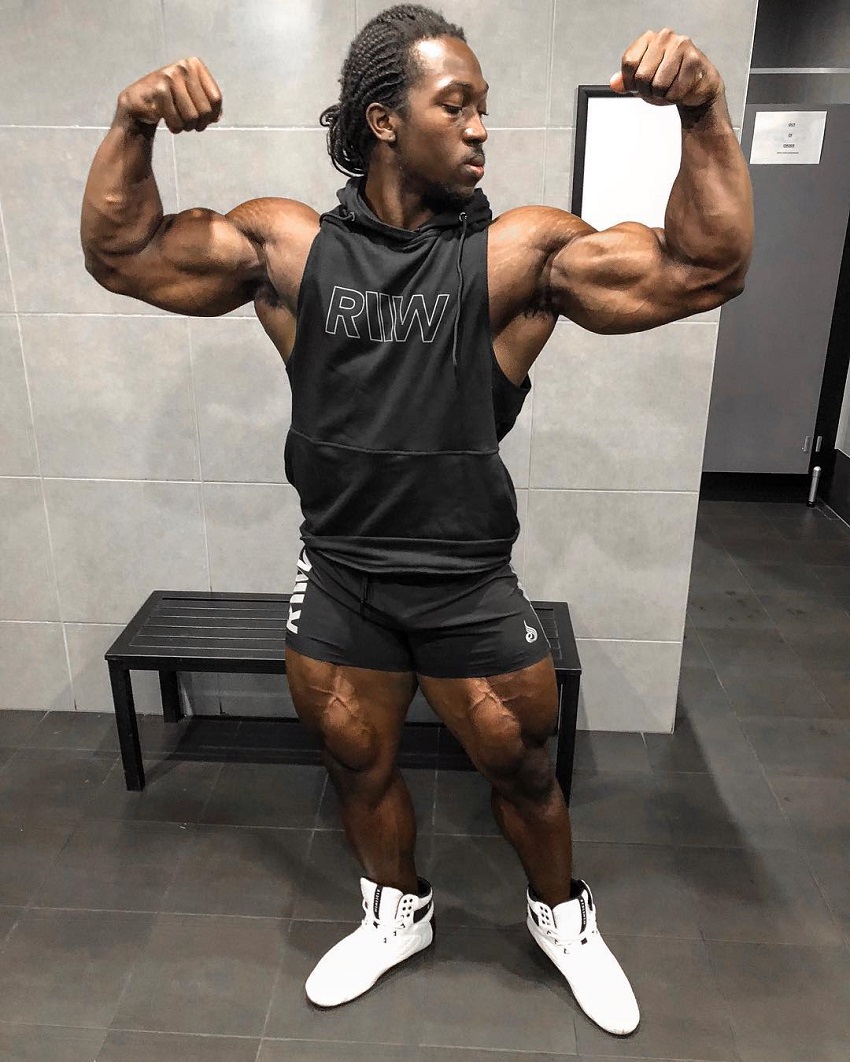 "They say 'A person is the product of their thoughts.' So what you think is what you become. Try to stay positive with your thinking if you want positive outcomes in your life."
Athlete Statistics
Full Name: Kwame Duah
Weight
Height
Year of Birth
Nationality
225 - 235lbs (102.1 - 106.6kg)
5'10" (177.5cm)
1993
Australian
Profession
Era
Bodybuilder, Fitness Personality
2010
| | |
| --- | --- |
| Weight | 225 - 235lbs (102.1 - 106.6kg) |
| Height | 5'10" (177.5cm) |
| Year of Birth | 1993 |
| Nationality | Australian |
| Profession | Bodybuilder, Fitness Personality |
| Era | 2010 |
---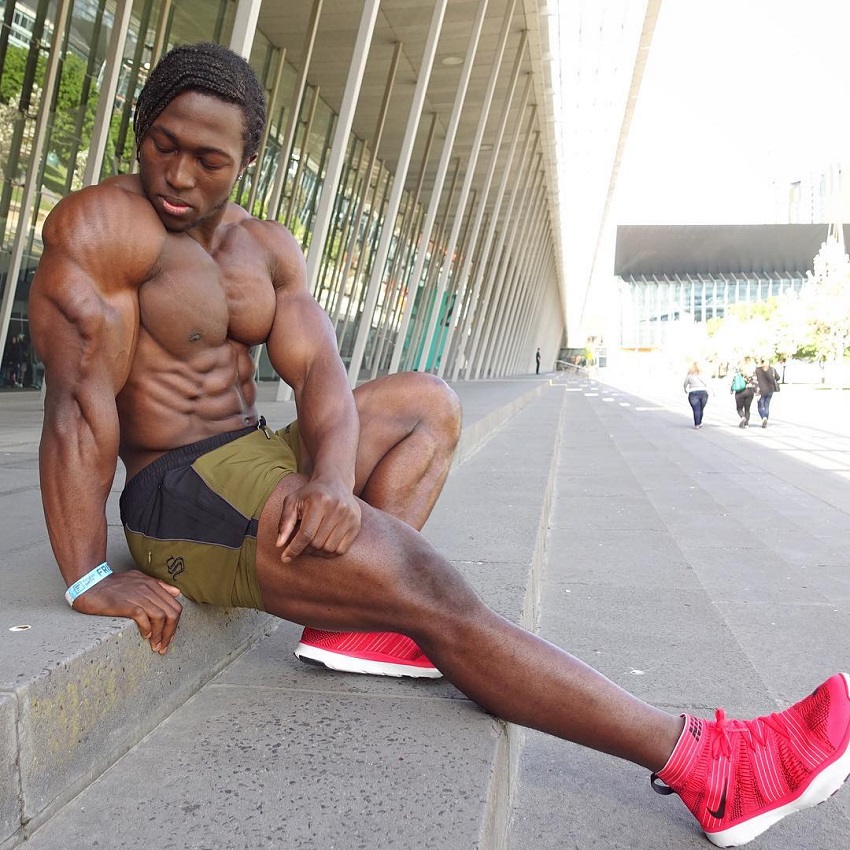 Accomplishments
Fitness & Health Coach
Musclemania Pro Bodybuilder
---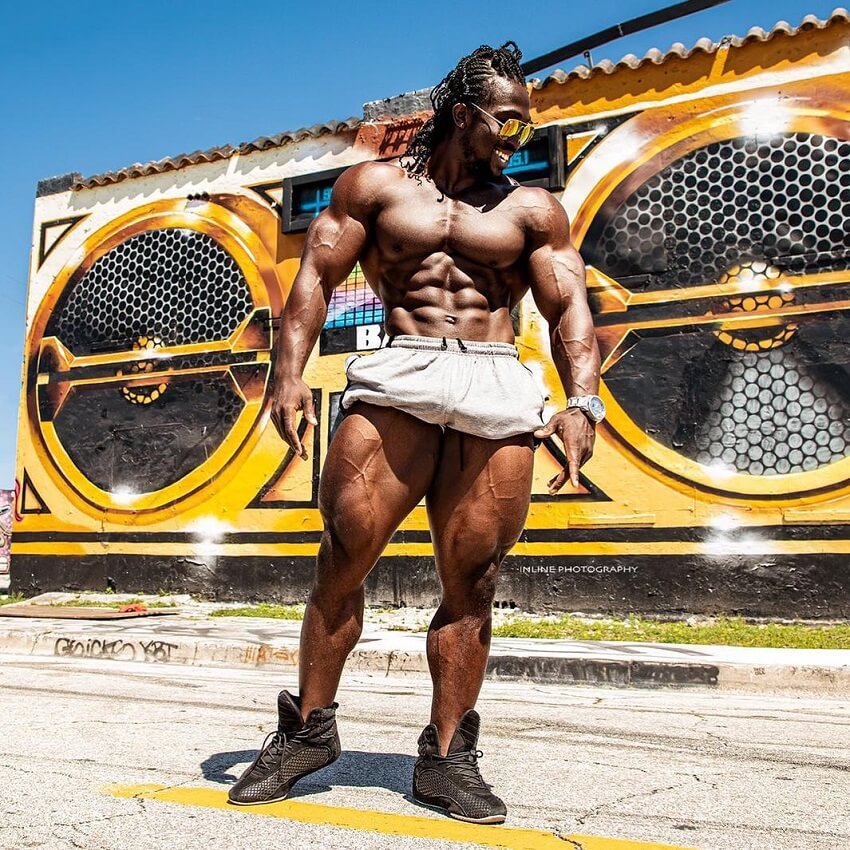 "It's great to have fun and live a balanced life and it's also great to know the time to work and get things done! During that time we have to draw our focus fully into what we are trying to achieve and get things done."
Biography
Kwame's Start to Bodybuilding
Kwame Duah says, he knew he "was blessed with some great genetics growing up." This is something he's extremely grateful for. However, the road to building his ultimate physique was far from easy.
Initially, Kwame started training just to gain some strength and muscle. His training didn't have much intensity and he often skipped workouts.
Taking Things a Step Further
Over time, Kwame became more interested in bodybuilding, which led him to take a personal training course.
During one of his coaching sessions, Kwame came across a personal trainer who boasted one of the best physiques in his area. Kwame was immediately impressed when he saw him. In fact, this encounter spurred Kwame on to commit to bodybuilding and build his own physique of greatness.
Setting New Goals
After setting his new goal, Kwame went on a journey to obtain more knowledge and experience in bodybuilding.
"I created goals to accomplish and even went in search of a coach to guide me in the right direction soon after."
He started visiting the gym more often, along with reading nutrition and training articles in his spare time. Before long, Kwame's new knowledge started reflecting in his physique. It was at this point he decided to test his physique against other aspiring bodybuilders on the stage.
---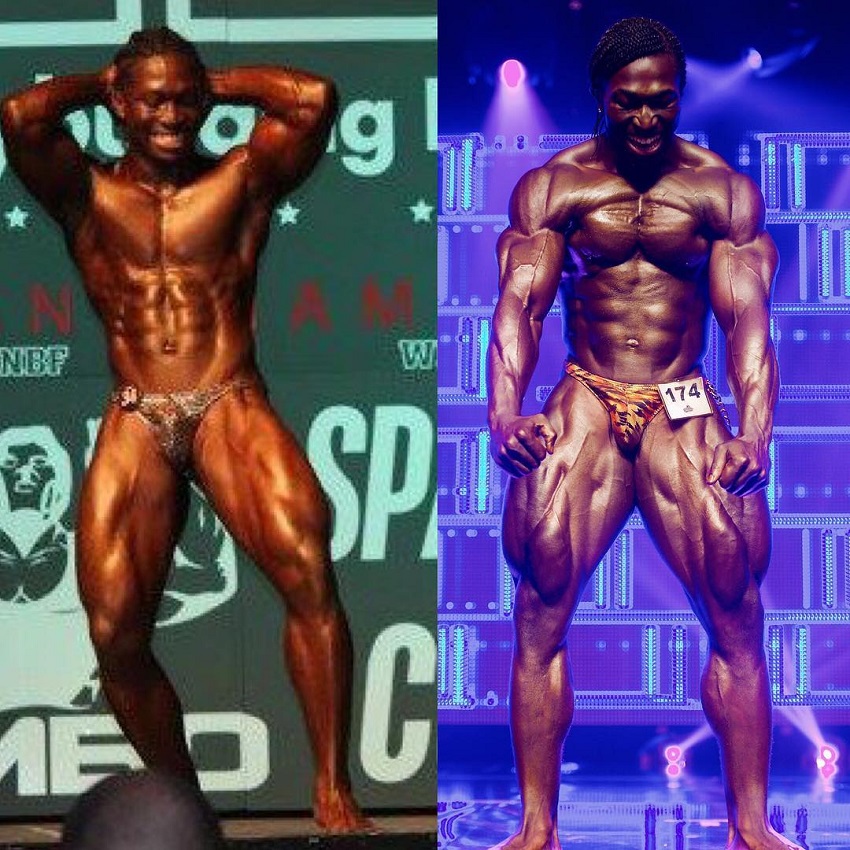 ---
Musclemania Pro Bodybuilder
Kwame's first show came in 2011, while he was still a teenager. He quickly fell in love with the experience of competing.
Three years later, Kwame went on to win his Musclemania Pro status. And he became the youngest bodybuilder to do so.
To this day, Kwame continues to push his limits further and further; both in his career and personal life. It's this mentality that makes him a respected influencer to other bodybuilders, and an icon amongst his fans online.
---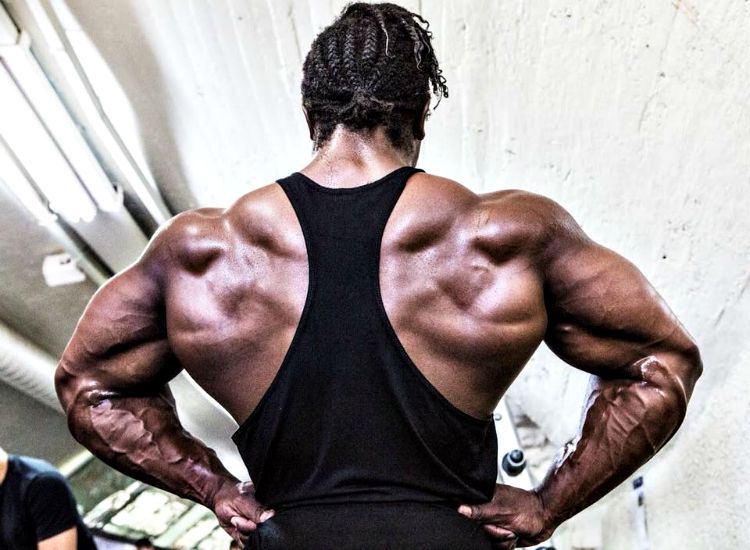 Training
Kwame lifts weights 6 days per week; taking one day off to recover from his heavy workouts. He does cardio only when he needs to lose weight for an event. With that said, Kwame believes that most of the fat loss results are made in the kitchen, not on the treadmill.
Here's his workout plan:
Kwame's Week of Training
Monday: Legs
Tuesday: Shoulders & Abs
Wednesday: Chest & Triceps
Thursday: Back & Biceps
Friday: Arms & Calves
Saturday: Accessory Work/Rest Day
Sunday: Rest Day
---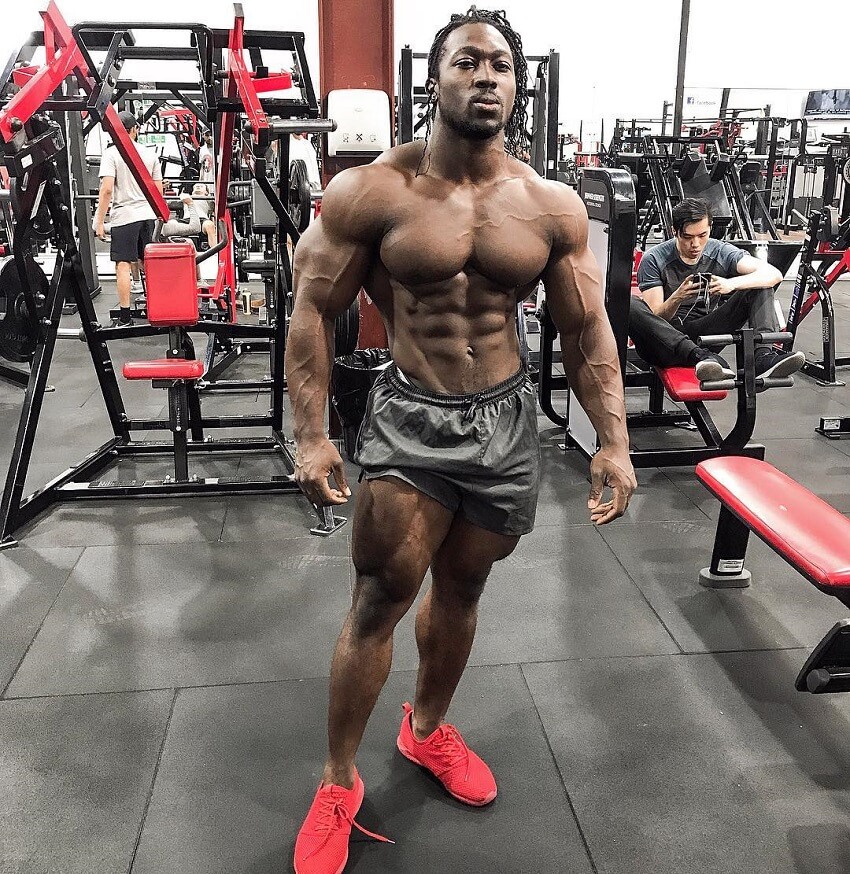 "Some days I go heavy, some days I focus on light weights, and some days I do both. But the main thing is I keep my frequency up if I want these skinny arms to grow."
Nutrition
As someone with a degree in Nutrition and Food Sciences, Kwame is well-versed in choosing the optimal foods for his physique.
Unlike some athletes, Kwame doesn't cut back on carbs; he eats a lot of them. Coupled with his high protein intake, and low fat, Kwame says this works like a charm for his physique. Keeping him lean, energized, and strong for his workouts.
Some of Kwame's dieting rules include:
70-80 percent of whole foods which include different macros (carbs, fat, protein).
Protein – Fish, eggs, lean beef, lean poultry, kangaroo.
Fat – Nuts & seeds, avocado, MCT oil.
Carbohydrates – Rice, sweet potatoes, brown pasta, quinoa, and oats.
But Kwame doesn't neglect his micronutrients either. He makes sure to include all sorts of vegetables, fruits, and herbs that play an important role in his overall health and weight loss. Some of his favorite health drinks include green tea, lemon water, and apple cider vinegar.
Dealing With Cravings
When preparing for a show, it's almost impossible for Kwame to avoid food cravings completely. If hunger strikes, he'll eat more foods with high volume and low calories, such as watermelon and leafy greens. These food help him stay full for longer.
---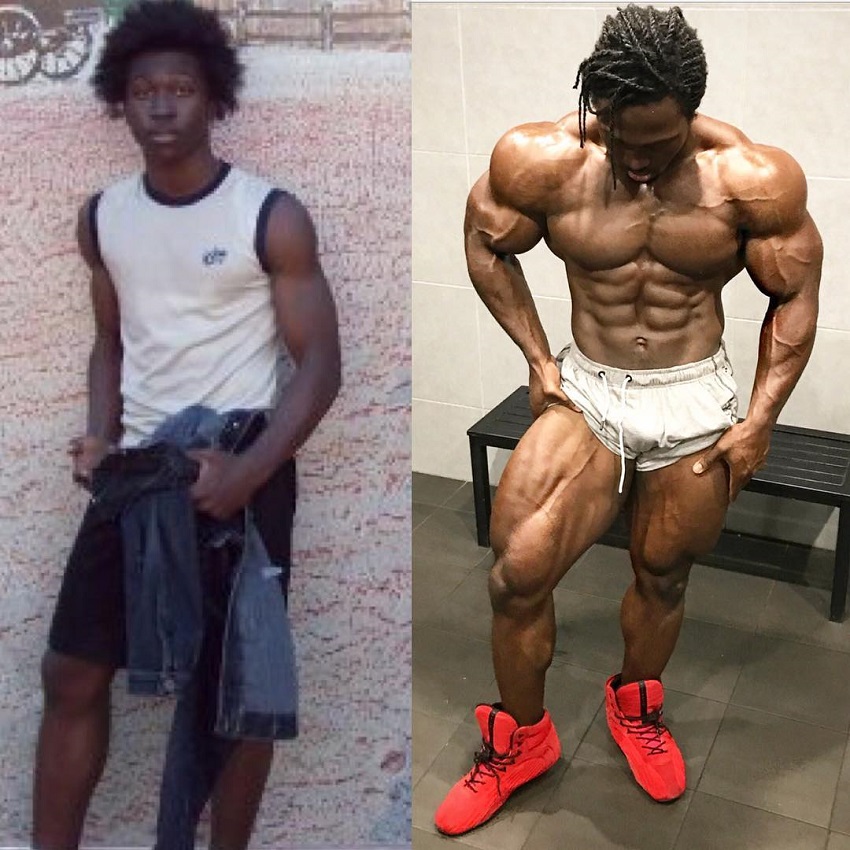 Idols and Influences
Kwame credits his coach Hayzer Caylis as someone he is grateful for. Under Hayzer's guidance, Kwame learned the fundamentals of bodybuilding and sculpted an awe-worthy physique.
As Kwame says: "Eventually, Caylis taught me everything he knew about muscle growth, and I went on to train by myself and began to focus on my mind-muscle connection. So that one day, I'd have all the attributes to be able to develop into a top bodybuilder who inspires the wider community to be fit! Just like I do today!"
---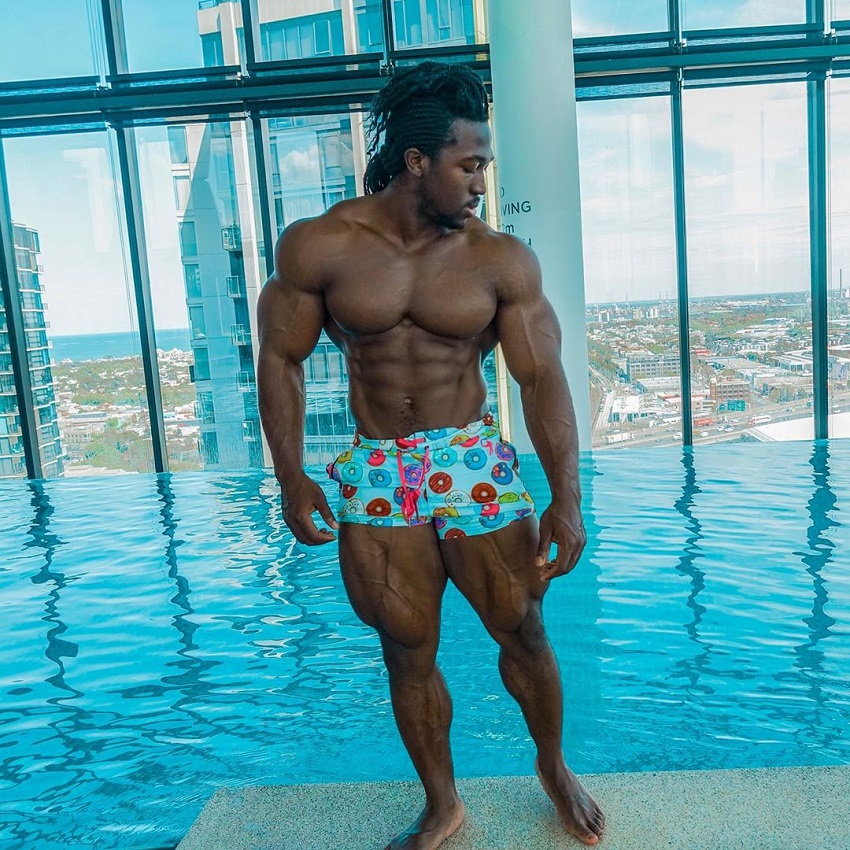 What we can learn from Kwame Duah
Kwame Duah has taught us this: if you want to reach the top, being competitive may not be a bad thing.
Keeping your sight on your goals, and striving forward each day to accomplish them. That's how success is made.