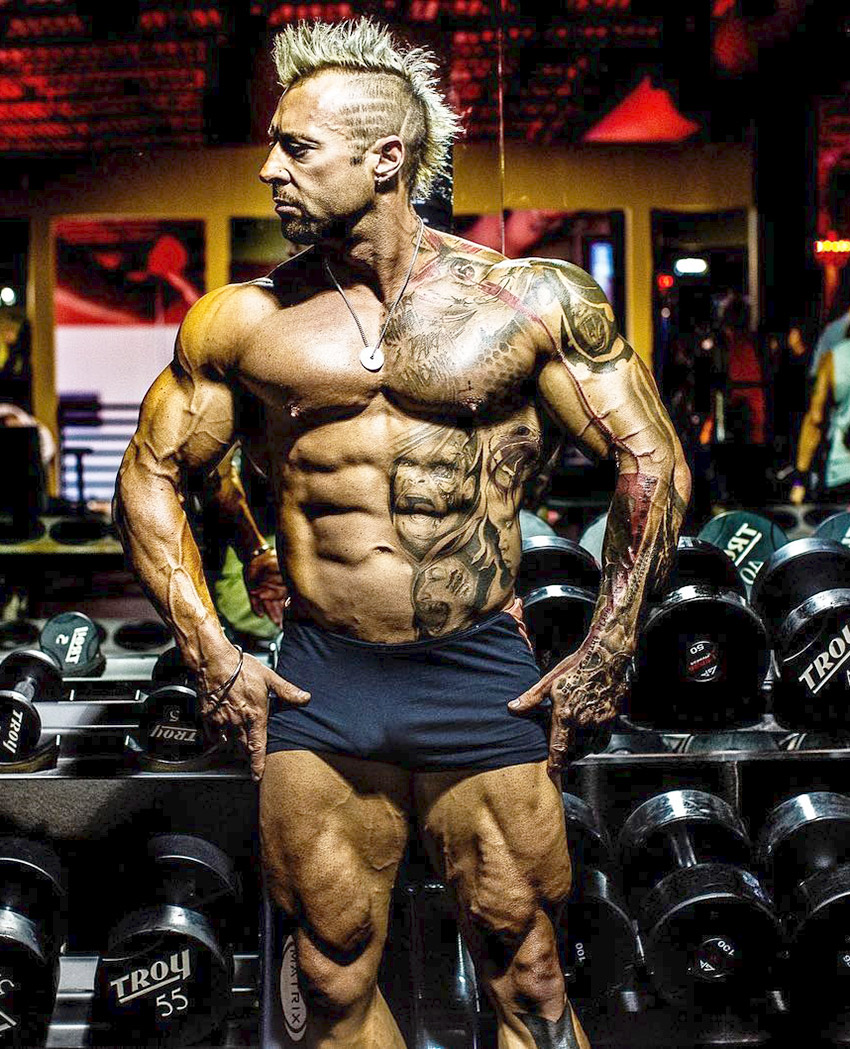 Kris Gethin
Kris Gethin is an internationally renown trainer, CEO of a supplements brand and former Editor-in-Chief of a leading fitness website. He's gained a vast amount of knowledge in the fitness industry through his journey, sculpting a great physique.
However, it hasn't always been easy for the Welshman –  a motocross accident left him with a serious back injury as a teenager.
This is his story:
---

"I am a person who lives and breathes fitness"
Athlete Statistics
Full Name: Kris Gethin
Weight
Height
Year of Birth
Nationality
185 - 195lbs (83.9 - 88.5kg)
5'8" (172.5cm)
1982
Welsh
Era
2000, 2010
| | |
| --- | --- |
| Weight | 185 - 195lbs (83.9 - 88.5kg) |
| Height | 5'8" (172.5cm) |
| Year of Birth | 1982 |
| Nationality | Welsh |
| Era | 2000, 2010 |
---

"I take pride in my health, and I am driven to keep my body in top form because it is the hub from which all other parts of life extend"
Accomplishments
2nd Place – MetRx First Timers Wales
2nd Place – ANB Mr Sydney
2nd Place – ANB Mr NSW
2nd Place – ANB Australia Championships
2nd Place – WNSO World Championships
2nd Place – NPA Idaho Falls
2nd Place – NPA Idaho Championships
---

"I was first introduced to Bodybuilding following an accident while racing motocross"
Biography
Accident and Entering the Gym
Born in Wales, Kris Gethin grew up on his family's farm with a strong work ethic. But he wasn't always keen on fitness as a child – his first passion was motocross.
However, he sustained a serious back injury after an accident. At this point, he was told that he couldn't continue riding his motorbike.
Kris began rehabilitation using weights, determined to prove the doctors wrong.
First Competition
After spending months working hard to recover from his accident, Kris made serious progress in the gym. He started reading bodybuilding magazines, idolizing the "real life superheroes" with amazing physiques.
It wasn't long until Kris fell in love with weight training and set his sights on competing as a bodybuilder.
His first show was the MetRx First Timers Wales contest. Although Kris didn't win, he placed second in his debut, losing out on the trophy by 1 point.
This pushed him to step up his game to succeed in the industry.
---

Kris' transformation since his motocross accident.
---
Editor-in-Chief
By 2012, Kris had sculpted a great physique, making a name for himself by becoming the Editor of a bodybuilding website. His gained a reputation as a guru in the industry, meeting and interviewing many icons during this period.
Although being the Editor was a "dream come true" for Kris, he was eager to achieve more in the industry.
Entrepreneur
By the age of 33, Kris had appeared in a further 6 competitions and created his own supplements company. He personally tested his products while preparing for a Triathalon over 28 months.
However, he'd also made the huge decision to step down as Editor of the leading bodybuilding website.
Celebrity Personal Trainer
By 2016, at 34, Kris had gained even more exposure in the industry. He successfully trained Bollywood stars such as Hrithik Roshan, John Abraham and Mahesh Babu for upcoming film releases.
He'd become an international fitness icon, known for his intense training philosophies and vast knowledge of bodybuilding.
---

"Every individual has a slightly different insertion and origin point of their muscle fibers. By pressing with dumbbells instead of a barbell, you are able to find your plane of movement that best fits your physique and structure"
Training
Kris is a massive advocate of his DTP (Dramatic Transformation Principle) program. This involves numerous high and low rep exercises to activate both fast and slow twitch fibers.
"I have had a lot of success with this program by experimenting on myself and others, and it has enabled everyone who has tried it to burn fat and build muscle"
Workout Routine:
Monday – DTP Leg's
Leg Press: 1×50, 1×40, 1×30, 1×20, 1×10, 1×5, 1×5, 1×10, 1×20, 1×30, 1×40, 1×50
Tuesday – DTP Shoulders
Shoulder Press: 1×50, 1×40, 1×30, 1×20, 1×10, 1×5, 1×5, 1×10, 1×20, 1×30, 1×40, 1×50
Wednesday – Cardio
20 minutes walking stairs
Thursday – Arms
DTP Barbell Curl Superset with Lying Tricep Extension: 1×50, 1×40, 1×30, 1×20, 1×10, 1×5, 1×5, 1×10, 1×20, 1×30, 1×40, 1×50
Friday – Shoulders
Dumbell Press superset with Bent over Dumbbell Rows: 1×50, 1×40, 1×30, 1×20, 1×10, 1×5, 1×5, 1×10, 1×20, 1×30, 1×40, 1×50
Saturday – Ab's
Ab Crunches 3xfailure
Lying Leg Raise 3xfailure
Standing Calf Press 3×20
Seated Calf Press 3×30
Sunday – Cardio
20 minutes walking stairs
---

"The more frequent we eat meals, the faster our metabolism. So, why would we want to extend this fast by not eating before bed and immediately upon waking"
Nutrition
Kris aims to eat 8 meals a day to provide his body with the energy it needs to develop. He plans his meals around lean proteins, complex carbs and green vegetables.
Unlike other athletes, Kris always consumes breakfast before training cardio – he believes that running on an empty stomach will slow your metabolism down.
Diet Plan:
Meal 1 – Oats, egg whites and coffee
Meal 2 – Egg white omlet with chicken and oatmeal
Meal 3 – Lean steak with brown rice
Meal 4 – Chicken, sweet potato and broccoli
Meal 5 – Tilapia, brown rice and broccoli
Meal 6 – Tilapia and broccoli
Meal 7 – Chicken, sweet potato and broccoli
Chicken breast and broccoli
Meal 8 – Steak and broccoli
Supplements Stack:
Whey Protein
BCAA
Glutamine
Multivitamins
Minerals
Natural Testosterone Booster
Pre-Workout
Casein Protein
Probiotic Digestive Enzyme
Creatine
---

"I looked at bodybuilders as real-life superheroes. I was so inspired by their level of fitness that it helped me work harder on my own body"
Idols and Influences
Kris met numerous bodybuilders through his journey in the fitness industry. Their incredible physiques has always motivated him to achieve similar success as an athlete.
However, he names Andrew Merrifield, Dorian Yates, Lee Priest and Branch Warren as his idols.
---

"I loved connecting with people and motivating them toward their fitness goals."
What we can learn from Kris Gethin
Kris has taught us that coming back stronger after being knocked down will eventually lead you to success. He was forced to quit motocross after his injury but created his own supplements company after pursuing fitness.
One thing we can take away from Kris' story is to never settle for anything. He managed to attain his dream job as the Editor of a bodybuilding website, but set the bar higher to achieve more success.