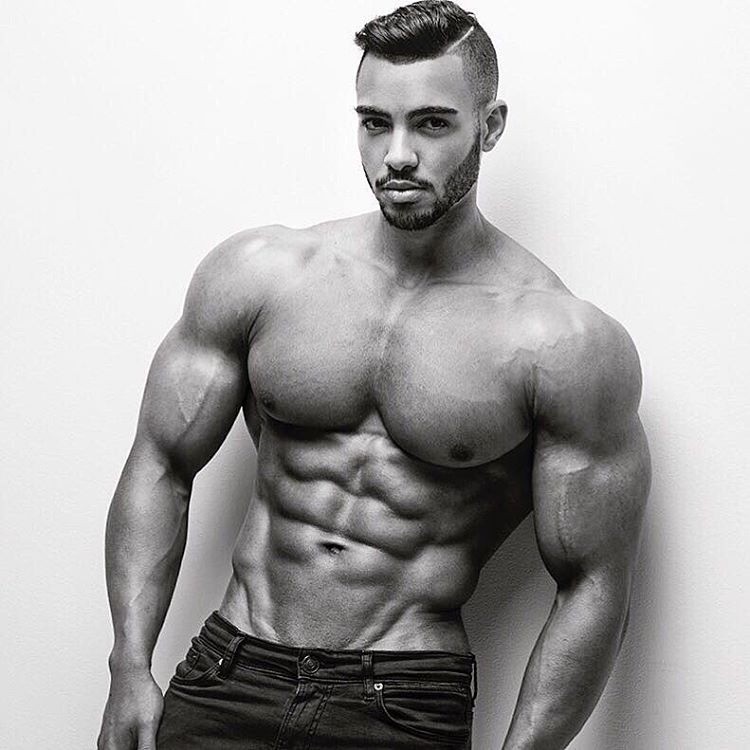 Justin St Paul
Fitness Model, Personal Trainer
From the United Kingdom, Justin St Paul is a successful personal trainer and fitness model who achieved a great transformation into the fitness lifestyle.
His journey started when he was playing rugby for his high school team. Justin was frustrated as he was always one of the "smallest guys" in the team. He then decided to take the matter into his own hands and by joining a gym in the hope to look bigger and more muscular.
Justin became passionate about lifting weights as soon as he noticed changes in his physique. From that point on, his motivation was derived from the desire to push himself more each day, training harder, and working on his body. Since the beginning of his journey into fitness, Justin has become a famous fitness model and a personal trainer, known among his fans for his humble personality.
This is his story:
---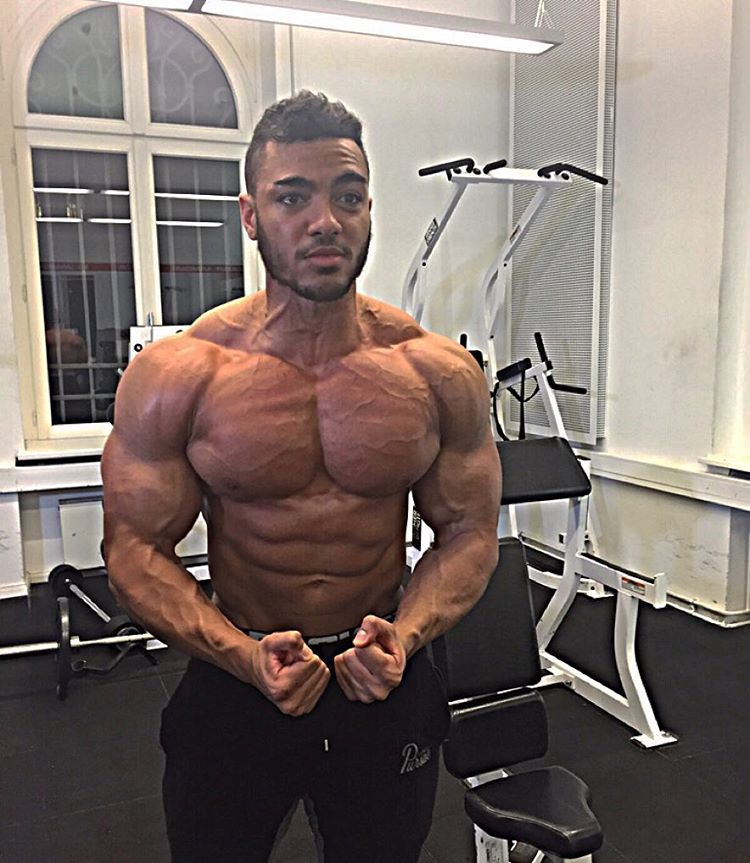 "Placings and titles are great, but they are not why I started this game."
Athlete Statistics
Full Name: Justin St Paul
Weight
Height
Year of Birth
Nationality
215 - 225lbs (93.0 - 102.1kg)
6' (183cm)
1992
English
Profession
Era
Fitness Model, Personal Trainer
2010
| | |
| --- | --- |
| Weight | 215 - 225lbs (93.0 - 102.1kg) |
| Height | 6' (183cm) |
| Year of Birth | 1992 |
| Nationality | English |
| Profession | Fitness Model, Personal Trainer |
| Era | 2010 |
---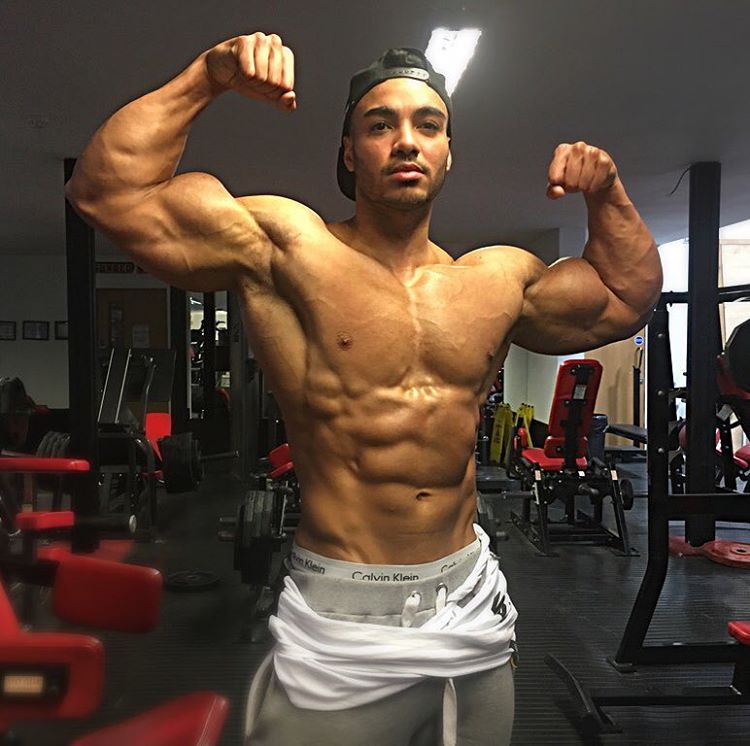 "Enjoy what you do, if you don't enjoy your training or your diet then you're never going to stick to it."
Accomplishments
Competitions
Miami Pro Universe Champion
WBFF Pro Muscle Model
---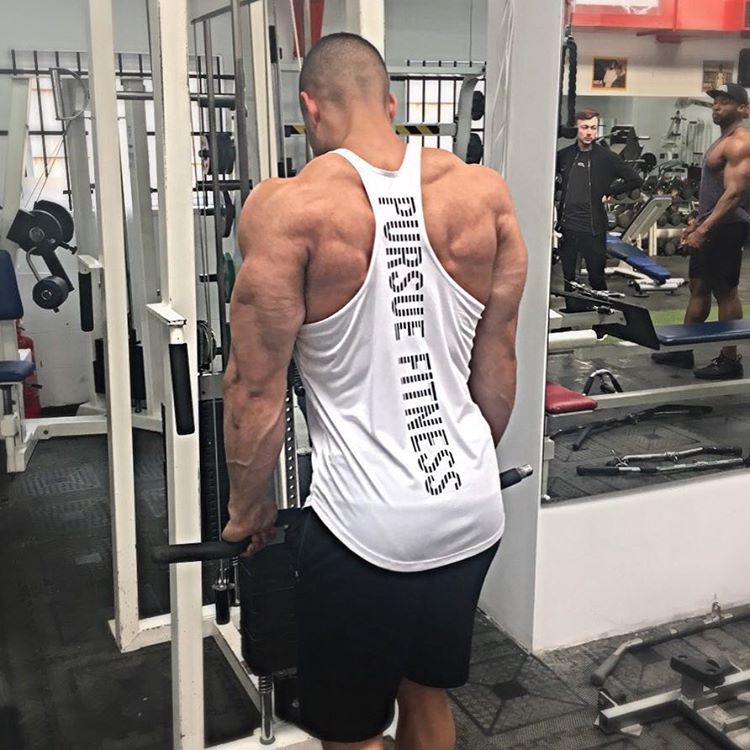 "Train your weaknesses, often people avoid exercises or other things in life that they find difficult, and that's the exact reason why you should do them to become better at them. Oh and always remember form before ego!"
Biography
Athletic Background
From England Portsmouth, and born in 1992, Justin has always been passionate about sports. From an early age he was involved in football, rugby, athletics, basketball and hockey. Despite his small build, Justin said he excelled at almost every sport he played.
After joining his first high school football team, Justin became frustrated because of his undernourished looks. He started playing for an older football team and always "felt small and weak".
It wasn't until he entered college that Justin realized he had to grow in size in order to stay competitive in the sports he played. At the age of 15, he got a pair of dumbbells from his mother, each dumbbell weighing 5kg.
"I just remember doing biceps curls, and shoulder presses."
Justin's knowledge about bodybuilding was limited at the time, so he improvised a lot, and admitted he only trained his biceps and shoulders, which made them overdeveloped compared to the rest of his body.
Obsession with Fitness
Justin wasn't noticing a lot of progress at first, but by the time he turned 16, he joined a gym and started training with friends.
He was "quite shy" and didn't want to go alone in the gym at the time, but after several weeks he was left with a decision – his friends stopped going to the gym, but Justin was passionate more than ever to continue weightlifting.
At that point, Justin said he decided to face his fears and continue going to the gym alone. As his physique was improving, Justin became more confident, and soon, found himself training in the gym from 3 to 5 times a week, leaving his sports career behind.
"I would convince a few friends to come with me, but none of them lasted more than a few weeks at a time, whereas I fell in love with the iron."
Justin continued training hard each day and said how consistency was the key component of his progress.
---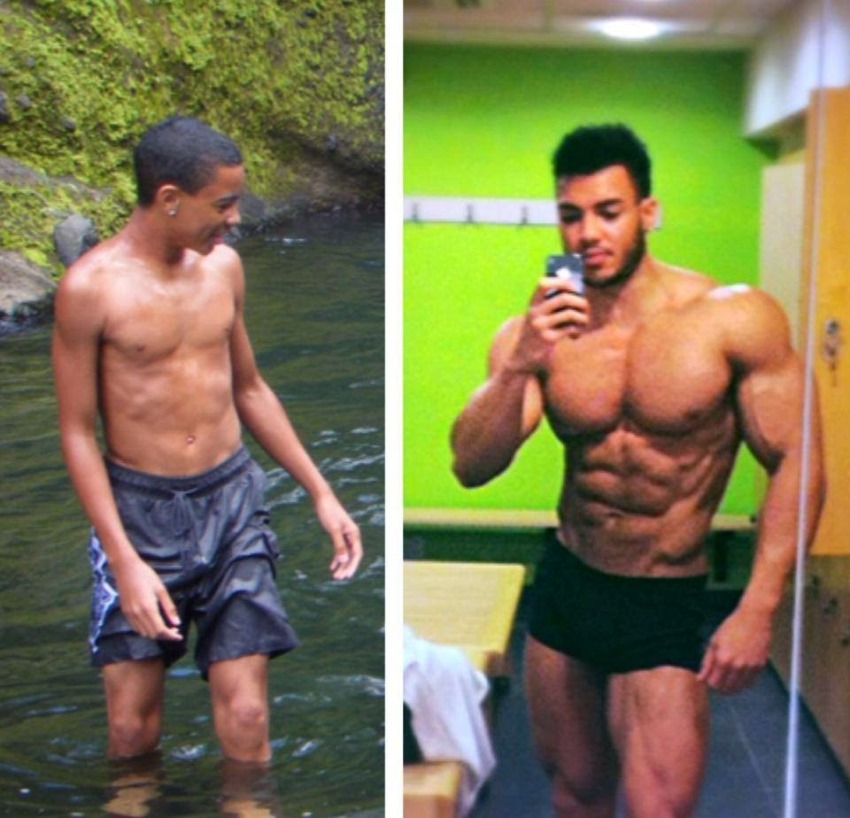 Justin before and after.
---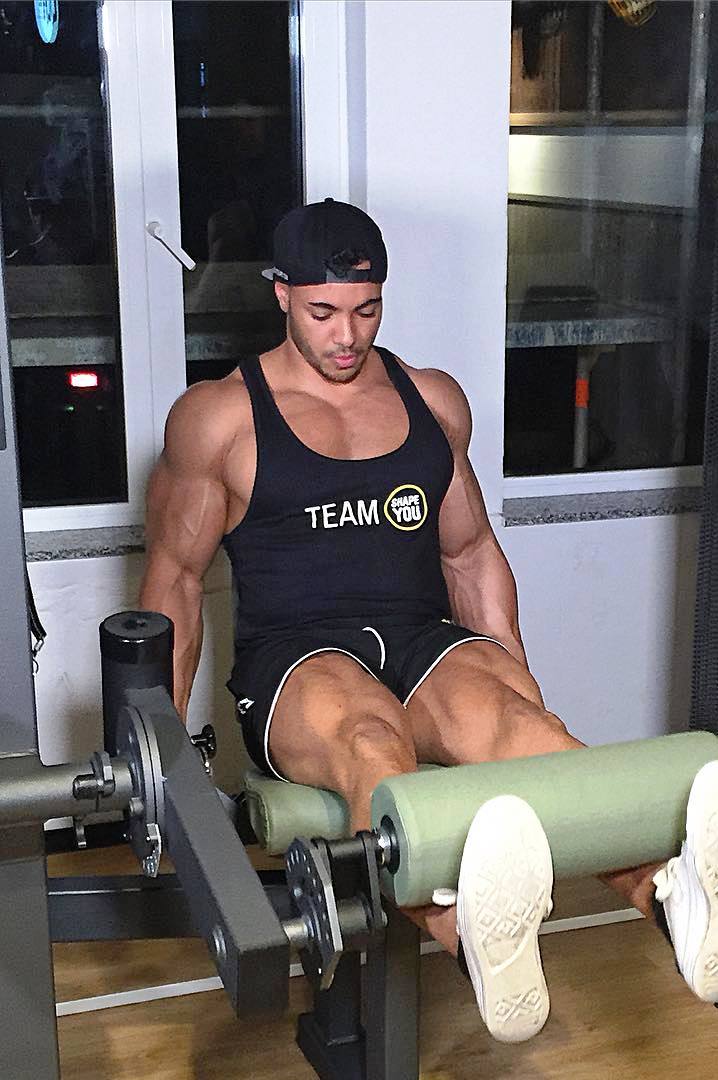 ---
Miami Pro Success
In 2014, Justin took part in his first fitness competition, and after only one year, he was a contestant for the Miami Pro Universe Champion title. After one year of rigorous preparations, Justin competed at the show and took home 1st place, describing the feeling of hearing his name called out as "incredible."
In 2016, at the age of 23, Justin was named the WBFF Pro Muscle Model. He was asked how did the fitness lifestyle enhance his life, and this was Justin's response; "Fitness has changed my life completely. As I grew bigger I would get more and more compliments and it really makes you feel good about yourself. I'm not sure where I will be in 5 years' time but I know one thing, it has to be in fitness now. Since winning Miami Pro Universe my life has become so exciting. Photo-shoots, video's, sponsorship and the support has been so overwhelming and I am grateful for every minute!"
Justin added that he looks forward to meeting all of his fans from all over the world, and hopes to inspire as many people as he can.
---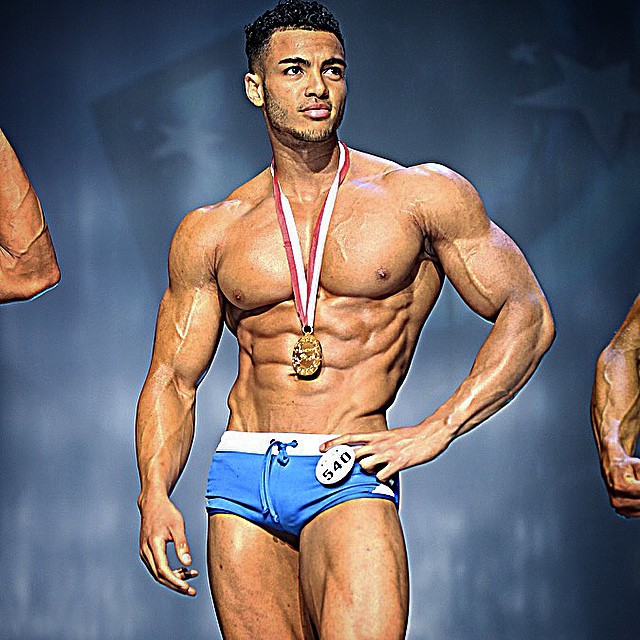 "My rep range varies and changes every few months but my preferred range is usually anywhere between 10-16, but I don't usually worry too much about the exact count."
Training
Tips for Better Results
According to Justin, having a training partner can greatly affect the workout. He likes going to the gym with a partner who can help him lift heavy weights, and also "push him mentally".
Consistency is one of the most important factors when training in the gym, Justin said. He believes that this trait alone is crucial for success in fitness.
Lastly, Justin mentioned that finding the optimal training routine is very important. He says that everyone is different, and by following "current trends of training regimes", some people will get great results, and others won't notice that much progress, therefore, he advises for everyone to tailor a specific training routine for themselves.
Justin's Approach to Weightlifting
Justin usually trains 6 days per week and likes to get many different exercises in per session – 6 or 7 per muscle group. According to him, this is a lot more than most people do, and it's one of his "secrets" for gaining size.
He also stressed the importance of keeping high intensity with limited rest periods, which shouldn't be longer than 60 seconds, while focusing on hypertrophy by doing 8-10 reps. This is what Justin said about intensity; "Intensity is the key and making sure I get full muscle contraction to really tear the muscle fibers."
Trying to progress each week when lifting weights is Justin's main goal when going to the gym. It can be either an increase in weight, or an increase of reps, what's important for him is that he progresses constantly.
Training Routine
Monday: Legs – Hamstring dominant
Tuesday: Shoulders
Wednesday: Arms
Thursday: Legs – Quad dominant
Friday: Chest
Saturday: Back
---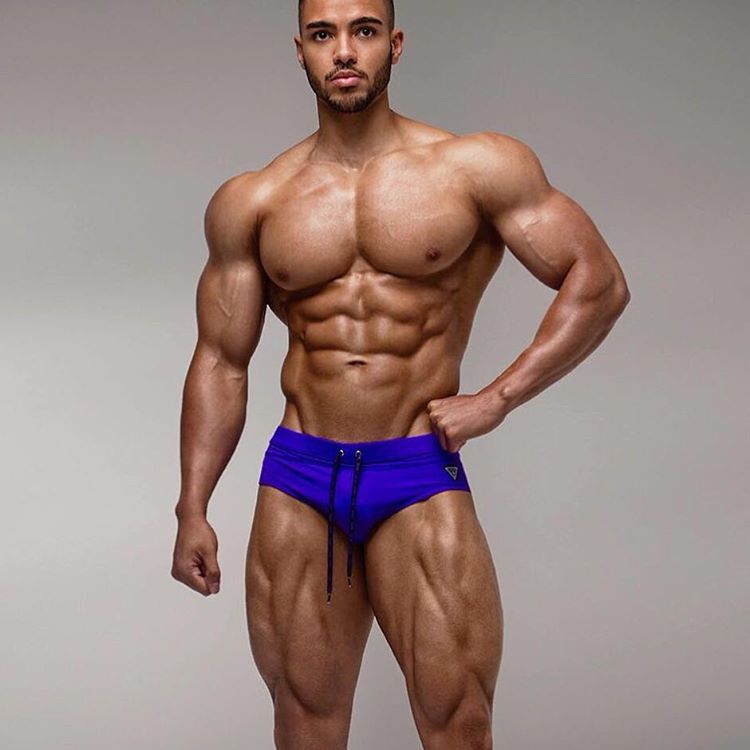 "Draw inspiration from others, whether it be bloggers, fitness icons or just that guy down the gym that you think has a good physique. See if they have any tips to offer, ask them for advice or just look to them as motivation to better yourself."
Nutrition
Food Choice
When it comes to his nutrition, Justin prefers to keep his meals prepared in advance because of  his busy schedule. However, whenever he has time, Justin says he will "take things day by day" and cook his meals and eat them on the same day.
He prefers staying lean for the better part of the year as he often competes and attends photo shoots. In order to stay at a low body fat percentage, Justin has to eat clean food such as lean chicken and turkey breasts, almonds, brown rice, and a lot of fruits and vegetables.
When he's not preparing for a competition, Justin likes to gradually increase his calories to make his body grow but is still aware of his food choices, as he likes to avoid "dirty bulking" as much as possible.
Justin says he has no problem stepping on the stage confidently after 6 weeks of preparation – one of the reasons for such a short period of time needed for him to prepare is his year-round conditioning.
Losing Weight Quickly
When he needs to lose body fat in a short amount of time, Justin will do cardio 2-3 times per week, and HIIT once per week.
HIIT is Justin's personal favorite because he claims that it's a lot more effective at burning fat and preventing muscle breakdown than cardio alone, and it's also "less tedious than just running on a treadmill for days on end."
Supplementation
BCAA – "I find this really helps with my recovery, BCAA's are the building blocks of proteins."
L-Glutamine – "Such an important amino acid, also great for the recovery process."
CLA – "I love CLA because it really helped to get me down in body fat right at the end before a contest or shoot."
Whey Isolate – "High in protein, no sugar, low lactose, high in amino acids."
Casein – "A great morning or night supplement when I know it's going to be hard to consume food. This is slow releasing protein."
Beet Root Extract – "A great natural alternative to the pre supplements out there. It gets my NO (nitric oxide) increased and acts as a vasodilator"
Other supplements that Justin occasionally uses are taurine, L-carnitine, creatine, and beta alanine.
---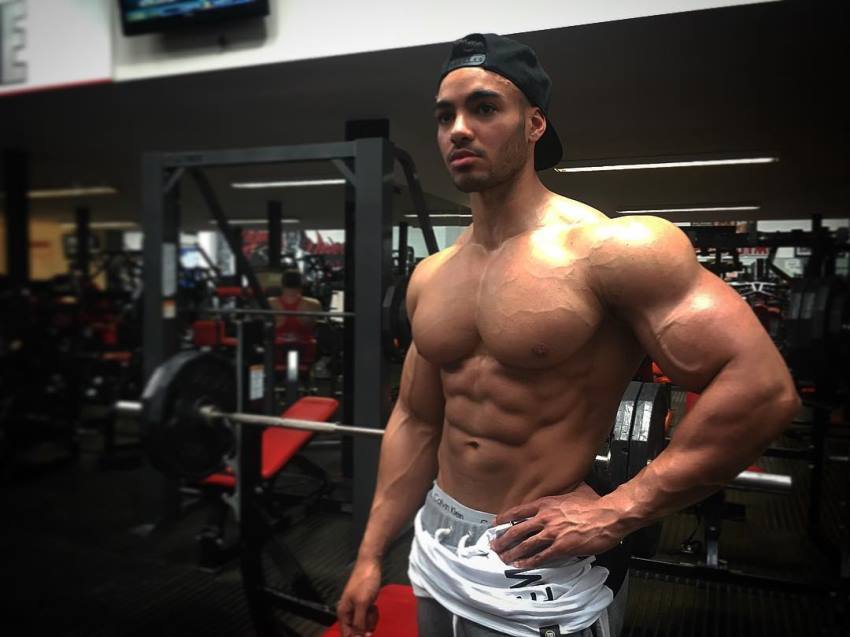 "Stay humble, far too many people grow arrogant when a few muscles appear."
Idols and Influences
Justin's favorite fitness icons are Steve Cook and Ulisses Jr. He believes they stayed humble despite their enormous success, and that's something that's lacking in the contemporary fitness community.
---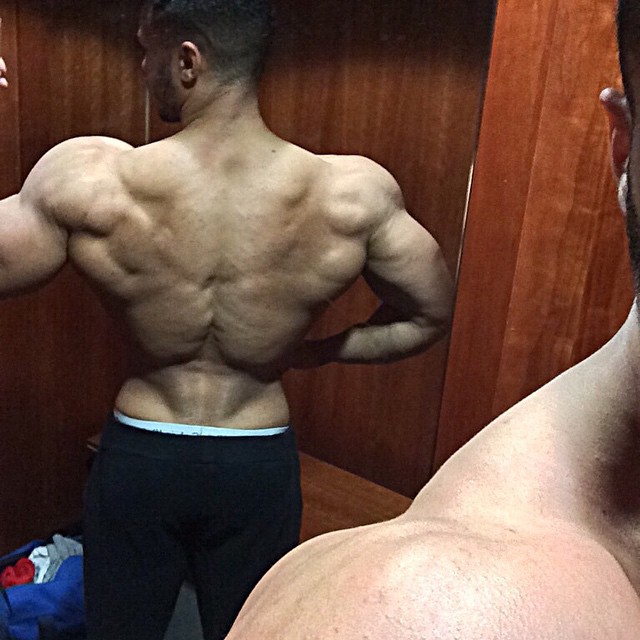 What we can learn from Justin St Paul
Justin's willingness to push forward in tough situations is something we can take out of his story. When in doubt, he would often take a step back from everything, look at how far he has come, and then look at what direction he needed to take in his life.
Another thing that Justin mentioned is the importance of having support. He said he's very fortunate to have good support from his friends and family, and they are one of the main reasons for his success.
Justin taught us not to dwell on bad experiences, but to learn from them and use them as fuel to keep pushing forward. Never let bad a bad experience turn you away from your path of greatness. That's one of the ways to make your dreams a reality.