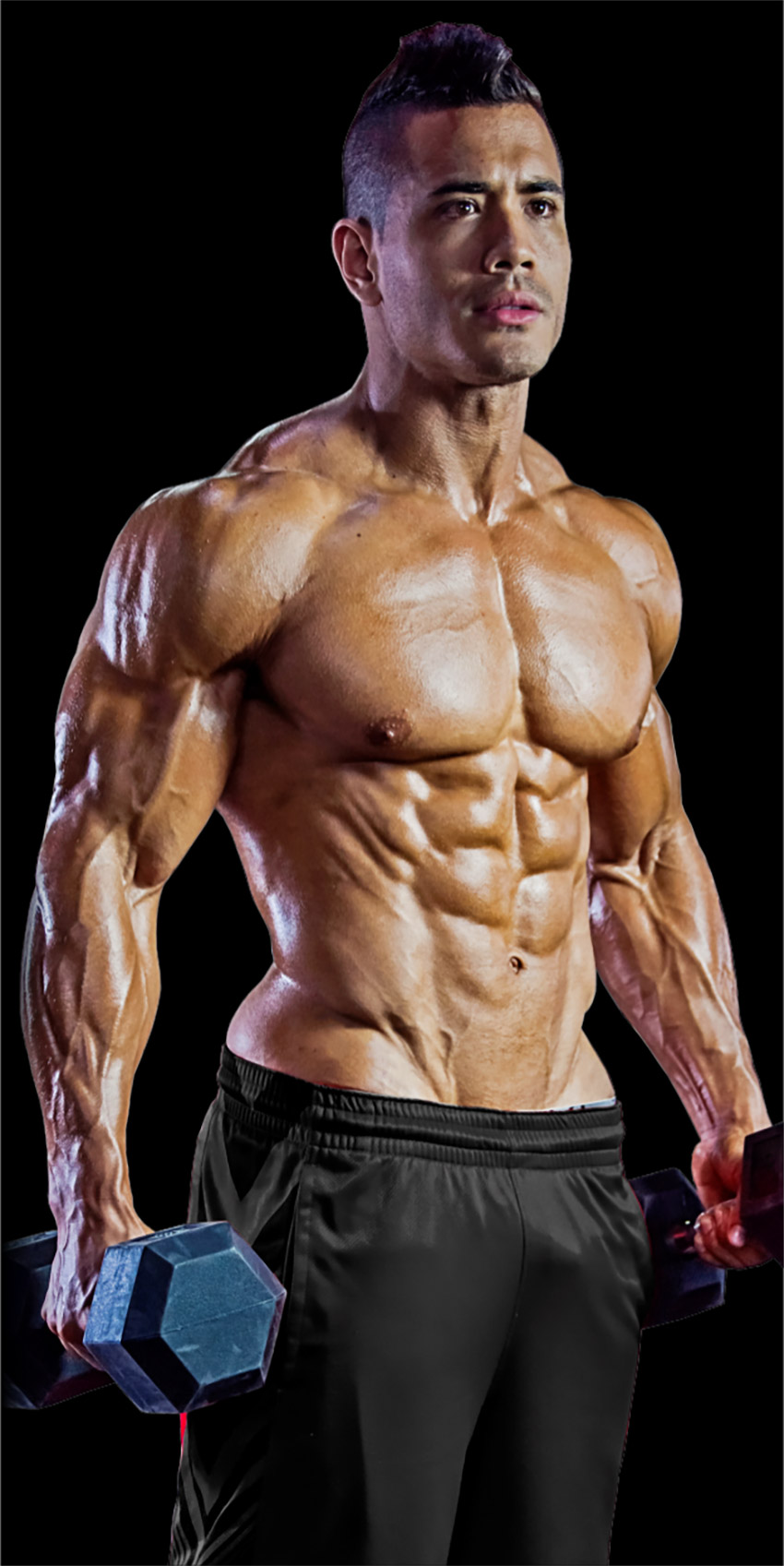 Julian Tanaka
Bodybuilder, Fitness Model
Hailing from Colombia, Julian Tanaka first started going to the gym in fear of getting left behind. This motivation propelled him through the years into becoming one of the best Male Fitness Models in Colombia, if not the world.
Along with his successful bodybuilding career, Julian has also studied to become a Marketing Manager and he's now a Global Sports Logistic Manager for a leading sports company. It's clear to see his drive and ambitions nature placed him at the top of his game.
Julian continues to shine and represent his awesome physique in competitions and modeling shoots while inspiring others around the globe.
This is his story:
---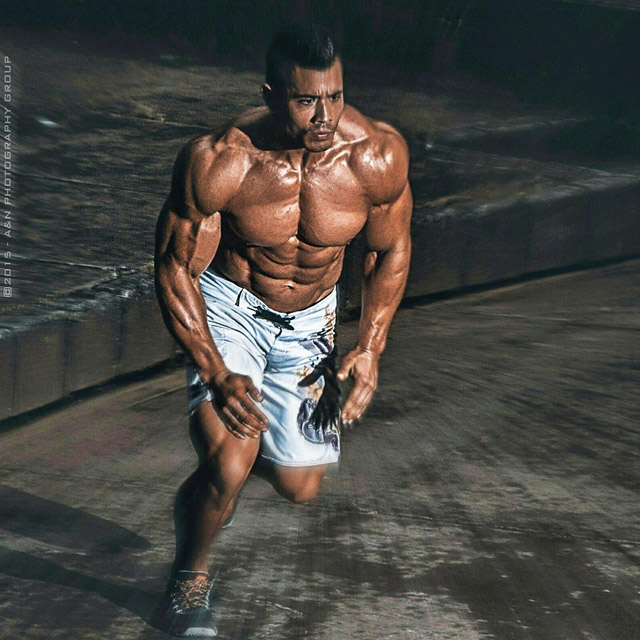 Athlete Statistics
Full Name: Julian Tanaka Torres
Weight
Height
Year of Birth
Nationality
185 - 195lbs (83.9 - 88.5kg)
5'8" (172.5cm)
1988
Colombian
Profession
Era
Bodybuilder, Fitness Model
2010
| | |
| --- | --- |
| Weight | 185 - 195lbs (83.9 - 88.5kg) |
| Height | 5'8" (172.5cm) |
| Year of Birth | 1988 |
| Nationality | Colombian |
| Profession | Bodybuilder, Fitness Model |
| Era | 2010 |
---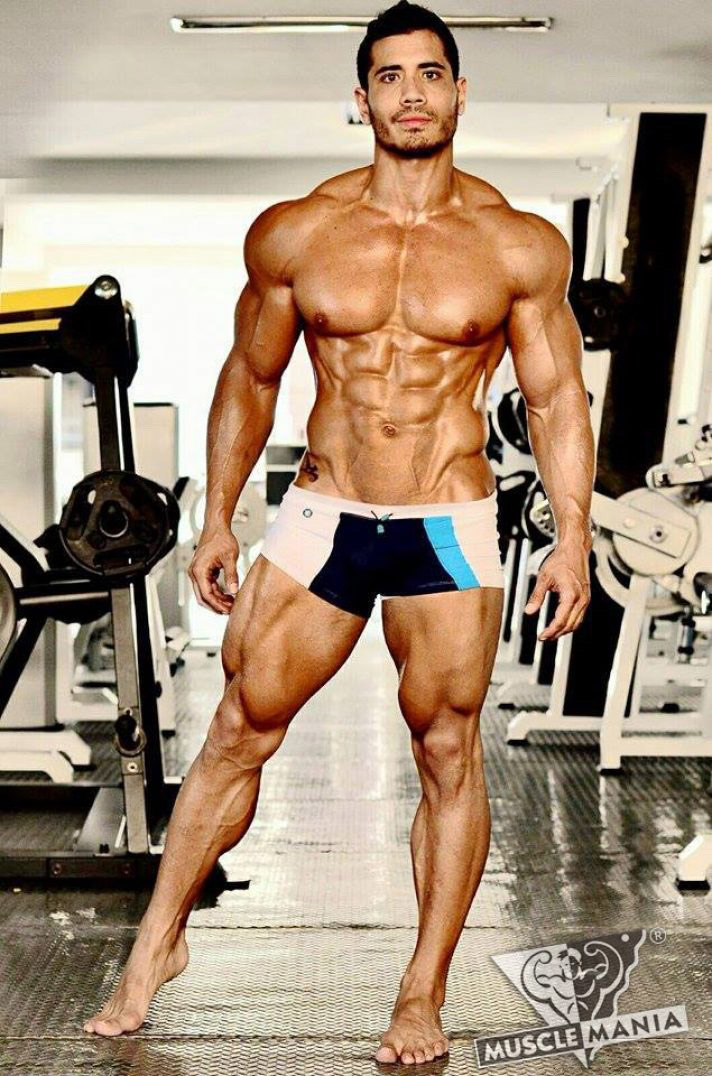 Accomplishments
Profession
International Logistics Sport Marketing Manager 
Capoeira
Capoeira and Bodybuilding Mens physique Champion 
Debut
Musclemania Universe (1st place) 2015 Miami – Florida
Professional Record
Musclemania Universe (1st place) 2015 Miami 

Mr. Colombia (2nd place) 2014 Bogota – Colombia

Musclemania Medellin (1st place) 2015 Medellin – Colombia
Musclemania PRO 2015 Miami – Florida
---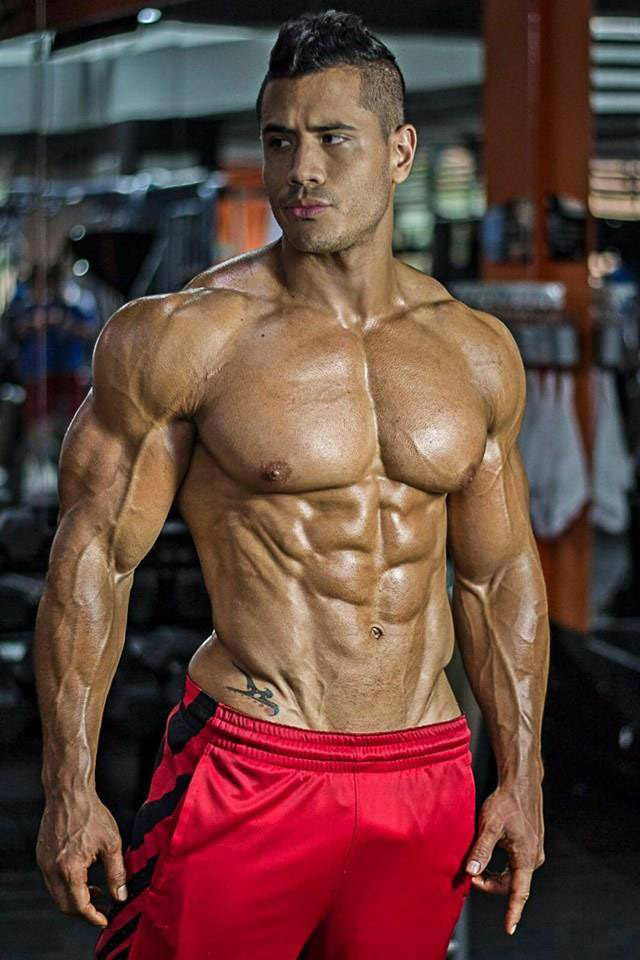 "A couple of my friends started going to the gym, and they became very strong and muscular. I grew concerned that they were going to be stronger than me when I went back to school, and that's when I decided to start going to the gym."
Biography
Early Motivation
Julian first got started with bodybuilding back in high school when his friends joined a local gym and started working out on a regular basis. As Julian was already known for his natural strength and size, he was in fear of getting outclassed and left behind, he soon followed suit and started weight training.
It only took one session for Julian to become hooked. He adapted to bodybuilding like a fish takes to water and the results were immediately noticeable. However, Julian had already built up his strength through Capoeira, but his thirst for weight training soon took hold.
"Training became my passion and my lifestyle."
It wasn't only his high school friends that motivated him to get into the gym, his uncle was also a seasoned bodybuilder with a wealth of experience behind him.
His uncle gave him a lot of encouragement and guidance in the beginning. He showed him the basics, and as Julian says, "from that point on I kept training, and the rest is history!"
Business Entrepreneur
After spending his high school years bodybuilding and learning the ropes, Julian went to the University of Sabana for Marketing Management and International Logistics. He majored in Inalde Business School for PP and GP (program owners and management staff).
Competition History
With his education securely under his belt, Julian went on to compete in numerous bodybuilding shows such as the Muscle Mania and Mr. Colombia.
In 2015, he was crowned the only Colombian to hold 2 Pro cards for the Fitness and Male Model categories.
Julian Tanaka is one of the leading experts and motivational bodybuilders of Latin America, making him an icon and inspiration for many.
After becoming hugely successful in Colombia as one of the best Male Models and Fitness athletes, Julian can now be found sharing his knowledge and enthusiasm for bodybuilding with millions of people globally, he continues grown stronger each coming year while learning new skills as a pro, and personal trainer.
---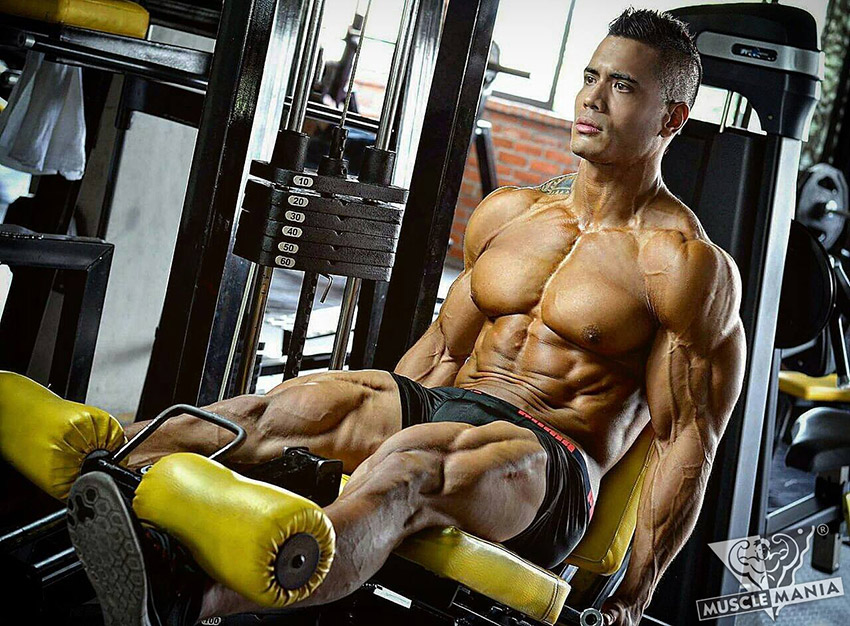 Training
Julian's goals change from season to season depending on photoshoot requirements or competitions.
There will be times when he'll workout using a full-body-workout routine or break it down into splits. However, Julian will use four sets per muscle group in each workout as a baseline.
There are three main workouts he like to recommend as his favorite exercises that work best for him. These are;
Squats: "They really work my whole body and produce the most testosterone, I love them."
Bench Press: "This is my favorite exercise because I love to train my chest the most."
Arnold Press: "The Arnold Press helps give the shoulders a more rounded shape which helps give the shoulders more of a 3D look."
Julian's Workout
Monday: Chest/Biceps
Incline Bench Press 4 x 10
Machine Fly's 4 x 15
Cable Crossovers 4 x 15
Cable Pullovers 4 x 12
Flat Bench Dumbbell Press 5 x 12/10/10/10/8
Hammer Curl 5 x 12/10/10/10/8
EZ-Bar Curls 4 x 10
Concentration Curls 4 x 12
Incline Alternate Dumbbell Curls 3 x 15
Tuesday: Legs
Squats 5 x 10/8/6/6/20
Barbell Lunges 5 x 8/8/6/6/20
Hamstrings Curls 4 x 12
Leg Extensions 4 x 12
Standing Calf Raises 4 x 25
Single Standing Leg Curl 4 x 10
Seated Calf Raises 4 x 25
Wednesday: Back/Triceps
Seated Row 4 x 12
Underhand Grip Pulldowns 4 x 20
Single Arm Pulldowns 4 x 15
V-Bar Pulldowns 4 x 15
Skull Crushers 5 x 12
Rope Pushdowns 4 x 12
Bodyweight Skulls 4 x 12
Straight-Bar Pulldowns 3 x 20
Thursday: Shoulder/Traps
Military Press 5 x 6
Lateral Raises 5 x 20
Arnold Press 5 x 6
Front Raises 5 x 20
One Arm Lateral Raises 4 x 15
Face Pulls 4 x 15
Dumbbell Upright Rows 4 x 12
Shrugs 4 x 15
Friday: Legs
Squats 5 x 10/8/6/6/20
Barbell Lunges 5 x 8/8/6/6/20
Lying Hamstring Curls 4 x 12
Leg Extensions 4 x 12
Standing Calf Raises 4 x 25
Single Standing Leg Curls 4 x 10
Seated Calf Raises 4 x 25
Saturday: Upper Body
Incline Bench Press: 4 x 10
Military Press 4 x 6
V-Bar Pulldowns 4 x 15
Arnold Press 5 x 6
Shrugs 4 x 15
EZ-Bar Curls 4 x 10
Rope Pushdowns 4 x 12
Sunday: Rest/Outdoors Activity
---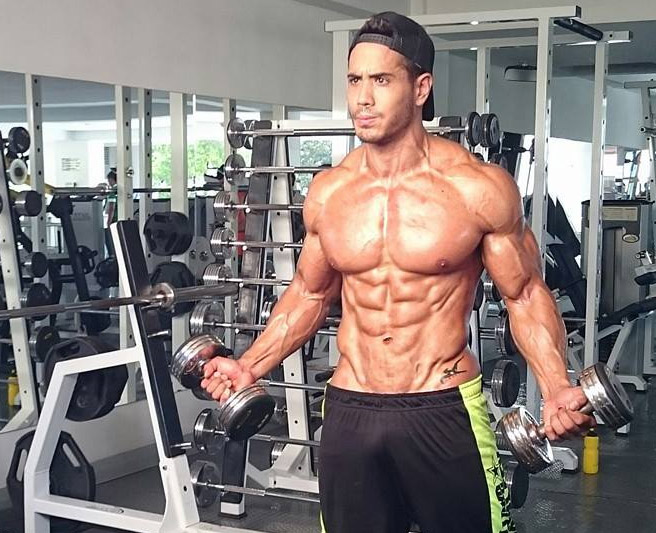 Nutrition
Julian uses flexible dieting and also carb cycling to keep his body-fat percentages low. His macro split looks something like 40% protein, 40% complex carbs, and 20% fats.
However, Julian admits he can't live without hamburgers; "I couldn't live without them! I have a cheat meal every 5 days, but just one meal; not a whole days worth."
Julian's Diet
Meal 1: 2 Scoops Whey with Water
Meal 2: 5 Whole Eggs and 6 ounces Quinoa
Meal 3: (Peanut Butter Sandwich) 2 tablespoons Sugar-Free Peanut Butter and 2 slices Whole Grain Bread
Meal 4: 8 ounces Grilled Chicken, 6 ounces Wild Rice and 1 large Green Salad
Meal 5: 2 scoops Whey and Water
Meal 6: 10 ounces Salmon and 5 ounces Cottage Cheese
Meal 7: 1.5 scoops Micellar Casein with Water
Supplements
Pre-Workout Stimulant
Protein
Micellar Casein
HMB
Glutamine
CLA's
Multivitamin and Minerals
---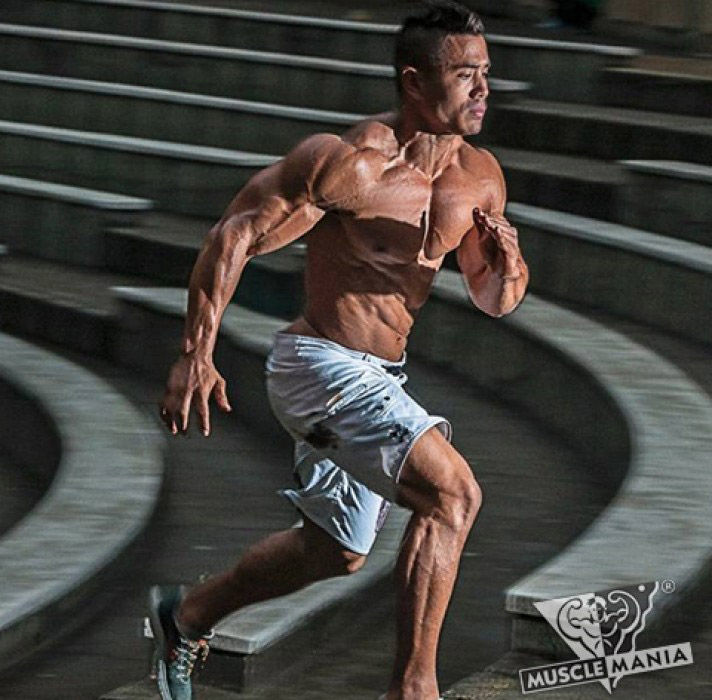 "I don't do this to prove anything to anybody; I do this to prove to myself that I can be better each and every day!"
Idols and Influences
His motivation to keep going forward and train almost every day comes from within. Julian, say, "I have such a huge passion for this sport because I love to challenge and push myself each and every day. I love the discipline and the satisfaction I get from training."
---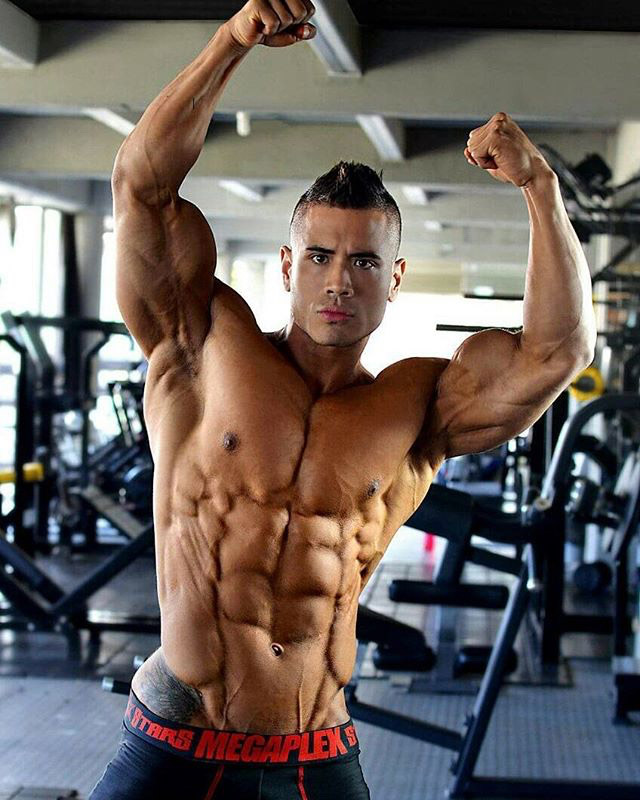 What we can learn from Julian Tanaka
One thing we can learn from Julian is that hard work and the dedication he's given to his professional life alongside bodybuilding has seen him become one of the most recognized Colombian fitness models on the planet.
Making time to study work and train as well as compete has taken serious amounts of discipline and passion to get the job done. With this same drive and enthusiasm for something you love, you too can achieve greatness.