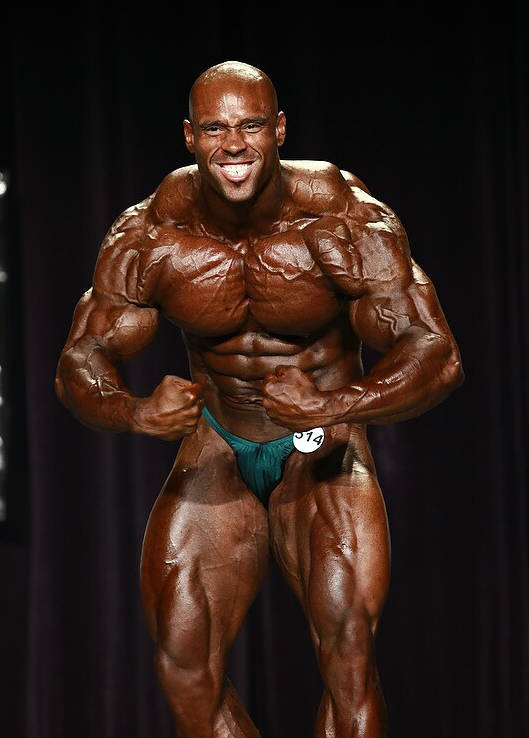 Juan Morel
IFBB Professional Bodybuilder
Juan Morel is an IFBB professional bodybuilder and sponsored athlete from Manhattan, New York. He's made a name for himself due to his IFBB status, as well as his unorthodox approach to training and eating.
Starting out as a successful handball player and boxer, Juan found strength training while working out in the boxing gym. He became fascinated by the bodybuilding heroes he saw in the magazines, and began chasing his dream of joining them on stage.
After building a huge and well-proportioned physique, he attempted to turn pro. He came 2nd three times at NPC championships, before finally landing a 1st, and getting his Pro Card. For Juan however, this was only the beginning.
After years of professional level competing, Juan managed to win several more competitions. He developed a healthy view of the sport, and decided that he may never be Mr Olympia, but he would always strive for greatness. This is Juan's story:
---

Athlete Statistics
Full Name: Juan Morel
Weight
Height
Age
Date of Birth
295 - 310lbs (133.8kg - 140.6kg)
5'11" (180cm)
41
April 2, 1982
Nationality
Profession
Alias
American
IFBB Professional Bodybuilder
Diesel
Era
2010
| | |
| --- | --- |
| Weight | 295 - 310lbs (133.8kg - 140.6kg) |
| Height | 5'11" (180cm) |
| Age | 41 |
| Date of Birth | April 2, 1982 |
| Nationality | American |
| Profession | IFBB Professional Bodybuilder |
| Alias | Diesel |
| Era | 2010 |
---

Accomplishments
Competitions
2007 NPC East Coast Championships, 2nd
2008 NPC Eastern USA BodyBuilding, Figure & Fitness Competition, 2nd
2009 NPC Northeast Grand Prix, 1st

2010 NPC National Bodybuilding, Figure & Bikini Championships, 2nd

2010 NPC North American Championships, 2nd

2011 IFBB North American Championships, 1st

2011 NPC USA Championships, 2nd

2011 NPC Gulf Coast Championships, 1st

2011 NPC US Championships, 2nd
2012 IFBB New York Pro Championships, 4th
---
Biography
Early Years
Juan was born in Manhattan, New York. His parents were from the Dominican republic, and moved to New York in search of a better life. Luckily for Juan, his mother and father had many relatives in the US, so he was never alone.
"For many years we lived with some of my Mom's sisters families, so it was like I had load of brothers and sisters. I had a great childhood. The whole family was very close – physically and emotionally – and at  the weekend we would get together and kick back."
Sporting Beginnings
Prior to his weight lifting career, Juan competed in a number of sports. His first athletic pursuit was handball, which he played at a high level until he was 22.
While he played handball and won many tournaments, he was always looking for a sport which would allow him to use his physical strength to beat opponents. He attended a boxing gym close to his home, and began training and competing in fights – "never loosing a bout".
Discovering Weightlifting
Juan's first taste of weight training came when he decided he would increase his bodyweight for boxing. He began lifting weights with some of his boxing friends, and was instantly drawn to the way it made his body feel and look.
At this stage, he began to buy bodybuilding magazines, and saw competitors such as Ronnie Coleman, Kevin Levrone and Flex Wheeler flexing their muscles at Mr Olympia. He wanted to be just like them, and he "wanted to see how big" he could get.
---

---
Getting His Pro Card
At this stage, Juan was at a clear crossroads in his sporting career. He was 25 years old, and had to choose between boxing and bodybuilding. He chose the latter, and began working out as hard as he could – improving his diet and routine to build an enviable physique.
His body improved massively, and he entered the 2007 NPC East Coast Championships as a very confident newbie. He managed to place 2nd overall, and says that he was shocked and excited for what he would be able to accomplish in the future.
He began to compete in more NPC competitions nationwide, hoping to achieve his Pro Card. Unfortunately, in his first three competitions he placed 2nd but, luckily, in 2011 he managed to place 1st at the NPC North American Championships. This set him up for another victory, and he won the 2011 NPC Gulf Coast Championships with ease.
Finding A Healthy View Of Bodybuilding
As Juan began to compete with a pro card attached to his name, he started to think more deeply about what he was trying to do in the sport. He came to the realization that he would never win the Mr Olympia, and was OK with this.
 "I don't think I'll ever be Mr. Olympia. Phil Heath is an incredible bodybuilder. I don't ever see myself beating Phil Heath… hell, he's like almost perfect so he'd have to retire to even open the door a little."
Even so, Juan pushed himself to his limits in the gym. He says "never say never", and does not rule out becoming Mr Olympia one day. Ultimately though, he's just happy with what he's achieved so far.
---

Training
An Unorthodox Approach
Juan tries to experiment in the gym, taking traditional movements and changing them to suit his needs. One example of this, is the "standing behind the neck press" that he's introduced to the sport.
He says that he's been "performing them like that" since he first started training. He loves the opportunity to rework tried-and-tested lifts, and he believes doing so helps him enjoy the sport as much as possible. His shoulder workout which includes this lift is below:
Dumbbell or barbell seated press, (4 sets) (8-12 reps)
Standing side lateral dumbbell raise, (3 sets) (10-12 reps) (superset with…) Rear Lateral Flye (3 sets) (10-12 reps)
Standing side lateral dumbbell raise (3 sets) (10-12 reps) (superset with…) Rear delt machine flyes (3 sets) (10-12 reps)
Standing barbell behind-the-neck-press (3 sets) (10-12 reps)
Weekly Routine
In his weekly routine, Juan works out twice a week. He hits his shoulders every Tuesday and Friday.
Monday (chest: Morning) (biceps and triceps: afternoon)
Tuesday (shoulders: morning) (back: afternoon)
Wednesday  (quads: morning) (hamstrings: afternoon)
Thursday (chest: morning) (biceps and triceps: afternoon)
Friday (back: morning) (shoulders: afternoon)
Saturday (quads:morning) (hamstrings:afternoon)
Rest
Back And Shoulders On The Same Day
An interesting fact is that Juan completes his shoulders and back workout on the same day. He says that he is very much in a routine now which he enjoys.
He says that "ninety percent of the time" he will get a two hour nap in between his workouts which will allow him to build enough energy for his shoulders.
---

Nutrition
Eating Large Amount Of Food
Juan prides himself on his ability to eat large amounts of food – but he needs it. He weighs 300lbs, so needs to eat around 11,000 calories per day to maintain his size and, ultimately, his strength.
While many bodybuilders will eat a diet that typically consists of chicken and rice meals, Juan chooses a wide range of food options to hit his calorific needs. He eats foods such as pasta, cheeseburgers and steaks and loves to actually enjoy all his meals.
"If you want to grow… you need to eat!"
A breakdown of Juan's daily meal plan last summer is here:
Breakfast
To Juan, breakfast is the most important meal of the day. He loves to mix up his carbs, with protein options to give him a good amount of energy throughout the day. The meal below adds up to 1,931 calories, 138 grams of carbs, 91 grams of fat, and 147 grams of protein:
28 pancakes
turkey bacon
6 eggs
Fish oil, creatine, BCAAs, and a multivitamin.
Post-workout meal
Juan eats out quite often, and after his morning workout, he travels to his favorite restaurant – 'La Bottega.' He actually has a chef on speed dial who prepares his food before he enters. He eats a burger and fries which works out at 1,560 calories, 140 grams of carbs, 77 grams of fat, and 70 grams of protein.
1 Swiss burger
steak fries
diet coke.
Creatine and fish oil
Meal Before Afternoon Workout
Before completing his afternoon workout, Juan eats a very sweet dessert at home. This ice cream based dish (with added protein shake) adds up to 2,540 calories.
2 scoops of (chocolate peanut butter ice cream
Protein shake with 10oz of almond milk.
Morel Mystery Cake and a container of ice cream
Post-workout Meal
For his post-workout meal, Juan mixes 4 scoops of mass gainer whey protein with some water. This meal of sorts works out at 1,330 calories, 242 grams of carbs, 16 grams of fat, and 55 grams of protein.
Evening Meal
For Juan's evening meal, he occasionally goes to 'Vince's Clams bar' for some Italian food. He eats extremely heavily again, and eats 4 slices of cheese pizza, chicken parmesan, and some fried calamari. This works ar 1,560 calories in total. He sometimes adds spaghetti to this list, which boosts the calorie levels even more.
Final Meal
For Juan's final meal, he returns to his breakfast choice again, and introduces another huge meal which is below. It comes to 1,033 calories, 56 grams of carbs, 58 grams of fat, and 68 grams of protein.
5 whole eggs
5 egg whites
2 slices of cheese
3 slices of turkey bacon
1bagel.
---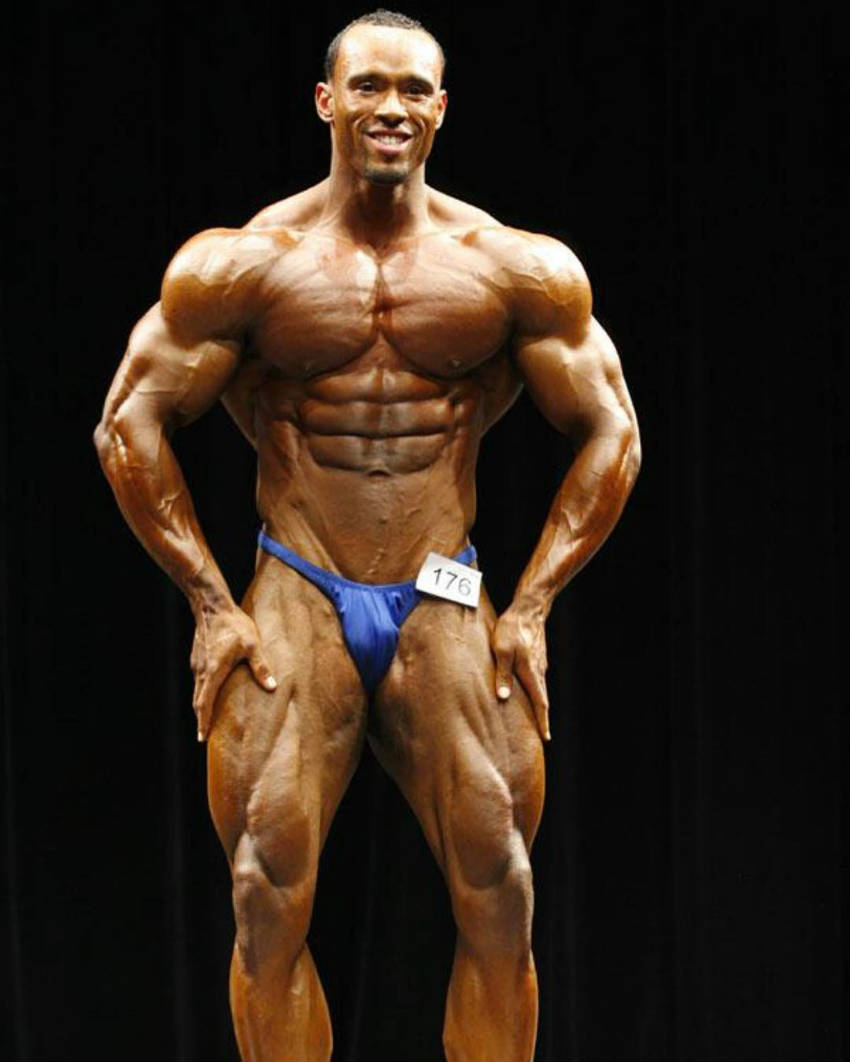 What we can learn from Juan Morel
Juan Morel trains big and eats big, but his real talent shows in his mental approach. He knows his limits, and displays a health view of his potential in the sport. He knows he may never become Mr Olympia, but he truly loves working out and living his dream of being a pro bodybuilder.
If you have a fitness industry dream, it can be useful to be happy with where you are in the present moment. Not everyone can be the best in the world, but you can certainly enjoy your journey to wherever you end up.