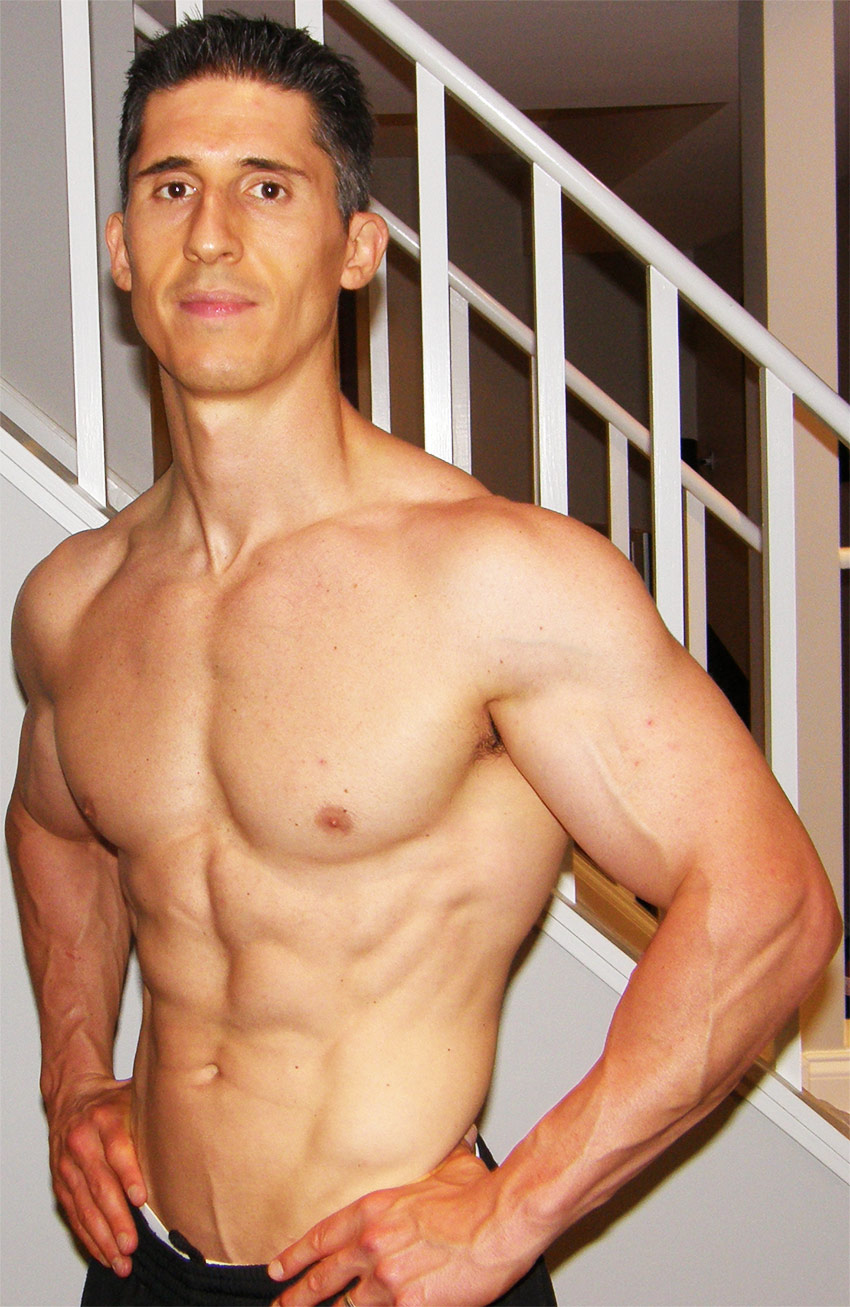 Jeff Cavaliere
Personal Trainer, Social Media Star
Jeff Cavaliere is a fitness guru, social media star, personal trainer, and previous head physical therapist of the New York Mets ( professional baseball team).
He became fascinated with bodybuilding after seeing Arnold Schwarzenegger and action movie stars as a child. As a result, he chose to study physioneurobiology and physical therapy at college – in order to pursue a career in the fitness industry.
Since then, Jeff has become one of the most recognizable online fitness sensations – known for the training system he developed after leaving his position with the New York Mets.
This is his story:
---

"I think the thing that separates me from the majority of trainers out there is my physical therapy background."
Athlete Statistics
Full Name: Jeff Cavaliere
Weight
Height
Age
Date of Birth
185 - 195lbs (83.9 - 88.5kg)
5'8" (172.5cm)
48
June 28, 1975
Nationality
Profession
Alias
American
Personal Trainer, Social Media Star
Athlean X
Era
2010
| | |
| --- | --- |
| Weight | 185 - 195lbs (83.9 - 88.5kg) |
| Height | 5'8" (172.5cm) |
| Age | 48 |
| Date of Birth | June 28, 1975 |
| Nationality | American |
| Profession | Personal Trainer, Social Media Star |
| Alias | Athlean X |
| Era | 2010 |
---

"Having a clientele consisting largely of professional athletes, my skill is being able to challenge the ultra-competitive client (and make it fun at the same time)."
Accomplishments
Certifications
BA Physioneurobiology – University of Connecticut
Physical Therapy Masters Degree – University of Connecticut
Strength & Conditioning Specialist – NSCA
Experience
Head Physical Therapist & Assistant Strength Coach – New York Mets
Writer for Men's Fitness
Founder of fitness company
---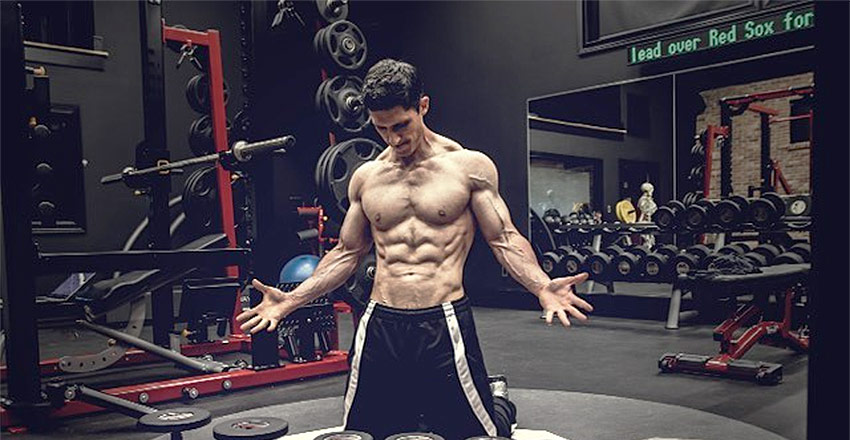 "Long before I ever touched a weight I grew up a huge fan of pro wrestling and action movies."
Biography
Early Years
Born and raised in Connecticut (USA), Jeff Cavaliere discovered his passion for fitness at a very early age; he idolized professional wrestlers, action stars and bodybuilders, such as Arnold Schwarzenegger,  who all had shredded physiques.
After becoming fascinated with these muscular celebrities, Jeff began desiring a similar frame as he grew older. However, it wasn't until high school that he started lifting weights in the gym.
Start of Fitness Journey
As he entered high school, Jeff was introduced to weight-lifting during competitive sports classes; he realized that training in the gym was his key to achieving his dream physique – which would also help him improve at his hobbies such as baseball and soccer.
As a result, Jeff worked hard to gain lean muscle mass, becoming both bigger and stronger in order to play sports at the highest level.
"After one summer of consistent workouts, I not only started to see abs, but was finding it easier to get my job done on the field." – Jeff Cavaliere
College
After graduating from school, Jeff enrolled at the University of Connecticut to study Physioneurobiology – going on to also complete a masters degree in Physical Therapy.
During this period, Jeff became a huge fan of The New York Mets – watching every game as an avid supporter. For this reason, his dream was to work in the industry as a physical therapist after he graduated.
With his sights set on this goal, Jeff studied hard to earn his masters degree, and make his dream a reality.
"I grew up an avid Mets fan. I lived and breathed the team and watched every inning of every game all the way through college." – Jeff Cavaliere
---

Jeff helping Jose Reyes warm-up for the New York Mets.
---
Physical Therapist
Almost 5 years after he started studying at the University of Connecticut, Jeff graduated with both a BA degree in physioneurobiology, and a masters degree in Physical Therapy.
Having gained the necessary qualifications, Jeff didn't waste any time; he opened a private practise in his hometown. However, he never took his eye off his goal – to earn a job in the baseball industry.
New York Mets
During his time working independently as a physical therapist, Jeff was able to work with elite sportsmen – such as Mark Johnson (a New York Mets athlete). After impressing the baseball star with his work, Mark informed Jeff of an opening at the club, after the head physical therapist had transferred to another baseball club.
With a high recommendation from Mark Johnson, Jeff successfully earned the position of head PT at his dream club, the New York Mets – fulfilling his ambition of working in the baseball industry at the age of 31, in 2006.
"I essentially went from my private practice in CT/NY to the big leagues in a matter of 2 months.  
It was a dream come true for me and an opportunity that I will cherish and remember fondly forever. It changed my life." – Jeff Cavaliere
---

Jeff during one of his workout videos online.
---
Entrepreneur
After 3 years serving as the head physical therapist and assistant strength coach for the New York Mets, Jeff made a huge decision; the immense travelling that came with his job had taken its toll, and he began to reconsider his position after moving around 14 cities in only 1 days.
Jeff became tired of living out of his suitcase, and his new marriage had given him a desire to spend more time at home. As a result, in 2009, at the age of 34, Jeff handed in his resignation from the baseball club.
However, this only made him more determined to start a new chapter of his life; almost immediately, Jeff authored numerous workout books, and developed a training system that would become 1 of the most popular online fitness guides.
"In the winter prior to my 2008 season I got married and bought a house, and finally the pull of "home" and getting a chance to spend a summer day with my family became stronger than my desire to stay in the game." – Jeff Cavaliere
Social Media Star and Fitness Guru
Over the next decade, Jeff worked hard to advertise his workout guides – getting the chance to work with elite athletes, such as David Wright, David Beckham, Rafael Nadal, and Terrell Owens.
As a result, Jeff became recognized as a leading figure in the fitness industry, known under his nickname 'AthLEAN-X'.
---

"While I always go in with a plan, my ability to change things on the fly to react to the effort I'm getting on a given day."
Nutrition
In terms of his diet, Jeff has always known the importance of nutrition when aiming to sculpt a shredded physique. He enjoys eating 6 smaller meals spread throughout the day – this ensures that his metabolism is running high and helps him stay lean all-year-round.
Jeff plans his meals around lean proteins, fruit & vegetables, and complex carbs – although he cuts carbs out of his diet later in the day. He incorporates protein shakes to help him reach his macros for the day.
Diet Plan
Breakfast – 8:30am 
Pumpkin oatmeal
Scrambled eggs & salsa
Skimmed Milk
Kiwi slices
Snack – 11:00am
Protein shake with a banana and strawberries
Lunch – 1:45pm 
Cajun grilled chicken wrap with grilled vegetables, sun dried tomatoes and hot sauce
Greek yoghurt
Sparkling water
Snack – 4:00pm 
Black bean, vegetables and onion soup
Sparking water
Dinner – 7:00pm 
Sesami tuna steak
Grilled cajun asparagus
Sweet potato mash
Sparkling water
Post Workout Snack – 10:00pm 
---
Editor's Tip
Inspired to reach your true potential like Jeff? Read our in-depth guide on how testosterone boosting supplements can really enhance your game!
---

"I idolized guys like Arnold, Stallone, Ravishing Rick Rude, and The Hulkster, I found myself wondering what it would actually take to look like them."
Idols and Influences
As a child, Jeff idolized bodybuilders and action movie stars, such as Arnold Schwarzenegger; these were the people who inspired Jeff to sculpt a shredded physique.
However, since he became an online personal trainer and social media star, he motivation comes from seeeing his clients work towards – and reach – their fitness goals.
---

"To this day, I still haven't found a cure for my addiction to fitness. Not sure I'd want one either!"
What We Can Learn From Jeff Cavaliere
One thing we can learn from Jeff, is to set our goals high and do whatever it takes to reach them; being a lifelong New York Mets fan, Jeff set himself the aim of working for the club after graduating from college – a target he reached after gaining experience at his private physical therapy clinic.
Jeff has taught us to always keep improving ourselves – he earned his dream job at the New York Mets, but after marrying his wife and starting a family, he needed a new profession that allowed him to spend more time at his home. He left his job, but he through hard work and dedication, he's since become one of the leading fitness guru's in the industry.