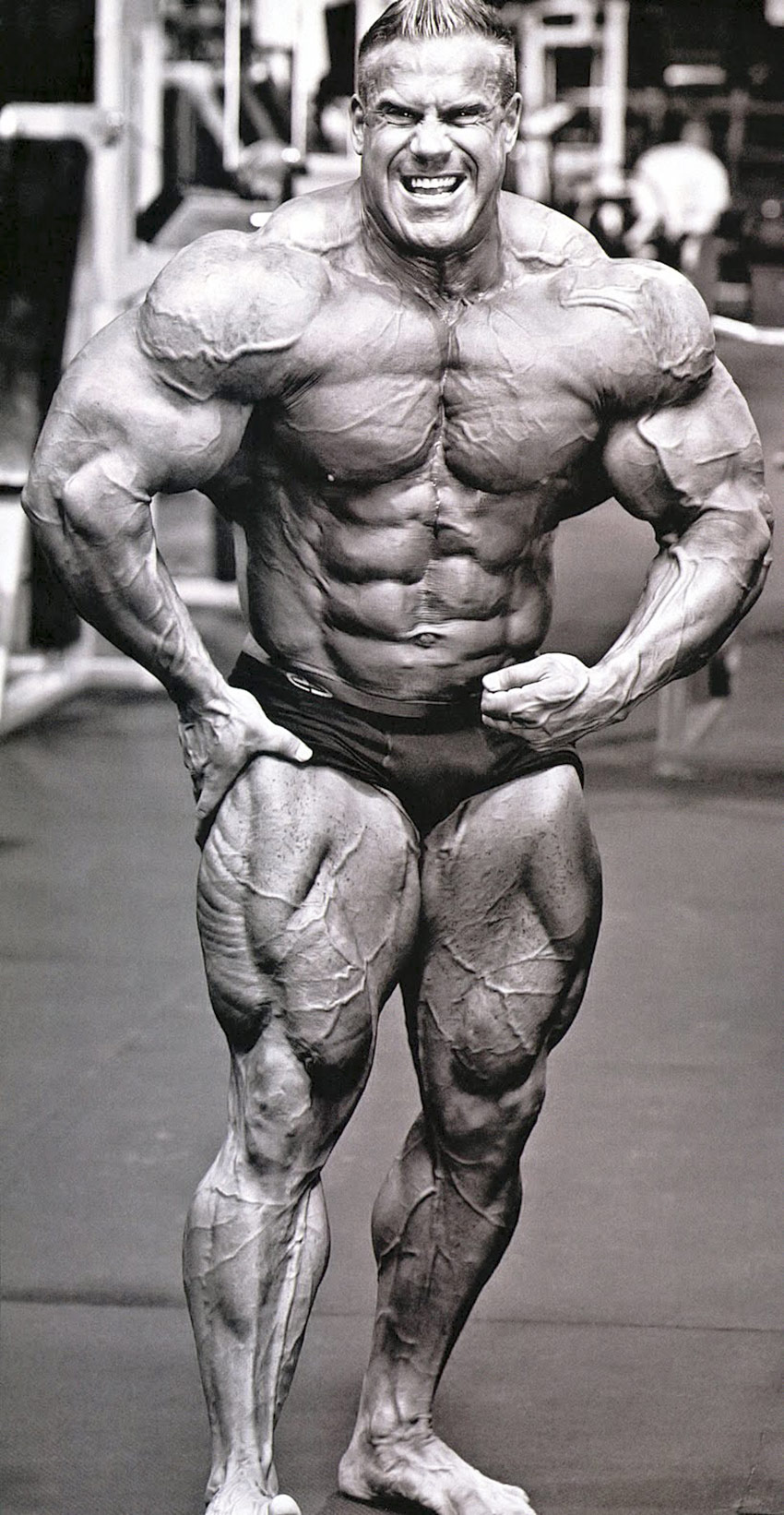 Jay Cutler
Professional Bodybuilder
Jason Isaac (AKA. Jay) Cutler has always known the value of hard work. He started working as a construction worker at the age of 11, began training in the gym at 18, going on to win numerous competitions as a pro.
Jay left the sport as a legend of the sport in 2013, after winning the prestigious Mr. Olympia 4 times. He's one of the greatest bodybuilders ever – but he wanted to become a corrections officer for a maximum security prison in his youth.
This is his story:
---

"I saw a lot of potential when I started weight training in college and became pretty good at it. I won the teenage nationals as a teenager. I made the transformation from there"
Athlete Statistics
Full Name: Jason Isaac Cutler
Weight
Height
Arms
Chest
265 - 275lbs (120.2 - 124.7kg)
5'9" (175cm)
21"
58"
Waist
Thighs
Calves
34"
30"
19"
Year of Birth
Nationality
Profession
1973
American
Professional Bodybuilder
Alias
Era
Jay
1990, 2000, 2010
| | |
| --- | --- |
| Weight | 265 - 275lbs (120.2 - 124.7kg) |
| Height | 5'9" (175cm) |
| Arms | 21" |
| Chest | 58" |
| Waist | 34" |
| Thighs | 30" |
| Calves | 19" |
| Year of Birth | 1973 |
| Nationality | American |
| Profession | Professional Bodybuilder |
| Alias | Jay |
| Era | 1990, 2000, 2010 |
---

"Being the new Mr O was an amazing experience, I was never so busy."
Accomplishments
Competitions
1993 NPC Iron Bodies Invitational, Teenage & Men's Heavyweight, 1st
1993 NPC Teen Nationals, 1st
1995 NPC U.S. Tournament of Champions, Men's Heavyweight, 1st and Overall title
1996 NPC Nationals, Heavyweight, 1st (Pro Card)
1998 IFBB Night of Champions, 12th
1999 IFBB Arnold Classic 4th
1999 IFBB Ironman Pro Invitational, 3rd
2000 IFBB Night of Champions, 1st
2000 Grand Prix England, 2nd
2000 Joe Weider's World Pro Cup, 2nd
2000 Mr. Olympia 8th
2001 Mr. Olympia, 2nd
2002 Arnold Classic, 1st
2003 Arnold Classic, 1st
2003 Mr. Olympia, 2nd
2003 Ironman Pro Invitational, 1st
2003 San Francisco Pro Invitational, 1st
2003 Russian Grand Prix, 2nd
2003 GNC Show of Strength, 2nd
2003 Dutch Grand Prix, 1st
2003 British Grand Prix, 1st
2004 Arnold Classic, 1st
2004 Mr. Olympia, 2nd
2005 Mr. Olympia, 2nd
2006 Austrian Grand Prix, 1st
2006 Romanian Grand Prix, 1st
2006 Dutch Grand Prix, 1st
2006 Mr. Olympia, 1st
2007 Mr. Olympia, 1st
2008 Mr. Olympia, 2nd
2009 Mr. Olympia, 1st
2010 Mr. Olympia, 1st
2011 Mr. Olympia, 2nd
2011 Sheru Classic, 2nd
2013 Mr. Olympia, 6th
---

"I began working for my 3 brothers concrete company at age 11. Working the family business allowed me not only to make great money, but also experience the importance of work ethic and how to work toward something."
Biography
Early Years
Born and raised in Massachusetts, America, Jay Cutler grew up in a large family, as the youngest of seven siblings. He began working with his brother in the construction business at the age of 11, naturally developing a muscular physique.
Although Jay had been lugging concrete blocks around throughout his youth, it wasn't until he was 18 that he entered the gym to start lifting weights. However, at this point, Jay hadn't considered a career as a bodybuilder.
Jay enrolled in college to study criminal justice, focusing on becoming a corrections officer for a maximum security prison.
First Competition
During his time in College, Jay fell in love with the gym after training almost every day. He made serious progress to his physique and began being noticed around his local area for his strong build.
After encouragement from a personal trainer at his gym, he entered his first competition as a bodybuilder in 1993, at the age of 20 –  the NPC Iron Bodies Invitational show.
Impressively, Jay walked away from the show after winning both the teenage and men's heavyweight divisions. He realized his potential to succeed in the industry and decided to pursue a career in fitness.
---
 
---
Committing to Bodybuilding
Jay didn't waste any time before entering more contests, and it wasn't long until he'd won both the 1993 NPC Teen Nationals and 1995 NPC U.S Tournament of Champions shows.
By this point, Jay had gained a lot of publicity for his amazing performances at such a young age – be became known as one of the most promising bodybuilders of his era.
After graduating from College, Jay knew that he wanted to pursue his passion, and he left his ambition of becoming a corrections officer behind.
---
 
---
Pro Card
For the next year, Jay trained rigorously in the gym, sculpting his dream physique – he'd made it his goal to become the biggest bodybuilder in the world.
In 1996, he returned to the stage with an incredible package for his biggest show yet – the 1996 NPC Nationals. Jay continued his winning streak by placing 1st, but he'd won more than just a trophy.
At the age of 23, Jay had achieved what some athletes spend 10 years trying to do – he'd earned his Pro Card, becoming a professional bodybuilder.
The young athlete was on the road to becoming a legend.
---
 
---
Life as a Pro
Over the course of the next 10 years, Jay entered a massive 23 competitions – winning 11 of them and placing in the top 3 numerous times.
During this time, he became one of the greatest bodybuilders in the world. Many even believed that he should have beaten Ronnie Coleman at the 2001 Mr. Olympia.
However, it was in 2006, at the age of 33, when Jay really reached the peak of his career.
---
 
---
4x Mr. Olympia Champion
Between 2006-2010, Jay battled against the likes of Ronnie Coleman and Phil Heath in the most prestigious competition in bodybuilding – the Mr. Olympia.
He won every year during this period, except for in 2008, taking home 4 Sandows in total.
Retirement
Jay continued competing for a further 3 years, appearing in as many shows. However, he stepped on stage as a competitor for the last time at the 2013 Mr. Olympia.
Although he didn't win, Jay had done enough to cement his place among the legends of the sport. He left the sport as a bodybuilding icon.
---

"I have always set realistic goals. Actually I don't really think about guys who I have beat because it's not what I am up against, I am up against myself."
Training
While he was competing, Jay trained for 5 days per week – twice a day – in the gym, in order to maintain and develop his physique.
"I do train twice a day and that's fun to me. That's what I enjoy doing. I really, really enjoy working out.
I am a competitive bodybuilder. My wife trains and we train together. That's basically it. It's all business for me.
If it's not working or training then I am not really doing anything out of the ordinary."
---

"I don't train on a specific body part schedule, I train specifically how my body tells me I need to. I kinda go by feel, if I'm really sore I'll take a day off, I don't have a set day off."
Nutrition
Diet Plan
During his prime, Jay's diet looked like this:
Meal 1 – Oats with whey protein, 10 egg whites, one banana, honey, 7 plain rice cakes
Meal 2 – Whey protein, oats, raisins, one fat-free muffin
Meal 3 – 6oz plain pasta and 4oz turkey breast
Meal 4 – 5oz fish with rice
Meal 5 – Whey protein, 7 rice cakes, oats, raisins and fat-free muffin
Meal 6 – Whey protein with oats
Meal 7 – 4oz turkey breast with rice
Meal 8 – Whey proteins, 7 rice cakes and rice
Meal 9 – Meal out (usually sushi) with 8oz fat-free frozen yoghurt
Meal 10 – Whey protein, 10 egg whites, 7 rice cakes, oats
Meal 11 – Whey protein with oats
Meal 12 – Whey protein
---

"You learn from mistakes, I've failed at so many things and that's how I've become successful, because I know the mistakes, and you have to make those mistakes before you learn."
Idols and Influences
Although Jay is a legend of the sport himself, he has many idols that he looked up to during his career.
He names the likes of Sergio Oliva, Frank Zane, Samir Bannout and Ronnie Coleman as some of the names that he aspired to be like.
---

"It's not about how many times you win it, it's about the fashion you win in it in."
What we can learn from Jay Cutler
Jay has taught us to set goals for ourselves and work until we reach them. He committed to bodybuilding after graduating from College, and went on to become a legend of the sport.
One thing that Jay's taught us is to never give up and come back stronger from disappointment – he lost his Mr. Olympia title in 2008, but he returned in 2009 to reclaim his place with a victory.