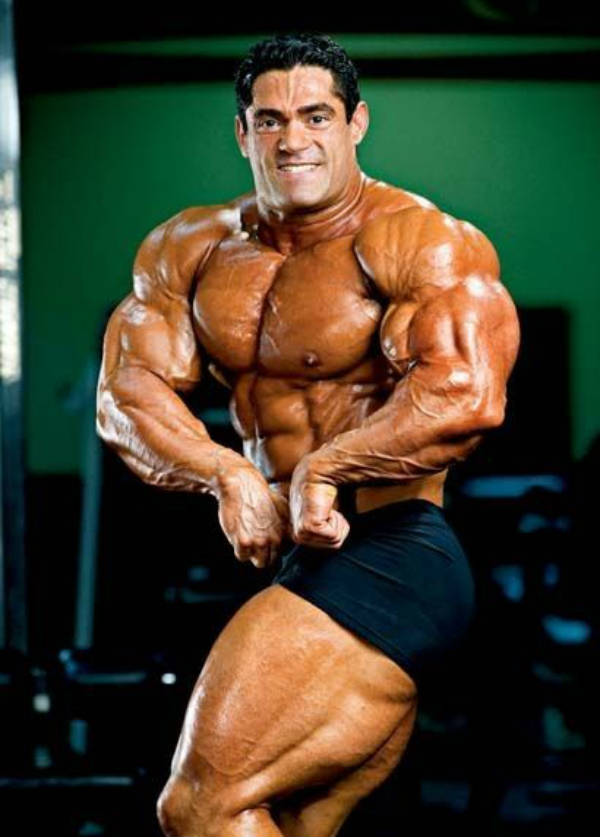 Gustavo Badell
IFBB Professional Bodybuilder
Gustavo 'The Freakin' 'Rican' is an IFBB professional bodybuilder from Puerto Rico. He is regarded by many as one of the best professional bodybuilders of all time, coming 3rd multiple times at the Mr Olympia.
Growing up, Gustavo was very active and played a number of contact sports. He loved boxing in particular, but was too skinny to make his mark. He began weightlifting to build his body mass and gained size and strength very quickly.
After a number of years of weightlifting and learning the ropes, Gustavo won his first competition. It was a junior show, but he won the 1st and overall which allowed him to join the adult category the following year.
In this 1997 adult show, he impressed all the judges and took a 1st – claiming his Pro Card in the process. Following this win, Gustavo built an extremely successful international career. He landed 2 3rd place trophies at the Mr Olympia and won the Ironman Pro Invitational in 2005.
This is his story:
---

Athlete Statistics
Full Name: Gustavo Badell
Weight
Height
Age
Date of Birth
255 - 265lbs (115.7 - 120.2kg)
5'8" (172.5cm)
51
November 3, 1972
Nationality
Profession
Alias
Puerto Rican
IFBB Professional Bodybuilder
The Freakin' 'Rican
Era
1990, 2000, 2010
| | |
| --- | --- |
| Weight | 255 - 265lbs (115.7 - 120.2kg) |
| Height | 5'8" (172.5cm) |
| Age | 51 |
| Date of Birth | November 3, 1972 |
| Nationality | Puerto Rican |
| Profession | IFBB Professional Bodybuilder |
| Alias | The Freakin' 'Rican |
| Era | 1990, 2000, 2010 |
---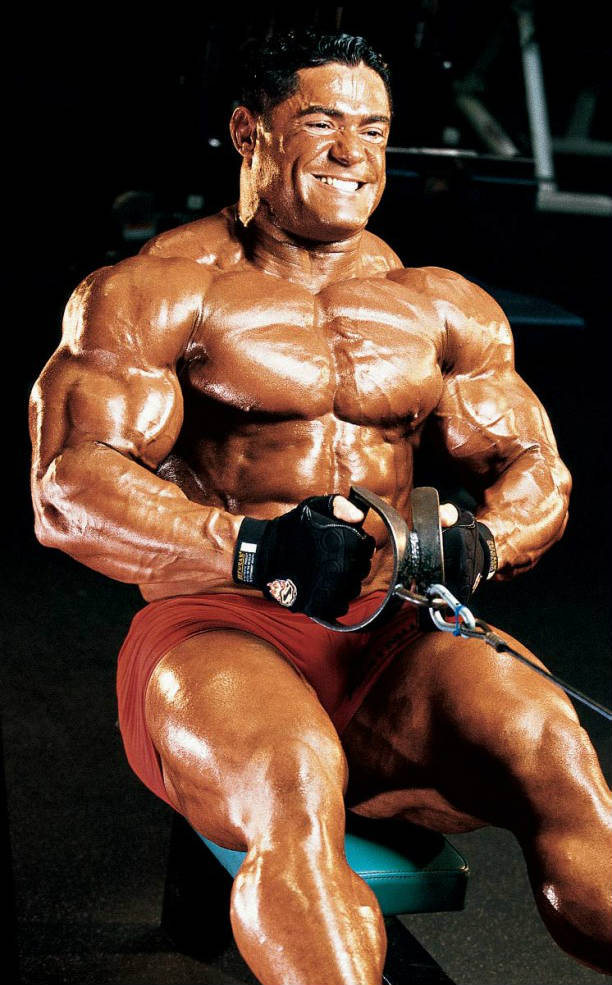 "Bodybuilding is harder than baseball. Baseball is about having a talent and playing a game. With bodybuilding, you have to train and diet and get enough sleep and take supplements and do cardio. Bodybuilding is not just a sport, it's a lifestyle. You have to live it all the time."
Accomplishments
Competitions
1991 Junior Caribbean Championships, overall winner
1997 Caribbean Championships, overall winner (received pro card)
1997 World Amateur Championships Heavyweight, 10th
1998 Grand Prix Germany, 9th
1999 Grand Prix England, 17th
1999 Night of Champions, DNP
1999 World Pro Championships, 14th
2000 Ironman Pro Invitational, 18th
2000 Night of Champions, Did Not Place
2000 Toronto Pro Invitational, Did Not Place
2000 World Pro Championships, 11th
2001 Grand Prix England, Did Not Place
2001 Ironman Pro Invitational, 16th
2001 San Francisco Pro Invitational, 11th
2002 Ironman Pro Invitational, 13th
2002 Night of Champions, 10th
2002 Mr. Olympia, 24th
2002 Southwest Pro Cup, 6th
2002 Toronto Pro Invitational, 3rd
2004 Arnold Classic, 7th
2004 Ironman Pro Invitational, 3rd
2004 San Francisco Pro Invitational, 4th
2004 Show of Strength Pro Championship, 3rd
2004 Mr. Olympia, 3rd
2005 Arnold Classic, 3rd
2005 Ironman Pro Invitational, 1st
2005 Mr. Olympia, 3rd
2006 Arnold Classic, 4th
2006 San Francisco Pro Invitational, 1st
2006 Mr. Olympia, 6th
2007 Arnold Classic, 4th
2007 Mr. Olympia 8th
2008 Ironman Pro Invitational, 2nd
2008 Arnold Classic, 6th
2008 Mr Olympia, 10th

2009 IFBB Atlantic City Bodybuilding, Fitness & Figure Championships, 1st

2009 IFBB Arnold Classic, 11th
---

Biography
Weightlifting Beginnings
Gustavo was born in Venezuela, but his family moved to Puerto Rico when he was 5 years old. He was always passionate about contact sports growing up and trained in boxing and kickboxing to a high level.
While he was good at boxing, he and his coach knew he was too skinny. His coach introduced him to weightlifting and aimed to make Gustavo's arms more muscular, because they get hit a lot in bouts.
At 15 years old, he began lifting weights with the assistance of his peers. To his surprise, he began putting on a lot of weight quickly, saying "as it turned out, I had great genetics for bodybuilding."
As he saw the progress he was making and started to read books about weightlifting and nutrition, people around him thought he was a bodybuilder. He liked the attention and loved the process of building muscle, so decided to enter a junior competition.
First Competition
Gustavo's first bodybuilding competition was the 1991 Junior Caribbean Bodybuilding Championships. He prepared well for the show and managed to take the 1st and overall with ease – beating his young rivals.
This victory gave him a massive boost of confidence, so he decided to make bodybuilding a major part of his life. He would stop boxing and chase this new dream with all his effort.
Getting His Pro Card
For the next 6 years of his life, Gustavo would train hard, eat right and build the best physique of his life. At the 1997 senior Caribbean Championships, he stood on stage against the best in the region and tried to make his mark again.
To his delight, he managed to win this competition outright. He came in first place and received his winners trophy – but this wasn't all. He also managed to take his Pro Card at this event, meaning that he now could compete with the best in the world at IFBB events.
IFBB Contests
Gustavo's first IFBB appearance was in 1998. He competed at the IFBB Grand Prix of Germany and took a respectable 9th for his first show. Following this, he was invited to compete at the 1999 'Night Of Champions' contest – the predecessor to today's New York Pro.
At this show, he placed 14th, and his results were quite lacklustre until 2002. He took a number of 'Did Not Place' results and only managed a 24th at his first Mr Olympia.
---

---
Friendly Advice
In 2002, Gustavo began to receive assistance from a pro bodybuilder friend named Milos Sarcev. They worked together on his training routine, nutrition and posing and he started to place much better. In the 2002 Southwest Pro Cup, he came 6th, which gave him a new self-confidence.
Between 2002 and 2004, Gustavo took 4 3rd's at major shows. He took a 3rd at the 2002 Toronto Pro Invitational, the 2004 Ironman Pro Invitational, the 2004 Show of Strength Pro Championship and finally at the 2004 Mr Olympia.
This was an incredible run for Gustavo. He had finished it with a top 3 at the most prestigious show on earth – taking a $50,000 prize and an Olympia medal to boot.
Great Success In 2005
2005 was another extremely successful year for Gustavo. He came 3rd in his first show of the year – the Arnold classic. He then followed this successful performance with the best win of his career.
After a long and arduous competition cut, he came 1st at the 2005 Ironman Pro Invitational, which is an extremely prestigious show. He beat the likes of Lee Priest and made a name for himself as a professional champion and major Mr Olympia contender.
He proved himself at the 2005 Olympia too. He took another spectacular 3rd place; bagging the $55,000 check and coming a close third to Jay Cutler and Ronnie Coleman. 
Media Appearances
Around this time, Gustavo began to attract the media. He was dubbed as a future Olympia champion and one of the best bodybuilders of all time. While he didn't win an Olympia, he has made a name for himself as an excellent IFBB champion.
Gustavo has been featured in many fitness and magazine articles. He appeared on the ever-popular magazine FLEX and has remained a go-to figure for supplement companies due to his powerful and masculine aesthetic.
---

Training
Training Approach
Gustavo likes to train each bodypart one time a week. He trains the same way all year round – seeing no need to switch it up. For most of his exercises, he completes 4 sets and he likes to keep the rep-range at around 12-15 reps per set with heavy weights.
Weekly Routine
Monday: Chest, biceps and abs
Incline presses
Bench presses
Machine vertical bench presses
Flyes
Dumbbell curls
Standing barbell curls
Preacher curls
One-arm cable curls
Standing cable curls
Reverse curls
Wrist curls
Various ab exercises
Tuesday: Back, triceps and abs
Chins
Pulldowns
Barbell rows
Dumbbell rows
Lying extensions
Dips
Pushdowns
Various ab exercises
Wednesday: Shoulders and abs
Dumbbell presses
Hammer Strength machine presses
Dumbbell laterals
Upright rows
Rear-delt machine
Dumbbell bent-over laterals
Shrugs
Various ab exercises
Thursday: Quads and hamstrings
Front squats
Squats
Hack squats
Leg presses
Lunges
Leg extensions
Leg curls
Deadlifts
Friday: Calves and abs
Smith-machine standing calf raises
Standing calf machine
Seated calf raises
Hits abs four times a week and supersets with these exercises:
Crunches
Cable crunches
Leg raises
Cable serratus pulls
---

Nutrition
Learning From Mistakes
When he was younger, Gustavo didn't really know anything about proper bodybuilding nutrition. He would eat the wrong foods and have too many carbs before competing. Because of this, he could never get the perfect cut which he was known for as his career progressed.
Luckily, he had great people around him. He gradually read a lot of bodybuilding literature and created a diet which would allow him to build the body of his dreams.
"I've always been very disciplined with my diet because I want to do well. I'm very motivated'very motivated! I never complain about my diet."
Off-Season Diet
In the off-season, Gustavo eats more complex carbohydrates like potatoes, rice and oatmeal. He also includes a lot more red meat alongside the staple lean options of chicken, turkey and fish.
Before a contest I restrict carbohydrates and eat more chicken and fish. It's all part of the plan to improve every time I compete.
Contest Meal Plan
Meal 1
Whey Protein Shake
2 cups oatmeal
15 egg whites
Water
Meal 2
Whey protein shake
2 chicken breasts
Steamed broccoli
Meal 3
White fish
Baked potato
Steamed broccoli
Meal 4
Whey Protein Shake
2 chicken breasts
Steamed asparagus
Meal 5
Steak
Baked potato
Steamed broccoli
Before evening cardio
Meal 6
Whey Protein Shake
White fish
Steamed broccoli
Meal 7
15 egg white whites
Steamed broccoli
---

What we can learn from Gustavo Badell
Gustavo never gave up. He didn't place well in a professional show until the early 2000's. This didn't faze him though, and through his own sheer determination to succeed, he ended up placing 3rd at the Mr Olympia.
All this success came from a simple dream he had as a teenager. He read the books, learned the techniques and tried his hardest. His story illustrates how important dreaming big and working hard is in bodybuilding.