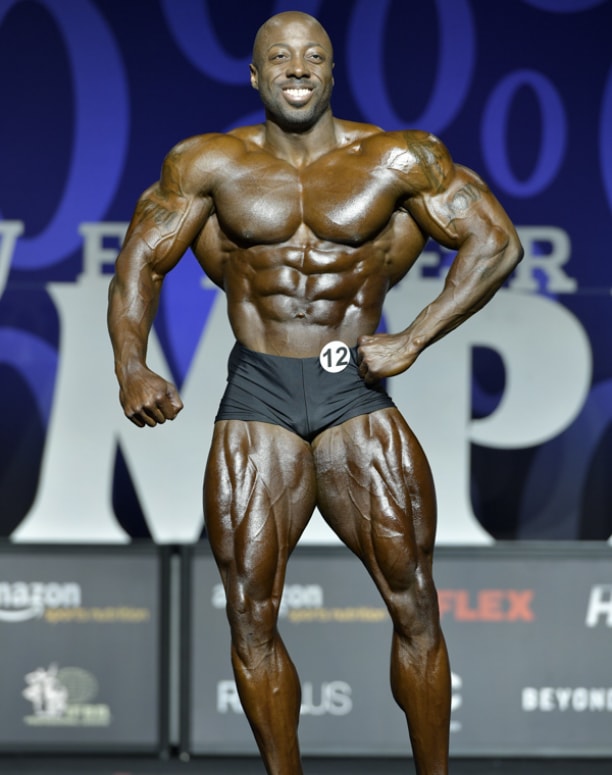 George Peterson
Classic Physique Bodybuilder
George Peterson is a professional Classic Physique bodybuilder from New York. He's known as becoming the first Nationals Classic Physique champion in history – achieving similar success as Lee Haney in 1982, when Lee was proclaimed the America's first NPC Nationals Bodybuilding Champion.
However, it wasn't an easy ride for George. When he first began competing in bodybuilding, George came to the realization he needed to sacrifice his personal life in order to become successful in the sport. Including neglecting friendships with people close to him.
Furthermore, George had to completely reshape the way his physique looked once he switched from Open Bodybuilding to Classic Physique division. Needless to say, this was an extremely challenging task.
George learned to push past all of these difficulties – overcoming every challenge in his way. As a result, becoming one of the America's finest Classic Physique athletes.
This is his story:
---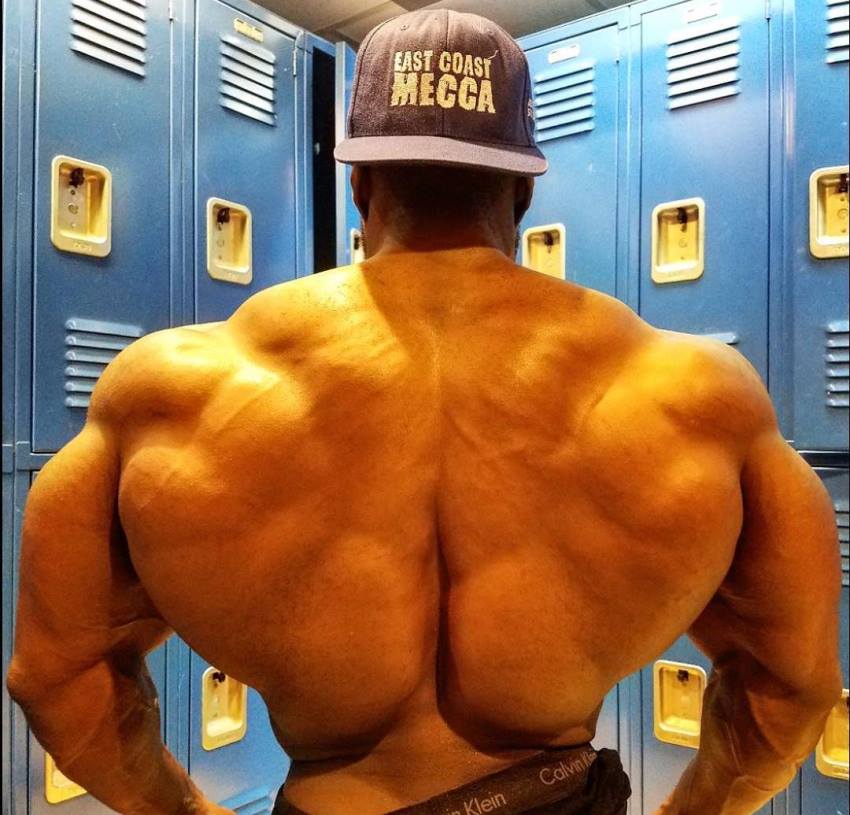 "There will be obstacles and doubters. There will be mistakes. But with hard work, there are no limits."
Athlete Statistics
Full Name: George Peterson
Weight
Height
Year of Birth
Nationality
185 - 195lbs (83.9 - 88.5kg)
5'7" (170cm)
1984
American
Profession
Era
Classic Physique Bodybuilder
2010
| | |
| --- | --- |
| Weight | 185 - 195lbs (83.9 - 88.5kg) |
| Height | 5'7" (170cm) |
| Year of Birth | 1984 |
| Nationality | American |
| Profession | Classic Physique Bodybuilder |
| Era | 2010 |
---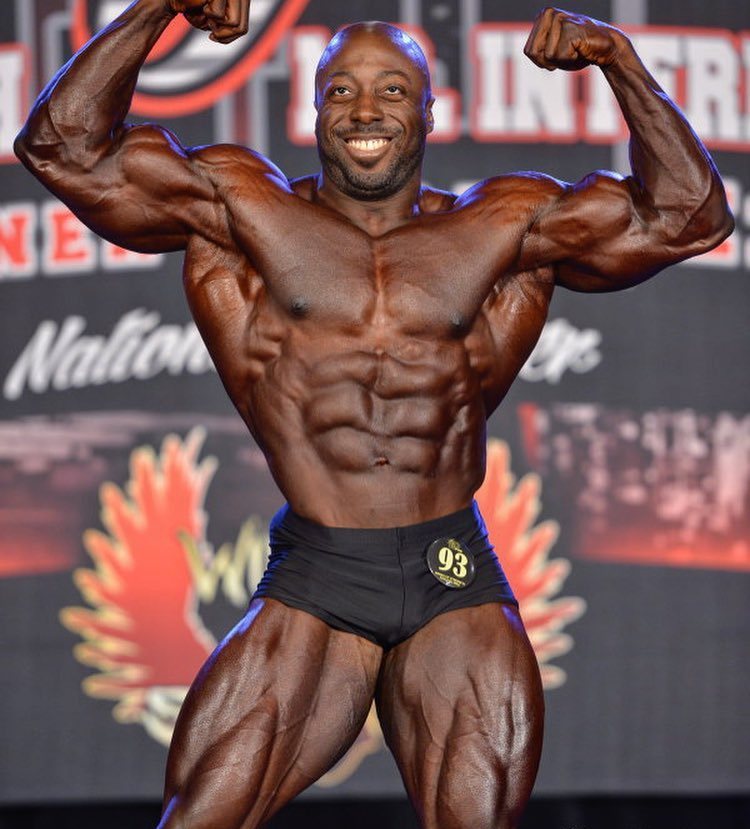 "Stand up, stand out, stand tall."
Accomplishments
Sports History
Basketball
American Football
Black Belt in Shotokan Karate
Amateur Bodybuilding Career
2013
North American Championships, IFBB Men's Heavyweight, 18th place
National Championships, NPC Men's Heavyweight, 16th place
2016
Eastern USA Championships, NPC Men's Classic Physique Class B, 1st place
National Championships, NPC Men's Classic Physique Class B, Overall, 1st place – Won the Pro Card
Professional Bodybuilding Career
2017
New York Pro, IFBB Men's Classic Physique, 2nd place
Tampa Pro, IFBB Men's Classic Physique, 1st place
Joe Weider's Mr. Olympia, IFBB Men's Classic Physique, 3rd place
---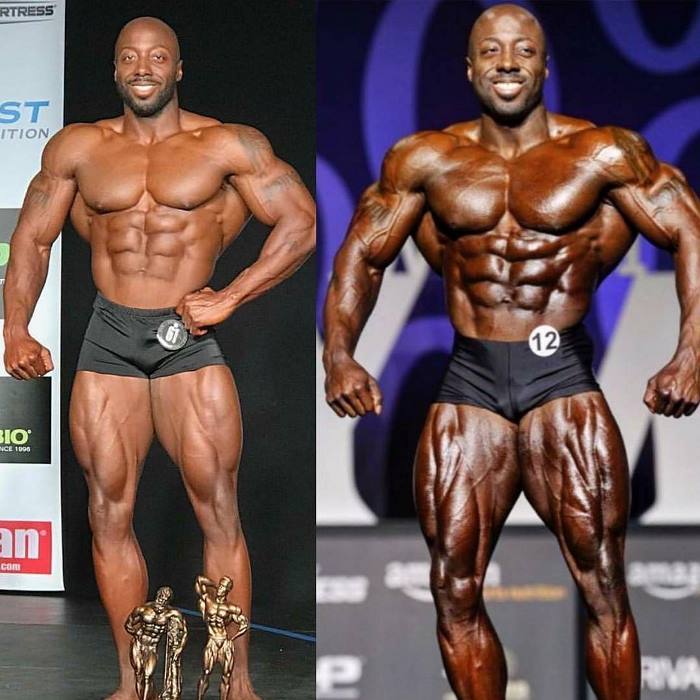 Biography
Karate and Weight Training
Hailing from New York, George Peterson commenced his bodybuilding journey after becoming inspired by the likes of Bruce Lee. While training for Shotokan Karate, George noticed his kicks and punches weren't very strong. As a result, he did exactly what his idol 'Bruce Lee' did to get stronger – lifting weights in the gym.
From there, George began lifting weights up to five times per week. He would spend time practicing functional training, alongside lifting heavy weights to increase his punching power.
Introduction to Competitive Bodybuilding
Soon enough, improvements in George's physique started to show. His arms and chest became bigger, and his shoulders grew in width. These changes were becoming noticed by another member of the same gym – who complimented George on his physique.
This very same gym member went on to ask George if he ever had experience in bodybuilding shows. George said 'no', but from this point, it was something that he started to think about for the very first time.
As a result, the member from his gym helped George learn the basics – giving him the information he needed to look for bodybuilding contests, how to train, and what foods to eat. George then used this information to create his own training and dieting program. Which he followed by the letter to get in the best shape of his life.
Facing Obstacles
However, not everything was 'smooth sailing' for George. During his preparations for his first competition, George realized just how much time and effort he needed to commit in order to become successful.
At this point, he realized he would have to make sacrifices in his personal life in order to make time and space for bodybuilding. Nonetheless, George learned to take everything in his stride, saying: "I fully understand to achieve certain goals it will take some sacrifice in other areas."
He continued training harder than ever – pushing through each challenge with determination and discipline.
---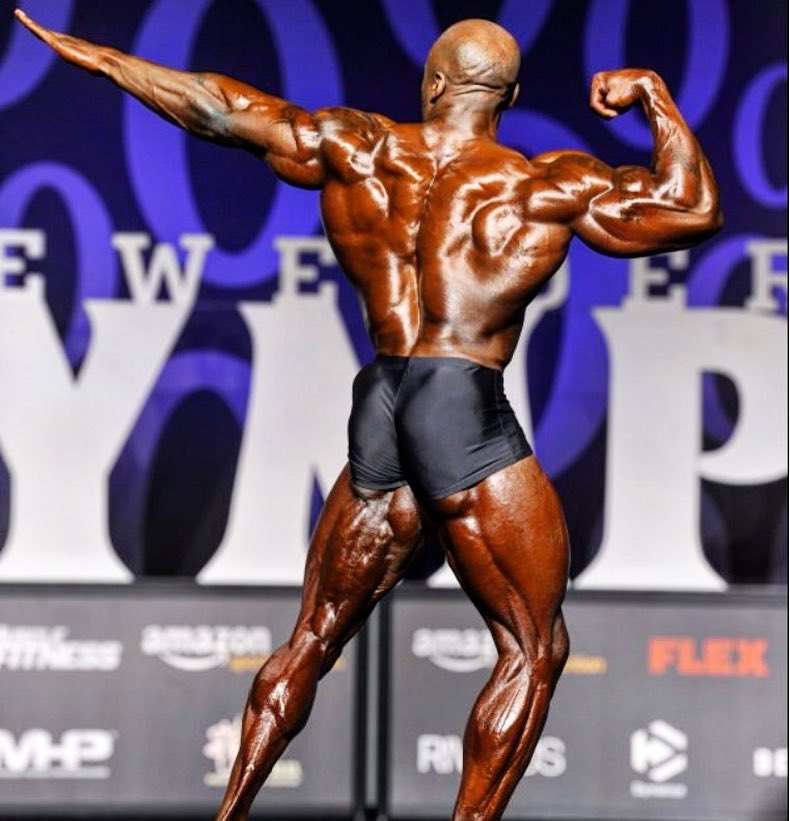 ---
First Bodybuilding Show
In 2008, the show day finally came. George took part in his first ever bodybuilding contest. Once the show was over, George knew he wanted to become a professional bodybuilder.
However, George had to decide which bodybuilding category he wanted to continue competing in. As someone with a big and muscular build, weighing over 220lbs, George decided to stick to Men's Open bodybuilding category.
Switching to Classic Physique Division
Although competing in the Open Bodybuilding division earned George impressive results. It wasn't until he switched to Classic Physique category in 2016, when he showed his full potential.
That year, George finished in 1st place in two consecutive shows. Including the Classic Physique National Championships, which saw win his Pro Card.
Furthermore, with this victory, George became the first ever Men's Classic Physique National Champion. His achievement was strikingly similar to that of Lee Haney's victory from 1982, when Lee was proclaimed to the first NPC Nationals Champion in history.
After the victory, George talked about his experience switching to Classic Physique. He said it was extremely difficult, as he had to lose over 30 lbs of weight. However, the effort was well worth it, as George says; "Not only did I look much better at a lighter weight but I felt much better also."
---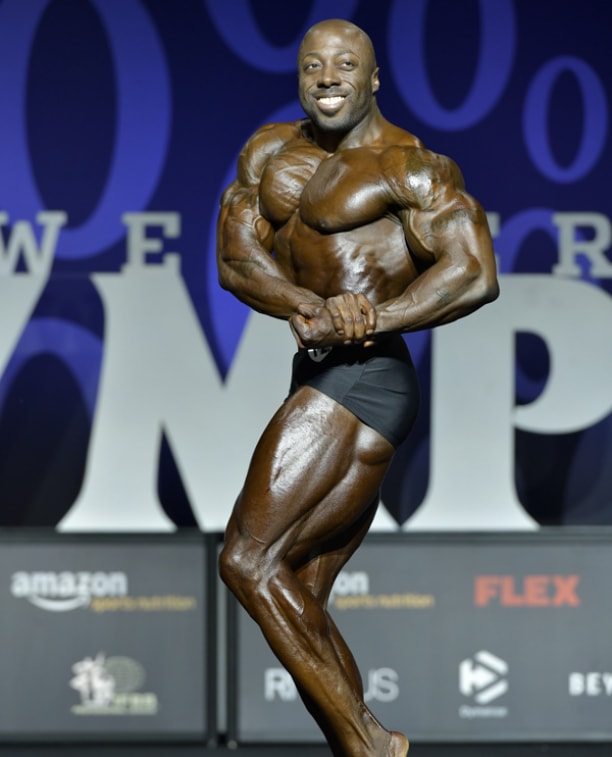 ---
Bronze Olympia Medalist
In 2017, George took his competitive career even further. He began the year with a 2nd place finish at his pro debut, the New York Pro. Shortly after, he participated in the Tampa Pro competition, taking 1st place in the Classic Physique category.
However, this was just a 'warm-up' before the biggest event George faced in his career – Joe Weider's Mr. Olympia.
George gave everything he had throughout his preparations for the Olympia. He came to the competition in his best-ever version. As a result, he placed 3rd, taking home the bronze medal.
George Peterson Today
George continues to compete at the highest level in bodybuilding. His proportional and conditioned physique, alongside his work ethic, allows him to set the biggest goals for himself – including winning the Classic Physique Olympia one day.
---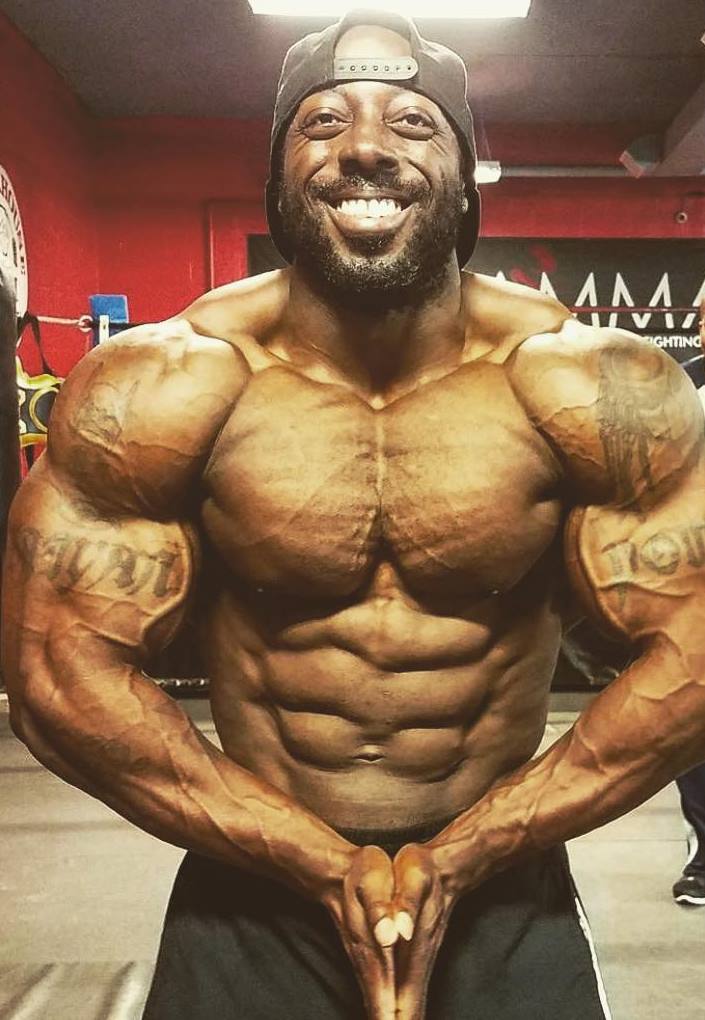 Training
Differences in Training
Over the years, George has tried various training techniques. When he trained for Men's Open Bodybuilding contests, he lifted a lot of weight to pack on as much muscle as possible.
However, now that George competes in Classic Physique, his training regimen looks a little different. He still trains hard and heavy, but since then, his workouts are now targeted more towards refining and shaping his physique instead of adding mass.
In other words, George will train using different isolation movements. They help him target the specific muscle he wants to train, without involving any other muscle group.
George's typical rep range pet set is 8-12. His rest periods are between 45-90 seconds. The closer he gets to the contest date, the longer rest periods he'll have – this helps him avoid the injury from overworking the muscle while on a caloric deficit.
George Peterson' Leg Workout Routine
After the warm-up, George usually starts his leg workout with heavy squats. He'll squat 495+ lbs during his working sets. After this, he proceeds to the leg press where he once again trains with heavy weights.
He finishes the workout with several sets of leg extensions and leg curls. In these exercises, George lowers the weight, and focuses on the muscle contraction.
Warm-up
Squats, 5 sets of 8-12 reps
Leg Press, 5 sets of 8-12 reps
Leg Extensions, 3 sets of 8-12 reps
Lying Leg Curls, 3 sets of 8-12 reps
---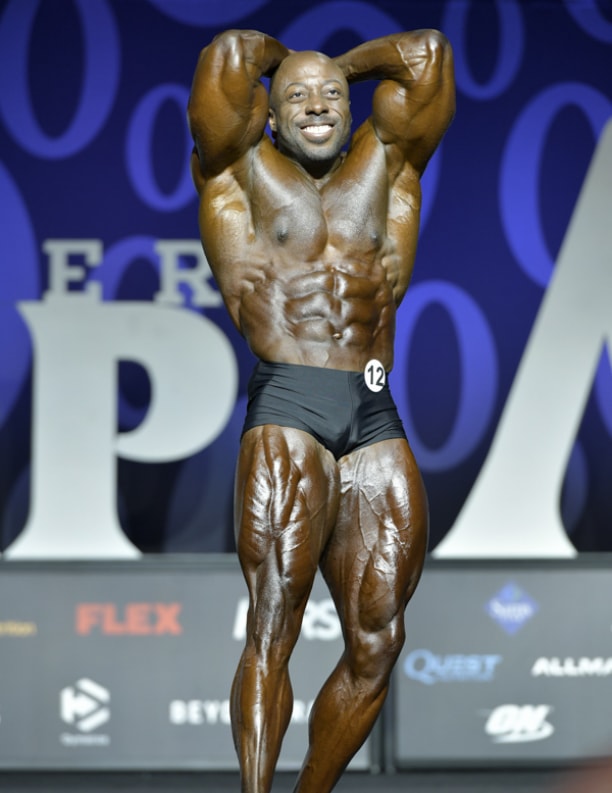 Nutrition
Just as with his training, George's diet changed as he progressed throughout his bodybuilding career. During his time competing in Open Bodybuilding, he consumed extremely high amounts of calories to fuel his massive physique.
Now that George competes in Classic Physique division, his diet is a little different. He still pays close attention to his macros, but doesn't eat as many calories. His 'go-to' foods before a contest include chicken breasts, brown rice, salmon, and avocados.
In the off-season, however, George will keep a less restricted diet. Meaning, he'll allow himself a cheat meal or two when he feels like it.
---
Editor's Tip
Inspired to reach your true potential like George? Read our in-depth guide on how testosterone booster supplements can really enhance your game!
---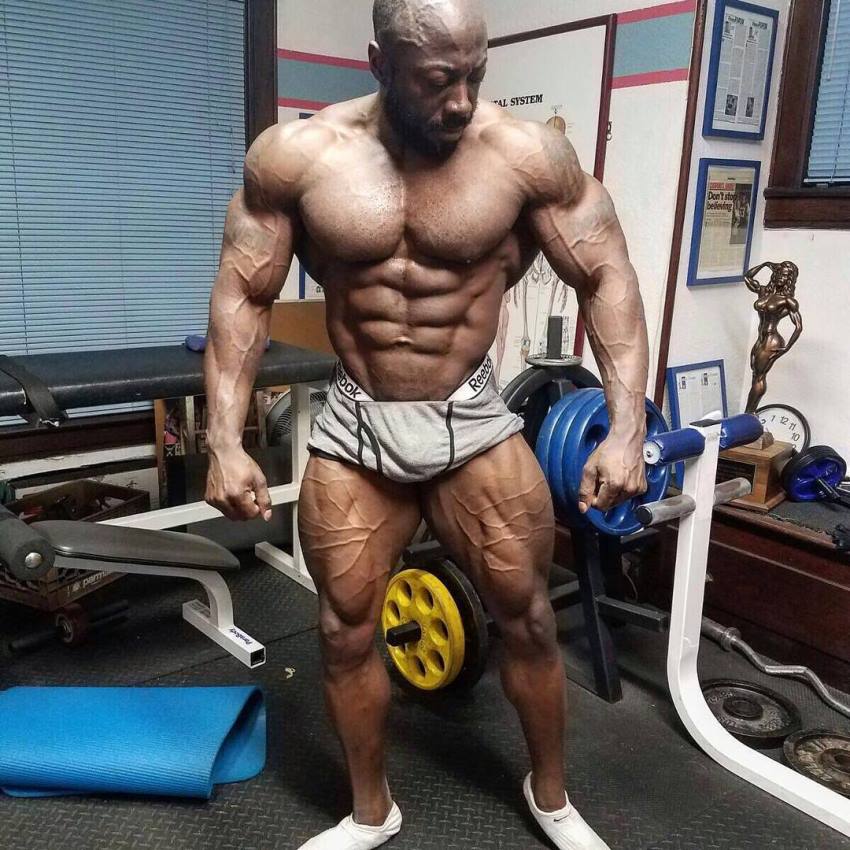 Idols and Influences
Switching from Open Bodybuilding to Classic Physique was one of the biggest challenges George faced in his career. However, thanks to his strong determination, he was able to completely reshape his physique to look aesthetic, proportional, and big at the same time.
One of the people who helped George while he competed in Classic Physique was Justin Miller, his coach. Here's George talking about Justin;
"I still remember the first day I linked up with Justin Miller. With no real aspiration to compete and after talking with him I developed the hunger again. How cool is that? You're the man Justin and I thank you for everything you've done."
---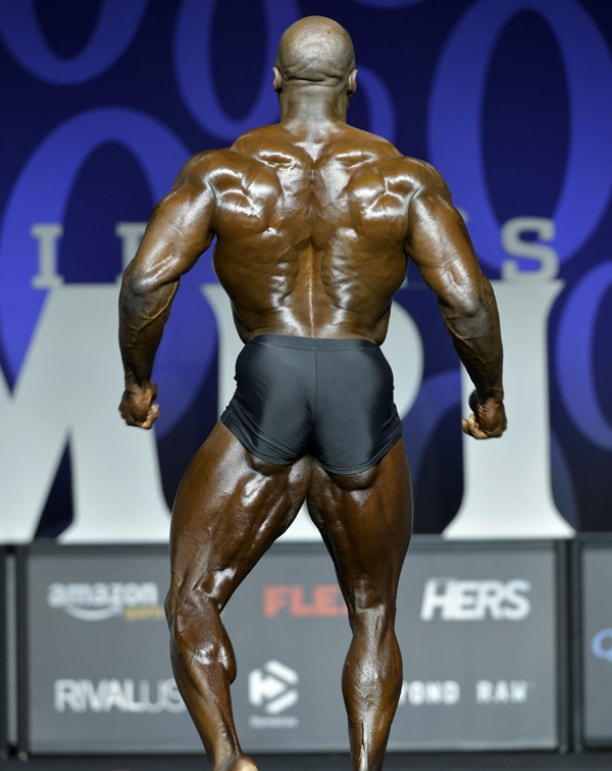 What we can learn from George Peterson
What we can learn from George Peterson is this; it's important to learn to adapt to changes in life. You'll possibly encounter situations which will require you to adapt in order to progress further.
While change might not always be pleasant, it may present the opportunity to become stronger and more experienced. This, in turn, will help you tackle bigger challenges and goals on your road towards success – just like George Peterson.