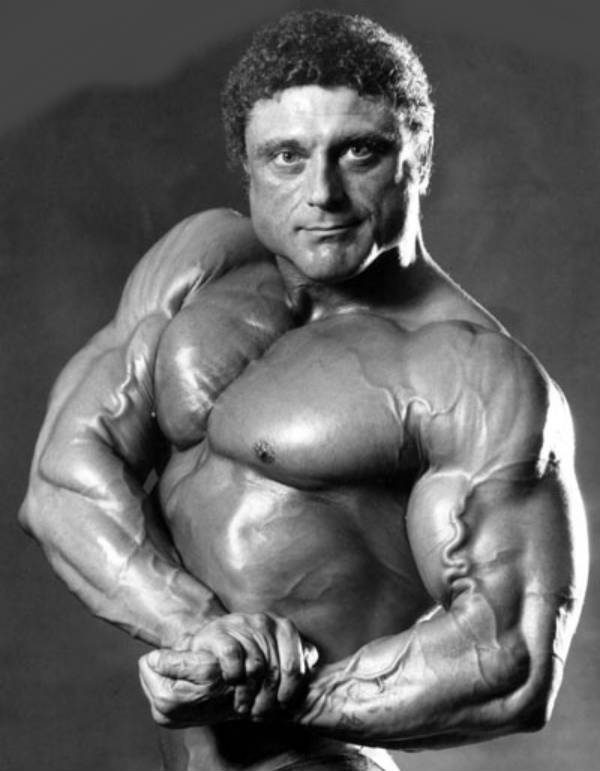 Frank Richards
IFBB Professional Bodybuilder
Frank Richards was a IFBB professional bodybuilder and well-known figure in the 1970s international bodybuilding scene. He lived in the UK, but managed to build friendships with, and compete alongside, some of the biggest names the sport has ever seen.
Growing up, Frank was a school athlete and began to lift weights to improve his sprint performance.  This experience sparked a deep interest in his young mind and he found a local gym called Catt's gym.
From here, he would develop his career. Frank managed to meet and make friends with Arnold Schwarzenegger while he was in London. Through this friendship, Frank was asked to move to the US to compete with the best. He would go on to win several major competitions and enjoy every second of his career.
This is Franks story:
---

Athlete Statistics
Full Name: Frank Richards
Nationality
Profession
Era
British
IFBB Professional Bodybuilder
1960, 1970, 1980, 1990
| | |
| --- | --- |
| Nationality | British |
| Profession | IFBB Professional Bodybuilder |
| Era | 1960, 1970, 1980, 1990 |
---

Frank (left) stands with 1970's professionals at the night of the champions contest in New York
Accomplishments
Competitions
1967 Mr Universe – NABBA, Tall, 6th
1968 Mr Universe – NABBA, Tall, 3rd
1969 Mr Britain – NABBA, Winner
1969 Mr Universe – NABBA, Tall, 2nd
1969 IFBB Mr World (Belgium), 1st
1970 NABBA Mr Universe (London) class 1, 1st
1985 Mr Olympia, 10th
1986 World Of Champions, 3rd
1986 World Pro Championships, 3rd
1986 Los Angeles Pro, 3rd
1986 Mr Olympia, 14th
1987 Night of Champions – IFBB, Did not place
1987 World Pro Championships – IFBB, 9th
1989 Arnold Classic – IFBB, 12th
1989 Grand Prix Melbourne – IFBB, 8th
1989 World Pro Championships – IFBB, 7th
1997 Arnold Classic, 12th
1998 Melbourne Grand Prix, 7th
---

Biography
Sporting Beginnings
During his high school years in 1960's England, Frank shone during athletics class. He was an excellent sprinter and could run just as fast over hurdles – winning several major races including county and national events.
Frank also said that he had an excellent sprinting coach who was years ahead of his time. He made him put on weighted boots and complete leg curls in order to build his strength for running.
This was Franks first experience of weightlifting. He loved the feeling it gave his body to lift weights and build strength and muscle. It was, in his words, his "baptism" into the sport of bodybuilding.
Developing A Love For  Weightlifting
As he entered his teenage years, Frank knew that bodybuilding would be the sport for him. He desperately needed to find somewhere where he could lift weights like the Americans he saw in magazines.
Luckily, in 1964 a boys club opened close to Franks home. It had weight lifting facilities and was the first place where Frank saw other people lifting weights. In reflection, he said "I can honestly say that that day that was the start of some of the most exciting times of my life. I worked-out there for around eleven months".
Whilst this gym was suitable fro Franks needs, it eventually became boring to train at as it didn't have the one thing Frank wanted – atmosphere.
---

---
Finding His Perfect Gym
After walking around his neighborhood looking for another gym, his friend told him there was one close to his house called Catt's Gym. Catt's gym turned out to be a wooden barn on a mans farm, but it had character and atmosphere (it still exists today).
He immediately made friends with the owner, Harry Catterall who would ultimately become his mentor in the sport. He would show Frank how to complete exercises and trained him free of charge, travelling with him to competitions.
One of the most important lessons Frank learned during this period was that bodybuilding is an evolving sport, so you should never stop listening to those around you. He said "when the day arrives that you think you know everything about bodybuilding, hang up your workout belt because you have closed down intellectually."
Starting His Bodybuilding Career
Frank knew from that start that in order to make a name for himself as a bodybuilder, he would have to travel to the USA. He did so in 1964, and began to meet some of the greats straight away as he entered competitions.
Frank met almost every major name in the sport during that period such as Franco Columbo, Frank Zane and perhaps the greatest of all time Arnold Schwarzenegger. He says that some of his most memorable days were spent in London, working out with Arnold and staying at a mutual friends house.
While eating with Joe Weider (IFBB CEO) and Arnold in London, Joe asked Frank if he would like to move to the USto work for him. This was a massive opportunity for Frank and he took it immediately, moving to New York to meet Arnold while he was signing for a film contract.
---

---
Living With Arnold Schwarzenegger
In New York, Frank lived with Arnold and worked out with him daily while running through his film scripts with him. They both talked about their ambitions in the evening while watching TV, and Arnold would tell him that he wanted to work in Politics and be the best bodybuilder on earth.
Frank was also flown out to California with Arnold and Frank, where he worked out at the Golds Gym – every bodybuilders dream during that period. After a while of living in America, the pressures of being separated from his family started to "bear down heavily" on him.
He returned home in time to compete in the 1970 NABBA Mr. Universe in London, where he won the Class 1 title, losing the overall title by one vote. At this stage though, he was focused on the 1974 IFBB Mr Universe.
Suffering And Recovering From A Serious Injury
One day while working in his full time job for the British Rail department, he fell onto the rail track and heard his leg break "instantly".  It turned out that he had actually almost severed his foot and broke his arm, neck, leg and ribs – puncturing his lung.
This would ultimately put Frank out of action for 11 full years. In 1984, he began training all over again and started from 200 pounds – 50 pounds less than his initial weight before the fall. He said that "within a few weeks muscle memory had started to rear its head and the muscle began to fill out. After three months I was back up to 224 pounds, without really trying."
He was forced into make a guest appearance at a local competition, and the crowd went wild. They didn't expect to see the local professional return to the stage at all, so to see him there was a great moment for them.
Frank says that they started chanting "Richards The Lionheart", which made his whole family and his training partner cry. The name stuck.
---

---
1985 Mr Olympia
After the world heard that he was back in the bodybuilding scene, he was invited to pose at the 1985 Mr Olympia in Brussels, Belgium. He ended up coming 10th at this show, and fought it out with some of the best the world has ever seen includign Tom Platz, Rich Gaspari and Bob Paris.
At 40 years old, Frank believes that he was truly living up to his dream of one day becoming a professional and posing with the best. After this show he suffered from another serious injury, being stabbed during a fight he didn't cause in a restaurant. At this point, he knew it may be over for good.
Teaching Seminars
When he returned to England after his injury, Frank began to work out for the love of it. He returned to Catt's gym where he started in the beginning – working out with his friends and loving every minute.
For the rest of his career, he would attend and speak at regular seminars in the US. He loved every minute of travelling round the country he loved so much, talking to old timers and young bodybuilders who shared a similar interest.
---

What we can learn from Frank Richards
Frank has shown us how far you can go when you follow your passions. His interest was sparked when he started working out in a barn conversion. He found the atmosphere he needed here to build his body, and this passion took him all the way to the Mr Olympia stage.
Two devastating injuries couldn't separate him from this deep passion. He kept working out into his old age and never regretted one decision he made. If you want to follow your fitness dreams, work hard and see where your passions can take you.